Indiana, Michigan State, Louisville, Kansas, and (more) Arizona, come on down!
Yahoo! Sports released another report late last night involving recovered emails in the FBI scandal, with the fascinating recruitment of five-star Brian Bowen being heavily discussed.
Christian Dawkins, one of the central figures in this FBI investigation, reportedly "dangled" Bowen, among other prospects, to various teams and coaches. In fact, Bowen was used as "trade bait" to steer talented recruits/players on the team to ASM Sports.
Two of the assistant coaches named in the emails: Dwayne Stephens of Michigan State and Chuck Martin, formerly of Indiana, and currently with South Carolina.
Dawkins, 24, provides a roadmap for the quid-pro-quo relationship between the agent world and college coaches. He dangles a high school prospect – five-star recruit Brian Bowen – as potential trade bait for schools to steer their best players to ASM Sports. On the same July day, Dawkins wrote to Miller that he connected with two Big Ten assistants, Dwayne Stephens of Michigan State and Chuck Martin, formerly of Indiana.

"Dwayne Stephens – Trying to close the deal on Brian Bowen for Michigan State. Trying to do a trade deal for (Spartans) Gary Harris, Miles Bridges, etc"

"Chuck Martin – Trying to close the deal on Brian Bowen for Indiana. I told him if we can work together and if he can push for us to get (Hoosiers) Thomas Bryant and OG Anunoby two projected first rounders from IU this year we can work something out."
Arizona also reportedly got in on the Bowen action, adding to their $100K payment for DeAndre Ayton.
"Now I can't promise that this kid that they want [Bowen] is going to Arizona, but Joe told me verbatim he will help us get all the Arizona players so put his feet to the fire."
After all parties talked, Louisville was declared the winner, and the end of the Rick Pitino era came.
Dawkins ran the recruitment of Bowen, the decorated high school recruit who turned up in one of the U.S. Attorney's criminal complaints as being allegedly sold to Louisville, via Adidas, for a six-figure payment. (That revelation led to the firing of Louisville coach Rick Pitino.)
After Bowen signed with Louisville last summer, Rick Pitino oddly told Terry Meiners that he spent "zero dollars" on Bowen and that in 40 years of coaching, it was the "luckiest" he had ever been.
"We got lucky on this one," Pitino told Terry Meiners. "I had an AAU director call me and ask me if I'd be interested in a player (Bowen) I saw him against another great player from Indiana. I said 'Yeah, I'd be really interested.' They had to come in unofficially, pay for their hotel, pay for their meals. We spent zero dollars recruiting a five-star athlete who I loved when I say him play. In my 40 years of coaching this is the luckiest I've been."
Now we know, in essence, Michigan State, Indiana, Arizona, Louisville and others were in a bidding war for the five-star athlete.
Interestingly enough, Chuck Martin, the Indiana assistant involved in the original set of emails, ended up at South Carolina following the scandal… the same place Bowen ended up after leaving Louisville… Hmm…
Arizona also jumped in the action AGAIN, including players such as Rawle Alkins and Lauri Markkanen, to go with DeAndre Ayton and Brian Bowen.
The emails illustrate how Dawkins attempted to manipulate a powerful collegiate program like Arizona and how the client recruitment dance plays out in the recruiting world.

Dawkins, 24, who has no formal college education and was in his early 20s at the time, slowly accumulated power with the Arizona staff to the point where he's heard on federal wiretaps saying he can attend Arizona practices "like I'm on the team."

There are more Arizona mentions in Dawkins' emails on Aug. 18 in reference to former Wildcats assistant Emanuel "Book" Richardson.

Dawkins writes to Andy Miller and others: "coach book from Arizona called me and basically told me he wants me to take [current Arizona guard] rawle alkins. He said he is picking the agent, period….What's your position on the situation?"

He goes on to encourage Vye, a veteran ASM agent, to build a relationship with Markkanen's father. "Arizona will do pretty much whatever we ask of them right now, until my kid decides on a school."
We've been waiting for Kansas' involvement to come out since news broke back in September. Josh Jackson was listed on the leaked document yesterday morning for receiving a loan of $2,700. In the latest Yahoo! emails, Jackson's mother, Apples Jones, was getting $10,000 a month from Under Armour, on top of the payments from Adidas.
In the same email, Dawkins summarized a meeting with Apples Jones, the mother of Kansas' Josh Jackson and a self-styled AAU entrepreneur: "His situation is going to get done at the very end. UA is giving her 10k a month and she's also getting paid by adidas now — so she's plenty taken care of.
Washington's Markelle Fultz, Michigan State's Miles Bridges, Clemson's Jaron Blossomgame, Xavier's Edmond Sumner, and Iowa State's Monte Morris were all also included in the emails and the complete report, which can be read in its entirety here.
Most importantly, Kentucky wasn't named in the latest breaking news at all.
Phew.
He's back!
If you didn't get enough of Rick Pitino's comedy caravan yesterday, you'll be glad to know he had more to say today.
Pitino went on "Ramsey and Rutherford" to continue his Feel Sorry For Me Tour 2018, and in his lengthy interview with the show, he said he believes the NCAA's ruling is "unconstitutional."
Now I'm no expert on constitutional law, but I think he's going to have a tough time backing that one up. I don't think our forefathers sat around the Constitutional Convention talking about hookers and skeezers and how partying with them in an on-campus dorm room should impact the NCAA tournament.
I'd like to hear Rick explain which amendment is in play here.
We've seen a lot of crazy Rick Pitino press conferences over the years, but today's takes the cake. Following the NCAA's decision to uphold their penalties in the UofL stripper scandal, Pitino did as Pitino does and demanded the spotlight, calling a press conference this afternoon in New York. The results, as you might imagine, were ridiculous.
He wants everyone to know he can only see out of one eye
Before the press conference even began, Pitino played the victim card, asking the audience's forgiveness if he can't read his statement correctly because he can only see out of one eye right now. Just in case the people in the back didn't hear, he brought it up later.
He wouldn't stop blaming the Board of Trustees
Pitino spent most of the 19-minute press conference blaming the Board of Trustees — the one appointed by Governor Bevin — for everything, even going so far to remind everyone that the US Attorney tried to disband that board to no avail. Even though he took "full responsibility" for hiring Andre McGee, he circled back to the Board repeatedly, blasting them for not giving him and Tom Jurich a chance to defend themselves. He also said he wants UofL to sue the NCAA over all of this. Ha!
The ESPN article pissed him off
One might think the NCAA's announcement yesterday was the cause of this presser. Oh, no. Pitino said he called the presser to "get the facts out" after ESPN ran an article yesterday (presumably this one) blaming Louisville's downfall on him. Even Warren Beatty's shaking his head at that.
He still doesn't get why the stripper parties were a bad thing
In the wake of the 2013 banner coming down, Rick again attempted to argue that the "parties" held by Katina Powell had no correlation to UofL winning the national championship.
"Did a few of them partake in parties they didn't organize? Yes, they did. But that had nothing to with an extra benefit. That had nothing to do in helping their eligibility or performance in winning a championship."
He also argued that because the hookers were cheap, the NCAA should have let it slide. Classic Rick.
"We preached treating women with dignity"
BAHAHAHAHAHA. Rick Pitino talking about treating women with dignity. I can't.
His lawyer tried to step in and stop him but he kept going
Poor lawyer.
He got in the Billy Minardi/9-11 reference
You knew he would.
"I feel awful for what has happened. I've run a clean program my whole life."
That's Pitino, aka Coach-2, saying that. The same Coach-2 listed in the FBI complaint as working with adidas to paying Brian Bowen's family $100,000 to come to Louisville. But it's all the Board of Trustee's fault, right?
He wants to coach again
The more I think about it, the more I think today was just a PSA that Rick is for hire. He talked at length about how much he misses coaching, his specific methods of connecting with players ("I do something different than any other coach in the business"), his accomplishments, his impressive coaching tree, and how healthy he is — except for that one eye, of course!
His last line was pure irony
For the grand finale, Rick Pitino brought one of the most ironic lines in the history of the English language.
"In today's world, with what you're all about, with Twitter and the electronic [sic], anybody who lies is a fool today because the truth is going to be revealed and come out."
Priceless.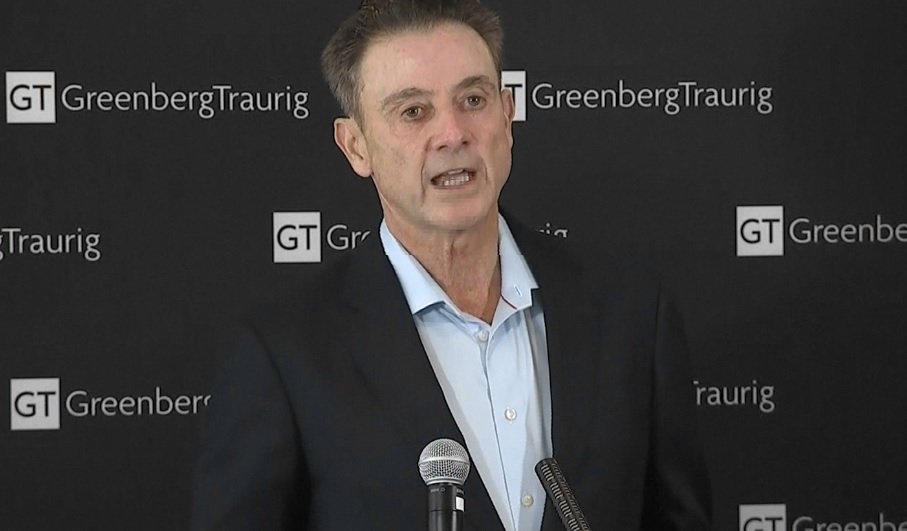 Rick Pitino's Wednesday afternoon press conference lived up to expectations, in that it was EXACTLY what we all expected from him.
Deny. Deny. Deny. Poor me. This is so wrong. Deny. Deny. Deny. Boo-hoo. Unfair. So unfair. Deny. Deny. Deny. Please feel sorry for me.
With one last chance to accept any responsibility for his scandalous tenure at Louisville, Pitino continued his deflecting and denying with no real accountability, while pointing the finger at the NCAA for all of the wrongdoings in this unjust and unfair punishment handed down to Louisville.
"I hired the wrong person for the job," he stressed, for like the millionth time, referring to Andre McGee. I guess he still wants us all to believe McGee was a one-man wrecking ball in the downfall of a program that had not one, not two, but three major scandals under his watch.
I also thoroughly enjoyed Pitino's argument of, sure, there were parties in the dorms, but they didn't cost very much and they didn't give us an advantage on the basketball court. Or that he ended the press conference with this gem: "Anybody who lies is a fool. Because the truth is going to come out."
The whole thing was a complete laugh factory (complete with a "premature" question from our friends at Pardon My Take) as he remains oblivious to how he is perceived by everyone listening to his nonsense. The man is a complete nutjob, which is a little sad, I guess; but it's hard not to laugh at his every word because his defense is so hard to believe.
I'll give it to him, though. He's committed to dying alone on his hill of denial and crying victim.
KSR had feet on the ground at Rick Pitino's press conference, but we were denied entry, unfortunately.
Luckily the good folks at WDRB are all set up inside, so you can watch their live stream below:
WDRB 41 Louisville – News, Weather, Sports Community
You can also play Rick Pitino Press Conference BINGO, courtesy of @mark_collier22 on Twitter:
Rick Pitino will hold a press conference in New York later today to comment on the punishment handed down to his former employer, the University of Louisville.
It's a really dumb thing to do, but it's so Rick Pitino. When most people would stay silent and move on with their lives, Rick Pitino wants to spew more of his drivel, in hopes someone will feel sorry for him.
So what will Pitino say today? I have some guesses.
"I can't believe we're talking about this on the day Billy Graham died."
If not Graham, Pitino could also turn to the anniversary of the deaths of Malcolm X, Pope Benedict XIII or the great Tim Horton. (Love me some Timbits.)
"It's all Andre's fault!"
One of the more likely scenarios is Pitino continuing to place all of the blame on his former assistant, Andre McGee. Pitino will go to the grave denying any knowledge of the stripper parties, and he may use this afternoon to further his denial.
"Poor me. It's so unfair. Wahhhhhh. Poor me."
He is the victim here, you know. He's quick to tell you that.
"I passed a lie detector test so you should believe me."
When Pitino sat down with Jay Bilas to deny any knowledge of the Brian Bowen scandal (LOL), he pointed to a lie detector test — one he voluntarily took on his own dime — to prove his innocence.
I think he keeps one in his closet.
"I accept fully responsibility and I'm truly sorry."
Hahahahahahahahahahahahahaha… Yeah, right.
Rick Pitino has been away from Louisville for quite some time, but his scandal-filled legacy will continue to cripple the university.
Pitino did plenty of great things during his time at Louisville.  He went to a couple Final Fours, consistently lost to John Calipari and helped bring UofL to the ACC.  A Hall of Fame coach who brought three different programs to the Final Four, all of it will be overlooked because of how he finished his career.  Andrea Adelson of ESPN sees no way around his scandalous finale.
There can be no other way to view his 16 years with the Cardinals, no matter how vehemently both he and his defenders scream that he has been vilified and misjudged. Pitino harmed Louisville in many ways, staining its reputation, triggering multiple investigations and now this: a national title and 2012 Final Four appearance stricken from the record books.
It's not just the stripper scandal that cost them a pair of Final Fours and a National Title banner.  It's also Karen Sypher and the ongoing FBI recruiting investigation.
Pitino has not once taken responsibility for the sex parties that happened during recruiting visits and drew the NCAA to investigate. He also has denied any knowledge in the recruiting scandal that cost him his job. In fact, Pitino is suing the University of Louisville Athletic Association for $37.6 million for breach of contract after he was fired in October.
As much as Pitino won at Louisville, all those victories seem meaningless and his legacy forever tainted, especially now that the banner must come down.
Playing the denial card did Pitino no favors in his fall from grace.  In his dramatic fall, he took Louisville down with him.  One day Louisville may be able to recover.  You can't say the same about Coach-2.
[ESPN]
That didn't take long. Three hours after the NCAA announced they are upholding their ruling in the Louisville stripper scandal, the 2013 National Championship banner has been taken down from the rafters at the Yum Center.
From WHAS11's Holden Kurwicki:
Louisville's 2013 National Championship banner is already down at the Yum! Center @WHAS11 pic.twitter.com/9iQn9S7A4h

— Holden Kurwicki (@WHAS11Holden) February 20, 2018
For comparison, here's what the rafters looked like prior to today:
The 2013 National Championship trophy has also been removed:
The doors at the Yum! Center are locked but I can see that the NCAA National Championship Trophy has already been removed. @WHAS11 pic.twitter.com/uaQyRMinzj

— Holden Kurwicki (@WHAS11Holden) February 20, 2018
I wonder what happens to the banner now?
In honor of the NCAA's decision to uphold their penalties against the Louisville basketball program for paying prostitutes to lure in recruits, we only felt it was only appropriate to look back at our dramatic reading of Katina Powell's "Breaking Cardinal Rules," the book that started it all: