Kansas and NC State, come on down! You've been included in the latest string of FBI charges!
The U.S. Attorney's Office announced additional charges against James Gatto, Merl Code, Christian Dawkins this afternoon, with the Jayhawks and Wolfpack being added to the list of schools involved.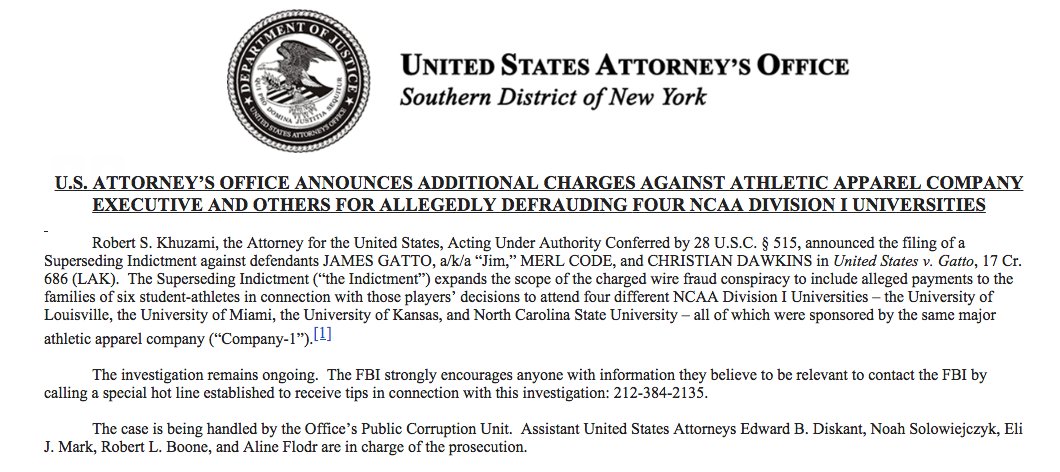 Louisville and Miami were already listed in the original charges, but more have been added for both of those programs, as well.
Gatto, Code, and Dawkins were all found to have direct wire transfers confirming payments to recruits. The Kansas section alone shows a $30,000 bag was dropped off at a hotel room in New York for someone committed in October of 2016.

According to Adam Zagoria, it looks like either Billy Preston or Marcus Garrett are the likely individuals.
Kansas commitments in summer/fall 2016 per https://t.co/W5hp48z6QK:https://t.co/KF9NVJba3M

Marcus Garrett – 8/1/2016
Billy Preston – 11/6/2016

This report references a player who committed "in or around October 2016" to Kansas. pic.twitter.com/azFBiVrX9A

— Adam Zagoria (@AdamZagoria) April 10, 2018
Considering Billy Preston had major controversy surrounding him, left Kansas, and signed with a European team soon thereafter, odds are pretty good we have our winner.
According to another report, that number could be upwards of $90,000 in total.
New indictment in college basketball corruption case includes allegation that adidas exec Jim Gatto alone defrauded the University of Kansas by making $90k in payments to the family of a student-athlete in connection with his commitment to attend the school.

— Darren Heitner (@DarrenHeitner) April 10, 2018
As for NC State, apparently former five-star guard Dennis Smith Jr. was unhappy with his commitment to the school, and a coach gave him $40,000 to keep him on board.
Cont. Authorities allege that Dennis Smith, Jr., was unhappy with his commitment to N.C. State, and that an N.C. State coach arranged, with Adidas, a $40K payment to keep him committed … pic.twitter.com/o7rteU7UYe

— Andrew Carter (@_andrewcarter) April 10, 2018
Yikes.
A group of UofL supporters are set to sue the NCAA for taking the 2013 title banner away from the school.
Because of course.
The University of Louisville Protection and Advocacy Committee (U of L PAC), led by founder Anthony Cotton, plans to file a lawsuit against the NCAA "as soon as next week"
The end goal? Reinstatement of vacated wins, financial reimbursement, and the title banner hanging back up in the Yum! Center.
U of L PAC attorney Robert Florio said he will file a lawsuit in Jefferson County Circuit Court against the NCAA on Wednesday seeking the reinstatement of wins the Louisville men's basketball team has vacated and repayment of financial damages, the amount of which Florio did not specify.

The attorney is alleging arbitrary and capricious conduct and breach of contract.

"It's in the final stages right now," Florio said. "I've identified all the causes of action … and I've also identified several legal theories that give fans standing against the NCAA, which is one of the biggest challenges in this lawsuit."
The best part of the story? The press conference was held outside a bar in Louisville, where a 2013 replica banner hangs on the brick wall outside. They have officially opened the company for donations, where support is already pouring in.
"Anthony Cotton… said Friday afternoon during a press conference at the Taj Louisville bar that the group has filed for incorporation status so that it can begin taking donations. Cotton said he has received one contribution totaling $5 so far."
Five whole dollars. Don't spend it all in one place.
You can read the entire article in the linked tweet below.
Group of U of L supporters plans to file a lawsuit against the NCAA next week. They want the Cards' 2013 title reinstated https://t.co/9ggRqaEYEF

— Courier Journal (@courierjournal) April 6, 2018
Never change, Card Nation.
This morning, Rick Pitino went on The Dan Patrick Show in what he claims was his last radio interview ever. That was just one of many ridiculous things Pitino said during the 23-minute talk, which covered the FBI investigation, stripper parties, whether or not he'll coach again, and why the heck he just can't move on with his life.
Some highlights, because this interview was one for the ages.
"It's probably not going to work for me in college basketball"
After reports that Rhode Island was prepared to hire Pitino until the president killed the deal, Pitino claims he was never offered the job, although his name may have been "brought up." Pitino said he was contacted by another school, but the fit just wasn't right. He finally admitted that it's "probably not going to work" for him in college hoops anymore because of the FBI investigation.
Board of Traitors (drink) lie detector test (drink) Minardi Hall (drink) 9-11 (drink)
Credit to Patrick for pressing Pitino with hard questions, but Pitino gave his standard responses, blaming the Board of Trustees for not giving him and Tom Jurich the chance to defend themselves, claiming to have never paid a player anything, and reminding everyone that he took a lie detector test and named the UofL dorm after his brother-in-law, who died on 9-11.
All these months later, it's amazing to me that Pitino STILL doesn't realize that whether or not he knew about what happened doesn't matter. As the head coach, he was in charge and should be held responsible.
His son told him to move on with his life
Credit to Richard Pitino, who gave his dad the best advice of all: move on.
"My son said, 'Dad, nobody cares. Why don't you just get on with your life?' It's true. It really is. He's a 35-year-old, he's right."
I never thought I'd agree with Richard Pitino, but he is right.
He thinks his name will be cleared in two years
Pitino started the interview off claiming that he didn't care if his name was ever cleared, but by the end, he insisted that in two years, he will be exonerated.
"I think in two years, everything will come out, and they will say, 'That guy was really railroaded out of the business,' and nobody will care," Pitino said. "It will come out that I'm innocent."
Well, he's half right.
"You're my last show. I've told you the truth."
Here's a segment of the interview. You can listen to the entire thing over at DanPatrick.com.
Rick Pitino wants you to listen to him again.
And he picked the first morning of The Masters to speak publicly. Again.
Pitino has decided to make a special guest appearance on Thursday morning's edition of The Dan Patrick Show, where he will undoubtedly proclaim his innocence and beg for your sympathy because all of the wrongdoing he suffered from Papa John — or "pizza boy," as he calls him — and the UofL board.
The appearance is scheduled for 9:20 am ET, right after the fifth group of the day tees off at Augusta.
If you want, I'll take one for the team and listen to Pitino's gibberish for all of us, so you can keep your undivided attention on The Masters. I'll report back with everything he says, although I don't expect it to be anything worth reporting. Hell, I could probably write the whole transcript right now before he says it.
But if you must hear Pitino's words, you can find him with Dan Patrick tomorrow morning. Nine twenty ante meridiem with DP.
Rick Pitino was set to become the head coach at the University of Rhode Island…until the school's president stepped in and killed the deal.
According to GoLocalProv.com, Pitino and URI Athletic Director Thorr Bjorn (what a name) had a rough agreement for Pitino to succeed Dan Hurley as head coach for $2 million per season, but when university president David Dooley heard about it, he shot it down due to concerns over Pitino's ties to the FBI investigation into college hoops. Smart man.
Between rumors about the New Zealand Breakers and his constant rambling about not knowing what to do with his life anymore, it's no secret Pitino is desperate to get back into coaching. Who will be the one to roll the dice on him?
UPDATE: URI just released a statement claiming the story is #FakeNews:
Here is the statement in full from @universityofri on the article claiming potential Pitino deal was shut down. @whas11 pic.twitter.com/lIK2DeIPyD

— Derrick Rose (@WHAS11DRose) April 3, 2018
Can you blame them for trying to get as far away from Pitino's name as possible? In October of 2017, Rick Pitino vowed to never step foot back in the state of Kentucky ever again. Surprise, surprise, that was probably a lie.
This evening in Florida, Coach Rocks, a horse Pitino co-owns, won the $250,000 Gulfstream Oaks.  The victory punches Coach Rocks' ticket to the Kentucky Oaks.  Will Pitino keep his promise and avoid The Bluegrass State, or come to Churchill Downs with a million dollar purse on the line?
Let's be honest, there's no way Rick is avoiding the spotlight.  He can't get enough of it.
7:41 UPDATE
After today's victory at Gulfstream, Pitino vowed he will not go to the Kentucky Oaks.  He told Bloodhorse:
"I'm not going to go to Kentucky for the Oaks, but my partners are," he added.  "I will not, unless (chairman) David Grissom and the pizza guy, Papa John, retire from the board of trustees. Then, I'll be there."
Even his partner, Roddy Valente, does not believe Pitino will pass up the Oaks.  Never change, Rick.  Never change.
Rick Pitino reportedly has a job offer from the New Zealand Breakers in Australia's National Basketball League.
He should take it, and here's why:
1. He has said he wants to coach again.
First and foremost, Pitino has expressed interest in getting back into coaching. He recently told ESPN, "The level doesn't matter to me. I just need it to be someone who believes in me."
New Zealand's new American ownership believes in Pitino.
2. Edgar Sosa is the Breakers' star player.
What better way to return to the game than linking back up with one of his all-time favorite players? Edgar Sosa played 140 games over his four-year career under Pitino at Louisville, and now leads the Breakers in both points and assists per game. Sosa is most remembered from his time at UofL for hitting a last-second three-pointer from miles away to beat Kentucky in 2009.
3. The Breakers won the championship in 2013.
Pitino wants a 2013 title banner flying high in his arena; well, he'll have one in the North Shore Events Centre, where the Breakers play their home games.
4. He can pay players and the FBI won't care.
This is a two-parter: (1) the NBL is a professional league, so Pitino can (and is expected to) pay his players; and (2) he can do so without concerns of conversations being recorded by the federal government of the United States, which has no jurisdiction or authority in New Zealand.
5. Prostitution is legal in New Zealand.
According to a Google search and not my own personal experiences, New Zealand has some of the most liberal prostitution and sex laws of any country in the world. Brothels and sex services can be found all throughout country, which would allow Pitino to maintain his recruiting strategies from his time at Louisville.
It seems like an easy decision to me.
If Rick Pitino wants to get back to coaching basketball, he has his opportunity.
According to long-time NBA reporter Marc Stein, Rick Pitino has an offer on the table from the New Zealand Breakers of Australia's National Basketball League. The Breakers recently took on new U.S.-based ownership, and there is serious interest in Pitino as the organization's head coach.
The New Zealand Breakers, I'm told, have offered their vacant head coaching position to former Louisville coach Rick Pitino. The @NZBreakers play in Australia's @NBL and their new American ownership has been pitching Pitino's representative on the post this week.

— Marc Stein (@TheSteinLine) March 30, 2018
The Breakers' new American ownership includes our dear friends Big Cat and PFT Commenter of the "Pardon My Take" podcast (seriously), as well as former NBA players Shawn Marion and Matt Walsh. Yes, that is the same Big Cat and PFT Commenter who make fun of Pitino almost as much as we do.
I wish I were clever enough to make this up, but it's legit.
It may help that New Zealand is led in scoring by Edgar Sosa, one of Pitino's favorite point guards at Louisville.
Help me hate Chris Mack.
Because now that Chris Mack is the head coach at Louisville, I need to hate Chris Mack.
So what do we know about him? I'll admit: I know very little. I know he coached at Xavier and did pretty well there. I know he also played at Xavier. I know he doesn't like Mick Cronin and neither do I. I know he's bald.
Other than that, my Mack knowledge is limited. His Wikipedia page tells me he played tuba in the University of Evansville band before transferring to Xavier, but that's pretty funny. I can't hate him for playing tuba in college. I know one of his assistants is Bill Murray's son, which means Bill Murray will now be a Louisville fan — I can definitely hate him for that.
What else, though? Who can give me a really good reason to hate Mack, other than the fact he's at Louisville? Rick Pitino was easy to hate and poke fun of. Almost too easy, really. But Mack, this is going to take some work.
The pimp jokes write themselves, so that's fun:
But I still need more than Louisville hiring another pimp on its coaching staff.
Any ideas? Or should I just wait and let nature work its course?
After several days (weeks?) of speculation, Louisville finally has its man. According to Jeff Goodman, Louisville and Xavier's Chris Mack have agreed to a seven-year deal worth roughly $4 million per season. An official announcement is expected tomorrow.
Mack is Xavier's all-time winningest coach, with a 212-96 record, three Sweet 16 appearances, and one Elite Eight appearance. This year, the Musketeers won the Big East regular season title and were a No. 1 seed in the NCAA Tournament. Mack will replace interim coach David Padgett, who took over when Rick Pitino was dismissed in September amid the FBI's investigation into college hoops.
This is a great hire for Louisville and I'm a little bitter because it appears Mack's bringing his assistant Luke Murray, son of Bill Murray, with him, which means we've got several years of seeing Bill cheer for Louisville ahead of us. Dangit.