The Blue Ribbon College Basketball Yearbook released its 38th edition of its Preseason Top 25 on Tuesday and your University of Kentucky Wildcats landed the top overall spot in the poll. Trailing the Wildcats in the college basketball bible's 2018 rankings, you'll find Kansas (on UK's schedule), Gonzaga, Duke (on UK's schedule) and Tennessee (on UK's schedule twice) rounding out the top five.
Fun fact: Kentucky has 12 games against Blue Ribbon top-25 teams.
BLUE RIBBON COLLEGE BASKETBALL YEARBOOK PRESEASON TOP 25
1. Kentucky
2. Kansas
3. Gonzaga
4. Duke
5. Tennessee
6. Nevada
7. Virginia
8. Auburn
9. Oregon
10. Michigan State
11. Mississippi State
12. North Carolina
13. Kansas State
14. UCLA
15. Florida State
16. West Virginia
17. Clemson
18. LSU
19. Purdue
20. Florida
21. Villanova
22. Syracuse
23. Michigan
24. Virginia Tech
25. TCU
This marks the third time in five years Blue Ribbon has ranked Kentucky No. 1 overall entering the season. Over the last seven years, Blue Ribbon has ranked UK second, third, second, first, first, fourth, fifth, and now first again.
Go Cats.
[Blue Ribbon College Basketball Yearbook Releases Preseason Top 25]
By TJ Walker on ©September 17th, 2018 @ 11:00pm
I'm convinced September is the busiest recruiting month of the year for Kentucky. June and July make for plenty of news and actual games on different circuits. November is the start of the high school season and the fall signing period. The all-star circuit in the spring produces plenty of content and long recruitments come to a close, but nothing tops September. Kentucky coaches travel the country and UK has hosted/will continue to host some of their top targets this month.
And that included Scottie Lewis, who is actually still in Lexington. He didn't arrive to Lexington until Saturday and the official officially ended around noon this afternoon.
Let's get to the notes.
Scottie Lewis:
It's funny how the perception of a recruitment can change in just a week. Lewis seemed like a Florida lock. He was coming off an official visit to Gainesville, his teammate and good friend committed to the Gators and nearly every expert was predicting Lewis would end up playing for Mike White. But something during the middle of the week happened and Evan Daniels led the charge in taking a step back. Rivals' Corey Evans did the same. Florida still is in a solid spot, but it was clear that Lewis remained open and followed through on his official visit to Lexington (UK never believed he may cancel that visit FWIW).
One thing that I don't like to do is contact kids/parents/coaches while still on campus going through a visit. So, I don't have much besides a text message that the visit went well. However, I was able to find out what changed last week and why folks backed off the Florida predictions.
The Gators' staff thought they were in a great spot for Lewis. The official went so well they thought it was virtually a done deal, and they did push for a commitment (which really isn't uncommon). I was led to believe Lewis was going to go home and think about it, but decided that he wasn't ready to pull the trigger. That's not what Florida's staff wanted. UK's staff has stayed even-keeled, knowing they have had a chance but unsure if they were the leader.
This could come down to a head/heart decision for Lewis. He has a great relationship with Florida's staff, he could play with his buddy (Alex Klatsky) and the Gators have been recruiting him for a long time. However, it's tough to pass up what UK can offer.
We'll have an update later today or tomorrow with more insight into Lewis' visit, but Kentucky started gaining momentum heading INTO the official visit. That's always exciting because assuming the visit went well (like we've briefly been told) then maybe the Cats can do enough to jump into the lead.
Big Situation:
OK, things seem to be getting more confusing than becoming more clear. Kentucky has offered Zeke Nnaji, continues to recruit Aidan Igiehon and an offer is coming this week for Oscar Tshiebwe. Then of course there's James Wiseman, Vernon Carey Jr., and Matthew Hurt. UK reached back out to Isaiah Stewart and the Cats also went to see Jaden McDaniels. So, allow me to do a sentence or two on each player:
James Wiseman: He unofficially visited Memphis last week. Folks close to Kentucky weren't concerned and even said there will likely be more unofficial visits over the season. The Cats still feel confident in this recruitment.
Vernon Carey Jr.: Things will move slowly in this recruitment. His official visits don't start until next month. Last week I said that MSU, UK and Duke's staff felt the most confident in this recruitment. I had someone I trust tell me that I was correct about MSU and UK, but Duke's staff isn't as confident. We can save this for another day but the Blue Devils' recruiting hasn't been as strong since Jeff Capel left. I'm guessing they still finish with a top three or five class, but it's a nice change of pace after their monster class last year.
Matthew Hurt: I don't really have a great feel on this recruitment. UK likes where they stand but I couldn't get any sense if they feel like they lead or were in third place. Hurt has always said the right things when talking about UK. Kentucky will have a much better idea of where things stand for his official visit for Big Blue Madness.
Zeke Nnaji: It's my opinion that if UK wants Nnaji they will be able to land him. They'll have to make him feel like a priority and continue to recruit him (duh) but I like where the Cats stand here.
Jaden McDaniels: I can confirm that UK has kept in contact with McDaniels over the last few months. In the summer I was told it was a text once or twice a month and I think that's still the same case. He's not one of UK's top targets but the Cats are still in the hunt. I don't think he ends up in Lexington.
Isaiah Stewart: The great news about this recruitment is that it's likely heading into the spring. The more time, the better for UK and Stewart. Kentucky really thinks he could be a great player but they need more time, and it sounds like that will happen. If UK can get him on campus for a visit, watch out. Obviously UK doesn't lead but I think the Cats are back in the picture.
Aidan Igiehon: I still don't *think* he has an offer from Kentucky at this time. Calipari went with Tony Barbee for the in-home visit and they mentioned scheduling an official visit, but we still haven't heard any dates. He just finished a visit to Oregon. I still don't think he ends up in Lexington, but this has been a strange recruitment. So, I'm not too sure how this plays out.
Oscar Tshiebwe: UK will meet with Tshiebwe this week and I'd be pretty surprised if a formal offer isn't extended. UK could wait until his official visit next weekend, but why? Anywho, some folks think WVU's lead is too significant to overcome. Others have told me UK led the day they started recruiting him. I still think the Cats are going to need to blow him away on his official visit. He just finished checking out Baylor and unless something drastic happens I don't think he ends up at Illinois or Baylor (the other two schools he's considering).
The entire class has been somewhat head scratching, but it's my opinion that UK is reaching out to so many players to try and put a little pressure on a few guys they really want. I expect the Cats to land two frontcourt players in the fall, and maybe two more in the spring.
Cole Anthony:
I don't have much regarding where things stand with UK or if we'll hear of an official visit to Lexington (I still expect it to happen this fall) but North Carolina has all the momentum in this recruitment, and I was told this even after his visit to Notre Dame.
Since the NCAA botched the academic scandal UNC's recruiting is back. Adding Anthony with Armando bacot and Jeremiah Francis would be scary good, plus maybe Josh Green and some other targets. The Tar Heels haven't been on the same level a Duke or UK with one-and-done players, but that may be changing.
By TJ Walker on ©September 17th, 2018 @ 6:45pm
Kentucky has finally offered 6-foot-9, 250-pound center Oscar Tshiebwe on Monday evening.
UK has been recruiting Tshiebwe (pronounced shoob-way) for well over a month, and No. 22 player in the class will visit Lexington later this month, but Kentucky's staff waited until they could meet face-to-face to extend the scholarship offer.
Tshiebwe is considering UK, West Virginia, Baylor and Illinois. Tshiebwe just visited Baylor, will check out Illinois this weekend, Kentucky at the end of the month and West Virginia the first weekend in October. A final decision is expected this fall.
Kentucky and West Virginia are considered the leaders in Tshiebwe's recruitment. The Mountaineers seemed to be a lock for his services until Kentucky joined the mix. WVU is still the heavy favorite in the 247 Crystal Ball, but don't sleep on the Cats.
Tshiebwe is a strong, powerful big that is relentless on the glass and a tenacious defender.
Thankful to receive an offer from University of Kentucky, thanks coach cal and all the stuff pic.twitter.com/rOYokJqA3A

— Oscar (@Oscartshiebw) September 17, 2018
Ask for Benny Snell fuel and ye shall receive. On Twitter, Mississippi State star running back Kylin Hill saw a quote from Benny Snell claiming he will "run on any team" and was so amused he couldn't stop laughing crying emoji'ing:
????????????????????????????????????????? https://t.co/2P94AcHcJp

— Kylin Hill (@H_Kylin) September 17, 2018
Here's the full quote from Benny from Saturday, because, you know, context:
"You could say so," Snell said when asked if he considers going up against a defensive line like Mississippi State's a challenge. "I'm going to run on any team. You could be an NFL team, a college team, it doesn't matter. This offense don't fear nobody. I'm looking forward to it. I know they're good, their offense is good. I'm looking forward to it."
Hill is to Mississippi State as Benny is to Kentucky. He had 211 yards and two touchdowns on 17 carries at Kansas State a few weeks back and leads the league in yards per carry with 9.16. He's good. But he should know better than to poke the bear that is Benny Snell.
UPDATE: Hill deleted the tweet, but because we're not amateurs, of course we have a screenshot:
Also, Benny has responded with a tweet of his own:
You a clown over the internet! I show up in real life.

— Mr SNELL YA LATER?? (@benny_snell) September 17, 2018
Pass the popcorn, please.
A slobber-knocker. A knock down, drag 'em out. Four yards and a cloud of dust.  The Saturday night match-up between Kentucky and Mississippi State will fulfill all of the classic physical coaching cliches and much more.
"They're as physical as anybody you're going to play in this league, if not more.  So you have to match it.  It starts there," Mark Stoops said at Monday's press conference.
The nation's fifth-ranked rushing offense will come to Kroger Field averaging more than 311 yards per game on the ground.
"You put together a physical offensive line, a dynamic back and a big beast at quarterback.  That's a lot of good things, and their tight ends — they're big, they're strong and they're explosive.  They put a lot of pressure on you."
Miss. State has multiple weapons in the rushing attack.  Kylin Hill leads the team with 293 yards; 211 of those came from just 17 carries against Kansas State.  Last year's leading rusher, Aeris "The A-Train" Williams, surpassed 100 yards for the first time in 2018 Saturday against Louisiana-Lafayette.
The Bulldogs' most dangerous weapon is Nick Fitzgerald. The 6'5″ 230-pound senior is just 196 yards away from breaking Tim Tebow's SEC record for rushing yards by a quarterback.  Through three games he has 266 yards on the ground and is averaging almost eight yards per carry.
"He has experience. He's physical.  He makes plays when he has to.  He's talented with his arm. As always when you play a team like this, that's not only physical running the ball, they have a physical quarterback and they use quarterback runs.  That makes you play with numbers, and he's talented enough in the receiving corps, their tight ends are talented enough to hurt you throwing the ball.  It puts a lot of pressure on you."
Fitzgerald has given Stoops headaches in the past.  Danny Clark will be able to give UK's defense a comparable look, but it's incredibly difficult to prepare for a playmaker like Fitzgerald.
"You have to be disciplined in your rush lanes.  You can't just be running up the field on them all the time because they can pull it down, or it could be a designed quarterback draw or they can just pull it down when they see a gap," something Stoops also sees from Terry Wilson.
"That's what makes it very difficult for defensive coordinators at times to stop, because they can have everything matched up very good, and then a guy just pulls it down and runs for 54 yards and a touchdown.  That's hard to overcome."
Kentucky was able to do just enough to take down Fitzgerald the last time the Bulldogs traveled to Lexington.  Much of their roster remains the same from a year ago, but they have a new leader on the sidelines, Joe Moorhead.
"There are some things that carry over, and then you see his wrinkle, his nuances with the offense and what he's doing.  They're still very good.  They're still very physical."
To combat State's offensive attack, Stoops will lean on his secondary.  Fitzgerald must be accounted for as a rusher and as a passer.  To keep him contained, the UK defense must use another defender to put pressure on Fitzgerald.
"They make you do that, therefore it puts a lot of stress outside…It creates an opportunity for big plays so we have to match-up and we have to win some of those one-on-ones, because we have to put some pressure on those guys."
And that's just one side of the football.  State's dynamic All-SEC defensive linemen, Montez Sweat and Jeffrey Simmons, will be NFL stars.  They set the tone for a defense that leads the SEC in tackles for loss with 33 and is second in rushing defense.
Taking down Miss. State will be no small task.  If the Cats want to leave Kroger Field with their second win of the season against a Top 25 opponent, they must be prepared for 12 rounds in the trenches against the heavyweight competition.
* As you noticed by the bolded words above, Stoops said "physical" quite a bit today.  Eight times to be exact.  
It started out slow, but the Kentucky Wildcats finally turned it around in the second half to cap off a 48-10 victory over Murray State on Saturday afternoon.
We had our fair share of impressive highlight-worthy plays, combined with a few miscues we can blame on the Florida hangover. Overall, the Cats put on a solid performance and they're heading into week four undefeated. Can't complain about that, right?
Here are ten crazy statistics from Kentucky's victory over Murray State:
Kentucky is 12-5 in their last 17 regular season games
Do you remember the days of back-to-back 2-10 seasons just five and six years ago? A relatively-empty Commonwealth Stadium week after week in 2012, followed by a year of clinging on to nothing but hope under Mark Stoops the year after?
Yeah, that's gone now.
In their last 17 regular season games, the Cats have a winning percentage of 71 percent. Take out his 2-10 debut season, and Mark Stoops has led the Cats to a 53 percent winning record, and they've only gone up each year. Victories over Louisville, Tennessee, Florida, Mississippi State, and South Carolina, among others.
"We're just getting started, bro."
Terry Wilson is No. 9 in the SEC in total offense, No. 4 in passing accuracy
With 392 passing yards and 223 rushing yards, Kentucky quarterback Terry Wilson is currently ranked No. 9 in the SEC in total offense. Wilson is averaging 205 total yards per game and 6.8 yards per play.
Completing 69.5 percent of his throws, Wilson is No. 4 in passing accuracy, behind only Georgia's Jake Fromm (80.4 percent), Tennessee's Jarrett Guarantano (72.2 percent), and Alabama's Tua Tagovailoa (72 percent).
Going into the season, many worried about Wilson's accuracy and whether or not he would be able to move an offense forward through the air. Three games into the season, he's proving to be just fine in that department.
Kentucky has two top-ten rushers in the SEC, three in the top-20
We all know about Benny Snell and his dominance on the ground, and it has pushed him into the Heisman conversation early in the year. He's currently ranked No. 2 in the SEC with 375 yards rushing and three touchdowns. He sits behind Texas A&M's Trayveon Williams, who leads with 399 yards and four touchdowns on the ground.
Beyond Snell, the man under center actually finds himself in the top-ten, as well. With 223 rushing yards and two touchdowns, Terry Wilson sits at No. 10 in the SEC, ahead of the likes of Arkansas' Devwah Whaley, Alabama's Najee Harris, Georgia's Elijah Holyfield, and former Kentucky target and Richmond native Damien Harris.
To put the cherry on top, AJ Rose sits at No. 20 in the conference with 146 yards and three touchdowns.
Kentucky has managed 847 rushing yards through three games, the most since 1987
With 245 rushing yards on Saturday, the Wildcats have pushed their season total to 847 yards, the most through three games in over 30 years.
Wilson led the way with 85 yards on the ground, followed by Snell with 75 yards, and Chris Rodriguez next with 43 yards.
Back in 1987, Kentucky ran for 892 yards in their first three games, but no team since has managed to do what the Cats did on Saturday and this season as a whole.
The defense has allowed zero points in the third quarter this season
There was a time Kentucky's biggest issue came in the form of second-half adjustments. Like clockwork, the Cats would take a solid lead going into halftime, but find a way to choke the lead away in the final stretch.
This year, however, Kentucky is dominating after the intermission, allowing zero points in the third quarter in three games. In turn, the Wildcats have been able to score 38 points in the third quarter through three games, giving them the lead going into the fourth in each contest.
It's the first time since 1991 the Cats have held an opponent scoreless in the third quarter in the first three games of the season.
Executing down the stretch is crucial for teams trying to take that next step, and they're finding a way to do it.
Kentucky is No. 3 in the nation on third down
Completing 61.54 percent of third-down tries this season, Kentucky is ranked in the top-three in all of college football behind just Central Florida (81.8 percent) and Mississippi State (65.22 percent). On defense, they're allowing just 46.81 percent of conversions, 22 of 47 attempts.
On fourth down, the Cats have converted on three of four tries, and have given up just one of four conversions on defense.
That's absolutely nuts, and shows the poise of the Wildcats on both sides of the football in the biggest moments of the game.
They're perfect in the red zone
In seven tries, Kentucky has converted on all seven of their attempts in the red zone this season.
Five of those attempts have ended in touchdown scores.
#Efficiency
Six different Wildcats scored touchdowns against the Racers
Terry Wilson, Benny Snell, AJ Rose, Allen Dailey, Zy'Aire Hughes, and Danny Clark each found their way into the end zone on Saturday. With six touchdowns from six different players, that's the most from a Kentucky team since they did it in 2012 against Kent State.
And that's the last time we'll ever discuss the 2012 football season.
Benny Snell is just three scores away from beating Randall Cobb's touchdown record
With his seven-yard touchdown run against Murray State, Snell inched his way up the charts ever-so-slightly, pushing his career total to 35. He was later credited with a 43-yard touchdown throw, though that apparently does not count toward his overall career total, just like Cobb's five touchdown passes did not count.
(Stupid rule, I know)
Nonetheless, Snell is just two scores away from tying Cobb's record of 37, and three away from topping it.
He as already surpassed Craig Yeast (32) this season, along with Moe Williams, George Adams, Rodger Bird, and Derrick Locke at 27 total scores last year.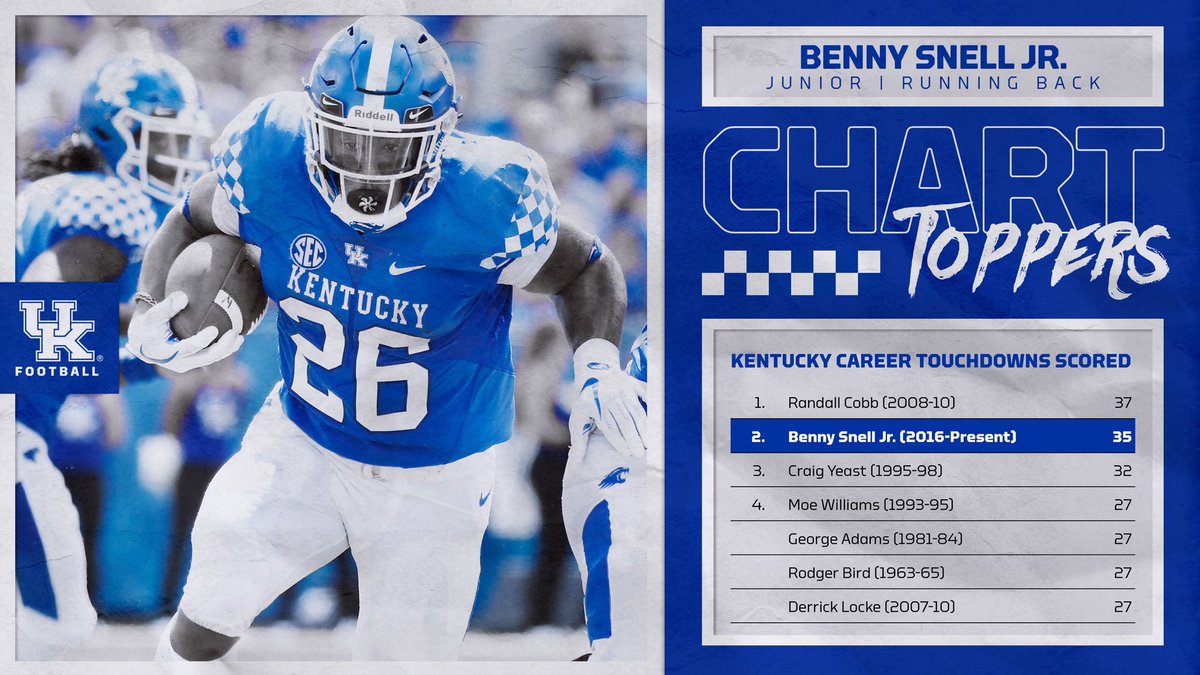 Benny Snell leads former Kentucky targets Mac Jones and Jarren Williams in passing yards
As mentioned before, Snell was credited with a 43-yard touchdown pass on a reverse toss to Terry Wilson, who then lateraled it to Zy'Aire Hughes, who then ran it in for a touchdown.
It didn't seem like much at the time, but it actually put Snell in the record books, pushing him ahead of some pretty familiar names.
Snell is now No. 24 in the conference in passing, ahead of former Kentucky commits Mac Jones (Alabama, 30 passing yards) and Jarren Williams (Miami, 17 passing yards).
He's also ahead of true SEC quarterbacks such as Matt Corral of Ole Miss, Matthew Downing of Georgia, and Kyle Trask of Florida.
Doesn't mean much in the grand scheme of things, but you better believe I love every second of it.
This one had hangover written all over it. It was fresh off the biggest win of the Mark Stoops era and had a sleepy noon kickoff on the SEC alternate channel versus an opponent that is going to struggle to win games in the Ohio Valley Conference.
After a slow moving and sometimes rocky first half, Kentucky came out focused and put away the Racers in the second half behind five consecutive scoring drives. The defense forced multiple three-and-outs and got a takeaway in the fourth quarter.
Good teams don't let inferior opponents hang around and Kentucky put away Murray State when it needed to be done. They were so close to covering the six touchdowns.
Offense
UK collected 528 total yards on 75 plays. Eddie Gran's offense averaged seven yards per play as they rushed and passed for over 200 yards. That's going to win you some football games.
Kentucky held a 28-17 first downs advantage and had a 50% third down conversion rate. That number looks even better when you consider that the Wildcats converted all three of their fourth down conversions. Remove the victory formation at the end of the game and Kentucky scored on eight of their nine possessions. That's getting the job done.
Terry Wilson appears to be getting better with each snap as Saturday was his most efficient day as an FBS starting quarterback. The sophomore completed 76% of his passes for 163 yards and averaged 6.5 yards per attempt. You would like to see more explosive numbers but Wilson made smart decisions and got the football out quick. He was just inches off on the few deep shots and did not put the ball on the turf. He is making progress.
On the ground, Kentucky ran for 245 yards on 6.7 yards per carry average. They were led by Wilson who had 80 yards on 13 carries highlighted by this touchdown run on UK's first drive of the game.
Benny Snell was his usual efficient self as he had 75 yards on 15 carries with a touchdown. The junior is on pace for 1,500 yards and is currently second in the SEC in rushing. He even recorded his first touchdown pass on this nice trick play Gran pulled out of his bag in the second half. 
On his first career touch, Zy'aire Hughes showed some top level speed as he cruised into the endzone for the splash play touchdown. We knew a wildcat wrinkle was coming eventually and expect to see something else coming off that motion with Wilson in the very near future.
It wasn't a great day for the receivers, but like the rest of the offense, they responded after a slow start. Drops plagued Dorian Baker early but the redshirt senior finished the day with four grabs for 25 yards. Lynn Bowden remains Wilson's favorite target as he had eight receptions for 89 yards. Isaiah Epps and Justin Rigg recorded their first receptions of the season and the offense got C.J. Conrad involved early. Allen Dailey, Jr. made some impressive plays late and the true freshman could become a factor at outside receiver for the Wildcats.
It was a slow start for the offensive line and they struggled with an inferior front for most of the game. However, Kentucky played a lot of players including reserve guards Mason Wolfe and Luke Fortner getting a ton of snaps. It appears that John Schlarman is comfortable with a eight man rotation with true freshman Darian Kinnard perhaps breaking through at right tackle some time in the near future.
Defense
It was another overall solid outing for Matt House's defense as Kentucky only allowed one touchdown for the third game in a row. The one on Saturday came against a unit filled mostly with freshmen getting their first action in college football.
The Wildcats held Murray State to 302 total yards on 62 plays. That's good for 4.9 yards per play. For the season, Kentucky is limiting opponents to just 4.7 yards per play and that is good for sixth in the SEC. On Saturday, the pass defense stood out once again.
In Murray State's offensive scheme, it is difficult for the pass rush to really impact the game because the ball is getting out so quick. When facing offenses like this it is very important that your linebackers are good in coverage and Kentucky's answered the bell on Saturday.
Jordan Jones, from a pass coverage standpoint, had the best game of his college career as he recorded four pass break-ups and totally shut down MSU's intermediate passing game with their running backs. For the game, Kentucky recorded 11 PBUs and Jamin Davis reeled in his first career interception in the fourth quarter. 
Give credit to redshirt freshman Jordan Wright for causing the errant throw.
For the season, Kentucky has 20 passes defensed (two interceptions, 18 PBUs) and that currently ranks third in the SEC. Sooner or later those PBUs will start to become interceptions as Kentucky's secondary has lived up to the hype through 12 quarters in 2o18. Opponents are averaging just 5.2 yards per attempt against UK with a QB rating of 96.90. Both of these rank second in the SEC.
On the ground, there was cause for concern. Murray State entered the contest averaging just over 70 yards per game on the ground as their backs were averaging under four yards per carry. That changed on Saturday as the Racers picked up 125 yards on 21 carries. That's nearly good for a six yards per carry average. That cannot happen.
A good chunk of these yards came against backups in the fourth quarter but too many times Kentucky was not dominating the point of attack against an inferior front. They were without Quinton Bohanna but they must continue to get better at getting a push and getting run stuffs from their three-down front.
In his first legitimate game action, true freshman Marquan McCall proved why he was so sought after coming out of Detroit. The mammoth nose guard had two tackles for loss, a sack, and a forced fumble on the day. He's still learning the intricacies of the nose position but it's clear that UK must start getting him in the rotation.
In all, it was another solid outing for the defense as they pretty much shutdown their opponent outside of the two scoring drives. Moving forward, this group must find a way to force more turnovers as they're going to need that when they're facing teams with a dominant ground game. The PBUs must start to become interceptions and when the ball gets on the turn the Wildcats must pounce on it.
Special Teams
After two games without an attempt, it was important to get Miles Butler a field goal attempt soon and they were able to get him two on Saturday. The senior drilled field goals from 38 and 40 yards and that was nice for Big Blue Nation to see. If he can be reliable from 40 yards and in then there is not much more you can ask for from the former walk-on.
Max Duffy was only used once but the sophomore boomed another 50-yard punt and is now averaging 45.7 yards per kick on the season. This is getting the job done. Grant McKinniss continues to be serviceable as 57.9% of his kicks are ending in touchbacks on the year.
In the return department, Kentucky is still struggling to produce explosive plays but David Bouvier continues to make good decision on punts to save the Wildcats some hidden yardage.
Outlook
After the huge win there was no escaping the looming hangover game from Kentucky. The Wildcats were super sluggish in the first half but shook off the cobwebs to dominate the FCS foe in the second half. Good teams take care of business in games like this and that is exactly what UK did.
The ground game continues to be a strength for the Wildcats even with the slow start against Murray State. For the season, the Wildcats are averaging 6.7 yards per carry and 282.3 yards per game. Both of these are good for third in the SEC.
It has been nice to see Terry Wilson get better with each outing as his completion percentage and yards have increased with each start. He's been better than most thought coming in with the intermediate game and he's just been a hair off on most of the vertical throws. Get those fixed and this offense can make a big jump.
Defensively, there is not much to complain about yet as the Wildcats have shutdown three consecutive offenses. However, these could be the three worst offenses UK will face this season. With that said, the Wildcats are doing their jobs and they play like a unit that has seniors at nearly every position.
Moving forward it will be essential for Kentucky to start to win the turnover battle. On the year they have three double-digit wins collected on a minus-three margin. That's a good sign moving forward if that number can begin to go in the other direction. Wilson must continue to make good decisions with the football and the defense must become more opportunistic. With an outstanding offensive club coming to Lexington in week four, this upcoming Saturday would be a good time to start tilting this margin the other way.
On to Mississippi State.
The Kentucky Wildcats missed the top-25 by just a hair in the latest week-four Coaches Poll.
Receiving 98 overall votes, Kentucky is listed at No. 26 in the rankings, ahead of the likes of Duke (55), South Florida (45), Colorado (41), South Carolina (40), and Iowa (36), among others.
They're also ranked ahead of future SEC foes Missouri, Tennessee, and Vanderbilt, along with past foe, Florida.
Mississippi State, Kentucky's opponent next week, moved up to No. 14, while Texas A&M, UK's week-six matchup, came in at No. 22. Georgia is the only other ranked opponent on Kentucky's scheduled, coming in at No. 3 for the third consecutive week.
If the Cats can pull off an upset victory next weekend, you better believe they'll be jumping into the top-20 going into the South Carolina game.
Let's make it happen.
Kentucky's Florida hangover lingered for a half before the Cats turned on the jets to cruise to a dominant 48-10 victory over Murray State.  It's hard to take much away from a win over an FCS opponent, but we did learn a few things today about the Kentucky Wildcats.
1. Terry Wilson is The Man
Terry Touchdown was firing on all cylinders in the first half.  He completed 12-of-14 passes in the first two quarters.  A drop and a throw-away under pressure were Wilson's only two misses.  On the ground he was just as good.
TO THE HOUSE!

Terry Touchdown showing off the wheels. pic.twitter.com/sbJVGAosaD

— SEC Network (@SECNetwork) September 15, 2018
Wilson's day was done in the third quarter.  He finished the game with 243 all-purpose yards.  Through three games Wilson has completed 69.4 percent of his passes.
2. The Offensive Line Didn't Look the Same
Something was not right in the first half.  The unit that dominated Florida in the trenches wasn't opening holes for Benny Snell against Murray State.  Terry Wilson did not get touched in Gainesville, but was sacked by a Racer.
Mark Stoops will not make excuses, but you can probably chalk most of it to a bad hangover.  The rest of the mistakes in the trenches will be considered teaching moments for the inexperienced offensive linemen.  Darian Kinnard gave up a sack, Luke Fortner and E.J. Price had a few bad penalties but Kentucky's second string o-line played through the mistakes to pave the way for a hard fought 14-play, 64-yard touchdown drive in the second quarter.
3. Jordan Jones: Good in Pass Coverage
Jordan Jones became an All-SEC linebacker by making disruptive plays behind the line of scrimmage.  Today he proved that he can make plays downfield too.  Jones broke up a team-high four passes in coverage.  Even though he only had two tackles, Jones showed that he's developed into a player that is valuable all over the field.
4. Benny Snell has a P.J. Washington Impression
Unfortunately, the slow start in the trenches prevented Snell from surpassing 100 yards for the first time this season.  He finished with just 75 yards on 15 carries (5 yards per carry) and was pulled early in the third quarter.  Before his day was done, he powered into the end zone and flexed harder than P.J. Washington.
@benny_snell flexing on them like his name is PJ Washington. #KSR @MrsTylerKSR pic.twitter.com/tkySPxJ0zl

— David Scott (@Finna_Go_HAM) September 15, 2018
5. QB Sneaks are BACK!
On fourth and short in the Stephen Johnson era, Eddie Gran usually turned to Benny Snell to get a first down out of the Wildcat.  Even though that is technically a quarterback sneak, it's not the play that Jared Lorenzen used to keep drives alive.  Gran brought that play back today.
Wilson went with two quick counts to fall forward a yard for a first down.  On one occasion, C.J. Conrad tackled him forward to move the chains.  Kentucky was 3-for-3 overall on fourth down and now they have a new reliable short yardage weapon.
6. Missed Connections
After finding Lynn Bowden for a 54-yard touchdown against Florida, the Big Blue Nation pronounced the return of the Deep Ball.  That declaration was premature.
Kentucky had three missed deep ball opportunities, one to Isaiah Epps and a pair to Dorian Baker.  One play in particular will haunt the senior.  Wilson threw a beautiful pass that dropped over the cornerback's shoulder, but Baker could not hold onto the ball.
7. Miles Butler is Money
Kentucky's kicker finally let his leg loose.  He did not disappoint.  Butler banged in his first two field goal attempts of the season from 40 and 38 yards.
The other two kickers were pretty good too.  Grant McKinniss drilled a few deep into the end zone and Max Duffy's only punt was a 54-yarder that landed inside the 20-yard line.
8. Lynn Bowden: Good at Football
Bowden started the game with quite the snafu.  The wide receiver dropped the opening kickoff and returned it to just the ten-yard line.  After that, he could do no wrong.  Bowden caught a career-high 8 passes for 89 yards.  He took screens straight upfield (instead of dancing around) and made one incredible highlight on the sideline.
9. The Future is Bright
The blowout win provided many opportunities for Kentucky's young stars to shine on Kroger Field for the first time.
True freshman wide receiver Allen Dailey fought through three defenders to score his first career touchdown.  The Alabama native caught two passes for 38 yards and a score.  Chris Rodriguez tried to replicate Dailey's touchdown, but was finally drug down by a pile of defenders inside the five.  Danny Clark entered the end zone one play later for his first career touchdown.  Rodriguez rushed for 43 yards in just two carries.
On defense, Marquan McCall did not disappoint.  The highest-ranked player in Kentucky's 2018 recruiting class stripped the quarterback, recorded a sack, 1.5 tackles for loss and 3 total tackles.  DeAndre Square chipped in two tackles, .5 for loss, and a pass break up.  Redshirt freshman Jamin Davis picked off his first career interception and recorded four tackles.
10. It's Tricky
Benny Snell can do it all.  In one play he threw a touchdown pass AND landed the lead block that sprung the receiver free.  He has a 791 QB rating after the Wildcat trick play to Paducah native Zy'Aire Hughes went 43 yards for a touchdown.
Best lead blocker in the country and I'm not sure it's even close. pic.twitter.com/6CIBoNfmcI

— Not Jerry Tipton (@NotJerryTipton) September 15, 2018
One thing we did NOT learn today: Dr. Mike is awesome.  You've known that for a long time.  Check out all of his photos from today's game.
Terry Wilson, Benny Snell, and Lynn Bowden may have been the biggest storylines at the start of Kentucky's 48-10 trouncing of the Murray State Racers, but the newcomers stole the show to finish the day.
Midway through the third quarter, most of the backups found their way into the action, and it only ramped up when backup quarterback Gunnar Hoak entered the game with 12:03 remaining in the fourth. On both sides of the football, the Wildcats managed to get reps out of just about every non-injured freshman or redshirt freshman. At one point, Kentucky had 10 freshmen in at one time on defense, with the eleventh player being senior tackle Tymere Dubose.
For Mark Stoops, it was a way to get his young talent's feet wet in a live game setting, which in most situations can be used as one of four playable games to remain eligible to redshirt.
"Yeah, we thought we'd use it for a bunch of those guys just to get them some reps and get them in there," Stoops said. "There will be a good dose of those freshmen that we will hold and use in emergency situations now. At least they got their first reps in game play, got a few snaps. Some of them played quite a few. So we'll gauge it as we move forward."
And they didn't just play. Several dominated in their  limited time on the field.
It starts with freshman receiver Allen Dailey, who made his first two career touches, with the first going for 15 yards and the second going for 24 yards and a touchdown, fighting off what seemed to be ten defenders in the process. After the game, Stoops said he's going to have to get the impressive newcomer some more game reps going forward.
"Allen is a good football player," he said. "We really got to look hard at getting him some more reps, because he's a player. He just has that — he has a toughness and work ethic, and he's got instincts, and I really like him. He's going to get in there some more."
Sophomore receiver Lynn Bowden agrees, saying the freshman wideout is a star in the making.
"Dailey, he's a tough freshman, tough guy. He's actually my roommate. He's really tough," he said.
Another young wideout, redshirt sophomore Zy'Aire Hughes (started his career on defense), managed to take a 49-yard reverse in for a touchdown, the first of his career.
Stoops said Hughes was on the sideline begging for an opportunity, and the Kentucky coach decided to give him a shot.
"Well, he was over there hunting them down. I said, Zy'Aire, come on, we're going to give it to him, you know, so be ready to dial it up for him.
"He said, "Thanks, Coach" after that. I said, well, you knew what to do with it once you got the ball, that's for sure. He knew how to take it to the end zone. Zy'Aire has great speed. He's a great kid… It's good for guys like that, for Zy'Aire, who's been working hard, to see him get it in the end zone," he said.
Hughes said the team actually practiced that play in practice and knew he could make an impact when given the opportunity.
"I was expecting it," he said. "We've been practicing all week. It's actually called "12 Fish" and it's a play designed for me to get a reverse and basically score. The whole time I'm thinking that I would score, but to me the play is just a reverse to get yardage off of, but I wanted to score.
"They say get as wide as possible, but the way our receivers were blocking I saw a hole and that left me no choice but to cut it up and run for the touchdown."
Freshman running back Christopher Rodriguez unleashed his inner Benny Snell, adding 43 yards on just two carries. Redshirt freshman quarterback Danny Clark also added a two-yard touchdown run to end the game.
On defense, De'Andre Square, Marquan McCall, Jordan Wright, and Jamin Davis made impressive plays of various degrees, each being either true or redshirt freshmen.
"Definitely, Marquan (McCall) shows up a lot. And Jordan (Wright), I think he had a good rush or two. He's talented. It's good to get his feet wet, get him in there. He's one of the guys that we'd like to get him some reps and get him moving," Stoops said.
McCall made three tackles on the day, including his first career quarterback sack, and caused a fumble. He was Kentucky's highest-rated recruit in the 2018 class, and by game three, he was already performing at an exceptionally high level.
Senior linebacker Josh Allen also said he was impressed with both McCall and Wright, in particular.
"He's showing he can play at the next level," Allen said of McCall. "He's ready. It's a lot of little things he has to get corrected, but when he does that, he's going to make a big impact for us."
As for Wright, Allen said his impressive practices translated to the game this afternoon.
"I wanted to see what he was capable of. I know in practice he does a good job, so I just wanted to see how he could play. He did pretty good, a few mental errors, but overall he did pretty good," he said.
Freshman linebacker Jamin Davis made four tackles, claimed his first career interception, and added a pass breakup. He seemed to always find his way to the ball, including his interception that was a shoestring tackle away from being returned for a touchdown.
De'Andre Square, a freshman out of Michigan, also added two tackles, including one for loss. Redshirt freshman Tyrell Ajian also added two tackles in the victory. Yusuf Corker, Michael Nesbitt, and Chris Oats each added to the box score with one tackle, as well.
Josh Allen said it best: Kentucky has some of the best depth top-to-bottom it's had since Mark Stoops arrived.
"We've got a two-deep (lineup), almost a three-deep. And all of us can play," he said.
We knew this was going to be a big day for the backups, but I don't think anyone imagined they would put on a show like this. The third-string secondary gave up a late touchdown run to Murray State, but beyond that, the newcomers played exceptionally well.