As you've surely seen by now, John Calipari was at the Belmont this weekend to cheer on Justify, resulting in this great photograph. Turns out Cal has a habit of photobombing iconic moments in sports…
Muhammed Ali vs. Sony Liston, 1965
The Miracle on Ice, 1980 Winter Olympics
The 1988 Slam Dunk Contest
Mike Tyson biting Evander Holyfield's ear in 1997
Tiger Woods at the 2005 Masters
Usain Bolt in the 2016 Rio Olympics
Secretariat winning the 1973 Belmont Stakes
Okay, that last one might have been a little photoshopped.
A junior college edge rusher from the state of Georgia has committed to Kentucky.  Marquez Bembry, a former Tennessee signee, announced he will join the Kentucky football team.
Blessed to say I'm committed to The University of Kentucky #BBN @UKCoachStoops @CoachWhiteFB @coachclink @CoachMHouse @UKFootball pic.twitter.com/69nBM2dxer

— Marquez Bembry (@Dont_worrycoach) June 11, 2018
A three-star prospect from Atlanta in the class of 2017, Bembry was committed to play at Tennessee for more than a year before signing with the Vols.  After failing to academically qualify, Bembry enrolled at Jones County Junior College in Ellisville, Miss.  Bembry is expected to be a member of Kentucky's 2019 recruiting class.
Check out highlights from his high school playing days.
Since his high school days, Bembry has transformed into a grown ass man.  He'll play Josh Allen's role as an outside linebacker for the Cats.
The KSR crew actually watched Bembry's team play last year.  East Mississippi C.C. (of Last Chance U fame) hosted Jones County during KSR's road trip to Southern Miss last fall.  Jones County's logo shares a striking resemblance to another area logo.
I hope everyone is having a great Monday afternoon. I'm coming live from the Regional Municipality of Niagara in Canada, eh. I'll be covering Tyrese Maxey and UK targets Cole Anthony and Matthew Hurt over the next couple days as they represent team USA in the FIBA U18 Americas Championship. Bill Self is the coach and I've already spotted a dozen coaches/assistant coaches walking around the town. UK's Tony Barbee is here and Joel Justus will come later in the week, so UK will be represented for every game.
Let's get to the notes.
Reid Travis: I understand the urgency for Travis news because he could be such a big piece for the Cats, but nothing has changed in the last week regarding his recruitment. He will visit UK in about a week and the plan is for him to also visit Villanova. Obviously UK would love it for him to visit UK and commit and not make the Villanova visit, but my guess is he takes both and potentially another school could join the mix.
Kentucky remains confident and until that changes there's not much else left to say. UK has known this is a possibility for awhile and it's pretty much just a waiting game until Travis wants to make it official.
Villanova's frontcourt may look more appealing from a minutes perspective, but Travis wants to win a national championship. I'm shocked to see Villanova in so many top 10 and top 15 preseason rankings. I think (those) Wildcats will really struggle losing all those pieces from a title run. Winning will be one of the biggest factors for Reid and UK holds that advantage over Villanova.
Visitors: UK hosted Dontaie Allen and Kira Lewis Jr. over the weekend and please excuse my "the visit went well and both enjoyed themselves" recycled phrase. I really just want one time where the visit went horribly and a school is eliminated because of an unofficial visit. The closest one that comes to mind is when Patrick Patterson visited Duke and "wasn't feeling those guys", but it's almost always a "nice" visit.
Lewis Jr. told KSR that the visit went well and he enjoyed the campus and talking with Joel Justus (Calipari was out of town).
Neither player received offers like we said last week, but the Cats will continue to recruit. While at this stage Lewis Jr. may be the better player, I think it's more likely that Allen receives an offer, although both certainly could down the road. UK will have a plethora of guards next season and Tyrese Maxey will join, too. The Cats are already recruiting several elite guards to join Maxey.
UK really, really likes Lewis but they like other guards more and it's a year the Cats can be picky because of the returning players.
However, the guard dilemma doesn't apply to Allen. The Kentuckian is a scoring wing and with UK likely losing Keldon Johnson they will need wing players next year. I expect at some point Allen receives an offer but it may be a few more months. Allen's recruitment is blowing up and he will continue to take visits this summer (WVU this weekend) so the Cats probably shouldn't wait too long if they want a chance at landing him.
UK's only other wing target is Keion Brooks, who recently cut his list to 10. UK was included and will be a major player. I expect MSU, UNC and UK to battle it out for Brooks, with the Spartans and Cats being the leaders.
USA Guys: This week I'll be watching Tyrese Maxey, Matthew Hurt and Cole Anthony. Just being around town I've heard a few nuggets worth passing along on the three.
Tyrese Maxey: I had an assistant coach from a Big XII school tell me that Maxey was the best player in last night's win. He said he thinks overall that Maxey is every bit as good as Anthony but it was clear those two were a step ahead of everyone else. Remember, Quentin Grimes is also playing on this team and he will lace them up for the Jayhawks next season. Anthony and Maxey will be waiting until 2019-2020 to play college basketball. I can't say it enough- get on the Maxey hype train. UK may land James Wiseman and Vernon Carey in 2019-2020, but I honestly think Maxey will be the Cats best player, even with some the likely returners from this year.
(And no, I haven't heard anything new on Wiseman or Carey)
Matthew Hurt: UK is going to continue to recruit Hurt, and he would be a nice piece for UK, but it seems like Kansas has a decent lead for the score-first forward. Hurt playing with Bill Self this week will only help Kansas' chances. I don't feel great about UK's chances here.
Cole Anthony: One of the most mysterious recruitments I can remember. And the only reason it's mysterious is because Anthony doesn't want to talk about his recruitment. I respect the move, but it makes my job difficult. I actually think UK has a better chance than most people think, but I still don't think the Cats are the leader as of today (if that makes sense). I was told that Anthony playing with Maxey this week will only help. Those two could find themselves wanting to play with each other at the next level and win a championship. Maxey has been on him for over a week and that's not changing in Canada. Do your thing, Tyrese.
Stay plugged to KSR all week for USA coverage.
LeBron James' mission to take down the NCAA is coming to television and includes a Kentucky Wildcat. Nick Richards will be featured in James' upcoming documentary for HBO Sports slamming the NCAA for exploiting college athletes.
The film, entitled "Student Athlete," debuts Tuesday, October 2 at 10 p.m. ET, and will showcase "the complex rules of amateur athletics in America and how they affect uncompensated athletes and their families." It's directed by Sharmeen Obaid-Chinoy (HBO's Oscar® winners "Saving Face" and "A Girl in the River: The Price of Forgiveness") and Trish Dalton ("Bordering on Treason"). James serves as executive producer.
From HBO's press release:
Unpaid college athletes generate billions of dollars for their institutions every year. STUDENT ATHLETE unveils the exploitative world of high-revenue college sports through the stories of four young men at different stages of their athletic careers, as well as a coach-turned-advocate and a whistle-blowing shoe rep who exposes the money trail. The documentary spotlights: former NCAA and NFL coach John Shoop; New Jersey high school basketball phenom Nick Richards, now at the University of Kentucky; Mike Shaw, who played at the University of Illinois and Bradley University; Shamar Graves, a former wide receiver at Rutgers University; and Silas Nacita, a walk-on who played at Baylor University.

From high-school recruiting to post-graduation, the usefulness of athletes is tied to their ability to produce revenue. Once they can no longer do that, their participation in sport ends – often abruptly – with virtually nothing to show for their contributions. An audited financial disclosure from the NCAA in March 2018 revealed the association had close to $1.1 billion in revenue during 2017, a total that was unimaginable in 1964, when the NCAA coined the term "student athlete."

"The NCAA blinded by revenue goals is turning student athletes into full-time employees," said Steve Stoute, Founder & CEO of United Masters.  "This documentary is incredibly important as it debunks the myth that student athletes are being fairly compensated by receiving scholarships and a valuable education. In fact, the demands put on these students by this oppressive system makes it impossible for them to get the education they deserve. The time is now to end this false narrative and reveal the truth of this exploitation."
Well, this will certainly get people talking.
The focus was on Justify's Triple Crown victory yesterday afternoon, but one Kentucky Wildcat followed it up with a trophy-winning performance of her own to add to the long list of records and accolades she has already claimed.
And it may have solidified her spot as the most dominant athlete in UK history.
That's right, not a star basketball or football player. A track and field sensation has officially taken over the top spot as the most dominant athlete in school history. And if things go as planned, Kentucky freshman Sydney McLaughlin will be the face of U.S. Track and Field for years to come.
McLaughlin, an 18-year-old track phenom from New Jersey, ran away with the 400m Hurdle title at the NCAA Championships last night with a final time of 53.96 seconds to bring another banner back home to Lexington.
Check out the victory, where despite the horrible weather conditions, the Wildcat freshman was able to pull off the 8th fastest time in collegiate history.
Sydney McLaughlin runs away with the 400m Hurdles championship. The most dominant athlete in Kentucky history. pic.twitter.com/BFWWG8UfeI

— Sam Gormley (@GormleyKSR) June 10, 2018
Nobody even close.
This came right after McLaughlin destroyed the 400m hurdle semifinals with a time of 54.15, over two seconds faster than anyone else in the field.
The footage is hilarious, as the camera crew tried to keep the view as wide as possible to keep other runners in the frame, but McLaughlin was so far ahead they eventually just gave up.
NCAA Championships, 400M Hurdles

"A very easy 54:15."

Kentucky's Sydney McLaughlin out here looking bored. She's unbelievable. Pure dominance. pic.twitter.com/KItkYHcUl8

— Jamie McCracken (@jamieamccracken) June 8, 2018
She came on the national scene by representing the United States in the 2016 Rio Olympics at just 16 years old.
As a senior in high school, McLaughlin recorded the fastest legal time by a high school female in the 200m event with a time of 22.96, a record that had stood since 1993. She followed it up with New Jersey meet records in the 400m hurdles, 400m, and the 200m. The 400m time (54.03) broke the World Junior and overall high school records.
As the fastest runner in all of high school, she had sponsors begging her to skip college and turn pro. Instead, she decided to be a kid for one more year and attend the University of Kentucky.
To no one's surprise, she quickly became the fastest collegiate female in the nation.
Back in March, McLaughlin set the world junior 400m record with a time of 50.36 at the NCAA Division I Indoor Track and Field Championships. She followed it up with a 400m time of in 50.07 seconds, a new NCAA Freshman record. With that time, McLaughlin became the second-fastest person to run the 400m at the collegiate level ever behind Courtney Okolo and now leads the world in the event.
Just two months later, the track phenom broke the NCAA record in the 400m hurdles, finishing with a 52.75 to win the event in her first SEC championship appearance. In the process, McLaughlin destroyed the World U20 time and broke Shamier Little's time of 53.21 set at the 2013 NCAA Championships to become No. 13 on the all-time world list.
At 52.75, McLaughlin is just 0.41 seconds away from becoming the fastest woman hurdler in the world.
And according to Kentucky Track and Field coach Edrick Floréal, McLaughlin could easily break Russia's Yuliya Nosova-Pechonkina 400m hurdle record of 52.34 in the very near future. In "perfect" runs at practice, Floréal said she can finish in the 51.9-second range, which would make her the fastest woman in world history by a whopping .44 seconds.
Unfortunately for UK fans, we won't be able to see her break that record in a Kentucky uniform. After her national title victory last yesterday, McLaughlin announced she will be turning pro.
BREAKING: @GoSydGo announces she is going pro after this season pic.twitter.com/QHs80PVxXu

— FloTrack (@FloTrack) June 10, 2018
Sydney McLaughlin (@GoSydGo) recaps her final college race and national title pic.twitter.com/TkolUF5lkn

— FloTrack (@FloTrack) June 10, 2018
So now that her one (and only) season at Kentucky is over, is it safe to say she is the most dominant athlete in school history?
Here's the competition:
Anthony Davis had the most decorated season at Kentucky, finishing as a national champion, National Player of the Year, Defensive Player of the Year, Final Four's Most Outstanding Player, Olympic gold medal winner, No. 1 draft pick, etc. Most have had him penciled in as the most dominant.
Wallace "Wah Wah" Jones was a three-time basketball All-American and led the team to back-to-back national championships under Adolph Rupp. And he was also a star under Bear Bryant on the football team. Oh, and he dabbled in UK baseball in his "free" time. He was one of the best multi-sport athletes in school history.
Dermontti Dawson was a pro football Hall of Famer. Tim Couch was the most dominant quarterback in UK history and became the No. 1 overall pick. A.J. Reed was the unanimous National Player of the Year in baseball as a hitting/pitching sensation. Dan Issel was a two-time consensus All-American and holds just about every scoring record Kentucky has to offer.
That being said, no one dominated their sport in effortless fashion the way McLaughlin has done in her one-and-done season at Kentucky. She breaks records, but hardly breaks a sweat in doing so. She once clipped a hurdle, but was so far ahead in the race, still casually strolled across the finish line with zero worries.
Scary moment for Sydney McLaughlin pic.twitter.com/W719kSR4O2

— FloTrack (@FloTrack) May 25, 2018
Her runs are ridiculously effortless. Her competition sees nothing but her back at all times, and the records show for it.
Has she officially taken over the top spot? I think so.
Team USA ran away with a 105-73 victory over the Dominican Republic to open the FIBA Americas U18 Championship this afternoon. For a team stacked with five-star talent, it was a result most expected.
The biggest storyline of the day, however, came from the game's top performer. And it's a player Kentucky fans should be pretty familiar with.
UK target Cole Anthony led the team in points with 18, but Kentucky commit Tyrese Maxey was the easily best player on the floor, finishing the day with 14 points (5-8 shooting), five rebounds, three assists, and three steals.
Team USA was incredibly successful with Maxey on the floor, with the 6-foot-4 guard leading the team with a +42 +/- in just 28 minutes on the floor.
.@TyreseMaxey led Team USA with +42 +/- in 28 minutes @HoustonHoops17U #Efficient @FIBA #FIBAU18 @usabasketball https://t.co/usmX72I9LE

— D1 Circuit (@D1Circuit) June 11, 2018
Maxey impressed on both ends of the floor, knocking down tough shots on offense and bringing great energy to the table on defense.
What sets Tyrese Maxey (@TyreseMaxey) apart from other prospects? Just how engaged in the action he is when he's on the floor, whether it's offense or defense, he is locked in on every position and brings the energy to the floor @HoustonHoops17U.

— Samad H. (@CoachHines28) June 10, 2018
Tyrese Maxey with 14 pts 5 reb 3 ast 3 stl…. was best player in this game IMO. Cole Anthony with 18 is the other star for USA u18.

— mike gribanov (@mikegrib8) June 10, 2018
Before USA headed to Canada for the event, 2019 five-star point guard Cole Anthony complimented Maxey on his style of play and said he was a big fan.
"Tyrese is a dog, so I'm happy that both of us could be here," Anthony said. "I like playing with him… He brings a lot of energy. He can score the basketball, long arms, just elite… He can shoot it. I really like his game, I'm a fan."
Kentucky target Matthew Hurt also added 12 points and nine rebounds.
?? #USABMU18

1?8? pts. @The_ColeAnthony
1?4? pts. @whitecoby2
1?4? pts. @TyreseMaxey
1?2? pts. @HurtMatthew + 9? reb.
1?1? pts. @iget_buckets35 + 9? reb.
1?0? pts. @_JCRE_

— USA Basketball (@usabasketball) June 11, 2018
Kentucky assistant coach Tony Barbee was also in attendance, as seen in the photo below: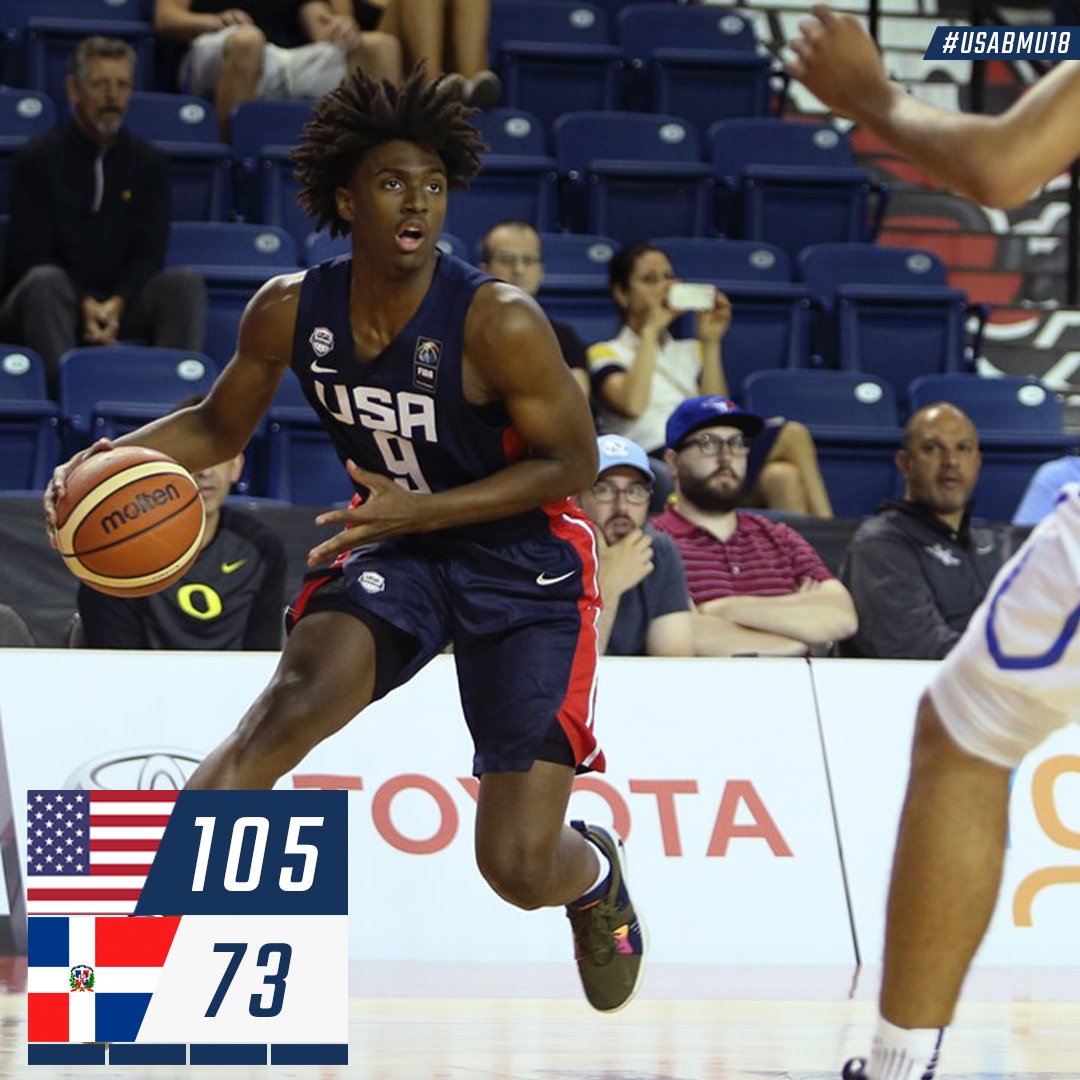 Team USA will take on Panama tomorrow night at 8:15 PM ET.
Summer football camp season opened today at Kroger Field.  Hundreds of campers worked with UK coaches inside the stadium and on the practice field throughout the day.  KSR was on the sideline to see who was the best of the best on day one.
1. Nik Scalzo, Big Visor Guy
I guess Matt Jones isn't the only person who still wears visors.  Scalzo is bringing the visor back.  The Kentucky quarterback commit rocked one throughout the camp's entirety.
Scalzo also spent plenty of time talking to Mark Stoops, Darin Hinshaw and Terry Wilson in-between reps. Normally the QB commits spend more time talking than working; not Scalzo.  He remained involved the entire time, showing off throws though the entire passing tree.  His prettiest pass might be the deep fade.  He puts a wonderful touch on the ball and never looks uncomfortable.  As you'll see from his short routes, he gets the ball out of his hand quickly.
Terry Touchdown and Darin Hinshaw watch Scalzo and the other QBs do work pic.twitter.com/sFfKy7vbiy

— Nick Roush (@RoushKSR) June 9, 2018
Watching Nik Scalzo throw darts at Kroger Field pic.twitter.com/PgMqbQ5ZeT

— Nick Roush (@RoushKSR) June 9, 2018
Scalzo wasn't the only impressive quarterback at the camp.  Lexington Catholic's Beau Allen, son of former UK quarterback Bill Allen, is a junior-to-be with a pretty spiral.  Allen's best throws are deep outs, one of the most difficult passes to throw.  Throwing to unfamiliar wide receivers, he still hit them in stride out of the break.  Allen has a scholarship offer from Kentucky.
2. A Stand-Out South Florida Wide Receiver
During camps, there's usually one or two wide receivers that do not look like the rest.  Today that wide receiver was Kingsley Grissett.  A 6'4″ 175-pounder 2019 prospect, usually size takes away from speed.  That's not the case with Grissett.  In fact, his best asset is that he's light on his feet.  Most would use the word "smooth" to describe his game, but "graceful" might be a better adjective.
From Pompano Beach, Florida, last year the three-star prospect played with UK freshman defensive back Jamari Brown at Blanche Ely High School.  Grissett's offer sheet does not have any Power Five schools, but that will likely change after today's camp.  Speaking of offers…
3. Offers Extended to In-State Prospects
The Big Dog put in a little extra work after camp.  Vince Marrow met with Tristan Cox, a 2021 athlete from Somerset, to extend him a scholarship offer.
Beyond blessed to say I've received my first offer from the University of Kentucky! #BBN pic.twitter.com/t55qkSoPBT

— Tristan Cox (@Tcox022) June 10, 2018
Kentucky also offered a pair of rising juniors from Ballard.  Kentucky is cornerback Josh Minkins Jr.'s first scholarship offer.  Running back Markeice Warner earned his offer after reportedly running a 4.37 40-yard dash.
4. I Feel Bad for Offensive Linemen
I don't understand how they're supposed to put hands on pass-rushing defensive linemen when they aren't wearing shoulder pads.  The slippery defensive linemen always have the advantage, but they don't always win.
The most entertaining player at the camp was a large, blonde offensive tackle.  He might have been the biggest guy there, but he probably doesn't have the height or length to play Division I football.  He does have the nastiness for it.  He mauled player after player and hit every opponent with a cock-strong punch.  At one point I thought they might have to break up a fight.  The best part?  Before he left the field, he removed his cleats, put on a pair of blue jeans over his shorts, then threw on a pair of square-toed cowboy boots.
Arguably the most-talented offensive lineman on campus did not participate in camp activities.  2020 LCA offensive  tackle Walker Parks took an unofficial visit just a few days after receiving a scholarship offer from Clemson.  The legacy recruit received plenty of attention from the Kentucky coaching staff.
5. Leaders Emerge
Kentucky football players weren't required to be at today's camp, but there were still a dozen or so in attendance.  Drake Jackson, Dom Williams, C.J. Conrad, Terry Wilson, Josh Paschal and Josh Allen were just a few that caught my eye.  Voluntarily attending a camp is a little thing, but it's the little things that make a big difference when it matters most.
We are only 84 days away from the start of the Kentucky football season.
Between now and September 1, there will be previews of players, position groups and plenty of preseason rankings. In mid-July the talking heads will assemble in Hoover Atlanta for SEC Football Media Days.  The prognosticators will condemn the Cats, pump up Will Muschamp's South Carolina Gamecocks and proclaim Kirby Smart as the heir apparent to Nick Saban.
Kentucky's opponents will receive plenty of praise.  As people predict records, they probably won't take into account match-ups, timing, etc.  Allow me to handle that responsibility by ranking UK's opponents, from least to most difficult.
12. Murray State
Kentucky hasn't easily handled FCS opponents under Mark Stoops, but Murray State is still an FCS opponent.  The early noon kickoff means Kentucky will start slow, but ultimately leave Kroger Field with a decisive victory in the third week of the season.
11. Middle Tennessee State
There are a couple reasons why this game is potentially scary.  The Blue Raiders have a fifth-year senior quarterback who is the coach's son.  Brent Stockstill has a big arm and he's big enough to take some licks and keep running.  Their offense is led by Tony Franklin, Hal Mumme's former UK assistant, who let's the ball fly early and often.
MTSU has a lot of potential to score a ton of points, but last year their offense actually struggled.  The Blue Raiders' scoring offense was ranked 87th, scoring just 26.5 points per game.  The game also falls on Senior Day.  The most-impressive senior class of the Stoops era will refuse to lose their final game at Kroger Field.
10. Central Michigan
The Chippewas ain't no joke.  They won eight games last year and have been to four straight bowl games.  Kentucky should be able to take care of business in the season-opener, but Southern Miss taught us in 2016 that you can't take the season-opening mid-major opponent for granted.
9. Vanderbilt
Kyle Shurmur was actually second in the SEC in passing yards per game (235.3) in 2017.  That's really the only good thing Vandy has going for them.  Despite their many losses on defense, Vandy's biggest problem is that Alabama destroyed their soul.  A year isn't long enough to recover from that L.
8. South Carolina
I will never understand the media's fascination with Will Muschamp.  The bowl victory over a bad Michigan team should not validate their confidence in the Cocks, but it will.  I'll commend South Carolina for still winning eight regular season games without Pharoh Cooper.  Jake Bentley is the SEC's darling, and could have his best year yet, but I'll believe South Carolina can beat Kentucky when I see it.
7. at UofL
It's easy to be skeptical about this year's Louisville team.  They lost their best player ever, who is being replaced by a guy whose first start will be against Alabama's vicious defense.  If Jawon Pass' will is not destroyed by the Crimson Tide, the Cards will probably have another high-scoring offense. But their defense…
Louisville's defense could only do anything right when Jaire Alexander was in the lineup.  Now he's gone, and so is Petrino's fall guy, Peter Sirmon.  His replacement, Brian VanGorder, has a long track record of being very average and that's exactly what Louisville will be this year.  When the two teams meet in the final week of the season, it would not shock me if Louisville was playing for bowl eligibility (but in reality both teams will probably be 6-5 entering Thanksgiving weekend).
6. at Tennessee
The only reason this game is ranked so high is because Kentucky has not won at Neyland Stadium since 1984.  Jarrett Guarantano is the Vols' only redeeming quality.  Jeremy Pruitt should bring the trash can back to the sideline to remind his players what they are.
5. Mississippi State
Dan Mullen's departure should make the annual game against Mississippi State more winnable, but that change will not happen immediately, thanks to Nick Fitzgerald.  Fitzgerald is Kentucky's most frightening opponent this season.  He's "Tim Tebow Light."  One can only hope the massive dual-threat quarterback takes a step back while learning Joe Moorhead's offense.
4. at Missouri
Mizzou is by no means a scary place to play.  The last time Kentucky traveled to Columbia, there were about as many animals in the petting zoo as there were fans in the stands.  However, a lot has changed since the Cats beat the brakes off the Tigers in 2016.
Drew Lock will probably throw for 4,000 yards in 2018.  It took the Tigers' offense some time to click in 2017.  They figured it out in the halftime locker room at Kroger Field.  After the Cats escaped with a victory, Mizzou lost to Georgia, then rattled off six straight wins by scoring an average of FIFTY ONE POINTS.
The No. 14 scoring offense in America in 2017, they'll be in the top five in 2018.  Kentucky's defense should be its best since Mark Stoops got to UK, but you can't expect them to stop the Missouri offense, just slow it down a little.  If UK can play ball control with Benny Snell, the Cats can escape with a victory, but they'll need at least 35 points to do so.
3. at Texas A&M
The most mysterious team on the schedule, who knows what Jimbo Fisher will throw on the field when the season starts in September.  Unfortunately, this game is six weeks into the season.  Whatever kinks Jimbo has to work through (like finding a quarterback) should be fixed by the time UK travels to Kyle Field, the second-most difficult venue on the schedule.
2. at Florida
The Swamp.  That place will be rocking for the 7:30 kickoff on September 8.  Dan Mullen's second game as the Gators' head coach, the former Florida offensive coordinator has a knack for making the most out of his quarterbacks.  Felipe Franks has the most experience, but incoming All-American Emory Jones is the one that should make you worry.  Recruited to play in Mullen's system, the dual-threat quarterback is the ideal candidate to come off the bench and have a breakthrough performance, a la Lamar Jackson in 2015.
There is some hope. Three of the last four against the Gators have been decided by a combined 12 points.  Maybe vengeance from last year's loss is enough to motivate them to surprise Mullen's team.  Or maybe Mullen will continue to have the Cats' number.  It took a 51-yarder as time expired to handle Mullen his only loss to UK in nine years as Miss. State's head coach.
1. Georgia
Is there a scenario where Kentucky beats the defending SEC Champs?  If Kentucky could beat a No. 1 team that eventually won the National Championship in 2007, it is possible (but highly, HIGHLY unlikely).
I have a theory that almost any UK basketball team could have won a national championship under John Calipari if the Cats had just one more weapon. Maybe UK missed out on a recruit or  a player went to the NBA Draft that surprised the staff, but nearly every year since the 2010 season the Cats have been missing just one player. A couple years the Cats were a player off from having a perfect season.
I will tell you those players and how things would have been different, but let's remember we're keeping realistic expectations. We can't say Anthony Davis could have returned in 2013 to help UK go back-to-back. No one can convince me that woulnd't have happened, but Davis was never going to have a sophomore season. You all are smart, you get the rules.
2010: 35-3, UK lost in the Elite Eight to West Virginia.
The Missing Player: A senior Jodie Meeks.
The hypothetical result: Kentucky would have finished the season undefeated with a national championship with Meeks. How would you stop a UK team that had John Wall attacking the rim and Meeks waiting for open shots on the perimeter? Remember (how could we forget), three-point shooting sunk the Cats against WVU. Many believe Meeks was close to returning to UK.
2011: 29-9, UK lost in the Final Four to UConn.
The  Missing Player: An eligible Enes Kanter.
The hypothetical result: If things had just gone as planned and Kanter was ruled eligible by the NCAA the Cats would have cut down the nets. The hard part here is that Kanter would have completely changed the regular season. The Cats wouldn't have been a four seed. They wouldn't have had a dramatic win over Ohio State and UNC to get to the Final Four. But they definitely would have had enough talent to beat UConn and Butler in Houston.
2012: 38-2, UK won the title.
The Missing Player: A senior DeAndre Liggins.
The hypothetical result: Kentucky beats Indiana and crushes Vanderbilt in the SEC Championship game with Liggins and UK goes 40-0. Liggins was the best defender in college basketball in 2011 and would have only improved in 2012. Imagine a lineup with Teague, Liggins, MKG, Jones and Davis. Good luck scoring. Liggins didn't seem forced out but UK bringing in MKG probably made his decision slightly easier.
2013: 21-12, UK lost in the first round of the NIT.
The Missing Player: A sophomore Marquis Teague.
The hypothetical result: If UK doesn't win the title in 2012 Teague and Doron Lamb likely return. Rumors suggest even after winning the title UK expect both players back and were surprised when both left for the NBA Draft. Teague would have improved the disappointing 2013 season more than Lamb. UK isn't winning the title with a sophomore Teague but if Noel stayed healthy it could have been a Sweet 16 team.
2014:  29-11, UK lost in the title game to UConn.
The Missing Player: Andrew Wiggins.
The hypothetical result: I'll never forget Wiggins' decision day. Staffs from UK, FSU and Kansas had no clue where the five-star wing would end up and Bill Self said he was shocked to hear he picked the Jayhawks. Had Wigg
ins picked UK the Cats win it all in 2014. UK needed perimeter defense and Wiggins would have provided that while also helping offensively. Like 2011 the regular season isn't as ugly with Wiggins, so the road to the Final Four would have been much different.
2015: 38-1, UK lost in the Final Four to Wisconsin.
The Missing Player: Justise Winslow.
The hypothetical result: UK was late to recruiting Winslow, who was somewhat of a late bloomer, but had the Cats prioritized him earlier the recruitment could have gone differently. UK could have used his defense and versatility offensively, but let's be honest: UK should have won in 2015 and had its ideal roster. Ugh.
2016: 27-9, UK lose in the Round of 32 to Indiana.
The Missing Player: Dakari Johnson.
The hypothetical result: UK also expect Johnson to return and it's not crazy to think the Cats could have competed for the title with Johnson. Johnson would have allowed Skal Labissiere to play a stretch four and I'm not sure how you guard a team that features Ulis, Murray, Poythress, Skal and Dakari. UK really struggled guarding physical bigs and also struggled on the glass. UK is at least a Final Four team with a junior Johnson.
2017: 32-6, UK lost to UNC in the Elite Eight.
The Missing Player: Miles Bridges.
The hypothetical result: UK was thought to lead for Bridges for the majority of his recruitment, but after visiting MSU he set a commitment date and canceled a visit to UK. That was all she wrote. Had UK landed Bridges the Cats win it all in 2017. Fox, Monk, Bridges, Willis and Bam would have been Calipari's best offensive lineup and Bridges would have provided some much needed rebounding. Marcus Lee was also considered for 2017 and the Cats suffered when he transferred to California.
2018: 26-11, UK lost to Kansas State in the Sweet 16.
The Missing Player: Mohamed Bamba.
The hypothetical result: UK had outside shooting (at times streaky). The Cats had attacking guard. The only thing UK was missing last season was a dominant center and had Bamba picked UK instead of Texas the Cats could have made a serious run at a championship. I don't think UK wins it all because Villanova was just on a different level, but Kentucky could have been the second best team in the country with Bamba.
In 2019 UK is just a Reid Travis away. Come on down, big guy.
The summer football recruiting season is getting off to a hot start at the University of Kentucky.  This weekend hundreds will gather at Kroger Field to camp with the Cats and tour the Joe Craft Football Training Center.
Tracking every prospect is almost impossible, however, there are a few names that you should know.  Kentucky is hosting five official visitors, and a few could pull the trigger and commit before the weekend concludes.
Officials Visitors
Nikolas Ognenovic
A three-star tight end, Ognenovic (Og-nin-O-vich) catches passes from Nik Scalzo at Cardinal Gibbons High School in Ft. Lauderdale, Florida.  A 6'6″ 240-pound prospect, Ognenovic is agile for his size.  He primarily lines up in the slot as a wide receiver, rather than in a three-point stance as a traditional tight end.
Already feeling the love in Lexington ???

— Nikolas Ognenovic (@N11KOLAS) June 8, 2018
Ognenovic is familiar with Kentucky's campus.  He attended a UK Junior Day and made the trip to the Cats' spring game with Scalzo, who will accompany him this weekend too.  Kentucky will try to close the deal on a commitment.  If Kentucky plays their cards right, Ognenovic will roll the dice and cancel next week's official visit to Pitt, UK's toughest competition.
Jaden Davis
After losing a commitment from a four-star cornerback from South Florida, Kentucky is on the verge of landing another four-star cornerback from South Florida.
Considered the No. 208 prospect in America by the 247 Sports Composite, UK is going up against the big dogs for Jaden Davis — Miami, Florida, Penn State and Oklahoma.  Hailing from perennial powerhouse St. Thomas Aquinas, a commitment from Davis would not only make waves around the region, but within his team.  It might not happen this weekend, but the visit should get UK one step closer to landing the elite athlete.
Braylen Ingraham
Davis' teammate at St. Thomas Aquinas, the defensive end is a four-star, Top 300 prospect.  Like Davis, his offer sheet is extensive.  Kentucky is fighting off Florida, Miami, Oklahoma, Clemson and Alabama to land Ingraham.
Before he transferred to Thomas Aquinas for his final season, Ingraham played at Dillard High School, the home of Kentucky Wildcats Jordan Wright, Stanley Garner and Bryce Oliver.  Winning this recruiting battle will be no easy task, but Eddie Gran's South Florida connections and Kentucky's reputation with pass rushers could put the Cats over the top.
Ruke Orhorhoro
This pass-rusher is from the other end of the country.  Hailing from River Rouge, Michigan, Orhorhoro is down to four schools: Michigan, Clemson, Indiana and Kentucky.  The Cats get the chance to make the best first impression before the three-star defensive end visits Clemson and Indiana next week.  Michigan-native DeAndre Square could play a big part in his decision, which will happen in late June or early July.
Triston Miller
A 6'6″ 275-pound three-star offensive tackle, Miller is from an area you don't see Kentucky recruit often: Charlotte, North Carolina.  A territory Dean Hood is familiar with, the Cats are competing with Arkansas, North Carolina, N.C. State and a slew of ACC schools for his service.
Unofficial Visitors
Nik Scalzo —  The UK commit will join his tight end, Ognenovic, as he takes an official visit.  Like most commits, Scalzo will probably not participate in camp drills.  Once players have made their pledge to UK, they use the camp weekends to build camaraderie with current players and recruit others to join the cause.
Jared Casey — Last week the newly-minted four-star linebacker from Louisville Ballard visited Kentucky's campus for the first time.  Casey was convinced to return just seven days later to shadow a player during the Cats' massive recruiting weekend.
Moses Douglass — The highest-ranked commit in Kentucky's 2018 recruiting class, the four-star safety is the No. 259 player overall according to 247 Sports.  The son of former Wildcat and Chicago Bear, Maurice Douglass, Moses will be a frequent flyer to Lexington throughout the summer.
Josh DeBerry — UK was the three-star Michigan cornerback's first scholarship offer.
Kaleb Boateng — The three-star Ft. Lauderdale offensive tackle has almost 40 scholarship offers.  A 6'4″ 300-pounder, Boateng will be one of many from Ft. Lauderdale High School camping at UK as his head coach leads a group on a tour of schools throughout the South.
There will be a ton of underclassmen on campus; here's a small sample that shows kids are coming from Florida to Michigan to camp with the Cats.
Colby Dempsey — A rising junior cornerback, Dempsey hails from Dwyer High School in Palm Beach Gardens, Florida, the same school where Eddie Gran found redshirt freshman cornerback Cedrick Dort.
Kyle Arnoldi — One of many from Michigan who will make the trip down I-75, Arnoldi is a 2020 offensive guard.
James Davis — The 5'11" junior wide receiver from South Florida already has a scholarship offer from Kentucky.
Kentucky will host Donatie Allen and Kira Lewis Jr. this weekend for unofficial visits and all eyes are on one thing: will either player receive an offer from the Cats?
Allen is the Kentuckian that UK fans have been wanting on the roster and Lewis Jr. is an up-and-coming recruit that has blown up this spring. Allen holds offers from Xavier, West Virginia, Purdue, WKU and several smaller schools. Lewis also has dozens of offers but notably Alabama, Kansas, Indiana, Louisville and Oregon.
Here's a little more about both players.
Six months ago many would have thought Kyky Tandy would have been the top in-state UK target, but the Cats prefer the versatile Allen. He averaged 31.8 points last year as a junior.
Despite Xavier leading Allen's Crystal Ball predictions, sources tell Kentucky Sports Radio that Western Kentucky is actually in the driver's seat in Allen's recruitment. That's not to say it's a done deal. An offer from Kentucky could change everything for Allen.
UK may have a logjam at the guard position for the 2019-2020 season, but with Allen being a wing the Cats could be more aggressive in his recruitment. Keldon Johnson will almost certainly be a one-and-done player and the only wing UK has offered in 2019 is Keion Brooks.
Allen wants to go to a place where he will have a chance to make an impact right away, but it's likely he's not a one-and-done. If UK were able to land Brooks, Allen would be a nice compliment and the Cats would have two great scorers on the wing.
Lewis Jr. is one of the fastest players in the class of 2019 and has shown to be a capable and efficient scorer, too. Lewis Jr. will likely have to choose between blueblood powers or the home state Crimson Tide, but Lewis Jr. has said that he grew up a Kentucky fan. We also heard that from John Petty.
If UK is going to be a major player for Lewis Jr. the Cats would need to offer relatively soon before falling too far behind the other schools. UK's staff will have to decide if they feel comfortable where they stand with Cole Anthony, Jalen Lecque, Scottie Lewis and Bryant Antione. Those four guards are already major UK targets and the Cats have Tyrese Maxey on board.
With Tyler Herro, Immanuel Quickley, Jemarl Baker and Quade Green possibly coming back for 2019-2020, UK will have to be careful with scholarships and offers.
Lewis Jr. is slightly smaller but plays like a prototypical Calipari guard. He's quick, good defensively, and athletic.
Prediction: I don't expect either player to land an offer this weekend, but you never know. My guess is Kentucky will continue to evaluate each player. If Lewis Jr. isn't offered by August there's a decent chance UK looks at other guard targets. There is a scenario the Cats could wait until the fall to offer Allen, but Allen is coveted by several great programs.
Or maybe UK will offer one of them tomorrow. Who knows?