Kentucky is on to the championship game here in St. Louis after putting an end to Alabama's run in the SEC Tournament. The Cats beat the Fighting Collin Sextons to advance to the 'ship and I have a few things to say about it in today's edition of the postgame takeaways.
Wenyen Gabriel was awesome.
Whatever device you're reading this on — phone, tablet, laptop, desktop, WebTV, homing pigeon — put it down for a moment and give Wenyen Gabriel your best round of applause. Gabriel was outstanding today as Kentucky's leading scorer with 23 points, matching his career high in that category. He went 7-for-7 from three-point land and set a new school record for threes made in the SEC tournament. After the game, John Vincent Calipari said, "Wenyen was unbelievable today."
Collin Sexton finally cooled off.
After averaging 29 points per game in Alabama's first two here in St. Louis, Kentucky held him to 21 (that's good, right?) and sent him home from the tournament. Sexton's the type of guy who can beat you all by himself, and though he still got plenty of points, it wasn't nearly enough to keep the Crimson Tide's dreams alive.
Point guard by committee.
Big shout-out to Quade Green and Shai Gilgeous-Alexander, who had eight points apiece in the win. Assists were a problem in Kentucky's struggles last month, so it's encouraging to see each of the two point guards share the rock for a combined 16 assists in the game. They were aware of who was hot (Wenyen) and got them the ball. Solid point guard play from the UK backcourt.
Kentucky was HOT.
The Cats shot 64 percent from the field and 66.7 from outside in the game. That is stupid hot. Did you see this shot chart from the second half?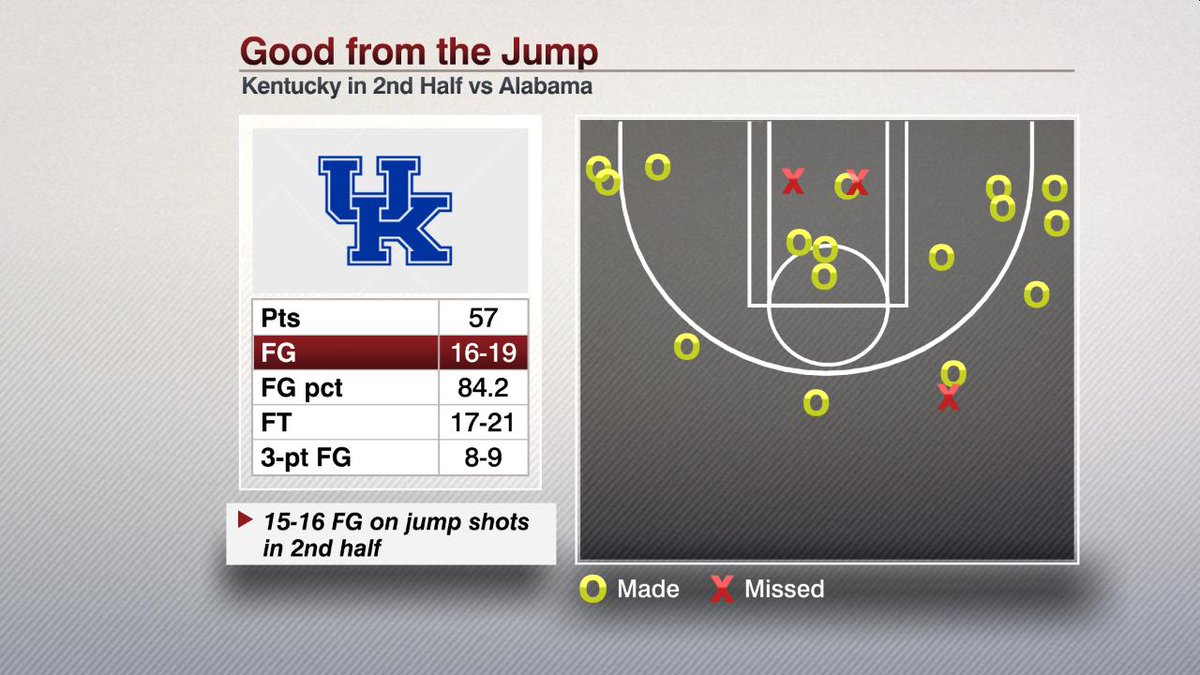 That'll do.
PJ Washington is the man.
Once again, Washington played extremely well when Kentucky needed help carrying the load inside. We do a lot of talking about Kevin Knox and Shai Gilgeous-Alexander as UK's two best players, but Washington's name should be in that conversation with the way he has played lately.
Point of concern: Rebounding
For all of the good we saw in the win, we also saw the Cats give up 13 offensive rebounds. That's way too many, and a little concerning because they gave up 16 to Georgia on Friday. Let's get that under control.
Kentucky looks really good right now.
I don't want to get ahead of myself and start making some outlandish predictions, so I'll just say I like my team right now. The Cats are looking good going into the title game and even better if they can get Jarred Vanderbilt back before next week. It won't be easy, but maybe this team has some magic in it?
Go Cats.
Wenyen Gabriel's record-setting performance from behind the arc was no fluke; the sophomore has been putting in extra time in the gym before and after practice, tirelessly working towards being the shooter this Kentucky team needs.
"It's been a buildup. I've been getting up shots in the gym. Just seeing the ball go through and knowing this is the end of the season right now going into March, it's a different level of focus."
Wenyen's perfect 7-7 mark from the outside is an SEC Tournament record and his seven threes were just one shy of the SEC Tournament record for made threes set by Stefan Moody back in 2016.
"If I knew that, I might have shot one more," Wenyen quipped. "I was just trying to break my own record of making three in a row."
Wenyen Gabriel set a new SEC tourney record by hitting 7 threes (7-7) in Kentucky's win pic.twitter.com/iqFELp8PIp

— Bleacher Report (@BleacherReport) March 10, 2018
Shai Gilgeous-Alexander and Quade Green said the locker room went wild when Wenyen walked in after doing interviews.
"We were screaming, jumping on him, slapping him in the head, just rewarding him for a great game," Shai said.
"We're very excited because he's been working hard on his jump shot," Quade said. "He's going downhill with his jump shot. We were just real happy when he came into the locker room."
Shai said knowing all the hard work Wenyen's been putting in lately made today's historic performance especially sweet.
"It was really special to watch. I'm so happy for him. He works really hard before and after practice. Seeing something like that for your teammate is really special. I expected for Wenyen it would come sooner or later and it came today at a perfect time. I'm really happy for him."
So was the crowd, which erupted in a "Go Big Blue" chant after Wenyen's seventh three. Wenyen returned the gesture, throwing his arms up and calling for the crowd to get even louder.
"That moment was great. It just shows how much appreciation they've got for us, all the support. You could feel the energy in the crowd, almost like it was a home game out there. I was trying to get them riled up to help us push through that game."
How does it feel to go 7-7 from the three-point line in a tournament game? Like being a kid again.
"It feels like you're at the park back at home just playing basketball. You feel free and you're letting it fly like nobody's with you."
Wenyen already carved out his role on the team by doing all the little things; today, he stepped into a starring role with a performance that will go down in the Kentucky history books. He said he hasn't had time to check his phone yet, but the first thing he'll do is text his mother and brothers back home in Manchester.
"I don't know if I could get much hotter," Wenyen said of his day. "I couldn't miss."
Kentucky is one step closer to an SEC Title.
Wenyen Gabriel was absolutely unbelievable from behind the three-point line.  The sophomore forward set a new UK SEC Tournament record by knocking down a career-high seven three-pointers.  He made all seven attempts and finished with 23 points to lead UK past Alabama 86-63 in the SEC Tournament semifinals.
Just like Kentucky's SEC Tournament opener, the Cats made a huge run right before halftime to create a comfortable lead.  Alabama made just one field goal in the final seven minutes of the first half to give UK a 10-point lead at the half.
Alabama was able to find some offense in the second half from John Petty and Collin Sexton.  Every time the Crimson Tide made a run, Gabriel had a response.  Kentucky never let the momentum get too far away and was able to hold on for a fun victory.
There are so many things to love about today's game.  The Cats moved the ball and played unselfish, finishing with 20 assists.  Shai Gilgeous-Alexander had 19 points and 8 assists, PJ Washington was a beast, Sacha Killeya-Jones came out of his shell and Kentucky did it all without significant contributions from Kevin Knox, Hamidou Diallo or Jarred Vanderbilt.  Everything is coming together at the right time.
Kentucky will play for a fourth straight SEC Tournament Title tomorrow at 1:00 ET on ESPN against the winner of Tennessee-Arkansas.
Your University of Kentucky Wildcats men's basketball team survived and advanced with a win over Georgia on Friday in a very solid performance given the circumstances. The Cats were without Jarred Vanderbilt, who we labeled as the difference-maker only a few weeks ago, but they played well in his absence and sent the Bulldogs home with a 62-49 defeat in St. Louis. Let's talk about it with some takeaways from the win…
PJ Washington shined when Kentucky needed him most.
With Jarred Vanderbilt out and two centers who have underachieved, Kentucky needed a big game from PJ Washington, and he answered the bell. Washington had a game-high 18 points plus seven rebounds in 35 minutes of action against a bruising Georgia frontcourt. He was also great defensively in a near-perfect game in his first SEC tournament, with a lot of eyes looking to see what he would do.
Shai Gilgeous-Alexander was also great.
Washington earned our imaginary Player of the Game award, but Shai Gilgeous-Alexander also received votes in a close second-place finish in the race. Gilgeous-Alexander was a stud on both ends and fell one assist shy of a double-double with 15 points and nine assists. He now has the fourth-most assists by a freshman in the programs' history, and you can go ahead and get ready to hear his name being whispered a little bit more on the national scene. It was a great first start to his first college basketball postseason, which I think will be his only college basketball postseason, especially if he continues to play like he did against Georgia.
Kentucky might've played its best defense of the season.
The Cats held Georgia to under 50 points in the win, which is easily the lowest point total by an opponent this season. Georgia isn't exactly an offensive powerhouse, but it was still very impressive to watch UK hold them to 49 in the game, and at a time when the Dawgs were playing their best basketball coming into the game.
Yante Maten couldn't do Yante Maten things.
Adding to the praise of the defense, we should note that Georgia's best player made only two shots in the entire game. Yante Maten, who came in with averages of 19.6 and 8.7 rebounds per game, was held to only nine points and four rebounds. Kentucky successfully stopped the one Georgia player who could beat them.
Nick Richards can't do it.
Nick Richards, bless his heart, just can't contribute, despite John Calipari still starting him every game. He played only six minutes in the game and scored as many points as you and me, while grabbing only two rebounds and allowing many more to someone in red. Richards will be good one day and it's great to have him in UK blue; that day, however, is unlikely to come this season. He has regressed and Cal cannot continue to play him when he isn't contributing anything.
Hamidou Diallo is smiling again.
Diallo hit his only three-point attempt and finished with seven points. Decent game for him, but the smile and confidence appear to be back, and that's what really matters. Maybe he'll break all the way out of the funk and start getting buckets again?
Kevin Knox rebounded.
Knox had nine rebounds, the most for him since the LSU game over two months ago. Someone needed to step up on the boards with Vanderbilt out, and Knox took on a big part of that load.
He also passed to a teammate on a fast break!
Kentucky will get red hot Alabama in the semifinals.
Auburn got sent home early in an embarrassing loss to Alabama, therefore Kentucky will get the Fighting Collin Sextons in Saturday's first semifinal game, not the top-seeded Tigers. Sexton has been incredible through two games in St. Louis. The freshman point guard averaged 29 points per game in two upset wins, and he's hot from outside with a 9-for-14 clip from three-point range. It'll be a huge test for Shai Gilgeous-Alexander and the UK backcourt to contain him. If they can't, he may keep Alabama's SEC tournament dream alive another day.
Go Cats!
You know how I know Kevin Knox is ready for March? When he dives on the ground for a loose ball with Yante Maten. Knox, not exactly known for his toughness, actually dove for two loose balls today vs. Georgia, which is exactly the type of hustle Kentucky needs to survive without Jarred Vanderbilt.
"That was surprising," Washington said of seeing Knox dive on the ground. "[John Calipari] asked us to do more because Jarred [Vanderbilt] was out. It was good to see Kevin get some rebounds, hustle after loose balls."
"It surprised me a little bit but Kevin's going to do the things we need to win," Shai said. "Especially with Jarred being out, we need all those hustle plays. He grabbed a lot of rebounds today and did a good job."
"I know it's March," Knox said of his extra hustle. "It's time to step it up. Jarred brings really good energy and he went down. We have guys that need to step up and give good energy, get rebounds, so I saw the ball on the ground, I'm going to dive on it. It's win or go home now. You've gotta put your body on the court and give it all you got. That's how I'm going to keep playing from now on."
Knox vowed to bring that extra hustle to each game.
"It's in me, and I got the ball too. I made sure I got it when I dove on the ground, I'll fall for it. That's what Coach likes to see, those plays that show toughness and show that you can fight and do anything for your team. I'm going to keep it up. I'm going to do anything for my teammates and put my body on the ground."
What type of team is Kentucky when Kevin is making those plays?
"It makes us a lot different," Washington said. "He's one of the best players in the country when he does stuff like that. In order for us to win, he has to do stuff like that now and we're confident in him that he'll be able to do that the next couple of games."
When told his teammates were surprised he went after a loose ball, Knox grinned.
"They always get on me about that, diving on the ground and stuff like that, but I'm going to show them this month it's in me."
Playing without Jarred Vanderbilt, a late first half run ignited Kentucky to a 62-49 win over Georgia, Kentucky's fourth SEC Tournament victory over the Bulldawgs in the last five years.
It wasn't always easy for the Cats.  Georgia hung around until about four minutes left in the first half after Kentucky's sluggish offensive start.  Yante Maten knocked down a pair of free throws to give Georgia a 23-22 lead.  The Dawgs did not make a shot for the next seven minutes, sparking an 11-0 UK run.
Georgia could not recover because the Cats successfully contained the AP SEC Player of the Year.  Using a group effort with smothering double teams, Maten was limited to just nine points on 2-of-10 shooting.
P.J. Washington stepped up in Vanderbilt's absence to lead Kentucky in scoring with 18 points.  Shai Gilgeous-Alexander knocked down his first five shots en route to a 15-point performance, while Kevin Knox added 15 more.
Many questioned if Kentucky could adjust without Vanderbilt.  Today's game showed this team is prepared to do whatever is necessary to extend the season.  Now all they have to do is stop fouling three-point shooters.
Kentucky advances to play Collin Sexton and Alabama in the SEC Tournament semifinal tomorrow at 1:00 ET on ESPN.
This afternoon Kentucky will play an SEC Tournament game in St. Louis for the first time, but The Gateway to the West has hosted the Wildcats in the postseason on numerous occasions.
Kentucky was won seven of their eight NCAA Tournament games in St. Louis.  The lone loss kept the Cats out of the 1999 Final Four.  Every other trip to the Midwest has created lasting memories for Kentucky fans across the Big Blue Nation.
1978 — The Goose was Golden
The timing of Kentucky's return to St. Louis is excellent.  This year marks the 40th anniversary of Kentucky's 1978 National Championship, a 94-88 victory over Duke in the Checkerdome.  Rick Robey had an excellent 20-point, 11-rebound double-double, but Jack Givens stole the show.  The No. 3 all-time soccer in UK history made 18-of-27 shots to score 41 points on college basketball's biggest stage.
See more highlights form Givens' historic night here. 
2002 — Prince's Givens Impression
Twenty-four years after Givens' fantastic performance, Tubby Smith's team traveled to St. Louis for the first two rounds of the NCAA Tournament.  Facing Tubby's former team in the second round, Tulsa, Tayshaun Prince played the best game of his career.  The lengthy lefty knocked down 6-of-8 threes to finish with a familiar total, 41 points.
In the Sweet 16 Kentucky fell to Maryland, who would go on to win National Title.
2014 — Cats Shock Wichita State
Kentucky's last appearance in St. Louis is one of the greatest NCAA Tournament upsets many readers have ever witnessed.  The eighth-seeded Wildcats drew undefeated Wichita State in the second round.  After an up-and-down regular season, most just hoped UK could keep it close.  They did one even better.
Ron Baker scored 20 points and Cleanthony Early was unstoppable.  The Wichita State swingman only missed five shots en route to a 31-point performance.  The only answer for Early was the Harrisons' offense.  The Twins combined for 39 points, but Aaron had to wait another week to become a heartbreaker.
A back-and-forth affair until the final minute, James Young was the unlikely hero.  His three from the top of the key put the Cats up two with just over a minute to play.  Kentucky fans held their breath until Fred VanVleet's game-winning three-point attempt clanked the back of the rim to end Wichita State's undefeated season.
Kentucky will have a chance to create more amazing St. Louis memories starting today against Georgia at approximately 3:30.
For the first time, John Calipari provided an update on Jared Vanderbilt's status.  It is unlikely the freshman forward will play in UK's SEC Tournament opener vs. Georgia.
"I doubt seriously Jarred will play. He's still limping," Calipari said in front of the media in St. Louis. "We'll miss him. It will be hard without him."
Calipari confirmed that is an ankle injury.  He's treating the situation as day-to-day.  When could Vanderbilt return?
"It'll be up to him and the doctors to make sure he's okay," Calipari said. "Hopefully, at some point, he tries to see what he can do."
Vanderbilt missed the first 17 games of the season with a foot injury.  Since his January 16 debut, Vanderbilt has been Kentucky's most efficient rebounder.  Through 14 games he averages 5.9 points (42.6% FG) and 7.9 rebounds per game.
A Message from Today's Sponsor: 
Believe it or not, smoking and grilling season will be here before you know it and that means you're gonna need some sauce. So why not Red State Barbecue Sauce. They have six different versions to choose from. Memphis Sweet, South Carolina Mustard, Texas Spicy, Alabama Show Horse, North Carolina Spicy Vinegar, and the one and only Kentucky Small Batch. Get it at either Red State location in Lexington or Cynthiana, or online at http://shop.redstatebbq.com/. There you'll also find Red State Beef Jerky, apparel, and more. That's Red State Barbecue Sauce at http://shop.redstatebbq.com/. 
---
1. How UK will Fill Vanderbilt's Void
Jarred Vanderbilt's loss can be his teammates' gain.  John Calipari does not expect one player to replace the freshman phenom's production, but through a collaborative effort Kentucky can still win without him.
"We'll miss him. It'll be harder to play without him," Calipari said. "It gives Sacha (Killeya-Jones) and Nick (Richards) a chance to play more. It gives us a chance to put Wenyen (Gabriel) at five. That makes us a different kind of team.
"What we have to do is make up for his energy. Someone's gotta come in and it's not one. Let's all pick it up five percent. We've gotta pick up nine rebounds. So where are we going to get those nine? And those nine need to come from a couple—a couple from P.J. (Washington), a couple from Wenyen, a couple from Kevin Knox, guards get a couple. Sacha, you and Nick together get a couple more than you've been getting."
2. Calipari's Greatest Concern
Coach Cal believes they can recover Vanderbilt's production elsewhere.  Finding someone to spark intensity might be more difficult, but it can be done.  What's impossible to replicate is the cohesiveness Vanderbilt and Washington developed over the last month.
"I do (worry about that), and I mentioned it to the group. I mean, what they became was they played buddy basketball. They both knew where each other were. They created good opportunities for each other. We're going to have to see if that can be Wenyen (Gabriel). Can that be him? How can we do this?"
3. Calipari still Loves Mark Fox
Coach Cal has always been quick to praise Mark Fox.  Is it because Fox has only beat Cal's Cats three times?  Maybe.  Whatever it is, Fox's team always finds a way to keep it close vs. Kentucky.
"I have great respect for him. The game we played against them at our place when I watched the tape, we should have got beat. I mean, they had us beat. So he's doing a good job. It'll be a hard game."
Kentucky only beat the Bulldawgs by five this year in a New Year's Eve match-up at Rupp Arena.
4. JJ Frazier Pt. 2
Georgia guard J.J. Frazier made life very difficult for Kentucky in 2017.  Relief filled the air when he graduated last spring, but Fox has another guard who's playing near that level in St. Louis.
"He's good," Cal said.  "He hadn't been playing as much and then the last two games they're playing him a lot. And you know what? They're putting him in a high pick-and-roll kind of like they used to do with JJ (Frazier). So now all of a sudden here's this kid coming and shooting bombs and then getting to the rim and shooting layups."
In two tournament games the freshman is averaging 13 points and 4 assists after scoring just 3.3 points per game in the regular season.
5. Calipari Still Doesn't Like the SEC Tournament
Nobody is a bigger hater of conference tournaments than John Calipari.  That isn't changing anytime soon.
"We're using this tournament to prepare for next week. And we'll also use this tournament to see if we can improve our seed – which it never does."
If that wasn't enough snark, this is how he walked out of the room.
John Calipari was asked about being negative about the SEC Tournament, so this is how he ended his press conference. pic.twitter.com/zNhln3ZgyW

— TJ Beisner (@tjbeisner) March 9, 2018
Want some good news about Jarred Vanderbilt's injury? It's not to his left foot, which he's injured multiple times, most recently in September. Kyle Tucker of SEC Country is reporting that Vanderbilt's injury is instead an ankle sprain, which he suffered during practice yesterday.
Additionally, a source tells Matt Jones that the injury is not as bad as originally thought and Kentucky is hopeful Vanderbilt will be able to play again this season.
What does that mean for the SEC Tournament? While we don't know the severity of the sprain, I can't imagine John Calipari would risk playing Vanderbilt with the NCAA Tournament around the corner, especially given how little he thinks of conference tournaments in the first place.
I guess we'll just have to wait and see.