Good evening, folks.
Reid Travis is on UK's campus and things are supposedly going pretty well. Well enough where rumors are surfacing that Travis has enrolled in classes at Kentucky.
At this point (10:25 p.m.) we can't confirm that he's enrolled at UK, but Kentucky Sports Radio is confident that it will happen in the near future (if it already hasn't happened). I don't expect Travis to make any other visits and I would anticipate a commitment to Kentucky very soon. It may be as simple as Travis leaves Lexington tomorrow, goes home to pack up his things and then returns to Lexington a couple days later.
I wish we could break the "Reid Travis has committed to Kentucky" this evening, but as of now we can't. Everything points to that conclusion in the very near future, but we may need to wait until Wednesday. Stay tuned to Kentucky Sports Radio tomorrow for what could be a huge day.
If you're into reading  social media tea-leaves- a few important accounts have followed Travis on Instagram. The Eric Lindsey one is most telling because that's his personal account. If he had to follow every recruit UK was pursuing that'd be exhausting. He ain't doing that.
@RoushKSR @KySportsRadio @DrewFranklinKSR Reid Travis's latest IG followers (yes I'm that guy who looks at recent followers) ? pic.twitter.com/OWFtiwpYRP

— Cameron Sample (@camsample54) June 19, 2018
Tra Wilkins could have been a Georgia Bulldawg.  The linebacker from Stone Mountain could have been a hometown hero.  He could have played alongside his cousin, Mecole Hardman, the wide receiver who scored two touchdowns in the National Championship Game.  Instead of following in his family's footsteps, Wilkins will create his own legacy at Kentucky.
Last night the three-star prospect announced on Twitter a commitment to the University of Kentucky, a decision that incited plenty of push-back from friends and family.
"I'm not going to lie, it was tough," Wilkins said in a conversation with KSR.  Even though Hardman and others wanted him in Athens, Wilkins did not want to play in the shadow of his cousin.  "I want to start my own legacy.  I want to start my own path.  I think Kentucky would be the best place to do that at."
Wilkins made his decision last week during an official visit to Kentucky.  After committing to UK's coaches, he followed through with a scheduled unofficial visit to Georgia, but could not be budged.  Kentucky's pitch was too appealing to turn away.
Recruited by wide receivers coach Michael Smith, the chance for early playing time enticed the inside linebacker.  Jordan Jones enters his final season this fall and Kash Daniel only has two more years of eligibility remaining.
"We've been talking for a while.  I got a chance to come up there and they treated me nice.  There's good people up there.  I liked it and I don't have any regrets doing what I did."
During his visit, Wilkins was paired with another inside linebacker from Georgia, Jamin Davis.  What put UK over the top was the camaraderie around the football facility.
"The people. Every school has academics. It was really about the people there.  Plus, they want to see me succeed.  I just like it up there.  It's a good place to be at.  Coach Stoops is cool too."  Wilkins added that playing for a defensive-minded head coach was a must.  "That's why I didn't think twice about Louisville."
It takes quite a bit of cojones to spurn the family business and leave the in-state football powerhouse to play for an SEC East foe.  Finding some swagger is not a problem for Tra Wilkins.
A self-described jack-of-all trades that can "handle any type of defense," he called his shot and said his Stephenson Jaguars would finish the season at Mercedes-Benz Stadium as State Champions.  When asked what Kentucky fans can expect to see him bring to the Big Blue Nation, without pausing he responded, "a Butkus Award."
Wilkins will be pressured to flip his commitment.  He even has a trip with his high school teammates to Auburn planned for this weekend.  While some fans will worry, Wilkins plans on graduating in December and enrolling at Kentucky in January.
Wilkins' family wanted him to go to Georgia, but now it's "time to turn it up a level with my Wildcat family."
Is Kevin Knox bound for the Big Apple?
As the NBA Draft approaches, the Kentucky small forward's stock continues to climb.  Now considered a top ten pick by most draft analysts, this morning Knox stole New York City headlines after a workout for the Knicks.
"He had a terrific workout, even kicked around Miles Bridges, who is a couple of years older than him,'' the NBA source told the New York Post.
The reported joint workout from last weekend reflects a sentiment shared by draft analysts.  Bridges, Knox and Mikal Bridges are three wings in a similar position.  Both Bridges appeared to have a slight advantage over Knox at the end of college basketball season, but Knox's age and impressive workouts have turned the tables.
The Knicks hold the ninth overall selection in Thursday night's draft.  He's worked out for every team picking six through twelve.  That range sounds about right, but it will probably happen sooner rather than later.
Kevin Knox Sr. jokingly told the Post, "Listen, after the fifth pick, I'm not going to use the restroom anymore."
I hope all the dads out there had a great Father's Day! I returned from Canada last week after watching USA Basketball play a couple games north of the border. Tyrese Maxey, Cole Anthony and Matthew Hurt had a UK coach at all of their games over the last week and all three had amazing moments as the USA cruised to a gold medal. We'll talk about those three players, Keion Brooks Ashton Hagans, Kyky Tandy and Reid Travis.
Let's get to the notes.
Cole Anthony: Anthony put on a show for team USA over the last week and my biggest takeaway is how well Anthony would fit with Maxey at UK. When Maxey committed to Kentucky I knew that rival schools would negatively recruit against UK by saying guards shouldn't want to play with the ball-heavy Maxey, but Anthony and Maxey made it work perfectly for Bill Self last week. Anthony is a true point guard and as good as a distributor I've seen at his age. Maxey can easily play the point position, but he looked just as comfortable playing off the ball. That versatility will be great for John Calipari, but it showcases that any negativing recruiting against playing with Maxey can easily be picked apart by the tapes from last week.
And the good news is I think UK has a good chance at landing Anthony. I'm not sure if they're the leader as Anthony rarely ever talks recruiting, but UK's staff likes their position and Maxey is actually a plus. If UK isn't the leader my guess is they're top two. Those two kids are good friends and talk about playing together (although Maxey doesn't pressure Anthony). If you missed it Anthony said he'd love to play with Maxey in college (click here). Anthony wants to have the ball in his hands in college and be able to compete for a title. If the Cats were to add James Wiseman, Maxey, Brooks and Anthony, that's a super class good enough to compete for a title regardless of who would come back for UK. Take into consideration UK should have several returning players and they would likely be the title favorites.
Matthew Hurt: I was really  impressed with Hurt's game and while I would be surprised if he ended up at Kentucky he's definitely worth the time UK has put in recruiting him. Kansas is the favorite but UK watched every one of his games in Canada and will continue to watch him over the summer. Hurt will announce his college decision in November, take his official visits in September and October, and he will be cutting his list in July.
Expect UK to make the cut in the next month and the Cats are expected to get an official visit, but somehow the Cats will need to somehow jump the Jayhawks. Self did a great job coaching him in Canada and those two are already tight. Maybe visits will change things but the Cats are a little behind in my opinion.
Tyrese Maxey: UK fans are going to absolutely love this kid and I can't say it enough. He always plays with a smile on his face and supposedly he went out of his way to play in the gold medal game on Saturday after a nasty ankle sprain on Tuesday. Bill Self said after the injury he didn't expect to see Maxey back, but the UK commit did whatever he could to tolerate the pain and get out on the floor against Canada. That championship game was the only game he didn't play great in, but he has an excuse. But besides his fun nature on the floor and his toughness, he's an awesome basketball player. He's as good of a scorer as Calipari will have at the point guard position and like I mentioned his versatility will allow him to play the two and even the three if he had to (although I don't expect that to happen).
Follow him this summer at Peach Jam if you can and if you're in Texas try to watch him during his senior season. Maybe he'll play a high school game or two in Kentucky. But for so many fans that complain about not getting to know the team, you have well over a year to get to know Maxey. He will be a fan favorite.
Keion Brooks: Sometimes I'm repetitive and excuse me if I am here, but I expect Brooks to end up at Kentucky. I've heard nothing but great things about UK's chances with Brooks, but sometimes you can read between the lines. The Cats haven't offered another wing in the class of 2019 and it's pretty clear that Keldon Johnson will be a one-and-done player. If the Cats aren't panicking to bring in another three it tells us all we need to know about how they feel with Brooks.
Ashton Hagans: Hagans has arrived and that's great news for UK. However, I was a little surprised of his rankings in the class of 2018. They're slightly higher than I expected. I'm not sure if Hagans starts at the beginning of the season and I wouldn't expect him to start in the Bahamas, but the only point I wanted to make is that if Hagans is truly a top 15 player in the class of 2018 then the Cats are going to be absolutely stacked, with or without Reid Travis. I've been told the expectation for Hagans is that he may struggle in November and December, but come January or February he will be one of the better guards in the SEC. UK can be fine if Hagans takes his time, but if in the Bahamas he's clearly UK's best guard then this could be an insanely fun year.
Kyky Tandy: It was reported this week that Tandy hasn't heard from UK since his dad's comments. While it was interesting to hear that from Tandy, it shouldn't come as a surprise. I've never spoken with Tandy's father, and I've heard he's a good guy, but what did the family think would happen after those comments? Calipari doesn't like to play recruiting games and he definitely doesn't like to hear parents or players think they're entitled to playing time. I've heard nothing but great things about Kyky Tandy, but it's clear he's not going to end up at UK. It will be fun to watch the Kentuckian wherever he ends up because he's a phenomenal scorer.
Reid Travis: He will start his visit to UK on Tuesday and we still do not have a date set for Villanova. That's significant. Is Travis unsure if he wants to visit Villanova? Does Travis plan on committing to UK and only setting a Villanova visit if things don't go well in Lexington? I find it interesting we don't have a Villanova date set and I do take it as a positive for Kentucky. UK is the leader and something drastic will have to change for Travis to end up elsewhere. If he does visit Philly I still wouldn't panic. It would make things trickier to predict, but UK is still the team to beat. I expect by the time I do my Insider Notes next week Travis will be a Wildcat.
Oh, also: I haven't heard much about Wiseman or Carey. If I do I will post it. I still think UK leads for Wiseman and is in the hunt for Carey.
Like many stories about father and sons, this one is about sports…except, I'm a daughter, and I'm writing this to hold on to my Dad while he fades away.
For the last few years, my father has been suffering from dementia. He was diagnosed with Parkinson's disease several years ago, but as time progressed, it became clear his memory had regressed as well. Fortunately, his form of dementia – Lewy Body Dementia – is different than Alzheimer's in that he'll always recognize his family; however, what he remembers is selective, as though he's gone back in time ten or fifteen years. Even though I've lived in Nashville for twelve years, he thinks I'm still downstairs in my childhood bedroom on summer break from college, a time warp that just adds to the waves of nostalgia crashing over me.
Struggling to keep my Dad's memories intact is like stopping sand from falling through spreading fingers. Last year, my brother suggested we start writing down our favorite memories of Dad, which should be an easy assignment for me, a writer; however, it's proved to be the hardest thing I've ever done. How do you reflect on something you're not ready to let go of? So, I decided focus on Kentucky sports, which has gotten us through so many hard things in life.
Like many stories about Kentucky sports, this one starts with The Shot.
---
I'll never forget how cold the tile was in our den when Christian Laettner caught the inbounds pass and whipped around. Time slowed as the ball left his hands, arched through the air and dropped through the net with a perfect, devastating swish. The chorus of celebration on TV echoed through the room as realization bloomed; an unforgettable run was over.
I was only seven at the time and more into horses than basketball, but felt the heaviness of the moment and stayed quiet in my spot on the floor. A few beats later, family members scattered and muttered, but my Dad just sat and stared at the television. Eventually, he glanced over at me and gave me a sad smile, a tempered reaction that I'd grow to know so well. The eye of our family's hurricane, my Dad just shook his head while my brother slammed doors, my mother furiously cleaned while listening to Cawood Ledford on the radio upstairs, and someone demanded justice for Aminu Timberlake, whom Laettner had stomped on earlier in the game. Seeing my family react so strongly to something I didn't fully understand was the catalyst to a lifelong love affair with Kentucky basketball; I had to know more.
At this point in time, my Dad was a casual Kentucky fan. The son of a naval officer, his family moved wherever my grandfather was stationed, hopping from coast to coast before settling in Arlington, Virginia. Polio prevented my Dad from following in his father's footsteps and joining the service, so when he turned 18, he hopped on a train and landed in Danville, Kentucky to attend Centre College, where he met my mother. More than happy to put an end to his transient lifestyle, he set up shop and never left.
The Shot framed the mold that would hold my Dad and me together for years to come. Anxious to be a part of the cult of Kentucky basketball, I pestered him with questions, always thirsty to know more. Together, we learned the history of the program, its thrilling highs and crushing lows; I was actually proud to have witnessed one of the latter, boasting about how I hated Laettner and how the Cats got robbed at any chance I got.
We didn't have access to basketball tickets back then, so we watched the games on television, me sitting Indian style at the foot of my parents' bed and him in his armchair. Even though he signed off just as I was really getting into the sport, Cawood Ledford's voice was a familiar one in my early childhood; as recently as a few years ago, every phone call from my parents would start with, "Hey, Cawood, is Richie gonna play tonight?", a refrain that never got old.
When Kentucky started its mega run in 1995-96, the fascination skyrocketed. Every big game was taped and pored over in multiple viewings. We celebrated the postseason run by going to Lexington and buying commemorative t-shirts from stands off Man O'War Boulevard and laughing along to the UK-themed parody songs on the radio. Around the same time, a kid from Hyden named Tim Couch committed to play quarterback at Kentucky, which spilled the fuel over to football. We became football season ticket holders and followed the Cats on the road to iconic SEC towns like Oxford and Athens. Kentucky rarely won, but my Dad and I were there, me in my Kentucky shirt and he in his Oakley's, purchased in honor of Hal Mumme, of course.
I really knew my Dad's affection for Kentucky sports had taken on a life of its own in October 1997, when the Cats beat Alabama for the first time in 75 years. I wasn't able to go to that game, so my Dad took my uncle. I reveled in their tales of the goal posts coming down, a sweet moment whose significance was imprinted on us all, even a transplant Navy brat.
Our rituals from the 1996 championship run became even more pronounced in 1998, when Tubby Smith led the Comeback Cats to the program's seventh national championship. Our tapes of Kentucky's wins over Utah and Syracuse became go-to entertainment when nothing else was on or we simply needed cheering up. The walls of my room were plastered with Nazr Mohammed, Tim Couch, Craig Yeast, and ticket stubs, each free pom pom or button treated as a treasure. When The Cats Pause newsletter arrived each week, time stopped while I hopped on the couch with my Wheat Thins and Diet Coke and studied each article, agreeing or disagreeing with the staff predictions. Sunday mornings were for the sports section, which Dad always let me have first. He's good like that.
One of my Dad's work friends invited us to Kentucky vs. Louisville in 1998, the opening of Papa John's Cardinal Stadium. Even though we were guests of Louisville fans, we couldn't contain our glee as the Cats put a 68–34 beating on the Cards. Tim Couch threw seven touchdowns and led Kentucky to 800 yard of total offense in a thoroughly satisfying romp that had me testing the limits of sportsmanship. I got my comeuppance two years later when Louisville beat Kentucky in overtime, a game that had to be stopped in the third quarter due to thunderstorms. We waited the storms out to have our hearts broken twice – first, when Kentucky's game-winning field goal was blocked at the end of regulation and again when Louisville's Tony Stallings scored the game-winning touchdown in overtime. Only then was I thankful for the rain because it masked my tears.
How deep was our love for Kentucky football? When Tim Couch was drafted by the Browns, we went to Cleveland to watch him play a preseason game vs. the Washington Redskins, my Dad's favorite pro team. It was my first NFL game, and even though it was just an exhibition, it was an eye-opening experience. I loved the Dawg Pound so much I bought my own rally towel and a dog dish, which joined the litany of memorabilia in my room. Couch's Browns jersey still hangs in my closet.
My favorite memories from high school are mostly of my Dad and I watching the Cats. I got my first taste of the deep South when we went to Oxford to watch Kentucky play Ole Miss in September 2000. My first walk across the Grove was surreal, the sights and sounds so different than the Commonwealth Stadium parking lot I felt as though I was in a different country. As we got closer to the stadium, the debauchery crescendoed as fans and students were forced to give up their beer and liquor bottles, creating a confiscated mountain of broken glass aside the gate. At a certain point, it was impossible to decipher the cacophony of bottles joining the pile from the percussion in the marching band, which played "Dixie" with gusto at every possible moment. By this point in my life, I had been to several football games, but I will never forget the bleachers swaying and the hats flying as the band launched into their final rendition of "Dixie," which is no longer allowed to be played at games. Kentucky lost that game by a decent margin, but my, what a sight. On the way home, we stopped in Memphis and saw the ducks at The Peabody, my Dad's way of trying to make up for the wildness we'd just witnessed.
Kentucky Basketball even helped us through September 11. When the news coverage became too much to process, we turned to the Comeback Cats, escaping in the tapes of the 1998 championship run. A few months later, we scalped tickets and sat in the nosebleeds at Rupp to see Tayshaun Prince hit five threes vs. North Carolina. If "Dixie" made Ole Miss' stadium sway, Tayshaun's threes made Rupp tremble.
The next year, I was off to Davidson College. Knowing how hard it would be on both of us to be apart for a year – an entire football AND basketball season! – my Dad focused on helping me survive in Tar Heel country. As my Mom and I got ready to make the six-hour drive to school, he gave me a hug and slapped a UK magnet on the back of the van, too emotional to talk. When I got to school, I found a new UK shirt in my bag and, a few weeks later, my very own Cats Pause newsletter in my school mailbox.
My brother and sister like to complain that my parents only got cable after they went to college; I can one up them there. After I went to college, my parents got Kentucky basketball season tickets, a stroke of incredible luck thanks to a family friend. On trips home from college, I'd go to as many games as possible, and, once I graduated and settled in Nashville, we started taking family trips to away games and the SEC Tournament. Around this time, I became involved with KSR, and the day Matt Jones asked me to join the site full time, I immediately called my Dad and told him the good news. The pride in his voice made the moment even sweeter.
My Dad's health is so bad he's had to give us his seats, but for years, every time I'd cover a game at Rupp, we'd find each other across the arena and wave. Four years ago, I took him to an open football practice as KSR's "photographer" for the day. By this time, the symptoms of his disease were just showing up, but watching him walk amongst and marvel at the giants on the sidelines was one of my best days on the job. The picture Nick Roush took of us sits on my desk as a reminder.
These are just a few of the stories I have of my Dad and Kentucky sports; there's enough to fill an entire book if my heart can handle writing it. These days, my Dad's mind has slipped to the point he can't follow games very well, but we still discuss the Cats every time I call. When Kentucky beat Buffalo to advance to the Sweet 16, I was so happy he was able to remember the game when I called the morning after. When Kentucky lost to Kansas State a week later, I was grateful he went to bed early and wouldn't know the horrible note on which the season ended.
As time goes on, I know it's just going to get harder. Reliving these memories is helping me cope with losing my Dad; I just hope that somewhere deep inside, they still bring him comfort too.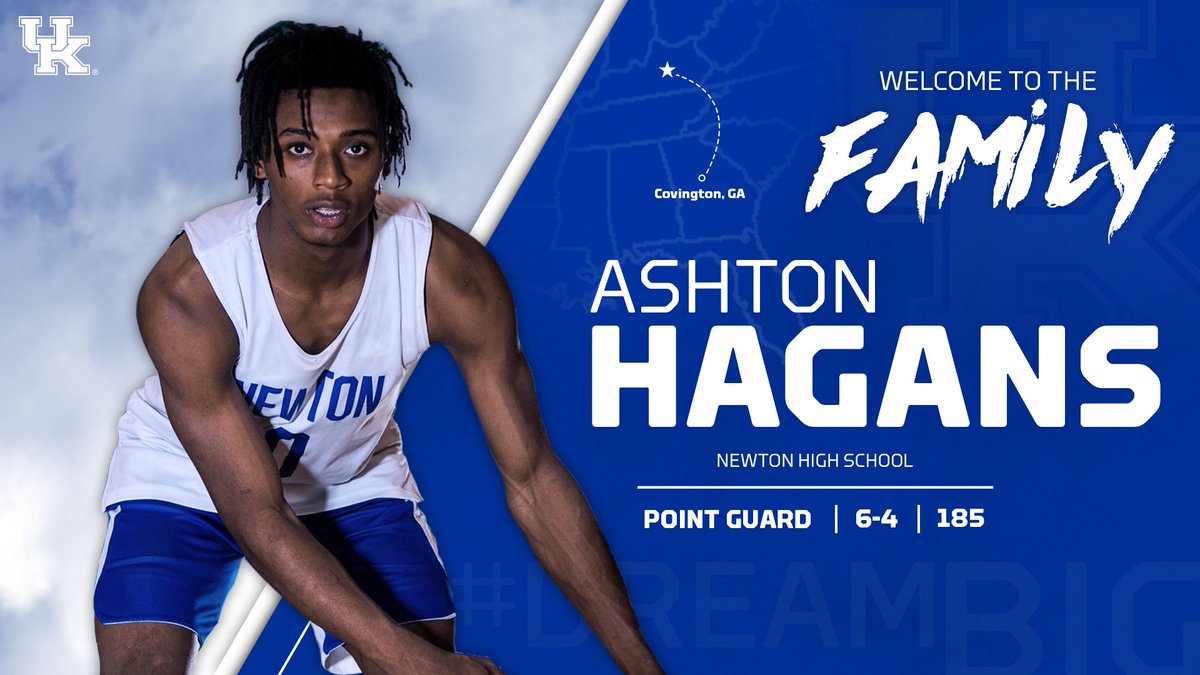 Kentucky's newest point guard Ashton Hagans announced he was in Lexington, KY earlier this afternoon.
Just now, the University of Kentucky officially announced the newest Wildcat had signed his financial aid agreement with the school and will be joining the class of 2018.
Hagans verbally committed to us in April as a member of the 2019 class. He worked his tail off these last couple of months to move to the 2018 class and just graduated this past week. He just arrived on campus today and will start summer school this week.

— Kentucky Basketball (@KentuckyMBB) June 17, 2018
"So happy to see my dream of playing for Coach Cal and the Big Blue Nation come true," Hagans said this afternoon, via press release. "To follow the footsteps of all the great point guards that came before me is truly a blessing."
Kentucky head coach John Calipari said he's excited to see the 6-foot-4 point guard get to work, specifically praising his playmaking ability and leadership.
"Ashton wanted to be at Kentucky all along," Kentucky head coach John Calipari said. "When I found out how badly he wanted this and had a chance to see him play, I told our staff what a great fit he would be whether he chose to come to school this season or next. Ashton wanted this so much that he worked extremely hard in the classroom these last few months to finish up his high school requirements and graduate this past week.
"Now he comes here just a couple of weeks after the rest of our guys and is ready to join this group. He can do a little bit of everything, but what separates him from his peers is his playmaking ability and leadership. You're talking about someone who other people want to play with. I'm looking forward to seeing him get to work with the rest of our guys."
The Gatorade Georgia Player of the Year and Mr. Georgia Basketball averaged 20.2 points, 10.7 assists, 7.6 rebounds and 3.6 steals as a junior, leading his high school to the 7A state semifinals.
Once again, the NBA Draft green room will be filled with a few Kentucky Wildcats.
According to ESPN's Jonathan Givony and Adrian Wojnarowski, Kevin Knox and Shai Gilgeous-Alexander will represent UK at this Thursday's NBA Draft in Brooklyn.  The four-letter network currently projects Knox as a top ten pick, while Shai remains in the lottery between 11-15.  Knox and Gilgeous-Alexander are following in the footsteps of dozens of other Wildcats, most recently De'Aaron Fox, Malik Monk and Bam Adebayo.
A look at who else will reportedly attend the event:
Deandre Ayton
Marvin Bagley
Jaren Jackson
Trae Young
Collin Sexton
Mo Bamba
Lonnie Walker
Robert Williams
Michael Porter Jr.
Mikel Bridges
Miles Bridges
Jerome Robinson
Chandler Hutchinson
Aaron Holiday
Zhaire Smith
Donte DiVincenzo
Adam Silver will put the Phoenix Suns will be on the clock Thursday night at 7:00 on ESPN.
As expected, Ashton Hagans has graduated and will officially reclassify to the class of 2018.
This afternoon, the five-star Kentucky commitment released two photos on Twitter in his cap and gown holding up his diploma, meaning he has finished up all academic requirements to make the jump.
? #18' pic.twitter.com/RPezRhgA6P

— ashton hagans (@H23Ash) June 15, 2018
Hagans also retweeted a tweet that said he "did what was required to graduate early and join (the BBN) for the 2018-19 season."
Once he made up his mind to do it, he did it. Congrats to @Newton_High's to @H23Ash who did what was required to graduate early and join #BBN Nation for the 2018-19 season! It's been a pleasure covering your prep career! pic.twitter.com/mgkncR6a1b

— ??????? ?????? (@CovNewsSports) June 15, 2018
Game Elite director (Hagans' AAU program) Chris Williams told KSR last week that the future Wildcat had one class to finish, and then he would "immediately go to Lexington."
"(The class) will be done in a week or two," Williams said. "(Then) he will immediately go to Lexington."
And it looks like that time has officially come.
—————————-UPDATE—————————-
ESPN's Jeff Borzello got confirmation from Hagans' coach that the 6-foot-4 point guard out of Georgia will be on campus next week
Five-star point guard Ashton Hagans is officially reclassifying into 2018 and will join Kentucky next season, his coach confirmed to ESPN.

Graduated high school today, has completed his necessary coursework. Should be in Lexington next week.

— Jeff Borzello (@jeffborzello) June 15, 2018
The University of Kentucky has not confirmed the news yet, but Hagans will be suiting up in Blue and White this season.
In case you forgot how good this kid is, check out some of his summer highlights below:
One down, one to go…
It's no secret that former Stanford forward Reid Travis is the biggest name left on the college basketball transfer market – and it doesn't feel like an exaggeration to say that he might be one of the most coveted grad transfers in the history of the sport. After all, it's not often that former McDonald's All-American's who earn All-Conference honors in a league like the Pac-12 make it to their senior years period,  let alone decide to transfer following the season. That's also why some of the biggest names in college basketball – most notably Kentucky and Villanova – are hoping to have the 6'8 forward on their rosters next year.
Still, despite being such a big name, the combination of injuries early in his career and playing at a low-profile Pac-12 school means that quite a few fans still don't know much about him. That's why KSR decided to reach out to those who do know him best – two Pac-12 assistant coaches who spent the last four years scouting and game-planning against him.
Because Travis is still a transfer in the middle of the recruiting process, neither could speak publicly about him, and agreed to these interviews on the condition of anonymity. But both coaches shared virtually the same sentiment when discussing the former first-team All-Pac 12 performer.
It was summed up succinctly by the first coach.
"I think I speak for a lot of people when I say I'm glad he's out of our league," the first Pac-12 assistant said laughing.
I am told Reid Travis will visit Kentucky next week, likely on Tuesday

— Matt Jones (@KySportsRadio) June 13, 2018
Both coaches remember Travis dating back to his days as a high school star, with one of the coaches saying he believed the Minnesota native was "the best power forward" in his high school class. And once Travis arrived in college he had an immediate impact, before a string of injuries kept him off the court for a big stretch of time. 
"His freshman year in particular in the non-conference as we were watching him, he was amazing," the second coach said. "He was aaaaaaaamazing. And he was somebody that we were majorly, majorly concerned about. But what was unfortunate is that he had all these injuries and he was never able to show what he could do [until recently]."
Sadly, that was the reality of Travis' career arc at Stanford, and why he is even eligible to transfer right now, period: The poor kid simply couldn't stay healthy for his first few years on campus. He missed nine games his freshman year with a stress fracture in his left leg, then played in just eight games total his sophomore year with a stress reaction in the same leg. That lost sophomore season also allowed him to apply for a medical redshirt, which gave him a fifth-year of eligibility he will use next season.
As the second coach pointed out, it wasn't really until this past season that Travis was able to show what he was able to do when fully healthy. He played in every Stanford game for the first time in his career this winter, averaging 19 points and 11 rebounds, playing some of his best games against the Cardinal's best competition. That included 18 points and 11 rebounds in a win over UCLA, and 20 and 10 in a two-point loss to Arizona at home.
All the skills that Travis displayed as a high school standout finally came out for a college audience to see last year.
"His hands, his athleticism, the way that he attacked the basket, his relentless pursuit of rebounds," the second coach said, when asked what makes Travis so special on the court.
Now the question becomes what's next.
While neither coach is privy to Travis' decision-making process, both understood his decision to pursue options outside of Stanford. The coaching staff which initially recruited Travis to Palo Alto was replaced following his sophomore year, and while the Cardinal are full of young talent (sophomores Daejon Davis and Kezie Okpala might have futures in the NBA) it still feels like they're a ways away from competing with the elite in college basketball.
So after spending four years at Stanford and locking in a college degree from one of America's most prestigious universities, why not try and play for one of the elite programs in the country?
"He's been there a long time," one coach said. "And you have to think that man, if you're going to be in college that long and play at that level, and be that good of a player, why not try to win a national championship?"
He continued.
"And he's got a Stanford degree? He's golden."
Looking ahead, both coaches said that regardless of where Travis ends up, he still has things to work on. Each coach mentioned that he still favors going over his left shoulder in the post (playing predominately with his right hand) and needs to develop the other hand to reach his full potential. One coach added that to truly reach his NBA potential, Travis will need to work on his mid-range game too. A 17-foot jumper is a must.
Still, both coaches believe that wherever Travis ends up he'll have an immediate impact. He isn't simply a good player who put big numbers on a bad team. He's a difference-maker wherever he lands next season.
"I think he can put up monster numbers wherever he goes," the first coach said. "He's a talent."
The second coach agreed. While it's uncertain whether Travis will choose Kentucky, Villanova or somewhere else, the coach is already having nightmares of what Travis could look like alongside another talented Kentucky team.
"They [Kentucky] have a bunch of young kids, but you throw Reid Travis in that group?" the coach said. "Oh my gosh. I just hope we don't meet them until the Final Four."
For the first time since the end of the season we were able to chat with returning UK basketball players. P.J. Washington, Jemarl Baker, Quade Green and Nick Richards were all made available after deciding to return to Kentucky for their sophomore seasons.
Over 30 media members members made their way to the Joe Craft Center on Thursday afternoon. It just goes to show that UK basketball has more media coverage than any other program in America. All your favorites were there and despite it being June we had our first sense that the season isn't too far away. Here are some notes from Washington, Baker, Green and Richards.
PJ Washington
Justify isn't the greatest athlete he's ever met. Washington said he's played against LeBron James when he was younger and he's the greatest.
Washington hinting at Reid Travis and Ashton Hagans joining the program? "I like our roster now but I feel like if we include a couple more guys we'll be great. It would be great for me. It would be great for the team. It'd be great for our program. There are great guys. The guys here and the guys coming in, so we'll have great chance to get them but if we don't get them we'll be fine anyways. We have a lot of good players coming in."
Washington said his decision was as simple as not being a first round pick. If he had a first round promise he would have left. He didn't so he returned, but said it was a great experience.
"If you don't win here a lot of fans don't really like you, so you just have to come here and grind everyday." Sadly there's a lot of truth in that quote from Washington.
Scoop Lemond was right and Washington hurt his hand in January diving for a loose ball. He said he thought he jammed it but when a trainer popped it back in place that's when a tendon was torn. Washington said it impacted his rebounding and he had to play through pain. "It started hurting and I'd have to shake it off and keep playing. It was kinda hard at first but I got used to it."
Washington is more worried about getting in better shape than free throw shooting. "I'm confident in my abilities. I practice everyday. I get in the gym and work on the things I need to work on. I've just got to trust my work."
Washington was wearing a cast on his hand and it will  be there until mid-July. "To not play is really hard. I always play basketball. Coming in here and watching these guys is kinda hard because I want to be out there. I know it's best and I know I need to rest a little bit."
Calipari told Washington he wants him to do everything he did in the Kansas State game and work on his outside game for his sophomore season. Hit just a couple more free throws and that sounds pretty good to me.
---
Jemarl Baker
On his health: "It's great. 100 percent. I'm good." He said he's feeling good and just trying to get himself in really great shape. Tipton said how close to really great shape "I'm on my way." He said he will be fine conditioning wise come the Bahamas trip.
Baker didn't care about all the guards coming into the program. "I knew coming in there would be players coming in because there always has been. I'm just ready to get out there and play."
Baker didn't consider last year a bad season for the team.
When asked if he was a "mysterious man" to the team Baker added that he's a mysterious player for the coaches, too. "I haven't played in a game yet. It's going to be a fun year, I'm really excited." When the mystery is revealed Baker said we'll see a really good player.
Quade Green was asked who the best shooter on the team was and smiled but didn't want to say any names (hinting it was him). Baker wasn't so shy, "I don't know why he wouldn't comment on that. It's me."
---
Quade Green
Green said he will play any position that UK needs him next year. This question was in reference to all the guards UK will have next season. Green said he will play the point, the two, the three and even the four, "If you need me to play the four, I'm strong enough to play the four." Let's hope it doesn't come to that but you gotta love the confidence.
Green looks forward to staying healthy this year. He had the eye injury and his back. He even said that he's been banged up most of his career but added "This year I gotta stay healthy. It's the biggest key for this team for me to stay healthy and to be that leader."
"I actually laughed at that one. That was hilarious, but I wasn't paying no mind to it," Green said about him possibly transferring to La Salle. He said he never thought about transferring and that he guessed the media started those rumors. Those pesky media members.
Green isn't worried about the other guards coming in next season and said everyone is hungry for next season.
Green said the difference for next season is "everybody can shoot," and that from positions 1-3 they will be great shooters.
"I was hyped. I can't really tell what I did but I was hyped." Green said he celebrated when he learned P.J. Washington was returning. Any guesses how Green celebrated?
Green said we probably won't see the sunglasses during a game this season. SAD. Luckily pictures last forever.
---
Nick Richards
Richards was scared meeting Justify "You know, I was actually kind of scared. I was hoping he wouldn't bite my finger off."
Richards said his confidence is "real high" right now. He went through a lot last year and is ready for this upcoming season.
There was no hint to a Reid Travis addition from Richards but he's still high on the frontcourt. "Next year's frontcourt is a lot of talent between me, E.J. and P.J. It's gonna be probably more athletic than last year. It will probably be more physical from last year, too, so you can expect that."
Richards rated the team's season last year as a five out of ten. "We didn't win a national championship."
Richards favorite game last season was the West Virginia game.
"He's an athletic-skilled big. He has his own game. I've never seen anybody really play like that before. He's more of a finesse guy that has a little bit of athleticism to him," Richards said about E.J. Montgomery.
Richards has Brazil or Portugal in the World Cup. He was not happy he had to do media while the World Cup was going on TV.
"People call him a social butterfly. He's able to talk to anyone at any given moment. He's always making jokes. He seems the same to me, he's just not as fat as last year." RICHARDS DROPS THE HAMMER ON QUADE GREEN (now called Quade Lean).
The student ticketing process for University of Kentucky men's basketball and football games just got a whole lot easier. Beginning this season, students will now be able to purchase and receive their tickets through a new mobile system, eliminating the need to go to the ticket office or participate in a lottery. Paper tickets are also a thing of the past; students will be able to access their tickets through the UK Athletics app on their phone to be scanned at Kroger Field and Rupp Arena.
UK will offer three different season ticket options, along with single-game tickets: the BBN Student Football pass, which is strictly for football games; the BBN Student Pass, which is for all football and men's basketball games; and the BBN Student Pass Plus, which includes a K Fund donation. Details on each package from UK:
BBN Student Football Pass ($35) – This season pass will guarantee admission for all home football games in 2018, provided the student claims a ticket during specified windows. The BBN Student Football pass offers savings versus buying single-game tickets, which would cost $70 for all games.
BBN Student Pass ($175) – This season pass will guarantee admission for all home football and men's basketball games in 2018-19, provided the student claims a ticket during specified windows. It also comes with a Team Wildcat membership (t-shirt and other membership benefits). Students are also able to purchase the BBN Student Pass through a two-installment, no-interest payment plan. The BBN Student Pass offers savings versus buying single-game tickets, which would cost $270 for all games.
BBN Student Pass Plus ($200) – This season pass will guarantee admission for all home football and men's basketball games in 2018-19, provided the student claims a ticket during specified windows. The price includes a $25 K Fund donation that will come with five K Fund bonus points so students can begin to "Invest In Blue." In addition to the Team Wildcat membership that comes with the regular BBN Student Pass, the BBN Student Pass Plus comes with a tumbler, access to an exclusive facility tour, and priority access to postseason football and men's basketball tickets, based on availability. Students are also able to purchase the BBN Student Pass Plus through a two-installment, no-interest payment plan. The BBN Student Pass Plus offers savings versus buying single-game tickets, which would cost $270 for all games.
Single–Game Tickets – A limited number of single-game tickets will still be available for purchase for students who do not wish to purchase a season package or are unable to do so. All single-game football and men's basketball tickets will cost $10 apiece. Guest tickets will still be available after students have access to purchase tickets, based on availability. These are specially priced tickets for guests of UK students that do not require a student ID for admission.
Season passes will be available for purchase exclusively online at UKStudentTix.com beginning July 17 at 9 a.m. ET. Admission to all other regular season UK Athletics events besides football and men's basketball games will remain free with valid student ID. As mentioned earlier, single-game student ticket prices for football games are increasing from $5 to $10, the first increase in over a decade, to be in line with men's basketball ticket prices.
How will students claim their tickets for each game? Gone are the days of sitting in Memorial Coliseum for hours on end for the lottery. Now, season pass holders will be alerted when it's time to claim their tickets with a push notification on their phone and single game tickets can be purchased through the UK Athletics app. On game days, students with season passes and single game tickets will be given a wrist band or seat location when they arrive at Kroger Field or Rupp Arena, allowing for groups of friends to sit together more easily. Tickets can also be transferred to other UK students through the UK Athletics app.
How will the upcoming renovations to Rupp Arena affect student ticket allotment? According to UK, lower level student seating will remain the same; however, upper level seating will decrease due to construction, but will meet the demand measured in recent seasons. (Given the poor student attendance in years past, that's not surprising.) Student allotment at football games will stay the same.
Students, your voices have been heard. Kudos to UK for catching up with the times.