Season three of the Netflix hit "Last Chance U" debuted today and features a familiar face. Kentucky quarterback Terry Touchdown Wilson appears in Episode Three as Independence Community College takes on Garden City Community College, Wilson's alma mater.
Wilson is shown running a touchdown in, a nice preview of what's to come this fall:
In eleven games for Garden City, Wilson threw for 2,113 yards with 26 touchdown passes and 11 interceptions. He also averaged 47 rushing yards per game and had five rushing touchdowns. Wilson is currently competing with Gunnar Hoak for Kentucky's starting quarterback spot, and earlier this week, Mark Stoops said his ability to scramble in games like we saw above is one of his biggest strengths.
"With Terry, he's very athletic," Stoops told reporters at SEC Media Days. "He brings a skill set that I'm not sure you can see fully until you get in a game situation because in a scrimmage, we're never completely live. I think, in a way, that hinders him some. Just getting out there and playing the game. Again, he's a very confident guy, works extremely hard."
Wilson also showed off his arm:
Garden City ends up losing the game, but I'm not going to lie, watching Terry Touchdown scramble really gets me excited for football season.
Four Kentucky Wildcats were recognized by the media in the SEC preseason All-SEC voting.
Benny Snell landed a First Team All-SEC spot at running back after leading the conference in rushing touchdowns (19) and ranking third in total rushing yardage (1,333) and rushing yards per game (102.5) in 2017. Snell recently said he is the best back in the SEC.
Josh Allen and Mike Edwards earned Second Team All-SEC honors. The two seniors came back for another year when they could've been picked high in the draft, and they'll go into their final seasons with the All-SEC tag by their names.
Tight end CJ Conrad makes four Wildcats with All-SEC honors with a Third Team All-SEC selection.
See it all:
OFFENSE
First-Team
QB Drew Lock, Missouri
RB Damien Harris, Alabama
RB Benny Snell Jr., Kentucky
WR A.J. Brown, Ole Miss
WR Deebo Samuel, South Carolina
TE Albert Okwuegbunam, Missouri
OL Jonah Williams, Alabama
OL Greg Little, Ole Miss
OL Martez Ivey, Florida
OL Trey Smith, Tennessee
C Ross Pierschbacher, Alabama
Second-Team
QB Jarrett Stidham, Auburn
RB D'Andre Swift, Georgia
RB Trayveon Williams, Texas A&M
WR Terry Godwin, Georgia
WR Ryan Davis, Auburn
TE Isaac Nauta, Georgia
OL Andrew Thomas, Georgia
OL Lester Cotton, Alabama
OL Hjalte Froholdt, Arkansas
OL Garrett Brumfield, LSU
C Lamont Gaillard, Georgia
Third-Team
*QB Nick Fitzgerald, Mississippi State
*QB Jake Fromm, Georgia
RB Aeris Williams, Mississippi State
RB Jordan Scarlett, Florida
WR Jerry Jeudy, Alabama
WR Emanuel Hall, Missouri
TE C.J. Conrad, Kentucky
OL Matt Womack, Alabama
OL Zack Bailey, South Carolina
OL Javon Patterson, Ole Miss
OL Marquel Harrell, Auburn
C Erik McCoy, Texas A&M
DEFENSE
First-Team
DL Raekwon Davis, Alabama
DL Cece Jefferson, Florida
DL Montez Sweat, Mississippi State
DL Jeffery Simmons, Mississippi State
LB Devin White, LSU
LB Anfernee Jennings, Alabama
LB Mack Wilson, Alabama
DB Deandre Baker, Georgia
DB Greedy Williams, LSU
DB J.R. Reed, Georgia
DB Deionte Thompson, Alabama
Second-Team
DL Jonathan Ledbetter, Georgia
DL Terry Beckner, Missouri
DL Derrick Brown, Auburn
DL Isaiah Buggs, Alabama
LB Josh Allen, Kentucky
LB Deshaun Davis, Auburn
LB D'Andre Walker, Georgia
DB Mike Edwards, Kentucky
DB Chauncey Gardner-Johnson, Florida
DB Jamel Dean, Auburn
DB CJ Henderson, Florida
Third-Team
DL Dontavius Russell, Auburn
DL Rashard Lawrence, LSU
DL Marlon Davidson, Auburn
*DL Kingsley Keke, Texas A&M
*DL Landis Durham, Texas A&M
LB Dylan Moses, Alabama
LB David Reese, Florida
LB De'Jon Harris, Arkansas
DB Mark McLaurin, Mississippi State
DB Marco Wilson, Florida
DB Javaris Davis, Auburn
DB Santos Ramirez, Arkansas
SPECIAL TEAMS
First-Team
P Corey Fatony, Missouri
PK Rodrigo Blankenship, Georgia
RS Deebo Samuel, South Carolina
AP Deebo Samuel, South Carolina
Second-Team
P Joseph Charlton, South Carolina
PK Daniel LaCamera, Texas A&M
RS Mecole Hardman, Georgia
AP Trevon Diggs, Alabama
Third-Team
P Zach Von Rosenberg, LSU
PK Tucker McCann, Missouri
RS Trevon Diggs, Alabama
AP Kadarius Toney, Florida
Your University of Kentucky Wildcats were picked fifth in the East in the official SEC preseason poll put out by the media. The Cats edged out Tennessee and Vanderbilt, and somehow earned one first-place vote from someone.
Georgia is the overwhelming favorite to win the division:
SEC EAST
1. Georgia (271)
2. South Carolina (8)
3. Florida (4)
4. Missouri
5. Kentucky (1)
6. Tennessee (1)
7. Vanderbilt
Over in the West, Alabama took the top spot for like the millionth time in a row:
SEC WEST
1. Alabama (263)
2. Auburn (19)
3. Mississippi State (2)
4. Texas A&M
5. LSU
6. Ole Miss
7. Arkansas
Thoughts, comments, concerns?
Benny Snell did not travel to SEC Media Days alone.  As always, the Kentucky running back carried a chip on his shoulder.
"He brings that attitude, he brings that chip on his shoulder each and every day," Mark Stoops said.  "He comes to every scrimmage, every practice and plays the game the way it's supposed to be played.  He makes very tough yards.  He's been very reliable.  I really appreciate what he's done."
It may be a tired cliche, but it's the best way to describe how Snell carries himself.  No matter what, he feels disrespected.  Snell has made proving people wrong a habit, and he doesn't plan on stopping anytime soon.
Kentucky fans first saw Snell run angry in the third game of the 2016 season.  After being overlooked in a pair of losses, the true freshman did not waste an opportunity to show Eddie Gran he was ready to become a star in the SEC.  Snell ran angry until he had more than 1,000 yards and the school's freshman rushing record.
Snell impressed plenty of people, but not enough to be considered one of the conference's best backs entering the 2017 season.  When critics called out the Cats, he burned their words.  Many doubted he could do it again, calling for a sophomore slump. Snell responded by doing things no other Wildcat had done before him.  He became the first UK running back to post consecutive 1,000-yard seasons and shattered the school's career rushing touchdown record.
As he enters his third and likely final season at UK, Benny will earn preseason All-SEC honors, but that recognition isn't enough to satisfy Snell.  His motivation comes from that incredibly large chip on his shoulder, one that's been there for years.
"It really started from high school," Snell explained.  "Coming into high school I was always an Ohio State guy.  I wanted to be a hometown hero, but that wasn't the case.  I found myself at camps, being the best one and still guys were winning running back MVPs, when I was the best one.  I knew I was.  From then, all the way till now — being a low-ranked recruit, being not productive, being at Kentucky — I forever will keep this chip on my shoulder."
To make matters worse for his opponents, Snell's season ended early with an unjust ejection in the Music City Bowl.  It's provided a little extra motivation, even though that's unnecessary.
"No, I don't think it needs to grow," Stoops laughed.  "It's a big enough chip…He's ready to go."
Snell is prepared to prove that he's the best running back in the SEC, a statement he reiterated multiple times at SEC Media Days.  He knows what it will take to receive the respect he believes he deserves.
"You win games," Snell said bluntly.  "It's all about production.  It's all about being better than you were last year.  It's time to win games now."
Is Snell better this year?  "From my freshman year, to now, I feel like I'm the best I've ever been.  My time is now."
Watching the SkyCam replay of the game. Guess who found the camera after his first half TD review? @benny_snell #BBN pic.twitter.com/V9iJlhucLF

— Josh Edwards (@JEdwar247) September 18, 2017
* While writing this post, I could not stop thinking of this line from Malibu's Most Wanted. "She had a big chip on her shoulder, till she ate it." 
Matt Jones spoke with former UK head coach Tubby Smith at the Barbasol Pro-Am. The two played together, along with John Michael Montgomery and Rick Dees, and the gang won the whole doggone thing.
Jones caught up with Tubby to talk about his time in Lexington, and he spoke with Montgomery and Dees.
"We really love Kentucky," Tubby said. "Obviously there's no better basketball fans, or better fans period anywhere in Kentucky."
Tubby is the man. The dude won a championship for UK and although it didn't work out long term we were lucky to have him.
Days ago many UK fans maybe had never heard of Kahlil Whitney, the new 6-foot-6, 185-pound Kentucky target from Roselle Catholic in New Jersey (the same place Isaiah Briscoe played), but now Whitney is talking about visiting UK's campus.
The No. 23 ranked player in the Rivals150 (No. 18 in 247 Sports) spoke with Rivals' National Recruiting Analyst Eric Bossi. Whitney didn't debate whether he would or would not check out Lexington, but instead if it would be an official or unofficial visit.
"I talked to coach (John) Calipari once and he talked to my family and I have talked to them about it. He said that he would love to have me on campus. I don't know when I want to take an official or an unofficial, I'm not sure. But, I'll be talking to my parents about that."
You can read Bossi' entire update HERE, but it seems like the reputation of Kentucky alone has Whitney interested. Sometimes it can be tough for UK to make ground on a five-star that has been being recruited by other players for years, but Whitney seems interested to hear what UK has to say and wants to check out Kentucky's campus.
Whitney averaged 21.1 points and 7.2 rebounds per game on the Nike EYBL circuit.
What this tells me is that UK is possibly casting a wider net at the wing position for 2019. The Cats have only offered Keion Brooks at that position in 2019, but Kentucky just invited Dontaie Allen back for another unofficial visit and are actively pursuing Whitney.
KSR posted on the Monday Insider Notes that Brooks may prefer other schools over Kentucky, so perhaps UK is seeing the writing on the wall or maybe the Cats weren't blown away by Brooks' performance at Peach Jam. Whatever the reason, UK has new options.
I expect Allen to get an offer when he visits UK and we may need to be on "offer watch" with Whitney.
Our buddy T.J. Beisner from CoachCal.com released his third edition of his "Meet the Wildcat" series on the Behind Kentucky Basketball series. The purpose of the podcast was meeting and interviewing freshman Keldon Johnson, but Beisner started the podcast discussing Washington's return to practice. The sophomore forward finished the season with a broken pinky and played a few months with the injury.
Here are the P.J. Washington highlights:
P.J. Washington has been a leader, even when sidelined after his surgery. "P.J. has shown at this point he is a leader." Beisner said he was always engaged during practices and would point out mistakes and give advice. That's pretty cool to hear.
Beisner said the team was having great practices but when things were starting to possibly get stale Reid Travis was added to the mix. Then once things may have started slowing down P.J. Washington is now back. Adding these experienced pieces have to be great for the younger guys.
Don't read into who's wearing blue/white jerseys in practices, says Beisner. That's smart advice because these guys switch jersey colors multiple times throughout a practice.
P.J. stayed nearly two hours after practice on Tuesday night going through individual drills. "P.J.'s practice was only part of the work he put in last night." Beisner said he's embracing the process and the grind. "You need a leader to be the first one there and the last one to leave," he said.
Great stuff regarding P.J. Washington. On the Soundcloud link you can listen to Beisner's thoughts on Washington from the start to the 6:20 mark of the podcast.
Keldon Johnson
Beisner said he loves watching him practice. "He makes everyone better because if you don't play better you're going to get run into the ground." He said that Johnson is having to guard every player on the team and putting him in uncomfortable situations and he's thriving.
Beisner notes that Calipari said last week on KSR that Johnson was UK's most consistent shooter. "I like my job so I won't disagree." It sounds like there may have been a little Cal fluff on Johnson's shooting, but Beisner said he's been impressed with his outside shot.
The interview starts at 8:48 in the podcast.
Keldon Johnson said practices get a little chippy because everyone wants to compete.
Keldon Johnson's brother is a senior at Georgetown and he grew up with the mindset that he needed to be better than him. Johnson said he is better than his brother although his brother would disagree. Kaleb Johnson averaged 7.9 points, 4.2 rebounds and two assists per game during his junior season for the Hoyas.
Johnson said every player is different on the team, so each player has to expand their game to be able to keep up with their teammates.
"I'm a dog. I do whatever it takes to win. I'm the ultimate competitor. I score the basketball very well. I lock up on defense. My shot has improved a lot and I'm starting to knockdown more shots," Keldon said when describing his game.
Keldon said interacting with the Big Blue Nation is a once in a lifetime experience. He said he maybe signed 2k-3k autographs during the summer.
Keldon said one of his first basketball memories was watching Jodie Meeks scoring 54 points against Tennessee. After that Keldon wanted to play with UK on video games and shoot threes with Jodie Meeks.
The interview ends at the 16:30 mark.
Other tidbits
The teams in the Bahamas are better than the ones they played four years ago. Beisner was told by Calipari that UK may lose some games, maybe all the games, but no one should hit the panic button.
Beisner said the last game in the Bahamas will feature UK squaring off against former Cat Kyle Wiltjer. I did not know that and that will be incredibly cool.
Beisner said no one is really separating themselves, but he said Calipari is adamant there will not be any platoons, but Beisner said you just never know with Calipari, but the plan will be to not platoon.
Beisner said UK is NOT switching from Nike to Jordan Brand. The practice jerseys were a one time deal and they were immediately available. Those are temporary practice jerseys and it was a "technical" issue.
You should listen to the entire interview. Beisner is informative and has been killing it on the CoachCal.com beat.
The No. 24 player in the Rivals150 says he's still hearing from Kentucky. 6-foot-10, 255-pound Kofi Cockburn from Middle Village, N.Y. told Rivals.com that he is considering UK and hears from the Cats' staff.
"I've heard from them a little bit, Coach (John) Calipari told me that I've improved lot since my freshman year and that I should look into coming to Kentucky," Cockburn told Rivals' National Analyst Eric Bossi.
You can read  Cockburn's thoughts on several other programs HERE.
The 2019 center is looking at cutting his list to 12 soon, and it's unclear if the Cats will make the cut. That may come as a surprise because you just read that Cockburn still hears from UK, but sources tell KSR that UK isn't currently looking at Cockburn. The Cats did not watch the powerful big at Peach Jam last week and it's supposedly been weeks or months since Kentucky reached out. It's not to say Cockburn is lying, he did say he's heard from UK "a little bit" and he never said exactly when he last heard from the Cats. Recruiting can be tricky.
UK's top big targets are James Wiseman, Vernon Carey Jr., and Matthew Hurt. Yesterday we posted how the Cats have recently started recruiting Armando Bacot, who was named MVP of Peach Jam. Kentucky is also interest in Jaden McDaniels, but he's more of a wing than a big. UK's staff will watch Wiseman and Hurt this week in California.
Kentucky will lose Reid Travis and all signs point towards this being P.J. Washington and E.J. Montgomery's last year in Lexington. The Cats will need some bodies next year, and although UK isn't currently recruiting Cockburn if he waits until the spring like Bossi suggests you never know what may happen.
Dontaie Allen will be on Kentucky's campus soon.
The rising star from Pendleton County has scheduled a pair of unofficial visits to in-state schools.  Allen will be in Lexington two weeks from today on August 1.  His AAU team announced that two weeks later he'll make a trip to Louisville on August 13.
After an impressive week on the Under Armour circuit, the 6'6″ swingman is now ranked as the No. 46 player in the 2019 class by Rivals.  During that time he picked up eight scholarship offers, including one from Louisville.  He's still waiting for that scholarship offer from John Calipari.  Will it come on August 1?
In the middle of the madness on day two at SEC Media Days, I took a little break to wander through the spacious College Football Hall of Fame in Atlanta.  Even though they say Kentucky isn't a football school, the Cats are all over the Hall.
Just beyond the grand entrance of helmets, Tim Couch's jersey is displayed for the special occasion.  On the ballot for the second consecutive year, it's only a matter of time before his No. 2 has a permanent home at the Hall of Fame.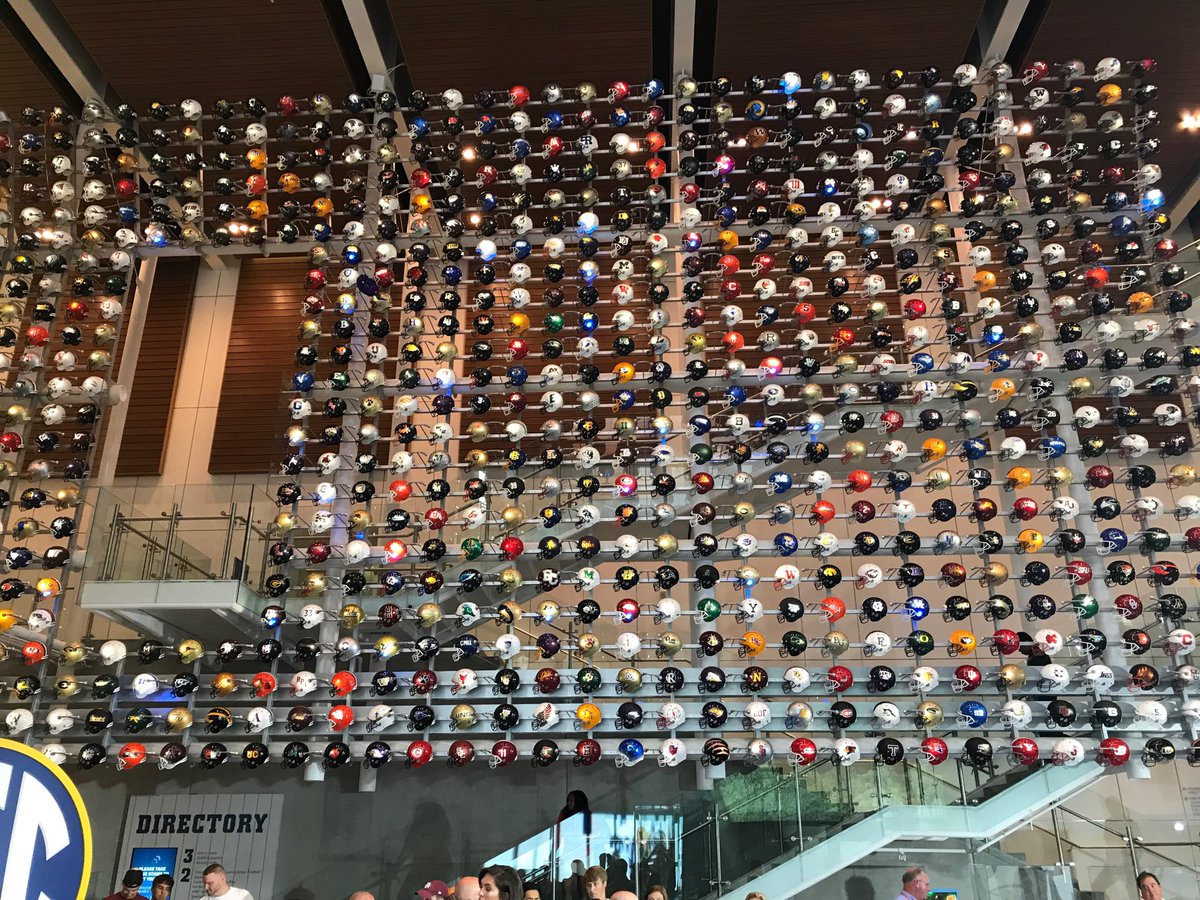 Up the stairs behind the wall of helmets is the rotunda.  Interactive displays allow you to learn about the more than 1,000 Hall of Famers.  A simple search of Kentucky will lead you to this:
After clicking on a player, you'll find archived photos and videos, like these:
There are interactive exhibits at the CFB HOF where you'll find the best of the #BBN pic.twitter.com/oYWFnjshwC

— Nick Roush (@RoushKSR) July 17, 2018
I have a few players from the 80s will love seeing Jerry Claiborne's highlight reel pic.twitter.com/wUScg9G3RJ

— Nick Roush (@RoushKSR) July 17, 2018
After spending time in the rotunda, the stairs take you through the heart of the museum that is filled with theaters, more interactive exhibits and tons of relics from the past, like these trophies.  Did you know there's a MacArthur Award, named and designed by the WWII general, given to college football's best team after each year?  I had no idea.