Watch out Atlanta, Kentucky's coming for you. Thanks to a likely hero and an unlikely one, the Cats will advance to the Sweet 16 for the eighth time in the John Calipari era to face the winner of Kansas State/UMBC.
The way they got there? It's kind of awesome.
An unlikely hero
The war over who should be MVP raged on social media, but my game ball goes to Hamidou Diallo, who turned in his best game as a Wildcat with 22 points, 8 rebounds, and 2 blocks. This season hasn't been easy for Hami, but after a string of quietly impressive performances, he broke out in a big way, punishing Buffalo in transition and providing some crucial hustle on defense. A pair of dunks speak volumes for his performance:
HELLO, HAMIDOU DIALLO! ?#MarchMadness pic.twitter.com/yKhY2rHur1

— NCAA March Madness (@marchmadness) March 17, 2018
SHOWTIME pic.twitter.com/aJdXvjTzui

— CBS Sports (@CBSSports) March 17, 2018
A likely hero
People need to stop saying Kevin Knox is this team's best player because that honor clearly belongs to Shai Gilgeous-Alexander. Shai turned in 27 points, 6 rebounds and 6 assists, once again carrying the Cats when the offense stalled. I worry that we'll never fully appreciate the things Shai has done for this squad, especially because it's looking more and more like he's playing his last games as a Cat.
The team's hardest worker and role model, Shai takes everything personally, including Buffalo's trash talk and the crowd's clear bias:
When asked about his clutch three, he delivered this great response.
"This whole group is a bunch of competitors, we go after it every day in practice. We love proving people wrong, and that's what we did today."
The trash talk was personal
From Wes Clark asking for another shot at Kentucky to Buffalo's coach calling Calipari a whiner, there was all sorts of extra incentive for Kentucky to take this game personally. According to Kevin Knox and the score on the scoreboard, they did.
"Pretty much all of us took what they said personally," Knox said of Buffalo.
"We just try to come out and try to prove everybody wrong, and that's what we did today," Diallo added. "And can't feel better about this one."
In his best I-didn't-take-it-personally-but-of-course-I-took-it-personally, here was Calipari's response after the game.
"And I whine," Cal said of having a team of all freshmen. "Coach [Oats] and I talked about it before the game, Nate and I talked. There's nothing there. He's a great guy and a heck of a coach now. What he's done and how that team plays and what they've done in their league, amazing. It's amazing."
Mhmm.
The Cats heated up from outside
Everyone was worried about Buffalo's three-point shooting, but the Cats matched the Bulls 7-7 from the three-point line. Thanks to Shai, Quade, Hami, and Wenyen, the Cats started a new streak, with Gabriel showing flashes of his SEC Tournament self with a 3-5 mark from behind the arc. While his post play still makes me nervous, Wenyen finished with 16 points and an even more important 12 rebounds. Way to go, Wenyen.
Meanwhile, Kentucky's perimeter defense was once again effective, limiting a red-hot Buffalo squad to 7-31 from three. At times, it felt like the Bulls couldn't miss, but in the end, the Cats' length won the day.
PJ got his stank face on
PJ Washington was limited by foul trouble most of the game, but in the second half, helped Kentucky take control with some dominant play inside, finishing with 12 points and 7 rebounds. With PJ out, Kentucky stalled; with him in, Buffalo couldn't stop the Cats inside. Once again, PJ proves he is this team's x-factor, as is that stank fact that's become the thing of the postseason:
STANK FACE ENGAGED pic.twitter.com/XmahSrGWzi

— Tyler Thompson (@MrsTylerKSR) March 17, 2018
Shoutout to Wes Clark
The Missouri transfer turned Buffalo sharp-shooter crowed about wanting another shot at the Cats and he did his part, finishing with 26 points (4-10 3PT FG) and six assists. Clark took some years off my life in the second half, which is why I had to stand up and give him kudos after this fantastic quote in the postgame press conference.
"On top of us being good-looking, we do play hard. We've got some grit to us. That's fine, we're a fun team to watch."
Yes, you were.
Kentucky will face…?
Kentucky will take on the winner of Kansas State/UMBC Giant Killer, which goes down tomorrow night at 7:45 p.m. ET. Until then, book your hotel room. Catlanta, here we come.
Kentucky DENIES Cinderella ?#MarchMadness pic.twitter.com/mJnhu1upXW

— NCAA March Madness (@marchmadness) March 17, 2018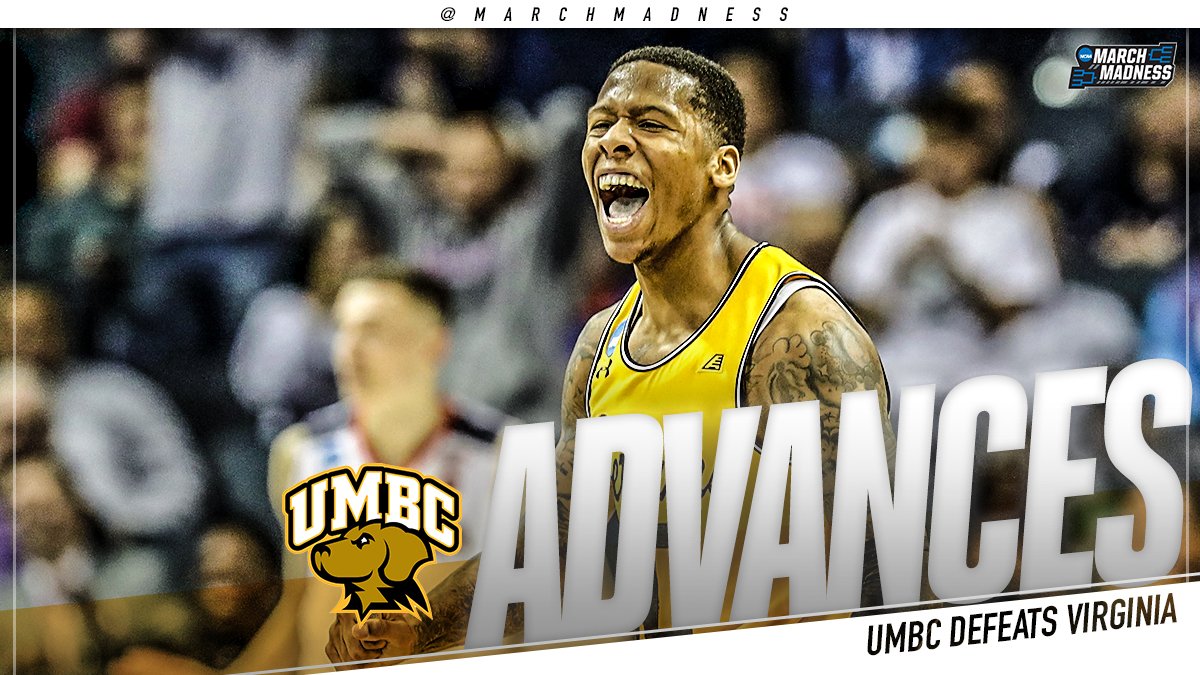 You just witnessed the greatest upset of all time.
For the first time in college basketball history, a one-seed has fallen to a 16-seed.
Virginia fell to the UMBC Retrievers by a final score of 74-54.
The same UMBC team that lost to:
Vermont by 28 last month at home
Towson by 13
Maryland by 21
And Albany by 44 (83-39)
You know what's pretty cool? Virginia was the top seed in Kentucky's bracket. In case you didn't know.
That's what you get for playing a crappy style of basketball.
Outspoken Buffalo coach Nate Oats has not restrained his comments since his team took down Arizona.  Following the first round win, he made this remark about John Calipari:
"Calipari's been whining about no experience, young, young, young, we don't have that problem."
When a reporter read that quote to Calipari during today's press conference, he cut off the reporter before he could finish talking.
"Who said that?"
After the quip, Calipari cooled down and responded to the opposing head coach.
"I don't know if it's whining or I'm telling the truth.  I'm not whining about it.  I got a pretty good team, but I am telling the truth.  He shouldn't tell the truth.  He should not even say it. Introduce them and don't give their year.  That's fine.  At the end of the day we gotta play basketball game.  Everybody's gotta get in the ring and play."
After Oats' remark, Coach Cal is ready to get in the ring and fight for a victory.
Let me tell you a story about a young boy. A young boy who loved tacos, specifically, Taco Bell. That young boy would've eaten tacos for every meal, if his parents would've allowed it. Tacos for breakfast, tacos for lunch, and tacos for dinner. He even worked in the kitchen at a taco restaurant in high school, and would've made a career of it if he hadn't gained 20 pounds in his six months on the job.
Then when that young boy grew into a young man at the University of Kentucky, his love for Taco Bell grew even more. He lived on Chicken Quesadillas and Cheesy Fiesta Potatoes during his college years, all five of them; and when he wasn't eating Taco Bell, he was craving his next order, which always included a combo meal plus two add-ons, sometimes three. If you were to cut him open, he would bleed Fire Sauce and nacho cheese.
Ladies and gentlemen, that young boy was me, and I love Taco Bell more than ever today as an adult. I haven't gone a week in the last decade without eating at least one Fourth Meal, and I would argue there isn't another person on God's green earth who has spent more money on Taco Bell in my lifetime. I love it so much, if Kentucky law would allow it, I would marry a Cheesy Gordita Crunch right now and you would all be invited to the wedding. We would serve a Nachos Bell Grande wedding cake as guests dance the night away around a nacho cheese fountain. I'll spare you the honeymoon fantasies, but I feel a tear coming on just thinking about it.
So with that said, you can imagine my excitement when my beloved Kentucky Wildcats were shipped out to Boise, Idaho in this year's NCAA Tournament, played at Taco Bell Arena. A Taco Bell Arena, I thought? That's a thing? Sign. Me. Up. I'll walk the 2,000 miles if I have to. It's a trip I never imagined, and it was finally here.
***
The days leading up to Boise were some of the most exciting days of my life. Remember that feeling you got as a kid when you crawled into bed on Christmas Eve, knowing Santa Claus was on his way? The stockings were hung by the chimney with care, in hopes that St. Nicholas soon would be there? I was the children in that poem, nestled all snug in my bed, but with visions of Beefy 5-Layer Burritos, not sugar plums, dancing in my head. This past week was Christmas Eve on heroin for me. I even tweeted Taco Bell Arena to share my excitement, but Taco Bell Arena never responded.
. @TacoBellArena Please tell me you serve the same delicious Taco Bell menu items in the arena. Can't wait to see you. ?

— Drew Franklin (@DrewFranklinKSR) March 13, 2018
Turns out, Taco Bell Arena didn't respond because Taco Bell Arena is a coward and didn't have the heart to tell me the devastating news: Taco Bell Arena does not serve Taco Bell.
I learned the hard way, by walking around the concourse on an empty stomach, eager to eat my favorite food in its own arena. My heart instantly sank to the floor. I grew nauseous. Dizziness set in. I felt faint. Sweat rolled down my forehead as I reached for something, anything, to keep me from collapsing. I grabbed ahold of a window ledge and looked out over the Taco Bell Arena parking lot, wondering how I could reach the highest of highs, only to fall to the lowest of lows, in an instance. Imagine the sun shining bright over your whole world, then that world imploding beneath you into the fiery depths of hell. That's where I was Wednesday afternoon, when I came to the realization that Taco Bell Arena is farce and a sham.
You see, Taco Bell Arena was built on a foundation of lies. At its core it is nothing more than cheap Idaho concrete and disappointment. It will pick you up and place you on a mountaintop, only to push you off the edge into a downward spiral of heartbreak. And then it will offer you stale popcorn and a corn dog.
While we have a break in the action, I would like to say that it's complete bullshit that Taco Bell Arena doesn't have a Taco Bell inside and it should be called Stupid Arena.

— Drew Franklin (@DrewFranklinKSR) March 16, 2018
I'm a broken man right now as I sit here in Boise, trying to piece myself back together. I will not let this destroy my love for all things Taco Bell, but I felt it was my duty to tell the world what I learned, and what lies have been told here. Maybe, just maybe, I will save someone else from the emptiness and agony I feel inside.
Go Cats, I guess.
Kevin Knox was the star on the court in Kentucky's first-round win over Davidson. But about 12 feet off the court, UK Band's Hayden Hooper stole the show and was the star of the night.
Hayden Mania swept the nation when cameras caught him celebrating a Sacha Killeya-Jones dunk early in the second half. The sophomore baritonist flexed on 'em, then dabbed on 'em — and the internet immediately fell in love.
Chris Webber did, too. He shouted, "That's how I feel when you see plays like that, baby!"
I caught up with Hayden after the game to ask him about his one shining moment. He told me, "I never knew it would get this famous. Some of the band guys and I were trying to be more active in the second half, because we knew the camera was coming to us every time after a foul. But the crazy thing is, my friends that know me know that's a regular thing during a UK game, regardless of the opponent."
"I am just cheering for my team, my way," he said.
And for the record, it's not the first time he's gone mad after a Killeya-Jones dunk. We caught him flexing after the dunk that sealed the SEC Championship last weekend.
If you told me Kentucky would be able to win an NCAA Tournament game without making a three, I wouldn't believe it, but somehow it happened. Kentucky outlasted a pesky Davidson squad 78-73 despite going 0-6 from the outside, ending their streak of 1,047 consecutive games with a three-point basket. They'll advance to play the winner of Arizona and Buffalo on Saturday.
This was a hard game for me — to the point I may have a white streak in my hair tomorrow — but let's break it down before we prepare for a possible matchup with DeAndre Ayton and Arizona.
The streak is dead
Many are lamenting the death of Kentucky's 30-year three-point streak after the Cats went 0-6 from beyond the arc tonight, but if it means they live to see another day in the NCAA Tournament, I'm fine with it. The Cats are far from sharp-shooters from the outside this year, but tonight's performance was especially chilly. Davidson outscored Kentucky 33-0 from three tonight, an eye-opening stat that I'm choosing to find comforting instead of distressing.
"We're not a team that relies on threes," John Calipari said. "I wouldn't like to go 0-6, but we'd like to make five, six, seven, maybe eight 3s. There's other teams that need to make 12, 13, 14 to win; we're just not one of them."
Based on postgame remarks, most of the players didn't even realize the streak existed, which will probably infuriate a good portion of the fan base but should put everything into perspective. It's only a matter of time before the threes (or at least one three) starts falling, right?
Thank goodness for Kevin Knox
Knox finished with a game-high 25 points, including 9-11 free throws, to seal Kentucky's win. We've always said that Kentucky goes as Knox goes, and thank goodness he was engaged tonight. While Knox was 0-3 from three, he did make the extra effort we've been looking for inside, which helped him get to the free throw line.
How about Shai?
Shai Gilgeous-Alexander was the first to admit he wasn't perfect tonight, taking blame for being too selfish in the second half, but how can you not applaud his 19-point, 8-rebound, 7-assist effort? As has been the case for the last few months, when the team faltered, Shai put them on his back. With very little from Quade Green (4 points, 1 rebound, 2 assists, 2 turnovers), Shai came through in the end.
"He plays to win and he plays to make plays," Cal said. "I like what he did at the end of the game. He took over, he made free throws."
"Personally, I don't think I played too well today," Shai said. "Yeah, I've just been trying to do what I worked on and do what Coach is asking me, what this team needs me to do. Today I didn't do too well. My shots weren't falling. I got a little selfishness. I'm going to learn from it and get better for the next game and try to do better next time."
Oh, Shai, you're the least of our worries right now.
It's a shame PJ Washington got into foul trouble
It became clear ten minutes in that Kentucky's x-factor was PJ Washington, which is why it wasn't surprising that when PJ got into foul trouble, Kentucky struggled. PJ finished with 11 points (5-8), 3 rebounds, and two awesome stank faces. This was my favorite:
PJ STANK FACE ENGAGED pic.twitter.com/RPWnPvrsWy

— Tyler Thompson (@MrsTylerKSR) March 15, 2018
That's our thing now, isn't it?
Shoutout to Hamidou Diallo and Sacha Killeya-Jones
Diallo and Killeya-Jones picked up where they left off in the SEC Tournament, continuing to fill the void left by Jarred Vanderbilt. Both had eight points, with Diallo turning in three blocks and Killeya-Jones six rebounds. Sacha's dunk in the first half was so good this band member broke the internet:
We are all Band Guy after that Sacha dunk! pic.twitter.com/yid8LR5Y54

— Tyler Thompson (@MrsTylerKSR) March 16, 2018
Was fatigue an issue?
It sure looked like Kentucky was a step slow tonight, and while Calipari will jump on the chance to point out Kentucky had a short turnaround from the SEC Tournament, so did Davidson. Regardless, there's no denying the Cats looked lethargic, which Cal chalked up to inexperience and anxiety.
"We were kind of running in cement and we weren't focusing on the things we were doing in the first half," Cal told Tom Leach. "I think they thought they were just going to win the game."
Shoutout to Davidson
As the newly sprouting gray hairs on my head will attest, Bob McKillop and Davidson had one hell of a game plan tonight and didn't give up until the very last second. While I'm very happy Kentucky advances, I'm prouder than ever to be a Davidson alum. Shoutout to my black and red Wildcats for a gutsy effort.
Thanks to Kelenna Azubuike, an analyst for NBC Sports Bay Area, my dream of seeing Steph Curry in a Kentucky jersey will also come true:
So if Kentucky wins this game vs Davidson, @StephenCurry30 has to wear my Azubuike Kentucky jersey to a shootaround or pregame workout. Davidson wins and I have to wear his Davidson jersey for a whole Pregame and Postgame show! Lets work Kentucky!! #BBN

— Kelenna Azubuike (@KAzubuike7) March 16, 2018
Next up: Arizona?
If so, Kentucky better find their outside shot before Saturday.
Kentucky may have advanced in the NCAA Tournament, but their 30-year three-point streak has officially died.
The Cats finished the day 0-6 from three, marking the first time in 1047 games they failed to hit a shot from beyond the arc.
The last time Kentucky failed to make a three-pointer was on November 26, 1988 against Seton Hall in the Great Alaskan Shootout.
1988-2018
Gone but never forgotten.
Davidson did enough in the second half to make it close, until the Kentucky Wildcats overpowered the opponent to pull away with a 78-73 first round NCAA Tournament victory.
Kentucky took a ten-point halftime lead into the locker room after Davidson made just 3-of-15 three-pointers in the first half.  Davidson's three-point drought did not last.  Jon Gudmundsson knocked down six second half threes to tie it with 7:41 to play.  After a tense four minutes, Kentucky responded with a 9-0 run to put the game out of reach for good.
For the first time in 1,047 games, Kentucky did not hit a three.  The Streak was snapped, but the Cats still found a way to win.
By KSR on ©March 15th, 2018 @ 11:15am
The KSR Bracket Challenge is here! Think you can do better than Matt & the KSR crew? Now is your chance to find out. All you have to do is fill out a bracket and enjoy the games. Enter KSR's bracket pool now.
You have a chance to win a great selection of prize packages:
**FREE Cane's for a year
**$200 gift card to Men's Wearhouse: "The authority in Men's Custom Clothing"
**$150 prize pack courtesy of Red State BBQ
**$75 gift card from Kentucky Branded
**TWO $50 gift cards to Shake Shack
**$50 gift card to Shakespeare & Co.
You even have the chance to submit your bracket for the national challenge and the grand prize trip to the 2019 Final Four.
Enter the KSR Bracket Challenge now. All entrants must be submitted by the morning of March 15. Good luck!
KSR has been releasing region previews of the NCAA Tournament kicking off tomorrow afternoon, with the East and Midwest featured thus far.
Now, it's time to focus on the main region of interest for Kentucky fans.
Let's see what the South has to offer with a trip to Atlanta for the region title on the line:
Bracket
Biggest Stars
Kevin Knox
Shocker, right?
Under the spotlight, Kentucky's leading scorer has risen to the occasion more often than not. He has scored 34 against West Virginia, 20 against Kansas, 21 against Virginia Tech, and 23 on the road against Arkansas, among others.
There is no spotlight brighter than the NCAA Tournament. Look for Knox to continue his streak of performing when the pressure is at its peak.
DeAndre Ayton (Arizona)
Averaging 20 points and 11 rebounds a game, DeAndre Ayton is quite possibly the best player in college basketball. And he's only getting better.
Ayton is legitimately unstoppable in the paint, shooting a ridiculous 64% from two and above 80% at the rim alone. Think you can stop him down low? He'll just beat you from the outside, as he's shooting 36% from three and 74% from the line. He has a beautiful midrange shot, has hit 12 threes on the year, and he will put a hurting on you in the paint. What do you do?
There is a reason Ayton is considered a consensus top-three selection in the upcoming NBA Draft.
Mohamed Bamba (Texas)
Going into the year, Texas freshman Mohamed Bamba was seen as one of the most dominant and feared defensive players in the nation. For the most part, he has lived up to the billing.
He's averaging 13 points, ten rebounds, and a ridiculous four blocks per game. He's a human shot altering machine.
He'll be taking on a tough Nevada team, and unfortunately, Bamba doesn't have much help around him.
Like Ayton, he's a lock to be selected in the top five in June, and he'll be must-see TV… at least for one game.
Kyle Guy and Devon Hall (Virginia)
Virginia's offense may put you to sleep on occasion, but that doesn't mean they don't have weapons.
Guy is averaging 14 points, three rebounds, 1.5 assists, and a steal per contest, leading the team in minutes played and total points.
Hall is second on the team with 12 points per game, but he's shooting 45% from three and 90% from the line. He's also pulling down 4.3 rebounds and dishing 3.2 assists per game.
Virginia has a tendency of finding ways to efficiently and methodically hurt you, and a lot of it has to do with these two.
With star guard De'Andre Hunter out for the year for the Cavaliers, look for both Guy and Hall to step up even further.
Caleb Martin and Jordan Caroline (Nevada)
Nevada's dual forward threat in Martin and Caroline is pretty ridiculous.
Jordan Caroline is currently averaging 17.9 points, 8.8 rebounds, and 2.1 assists for the Wolfpack, and he ended the year by scoring 20-plus points in five consecutive games.
And he's not even the team's leading scorer.
Caleb Martin is averaging 19.1 points, 5.3 rebounds, 2.6 assists, and 1.2 steals per contest, and he'll beat you from the outside and inside.
They'll be taking on Texas in the opening round, a team that was stuck on the bubble and did just enough to earn a tournament bid. Outside of Mohamed Bamba, the team doesn't turn heads in the slightest.
Look for these two to feast.
Best Mascot
Wright State Rowdy Raider
Wright State has since transitioned to a Wolf (boring) as the team's mascot, but before, the Rowdy Raider was the center of the show.
And you can see why, as the Raider is pretty phenomenal.
Though he's not the main mascot anymore, the Rowdy Raider still makes appearances at games and Wright State events, making him still eligible for the contest.
With a million Wildcats, Wolves, a Duck, etc., the answer was easy. Rowdy Raider for the win.
All-Name Team
Admiral Schofield (Tennessee)
Jon Axel Gudmundsson (Davidson)
Ebuka Izundu (Miami (FL))
Auraum Nviniahh (Buffalo)
Best/Ugliest Uniform
Best: Arizona
Simple, complementary colors, and a United States flag. What more do you need?
In game action, these Nike uniforms are stellar.
Ugliest: Buffalo
I just don't understand it. You're the University of Buffalo Bulls. Why is the state (New York) the bolded part of the jersey?
Introducing the Buffalo New York State University Tech Community College Institute of Technology Bulls:
Potential Upset Picks
Loyola-Chicago over Miami (FL)
Loyola-Chicago hasn't lost a game since January, and playing disciplined basketball is a big reason for that.
Not one player has fouled out for Loyola this season and they only commit 12 turnovers per game. Oh, and they shoot 40-percent from beyond the arc.
Miami star guard Bruce Brown is out for the year with a left foot injury, and the team hasn't looked the same ever since.
Write it down, Loyola-Chicago is moving to the Round of 32.
Buffalo over Arizona
Despite never reaching double-digit losses in the regular season, Arizona has always managed to flame out in the tournament.
Since Sean Miller took over in the 2009-10 season, Arizona has yet to make it to a Final Four. They've been to the Elite Eight three times and lost in the Sweet Sixteen once. They also lost in the first round in 2016, when they fell to Wichita State.
Buffalo finished the year on a six-game win streak, adding to their program-record 26 victories this season. They won each game in the MAC Tournament by double-digits, and their last two losses of the season came by a combined four points. The Bulls are efficient, shoot the ball well, and play at an incredibly fast pace.
Most people are focusing on a potential Arizona vs. Kentucky matchup in the round of 32, but if Miller's Wildcats overlook the Bulls, they'll go home early yet again.
Davidson over Kentucky
Oh, the beloved 5-12 matchup to open the tourney… and Kentucky got stuck with it.
In the last five years alone, 10 12-seeds have pulled off the upset. That's half of the possible matchups.
Davidson is a dangerous shooting team, and like Arizona, the Cats could get burned by overlooking them. Kentucky has been up and down this season, with playing down to their opponents being one of the most frustrating aspects of the team.
I still expect to see both Arizona and Kentucky move on for an epic matchup in the round of 32, but it won't be a cakewalk.
Winner
Kentucky.
After finding their groove again in the SEC Tournament, I expect them to continue that into the Big Dance.
If the Cats can get past DeAndre Ayton and Arizona, I like their chances to represent the South in the Final Four.