Funkhouser
KSR's take on recent non sports related happenings
By KSR on ©May 31st, 2018 @ 9:30pm
Chris Tomlin returned to The Funkhouser Situation to discover that Lee Cruse continues to have issues with swimming with dudes.  Lee shares his odd encounter before KSR's dynamic duo discusses a variety of pop culture topics, like…
— Netflix dropped a pair of comedies on consecutive days; can their model remain profitable?
— An Arrested Development Pitch
— Do people still like Tim Allen?
— Roseanne Barr: awful, crazy, comparable to Kathy Griffin?
— Two very different reactions to Solo.
— In a shocking twist, Lee adores Ryan Reynolds.
You can easily listen on the KSR App, available on iTunes and Google Play. Streaming online is simple through Pod Paradise. You can also get it directly to your phone by subscribing to The Funkhouser Situation podcast feed on iTunes or via Android's Podcast Addict app.
This week's episode is brought to you by:
By KSR on ©May 23rd, 2018 @ 9:00pm
Royal Wedding Fever wrapped up The Funkhouser Situation so much, the guys needed a brief break to soak in all of the euphoria.  Now Chris Tomlin and Lee Cruse are back to talk about their ridiculous watching rituals, and…
—  Chris corrects Lee's awful Animal House memory.
—  Lee's side of the story from the KSR Bowling League Debacle.
—  How HBO's Barry is the perfect combination of comedy and violence.
—  There's a new mesmerizing Elvis documentary.
—  SO. MUCH. EXCITEMENT. FOR. SOLO.
—  Is John Krasinksi in every Disney movie?
—  Questions about The Quiet Place.
You can easily listen on the KSR App, available on iTunes and Google Play. Streaming online is simple through Pod Paradise. You can also get it directly to your phone by subscribing to The Funkhouser Situation podcast feed on iTunes or via Android's Podcast Addict app.
This week's episode is brought to you by:
KSR writers Brad Morris and John Reecer both watched Deadpool 2 this weekend. Here is their analysis and conversation over what will possibly be the biggest R-Rated Movie ever made. SPOILERS ARE AHEAD. DO NOT READ IF YOU HAVE NOT SEEN THE MOVIE YET!
1. What is your short, immediate takeaway from the movie? 
Brad: This film is thoroughly enjoyable and on-par with the first Deadpool. The first movie expertly used the structure of a love story and this one used the structure of a "family movie." It was a stroke of genius.
John: Deadpool 2 falls victim at times to being too overstuffed like almost all sequels do, but when this movie is good, its great. Not quite as good as the first, but it's pretty darn close.
2. Let's talk about the new character Cable in this movie. Did he work? 
Brad: He is no Thanos, but I liked Cable. I liked the direction Josh Brolin took him in. I liked how he partnered with Deadpool in the end. Their chemistry was spot-on and was similar to the comics when those two worked great together.
John: This is officially Josh Brolin's summer. After nailing the part of Thanos and now nailing the part of Cable I'm convinced he can do no wrong. I thought they handled him teaming up with Deadpool in the end well. However, I thought that Brolin worked a bit too well, and I think a Deadpool/Cable buddy-cop movie would have been somewhat better than what we got here.
3. What were the film's biggest weaknesses? 
Brad: For me it was Russell and Cable flip-flopping back-and-forth between antagonist and protagonist pretty much for the entire movie. It reminded me a little bit of other Marvel movies (with the exception of Black Panther and Infinity War) in which the way they handled the so-called villain took down the stakes of the overall movie and it became predictable in the end.
John: The first act of this movie is way too slow and it was the only time where I felt the negative effects of sequels. I was reminded way too much of the first movie when Deadpool was taking us back-and-forth through time with his beginning narration, and it took me out of the movie. Overall, it was a little too overstuffed but I thought they handled the movie mostly well.
4. Lets's get to the humor. What were your favorite jokes in the movie? 
Brad: The entire scene where Deadpool is growing back baby legs had me and my audience in tears from laughter. That Basic Instinct joke T.J Miller gives was spot on. That entire 10-minute scene was comedic gold. Also, the cameos were perfect. The X-Men cameo with McAvoy, Beast, Quicksilver and the rest of the team showing up was awesome. Brad Pitt showing up in his cameo was also hysterical.
John: For whatever reason, I laughed the hardest at the "Fox and Friends" joke. It was a perfect joke that really nailed home with today's time and culture. The entire sequence where the X-Force is killed off will go down as one of the most iconic moments in this movie. Every single death was unexpected and completely hilarious in true Deadpool fashion. Also, the "Brown Panther" joke at the end was just perfect considering the recent success and pop-culture impact of Black Panther.
5. As we often see in comedies, not all the jokes land. What were your least-favorite jokes? 
Brad: Personally, the Dave Matthew Band joke hit too close to home for me. I see them once every year so I really disagreed with Deadpool's analysis of their great music.
John: I though they beat of us over the head with the dub-step joke a bit too much. It was just an alright joke and they kept going back too it. Also, the gross-out jokes used with Russell's pen prison shank were a bit too sophomoric even for Deadpool.
6. The movie's big surprise was the reveal of Juggarnaut. How did you feel about how the movie handled him?
Brad: The look and feel of Juggarnaut was a little off. He should have been even bigger honestly and his helmet was also a bit off from the comics. They essentially just did the character from X-Men 3: The Last Stand and just made him taller. I just thought his look was lazy although I did like the surprise.
John: It was a nice surprise, and I LOVE how this was not spoiled in any trailers. That was genius. However, I think his addition gets into the over-stuffed sequel criticism I have. He was basically in the movie just to give everyone a reason to team up which, as Deadpool would say, just felt like lazy writing.
7. Were there any moments or performances that stood out for you? 
Brad: Domino really was great and they gave us a good taste of her. I cannot wait to see her in more movies. Also, I liked that Negasonic Teenage Warhead had a girlfriend in this movie. Its true to her character and I liked how inclusive the decision was without the writers making it a big deal. They mention it, we get a joke about it, and we movie on. Very well done.
John: I loved how they essentially gave Domino Final Destination-type powers to make use of her being so lucky. It provided the movie with some really great sequences and the actress Zazie Beetz was perfect as that character. She was the character that I wished we got a little more from. The taste they gave us should have been a full meal…if you get what I am saying.
8. Where should the future of this franchise go? Do we need an X-Force movie next? 
Brad: Deadpool 3 first would be great. I'm envisioning Cable possibly being the leader of the X-Force in the future. They could even do the Deadpool 3 movie and an X-Force movie side-by-side year-wise. Like we could get Deadpool 3 one year and then like 10-11 months later we get X-Force. If the merger with Disney does happen, the third Deadpool movie could have him killing all the Avengers like he does in the comics. That would be something else.
John: Personally, I think the potential merger with Disney should give the MCU the original X-Men and the Fantastic Four, and the X-Force can be Fox's cinematic team.  Deadpool does not belong with Disney at all, and they should not ask for his rights. I think Fox can flesh this out nicely, give each of these characters their own movies and then have big X-Force team-up movies. Hopefully that is how it all goes down, but who knows what Disney can pull off.
9. What is your overall grade of Deadpool 2? 
Brad: I give it a B+, or a 8/10. This movie had great jokes and how they used Cable at the end was really thought-out well.
John: 8/10. We are in complete agreement on this one. This was the rare comedic sequel (SMH Hangover movies) that is actually good. That post credit scene is the best post credit scene of all time.
After seven seasons and almost 150 episodes, Jessica Day and the rest of the gang will move out of loft 4D.  The two-part series finale begins tonight at 9:00 on Fox.
Starring Zooey Deschanel, what made the ensemble comedy one of the funniest shows on television is that there was no star.  At its height, you could make a sound argument that the funniest character was Schmidt, Nick, Winston or Jess (but if you made me choose, I'd roll with Winston, mostly for the bird shirts).
A show that was not afraid to show its sweet-side, slap-stick comedy always remained at its heart.  It often manifested in a fight, or the drinking game True Americans, a game that will likely cause physical harm if you try to play at home.  To see its more clever comedic side, look no further than Schmidt's Douchebag Jar, an item that perfectly symbolizes the show's sweet silliness.
Like all "coming of age" shows starring people in their mid-20s, it was time to end New Girl, but that doesn't mean I won't be a little sad when its run ends tonight.  One of my top five favorite shows, if you've never given it a try, it's not too late to hop on the bandwagon with Netflix.
Serious question…I have started watching "New Girl" on Fox and I like it…I never hear anyone I know talking about it. Am I the only one?

— Matt Jones (@KySportsRadio) May 9, 2018
The Cats Land a Quarterback
Last night Eddie Gran found a quarterback for his 2019 recruiting class.  Nik Scalzo committed to Kentucky over Illinois, UNLV and a handful of Ivy League schools.  A three-star prospect, he's ranked by 247 Sports as the No. 16 dual-threat quarterback in America.
His 5'11" size scared off many of the big schools, but Darin Hinshaw saw a winner.  Playing in Broward County, Florida, home to arguably the best high school football in America, he threw for more than 2,000 yards as a sophomore and a junior.  In the camp circuit, he quarterbacked the same 7-on-7 team Teddy Bridgewater used to lead to an Adidas National Championship. If you compared him to Baker Mayfield, he would not mind.
Will Sports Gambling Happen in Kentucky?
The Supreme Court opened the floodgates for states to legalize sports gambling.  New Jersey, West Virginia and Mississippi are just a few that are already acting.  Meanwhile in Kentucky, crickets.  Public sentiment is overwhelmingly in favor of bringing sports books to the Commonwealth, but will politicians act?  To use my mother's advice, I will expect the worst and hope for the best.
NBA Draft Lottery
Tonight we will discover who is picking where in the 2018 NBA Draft.  De'Aaron Fox will represent the Sacramento Kings when the action begins tonight at 7:30 on ESPN (even though we will not know the final order until about 8:30).
The Warriors are going to win The NBA Finals
The Houston Rockets had everything set up for success against the Golden State Warriors, and still lost by double digits.  James Harden scored 41 points, yet the Rockets weren't even within striking range in the game's final five minutes.  The Warriors are just too great.  I couldn't have said it better myself.
Playing the Warriors is the Battle of the Bastards but the Knights of the Vale never come

— Rob Perez (@World_Wide_Wob) May 15, 2018
Don't Laugh Too Hard
If you think it's funny the first time around, un-mute the 10-second clip.
Play it cool Rodney…….play it cool…… pic.twitter.com/xfwQBtDVzJ

— Ben Ryan (@benjaminryan) May 14, 2018
The KSR Food Bracket Begins Today
But the bigger question is, will it be finished?
When you think of the best football movies of all-time, you probably think of Remember the Titans, Friday Night Lights, or Brian's Song. Those are some of the best football movies ever, however, there is one movie that is so underrated that it is NEVER brought up the conversation.
That particular movie is The Replacements which happens to be one of my favorite sports movies. Let's get the obvious out of the way first: this film does not belong in the conversation with the incredible movies mentioned above but that does not mean it is not underrated.
As far as plots go, you can see the end of The Replacements coming from a mile away. This is a film that is incredibly simple in its execution and critics buried it because of that.
It's a classic underdog story where NFL Players go on strike for a short time during the season, and the owners have to hire replacement players to keep the league afloat. That's it. By its very nature, it is not trying to be the Citizen Kane of football movies. Instead, The Replacements is just an incredibly entertaining and hilarious film that you simply just enjoy watching.
If you don't believe me, just watch the best overall scene from the movie that absolutely nails how to handle serious and moving subject matter while still being very funny:
After watching this group of ragtag athletes overcome the odds, I could not help but to see the similarities between them and figures from Kentucky Football. Of course, not all these comparisons are perfect, but the sheer number of these that come close is impressive.
Jared Lorenzen is Shane Falco
Falco is the replacement quarterback for the fictional NFL team the Washington Sentinels. He is the main character of the movie who just happens to be a left-handed quarterback who loves to scramble, has a rocket arm, and is also battling inner emotional demons.
Sound familiar?
While they may look different as far as body size, just look at their playing style. It's essentially the same player (shout out to Keanu Reeves for being impressively athletic).
CJ Conrad is Brian Murphy 
How does this sound? In the movie, Murphy is a tall tight-end with amazing hands who is arguably the most talented player on the team who some say has first-round talent.
Sounds exactly like CJ Conrad to me. In fact, Conrad might just be the first tight end taken in next year's NFL draft. The big difference between these two players is that Murphy just happens to be deaf which is why he never got drafted and is a replacement player.
Also an amusing side note: Murphy wears No. 86 and Conrad wears No. 87. The comparison is just THAT close.
Kash Daniel is Danny Bateman
This was bar-none the easiest comparison for me to make. Bateman is the team's middle linebacker who is completely insane on the football field. No, really. He is certifiably insane on the football field.
I'm convinced at this point that Kash Daniel and Bateman are essentially the same person. They wear the same number, play the same position, have the same attitude, same body size, and are very good football players. Just watch the scene above and compare that with this play that Daniel made against Tennessee:
Kash Daniel still making every tackle on kick returns. #BBN pic.twitter.com/OUwq6JfpN0

— Scott Charlton (@Scott_Charlton) November 12, 2016
Yupp. Same Guy.
Austin MacGinnis is Nigel Gruff
At first, the Sentinels are very, very bad on the offensive side of the football. So bad that their main scoring threat is their kicker who has incredible leg strength despite his overall average-looking physical appearance.
In fact, it was such a rarity when they scored that everyone made a huge deal when Gruff would make a field goal. It would be the high point of a few of their games.
Sadly, the resemblance here with UK Football is just painfully obvious. MacGinnis is an incredibly talented kicker despite his average-looking appearance and at times he was the lone bright spot on the team.
To make the comparison even more complete, they both hit huge game-winning field goals that were over 50 yards long in victories that helped change the course of their team's seasons.
Bear Bryant is Jimmy McGinty
You might have already noticed this connection in the clips above, but as the head coach of the Sentinels McGinty (played by legend Gene Hackman) has a throwback approach to coaching.
Motivational speeches, common sense, and classic football ideologies develop his coaching schemes, and he gets all of these throw-away players to play their best possible football.
However, the most obvious comparison that can be seen between him and Bear Bryant is the fact that they both wear suits and old-fashioned hats while they are coaching. I would not be surprised at all if Hackman's character is completely inspired by Bryant.
"If you believe in yourself and have dedication and pride – and never quit, you'll be a winner. The price of victory is high but so are the rewards."
-Bear Bryant #MondayMotivation #TXHSFB #TexasHSFootball pic.twitter.com/cvHmTASNrY

— Texas HS Football (@texashsfootball) May 14, 2018
They are a few other connections (yes there are more) in the movie with UK Football, but hopefully this post will convince you to watch The Replacements and find these other similarities yourself. Give this movie a watch if you have not yet, and enjoy a simple sports movie that has a lot of heart and laughs.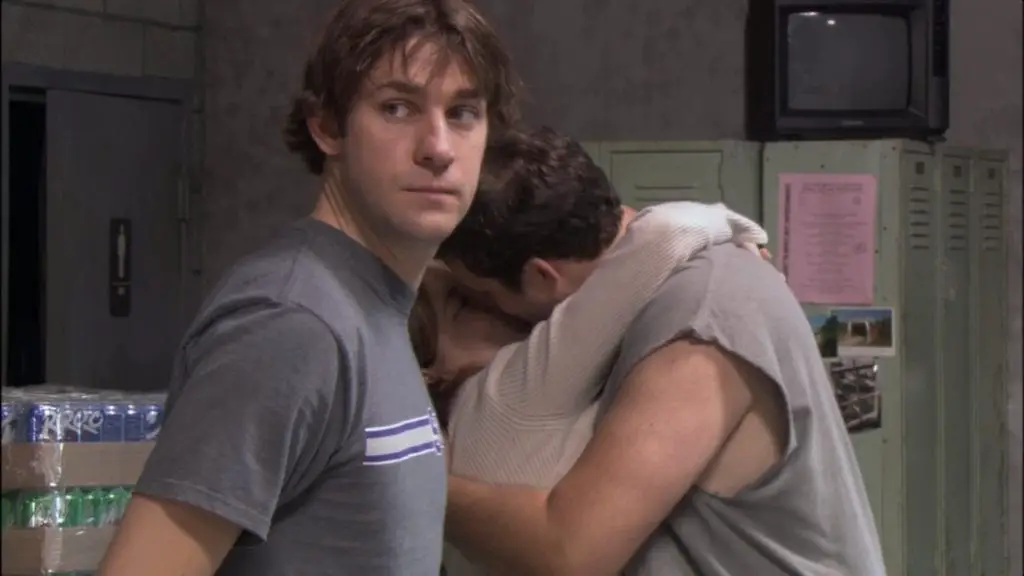 Oh Pam.  Pam-a-lamma ding dong.  The sweet receptionist that stole hearts with her witty shenanigans in The Office is one of the most beloved characters in television history…or is she actually a villain?
A self-proclaimed expert on a generation's best comedy, the thought never crossed my mind until today.  I blame it all on Ryen Russillo.
Pam…
Cheated on Roy
Led Jim on for years
Jealous of Katy
Back w/ Roy but awkward about Karen
Lied to coworkers and management about Office Administrator position
Jim supported her dream, she asked him to give up on his
Harrassed Danny
Had emotional connection w/ camera man…

— Russillo (@ryenarussillo) May 12, 2018
The revelation rocked my world.  Is up actually down?  Does Louisville actually have morals? Surely it cannot be!
The first show I ever binged through, the tension Pam created had me hooked from day one.  A college freshman who was perpetually locked in the friend zone, I desperately sought to find a perfect connection with my Pam.  But who wants to be a Toby Flenderson?  Nobody.  It turns out that it wasn't a me problem; it was a Pam problem.
Once a beloved fan favorite, Russillo exposed Beesly for the fraud she is.  Beesly is a villain, one who deserves to fall down The Office Character Power Rankings:
1. Creed Bratton
2. Dwight Schrute
3. Michael Scott
4. Kevin Malone
5. Jim Halpert
6. Darryl Philbin
7. Meredith Palmer
8. Phyllis Vance
9. Ryan Howard
10. Kelly Kapoor
11. Stanley Hudson
12. Oscar Martinez
13. Pam Beesly
14. Angela Martin
15. Andy Bernard
16. Toby Flenderson
Feel free to disagree.  Just know it's okay to let the hate out of your heart for Pamela Beesly Halpert.
By KSR on ©May 09th, 2018 @ 4:00pm
A little more than a week after the world's biggest movie hit the big screen, Chris Tomlin and Lee Cruse break down Avengers: Infinity War on The Funkhouser Situation.  There are plenty of spoilers in this discussion, but they do not happen until the end of the show.  Before they talk about Thanos and infinity stones, KSR's dynamic pop culture duo discuss…
—  Lee's Most Enjoyable Kentucky Derby
—  Westworld's Similarities to Lost
—  Game of Thrones is the Best Show HBO has ever Done (duh)
—  Why are we constantly remaking movies?
—  Bob Newhart is Underrated
—  What's the last original character to launch a franchise that didn't come from a book?
You can easily listen on the KSR App, available on iTunes and Google Play. Streaming online is simple through Pod Paradise. You can also get it directly to your phone by subscribing to The Funkhouser Situation podcast feed on iTunes or via Android's Podcast Addict app.
This week's episode is brought to you by:
By KSR on ©May 02nd, 2018 @ 2:00pm
Lee Cruse took time off from a busy Kentucky Derby week to join Chris Tomlin for another exciting edition of The Funkhouser Situation.  Before things get a little weird, the dynamic duo discusses…
—  What it's like to interview Al Roker.
—  A sentimental salute to Alan Cutler.
—  New sexual misconduct allegations surrounding Tom Brokaw.
—  Lee Cruse shares some strong words about the Derby (and a few infield stories).
—  A spoiler-free analysis of Avengers: Infinity War.
—  That time Lee ran into a Chris Tomlin comment in The New Yorker.
—  The psychology of horror films: Chris presents some strange sexual metaphors.
You can easily listen on the KSR App, available on iTunes and Google Play. Streaming online is simple through Pod Paradise. You can also get it directly to your phone by subscribing to The Funkhouser Situation podcast feed on iTunes or via Android's Podcast Addict app.
This week's episode is brought to you by:
Brad Morris and John Reecer both watched Infinity War on Thursday night. Here is their analysis and conversation over what will possibly be the biggest movie ever made. SPOILERS ARE AHEAD. DO NOT READ IF YOU HAVE NOT SEEN THE MOVIE YET!!! 
1. What is your immediate takeaway from the film? 
Brad: They somehow took everything from 18 different movies, stuffed it into two hours and 30 minutes, and it still has little to no flaws at all. Marvel actually pulled it off. This was an amazing achievement.
John:  The fact that a film like this could be so hysterical while also being so incredibly depressing is just insane. In theory, this movie should not have worked at all. However, there are so few flaws. This is truly a cinematic accomplishment. This was one of the most memorable times at the movies I've ever had.
2. Let's talk about that ending. What did you think of it? 
Brad: It was absolutely perfect. That was the only way the movie would have made sense in the end. There was no way that Thanos should've lost in the movie. It is a genius way to lead into Captain Marvel and Avengers 4. It was so sad to see so many heroes perish, but this is all part of Doctor Strange's big plan.
John: I never thought that Disney/Marvel would have the courage to do so, but they actually killed half the Avengers. However, it is SO unfortunate that Marvel has already revealed their next set of movies like Black Panther 2 and a Spider-Man sequel. Everyone and their mother knows that the Guardians, Spider-Man, Black Panther and everyone else that died is not going to stay dead. It does weaken the stakes and the emotional punch in the end isn't as great as it should be. It's one of the movies very, very few flaws.
3. How does Thanos stack up as a villain? Does he live up to the hype, or is he another disappointing Marvel villain?
Brad: This is Josh Brolin's movie. He absolutely killed it as Thanos. He is without a doubt the best villain in the MCU. They actually pulled it off. The fact that he wins and kills half the universe makes him an all-time great villain in the history of cinema just by that alone.
John: I think he is the best villain since Ledger's Joker. I'm dead serious. How Marvel actually made me sympathize with someone who wants to kill trillions of people…..is both disturbing and amazing. His story is just so compelling. It's the best aspect of this movie. When he is sitting in peace at the end, I'm actually kind of happy for him.
4. From the Avengers side of things, who is your MVP of Infinity War?
Brad: Thanos may have won this battle, but Doctor Strange is winning this Infinity War. Like he said, they are now in the endgame by his design. It made total sense why he gave up the time stone for Tony Stark. Even though Strange is currently dead, everything is happening as he had planned. It's a huge risk, and I have no idea what's going to happen next, but Strange is one step ahead.
John: Strange is the easy choice so I'm going in a different direction and say that Thor is the MVP of Infinity War. Literally everyone he has ever loved or cared about died even before Thanos snapped his fingers (RIP Loki). However, he used his anger and vengeance in a positive way and stuck to the plan. To overcome what he lost is significant character development. Peter Quill should take some notes.
5. What were your favorite moments in the film? 
Brad: For me, it was the more subtle moments. For example, Spider-Man's Aliens reference/moment on the spaceship was just awesome. Him defeating Squidward (lol) was one of the cooler moments of the movie. Then I come back to the introduction of M'Baku in Wakanda. Him recognizing T'Challa as his brother is a very touching moment. I loved Black Panther just as much as you did and that moment just really got to me.
John: Spider-Man's moment on the spaceship was incredible. However, the best moment of the movie was without a doubt Thor, Rocket, and Groot finally arriving on the battlefield in Wakanda. That's one of the coolest moments in MCU history. Then my personal favorite moment was seeing Captain America and Black Panther run out ahead of their entire army just to get into the fight first. Cap and T'Challa are 100% about that action and they work really well together.
6. What were the best jokes in the movie? 
Brad: Star-Lord changing his voice to sound like Thor was hysterical. Basically that entire scene had the audience laughing the entire time. Seeing Thor completely just blowout Quill's confidence like that was awesome. Drax's  "I'm being completely still" joke had me in tears as well. Bautista's comedic delivery is really impressive.
John: Iron Man's Squidward joke had the most laughter from the audience both times that I saw the movie. Combining the most iconic MCU superhero with the most iconic cartoon of all time was a match made in heaven. On a personal level, I liked Captain America's "I am Steve Rogers" line when he was introduced to Groot. It was just so wholesome to see a joke between two of the purest characters in the MCU. Also, I am almost forgot but Drax screaming "WHY IS GAMORA" was just hysterical. Bautista is a national treasure.
7. What was the best team-up of Avengers? 
Brad: Thor and "Sweet Rabbit." They are just perfect together. Rocket's and Thor's personalities and history work perfect as a duo. Every time they were on screen together were some of my favorite moments of the movie. Also, I thought that the Dr. Strange/Spider-Man/Iron Man team-up was really great as well.
John: Please give me a Thor/Rocket Raccoon buddy-cop movie right this instant. I could watch those two together all day, every day.
8. What were the biggest flaws in the movie? 
Brad: For me it was the Ant-Man/Hawkeye throw-away line. It's bad enough they are not even in the movie, but the length of the explanation for why is just so pathetic. At least devote a couple more lines of dialogue to why they are not there.
John: While it did make sense for why they were not there, I agree. Some of the people I watched the movie with completely missed it altogether. One line from Black Widow really was not enough. Also, besides my small quibble with the ending, I also did not enjoy Mark Ruffalo's jokes in this movie. They were fine, but he was just a little over-the-top in this film. It's a nitpick, but it was distracting for me.
9. Where does Infinity War rank in the MCU? 
Brad: For me, Winter Soldier will always be the best MCU movie. But WOW did this come close. I would have it either at No. 2 or No. 3 behind the original Avengers.
John: Your feelings for Winter Soldier are my feelings for Black Panther. However, I think Infinity War is a close second for me. I really do think its better than every other MCU movie. It's that good.
10. What is your final rating?
Brad: 9.75. It really was almost perfect. I just wished they would've handled Ant-Man and Hawkeye better. Next summer needs to get here NOW.
John: 9.5. I only have a handful of nitpicks when it comes to this movie. This was Marvel's masterpiece of a cinematic experience. They really did it. I cannot wait for the conclusion of this story in Avengers 4.
By KSR on ©April 25th, 2018 @ 6:30pm
Lee Cruse is excited, and it's not just because he has a new job.  One half of The Funkhouser Situation has caught royal baby fever, and the only prescription is more podcast.  Highlights:
— Off the morning show, go inside Lee's new life and work routine.
—  Chris shares a bizarre tale from Scotland.
—  Why is Lee so excited about the Royal family?
—  The debut of the second season of Westworld.
—  Does the Tom Hardy Venom movie look good?
—  SNL: A quiz on the longest-running cast-members and who is their Dream Team?
You can easily listen on the KSR App, available on iTunes and Google Play. Streaming online is simple through Pod Paradise. You can also get it directly to your phone by subscribing to The Funkhouser Situation podcast feed on iTunes or via Android's Podcast Addict app.
This week's episode is brought to you by: