Other UK Sports
UK Hoops and other sports coverage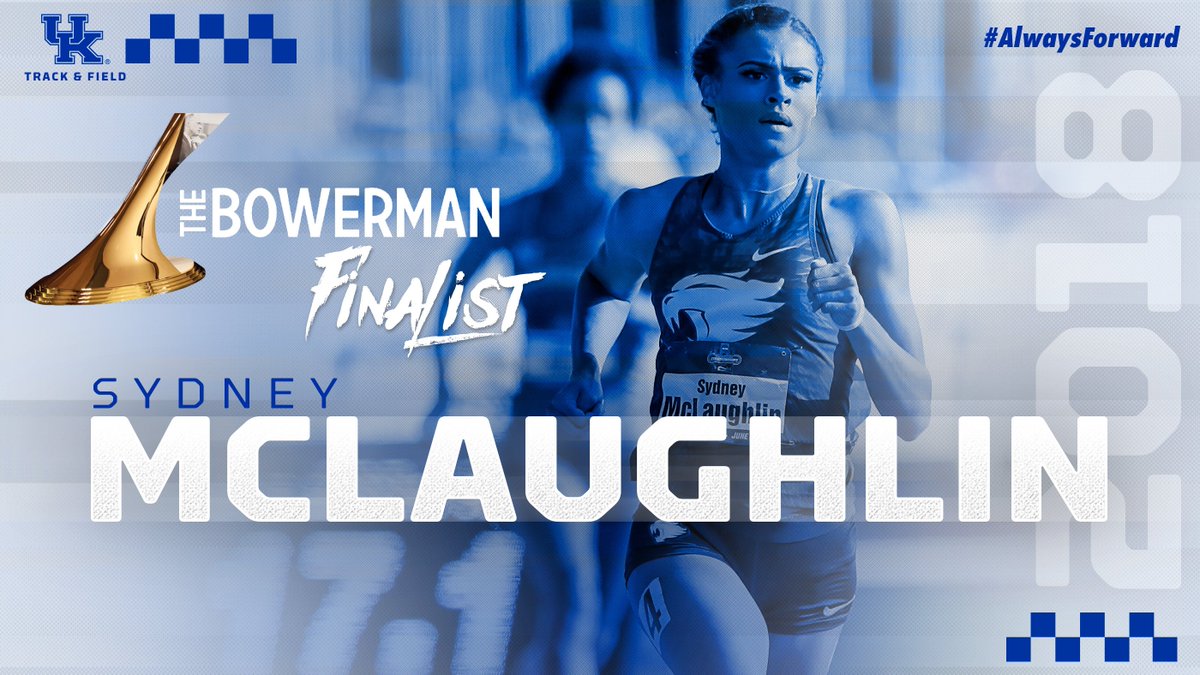 Kentucky freshman track and field phenom Sydney McLaughlin is a finalist for the most prestigious honor in the sport.
McLaughlin is one of three finalists for The Bowerman, an award given to the most outstanding collegiate track athlete in the nation each season.
1? #NCAATF ?
1? Collegiate Record
2? ? Junior Records

Sydney McLaughlin was a Tour de Force, posting seasonal top-4 marks in each of the 6? individual events she contested.

That's why McLaughlin is a finalist for #TheBowerman18.

READ MORE – https://t.co/LmOUE6UywJ pic.twitter.com/ng2zubykZJ

— The Bowerman (@thebowerman) June 20, 2018
Arizona State's Maggie Ewen and Georgia's Keturah Orji join McLaughlin as finalists chosen by The Bowerman Advisory Board, with McLaughlin being the first female freshman finalist in the ten-year history of The Bowerman.
McLaughlin won gold earlier this month at the NCAA Championships in the 400m hurdles and broke the collegiate record by nearly a second running 52.75 seconds to take home the SEC championship title back in May. She also recorded the 13th-fastest 400m hurdles of all time, and her time of 52.75 makes her just 0.41 seconds away from becoming the fastest woman hurdler in the world.
The winner will be announced on December 20 at the annual USTFCCCA Convention in San Antonio.
Earlier today, it was announced that former UK golfer Russ Cochran will enter the UK Athletics Hall of Fame. In his honor, former KSR writer and PGA Tour caddie Aaron Flener dug up this hilarious old clip.
Cochran was a First Team All-SEC honoree at Kentucky and went on to a successful career in the pros, but in the 90's, had a tough go of it in the Canadian Open, shooting 66 in the first round and 80 in the second. When asked what the difference between the two days was, Cochran quipped, "14 shots." That's just the first of many funny things about the video you're about to watch.
(Some language NSFW)
Thankfully, Cochran's career only went up from here. He went on to win ten professional tournaments, including one on the PGA Tour and four on the Champions Tour. He finished in the top 10 twice at the PGA Championship and won the British Senior Open in 2011. He's still active on the Champions Tour (Senior PGA Tour) and has more than $13 million in career earnings.
Not too bad for someone who survived the pure self-destruction of a 14-point swing and hit the SOB everywhere that fateful day in Ontario.
The Kentucky Track and Field team has lost its third star in a week.
Junior hurdler Jasmine Camacho-Quinn has decided to forego her final year of eligibility and will turn pro.
First and foremost, I want to say thank you to the University of Kentucky and Coach Floreal for giving me the opportunity to represent the Wildcats and the BBN! I have made the decision to forego my final year of eligibility and I will be turning pro. #AlwaysaWildcat #BBN pic.twitter.com/T70jqJw0F9

— Jasmine C. Quinn, OLY (@JCamachoQuinn) June 15, 2018
Camacho-Quinn won the NCAA championship in the 100-meter hurdles on Saturday in Eugene, Oregon, her second title in the event and fourth title of her Kentucky career.
Former Kentucky head coach Edrick Floréal left the Cats on Wednesday to take over the Texas Longhorn program.
UK freshman sensation Sydney McLaughlin announced last Saturday that she would be also be turning pro. It has since been reported that McLaughlin will join Floréal this offseason in Austin, TX to train for the professional ranks. Camacho-Quinn is also expected to participate.
Best of luck to all three (now) former Wildcats going forward.
Kentucky's rising track and field program just lost its leader.  After coaching UK's program for the last six seasons, Edrick Floréal will be the next head coach of Texas' track and field team, the school announced.
"I would be remiss if I didn't start off by thanking Mitch Barnhart and everyone at Kentucky," Floréal said in a statement. "I'm so grateful for all the support they gave me in building a world-class program there.
"It's because of them that I have an opportunity like this, and I am so excited to be the head coach at Texas. It's the elite of the elite in track and field programs, and the potential to achieve greatness is fantastic. You have the premier track and field state in the country to recruit in, a rich and proud history, and are the flagship institution of the state. It's truly an amazing opportunity."
When Floréal arrived in Lexington, the track program was an afterthought.  Placing at the bottom of the SEC, the women's team had never won a trophy as a top four finisher at the National Outdoor Track and Field Championships.  In three of the last four years, Kentucky has earned a top four finish on the NCAA's biggest stage.
Floréal brought hardware and a ton of swagger to the program.  Kendra Harrison broke a hurdling world record and Jasmine Camacho-Quinn won a pair of National Titles in the hurdles, which helped recruit Olympian Sydney McLaughlin to Kentucky.  McLaughlin cemented UK's status as "Hurdle U," as the coach's motto "Flo Knows" earned enough pedigree for a Sports Illustrated profile.
His contributions to UK's women's team are the most significant, but you cannot overlook what he did to develop the men's team.  This year UK's Tim Duckworth became just the second man to ever win the indoor heptathlon and outdoor decathlon, joining Olympic gold medalist Ashton Eaton.
Now Mitch Barnhart must conquer the impossible task of finding Floréal's replacement.
"We are grateful to Edrick Floréal for his work leading our program and wish him well as he pursues this opportunity at Texas," Barnhart Tweeted.  "We believe the success Kentucky track and field and cross country have seen in recent years is just a glimpse of what's to come for Kentucky Track.
"A national search for our next head coach will begin immediately. Our focus in this search will remain on our student-athletes and their growth as people and competitors."
The focus was on Justify's Triple Crown victory yesterday afternoon, but one Kentucky Wildcat followed it up with a trophy-winning performance of her own to add to the long list of records and accolades she has already claimed.
And it may have solidified her spot as the most dominant athlete in UK history.
That's right, not a star basketball or football player. A track and field sensation has officially taken over the top spot as the most dominant athlete in school history. And if things go as planned, Kentucky freshman Sydney McLaughlin will be the face of U.S. Track and Field for years to come.
McLaughlin, an 18-year-old track phenom from New Jersey, ran away with the 400m Hurdle title at the NCAA Championships last night with a final time of 53.96 seconds to bring another banner back home to Lexington.
Check out the victory, where despite the horrible weather conditions, the Wildcat freshman was able to pull off the 8th fastest time in collegiate history.
Sydney McLaughlin runs away with the 400m Hurdles championship. The most dominant athlete in Kentucky history. pic.twitter.com/BFWWG8UfeI

— Sam Gormley (@GormleyKSR) June 10, 2018
Nobody even close.
This came right after McLaughlin destroyed the 400m hurdle semifinals with a time of 54.15, over two seconds faster than anyone else in the field.
The footage is hilarious, as the camera crew tried to keep the view as wide as possible to keep other runners in the frame, but McLaughlin was so far ahead they eventually just gave up.
NCAA Championships, 400M Hurdles

"A very easy 54:15."

Kentucky's Sydney McLaughlin out here looking bored. She's unbelievable. Pure dominance. pic.twitter.com/KItkYHcUl8

— Jamie McCracken (@jamieamccracken) June 8, 2018
She came on the national scene by representing the United States in the 2016 Rio Olympics at just 16 years old.
As a senior in high school, McLaughlin recorded the fastest legal time by a high school female in the 200m event with a time of 22.96, a record that had stood since 1993. She followed it up with New Jersey meet records in the 400m hurdles, 400m, and the 200m. The 400m time (54.03) broke the World Junior and overall high school records.
As the fastest runner in all of high school, she had sponsors begging her to skip college and turn pro. Instead, she decided to be a kid for one more year and attend the University of Kentucky.
To no one's surprise, she quickly became the fastest collegiate female in the nation.
Back in March, McLaughlin set the world junior 400m record with a time of 50.36 at the NCAA Division I Indoor Track and Field Championships. She followed it up with a 400m time of in 50.07 seconds, a new NCAA Freshman record. With that time, McLaughlin became the second-fastest person to run the 400m at the collegiate level ever behind Courtney Okolo and now leads the world in the event.
Just two months later, the track phenom broke the NCAA record in the 400m hurdles, finishing with a 52.75 to win the event in her first SEC championship appearance. In the process, McLaughlin destroyed the World U20 time and broke Shamier Little's time of 53.21 set at the 2013 NCAA Championships to become No. 13 on the all-time world list.
At 52.75, McLaughlin is just 0.41 seconds away from becoming the fastest woman hurdler in the world.
And according to Kentucky Track and Field coach Edrick Floréal, McLaughlin could easily break Russia's Yuliya Nosova-Pechonkina 400m hurdle record of 52.34 in the very near future. In "perfect" runs at practice, Floréal said she can finish in the 51.9-second range, which would make her the fastest woman in world history by a whopping .44 seconds.
Unfortunately for UK fans, we won't be able to see her break that record in a Kentucky uniform. After her national title victory last yesterday, McLaughlin announced she will be turning pro.
BREAKING: @GoSydGo announces she is going pro after this season pic.twitter.com/QHs80PVxXu

— FloTrack (@FloTrack) June 10, 2018
Sydney McLaughlin (@GoSydGo) recaps her final college race and national title pic.twitter.com/TkolUF5lkn

— FloTrack (@FloTrack) June 10, 2018
So now that her one (and only) season at Kentucky is over, is it safe to say she is the most dominant athlete in school history?
Here's the competition:
Anthony Davis had the most decorated season at Kentucky, finishing as a national champion, National Player of the Year, Defensive Player of the Year, Final Four's Most Outstanding Player, Olympic gold medal winner, No. 1 draft pick, etc. Most have had him penciled in as the most dominant.
Wallace "Wah Wah" Jones was a three-time basketball All-American and led the team to back-to-back national championships under Adolph Rupp. And he was also a star under Bear Bryant on the football team. Oh, and he dabbled in UK baseball in his "free" time. He was one of the best multi-sport athletes in school history.
Dermontti Dawson was a pro football Hall of Famer. Tim Couch was the most dominant quarterback in UK history and became the No. 1 overall pick. A.J. Reed was the unanimous National Player of the Year in baseball as a hitting/pitching sensation. Dan Issel was a two-time consensus All-American and holds just about every scoring record Kentucky has to offer.
That being said, no one dominated their sport in effortless fashion the way McLaughlin has done in her one-and-done season at Kentucky. She breaks records, but hardly breaks a sweat in doing so. She once clipped a hurdle, but was so far ahead in the race, still casually strolled across the finish line with zero worries.
Scary moment for Sydney McLaughlin pic.twitter.com/W719kSR4O2

— FloTrack (@FloTrack) May 25, 2018
Her runs are ridiculously effortless. Her competition sees nothing but her back at all times, and the records show for it.
Has she officially taken over the top spot? I think so.
Over the weekend the Kentucky baseball team and Nick Mingione picked up a commitment from 2020 RHP Wyatt Hudepohl of St. Xavier (Cincinnati).
I'm excited to announce that I have committed to play baseball at the University of Kentucky! #BBN pic.twitter.com/VeE3IKwiiM

— Wyatt Hudepohl (@WyattHudepohl) June 8, 2018
Hudepohl throws in the low 90's with climbing velocity, he is ranked as the #283 player in the nation by Perfect Game USA.
Hudepohl also plays quarterback for the Bombers but has decided to continue his career in baseball on the next level.
---
@EMitchKSR
The freshman track phenom is going pro.
Sydney McLaughlin told FloTrack that Saturday was her last collegiate meet and she plans to go pro.
McLaughlin first possible meet as a pro will be at the USATF Outdoors Nationals at the end of June.
McLaughlin's decisions to go pro after one year is no surprise. It was a real surprise for her to even attend college. She could have gone pro in high school.  I'm just glad she picked Kentucky for her one year of college.
Watch the entire interview with FloTrack HERE.
#SuceedandProceed
Sydney McLaughlin wins the 400m hurdles at the NCAA championship in 53.96.
Never a doubt @GoSydGo completes the #UKTF ??hurdles sweep. #AlwaysForward https://t.co/4ULXwWDuIH pic.twitter.com/KHofJQgDIw

— UK Track & Field (@KentuckyTrack) June 10, 2018
She has officially become the most dominant athlete of all time at the University of Kentucky.
McLaughlin joined Jasmine Camacho-Quinn, who the won the 100m hurdles.
She stayed calm, ran her race and brought it home!

CONGRATS JASMINE! pic.twitter.com/50Oly2hSu3

— NCAA Track & Field (@NCAATrackField) June 9, 2018
Basketball school? What are you talking about? Kentucky is a track school. #HURDLEU.
Step aside for the night, Sydney McLaughlin. Kentucky's Tim Duckworth won the men's decathlon at the NCAA Championships tonight with 8,336 points, the fifth best score in meet history. He's just the second man in NCAA history to win the indoor heptathlon and outdoor decathlon in the same year.
The decathlon is the ultimate test of strength and stamina. Over two days, athletes must complete the 100-meter sprint, 110-meter hurdles, 400 meters, 1,500 meters, long jump, high jump, shot put, discus throw, javelin throw and pole vault.
Some footage of his performances:
#NCAATF Decathlon 110m hurdles
1. Tim Duckworth: 14.37 (-0.7) | 927 pointshttps://t.co/sSSaE1GzPj pic.twitter.com/uFE7Y4ujfN

— UK Track & Field (@KentuckyTrack) June 7, 2018
At the end of Day 1, @KentuckyTrack's Tim Duckworth leads the Decathlon with 4??4??9??5??points. pic.twitter.com/jv4RbVc4Ah

— NCAA Track & Field (@NCAATrackField) June 7, 2018
Congrats, Tim.
As expected, Sydney McLaughlin had no trouble in tonight's 400m hurdles semifinal at the NCAA Championships, finishing in 54.15 seconds, almost two seconds faster than anyone else in the field.
That time is well short of McLaughlin's personal best of 52.75 seconds — the collegiate record — but she's also running in the 4x400m relay later tonight and, really, didn't need to push herself: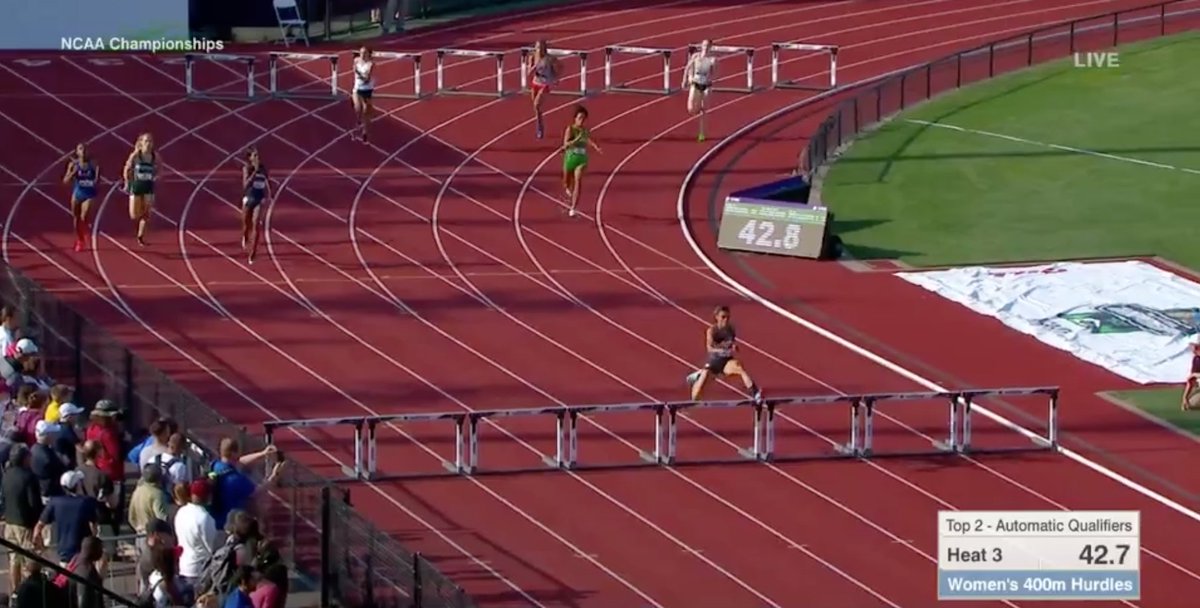 She heads into Saturday's finals as the heavy, heavy favorite.
Watch Syd Go around the 35-second mark of the video below: