Other UK Sports
UK Hoops and other sports coverage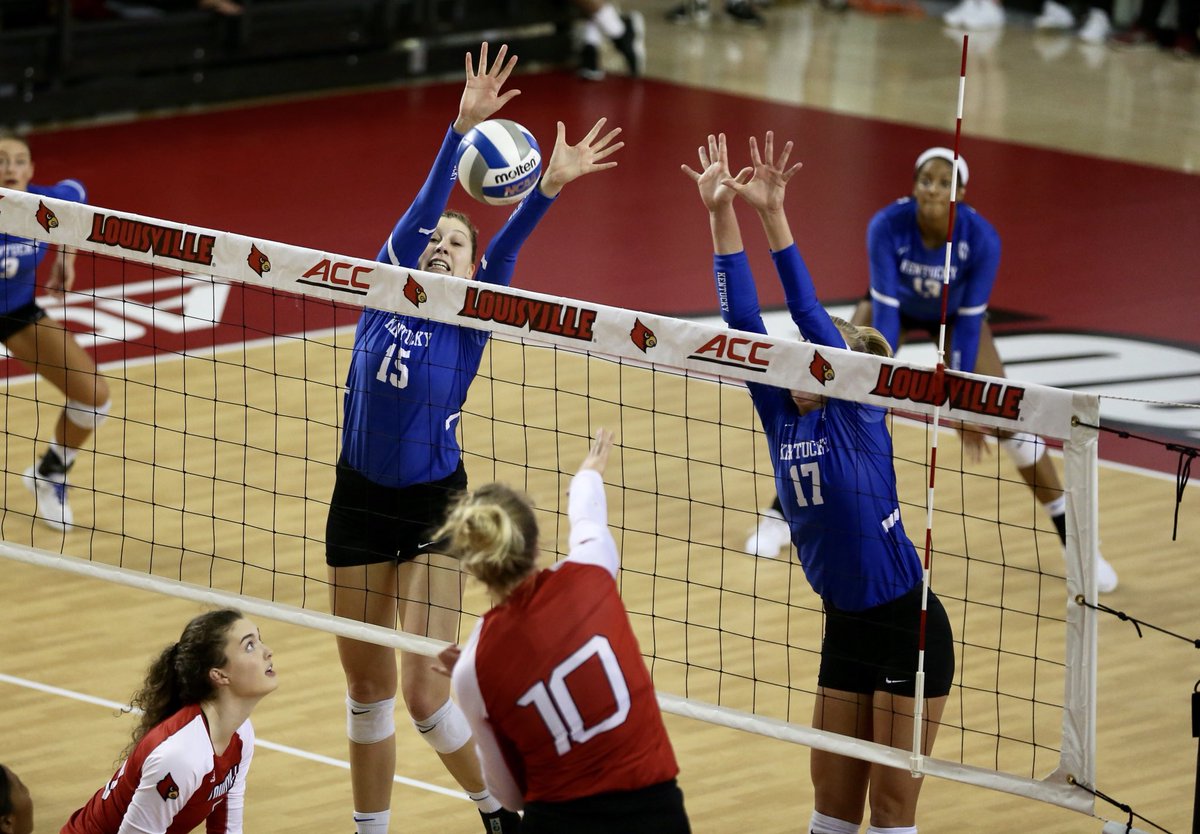 The Kentucky Volleyball team owns the Louisville Cardinals, and they proved it yet again tonight.
Your No. 20 Wildcats just swept the Cardinals 3-0, their sixth consecutive victory in the series.
Star junior outside hitter Leah Edmond led the way with 14 kills on a career-high .600 hitting percentage. Freshman Alli Stumler added eight kills, while senior Brooke Morgan managed seven kills at a .538 rate.
Sophomore setter Madison Lilley also added 25 assists, eight digs, three aces, and two blocks in a stat-stuffing performance.
It was a blowout performance, with the Cats winning each game by at least seven points.
With the victory, Kentucky improves to 5-4 on the season, while Louisville falls to 6-4.
Kentucky head coach Craig Skinner was obviously happy with his team's performance.
"I was impressed with our intensity, concentration, and focus throughout the match from point one," head coach Craig Skinner said. "All the way through, the team was dialed into the scouting report and what was happening on the other side of the net – just a very workman-like performance tonight. It's really important for us to maintain the level of practice we've had and the execution moving forward."
The Wildcats will be back at Memorial Coliseum on Sunday, where they will take on Chattanooga at 1:30 p.m. ET in their final nonconference matchup. From there, it's time to take over the SEC.
For now, though, we celebrate the victory over the dirty birds.
GBB!
Congratulations are in order for Kentucky Soccer's JJ Williams, who was named National Player of the Week by the United Soccer Coaches, one of several accolades he's racked up this season.
In last night's 0-0 draw vs. Xavier, the junior forward had six shots, three on goal. Last week, he scored two goals in Kentucky's big win over then-No. 7 Louisville and another vs. UAB, earning him his second-straight Conference USA Offensive Player of the Week award. He was also named Player of the Week by College Soccer News. Through five games, he already has more goals (four) than he finished with in each of the last two years.
The Cats are now 4-0-1 and ranked sixth in the country. They play Lipscomb in Nashville next Tuesday night.
?>? pic.twitter.com/tg0yMXvaBc

— Kentucky Men's Soccer (@UKMensSoccer) September 5, 2018
By TJ Walker on ©September 11th, 2018 @ 7:00pm
Nearly a week after ransacking No. 7 Louisville 3-0, UK men's soccer team jumped from unranked to No. 6 in the latest United Soccer Coaches Poll.
I'll be honest, I don't know what the United Soccer Coaches Poll is, and I know that soccer teams use a plethora of different rankings, but this is what Kentucky is going to roll with and I don't blame them.
Kentucky blitzed out to a 2-0 halftime lead over the Cardinals last week before finding one more goal in the second half. It was a great win the Cats and Louisville made it look even better when UofL bounced back later that week to beat No. 2 Duke 3-0.
Smart logic would indicate that Kentucky would have beaten Duke 6-0, so we should chalk that one up for another nice win for UK. The Cats are gonna take the C-USA by storm this season. Lock. It. Up.
UofL's up-and-down week kept them at No. 7.
If you like looking at soccer polls click HERE.
The soccer team takes on Xavier tonight. Watch there HERE. 
Remember when the Foo Fighters played Rupp Arena back in May and rode bikes around downtown Lexington? Apparently, they also played a pickup soccer game with some UK Soccer players and coaches, which the school had to report to the NCAA because it's a violation.
According to The Courier-Journal's Jon Hale, several UK soccer players will have to sit out two supervised team activities (practices or meetings) because the Foo Fighters crashed their pickup game before their concert at Rupp. Apparently, the band was tired and wanted to get the adrenaline flowing, so they challenged the UK players and coaches to a game; because that game took place the week before finals and coaches participated, it violated an an NCAA rule and the school had to report it.
Leave it to the NCAA to suck the fun out of everything. Thankfully, the punishment wasn't Everlong.
By TJ Walker on ©September 04th, 2018 @ 9:45pm
Louisville got the business on Tuesday night as the Cards were upended, upset and outplayed by the undefeated Cats.
Kentucky moved to 3-0-0 on the season after dominating from start to finish over No. 7 Louisville for a 3-0 win. You have to go back to 2015 for the last time Louisville defeated Kentucky in soccer. Nice.
It's always nice to beat your rival and it's even better to not break a sweat while doing it. Way to go, Cats.
.@JJ23Williams heads home for a first-half brace v Louisville . pic.twitter.com/pD9940jHhQ

— Kentucky Men's Soccer (@UKMensSoccer) September 5, 2018
https://twitter.com/UKMensSoccer/status/1037151559845597184
Last year, the Kentucky Volleyball team had their best season in program history, making it to the Elite Eight and finishing the year with a 29-4 final record and No. 6 overall ranking.
This season, however, the Cats got off to an 0-3 start, matching their entire regular season loss total from 2017.
For a program that returned many of their key players from last season, including star outside hitter Leah Edmond, the slow start was a shock for the Big Blue Nation.
Fortunately for the Cats, they're cooking once again, finishing the weekend 3-0, including a victory yesterday against the Kansas Jayhawks.
Here are the highlights:
It was an eventful night, to say the least. Relive it through tonight's cut. ? pic.twitter.com/Ww9ShPuaCW

— Kentucky Volleyball (@KentuckyVB) September 2, 2018
With the victory, the Wildcats took home the Bluegrass Battle crown, with Edmond winning MVP of the event.
Each of their three losses to start the year came against ranked foes, and Kentucky is still ranked No. 16 in the nation. With their three big victories this weekend, they have some momentum heading into their huge matchup against the No. 6 Texas Longhorns on Friday at 9:00 p.m.
Congratulations to the volleyball team on finding their groove again this weekend, and best of luck to them against Texas.
#BBN
Because he's not busy enough, Matt Jones was a guest on UK Volleyball Coach Craig Skinner's podcast, "Above the Net," last week. Among the topics Matt, Skinner, and volleyball public address announcer Don Hart discussed was how KSR got started. It's a story you've probably heard many times before, but on Matt's 40th birthday, deserves some of your time.
Matt describes the inspiration he draws from his mother, Karen Greene Blondell, what it's been like to watch KSR grow over the years, and what's next. Kudos to Skinner and Hart for their thoughtful questions and being brave enough to bring up the p-word: politics.
Listen below. Matt comes on around the 9-minute mark.
Coach Skinner's squad had a rough start to the season, going 0-3 last weekend in the USC Tournament, but they'll look to get back on track Friday in the Bluegrass Battle at Memorial Coliseum. To purchase tickets, click here.
Sure, it's not American football, but at this point, anything to help pass the time until Saturday is welcome.
UK's women's soccer team is 3-0 on the season, and the Wisconsin Badgers have come to town to try and hand the Cats their first loss of the season. The game starts at 1 PM, and airs on the SEC Network. But there's actually a solid incentive to attend the game in person…
Don't forget to come celebrate National Dog Day with us tomorrow!

Your ? gets in free with a donation to the Lexington Humane Society. Dogs also get a UK women's soccer dog bandana, while supplies last!

?: https://t.co/88oeLzhJDH pic.twitter.com/dyJvVIWwyo

— UK Women's Soccer (@UKWomensSoccer) August 25, 2018
So if you can, bring your dogs out to watch the Cats take on the Badgers. That'll fill your sports quota for the day, leaving you with just 5 more days of anticipation before the BBN can make its grand return to Kroger Field.
Have you ever wondered what Mitch Barnhart is thinking? Now you're one step closer because Kentucky's athletic director just launched his own podcast. "The Mitch Barnhart Podcast" will be available each week featuring interviews with a Kentucky coach, player, or member of the UK Athletics support staff. 
"This podcast a way to further connect our fans to our student-athletes, coaches and staff," Barnhart said in a release from UK. "I see this as an opportunity to give new insight into the way we operate and the quality of the people who represent this university and the people of Kentucky. I look forward to some interesting conversations with some special people."
First up? Volleyball coach Craig Skinner, whose team opens their season today with a pair of matches against No. 13 Creighton and No. 10 USC. Mark Stoops will be Barnhart's guest next week to preview Kentucky's season opener vs. Central Michigan.  
Want to subscribe? The Mitch Barnhart Podcast is available on iTunes, SoundCloud, Stitcher and MitchBarnhartPodcast.com. I can't wait for the episode about checkerboards.
The University of Kentucky hockey poster has been a hot item going all the way back to the 1998-99 season when Ashley Judd was the first to pose next to the team's schedule. The poster has since seen other gorgeous Kentuckians such as actress Rebecca Gayheart, Miss USA 2006 Tara Conner, country music star Laura Bell Bundy, and many others who are very easy on the eyes.
A new version of the calendar was unveiled today and it features Kindly Myers, an extremely popular bikini model and fan of the Wildcats, in the UK hockey jersey.
Posters will be available for sale at home games and will eventually be for sale online. They are $10 unsigned or $25 for a signed copy.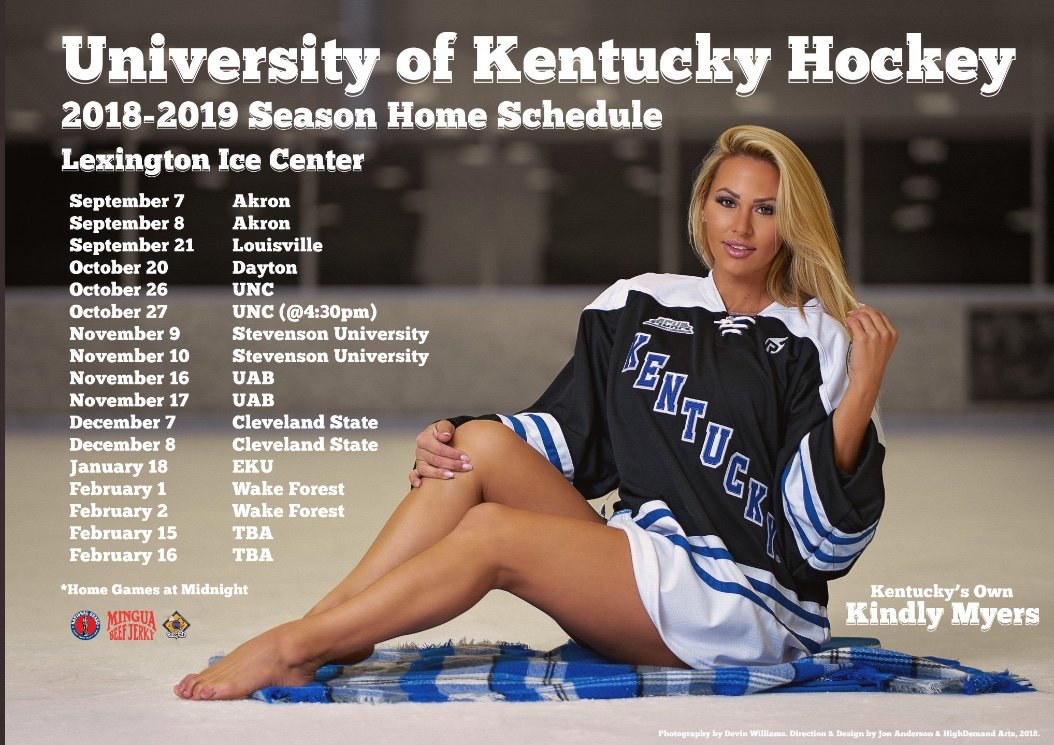 To celebrate the release of the new calendar, here are some of the many other times Kindly has represented UK: