It is no secret that bourbon dominates this state, but the craft beer industry is growing in Kentucky. I want to shed light on this amazing industry and what it means for Kentucky. 
---
What happens when a pharmacist, an engineer, a lawyer, an accountant and a marketer come together? They open a craft brewery.
Sean Wilder (marketer) Doug Laramie (pharmacist by trade and head brewer), David Osborn (accountant) Rob Toerne (engineer) and Austin Vowels (lawyer and city commissioner) opened Henderson's first brewery in 80 years since the end of prohibition, Henderson Brewing Company.
But how did five strangers, each with the perfect occupation for opening a brewery, come together? Facebook.
"Our lawyer, Austin, he posted a picture on Facebook that he attended a conference on how to help your client start a brewery in Kentucky," Laramie said. 
People started commenting about opening one in Henderson. Laramie, a home brewer, saw the post on Facebook and commented that he would sell his Kentucky State Fair award-winning beer recipes. 
"The next day I got a message from Sean," Laramie said. "He was the administrator of the Henderson Beer Club Facebook group. So I got a Facebook message from Sean talking about if I'd be interested in talking about a brewery in Henderson."
Laramie agreed to meet Wilder and four others at a local restaurant on the Sunday after the Fourth of July in 2017. The five partners met for the first time at that meeting, not knowing each had a background that was vital to opening a brewery. 
"We didn't plan on it," Laramie said. "Those are the five people who showed up."
The five partners left that meeting with assignments and low expectations of anything actually happening.
"I left the first meeting and my wife asked me how it went, I said, "We had a good talk and we have things to do before the next meeting, but it's never going to happen". I didn't think it was going to happen," Laramie said. 
The five partners met a week later. Everyone completed their assignments. They talked more and left the second meeting with more assignments.
"My wife asked me how that meeting went and I was like "It was good"," Laramie continued. "Everybody did the thing they needed to do. We've got more things to work on for the next step. I still didn't think it was going to happen. I never got overly excited like "Yes let's do this! It's gonna happen!" If it happens. It happens, but I don't think it will happen. Just like with anything that you really want to happen, sometimes it just doesn't work out. So I was trying to keep my expectations low."
So when did Laramie and his four partners realize that it was actually going to happen? When they bought the building in September, two months after the first meeting.
When they started their process and during their meetings, a microbrewery was not allowed in Henderson. The five partners started the process having that zoning changed and it helped to have a lawyer on the team. They got the zoning changed. 
On July 5th, 2018, Henderson opened its first brewery in over 80 years.
So, how did the people of Henderson respond?
They were excited.
"I think when we first launched our Facebook page, which was kind of our announcement, I think that was in November right before Thanksgiving," Wilder said. "I sent a note out to everyone and said, "Please like and share and tell your friends. I hope we get 100 likes by the end of the weekend." We had a thousand in the first 12 hours."
"It has been overwhelmingly positive," Laramie said.
In a state where the craft beer industry is booming, that is no surprise.
Now people in Henderson and surrounding areas won't have to travel across the river to Evansville, Ind. to enjoy local craft beer. They can drink a beer made in their state, in their town by neighbors and friends.
For people who've never had a craft beer or been to a craft brewery, the people at Henderson Brewing Company have one goal when you come into their taproom.
"I want them walking out the door thinking "Where's the next brewery I can go to?" Because they've obviously gotta have something different because this is different than anything they've ever had," Laramie said. "I want them leaving and wanting to go to a new brewery and hopefully wanting to come back."
---
My beer picks at Henderson Brewing Co:
–  Trixie's Alibi Hefeweizen: A very light, smooth beer for any new craft beer drinker.
– Light Spot IPA: If you are new to IPAs, this a good one to drink. Like its name it is on the lighter side and not as bitter.
– Bridgeview ESB: ESB stands for Extra Special Bitter, but this beer is not bitter. This is a British style beer, that compares to an American Pale Ale. It's dark in color, but don't let that fool you. It's not a dark beer in taste. It was my first time drinking an ESB and it was REALLY good.
---
The Kentucky Wildcat football team will participate in their second official scrimmage of fall camp tomorrow morning, where we'll (hopefully) hear much better news than last week.
Following their first scrimmage, head coach Mark Stoops ripped both sides of the football for a mediocre performance, saying the whole team was just "average" at this point. For how talented they are as a team and how high Stoops' expectations are for this season, it just fell flat.
So what headlines can fans expect to find tomorrow?
Is a starting quarterback named?
The question of the hour may have an answer following Kentucky's second scrimmage tomorrow morning. If not, there should be a whole lot more clarity about the situation.
In the team's open practice after Fan Day a few weeks back, both quarterbacks looked solid and capable of starting. That in itself was a relief. Terry Wilson had the arm strength and accuracy to complete deep balls, while Gunnar Hoak struggled a bit in that department. Hoak also seemed to get flustered when the pocket collapsed, while Wilson thrived.
In the short and medium game, Hoak was a bit more efficient and had solid chemistry with the slot receivers and tight ends. Hoak threw a tight spiral and the redshirt sophomore was able to fit the ball into tiny holes in the defense.
I was impressed with both, but came away thinking Wilson may have the slight lead in the competition. This week, however, Matt Jones said on the radio show he had been hearing whispers that Hoak was the current favorite to lead the Wildcat offense onto the field week one and it may be announced on Monday.
Stoops may not officially declare the starter tomorrow morning, but he may announce who is taking the majority of first-team reps right now. Or he'll keep quiet about it. Who knows.
Did the offense take a step forward?
After last weekend's scrimmage, everyone got criticized by Mark Stoops in his press conference. Quarterbacks, receivers, and the unit's playmakers in general.
"I thought it was just not good enough today," Stoops said. "Not a good enough scrimmage. I really was disappointed, to be honest with you. The overall scrimmage, just in general, I felt like it was a bit flat. I expected more out of these guys across the board. I felt like we were just sloppy. We had some pre-snap penalties that hurt some drives offensively. We had some drops. Late in the scrimmage, we put the ball on the ground.
"I don't feel like anybody has stepped up on the offense to make a spectacular play," he continued. "Wide receivers, again, I just feel like we're very average there right now. We have nobody stepping up and making great individual plays for them. But I think the quarterbacks are a part of that as well. I think they've been inconsistent."
Since then, walk-on offensive players David Bouvier and Zach Johnson did enough in practice to earn scholarships. KSR had heard Bouvier was one of the most dominant practice players both last year and to kick off this season, and a scholarship was likely coming. He'll be a major player for the Cats on special teams and out of the slot this season.
We've also seen a bit of swagger from the official UK Football Twitter account, with them showing off different videos of gorgeous throws and catches, among other highlights.
Benny Snell sat out with an injury last week, so his return should help get things moving again.
Is the defensive hype justified?
With a handful of potential draft picks and preseason SEC All-Americans, it's no secret the Kentucky defense is expected to be special this season.
In Kentucky's open practice, they looked the part both physically and in terms of on-field success. Mike Edwards was a ball hawk, Derrick Baity and Chris Westry disrupted numerous balls on the outside, and Kash Daniel was a vocal leader in the middle. The defensive line was massive, and their collective first-step was a massive improvement from last season. They looked like a legitimate SEC defense.
And that's why it was a shock when Stoops said he didn't like what he saw from the defense last week.
"Defensively, just average. Felt like it was just average across the board. I didn't really see exceptional play from either side. I just felt like it was good enough to be average today. Really not what we're looking for," he said.
Kash Daniel agreed, saying the performance from his unit was unacceptable.
"It was average at best," Daniel said. "From looking at both sides of the ball, there were some good spurts here and there on the offense and the defensive side of the ball. But overall it was average. If we want to get where we need to be then today is not acceptable."
So will they live up to their hype tomorrow morning, or should fans ease up on the defensive excitement going into the year?
The first few words out of Stoops' mouth tomorrow should be very, very telling.
Bad practices happen, but the team can't afford back-to-back mediocre scrimmages with the season right around the corner.
Kentucky basketball is hogging all of the attention after its absolute dominance in the Bahamas a week ago. The upcoming season is the first thing UK fans think about when they wake up in the morning and the last thing they think about when they go to bed at night. Some even sleep in Tyler Herro pajamas.
But the basketball team has since gone home to their families and Big Blue Madness is two long months away, so it's time we do our best to put basketball aside for moment. It's not easy because they looked so awesome, but it must be done.
Because it's football season.
Tomorrow, Mark Stoops' football team will hold its second Saturday scrimmage of fall camp and it's very important things go well. Stoops was very disappointed in the first scrimmage, so his Cats need to come out energetic and enthusiastic in Round 2 tomorrow.
And maybe even more important than that: the team needs to find its quarterback. Right now it is a fight between Gunnar Hoak and Terry Wilson, and if one of the two can shine in tomorrow's scrimmage, they'll be in position to earn the job (maybe by next week). With little time between now and the first game of the year, the battle will be won in the days ahead.
I know we all want to keep talking about Sophomore Nick Richards and Tyler Herro and the Duke game that's being billed as the best season opener of all time and all the other exciting things about basketball, but we have some exciting football right in front of our faces. The football season is upon us and it too has the potential to be special.
Let's. Go.
We still don't know which quarterback we'll see when Kentucky takes the field for the first time in a couple of weeks.
But we do have a quarterback we'd like to see four or five years from now.
Apparently, there is a high school quarterback in Texas named General Booty. General Booty is listed as a pro-style quarterback in the Class of 2021, which makes him a high school sophomore this upcoming season. Booty is a third generation football player, so the lineage is there for success. His father, Abram Booty, caught eight touchdown passes at LSU from 1997-2000.
I admittedly know nothing else about General Booty or how well he plays the quarterback position. But with a name like General Booty, Kentucky should give him a call simply for the awesome name.
Watch his freshman year highlights:
You have to appreciate Bobby Petrino's confidence. You also have to be concerned about his team's safety.
While looking ahead to the Cardinals' opening game at Alabama earlier today, Petrino told the audience at the Louisville kickoff luncheon, "I believe we're gonna go beat 'em. And we will go beat 'em."
Bobby Petrino at UofL Luncheon ending his remarks on the Alabama game:

"I believe we're gonna go beat em. And we will go beat em"

— Jason Anderson (@J680Anderson) August 17, 2018
So you know how insane Petrino's comment is, Alabama opened as a 26-point favorite when the line was released earlier this year. There has been some movement each direction, but it's still 26 points at most sports books today. (Only Kentucky can overcome that kind of line… at Louisville.)
Once Nick Saban gets wind of Petrino's comments (and I'm sure he has already), this will go straight to the Alabama bulletin board.
Good luck with that, Louisville.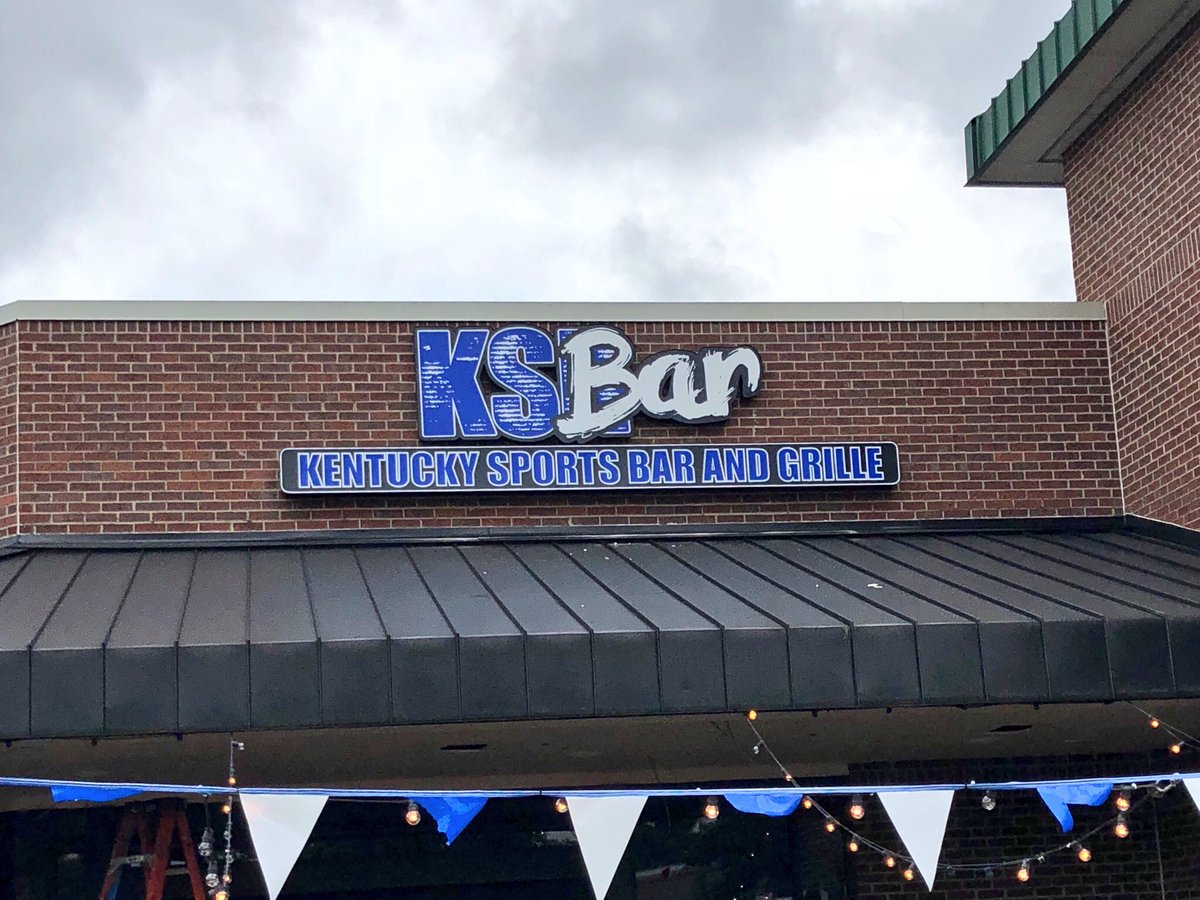 Our first attempt at a restaurant got a much-appreciated plug from Kentucky.com today as we step inside the two-week mark from our grand opening. (August 30!)
You can read the shoutout here to find out more about our exciting adventure into a new realm. It's weird sending you over to another site for information I can just give you myself, but they were kind enough to tell our story so please go give it a read when you get a chance.
For a little more than what you'll find over there, here are some pictures of what I'm looking at right now.
It's almost here!
The basketball team has the week off before returning to school for classes next week. While cruising Twitter for news this morning, I stumbled upon these pictures of Keldon Johnson reading to second graders at South Hill Elementary in his hometown in Virginia:
Mrs. B. Callahan's 2nd-grade class had a special guest reader today. Keldon Johnson, a freshman shooting guard at the University of Kentucky, stopped by on his last week before reporting to school. Best of luck Keldon! We know you'll do great things! @KentuckyMBB #BigBlueBahamas pic.twitter.com/gVruPnw0io

— Michele Icenhour (@MIcenhour8) August 16, 2018
For someone who's such a killer on the court, Keldon sure is a softie off it. Good on ya, kid.
This sounds like a great excuse to watch Keldon's highlights from the Bahamas again:
With the season opener just a few weeks away, pundits across the nation are doling out their college football predictions. This morning, The Athletic's Stewart Mandel published his SEC preview, in which he predicts Kentucky will tie with South Carolina for third in the SEC East with a 4-4 conference record, 7-5 overall.
Mark Stoops has elevated Kentucky to where it can reasonably expect to reach .500 in conference play — but that might be its ceiling. RB Benny Snell is a great player to build around as the Wildcats break in a new quarterback, but the defense likely will be average at best.
Mandel doesn't specify which four SEC games he believes Kentucky will win, but here's the schedule so you can guess at home:
September 1: Central Michigan
September 8: at Florida
September 15: Murray State
September 22: Mississippi State
September 29: South Carolina
October 6: at Texas A&M
October 20: Vanderbilt
October 27: at Missouri
November 3: Georgia
November 10: at Tennessee
November 17: Middle Tennessee State
November 24: at Louisville
Vanderbilt, South Carolina, at Tennessee, and at Missouri is my guess. Mandel's colleague Bruce Feldman was slightly more pessimistic in his preview, predicting the Cats to go 3-5 in the SEC, 6-6 overall. I guess nobody thinks we're beating Louisville.
Here's my question: do you agree with Mandel that .500 in the SEC is Kentucky's ceiling?
The time has come, my friends. The NCAA March Madness Twitter account just posted the poll to determine who wins its All-Time Starting Five Tournament, Kentucky or Florida. How Florida got to the finals is beyond me, but here are the starting fives for each squad:
Kentucky
John Wall
Tony Delk
Tayshaun Prince
Anthony Davis
DeMarcus Cousins
Florida
Erving Walker
Bradley Beal
Chandler Parsons
Al Horford
Joakim Noah
And the poll for you to dominate:
NATIONAL CHAMPIONSHIP:

(2) – @KentuckyMBB
(4) – @GatorsMBK#MMBest5

— NCAA March Madness (@marchmadness) August 17, 2018
Kentucky has an early lead, 62% to 38%, but the poll will be up for two days, so tell your friends.
Here's how the Cats got to the finals: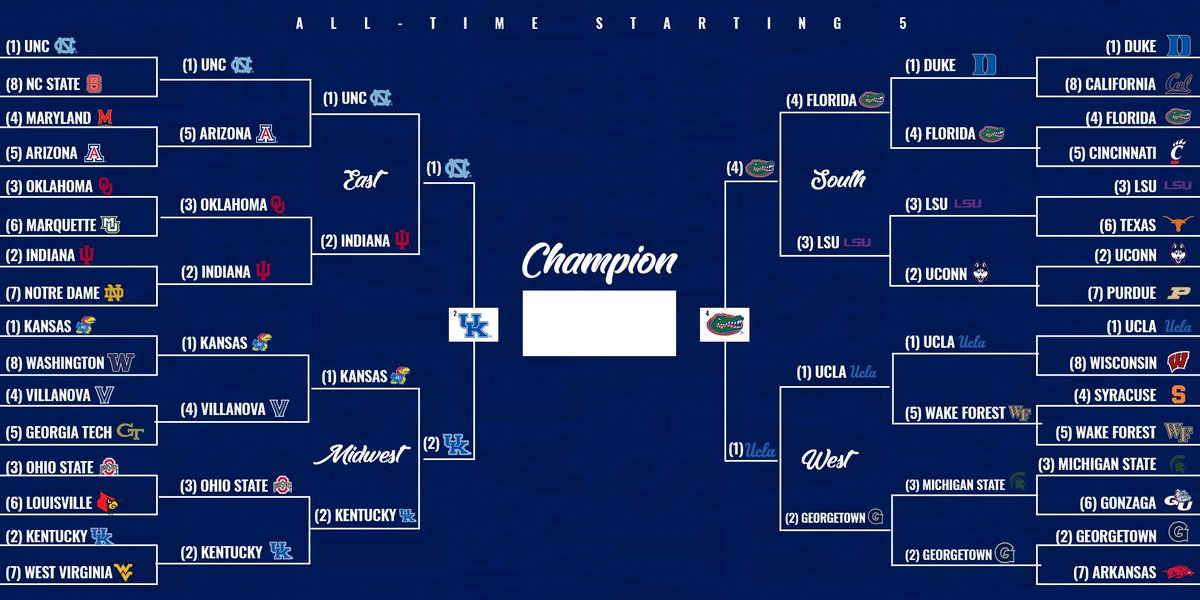 ICYMI last night, TJ Walker broke down how the bracket really should have gone:
Vote, vote, vote.
The Rupp Arena surplus auction is happening right now under the Jefferson Street Bridge, and photos are trickling out via Twitter. Check out these pictures from LEX18's Claire Crouch of pieces of the original Rupp Arena floor and signage featuring past UK greats:
The auction is about to get underway! Pretty good crowd of people hoping to snag some pieces of Rupp's history (including original floor panels) to make room for the renovations at the convention center. @LEX18News pic.twitter.com/tPmpRC5lY1

— Claire Crouch (@clairecrouch) August 17, 2018
And a toilet:
Among other things on the auction block today – this toilet. Could be a good conversation piece! pic.twitter.com/6O2ICcXVH3

— Claire Crouch (@clairecrouch) August 17, 2018
Kyle Macy is there. Think he gets a discount?
Former Cat Kyle Macy is here checking it out! Fans are bidding on pieces of the floor he PLAYED on ?? @LEX18News pic.twitter.com/PRLGvEeeZ5

— Claire Crouch (@clairecrouch) August 17, 2018
The first person to buy a piece of the floor? KSR's favorite live blog sponsor, State Farm Agent Tiffany Thacker:
The first 4'x8' piece of the original Rupp Arena floor sold at auction this morning for $1500.00 to Tiffany Thacker who said she literally wasn't planning on buying anything. @heraldleader pic.twitter.com/CFBAtk0yJn

— Charles Bertram (@cbertramHL) August 17, 2018
Tiffany, don't go too crazy. We've got a whole season of live blogs ahead.