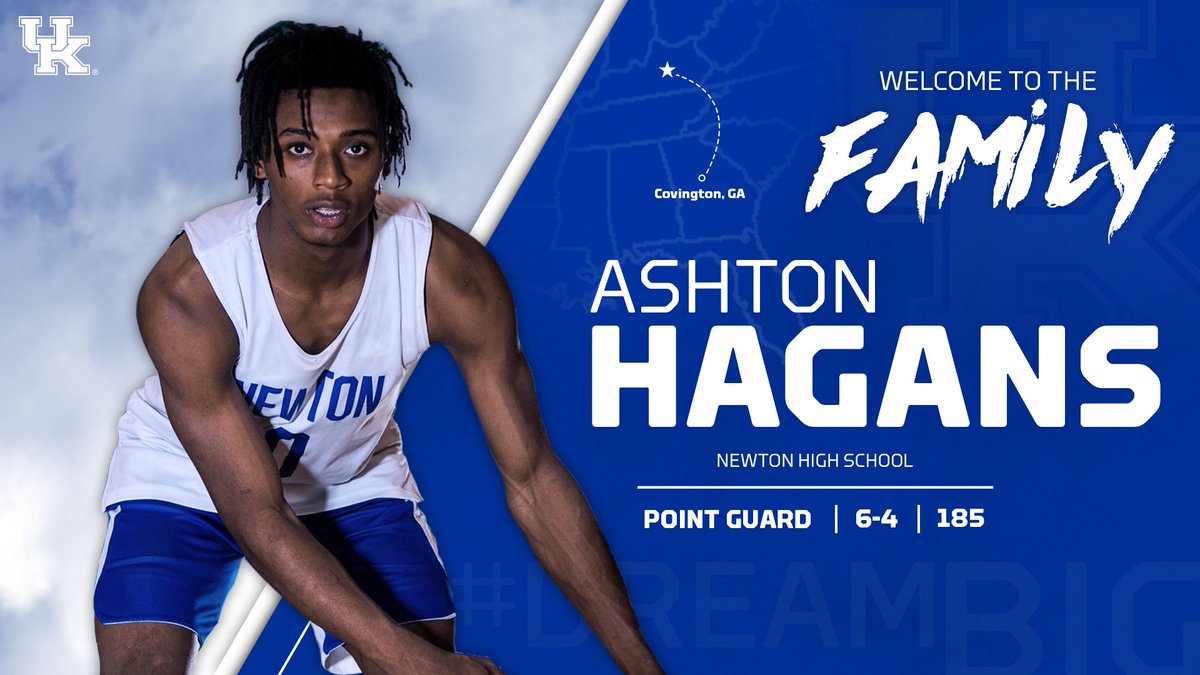 Kentucky's newest point guard Ashton Hagans announced he was in Lexington, KY earlier this afternoon.
Just now, the University of Kentucky officially announced the newest Wildcat had signed his financial aid agreement with the school and will be joining the class of 2018.
Hagans verbally committed to us in April as a member of the 2019 class. He worked his tail off these last couple of months to move to the 2018 class and just graduated this past week. He just arrived on campus today and will start summer school this week.

— Kentucky Basketball (@KentuckyMBB) June 17, 2018
"So happy to see my dream of playing for Coach Cal and the Big Blue Nation come true," Hagans said this afternoon, via press release. "To follow the footsteps of all the great point guards that came before me is truly a blessing."
Kentucky head coach John Calipari said he's excited to see the 6-foot-4 point guard get to work, specifically praising his playmaking ability and leadership.
"Ashton wanted to be at Kentucky all along," Kentucky head coach John Calipari said. "When I found out how badly he wanted this and had a chance to see him play, I told our staff what a great fit he would be whether he chose to come to school this season or next. Ashton wanted this so much that he worked extremely hard in the classroom these last few months to finish up his high school requirements and graduate this past week.
"Now he comes here just a couple of weeks after the rest of our guys and is ready to join this group. He can do a little bit of everything, but what separates him from his peers is his playmaking ability and leadership. You're talking about someone who other people want to play with. I'm looking forward to seeing him get to work with the rest of our guys."
The Gatorade Georgia Player of the Year and Mr. Georgia Basketball averaged 20.2 points, 10.7 assists, 7.6 rebounds and 3.6 steals as a junior, leading his high school to the 7A state semifinals.
Kentucky's newest point guard is officially on campus.
This afternoon, Ashton Hagans tweeted that he has landed in Lexington, KY, where he will now start preparing for the 2018-19 college basketball season.
Lexington, Kentucky ?

— ashton hagans (@H23Ash) June 17, 2018
So what is Kentucky getting in the 6-foot-4, 185-pound point guard?
A defensive freak-of-nature athlete with a vicious dog-like personality, at least if you ask his (now) current teammates.
In an interview with KSR back in April, Wildcat shooting guard Tyler Herro said Hagans fits the exact alpha-male personality he and his teammates possess, if not to a greater extent.
"You know everyone knows Keldon is a dog, and I'd like to say I'm a dog. Immanuel (Quickley) is a dog. Ashton is just as much a dog as us, if not more. The way he picks up 94 feet, full-court defense. He gets downhill a lot, as a point guard, he gets downhill. Comes off in transition, makes the right play. To have him as a point guard, we're lucky," said Herro.
Kentucky small forward Keldon Johnson agrees.
"I'd say he's definitely a dog, picks up 94 feet, steps up on defense," he said.
Corey Evans of Rivals.com called Hagans a "defensive master" back in April, going as far as to say the newest Cat was the best in all of high school basketball.
"Hagans again put his Game Elite squad on his back…" he said. "While he does have to cut down on his turnovers, Hagans' defensive mastery remains the best in high school basketball."
Rivals' Dan McDonald says Hagans has "star" written all over him.
"I've been watching 5-star PG Ashton Hagans play for so long now that it's hard for him to impress me," he said. "But man, he makes life so easy for his teammates. He's going to be a star for Kentucky."
His former coach at Newton High School, Rick Rasmussen, said he has Jason Kidd-like court-vision.
"He's like Jason Kidd as far as his vision. If you don't stop him, he's going with reckless abandon to the basket," he said.
His father said he models his game after John Wall, another 6'4" point guard with ridiculous speed both with and without the ball in his hands. Some say he compares to former Kentucky guard De'Aaron Fox and Louisville guard Terry Rozier.
He's a pass-first player with incredible court vision, finding his teammates in even the smallest windows of opportunity. He's intense, methodical, and gifted when it comes to getting to the rim and finishing. Most importantly, he puts his team in position to win.
And we'll get to see him this season.
Welcome home, Mr. Hagans!
Cal's latest road trip took him through Ottawa, which just so happens to be where a very notable UK alum often resides.
Coach met up with Kelly Knight Craft, UK graduate and current U.S. Ambassador to Canada, outside the U.S. Embassy on Saturday. Craft's husband is none other than Joe Craft, lauded Kentucky businessman and namesake of UK basketball's practice facility.
This was actually a bit of a tense time for Cal to visit the embassy; on Friday, mailroom employees intercepted a letter containing death threats and white powder intended for Ambassador Knight. This comes in the wake of President Trump instituting tariffs on metals against our northern neighbors. Canada is in the process of retaliating, so the relationship between countries is somewhat fraught at the moment.
Maybe this distraction is what allowed Cal to make his way into the presidential suite.
Usually at this point in the offseason, next year's basketball roster is crystallized, and the BBN at large can analyze the future team's potential. This year remains an exception: Reid Travis' prospective transfer to UK remains a possibility, and up until yesterday, Ashton Hagans' reclassification was uncertain (even if we all basically knew he was bound to join an already deep 2018 Wildcat squad).
Now that 2018's backcourt has been solidified, we can say with confidence that UK's backcourt will be as good or better than any other in the nation.
Three former 5 star point guards will make up the backbone of the Wildcats' lineup, opening Coach Cal up to a very flexible roster. Expect to see 3 guards on the floor fairly often next season, and don't expect to see a winded PG gasping for breath very often.
Quade Green will supply the "veteran" and vocal leadership, following in the footsteps of the player he was so often compared to leading into last year, Tyler Ulis. While he is not the athletic specimen that his two freshmen counterparts are, he is already an exceptional offensive floor general, and his defense will improve alongside his growing athleticism.
Then there are the young guns. Immanuel Quickley is a combo point guard who can serve as either the coordinator of the offense or as a potential scoring weapon. His versatility will earn him minutes playing alongside pretty much every other Cat next year.
Hagans will underscore the offense as an exceptional athlete who can score almost at will. Sure, he can run the offense when needed, but more than any other of Cal's guards next year, he will be able to create and improvise, constructing points where the drawn up offense may not be producing them.
If you've forgotten just how spectacular Hagans will be in blue, here's a reminder:
Get hype, BBN.
On what will be a hot Kentucky Sunday, we want to wish all dads a very happy Father's Day today. For a lot of us, we can sit and remember our best UK memories with our dad. For me, we could go back to 2007, when I went to my first Kentucky football game. The Cats defeated Florida Atlantic 45-17.
Or I could think back to 2014, when we drove to Chicago to watch the Cats annihilate UCLA in what has to be one of the more dominant performances in the history of the athletic department. In fact, as I type this, the Twitter page Kentucky clips posted a video from that day, because why not relive it again.
A truly amazing performance by the 2014-2015 Cats as they started the UCLA game on a 24-0 run #BBN pic.twitter.com/Wx7mtWs7S1

— Classic KY Clips (@KY_Clips) June 16, 2018
If you have a favorite UK memory with your dad, be sure to leave it in the comments below.
Now onto the news you need to know to start your day:
Gilgeous-Alexander and Knox invited to the NBA Draft Green Room
To no real surprise, yesterday ESPN announced that Shai Gilgeous-Alexander and Kevin Knox have both been invited to the NBA Draft's green room. This means that they will get to walk on stage and shake the Adam Silver's hand when their name gets called.
Both players are expected to be picked in the lottery, but have fluctuated as far as where exactly they will be taken. Other players invited include:
Deandre Ayton
Marvin Bagley
Jaren Jackson
Trae Young
Collin Sexton
Mo Bamba
Lonnie Walker
Robert Williams
Michael Porter Jr.
Mikel Bridges
Miles Bridges
Jerome Robinson
Chandler Hutchinson
Aaron Holiday
Zhaire Smith
Donte DiVincenzo
The NBA Draft is Thursday at 7pm on ESPN.
Vernon Carey to visit Kentucky
One of the top players in the class of 2019 has tentatively scheduled a visit to Lexington. Vernon Carey Jr. is expected to be in town for the Blue-White game in October. Here are the measures on the big man:
Vernon Carey
Power Forward/Center | 6-10 | 245 lbs.
Fort Lauderdale, FL | University School
AAU: Nike Team Florida
ESPN
No. 2 | 1 C
Top247
No. 2 | 1 PF
Rivals
No. 1 | 1 PF
247 Comp.
No. 2 | 1 PF
Carey would be a huge get for the Cats, who are listed in his top five along with Duke, Michigan State, Miami and North Carolina. The big man has already visited Michigan State and is expected to visit Duke for their Midnight Madness.
Cal in Canada to watch U18 Americas Cup Final
Coach Cal was in Canada yesterday to watch the U18 Americas Cup final between the US and Canada. Before heading to the game, he posted that picture of him in the "Presidential Suite." After checking into the hotel, he visited Joe and Kelly Craft at the US Embassy in Canada.
Had to make a pit stop at the U.S. Embassy while on the road! I was greeted at the front by Joe and Kelly Craft! pic.twitter.com/INVN3U7993

— John Calipari (@UKCoachCalipari) June 16, 2018
At the game, Team USA cruised to a 113-74 win over the host Canada. In what was a major sigh of relief for Cats fans, Tyrese Maxey did see the floor after leaving a game earlier this week with an injury. Maxey scored 2 points in 12 minutes of action.
Here were the complete stats for Team USA:
UK adds new "Executive Associate Athletic Director of Student-Athlete Experience"
UK hired Jason Cummins to oversee the newly created department. As Nick explained yesterday, the department will be dedicated to helping student-athletes in life after graduation. The role will be similar to the one Freddie has with the football team, but on a much larger scale.
For more information, you can click here.
St. Xavier wins KHSAA Baseball State Championship
For the third time in the last five years and the eighth time overall, St. Xavier won the KHSAA Baseball state championship with a 10-6 win over Highlands. The Tigers finished the season with a record of 36-2 with their two losses coming by a combined three runs.
Congrats to St. X on another championship and to all of the other teams that competed this year in the state.
Phil Mickelson Loses his mind
Before we get to this I must say that I am a big Phil Mickelson fan. For one, he seems like a genuinely nice guy and two I am a little biased towards a fellow left-hander. With that being said, yesterday Mickelson had a moment that made it look like he had switched places with someone who was playing mini golf.
After hitting a putt long, he ran up to it, while it was still rolling, and hit it again before it went all the way down the hill. It really put the cherry on top of what has been a rough weekend for not only the Lefty, but also the entire field. In case you missed it, here is that play:
Phil Mickelson is off the rails. Putting like a four year old out there. pic.twitter.com/doUMMHORNJ

— Will Brinson (@WillBrinson) June 16, 2018
Final Day of the US Open is today
The tournament as a whole has been nothing short of a struggle for the world's best players. Dustin Johnson entered the day yesterday at -4 under with a four shot lead. He ended the day shooting a 77 which put him a +3 for the tournament in a three-way tie for first place.
Here is the leaderboard for the final day:
With how this tournament has gone, I wouldn't count anyone within five shots out of this thing. Anything can happen.
World Cup enters its fourth day
The 2018 World Cup has turned in a few very entertaining games. As someone who has just started getting into the game of soccer thanks to FC Cincinnati, I found a few of the first games of this year's tournament very interesting.
The two big storylines from yesterday were Lionel Messi and Jorge Perez-Navarro. Messi had the chance to give his Argentina team a 2-1 advantage with a penalty kick opportunity against Iceland. Here is what happened:
Messi's penalty is SAVED!

Halldorsson comes up big to keep Iceland level with 25 minutes left. pic.twitter.com/OpLTEgyoRA

— FOX Soccer (@FOXSoccer) June 16, 2018
This turned out to be a big difference as Iceland held on to tie against the Argentinian national team.
The other name you may not be familiar with. I know I wasn't until yesterday. Perez-Navarro was the play-by-play announcer for yesterday's Peru-Denmark game. As twitter put it, he was a combination of Dickie V, Gus Johnson and Bill Rafferty. He made the game incredibly entertaining especially with a few calls.
Denmark go in front thanks to Poulsen!

Peru will be kicking themselves for not taking advantage of their opportunities. pic.twitter.com/jjQYBDcDEm

— FOX Soccer (@FOXSoccer) June 16, 2018
Cueva's penalty was … not close. pic.twitter.com/djigVYt9EE

— FOX Soccer (@FOXSoccer) June 16, 2018
I don't know the next time he will be calling a game during the tournament, but you better believe I will be tuned in when it happens.
That's the news you need to know to start your day. Again, to all dads, we'd like to wish you a very happy Father's Day!
An ankle sprain couldn't keep Tyrese Maxey out of the gold medal game.  Just a few days after suffering a minor injury at the FIBA Americas Cup, the Kentucky point guard commit returned to help Team USA obliterate Canada 113-74.
Maxey struggled to get into a rhythm in 12 minutes of action, knocking down just 1-of-6 shots, but his backcourt running mate had no trouble getting buckets.  UK target Cole Anthony, the No. 3 player in the 2019 recruiting class, scored a team-high 18 points on 43 percent shooting.  Team USA's other Kentucky recruit, Matthew Hurt, was just behind Anthony with 17 points on 7-of-10 shooting.
John Calipari and Joel Justus were in the stands to see all of the action.  Before Coach Cal sat courtside, he hopped into the presidential bed at the U.S. Embassy to create quite the scene-stealing photo.
Tonights' result was quite different from the last time Team USA met Canada in FIBA competition.  The American win avenged the loss R.J. Barrett handed John Calipari at last year's U17 FIBA World Cup in Egypt.
It's open recruiting season in college basketball.  Yesterday was the beginning of a new recruiting period that allows coaches to make unlimited calls and texts to rising juniors in the 2020 recruiting class.
One of the first Kentucky recruits to receive a call was R.J. Hampton.  A 6'4″ guard from Texas that is considered the fourth-best prospect in the 2020 class by the 247 Composite Rankings told Rivals that Tony Barbee was one of the first coaches to call him once the communication ban was lifted.
Hampton does not yet have a scholarship offer from Kentucky.  The only two players in the 2020 class with UK offers are N'Faly Dante and Scottie Barnes.  Barnes is considered the best small forward in the class, while the 6'11" Dante has emerged as one of the hottest big men on the EYBL Circuit.  Here's a little bit of what they bring to the table.
Arguably the nation's best big man has penciled in a date for an official visit to the University of Kentucky.
After an afternoon of basketball at the U17 Team USA trials in Colorado Springs, Vernon Carey Jr. spoke to 247's Evan Daniels about his recruitment.  During their conversation, Carey revealed that his father is planning a pair of official visits this fall.  He will attend Duke's version of midnight madness, then head to Lexington for UK's Blue/White Game.  The visits are tentatively scheduled (after all, UK's Blue/White Game is still not officially set).
Carey is down to just five schools: Duke, Kentucky, Michigan State, Miami and North Carolina.  He already has an official visit to Michigan State under his belt.
Vernon Carey
Power Forward/Center | 6-10 | 245 lbs.
Fort Lauderdale, FL | University School
AAU: Nike Team Florida
ESPN
No. 2 | 1 C
Top247
No. 2 | 1 PF
Rivals
No. 1 | 1 PF
247 Comp.
No. 2 | 1 PF
The powerful forward is the most physical interior player in the 2019 class.  The Cats have been recruiting another post, James Wiseman, for quite some time, but the two could complement each other's game quite well.  In fact, this spring Carey said, "I wouldn't be surprised if we go to school together."
Carey has an excellent relationship with UK's recruits.  Carey has an excellent relationship with Kenny Payne.  Carey has excellent basketball skills.  He is the complete package.  All that's left is for Kentucky to close the deal on the outstanding athlete.
A trio of Kentucky basketball recruits are wearing the red, white and blue tonight as Team USA takes on Canada for gold in the FIBA U18 Americas Cup Final.
Matthew Hurt and Cole Anthony are a pair of prospects to keep an eye on throughout the game.  Hopefully they will be joined by Tyrese Maxey.  The Kentucky point guard commit sprained his ankle earlier in the week and is considered doubtful.  Check out all the action from Canada below:
Before John Calipari arrived at the arena, he made a stop at the U.S. Embassy.
Had to make a pit stop at the U.S. Embassy while on the road! I was greeted at the front by Joe and Kelly Craft! pic.twitter.com/INVN3U7993

— John Calipari (@UKCoachCalipari) June 16, 2018
Although I don't think we needed to see this image.
I found the presidential suite, where presidents stay when they visit. You know I had to put my toes up. Just needed some Cheetos! Still looking for the Lincoln Room. pic.twitter.com/A8sczFmvh1

— John Calipari (@UKCoachCalipari) June 16, 2018
Kentucky's favorite Unibrow is in Lexington this weekend to host youth basketball camps.  In-between time with the campers, Anthony Davis is catching up with old friends and making new ones.
The Pelicans' All-Star forward got the chance to meet the new kids on campus.  We don't know the full extent of what he said to each player (that interview with E.J. Montgomery is not yet ready for public consumption), but we do have a general idea of what he told Kentucky's incoming freshmen.
"You gotta trust Coach Cal.  He knows what he's talking about," Davis told reporters.  "Go in with a mindset of being unselfish, sacrificing and having the ultimate goal of winning number nine."
Davis also tried to warn the freshmen of what to expect from the Big Blue Nation.  The players have heard from fans on Twitter and shared a few experiences in the streets of Lexington, but it's just the beginning.
"It's a fan base like no other," Davis said. "You gotta be prepared for it.  They expect championships.  When you don't provide that, it can get tough.  But win, lose or draw, they're on your side."
Hear more from Davis in these interviews with KSTV.  
Last week Tyler Herro joined his teammates on campus at the University of Kentucky.  Before he made the trip from Wisconsin to Lexington, Herro opened his door to camera crews.
During the 12-minute documentary, Herro explained why he chose to leave his home state school to play for Kentucky.  Among the many reasons, playing for Hall of Fame coach John Calipari was near the top.
"Coach Cal reminds me of my Dad," Herro said.  "When I was little, my Dad was on me 24/7, screaming at me, making sure I was working hard.  Now that I have Coach Cal and Coach Payne, they're going to point out the little things that will hopefully get me to the next level."
You've seen basketball highlights from Herro.  Now let the Overtime mini-documentary help you get to know the person who wears the jersey.
Voted "Most Unforgettable" in his senior class, you'll see his final days of high school.  There's a senior prank, he makes a trip to the barber shop and goes sneaker shopping with his friends.  There are fun, upbeat moments at his going-away party, and emotional moments after his graduation.  It all gives you a better idea of who will be wearing the Kentucky blue and white this fall.