Good morning friends! We've almost made it. There's only one weekend left without college football. Has the off-season seemed incredibly long for anyone else or just me? Either way, we're almost at the finish line – yay! To hold you over, let's review what's happening right now:
Speaking of Football…
Practice #14 starts now. #UKCamp18 #GetUp pic.twitter.com/R4I0FmTZ4Y

— Kentucky Football (@UKFootball) August 18, 2018
The football team held an important scrimmage yesterday. Our beat writer Nick Roush met with Coach Stoops and select players afterwards. Check out his coverage including the big performance from the offense.
Is it September 1 yet?
Matt Jones won an Emmy
Matt Jones and the "Hey Kentucky" Crew won an Emmy last night and I couldn't be more proud. Whether it's a radio show, a website, a TV show or a (soon to be) bar, Matt excels at everything he does and I'm glad he's the captain of this team we call KSR!
This was very cool and a real honor

It wouldn't have happened without the amazing @hey_kentucky staff:

Thanks to Mike, @noahdayy , @DanielDunston , @JesseRiffe, Paul, Clay @CM_Tomlin @leecruse @mjp18 @DrewFranklinKSR and many others

And special thanks to all who watch pic.twitter.com/Z5YdcAWetF

— Matt Jones (@KySportsRadio) August 19, 2018
Congrats guys!
You need to watch this nun throw a pitch
I'll take "sentences I'd never thought I'd type" for $400, Alex. Nuns are having a big sports year this year (another sentence I never thought I would type), first our beloved Sister Jean and now we've got Sister Mary from Chicago. Watch this for yourself:
Getting a little fancy out there.

Sister Mary Jo Sobieck throws out the first pitch for the White Sox. (via: @Cut4) pic.twitter.com/o7rFmeH523

— CBS Sports (@CBSSports) August 19, 2018
I've watched this four times this morning and I'm still mesmerized. Talk about spiritual gifts, am I right?
Welcome to UK, Freshmen!
Welcome, Class of 2022! #WeAreUK pic.twitter.com/qADBB0VAHK

— Kentucky Athletics (@UKAthletics) August 19, 2018
The Freshmen are officially back on campus and are looking younger than ever. Move-in started Thursday and should be over by now but, I'd still recommend staying away from campus for a bit. Unless you want to feel old and get stuck in traffic. I made the mistake of going to Local Taco Thursday night and it was a freshmen/parent madhouse. Take my advice and avoid the Nicholasville road Walmart and Target too, trust me.
Well, that's all I have this morning, friends! Enjoy one of the last Sundays'  without football, be safe and wear sunscreen! Go Cats!
We are only two weeks away from Kentucky's season-opener against Central Michigan.  Instead of getting into the nitty gritty on the Chippewas, let's think about the big picture.
Mark Stoops has set the bar at seven regular season wins after achieving the goal in consecutive seasons.  With 18 returning starters, some fans are ready to see the Cats take another step forward by winning eight or nine games.  The pessimists point toward a difficult schedule and uncertainty at quarterback to question whether Kentucky can even become bowl eligible.
Advanced analytics say Kentucky will struggle to win six. Bill Connelly at SB Nation crunched the numbers using the S&P+ metrics to conclude that Kentucky will only be favored in five games.
Being favored doesn't ensure victory, just ask the 27-point favorite 2016 Louisville Cardinals.  The formula for UK football success is simple: beat the teams you're supposed to and pull of a few upsets. Here is how Kentucky gets to at least seven wins, and who they can potentially upset to get eight or more in the regular season, something that hasn't happened since 1984.
Four Must-Wins: CMU, Murray State, MTSU and Vandy
Aside from Murray State, these games will not be easy.  Central Michigan won eight games in 2017, Middle Tennessee runs Tony Franklin's Air Raid with the head coach's son (a three-year starter who can run) at quarterback and Vandy's offense will put up points with Kyle Shurmur's arm.  At least two will be ugly wins, but wins are wins.
Two of Three Road Games: Mizzou, UofL and Tennessee
Last year the Cats had to win three road games to get to seven wins.  In 2016 they beat Mizzou and UofL on the road to reach seven.  Winning on the road isn't something Kentucky fans are accustomed to, especially at Tennessee, but they must steal a few against comparable competition.
If you compare each position between UK and all three opponents, the talent is about even.  Missouri's offense has the potential to be the SEC's best, if Derek Dooley doesn't mess it up, but nothing about Columbia, Missouri is scary.  Louisville is a rivalry game that is almost guaranteed to be close no matter where it's played (as long as you don't have an angry Lamar Jackson).  Tennessee might be the worst team in the East, but Neyland Stadium hasn't been a fun place for UK fans since the 1984 season.
If you take the logos off the helmets and put history aside, it's easy to see how Kentucky can win two of these three games to get to six regular season wins.
One of Two Tough Home Games: Miss. State and South Carolina
There are so many uncertainties in the two home games that close out September.  Kentucky could win or lose both, but if they win just one there will still be plenty of optimism for the rest of the year.
You'll call me crazy when I say Miss. State might be the UK opponent with the most NFL talent on its roster.  Montez Sweat and Jeffrey Simmons give the Bulldogs the best defensive line in the league, Aeris Williams is a powerful runner that's hard to tackle, but not as tough to bring down as quarterback Nick Fitzgerald.  Miss. State has won eight out of the last nine against UK, but Kentucky won the last game at Kroger Field and Dan Mullen has departed, leaving a little uncertainty on the shoulders of Joe Moorhead.
There are two reasons why beating South Carolina is uncertain:
Beating a team five times in a row is tough.
Deebo Samuel is arguably the SEC's best playmaker.
Jake Bentley isn't scary (I might take injured Stephen Johnson over Bentley).  Some may cringe at South Carolina's nine-win season, but you shouldn't.  Their ninth win came against a Michigan team that had no business being in the Outback Bowl (it should've been Northwestern, but name recognition).  The defense that carried the Gamecocks (SEC's No. 2 in turnover margin and No. 5 scoring defense) lost its entire secondary and Skai Moore, USC's team captain that led them in tackles for four years.
UK will not be favored in either, but if they play clean football and control the clock with Benny Snell, the Cats have enough talent to pull off at least one upset to get to seven wins.
Massive Upsets: Georgia, at A&M and at Florida
Nobody expects Kentucky to win any of these games, but it is possible.
The Texas A&M and Florida logos are scary, but each have brand new coaches who are looking for a quarterback.  Playing Florida in the second game of the year actually plays into UK's favor as Dan Mullen tries to figure out his team.  The timing also helps when A&M plays Clemson and Alabama in the weeks leading into the UK game.  However, both games are on the road.  The Swamp and Kyle Field are two of the most difficult venues in the SEC and each opponent will consider the UK game as a must-win.
Beating Georgia isn't impossible.  Near the end of the season, if Kentucky remains healthy and has developed a deep passing threat to stretch out the opponent's defense, they can do what the 2007 Wildcats did against LSU: shock the world.
A week after a disappointing scrimmage, Mark Stoops was pleased to share good news about his offense.
"We had a really good mentality about us today and really mixed it up well — ran the ball, threw it, play-action.  They did a lot of things good and had great urgency," said Kentucky's head coach.
In the first scrimmage, the offense did not bring enough energy and failed to make competitive plays.  That was not the case today.
"The offense as a whole brought the energy.  They were very consistent.  That doesn't mean they were perfect, but they had a really good mentality.  When they had bad plays, they overcame it at times.  If not, they overcame it the next series." Stoops added, "They really had a solid week, and it showed today.  We gotta continue to build.  It's a long season.
Stoops was pleased to spread some positive news about the offense.  Kash Daniel was not. "Everybody gave us trouble," he said begrudgingly.
Kentucky's middle linebacker had a "I want to punch somebody in the face" look to him when he met with the media.  Dealing with minor injuries, the defense took a step back.  There were a few good moments, including an interception from Derrick Baity, but the unit's performance did not meet Daniel's standards.
"If you're reading my body language and stuff right now, we must've had a terrible scrimmage, but that's not the case.  I beat myself up more than anything…Just because I look pissed off at the world doesn't mean we had a terrible scrimmage.  We made some plays.  We made some mistakes.  But Benny ran the ball good.  Gunnar and Terry looked good.  The offensive line looked good.  Receivers caught the ball, did some great stuff and they made plays."
The receiver who made the biggest play of the day was Tavin Richardson.  The junior from Byrnes, South Carolina brought down a pass that Stoops thought was going to be an interception.
"We had really good coverage on him.  I thought we were going to intercept it, and Tavin came down with it and scored," Stoops said.  "It was one of those situations where I was mad at the defense, but I was glad to see the offense get the ball downfield and make some plays."
Benny Snell almost made a highlight-worthy catch too, but he took his eye off the ball as it sailed over his shoulder on a wheel-route down the sideline.
"I had to guess and I dropped it," Snell said. "It would've been a touchdown. It was going to be like a 40-yard touchdown. I dropped it. I made up for it though. I always make up for my mistakes."
Proof that Benny Snell is Human pic.twitter.com/P1rNdOWVF6

— Nick Roush (@RoushKSR) August 18, 2018
One player who doesn't drop passes is Akeem Hayes.  The little freshman (who's maybe 5'8″) has been sneaky in the slot.
"Little Akeem, he's doing a great job catching the ball," Snell said.  "He's very fast. A lot of guys can't cover him. He just outruns them. He's got hands. He catches it. He's very hard to tackle because he's so small and so quick. He's going to be good."
Kentucky's offense is beginning to click at the right time.  Even though Daniel was disappointed in his defense, he doesn't envy Kentucky's opponents.  When asked is he's encouraged by the offense's progression, Daniel responded: "Hell yeah."
"If we get Benny back there running like he was today, I'm straight with the offense."
Starving for football?  You can get your fix by re-watching Kentucky's 2007 upset of No. 1 LSU.
Ahead of the 2018 season, the SEC Network is re-airing classic SEC football games.  Kentucky will get the spotlight tomorrow at 3:00.  If you can't get to a television, set your DVR, or go through the following YouTube highlight reel from one of the most memorable UK football moments in the last 25 years.
Another Kentucky-LSU classic football game will air tonight at 9:00 on the SEC Network, but you'll want to turn it off after Guy Morriss gets a Gatorade bath and before the final play.
He did it! KSR's Fearless Leader, Matt Jones, is an Emmy Award winner.
At the Ohio Valley Emmy Awards Matt was honored as the Best Program Host for his work with Hey Kentucky!
On behalf of the entire KSR staff, Congrats Matt. We couldn't be more proud.
The Kentucky Football team's second preaseason scrimmage was only open to a few invited guests. We've heard what happened, but thanks to KY Wildcats TV we get to see some of the best moments from Kroger Field.
In the highlight reel you'll find a connection between Gunnar Hoak and C.J. Conrad. There are quite a few featured touchdowns. Terry Wilson found Brett Slusher for a score, A.J. Rose got into the end zone and Benny Snell celebrated a run with a slam.
Sight and sounds from today's ? scrimmage #UKCamp18 #GetUp pic.twitter.com/4q5KX5IMF1

— Kentucky Football (@UKFootball) August 18, 2018
This actually happened earlier this week, but David Bouvier's catch was too awesome not to share.
Practice #14 starts now. #UKCamp18 #GetUp pic.twitter.com/R4I0FmTZ4Y

— Kentucky Football (@UKFootball) August 18, 2018
---
It is no secret that bourbon dominates this state, but the craft beer industry is growing in Kentucky. I want to shed light on this amazing industry and what it means for Kentucky. 
The taste for craft beer is growing every day in this state.
Breweries are being opened in cities and areas that aren't named Louisville, Lexington or Northern Kentucky.
This is evident in Hopkinsville, Paducah, Henderson and Richmond, all "smaller" Kentucky cities with successful craft breweries.
And the taste for craft beer has found its way to Marshall County.
Jeff Swatzell opened The Dam Brewhaus, a tap house in the heart of Benton, Ky. in what he says was a "moment of insanity."
"Actually we started out the conversation about going to Graves County and of course, Graves County is still dry," Swatzell said. "But me and the other guy talking about going to Graves County said why don't you go to Marshall County. I never really thought of it."
So he went to Marshall County and opened The Dam Brewhaus. But, why a tap house and not a brewery? Like everything, it was cheaper.
"It started out as a microbrewery, the conversation, and then I went to Big Muddy in Murphysboro [Illinois] and he said don't brew it, just sell it."
"It's much cheaper to sell beer. Plus there's so much beer out there now. And we probably will start brewing in the future."
The Dam Brewhaus opened on April 28th, 2017 and Swatzell knew the people in the area only drank domestic beer, but he wanted to introduce people to the beer he loved.
What he didn't expect was how well people would take to craft beer.
"Actually shocked," Swatzell said. "Of course this is Bud Light, Busch Light country, but I think we've made good progress. Actually kind of caught me off guard. I didn't know what to expect either. And a lot of people don't know what to expect still about it. It's been an overwhelming response."
Swatzell said he's converted several customers from domestic beer to craft beer.
"There is a lot of people now who want to branch out. This is good, what's next? They want to take the next step from a light(er) beer on the craft side all the way up to the stouts, and the porters and bourbon barrel stuff. It's really quite shocking."
The success of The Dam Brewhaus has to do with more than just introducing people to craft beer. The people of Benton and Marshall County are proud to have a place like this in their city and county.
"It's such a unique atmosphere," Swatzell said. "It's not the bar scene, plus the craft beer is not really a bar scene anyway, per say. It's the atmosphere mostly. A place to socialize and drink a good beer."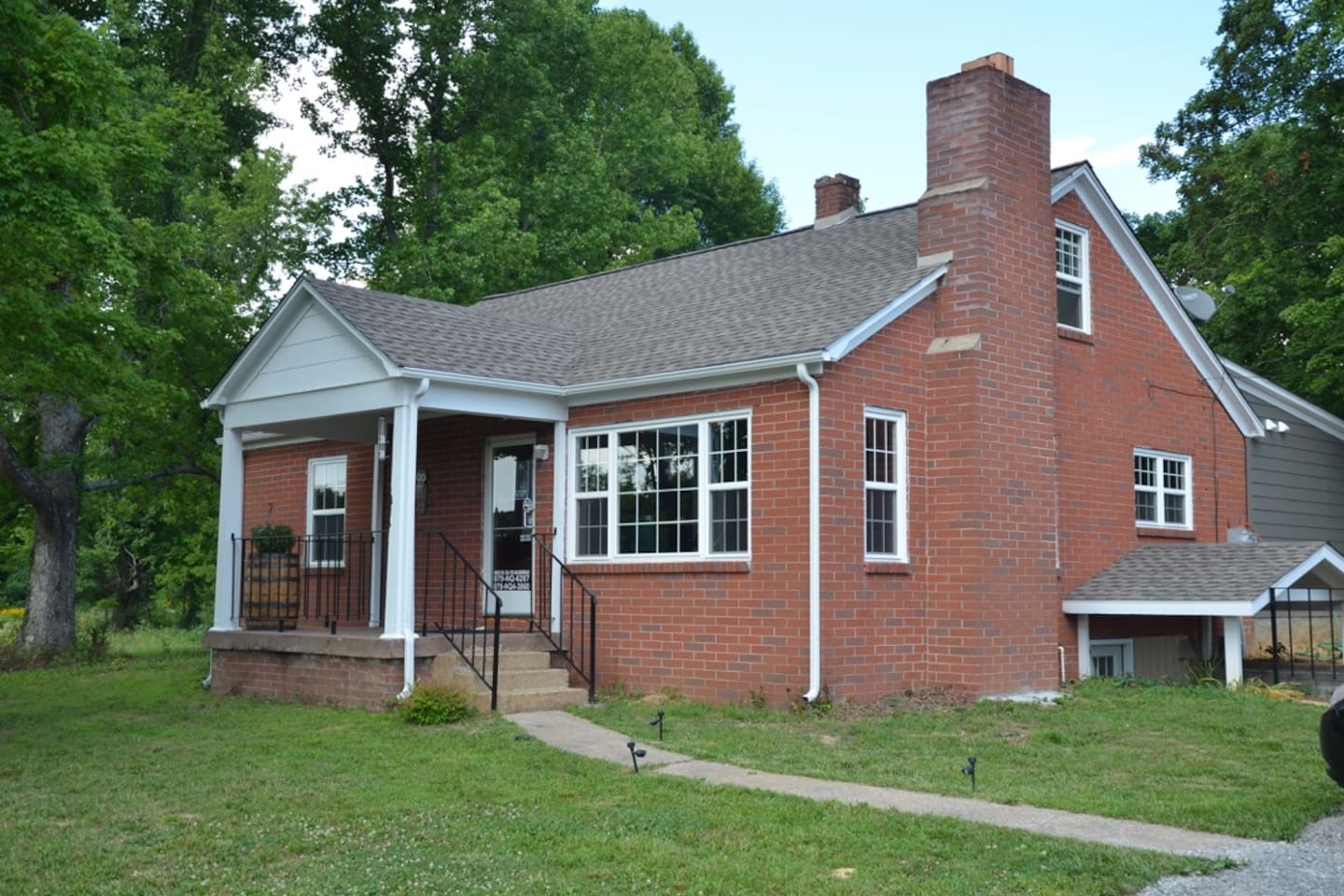 When you drive up to The Dam Brewhaus, you might think you've made a wrong turn. You haven't. From the outside, it looks like a regular house. But on the inside, it looks like a place you can spend a whole afternoon or evening drinking craft beer with friends and family.
Instead of tearing the building down, which was the original plan, Swatzell decided to completely demo the inside. He succeeded because the inside is awesome and a place you'd want to have a beer or try a new one. 
Whether you're a craft beer veteran or a newbie, you need to visit The Dam Brewhaus. With 22 beers on tap, you are guaranteed to find one you'll like.
"People walk in and see 22 taps and ask, "What's good?" Well, they're all good," Swatzell answers each time.
---
1894 US-641
Benton, KY 42025
Karl-Anthony Towns can do it all.
The former Kentucky forward is an NBA All-Star, Celebrity Softball Homerun Derby Champion, golfing extraordinaire and he's also pretty good at soccer.
While vacationing in Spain, Towns toured Atletico Madrid's facilities.  The club was kind enough to give him a jersey before he challenged Antoine Griezmann to a friendly competition.  For a big guy, Towns has fancy feet.  He was good enough to sneak a ball past the French forward who is fresh off a World Cup victory.
Karl Anthony Towns challenged freshly baked World Cup winner Antoine Griezmann to a penalty shootout. Hilarity ensued. pic.twitter.com/3qSKeOtjK9

— FOX Sports (@FOXSports) August 18, 2018
This week former Kentucky Wildcat Danny Trevathan had a reunion of sorts in Denver.  The Bears traveled west to camp with the Broncos, and the NFL films crew was there to capture the moments' Travathan shared with his former team.
It does not take long to realize that Trevathan enjoys singing, preferably Nelly or DMX.  There are a couple of great lines like, "He was dead. Oh, he was dead."  But the best moment came when Trevathan and Von Miller realized they were both mic'd up at the same time.
.@Grindin_59 is back in Denver and ?? up for the reunion.

Mic'd Up is brought to you by @PNCBank. #MakeTodayTheDay pic.twitter.com/BAZHxxcESF

— Chicago Bears (@ChicagoBears) August 17, 2018
Mark Stoops was in a pretty good mood after Kentucky's second preseason scrimmage.  Kash Daniel was not.  See what everybody had to say after a day of work at Kroger Field.