The NCAA is trying to determine the greatest college basketball starting five of all-time and they're having fans on Twitter determining the winner by a vote. A fun concept but as you'd imagine it's turned into a "Which Team Has the Most Fans on Twitter" contest and the Cats have advanced to the title game.
Kentucky will take on the Gators, who narrowly defeated UCLA in the other Final Four match-up. Voting for that game has not yet started, but we'll be sure to link when it does so you can help UK win this meaningless Twitter poll. It's something we do best. But it had me thinking- which school's all-time starting five would actually win this bracket? Could it be Kentucky? The NCAA determined the starting fives, and it seems like most fan bases have one or two issues, UK isn't excluded.
#BBN does it again ?

(2) Kentucky takes down (1) UNC to secure a spot in the National Championship! #MMBest5 pic.twitter.com/UiX87n9N6j

— NCAA March Madness (@marchmadness) August 15, 2018
As much as we love Tayshaun Prince and Tony Delk, do both belong on UK's all-time starting five? Where is Jamal Mashburn? We could come up with over a hundred different lineups for UK and I'm not here to write about that, let's just go with the five the NCAA put on UK's team and go from there. There are also head-scratching rosters for Kansas, UNC, Duke, Louisville and plenty of other schools. The NCAA didn't do a perfect job but let's take what we were given.
You can search the NCAA's @MarchMadness Twitter account to see the full rosters, but it doesn't seem like they're listed in one specific place. Due to time constraints we move to the Elite Eight (Dari Nowkhah voice).
East, UNC vs. Indiana: This one stayed true to form in the actual bracket, but it wasn't easy getting here. I'm not overly impressed with Indiana's team and think Oklahoma's team that includes Trae Young, Blake Griffin, Buddy Hield and Wayman Tisdale would give that Hoosiers team all they could handle. I don't see a realistic threat for UNC. Both Arizona and Maryland have intriguing teams but not enough talent to slow down Michael Jordan.
It holds true one more round as North Carolina beats Indiana to advance to the Final Four and this hypothetical game wouldn't be close. Victor Oladipo was a great college defender but there's no chance he could slow down Carter or Jordan. The Tar Heels win by 15+.
East Elite 8:

(1) – @UNC_Basketball
(2) – @IndianaMBB#MMBest5

— NCAA March Madness (@marchmadness) August 6, 2018
Midwest, Kentucky vs. Kansas: Okay, okay. This isn't a great look. I've completed two regions and I have so far replicated the NCAA's Elite Eight. That will change below, I promise, but I do have different roads for Kansas and Kentucky. I have Kansas beating Georgia Tech, who was blown out by Villanova. The Yellow Jackets have Chris Bosh and Stephon Marbury. Those two players alone are enough to get by Brunson, Hart and Bridges. However, it's not enough to get by Kansas.
I actually have Louisville beating Ohio State before getting crushed by Kentucky. The Buckeyes received more votes than UofL, but I'm not so sure that game would be close. The NCAA completely whiffed picking Donovan Mitchell on the team, but the other four UofL players are solid. UK would have no issue beating Louisville to face Kansas.
I actually think Kansas 3-5 is just as good as Kentucky if not better, but Frank Mason III and Kirk Hinrich trying to guard Wall and Delk is laughable. If the NCAA did a better job picking Kansas' two guards the Jayhawks could have advanced. UK wins by 10.
Midwest Elite 8:

(1) – @KUHoops
(2) – @KentuckyMBB#MMBest5

— NCAA March Madness (@marchmadness) August 7, 2018
South, Duke vs. UConn: You look at the teams in this region and you're not blown away by prestige (Duke excluded, maybe UConn in happier times) but these are quietly great teams. This was the toughest region to pick and the overall best region. Strange because usually Duke gets a cakewalk in the NCAA Tournament. Florida will play in the championship game in the real bracket, but I think the Gators are upended by a pesky Cincinnati team. Kenyon Martin would be the best player on the floor and Jason Maxiell would be the perfect player to slow down Horford and Noah. Cincy doesn't have enough to get by Duke in the Sweet 16.
LSU vs. Texas was really tough to pick. I think whoever won this matchup could make a deep run, although I don't predict it. I gave LSU the slight nod because college Kevin Durant was good, but not as good as we know him today. He did not take his Longhorns deep into the tournament and we're going off of how these players were as college athletes. LSU vs. UConn in the Sweet 16 is equally as difficult. Emeka Okafor could help slow down Shaq and I would pay a lot of money to watch Kemba vs. Pistol Pete. UConn wins on a last second Ray Allen three. Also, where was Rudy Gay and Ben Simmons?
I really think Duke's team is great, but it's not the best matchup with UConn. I'm not sure one Duke player would have the defensive advantage except at the four position. UConn wins by two.
South Round 1:

(1) – @DukeMBB
(8) – @CalMBBall#MMBest5

— NCAA March Madness (@marchmadness) July 21, 2018
South Round 1:

(2) – @UConnMBB
(7) – @BoilerBall#MMBest5

— NCAA March Madness (@marchmadness) July 21, 2018
West, UCLA vs. Georgetown: The Elite Eight matchup between the Hoyas and Bruins would be a blast, but it would be blowout city getting there. No other teams in this region would really have a change against either team. Michigan State is the only other team that makes you think but overall they don't have the talent or muscle to beat Georgetown. The Spartans do crush Gonzaga and Wake Forest has no issues with Syracuse. I think UCLA comfortably beats Georgetown in the Elite Eight. That fans on Twitter agreed, so not much drama here.
West Elite 8:

(1) – @UCLAMBB
(2) – @GeorgetownHoops#MMBest5

— NCAA March Madness (@marchmadness) August 9, 2018
Final Four: UK vs. UNC and UConn vs. UCLA.
UK beats UNC: Smith and Psycho T get abused in this matchup. You'd probably put Worthy on Davis and Hansbrough on DeMarcus Cousins. Worthy could do enough defensively to slow down Davis, but Cousins would use and abuse Hansbrough. Smith wouldn't have a prayer slowing down John Wall. Prince could do a solid job on Jordan, but you're not stopping him. Carter and Delk would exchange buckets for the duration of the game. UK wins by six in a tight game.
UConn beats UCLA: An upset! The Huskies defeat UCLA to advance to the championship game. Okafor would only be able to do so much against UCLA's frontcourt, but the Bruins backcourt would have no chance slowing down UConn's 1-3. This would be a high scoring but give me the team that has the better scorers. It's tough to pick against Kareem Abdul-Jabbar but Walker, Allen and RIP would be too much.
Championship, UK vs. UConn: Well, here we are again. The Cats vs. Huskies. This time for all the hypothetical marbles. If you haven't learned by this point, I love UConn's guards. All three are great scorers and Kemba could get anywhere he wanted on the floor. I'm high on Okafor. He was the best defender in college basketball when he played and it would be a nightmare matchup for DeMarcus Cousins. Luckily for UK, Davis would erase scoring threat Donyell Marshall and the Huskies would have no one that could guard Tayshaun Prince. Prince and Davis are the difference makers in this game and UK wins by six.
We did it!
Tomorrow it will officially be "Football Time in the Bluegrass" when the high school football season kicks off across Kentucky.
Before you flock to your alma mater's field for the first Friday of football underneath the lights, consider watching a few of Kentucky's top recruits.  The 2019 class is loaded with talent we aren't accustomed to seeing around the Commonwealth.
The game with the most college prospects is actually happening on Saturday.  Four-star linebacker Jared Casey will make his debut for the Ballard Bruins against Boyle County, the defending 3A state champs.  The opening game of the Little Caesars Ft. Harrod Bowl kicks off at 5:00 and will feature a handful of other future Division I players.
A complete schedule of where you can find 2019 UK recruits Friday night:
6:00 — Walton-Verona at West Jessamine (UK OL Commit Eli Cox)
7:00 — Louisville Southern at Moore (Four-Star DE J.J. Weaver)
7:00 — Jeffersontown at Louisville Doss (Three-Star DE Shawnkel Knight-Goff)
7:30 — Franklin County at Western Hills (Top 10 ATH Wandale Robinson)
7:30 — Bullitt East at Butler (UK WR Commit TaeTae Crumes)
7:30 — CAL (Four-Star ATH Milton Wright) at South Oldham
By KSR on ©August 16th, 2018 @ 6:30pm
In the latest episode of the Aaron Torres Sports Podcast, Aaron talks all things SEC and college hoops with Jon Rothstein. The CBS college basketball insider picked Tennessee as the top team in the SEC heading into the season and he does not back down from his selection as the two talk SEC hoops.
Before Rothstein joins the program, Aaron discusses Duke's first game in the Bahamas. Highlights:
The Emergence of Zion Williamson

:

 While R.J. Barrett led the way, Zion Williamson emerged as the star of the Blue Devils on Wednesday. Aaron explains how Williamson exceeded expectations and showed a more well-rounded game than anyone could have expected.
Duke's Concerns

: 

What can go wrong for Duke? Will depth plague this team? Do they have a second point guard behind Tre Jones? Aaron also explains why Marques Bolden continues to struggle.
Next, Aaron welcomes CBS Sports college basketball insider Jon Rothstein to the show. The pair discuss:
How Rothstein became a College Basketball Insider

: 

Rothstein explains his winding road to where he is today, as one of the pre-eminent insiders in the sport. Why it takes a decade to make an overnight success story, and how one game created his college basketball fandom — and nearly ruined his parents' marriage.
His thoughts on the SEC

: 

Rothstein explains in great detail why he has Tennessee atop the conference. He also explains why he still believes Kentucky is capable of winning a national championship. Also, is this the best the SEC has ever been?
Top College Basketball Storylines

: 

Rothstein wraps by discussing an unsettled Big East, why Nevada is so fascinating and what to expect from UConn in the first year of the Dan Hurley era. Also, why he refuses to give out New York City restaurant recommendations to Aaron!
You can easily listen on the KSR App, available on iTunes and Google Play. Streaming online is simple through Pod Paradise.  You can also get it directly to your phone by subscribing to the Aaron Torres Sports Podcast feed on iTunes or via Android's Podcast Addict app.
Also, we recently started an "Aaron Torres Sports Podcast" Instagram page, for videos and pictures related to show and to preview upcoming guests. Go ahead and click here to follow the show.
One time UK target Armando Bacot Jr. committed to North Carolina on Thursday. The 6-foot-10, 235-pound center picked the Tar Heels over Duke, Georgia, Oklahoma State and VCU, but before Bacot Jr. cut his list to five the Cats started recruiting him.
It was too little, too late for Kentucky. He didn't make his list of 10, although UK wasn't recruiting him. UK started talking with Bacot after he cut his list to 10 but couldn't make much ground, UK didn't make his final five.
Bacot Jr. had a great summer winning Peach Jam, being named MVP and winning a gold medal for the USA U18 team. He played three varsity seasons for Trinity Episcopal School in Virginia but announced earlier this summer he will transfer to IMG Academy in Florida. In his last two seasons at TES he went 61-5 while winning the 2017 state title and averaged 24.5 points, 12 rebounds and 3.5 blocks per game during the 2018 season.
UK remains in a solid spot for James Wiseman, Vernon Carey Jr. and Matthew Hurt. Kentucky is interested in Oscar Tshiebwe but haven't offered. Bigs are a priority for UK in 2019.
Better UNC than Duke I suppose.
I'll be attending…… pic.twitter.com/q19S3cUUVN

— Armando Bacot Jr. (@iget_buckets35) August 16, 2018
By KSR on ©August 16th, 2018 @ 5:45pm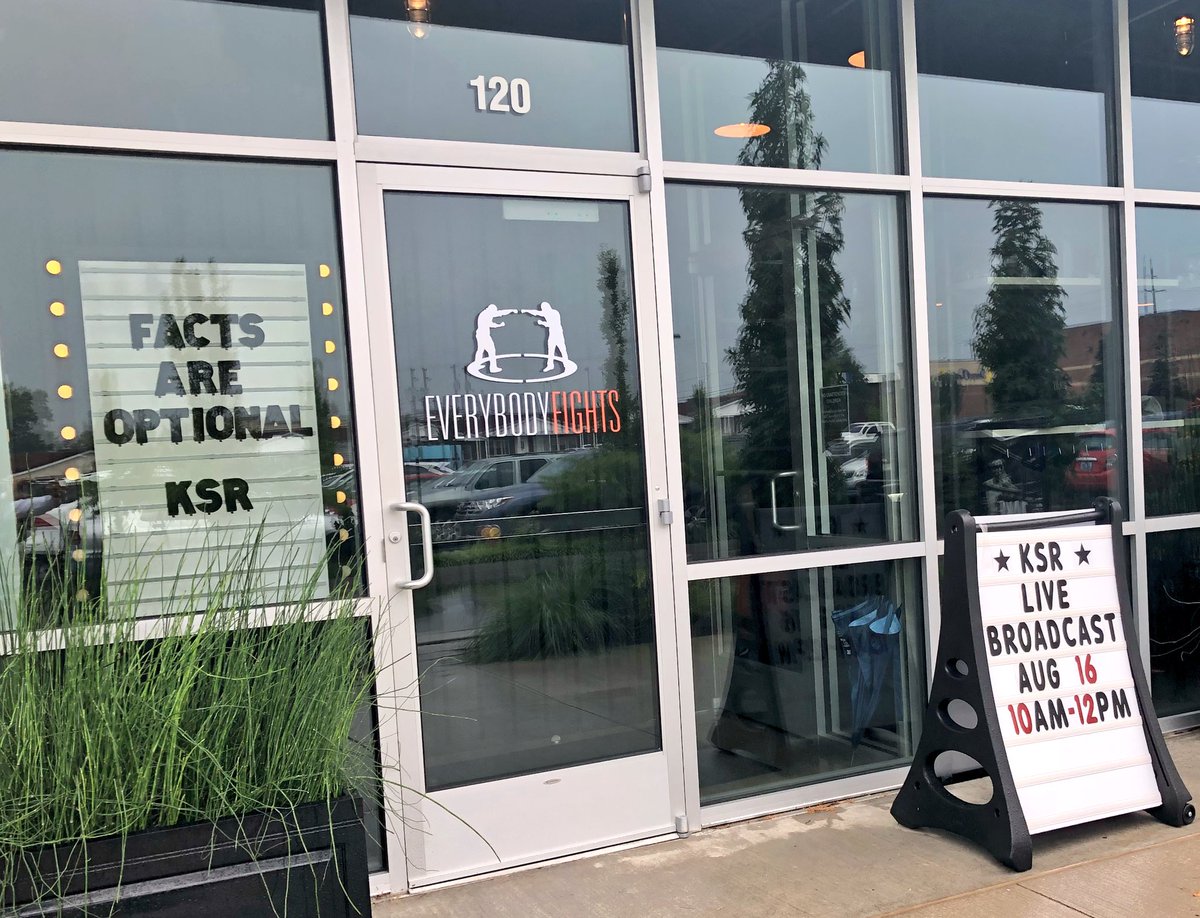 Our friends at EverybodyFights in Lexington are giving KSR readers and listeners a free class!
From now until next Friday, stop by the gym at 124 Malabu Drive to get a nice workout in for free. Simply mention KSR at the door and they'll welcome you in with open arms for a class of your choosing.
EverybodyFights offers a variety of classes for all levels, from beginner to Floyd Mayweather. It also has an open fitness cardio and weight area, showers, a steam room and more.
For a list of classes and more information, visit the EverybodyFights website here.
And be sure to say KSR to get your free class between now and next Friday.
The Kentucky football team had no trouble fighting opponents last year (just ask Louisville).  This fall they plan on taking it to a new level by bringing a pair of boxing gloves to the sidelines.
Jordan Griffin revealed the chained boxing gloves on Twitter during spring practice.  It immediately drew comparisons to Miami's turnover chain, but this prop shares a much different meaning.
"It originally started with Coach House," Boogie Watson explained at UK Media Day.  "It's called 'punching out of the gray room,' so if in practice you had a bad play or was messing up, then later on you start making plays and start dominating practice, that's punching out of the gray room."
House's phrase originated in boxing.  When a boxer takes a big hit to the head, everything turns gray before a knockout.  If they can still attack and swing out of the adversity, the boxer has successfully punched out of the gray room.  Kentucky's defensive coordinator wants his team to attack, no matter how bad the circumstance.
"If you do something bad one play, the next play you forget about it and make an outstanding play, that's punching out the gray room," Josh Allen said today.  "We take that to heart and it's an honor to wear those gloves because that means we're really working hard, trying to be perfect."
The gloves only came out once during spring practice.  Will they be on the sidelines throughout the season?
"We have to find the gloves first. It's in somebody's locker," Allen said with a chuckle. "But we're going to get 'em back and we'll bring them out this year."
Few have been inside the Kentucky football locker room.  The exclusive area is usually prohibited to all outsiders, but today you get to see the best and worst parts, thanks to the UK Specialists.
After an extended hiatus, the Special Teamers fired back up the Twitter account that is filled with hysterical hi-jinx.  In this video Kentucky's latest Australian sensation, punter Max Duffy, moderates a tour through UK's locker room.
Like all of the position groups, the specialists get their own section of the locker room.  They have dubbed this section the "Yacht Club."  After one look, you'll feel like a VIP.
An inside look at the #YachtClub pic.twitter.com/Xf13nZZAtk

— Kentucky Specialists (@UK_Specialists) August 16, 2018
I can't decide what's cooler, the Yacht Club or Duffy's Australian accent.
If you thought Alan Cutler's mustache was impressive, wait until you see his beard.
After retiring from a 30-year career at LEX18 back in May, Cutler just announced he's working on a book with his friend John Huang, a retired orthodontist who now covers Kentucky for the Nolan Media Group. The two retirees came up with the concept while covering games together, and now that Cutler's got some free time on his hands, it's finally happening.
I talked to Alan this afternoon and he said the book will include the REAL story about him chasing Billy Gillispie down a hallway and some untold tales about Rick Pitino. Huang and Cutler have made some impressive progress on the project, as has Alan on his beard:
Anyone wondering what @cutler18 has been doing since he dropped the mic and retired? Follow me and find out. https://t.co/ucrCpnawGI @vaughtsviews @KeithFarmer18 @NancyCoxLex18 @lex18 @CharlieWalterTV pic.twitter.com/7XcPaLB6Zr

— John Huang (@KYHuangs) August 16, 2018
@MrsTylerKSR I think I'd lose to Mr Ball State @leecruse pic.twitter.com/SO2l2a5BHu

— alan cutler (@cutler18) August 16, 2018
For more on Alan's book, check out Huang's post at HuangsWhinings.com. As for the beard, well, it worked for David Letterman, right?
The Breeders' Cup is coming back to Keeneland.
The Los Angeles Times is reporting that Breeders' Cup will take place at Santa Anita in 2019, Keeneland in 2020, and Del Mar in 2021. This year's event will take place at Churchill Downs on the first weekend in November. An announcement is expected at Keeneland tomorrow afternoon.
The Breeders' Cup has only been held at Keeneland once, in 2015, when American Pharoah capped off his amazing career with a wire-to-wire victory. Initially, there were concerns Keeneland couldn't handle the crowd, but the event was a huge success, with record attendance on Friday and a sell-out on Saturday.
If you don't live in Lexington, book your hotel rooms now…
Following Kentucky's first scrimmage, Mark Stoops said the Cats were, "just good enough to be average."  Unsatisfied with the sloppy performance, the stakes are even higher this Saturday at Kroger Field.
"The second scrimmage in training camp is a huge evaluation of where you're at within the competition of your team," defensive coordinator Matt House said.
Stoops did not like the energy on either side of the ball.  The defense looked to Josh Allen to set the tone, but he struggled to make a big play the could ignite the defense.  He does not plan on replicating that performance.
"We just got to play together," Allen said. "We gotta execute the calls on both sides.  We have to make some big plays.  There wasn't a lot of big plays being made.  We took that to heart and we're going to come out with a different mentality this week."
House saw flashes of greatness in the Cats' first scrimmage, but they were too infrequent.
"We did some good things, but we didn't have the energy we needed to have. We didn't necessarily have the great plays and consistency," House said.  "This scrimmage will tell a lot more."
Whoever puts the best tape on the field Saturday will move into a position to play this fall.
Other Practice Notes
Baity > Lonnie — UK's cornerbacks created a competition before camp to see who can pick off the most passes in the preseason.  Almost at the midway point, Lonnie is just behind Baity, trailing 3-2.
A Consequence of the Redshirt Rule — Coaches have provided a variety of different takes on the new redshirt rule that will allow freshmen to play in up to four games without losing a year of eligibility.  Most have talked about how it can potentially be used in their favor, but Matt House brought a take no one has said yet
"I think it's a great rule.  It keeps guys locked in.  At this point you're planning on playing them all.  You're not necessarily searching training camp to see who (will redshirt or play); you're preparing like you're going to use everybody. I think that's huge."