To beat Central Michigan on September 1, Kentucky must contain No. 5.
Running back Jonathan Ward is the Chippewas' most dangerous offensive weapon.  Last season he was a Second Team All-MAC selection after rushing for 1,017 yards, the third-highest mark in the MAC.  Ward averaged 5.7 yards per carry and scored ten touchdowns for the eight-win team.
Excellent in space, it's hard to catch Ward once he gets by the second level of the defense.  Last year he scored on plays of 79 and 54 yards, and in Saturday's scrimmage he went untouched on a 70-yard score.
Those numbers are great, but you're probably thinking to yourself, "It's just the MAC. Who cares how good this Ward guy was against a bunch of nobodies."  Pump those brakes.
Kentucky shared a common 2017 opponent with Central Michigan: Eastern Michigan.  In September, EMU held Benny Snell to only 75 yards rushing yards and one touchdown on 21 carries (3.6 yards per carry).  The Cats squeaked by EMU with a 24-20 win.  When CMU played Eastern Michigan a month later, Ward ran for a season-high 159 yards and two touchdowns on 19 carries (8.4 ypc) in a 42-30 victory.  This guy is the real deal.
As is with every highlight, watch these on mute.
What makes Ward even more dangerous is his pass-catching ability.  Last season he caught 48 passes (3.7 per game) for 470 yards (that's 9.8 yards per reception) and a touchdown.  With first-time starter   Tony Poljan under center, the Chippewas will lean on the junior running back to ignite the offense.  Kentucky must suffocate Ward before he can bust a big play for a score.
This will actually be the first time in the John Calipari era that UK will play a ranked opponent to open the season and just the 2nd time they have played a Power 5 school (2014, Maryland).  People remember Champions Classic games for the last few seasons but none of those actually opened the year for UK.  Usually, UK plays some sacrificial lamb to prep for those big games.  This year my assumption was the Bahamas was used as those preps.  But over the last 30 years, UK has played several big-time season openers, normally with success.  A look back at some of those memorable contests:
1983: #2 Kentucky 65, #6 Louisville 44 (Lexington)
-Believe it or not, these two teams actually opened the season in 1983-84 following the Dream Game loss in Knoxville the previous season.  This eventual Final Four team dominated from the start with Kenny Walker and the Twin Towers all having superb games.  Interesting note: One technical foul was called in this game on UL's Mark McSwain for what the box score calls "wrong uniform number".  Roger Ayers likely called it.
1988: #1 Duke 80, Kentucky 55 (Springfield)
-This was almost surely Kentucky's worst team in the last 75 years and a Final Four bound Duke team smashed the Cats.  Duke only led by 2 at the half but Danny Ferry was great overall, scoring 23 points.  Of note: this was also Christian Laettner's first college game.  He played only 6 minutes, scored 2 points on free throws and didn't attempt a shot.
1993: #2 Kentucky 78, #7 Louisville 70 (Lexington)
-First time the 2 teams opened the season in 10 years but with the same result.  The Cats buried 11 threes and Tony Delk scored 19 points during the comfortable win.
1995: #1 Kentucky 96, #14 Maryland 84 (Springfield)
-The national champs forced 26 turnovers but the story of the game was who was the top scorer in that game for UK?  I'll wait………it was none other than Mark Pope, who scored 26 points to lead the Cats.
1996: #20 Clemson 79, #2 Kentucky 71 (OT, Indianapolis)
-A shocking result to open a title defense.  Kentucky's cold shooting plus Clemson's hot doomed UK, and they still should have won the game.
2001, 2002, 2008: St. Johns, Western Kentucky, VMI
-All losses but more unexpected against unranked opponents.  None of these were "big-time" games but rather just memorable because of the results.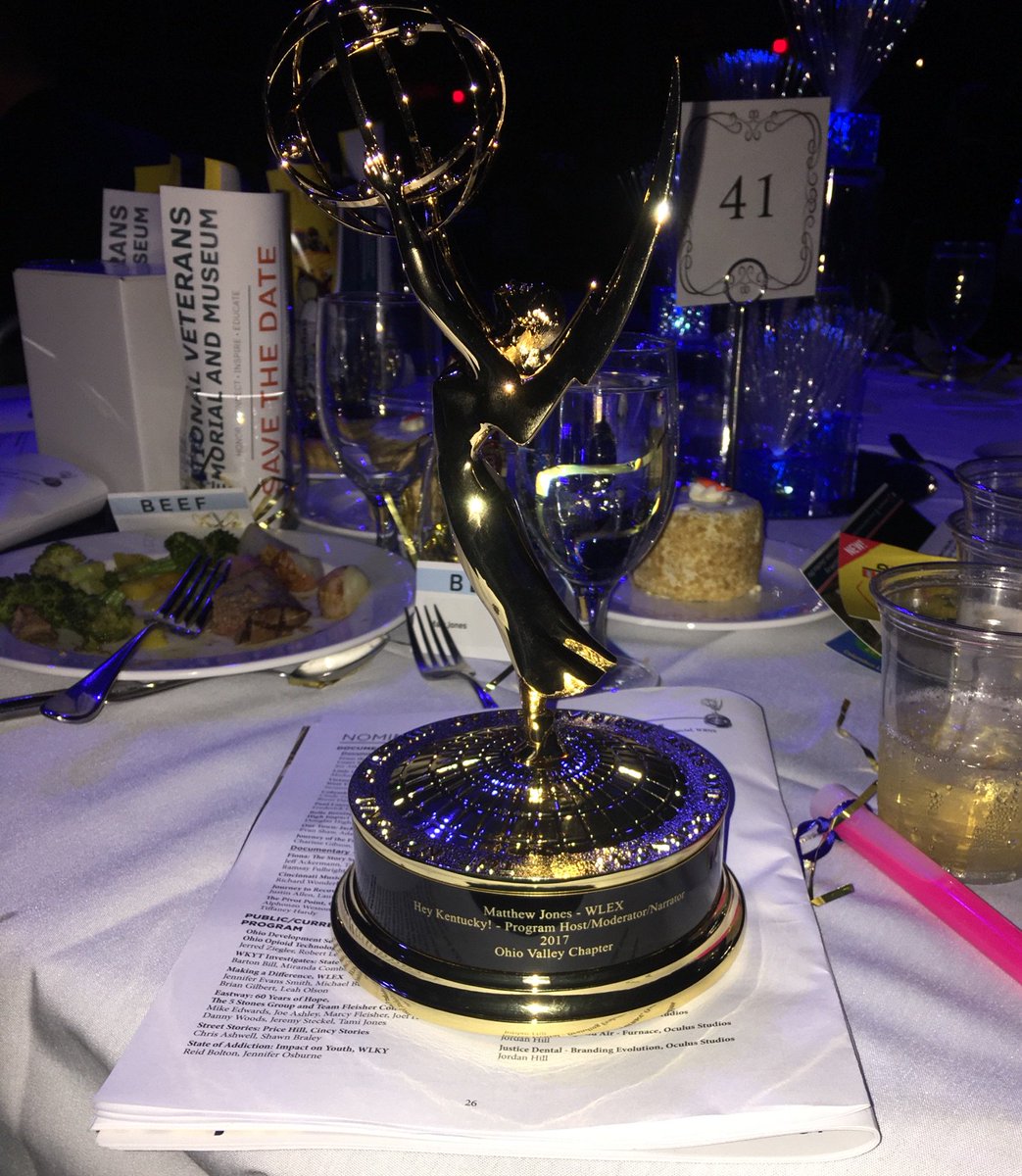 Good morning, friends, and welcome to the Monday edition of Kentucky Sports Radio. Today, the gang will recap the weekend, including Matt's big win at the Ohio Valley Emmy Awards, the latest from Saturday's football scrimmage, and how things are progressing at KSBar and Grille. Start your week right and turn on the radio!
Join in on the fun by calling (502) 571-1080 or send a text to the KSR Texting Machine at (859) 300-3264.
MARKET
CALL LETTERS
DIAL
TIME
Ashland
WCMI
93.3 FM T
LIVE
Ashland
WCMI
1340 AM
LIVE
Benton
WCBL
1290 AM
LIVE
Bowling Green
WBGN
1340 AM
LIVE
Bowling Green
WBGN
107.9 FM T
LIVE
Campbellsville
WTCO
1450 AM
LIVE
Columbia
WAIN
1270 AM
LIVE
Cynthiana
WCYN
102.3 FM
LIVE
Danville
WHIR
1230 AM
LIVE
Elizabethtown
WIEL
1400 AM
LIVE
Elizabethtown
WIEL
106.1 FM T
LIVE
Henderson/Evansville
WREF
97.7 FM
LIVE
Glasgow
WCLU
1490 AM
LIVE
Grayson
WGOH
1340 AM
LIVE
Grayson
WGOH
100.9 FM T
LIVE
Greenup/Ashland
WLGC
105.7 FM
LIVE
Harlan
WTUK
105.1 FM
LIVE
Hopkinsville
WHOP
1230 AM
LIVE
Hopkinsville
WHOP
95.3 FM T
LIVE
Irvine
WIRV
1550 AM
LIVE
Jamestown
WJKY
1060 AM
LIVE
Lancaster
WZXI
1280 AM
5-7 PM
Lancaster/Stanford
WZXI
95.5 FM T
5-7 PM
Leitchfield
WMTL
870 AM
10A-12N CST
Lexington
WLAP
630 AM
LIVE
London
WFTG
1400 AM
LIVE
London
WFTG
106.9 FM T
LIVE
Louisville
WKJK
1080 AM
LIVE
Madisonville
WFMW
730 AM
LIVE
Madisonville
WFMW
94.9 FM T
LIVE
Manchester
WXXL
1450 AM
LIVE
Maysville
WFTM
1240 AM
LIVE
McKee-Booneville
Peoples Rural Telephone
Cable TV Channel 209
LIVE
Monticello
WKYM
101.7 FM
LIVE
Morganfield
WUCO
1550 AM
LIVE
Morganfield
WUCO
98.5 FM T
LIVE
Murray
WNBS
1340 AM
LIVE
Owensboro
WLME
102.7 FM
LIVE
Paducah
WPAD
1560 AM
LIVE
Paducah
WPAD
99.5 FM T
LIVE
Paintsville
WKYH
600 AM
LIVE
Pikeville
WLSI
900 AM
LIVE
Pikeville
WLSI
95.9 FM T
LIVE
Prestonsburg
WPRT
960 AM
LIVE
Prestonsburg
WPRT
104.5 FM T
LIVE
Somerset
WSFC
1240 AM
LIVE
Whitesburg
WTCW
920 AM
LIVE
Whitesburg
WTCW
95.1 FM T
LIVE
Whitley City
WHAY
98.3 FM
LIVE
Williamson, WV
WBTH
1400 AM
LIVE
Williamson, WV
WBTH
102.5 FM T
LIVE
50 Radio Affiliates
37 Markets
1 TV/Cable Affiliate
*Affiliates subject to change without notice
Good morning and welcome to a new Monday. (Groan.)
Over at the UK football practice facility, it's Week 3 of fall camp as the Cats' season opener gets closer and closer. We have a ton of football content on the site from a busy weekend, so click that football tab up at the top to catch up on all you missed. There will be plenty more to come today, tomorrow and beyond until they tee it up with Central Michigan in 12 days.
Go Cats.
Will Mark Stoops pick a quarterback this week?
It's unclear if and when Stoops will name his starting quarterback before the opener, but it's almost time to make the decision behind closed doors. After Saturday's scrimmage, UK's head coach said, "I think we have to settle in and see where we're going to go… We'll zero in on that probably when we get closer to the Monday of game week."
If he's shooting for next Monday, this week will be huge for Gunnar Hoak and Terry Wilson as they each try to separate themselves in the race. If Saturday's scrimmage is any indication of how it will play out, Wilson is the current favorite considering how he shined over the weekend with his best practice to date.
Hopefully we'll know more when Eddie Gran talks to the media tomorrow.
The KSR Football Podcast returns tonight.
With the first football game less than two weeks away, it's time to debut a new season of the KSR Football Podcast. Nick Roush, Jared Lorenzen and I will record a new episode tonight with a special guest taking the fourth spot where Freddie Maggard once sat. The new episode will go online late tonight or early tomorrow morning, so get ready.
UK welcomed a new class of students to campus last night.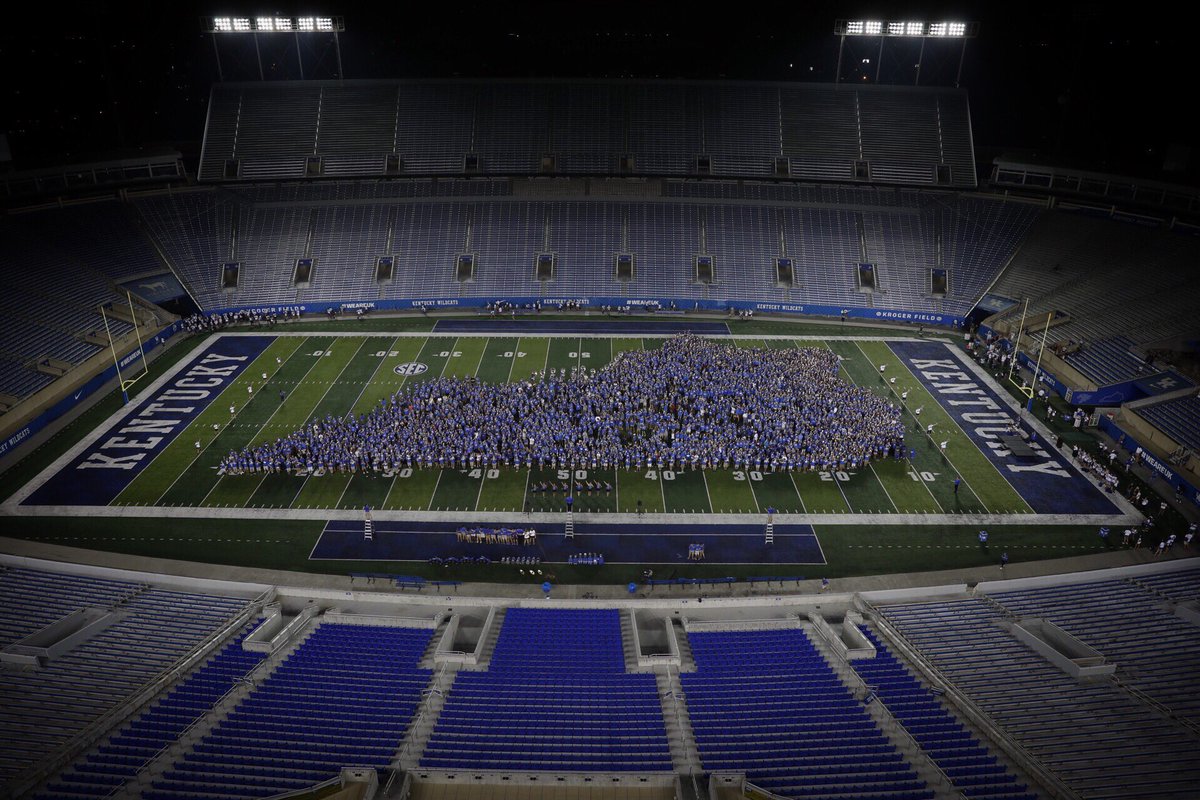 Welcome to Lexington, Class of 2022.
VIDEO: Isaiah Briscoe and Hamidou Diallo working out in New York. 
The gym at Life Time Athletic at Sky in the Hell's Kitchen area of New York City has become a popular place for offseason pickup games between pros. It's where Nick Richards and Hamidou Diallo earned minor NCAA violations last summer for working out with an NBA trainer for free; it's also where those two played against the likes of LeBron James, Kevin Durant, and Carmelo Anthony, among others.
Diallo is back at Life Time Athletic this summer (within the rules this time) and he's working out with his former UK teammate, Isaiah Briscoe. Briscoe shared a clip of the action on Instagram and you can spot guys like Enes Kanter and Mo Bamba in on the fun too.
So, Zion Willamson is pretty good.
Duke wrapped up its Canadian tour on Sunday with a 45-point win over something called a McGill University. Zion Williamson was the star with 36 points, 13 rebounds, four assists, three steals and two blocks. It was quite impressive to all who watched on ESPN+.
78 days until the Champions Classic!
Speaking of that, I have no idea when Champions Classic tickets go on sale.
People continue to ask us about Champions Classic tickets and we continue to not have any idea when they'll be available. Once we do, you'll be the first to know. I promise.
New 247 Sports basketball rankings to come out this week.
The fine people behind 247 Sports basketball rankings will provide us with an update this week now that the summer basketball circuit is over. It'll be interesting to see where UK's three commits — Tyrese Maxey, Kahlil Whitney and Dontaie Allen — land on the new list.
TJ Walker will have more recruiting talk for you at noon in his Monday Insider Notes.
The radio show is back in studio.
The KSR Summer Tour has come to a close. Thanks to all who came out to see us these last couple of months. It was a grind, but it was worth it to meet so many nice people and visit so many nice communities. We'll do it again next year!
Yesterday was a big day for Kentucky football. After weeks of hearing only positive about the defense, we finally got the major step forward we've been looking for from the offense. Following their morning scrimmage, Mark Stoops raved about the playmaking all over the field with a slight grin on his face.
"The offense as a whole brought the energy.  They were very consistent.  That doesn't mean they were perfect, but they had a really good mentality. When they had bad plays, they overcame it at times.  If not, they overcame it the next series." Stoops added, "They really had a solid week, and it showed today."
After last weekend's mess, it was a massive sigh of relief. And it got me wondering about the specifics of the day.
We're used to reading TJ Walker's basketball insider notes on Mondays, but how about some football nuggets on this beautiful Sunday afternoon?
After doing some digging over the last week or so and following the big scrimmage yesterday, here's what I got:
Quarterback
Back in July, I was told the quarterback battle was not all it was cracked up to be. The whole narrative of Terry Wilson being the pure athlete with consistency issues and Gunnar Hoak being "Mr. Efficient" with limited home run ability was a bit far from the truth. In reality, each had serious accuracy flaws throughout the spring, summer and into fall, and neither did enough to separate themselves as "the guy."
At the time, I was told the coaching staff wasn't ecstatic about where either of them were, but Wilson likely had a very slight edge over Hoak. Very slight.
In the long term, one source within the program felt (at the time) Wilson may have his ups and downs, but he would do what it takes to eventually win the job. They felt he had the "it" factor.
"I genuinely think it'll be Terry when we get to Central Michigan," they said at the time.
When fall camp kicked off, I was told Hoak took a solid step up and actually separated himself from Wilson. The redshirt sophomore developed solid chemistry with the tight ends and slot receivers, improving the Wildcat offense in short and medium passing situations. It allowed Eddie Gran to utilize the running game and move the chains in short-yardage situations. If the first game had been played then, there was little doubt Hoak would be it.
Over the last week, though, Wilson dug his cleats into the ground and inched his way forward. He had finally shaken the rust off he had coming into the program from junior college.
Now, I strongly believe it will be Terry Wilson leading the Kentucky offense onto the field first on September 1.
Yesterday was Wilson's best practice since he got to Kentucky, and certainly the best scrimmage. He made throws that turned the heads of everyone in attendance.
"It clicked," one source told KSR. "Something just clicked with him. He looked really, really good out there."
Offense
The offense as a whole was extremely impressive yesterday, and a lot of it had to do with Benny Snell back in the fold. The star running back missed last week due to a minor calf injury, one so small that Snell actually wondered why Stoops brought it up in the first place. It was nothing of substance and is absolutely not a concern going forward.
Snell also mentioned yesterday that he had a costly drop going out for a pass in the scrimmage, which brings me to another important point going into the season. I'm told Eddie Gran is really trying to work all the backs into the passing game to add another dimension to the offense. And it looks really good so far. Between that and the double-tight end sets we've mentioned over the past few weeks, I'd expect to see some new schemes the BBN may not be as familiar with when the season opens up. Tight ends CJ Conrad and Justin Rigg (who has really improved at both run and pass blocking) on both sides of the line will keep opposing defenses on their toes.
Beyond that, the chemistry around the total unit is really solid right now. In the past, we've seen the locker room gravitate toward one quarterback and it has caused some tension in the past, but I'm told both QB options are well-respected and liked across the board. Players are hyping up their teammates after big plays and lifting their spirits after mistakes. The general vibe is that they know this can be a really special season for them.
I've raved about David Bouvier the past couple days and weeks, and the hype train isn't slowing down anytime soon. He's going to be a stud this season. Akeem Hayes has also turned heads, as mentioned by Snell yesterday in the post-scrimmage media opportunity. Lynn Bowden, Tavin Richardson, EJ Price, Chris Rodriguez, and Kavosiey Smoke are other players that have looked really solid.
The offense needed to take a step forward, and they made it happen. Fans should be excited about that.
Defense
Part of what made the offense look so good was a pretty weak overall performance from the defense. I was told both quarterbacks in contention for the job carved up the opposition, mixing up the play calls and finding success at all three levels of the field. It didn't confuse the defense, per se, but it certainly frustrated them throughout the scrimmage. Kash Daniel himself admitted the defense just got outplayed on a few instances, using it as motivation going forward. (In other words, I expect a dominant defensive performance to make up for it this week)
Mark Stoops told the media yesterday that the defense is very thin at a few positions, and that was part of the reason they struggled so much on that side of the ball yesterday. I have been told that safety Mike Edwards has been battling a hamstring issue this week that has held him out of practice, though that is not expected to be a lingering issue going forward. There are a few other minor injuries, but other than Josh Paschal, none are of concern to the team.
As far as the overall defense is concerned going into the season compared to where they were on Saturday, I've been told that the coaches aren't sweating the rough day in the slightest. In fact, Stoops and defensive coordinator Matt House are extremely confident in their group and believe it will be the best top to bottom since Stoops got to Kentucky. The defensive linemen are athletic and more aggressive, the defensive backs (when healthy) have improved their ball instincts and coverage, and the linebackers, both inside and out, are creating pressure. The coaching staff knows what they have on defense, the main concern was getting the offense firing on all cylinders. They did just that.
We won't have a football media session tomorrow, but we'll have an open media practice on Tuesday to get another inside look at the program. Nick Roush and I will be there to give you all the updates you need on the team with just two weeks before kickoff.
Phoenix Suns guard Brandon Knight hasn't played in an NBA game since Feb. 2017, but that isn't holding him back from being a leader for his young Suns' teammates.
In an interview with NBA.com, Knight highlighted what he's been doing during his free time as he's been recovering from an ACL injury that caused him to miss all of last season and it has a lot more to do with his work off the court than on it.
Only 26 years old, Knight is a veteran on this young Phoenix squad in the midst of pulling themselves out from the tanking trenches. Since he hasn't been able to contribute on the court, he's taken it upon himself to contribute as much as possible off of it.
"When you can't play, you can't affect the game on the court," Knight said. "I just found other ways to try to help my teammates be better. Whether that be telling tidbits I saw that I observed. I just tried to be a veteran presence on our team and lead through that."
Knight hasn't played an NBA game in a year and a half, but before his injuries, he was playing the best basketball of his young career. In the 2015-16 season, Knight averaged a career-high 19.6 points per game for the Suns as the lead guard. Heading into the 2018-19 season, Knight is just eager to get back on the court.
"I've been excited since December, when I started running. I'm looking forward to it. I'm very excited about it," Knight said.
Knight will likely team up with former Kentucky guard Devin Booker to form the starting backcourt for the Suns alongside number one overall pick DeAndre Ayton and a bevy of other young talents the Suns have collected over the past few seasons.
"I already know how I can help and how I can play with them. I know their strengths and weaknesses just from watching them all season," Knight said. "Hopefully it will be quick building chemistry with them once I get back in, once I get back playing."
Knight is entering the fourth year of the five-year extension he signed back in 2015 with plenty left to prove. The Suns are dry at the point guard position and Knight will immediately be the one the Suns look to run the show. Playoff hopes are slim, but this season is all about development for the young core and Knight's newfound role as the "veteran" mentor can be a huge benefit for the players that surround him.
The summer of giving back is still rolling along for Washington Wizards guard John Wall.
The former Kentucky Wildcat has been busy this summer, hosting giveaways and charity events for his local communities. Earlier in August, Wall hosted a backpack giveaway in Washington D.C. where he handed out 1,000 backpacks filled with school supplies along with free t-shirts. On Saturday, Wall hosted another backpack giveaway, this time in his hometown of Raleigh, North Carolina.
John Wall was in #Raleigh today getting students ready to go back to school with backpacks and school supplies. @JohnWall @CoachK_Williams @TeamWallElite @coachcosbb #JohnWall #JohnWallFamilyFoundation #ABC11 pic.twitter.com/X8jETDILtj

— Bridget Condon (@BridgetABC11) August 18, 2018
In partnership with his organization, the John Wall Family Foundation, Wall was able to giveaway backpacks to another 1,000 students within the community as the school season inches closer. This is the fifth consecutive year Wall has hosted this event.
As someone who overcame the odds to reach this point in his life, Wall has always been an advocate for giving back and putting smiles on the faces of the younger generation, serving as an inspiration to them the same way he received inspiration growing up.
15 yrs ago, @JohnWall was a kid in my hood that needed Inspiration so i gave him that. Today, he gave that Inspiration to my son. Life is Full Circle. The Universe returns the energy you put out. Luv u nephew. Thx u. God bless. #RaleighRaised pic.twitter.com/jf5cuF3Szb

— LeVelle Moton (@LeVelleMoton) August 18, 2018
Last year, a man from Kentucky picked up the phone. By the time he hung it up, he had fascinated the listeners of one of the most well-known radio programs in the world. His name is Eugene. This is his story.
Eugene has covered a lot a ground in his life, even though where he's ended up is pretty much the same as where he started – Waddy, KY. Well, "up 'er near Waddy," to be exact. Much of the ground he covered helped provide his living, either from the cattle he's raised on it, the crops he's grown, or the fences he's put around it with his son.
After he finished high school, he attended Asbury College for a little while before briefly going to school in Florida. He came back to the Bluegrass, and alternated between working on the farm to save money for school and paying that money for school until graduating 14 years after he started. He went back to farming, and has been working the land ever since. He likes to spend time with his son, daughter, and grandson "Little C," and otherwise leads what he would tell you is a pretty quiet life. "Not a whole lot exciting to tell ya about it."
So the whirlwind he went through – the one that started when he picked up the phone, saw him captivate millions of Howard Stern's listeners, and eventually took him to within spitting distance of the Madison Square Garden floor – is probably as surprising to him as it might seem to you. He's still not totally sure how it happened.
"They took a liking to me, I guess, because I didn't sound like nobody they had talked to before," he said. And while his voice, which would fit right in around a frontier campfire, is enough to make you want to listen, there was a little more to it than that. He and Howard talked for roughly a half hour Eugene's life, farming, and family on that first day. A couple hours later, the folks with the show called, saying they liked him so much they wanted him back on the next day.
Eugene obliged and, since nobody can have anything fun anymore, ended up being confronted by callers who questioned what he knew about cattle, or even thought he wasn't who he said he was. He figures they just wanted to argue, and he was happy to give them their wish. "I tried to put them in their place there and let 'em know what was what," he said. "I mean, you don't tell a man what he can do and he can't do with his cattle. That's his own business." Damn right.
He doesn't mind the ones who question if he's real, either. I interviewed him over the phone, so I guess I can't tell you for absolutely certain if he is or not. I do know there's a picture of him with Matt at the top of this post, he certainly seemed real when I talked to him, and it's all a lot more fun if he is, so that's good enough for me. It's probably more likely that, to those uninitiated in southernness, the voice that got everyone's attention was just too good to be believed. As a more worldly crowd, though, KSR listeners know that drawl would be familiar to many hills, hollers and holes-in-the-wall across Kentucky.
Ladies and gentlemen, it's the moment you've all been waiting for. The KSR Football Podcast is set to return tomorrow night.
Drew Franklin, Jared Lorenzen, and Nick Roush will be back to bless your ears and start breaking down the upcoming Central Michigan game, but they'll be down one key player. After Mark Stoops hired Freddie Maggard away from us, we've been left with the task of replacing the former Kentucky quarterback.
So that leaves the question: Who will replace Freddie?
Fortunately for the BBN, we have a very special guest set to join the show tomorrow to kick the year off right.
We can't tell you who it is quite yet, but we'll give you one hint: It's a former Kentucky football player, and the fans loved him.
In the comment section, guess who you think it is and leave a question or two for the KSR football crew to answer.
We promise it'll be a good time.