The great Sonny Collins will be the Wildcats' honorary captain tomorrow when Kentucky hosts Mississippi State in a critical game in Kroger Field.
But first, Collins met Benny Snell after Friday's practice and it made for a great photo of past and present stars.
Collins currently holds the all-time rushing record at Kentucky with 3,835 yards, but Snell is on his heels.  Snell has 2,799 yards to date with nine more games this season. Assuming UK will reach a bowl game, he'll need 104 yards per game in the remaining 10 games to pass Collins' longstanding record.
Collins, a Madisonville guy, finished his UK career in 1975 as the SEC's all-time rushing leader. He was a three-time First-Team All-SEC selection and was the SEC Player of the Year in 1973.
It's cool to see the two together as Benny chases his title and is on the verge of matching Randall Cobb's touchdown record, maybe as soon as tomorrow.
Go Benny.
Many of you are probably finishing up work right now and you're ready to go home and get into football mode for the weekend. Cats and Dawgs in Kroger Field tomorrow, you're fired up for it.
Well let me help you by passing along this week's hype video from the talented folks over at Kentucky Wildcats TV. Watch it but try not to punch whatever is next to you when you do.
#BBN, are you ready? It's almost time. See you at Kroger Field.
? vs. ?#GetUp pic.twitter.com/Juc6uyOSZ3

— Kentucky Football (@UKFootball) September 21, 2018
I couldn't resist. LETS GO.
Last week we saw a lot of promise from the younger crop of Wildcats, including true freshman running back Chris Rodriguez, who shined on only two carries in his Kentucky debut. He took his first touch 16 yards, then gained another 27 yards on his second when he carried Murray State defenders all the way to the goal line. It set up a Danny Clark touchdown and Rodriquez was done for the day with 43 yards rushing.
Benny Snell said, "I love Chris. I love what he's becoming… He's young and he's learning, just like me. I see a lot of me in him."
But enough about all that, let's get to why we're here: I just learned Rodriguez is only 17 years old. SEVENTEEN! He carried the ball for 43 yards on two rushes in a college football game and he can't even vote or serve on a jury or buy fireworks or sign off on his own tattoo. That's crazy.
Ryan Lemond really outdid himself this time.
At Friday's show at Mr. Brew's Taphouse in Lexington, he gathered a makeshift football team for his pre-Mississippi State pep talk. The pep talk wasn't anything too out of the ordinary for a Ryan Lemond pep talk, but this one got out of hand with the public nudity.
Watch as Ryan and several of his fake players went shirts off for the boys in front of a full crowd:
As mentioned earlier, Anthony Davis is being inducted into the UK Athletics Hall of Fame tonight, and, appropriately, John Calipari will be the one who will introduce him. Today, Calipari posted a video on Twitter in which he tries to draw inspiration for the speech…by wearing a unibrow:
I'm presenting @AntDavis23 at tonight's UK Athletics Hall of Fame ceremony and I'm trying to get into the right mindset for my speech. Almost there. pic.twitter.com/sg4D4E0Ven

— John Calipari (@UKCoachCalipari) September 21, 2018
How can you not love Cal?
Anthony posted a video of his own on Twitter a few minutes ago confirming he'll be at the ceremony, which will give him an opportunity to give Cal an autographed version of the Red Bull ball he sent a few weeks back (if you're up on your Calipari-AD Twitter beef, you'll remember that Cal complained that Anthony didn't sign it).
Hey @UKCoachCalipari you're absolutely right, I should've signed it!! Can't wait to see you this weekend and deliver it in person. #BBN pic.twitter.com/bZ3AieQNnL

— Anthony Davis (@AntDavis23) September 21, 2018
Anthony and the other Hall of Fame inductees will be introduced tomorrow during the UK/Mississippi State game, making a big weekend in Lexington even better.
Kentucky is a 9.5-point underdog vs. No. 14 Mississippi State, but one national college football writer believes the Cats will pull off the upset. USA Today's George Schroeder picked Kentucky to beat Mississippi State as his bold prediction of the week.
"Mississippi State has been getting plenty of attention, going back to the offseason, for its potential as a dark horse in the SEC West, and there's been nothing in the first quarter of the season to dampen the idea. But most folks probably still aren't sure what to make of Kentucky. Led by a quarterback catalyst in Terry Wilson, the Wildcats finally snapped a losing streak to Florida that stretched back to forever. After they upset Mississippi State in Lexington this week, we'll see Mark Stoops might have the SEC's most pleasant surprise of the season."
Heck yes, George Schroeder. Let's go.
The rest of the national media is nowhere near that brave. Here's a rundown of their picks:
Kentucky will be back on the national stage Saturday night when it takes on a Mississippi State squad that is rolling after three big wins. If you like running backs, this one's for you. Benny Snell has been a staple in the Wildcats backfield for his entire career, while the duo of Aeris Williams and Kylin Hill lead a punishing Bulldogs attack that is supplemented by dual-threat quarterback Nick Fitzgerald. This one comes down to the battle along the offensive line, and Mississippi State will prove that it's the contender, Kentucky is the pretender and manage to cover late. Pick: Mississippi State (-10)
Against the original 10.5-point spread it was a different story:
From SI's Eric Single:
In a meeting of two running backs who sit top-25 nationally in rushing yards through three weeks, the edge goes to Mississippi State's Kylin Hill, who was the difference-maker for the Bulldogs' offense in their only Power 5 test so far, against Kansas State. Kentucky's Benny Snell is one of the most overlooked running backs in the country, but he will be barreling into an MSU front that has allowed a meager 2.5 yards per carry so far. Keep both these teams top of mind as divisional dark horses, but Mississippi State has too much on the line over the next month not to emerge from Kroger Field with its perfect record intact.
Time to shock the world, I guess.
Tomorrow night's game vs. Mississippi State is huge and Kentucky's been pulling out all the stops to sell out Kroger Field. A quick check of the Ticketmaster map shows there are still seats available, albeit far fewer than earlier this week:
The athletic department isn't giving a ticket update today, but as of yesterday morning, 49,350 tickets were out for the game. We're hearing that Kentucky sold 3,000 tickets at yesterday's flash sale in Paintsville, meaning Kash Daniel will have his own cheering section. There are still $42 tickets available in sections 201 and 207-211 via Reply Buy. To secure yours, text KENTUCKY to 20123. You can also visit UKFootballTix.com.
Be sure to check your ticket to see which section you're in so you can dress accordingly:
Tomorrow's game vs. Mississippi State has dominated the headlines this week, but tonight, six former UK student athletes will be inducted into the UK Athletics Hall of Fame, including Anthony Davis and Jacob Tamme.
Davis and Tamme will be joined by Russ Cochran (men's golf), Victoria Dunlap (women's basketball), Dennis Emery (men's tennis coach), and Eric Quigley (men's tennis). The dinner and ceremony will be held at the Woodford Reserve Club at Kroger Field starting at 5:30 p.m. The group will also be recognized during tomorrow night's game, which kicks off at 7 p.m.
To get the festivities rolling, let's relive some of Davis and Tamme's best moments, starting with Tamme's famous pep talk prior to the Georgia game in 2006:
There are countless Anthony Davis highlights, but I'll start with his famous block vs. North Carolina:
A more comprehensive look at his career as a Cat:
For bios of tonight's inductees, click through the jump.
Tomorrow marks one week since four-year-old Marco Shemwell was struck by a car as he and his family were leaving Kroger Field. In his honor, Kentucky will hold a moment of silence prior to the national anthem at the Mississippi State game.
We will ask the #BBN to join us in a moment of silence in honor of Marco Shemwell before the national anthem at tomorrow's @UKFootball game. Our hearts continue to be with the Shemwell family.

— Kentucky Athletics (@UKAthletics) September 21, 2018
If you missed our story on it last night, funeral services for Shemwell will be held Monday and Mark Stoops and the Kentucky Football team will serve as honorary pallbearers:
Stoops, UK Football team to serve as honorary pallbearers for child hit outside Kroger Field
Our thoughts and prayers continue to go out to the Shemwell family.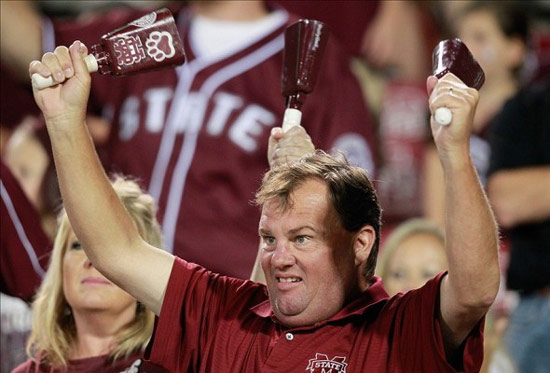 This is not Russell
*So we often preview games from the view of the UK fan, looking through blue tinted glasses and with best expectations.  But that often doesn't give us a real look at what the opponent will be bringing to the game.  So I asked a good buddy of mine and Mississippi State fan, Russell, to put some thoughts together about his team from the perspective of a Bulldogs fan.  And allowed him to talk a little smack in the process.  Here is what he sent me: 
So my good friend BTI has allowed someone from Mississippi to come on the site this week for some friendly banter, but mainly to tell you how Mississippi State is going to remind you this weekend that it's about that time to start looking forward to basketball… just in case your 3-0 start is getting anyone's hopes up.  Does anyone read football posts here anyway?
Anyway, I'm BTI's intern this week in charge of the MSU fan perspective, so I guess that makes me the intern to the intern.  And forgive us MSU fans if we come off arrogant this year, because historically I would say we're a "woe is us" fanbase that has been content with reaching bowls and pleased with 8-win seasons with no expectations of even semi-regularly ascending to the SEC's upper tier.  This year is different though, because this may be the best team that MSU has EVER fielded, which includes a 2014 team that spent six weeks as the #1 team in the nation.
MSU is currently 5th nationally in Football Outsiders S&P ratings, and 9th in the ESPN Power Index as well as the Sagarin ratings.  We have Dan Mullen to thank for that, although most fans won't admit that to themselves and hope that he fails miserably at life from here on out.  Joe Moorhead has taken Mullen's team and possibly shown that he's an even better offensive coach thus far, and he deserves credit for that since it's not always easy for a 1st year coach to sustain success when left with a good roster (look no further than Willie Taggart for what a 1st year coach is NOT supposed to do when left with top 5 recruiting classes).
What are you most confident your offense can do?
Offensively, stats are mostly meaningless through 3 games since MSU has played an FCS team and a SunBelt team, but MSU is currently 8th nationally in total offense and 9th in scoring (1st and 2nd in the SEC respectively).  The Dawgs return 4 starters on an OL that is the unit's strength.  Elgton Jenkins is the top rated NFL center prospect in the nation by Todd McShay and Mel Kiper, and Daryl Williams is a top 5 guard prospect, and they pave the way for a rushing attack that finished 2nd in the SEC in 2017.  Moorhead has kept the QB run a focal point of the offense, which fits MSU's personnel as Nick Fitzgerald needs just 195 yards rushing to break Tim Tebow's record for all-time rushing yards by an SEC quarterback.
Where is your offense the weakest or where do you think UK can exploit the MSU offense?
The Achilles heel for the MSU offense is consistency in the passing game.  Fitzgerald is a career 55% passer, and only 52% so far in 2018.  While his accuracy on downfield throws is erratic, the other primary reason for MSU's inconsistency in the passing game is a lack of dynamic wideouts.  Mullen and company struggled to recruit WRs the last several years, and that shows up on obvious passing downs.  MSU does well on early downs with play action passes and RPOs, but if UK can force MSU into 3rd and longs and obvious passing situations, MSU might have trouble converting 3rd downs.
What are you most confident your defense can do?
This is the 2nd or 3rd deepest and most talented MSU defense of my lifetime, as MSU currently has 3 players (DE Montez Sweat, DT Jeffrey Simmons, and S Johnathan Abram) projected as potential 1st round NFL picks.  The DL is very deep and experienced, and excelled in '17 and '18 at stopping the run and rushing the passer.  MSU is currently 6th nationally in scoring D and 8th in total D, and returns all but 2 starters from a unit that finished 10th nationally in total defense in '17.
Where is your defense the weakest or where do you think UK can exploit the MSU defense?
It may not fit what UK does best, but the weakest part of MSU's defense is likely it's pass D.  MSU will be missing a starting corner due to injury at arguably its weakest position.  Elite WRs such as Calvin Ridley, DK Metcalf, and AJ Brown were able to exploit MSU's corners in 2017, so taking some deep shots will be a key for UK.  MSU is also making the transition from Todd Grantham to Bob Shoop at defensive coordinator, so it remains to be seen if Shoop will have the unit playing with the same discipline and intensity.  Shoop is hard to figure out, he's had some really good years, but also some equally as bad such as his defenses at Tennessee the last couple of years.  While MSU has been good against the run, it does have lapses of inconsistency at times and elite teams such as UGA, Auburn, and Alabama were able to run on MSU in '17.  UK only had 260 total yards against MSU in 2017 and only 115 on the ground, but Terry Wilson just looks like a different cat (pun intended) to me.  I think UK can have more success on the ground in this year's game.
Is there a way to slow down Nick Fitzgerald?
Break his ankle like Ole Miss did in 2017? For a moment I thought Fitzgerald looked a tad more tentative running the ball coming off of a serious ankle dislocation that ended his '17 season, but he's still rushed for 266 yards the last 2 games.  But like I said earlier, containing the run on early downs and forcing MSU into obvious passing downs can expose Fitz's inconsistency in his downfield passing.
Name one player most people don't know about that actually has a huge impact on the game.
Most of MSU's production will come from returning players that are known commodities, although RB Kylin Hill isn't a household name.  Senior RB Aeris Williams rushed for 1,107 yards a year ago, but he has essentially been unseated by the talented sophomore Hill.  I also mentioned MSU's lack of talent at wideout earlier, but JUCO WR Stephen Guidry is the player that MSU is hoping that can come in and change that narrative.
PREDICTION
Other than pain?  I think MSU will be the second best team UK faces in 2018 next to UGA, but at the same time this UK team looks to me like it could be the 2nd best team in the East.  Terry Wilson looks like he's made UK much harder to defend, but I think this MSU defense will still be hard to consistently score on.  I see the spread is around -10.5 and Vegas occasionally knows what they're talking about, so I'll go with 31-20 MSU.