Good morning, friends, and welcome to the Thursday edition of Kentucky Sports Radio. Today, the KSR Summer Tour heads to Shiloh Steakhouse in London, so if you're in the area, come on out to enjoy the show and hear the gang discuss Matt's win at the Barbasol Championship Pro-Am.
Tomorrow, the show will be live from the Barbasol Championship. Next week, the crew makes its way to the western part of the state:
7/23 – Edmonton – Metcalfe County High School – 709 West Stockton Street
7/24 – Benton – CFSB Bank – 221 West Fifth Street
7/25 – Paducah – Academy Sports and Outdoors – 150 McBride Lane
7/26 – Madisonville – Watermark Toyota – 1055 Crossing Place
7/27 – Louisville – Salsarita's in St. Matthews – 285 N. Hubbard Lane
Remember, if you go to four tour stops, you'll be entered into the drawing for the Bahamas trip. For a complete list of tour stops, click here.
Join in on the fun by calling (502) 571-1080 or send a text to the KSR Texting Machine at (859) 300-3264.
MARKET
CALL LETTERS
DIAL
TIME
Ashland
WCMI
93.3 FM T
LIVE
Ashland
WCMI
1340 AM
LIVE
Benton
WCBL
1290 AM
LIVE
Bowling Green
WBGN
1340 AM
LIVE
Bowling Green
WBGN
107.9 FM T
LIVE
Campbellsville
WTCO
1450 AM
LIVE
Columbia
WAIN
1270 AM
LIVE
Cynthiana
WCYN
102.3 FM
LIVE
Danville
WHIR
1230 AM
LIVE
Elizabethtown
WIEL
1400 AM
LIVE
Elizabethtown
WIEL
106.1 FM T
LIVE
Henderson/Evansville
WREF
97.7 FM
LIVE
Glasgow
WCLU
1490 AM
LIVE
Grayson
WGOH
1340 AM
LIVE
Grayson
WGOH
100.9 FM T
LIVE
Greenup/Ashland
WLGC
105.7 FM
LIVE
Harlan
WTUK
105.1 FM
LIVE
Hopkinsville
WHOP
1230 AM
LIVE
Hopkinsville
WHOP
95.3 FM T
LIVE
Irvine
WIRV
1550 AM
LIVE
Jamestown
WJKY
1060 AM
LIVE
Lancaster
WZXI
1280 AM
5-7 PM
Lancaster/Stanford
WZXI
95.5 FM T
5-7 PM
Leitchfield
WMTL
870 AM
10A-12N CST
Lexington
WLAP
630 AM
LIVE
London
WFTG
1400 AM
LIVE
London
WFTG
106.9 FM T
LIVE
Louisville
WKJK
1080 AM
LIVE
Madisonville
WFMW
730 AM
LIVE
Madisonville
WFMW
94.9 FM T
LIVE
Manchester
WXXL
1450 AM
LIVE
Maysville
WFTM
1240 AM
LIVE
McKee-Booneville
Peoples Rural Telephone
Cable TV Channel 209
LIVE
Monticello
WKYM
101.7 FM
LIVE
Morganfield
WUCO
1550 AM
LIVE
Morganfield
WUCO
98.5 FM T
LIVE
Murray
WNBS
1340 AM
LIVE
Owensboro
WLME
102.7 FM
LIVE
Paducah
WPAD
1560 AM
LIVE
Paducah
WPAD
99.5 FM T
LIVE
Paintsville
WKYH
600 AM
LIVE
Pikeville
WLSI
900 AM
LIVE
Pikeville
WLSI
95.9 FM T
LIVE
Prestonsburg
WPRT
960 AM
LIVE
Prestonsburg
WPRT
104.5 FM T
LIVE
Somerset
WSFC
1240 AM
LIVE
Whitesburg
WTCW
920 AM
LIVE
Whitesburg
WTCW
95.1 FM T
LIVE
Whitley City
WHAY
98.3 FM
LIVE
Williamson, WV
WBTH
1400 AM
LIVE
Williamson, WV
WBTH
102.5 FM T
LIVE
50 Radio Affiliates
37 Markets
1 TV/Cable Affiliate
*Affiliates subject to change without notice
A Message from Today's Sponsor:
Kentucky is home to driven families seeking community transformation. Braidy Industries is restoring hope, one family at a time, by bringing hundreds of jobs to the Ashland, Kentucky community. Craig Bouchard, CEO of Braidy Industries, sees talent and innovation in the young minds of Kentucky, and is determined to utilize their strengths to build business within the greater Boyd County region. 
For representing the future of Kentucky, graduates from Russell, Fairview, Boyd County, Greenup County, Holy Family, Rose Hill Christian, Paul Blazer, and Raceland High School have received scholarships on behalf of Braidy Industries. You can keep up with Braidy Industries at www.braidyindustries.com. Thanks to Braidy Industries, the future is looking bright in Eastern Kentucky!
---
For the first time since 1959, Kentucky is hosting a PGA Tour event.  Keene Trace golf course is already filled with professionals after the first tee times at 8:20 officially kicked off The Barbasol Championship.  The tournament's brightest star, Brittany Lincicome of the LPGA, will begin play at 9:59.  Regardless of what the golfers accomplish on day one, they're playing second fiddle to Matt Jones.
Playing alongside Tubby Smith, John Michael Montgomery and Rick Dees in the tournament's Pro-Am, Matt faced a 25-foot putt on hole No. 12, arguably Keene Trace's most difficult hole.  Not particularly well-known for his putting skills, Matt proved all the haters and losers wrong by burying the ball into the bottom of the cup. The putt helped put his team over the top to win the Pro-Am.
If you want to see all of the action, tickets are still available.  Today is also Military Appreciation Day.  All active duty and Reserve military members, military retirees and their dependents, as well as first responders, can receive complimentary tickets by downloading a voucher here and presenting a military ID at the course's entrance.
The Open is Happening Too
While professionals tee off in Lexington, the biggest names in golf are searching for an Open Championship at Carnoustie.  Kevin Kisner is the early leader at 5-under and Jordan Spieth isn't far behind at 3-under.  Check out the full leaderboard and prepare for Tiger to tee off at 10:21 ET.
SEC Media Days End
After Alabama brought out all of the crazies (and Damien Harris proclaimed his love for Duke basketball), SEC Media Days will come to a close this afternoon in Atlanta.  Auburn, Vanderbilt and South Carolina are the last three schools at-bat.  Expect to see more on UK's opponents, a recap of the week that was and the announcement of preseason All-SEC teams and predicted order of finish.
MORE Basketball
Even though I was in Atlanta to cover football, I couldn't help but get excited about basketball.  UK is releasing more and more highlights from practice, Rex Chapman can't contain his excitement, and oddly enough, just learning the newcomers' numbers has me geeked.  Keldon Johnson's No. 3 selection let's me know he means business.  "I'm looking forward to winning a lot of games and taking no L's," Johnson said.
Dontaie Allen is Coming to Town
Pendleton County's rising star will be on campus in less than two weeks.  The offers continue to roll in, but not one from Kentucky.  That should change before he leaves campus August 1.
Papa Gonna Papa
John Schnatter has been making headlines for weeks, all for the wrong reasons.  Now there's a Forbes profile on the "bro" culture he created at his company.  The profile provides an excellent excuse to share this:
KSR is in London
Head on out to Shiloh Steakhouse in London to hear Matt's side of the story after an excellent day on the links with Kentucky legends.
Our buddy T.J. Beisner from CoachCal.com released his third edition of his "Meet the Wildcat" series on the Behind Kentucky Basketball series. The purpose of the podcast was meeting and interviewing freshman Keldon Johnson, but Beisner started the podcast discussing Washington's return to practice. The sophomore forward finished the season with a broken pinky and played a few months with the injury.
Here are the P.J. Washington highlights:
P.J. Washington has been a leader, even when sidelined after his surgery. "P.J. has shown at this point he is a leader." Beisner said he was always engaged during practices and would point out mistakes and give advice. That's pretty cool to hear.
Beisner said the team was having great practices but when things were starting to possibly get stale Reid Travis was added to the mix. Then once things may have started slowing down P.J. Washington is now back. Adding these experienced pieces have to be great for the younger guys.
Don't read into who's wearing blue/white jerseys in practices, says Beisner. That's smart advice because these guys switch jersey colors multiple times throughout a practice.
P.J. stayed nearly two hours after practice on Tuesday night going through individual drills. "P.J.'s practice was only part of the work he put in last night." Beisner said he's embracing the process and the grind. "You need a leader to be the first one there and the last one to leave," he said.
Great stuff regarding P.J. Washington. On the Soundcloud link you can listen to Beisner's thoughts on Washington from the start to the 6:20 mark of the podcast.
Keldon Johnson
Beisner said he loves watching him practice. "He makes everyone better because if you don't play better you're going to get run into the ground." He said that Johnson is having to guard every player on the team and putting him in uncomfortable situations and he's thriving.
Beisner notes that Calipari said last week on KSR that Johnson was UK's most consistent shooter. "I like my job so I won't disagree." It sounds like there may have been a little Cal fluff on Johnson's shooting, but Beisner said he's been impressed with his outside shot.
The interview starts at 8:48 in the podcast.
Keldon Johnson said practices get a little chippy because everyone wants to compete.
Keldon Johnson's brother is a senior at Georgetown and he grew up with the mindset that he needed to be better than him. Johnson said he is better than his brother although his brother would disagree. Kaleb Johnson averaged 7.9 points, 4.2 rebounds and two assists per game during his junior season for the Hoyas.
Johnson said every player is different on the team, so each player has to expand their game to be able to keep up with their teammates.
"I'm a dog. I do whatever it takes to win. I'm the ultimate competitor. I score the basketball very well. I lock up on defense. My shot has improved a lot and I'm starting to knockdown more shots," Keldon said when describing his game.
Keldon said interacting with the Big Blue Nation is a once in a lifetime experience. He said he maybe signed 2k-3k autographs during the summer.
Keldon said one of his first basketball memories was watching Jodie Meeks scoring 54 points against Tennessee. After that Keldon wanted to play with UK on video games and shoot threes with Jodie Meeks.
The interview ends at the 16:30 mark.
Other tidbits
The teams in the Bahamas are better than the ones they played four years ago. Beisner was told by Calipari that UK may lose some games, maybe all the games, but no one should hit the panic button.
Beisner said the last game in the Bahamas will feature UK squaring off against former Cat Kyle Wiltjer. I did not know that and that will be incredibly cool.
Beisner said no one is really separating themselves, but he said Calipari is adamant there will not be any platoons, but Beisner said you just never know with Calipari, but the plan will be to not platoon.
Beisner said UK is NOT switching from Nike to Jordan Brand. The practice jerseys were a one time deal and they were immediately available. Those are temporary practice jerseys and it was a "technical" issue.
You should listen to the entire interview. Beisner is informative and has been killing it on the CoachCal.com beat.

The one and only Big Mick is a meaty masterpiece in its own right. Composed of two quarter-pound patties* of never-fresh, frozen, mostly beef raised close to the processing plant. Only McDowell's has the frosted beef and processed cheese to give you a major reason for the afternoon trip to the secret bathroom only you and Debra know about on the 9th floor that is under construction.

---
You can be a part of McDowell's KSR Top 10 Tweets by using hashtags like #KSR #BBN or #KSRtop10. You can also nominate tweets by mentioning them with the hashtag. If we like what we see, it could be posted the next day.
If you are interested in sponsoring KSR's Top 10 Tweets, please contact us at Via Email.
#10 MizRoc
?@KySportsRadio? ?#KSR visor went to Lithuania with us. Local Klaipeda legend says wishes will come true if you whisper in Magic Mouse's ear. Our guide there even knew about #BBN and BBall Welcome Song! #StriveForNine https://t.co/AReZTUQvZP pic.twitter.com/CcNOcohrXo

— MizRoc (@EngajMinds) July 18, 2018

Let's hope it worked!
#9 Eric J Redmond
@KySportsRadio listening to the podcast on the beach and someone walking by yells I f'ing hate Matt Jones #KSR

— Eric J Redmon #BBN (@eredmon19) July 18, 2018

He seems nice.
#8 Trent Walker
My son didn't have a wagon for the beach so I built him one #KSRtop10 pic.twitter.com/mW1dExPi3i

— Trent Walker (@muddwalker) July 18, 2018

I'm going to the beach Saturday, can you make me one?
#7 Dave Bloom
@DrewFranklinKSR @KySportsRadio How many bags of Hostess donuts does @ryanlemond currently have? pic.twitter.com/fjU1BMxwtU

— Dave Bloomer (@Bloomcat99) July 18, 2018

Probably 100.
#6 Wendy Anderson
I cannot wait to see this…of course I always watch E 60

— Wendy Anderson (@wlaut10s) July 18, 2018

Same!
#5 Elliot
I'm stopping at @KSBarAndGrille every time I come to Lexington this fall. Haven't been this excited about a new restaurant in I don't know how long and I'm currently working on building a new one in Louisville myself

— Elliott (@elliottb21) July 18, 2018

Love this spirit!
#4 Wes Ledford
@DrewFranklinKSR Worst job… @KySportsRadio Uber driver. "My man. My man" @ryanlemond @ShannonTheDude

— Wes Ledford (@wesledford) July 18, 2018

So true!
#3 R. Routt
@kysportsradio Matt i know you have the highest bid on the ABC's The Bachelor Experience.

— R. Routt (@Dublar) July 18, 2018

What does this even mean?
#2 Marvis
@ryanlemond I have always enjoyed your contribution to #KSR and your fun personality. But this video, has taken my respect to a whole new level! @mandylemond That's a real man there! Don't change, @ryanlemond! https://t.co/uKQCaEZAGN

— Marvis (@UKsportsBigMarv) July 17, 2018

Ryan is a gem!
#1 Patrick Spalding
Someone likes their cats by 90 onesie. #KSR #BBN #KSRtop10 #CatsBy90 pic.twitter.com/lwkgpZ2xSv

— Patrick Spalding (@Cleatus2121) July 18, 2018

The cutest!
At one point, Damien Harris was the biggest Kentucky football recruit in decades. As the top running back prospect in the nation, the five-star out of Richmond, KY held offers from just about every school in the nation, but his decision came down to the Cats and the Crimson Tide.
In the end, the opportunity for championships won out and Harris committed to Alabama.
Just a year later, a no-name three-star running back named Benny Snell became a Wildcat, expected to be nothing more than a role player for his first few seasons. Solid recruit, but most felt he was a project.
Three seasons later in 2018, Harris and Snell are seen as the top-two running backs in the SEC. Not too shabby of a consolation prize for the Cats.
If you ask Snell, though, there's no debate. The Kentucky star is the best in the conference.
Benny Snell, are you the best running back in the SEC? pic.twitter.com/jeQesAumBz

— Nick Roush (@RoushKSR) July 16, 2018
Kentucky offensive coordinator Eddie Gran loves the confidence, and even more so because Snell backs it up both in practice and in games.
What did @CoachGran think of @benny_snell proclaiming at SEC Media Days that he was best running back in the SEC?@UKFootball @LEX18News @BobAllenMotrMal @saltrivereng @MeltonsDeli2 pic.twitter.com/J9H5stWHLi

— Vaughts' Views (@vaughtsviews) July 19, 2018
When asked about Snell's comments today, Harris took the professional approach.
"Who doesn't think they're the best? Don't we all think we're the best at our position?"
A different reporter asked a similar question later in the day, and the Alabama senior wasn't as kind the second time around. According to Jen Smith of the Herald-Leader, Harris had the 'no-comment, next question' approach.
Did Harris have any opinion on that? "No," he said simply, looking around the table for the next question.
If he wasn't an enemy of the Big Blue Nation yet, his next comments will certainly do the trick.
Harris, who has rushed for 2,194 yards and 14 touchdowns over his three-year career, said he's a Duke fan.
"I haven't (yet) but I would love to meet Jay Bilas. I'm a Duke basketball fan. I'm not sure how or why. It just happened."
Alabama football and Duke basketball? Shocker.
Wonder if he's a fan of the Patriots, Lakers, and Yankees, too.
#BennySnellForHeisman
Did you know Matt Jones was a putting legend?
After today's performance, you certainly do.
At the 2018 Barbasol Championship Pro-Am this afternoon, our fearless leader sank a 25-foot birdie putt on the 12th hole, arguably the toughest hole of the course.
If you ask Matt, it was the greatest sports accomplishment of his life.
This may be the highlight of my lifetime sports career https://t.co/Trvk9rAqgE

— Matt Jones (@KySportsRadio) July 18, 2018
The best part of it all was Drew Franklin's "I didn't know you could putt?" response.
Matt was with Tubby Smith, John Michael Montgomery, and Rick Dees, along with pros Zac Blair and Stephen Jaeger: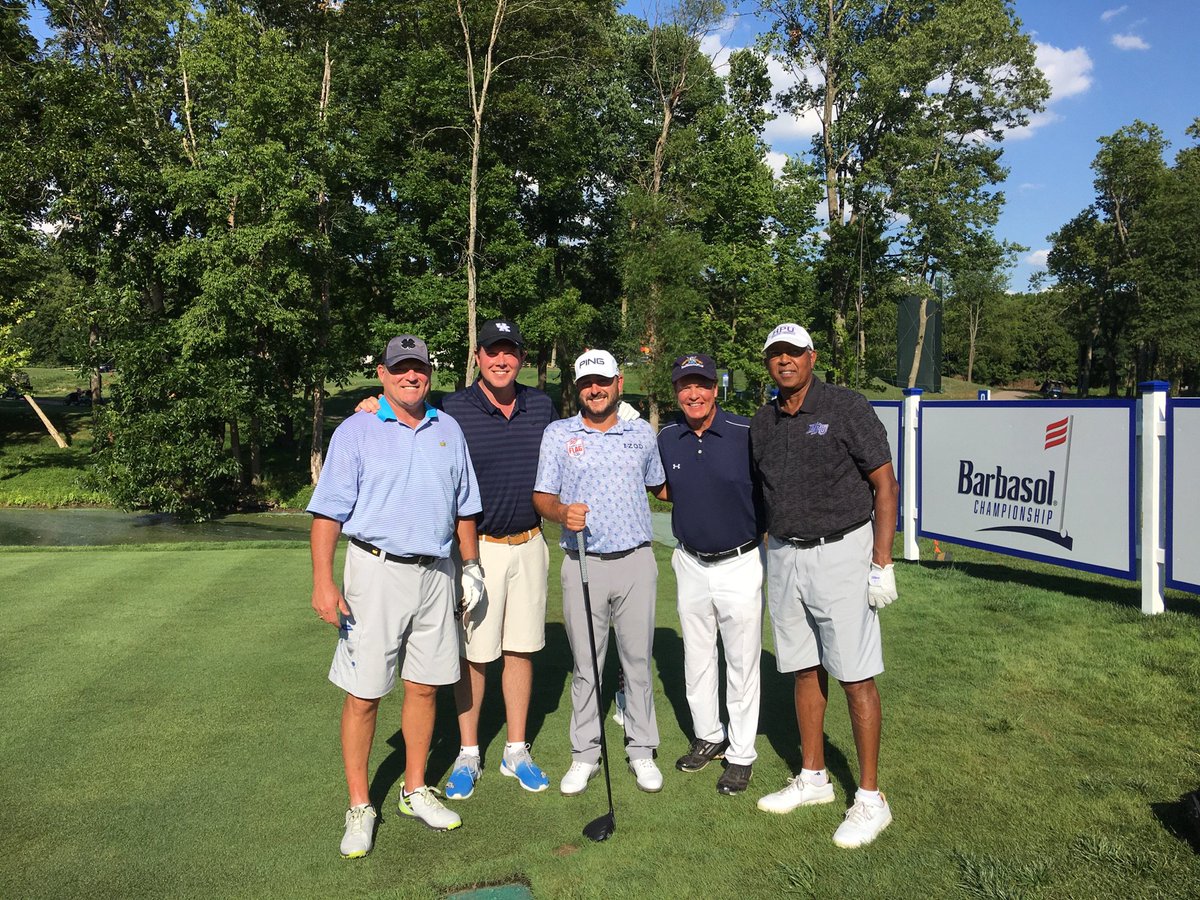 Congratulations to Matt and the gang on finishing first at the Barbasol Championship Pro-Am!
If you're not aware of this yet, the Kentucky coaching staff and those around the program are excited about the basketball team. Extremely excited.
We're already getting inside information from our friend TJ Beisner at CoachCal.com, who has been releasing practice recaps, player interviews, and podcasts each week.
Now, the official Kentucky men's basketball account is unleashing more practice content on both Twitter and Instagram almost daily.
First up, a Reid Travis slam in transition, assisted by Tyler Herro:
Okay, okay. One more practice clip because we know you're dying to get any sneak peeks you can. #All40 #DreamBig pic.twitter.com/Kx3ZSnGLcV

— Kentucky Basketball (@KentuckyMBB) July 18, 2018
Next, Immanuel Quickley swatted Quade Green's shot back in his face:
How about another look into yesterday's practice to help you get through Wednesday? pic.twitter.com/MmRttPm4EL

— Kentucky Basketball (@KentuckyMBB) July 18, 2018
On Instagram, we're getting similar videos to the ones shown above, but also more raw footage on their story:
Very, very impressive.
We're just a few weeks away from the Bahamas trip, BBN. Hang on just a bit longer, and then we'll have all the highlight videos we could ever need… To hold us over until Big Blue Madness, at least.
When free agency opened on July 1, former Kentucky center DeMarcus Cousins was in a tough situation. Following a season-ending Achilles injury suffered back in January, the four-time All-Star's stock was low, and interest wasn't all that high around the league. There were even reports that his team, the New Orleans Pelicans, didn't even offer a contract.
So after two days of stress and lack of interest, Cousins shocked the world by joining the Golden State Warriors.
Showtime is currently working on a documentary series on Boogie's rehab called "The Resurgence," where we get an inside look at the recovery process and training for the upcoming season.
In the latest release, Cousins was interviewed about his free agency decision and how he ended up on arguably the greatest NBA team of all time.
"I've been up for two days straight, honestly," Cousins said. "I've been up for two days straight. We reached out to teams. The Pelicans, there was no offer. I understand, it was a big year and you don't want to ruin it taking a chance on a damaged player. Cool."
And the lack of interest wasn't just from the Pelicans. Almost no one around the league, despite averaging 25 points and 13 rebounds last season, wanted him.
"We reached out to some other teams. We got answers like "We don't believe it's a good fit" or "We gotta see what we're doing with our roster." Just kinda, like, bulls**t answers. And then there were some that flat out said "We can't take that risk."'
And then he reached out to Golden State and their players, where he was welcomed with open arms.
"I talked to Draymond, talked to KD, and talked to Steph. They were like "Hell yeah, let's do it." You know, this was my ace of spade. This was my nuclear bomb, my last resort."
Cousins said he understands he could've gotten a fine contract on a losing team, but that's not his goal. After years of losing in Sacramento, he wanted to win.
"Yeah, I probably could've gotten a decent contract with a bad team. But how does that help me? I'm already fighting a (potentially) career-ending injury. I'm not going to put myself in an already-bad situation… A situation that's not looking to win," he said.
And if you don't like his decision? He doesn't care. At all.
"I knew how I would be perceived from some. I don't give a f**k… There's some motherf***ers out there that are probably ripping their hair out right now. And I love it."
Check out the full interview below:
.@boogiecousins is a fighter amongst @warriors with the tunnel vision to win.

This is #TheResurgence. pic.twitter.com/WZ2ZXfrn9t

— SHOWTIME SPORTS (@SHOsports) July 18, 2018
#TheResurgence
For the first time in a decade, Dan Mullen did not represent Mississippi State at SEC Media Days.  In his place is former Fordham head coach and Penn State offensive coordinator Joe Moorhead, but who exactly is this guy?  He's about what you'd expect from a Miss. State head coach, but not really.
Speaking at the podium, Moorhead was physically imposing, but his personality did not command attention like a typical college football head coach.  He was easy-going.  He didn't bring a ton of corny coach-speak, but he did profess his love for Hoosiers. A guy who played quarterback in Munich, Germany, he is not an easy person to figure out, much like his team this fall.
Moorhead created an explosive offense under James Franklin at Penn State, but the last SEC West hire from the Big Ten didn't work out so well.  With a ton of returning talent, expectations are high in Starkville, but it's difficult to tell if Moorhead can deliver.
The Best Thing Joe Moorhead Said — He does have a little sense of humor.
"I would like to thank the SEC communications department. When I saw the list earlier in the spring and saw I was speaking on the same day as Coach Saban, I was a little worried I was going to have to go after him. It would be like taking the stage and performing after the Beatles and no one is going to be in their seats and paying attention to what you're doing."
The Best Thing Joe Moorhead Said (Out of Context) — "Everything being wrapped in bacon, that's pretty good."
Coach Speak 101 — "Attitude reflects leadership."
Miss. State's Scariest Players — One of the most highly touted recruits Dan Mullen convinced to come to Starkville, Jeffrey Simmons is the SEC's most explosive nose guard.  Last year he had 12 tackles for loss, while his partner in crime, Montez Sweat, had a league-high 15.5 tackles for loss.  Sweat also led the league in sacks with 10.5.  The dynamic duo is the centerpiece of the best defensive line in the SEC.
Watch Out, Tebow — It took about two games for Nick Fitzgerald to draw comparisons to Tim Tebow.  Both are large humans who run well for their size, and each reaped a ton of success in Dan Mullen's spread offense.  The padawan is on the verge of becoming the master.
Tebow holds the SEC record for career rushing yards by a quarterback with 2,947.  Fitzgerald only needs 461 to break that record, something he can accomplish in less than half a season.  Fitzgerald must do it within a new offensive scheme, but the changes should affect his passing numbers more than what he can produce on the ground.
Good News for UK — Mullen is gone.  To become winners in the SEC, Kentucky traditionally has to dominate Vanderbilt and their annual western divisional opponent, Miss. State.  That did not happen against Dan Mullen.  Who knows how Moorhead will function in Starkville, but it's hard to imagine he'll be able to surpass Mullen's success.
Bad News for UK — Miss. State is still a powerful team in the trenches with a quarterback that is incredibly tough to tackle.  Last year in Starkville they beat the brakes off the Cats in a dominant 45-7 win.  Lucky for Kentucky, the din of cowbells won't be the soundtrack to this year's game in Lexington.
Fear Factor — 7.9713436
Even though it's a home game, it's still a game against a team many predict to be Alabama's greatest challenger in the SEC West.  They return two All-SEC defensive linemen, a record-breaking dual-threat quarterback and a powerful back that rushed for 1,107 yards in 2017.  Benny Snell is the only returning SEC running back who rushed for more yards last year.  Dan Mullen may be gone, but Miss. State ain't no joke.
Ridiculous, Incomplete SEC Media Days Recaps: Texas A&M, Florida, Georgia
The KSR Summer Tour took a brief hiatus today for Matt to participate in the the Barbasol Championship Pro-Am, but picks right back up tomorrow at Shiloh Steakhouse in London.
Here's the complete schedule so you can make a date with the KSR crew:
7/19 – London – Shiloh Steakhouse – 218 Russell Dyche Memorial Hwy
7/20 – Lexington – Barbasol Championship
7/23 – Edmonton – Metcalfe County High School – 709 West Stockton Street
7/24 – Benton – CFSB Bank – 221 West Fifth Street
7/25 – Paducah – Academy Sports and Outdoors – 150 McBride Lane
7/26 – Madisonville – Watermark Toyota – 1055 Crossing Place
7/27 – Louisville – Salsarita's in St. Matthews – 285 N. Hubbard Lane
7/31 – Lexington – Kentucky Bank Tennis Championship – Hillary Boone Tennis Complex
8/1 – Jackson – Kelsey's on Main – 1124 Main Street
8/2 – Somerset – Woodson Bend Golf Resort – 900 Colyer Road Bronson, KY
8/3 – Fort Wright – Dickmann's – 479 Orphanage Road
8/15 – Campbellsville – Gatti's Pizza – 1301 E. Broadway Street
8/16 – Lexington – Everybody Fights – 124 Malabu Drive
8/17 – Louisville – KY State Fair
GuyOnTheCornerTickets.com will be giving away tickets at each show, and don't forget, if you come to four KSR tour stops, you'll be entered into the drawing for the Bahamas trip (August 6-13). Sounds like a great excuse to miss work if you ask me.