The famous Barnstable Brown Derby Eve Gala takes place tonight in Louisville, meaning a bevy of sports stars and C and D-List celebrities will sing along to Boyz II Men and wonder what Joey Fatone's doing these days.
Here's the guest list, which curiously only includes one former Kentucky player. Randall Cobb is once again bringing his Green Bay Packers buddies to enjoy the Derby festivities alongside…
Kid Rock
Aaron Rodgers
Ty Burrell
Brooks & Dunn
Bobby Brown
Taylor Kitsch (Friday Night Lights, X-Men Origins: Wolverine)
Johnny Knoxville
Von Miller (Denver Broncos, Super Bowl MVP, Dancing with the Stars)
Blair Underwood (Quantico, L.A. Law)
Nikki Sixx (Mötley Crüe)
Richie Sambora of Bon Jovi
Salt-N-Pepa with DJ Spinderella
Boyz II Men
Darryl "DMC" McDaniels (Run-DMC)
Jennifer Holliday
Tony Romo (Dallas Cowboys, CBS NFL Football)
Lee Brice (Country music artist)
Travis Tritt (Country music artist)
Terri Clark (Country music artist)
Eddie Montgomery of Montgomery Gentry
Orianthi (musician)
Aisha Tyler (TV personality, comedian, actress)
Stephen Amell (Arrow)
Emily Bett Rickards (Arrow)
Bode Miller
Charlotte McKinney (Model and actress)
Naomi Judd
Joey Fatone
Guy Fieri
Jordan Smith (Singer, The Voice)
Tara Lipinski
Johnny Weir
Mary Wilson (The Supremes)
Jimmy Graham (Green Bay Packers, All-Pro) NFL player currently with the Green Bay Packers
Randall Cobb (Green Bay Packers)
Clay Matthews (Green Bay Packers)
David Bakhtiari (Green Bay Packers)
Corey Linsley (Green Bay Packers)
A. J. Hawk (Green Bay Packers, Cincinnati Bengals)
Dannielynn and Larry Birkhead
Jesse Watters (Fox News)
Teddi Jo Mellencamp (The Real Housewives of Beverly Hills)
I have a feeling more former Cats will pop up at parties across the city, but if not, I'll settle for more pics of Goldeneyes looking dapper.
[Wave 3]
As you prepare to head to Churchill Downs for the Derby and Oaks, you need to know what is prohibited or else you'll be dropping stuff off at the gates.  Don't try to bring the following inside the track (unless you're really, really sneaky).
Purses larger than 12″
Coolers, Thermoses and Cans
Alcoholic beverages
Pop up tents and grills
Tripods and selfie sticks
Backpacks or Duffel bags
Umbrellas
You can bring in quite a few items that will make your time at the track more inexpensive.
Food in clear 18X18 plastic bags
Water bottles and soft drinks in sealed containers
Baby and diaper bags (if you have a baby with you)
Strollers (with a child) but no wagons
Chairs (Infield Gate only)
Blankets and tarps
Binoculars and small cameras
To see the complete list of prohibited items, click here.
Oaks and Derby day provide some of the greatest wagering opportunities the thoroughbred game has to offer.  Hopefully the weather will not be a factor.  Best of luck to everyone heading to Churchill or watching from home.
Race 6 – Grade 1 La Troienne
Abel Tasman won the Kentucky Oaks last year en route to being named champion 3yo filly.  She is a 4 time grade 1 winner competing against 7 others without a single grade 1 win to their names.  The daughter of Quality Road has 5 straight bullets on her work tab, and her versatility will allow her to negotiate a satisfactory trip regardless of the pace scenario.  All that said, she may well be the shortest price on the card.  She is 1 for 4 at the mile and a sixteenth distance, and this is her first race since the Breeders' Cup in November.  Martini Glass is 4 for 8 at the 8.5 furlong distance and has won two straight graded races this term.  Her stalking style should be well suited to what projects to be a contested pace between Farrell and Apologynotaccepted.  Salty stretches back out after an incredible late rally to just miss in the Grade 1 Madison at Keeneland.  She appears to have improved from 3 to 4 and should be sitting on her best effort in her 3rd start back from an extended layoff.  Ivy Bell is very intriguing stretching out in her 2nd start for the Pletcher barn.
Race 7 – Grade 3 Twin Spires Turf Sprint
As is often the case in grass sprints, this race is loaded with early lick.  Bucchero has the perfect stalking style and enters off a solid effort in the Grade 2 Shakertown at Keeneland.  Will Call had a rough trip in that same race and did not take well to the soft ground.  Expect him to rebound with a strong performance over firm ground here.  Frisky Magician improved in his 2nd start for Jorge Abreu and could be competitive despite a big jump in class.  Vision Perfect defeated Bucchero by more than 5 lengths in the Silks Run at Gulfstream Park.  If he can run back to that effort, this field will be at his mercy.  Delectation cuts back to sprinting in her first start for Wesley Ward.  She is a grade 3 winner sprinting in Great Britain, but 5 furlongs may be a touch short in her first start since last October.
Race 8 – Grade 2 Alysheba
Good Samaritan takes to the post following an impressive off-the-pace victory in the New Orleans Handicap.  His late running style will be to his detriment in a race severely lacking early speed.  Always Dreaming returns to the site of his last victory, the 2017 Kentucky Derby.  He has not won in 4 subsequent trips to the starting gate.  He could certainly win as this is not an overwhelmingly talented field, but there is no doubt he will offer no value whatsoever at the windows.  Backyard Heaven is making a big jump up in class, but he has progressed nicely in each of his 3 starts and should sit a perfect trip either at the head of affairs controlling a slow pace or sitting just off Always Dreaming.  He will offer significantly more value than last year's Derby victor and has significantly more upside.
Race 9 – a one other than allowance for 3yo fillies
Very odd placement of a first level allowance event in the midst of six graded stakes races, but nevertheless it's part of the Oaks Day pick 6, pick 4, and pick 3 sequences all ending with the feature event, so we'll have a look at it.  Electric Forest was noted as a likely winner in her debut at Keeneland and took care of an 11 horse field despite breaking last, and widest of all.  She is a regally bred filly out of a brilliantly fast mare and while facing winners for the first time is a big step up, the Chad Brown trainee looks like she is one that can handle a swift rise through the ranks.  Joe Sharp sends out two capable runners in this spot in Maho Bay and Devine Mischief.  Maho Bay gets the top nod for that duo as her rider, who has won at a 28% clip for Sharp the last 2 years, chose her over the stablemate.  Sworn Silence is one of only two in here to find the winners' enclosure twice and could be a major threat with another improved effort.  Upset Brewing leads the field in experience and has several runner-up finishes in stakes to her credit.  She enters this off a non-threatening sixth place finish in the grade 3 Beaumont at Keeneland and will appreciate the class relief.
Race 10 – Grade 3 Edgewood
Nearly every pick 6 player's budget requires a single somewhere in the sequence, and Rushing Fall feels like the best candidate to fill that role on this card.  Undefeated in 4 trips to the post, her speed figures and margins of victory will not blow anyone away, but that is typical of many elite turf runners.  The relative ease with which she dismantles her opposition is impressive to behold.  It's anyone's race if the favorite fires less than her best, but Altea, Figarella's Queen, Daddy Is A Legend, Toinette, and Kabella figure as the more likely upset possibilities.
Race 11 – Grade 1 Kentucky Oaks
The 2018 edition of the Kentucky Oaks feels very similar to 2002 when Take Charge Lady (now a champion broodmare) squared off against You in a race billed as the Beast of the East versus the Best in the West.  Take Charge Lady had captured the most prestigious preps east of the Mississippi and entered the starting gate as a slight favorite over You, who had swept the prep series in California for the late, great Bobby Frankel.  Take Charge Lady finished a valiant second, ahead of You who ran fourth, as Farda Amiga announced herself as the new leader of the division and eventual champion, scoring a surprising victory at 20/1.  This year Monomoy Girl boasts dominant victories in the grade 2 Rachel Alexandra at Fairgrounds and the grade 1 Ashland at Keeneland.  She is the morning line favorite.  Second choice is Midnight Bisou, who swept the southern California preps with similar ease as You in 2002.  The winner should come from those two.  Monomoy Girl drew widest of all in post 14, but she has the tactical speed necessary to secure good position on the run to the first turn to save ground.  After 2 nose losses to the now sidelined Dream Tree to begin her career, Midnight Bisou broke her maiden in the 7 furlong grade 2 Santa Ynez and has not lost since.  Her preferred closing style appears well suited in a contest with an expected tepid pace.  Classy Act and Rayya will likely challenge for the early lead with Take Charge Paula and Monomoy Girl in close pursuit.  Monomoy Girl should assume command by the top of the stretch, if not sooner, and will need to fight hard to the wire to hold off the late charge of Midnight Bisou.  That's the way it's supposed to play out on paper, but there are several others hoping to play the role of Farda Amiga from 2002.  Sassy Sienna, Coach Rocks, Chocolate Martini, and My Miss Lilly all won meaningful preps for this and any of them can manufacture an upset on their very best day.  However, at 20/1 on the morning line, Wonder Gadot rates as the top chance to emerge victorious should the top two falter.  She has closed ground late in her last 2 starts and has a grade 2 win at the 9 furlong distance on her resume.  If Monomoy Girl and Midnight Bisou both fail to fire, the Canadian-bred daughter of Medaglia D'Oro can light up the tote.
You can follow me on Twitter @chadlashbrook for more thoughts on the big weekend of racing.  Derby day stakes analysis will be out early tomorrow morning.
While people are handicapping each race in the program, you can still make money over the next two days without investing the time.  There are a few fun names and historical tidbits that could make you some money.  If not, they're still fun wagers to place.
The Alcoholics' Exacta
The Kentucky Oaks is tipping its cap to cocktails.  For only six bucks, you can box Patrona Margarita, Chocolate Martini and My Miss Lilly.  All have double-digit odds, so if it hits you'll be rolling in cash.
Winning Colors
Thirty years ago Winning Colors won the Kentucky Derby.  The last filly to win the Kentucky Derby, her granddaughter (to use non-horse racing terms) will run in the Kentucky Oaks.  Eskimo Kisses has 15-to-1 morning line odds with history on her side.
An Ode to Trump
If you're a fan of the President of the United State, you should probably place a wager on Makeamericagreat.  The No. 7 horse in the fourth race of Derby Day will start the day with 15-to-1 odds.  If you don't want to wait, the No. 8 horse in race two is 20-to-1 American Greatness.
To combat the right-wing, Limousine Liberal is a 4-to-1 favorite in the eighth race on Derby day.
A Sloppy Oaks
Rain is in the forecast for Kentucky Oaks day.  It's expected to his early in the day around 11:00 a.m., with scattered showers throughout the afternoon until another wave rolls through in the evening.
The post time of the second race is at 11:00 a.m. and in the one-hole is Bless the Rains.  It's never ran in the rain, but with a name like that, it's gotta be a winer, right?
Derby Day Shenanigans
Were you a master of mischief?  Can your kids be a menace?  Maybe you should place an exacta bet on Ding Dong Ditch (7-2) and Menacing (20-1) in the fourth race on Derby Day.
Last night I was driving down Nicholasville Road and this Kentucky-themed mural caught my eye. I pulled over to catch a closer look and found that it's on the side of Floyd's 99 Barbershop, a new spot opening soon, in the new 'The Venue' shopping development.
As you can see, the mural includes Loretta Lynn, Tim Couch, horse racing, Chris Stapleton, Anthony Davis, George Clooney and the Kentucky Theater — and it's not done yet. The wall, which is being done by an artist out of Los Angeles, still has room to add more Kentucky things like bourbon, fried chicken, Johnny Depp, Jim Varney, Henry Earl, Tolly Ho cheddar tots or New Circle Road traffic.
I'll report back with a photo of the mural once it's completed. Until then, what or who would you like to see fill in the blank space?
(Also, Floyd's 99 looks really cool. I wonder if they need any additional advertising. This one's on the house.)
Former Prestonsburg mayor Jerry Fannin, a friend of the KSR program, is in a little bit of trouble.
When Fannin was mayor of the Floyd County seat back in 2013, he spent taxpayer money on a semi-professional football team called the Kentucky Drillers. Fannin owned an interest in the team; he also played on the team, which isn't a surprise. (My guess is linebacker. A mean one.)
The most jacked up mayor in America RT @LaurenWYMT: Prestonsburg's Mayor Jerry Fannin to go on KSR w/@KySportsRadio pic.twitter.com/Qd1F1nBmr8

— Matt Jones (@KySportsRadio) June 23, 2014
According to Kentucky.com, Fannin conned the city out of $7,800 to put toward the Drillers:
Fannin got city employees and agencies to spend money for donations or advertising for the benefit of the team, according to his plea agreement.

He also used a city-owned bus to take the team to away games and directed the city to spend money at Jenny Wiley State Resort Park that he said was to finance repairs, but was actually for rooms for team members, the plea document said.

The money diverted to benefit the team totaled $7,800, the indictment said.
Fannin was charged in February, and entered a plea on one count of theft last week.
The Drillers competed in the Continental Indoor Football League (CIFL) and the Ultimate Indoor Football League (UIFL), but only lasted three seasons from 2011-13.
Leaving the charges aside, I still say Fannin can kick any other mayor's ass.
Every year on the first Saturday of May, Hollywood descends upon the city of Louisville for the Kentucky Derby.  The limelight creates unusual interactions between Kentuckians and the people who fill tabloids and TV screens across the country.
If you're a Derby regular, you probably have a celebrity story.  Maybe you were lucky enough to run into the New England Patriots' Wes Welker in 2014.  He was having a great time (thanks to some PEDs) and wanted others to join him, so he threw out $100 bills.
I don't know anybody who ran into Welker that day, but I did ask for people to share their Derby celebrity stories on Twitter and I got quite a few good ones.
Gabe Duverge ran into some people that I have never heard of, and took advantage of the opportunity.  "I asked Tom and Ariana of Vanderpump Rules if they would take a picture OF me alone. Not with them. They said no."
Some interactions are much more casual. Adam Troutman said, "Drinking a beer with Joey Fatone made for a solid derby a few years back."  @Figment82 said, "Exchanging pleasantries with Uncle Phil from Fresh Prince Of Bel Air." Troy Stout said, "Talked betting results with Warren Moon standing at urinals in Millionaire's Row men's room."
There are many that are much more ridiculous.
@Tony_It_Me: "Danced up on Janet Jackson, until J Dupri had their bodyguards kindly escort me away. Also, same night, harassed the guy that played Shooter McGavin until he called us assholes."
@runjkm: "Sang a duet with the Naked Cowboy in the infield in 2001."
@ IllRaiser: "Kris Humphries was in the tin roof bathroom with a bodyguard. I told him I went to high school with Rondo. He said "if Rondo were here he'd tell you to f*** off…but I'm working on him." Smiled and shook my hand before washing it."
There are a few Derby regulars that have provided fans with moments they'll never forget.  Dr. J can often been seen strolling through the paddock, Bo Derek tickles the fancy of the older crowd and Kid Rock does Kid Rock things.  A few family members and I shared our stories, involving the latter two and Hugh Hefner, in Tuesday's edition of Kentucky Roll Call.
These stories are great, but I know there are better ones out there. What's YOUR Kentucky Derby Celebrity Story?
Read more in the Derby 101 Series: Cocktails, New Gates and Traffic Patterns, William Faulkner's Timeless Kentucky Derby Account, The Apollo Curse
There's a curse on the Kentucky Derby that's lasted almost as long as the race.  This year it could finally be broken.
In 1882 Apollo won the eighth running of the Kentucky Derby by a half-length.  The win was the first and only horse to ever win the Derby without a start as a two-year old.  It has been 136 years since an unraced two-year old won the Kentucky Derby.  Since 1937, 61 unraced juveniles have entered the Derby and only have five finished in the money.
A few have almost broken Apollo's curse in recent years.  Curlin finished third to Street Sense in 2007 before eventually defeating him in the Preakness.  Summer Bird had a sixth-place Derby finish in 2009, but beat the Derby winner Mine that Bird in the Belmont.  Two in this year's field are poised to end The Apollo Curse.
Justify did not race as a two-year old, but will enter the starting gate as the 3-to-1 morning line favorite.  The big, beautiful beast has won all three of his races with ease.  Unchallenged in the Santa Anita Derby, Bolt d'Oro only got within a length of Justify for a few seconds down the stretch.
Todd Pletcher's Magnum Moon has won all four of his races as a three-year old, including the Rebel Stakes and Arkansas Derby, but did not run as a two-year old.  The horse opens with 6-to-1 odds, the third-highest in the field.  If he didn't take a weird, wide turn at Oaklawn, he might have challenged Justify to be Saturday's favorite.
If there was ever a year for Apollo's 136-year curse to be broken, it's this year.
Read more in the Derby 101 Series: Cocktails, New Gates and Traffic Patterns, William Faulkner's Timeless Kentucky Derby Account
The post position draw for the 144th Kentucky Derby took place earlier today at Churchill Downs.  In a 20 horse field, the race can absolutely be lost at the draw.  Here is a quick run down of every horse in the main body of the field in post position order:
(1) – Firenze Fire – If he finished in the top half of the field, especially from here, it would be shocking.
(2) – Free Drop Billy – Top notch 2yo has not shown the necessary progression as a 3yo to compete with the elite of this division.
(3) – Promises Fulfilled – Dale Romans took the worst of it at the draw, with both contenders trapped in slots 2 and 3.  This one can be a fun "side bet" horse.  He will be in front, but for how long?
(4) – Flameaway – Will also be prominent from the outset.  Difficult to see him hanging around all the way to the end, but he loves a good fight and can definitely figure into the exotics.
(5) – Audible – Given the favorable post draw and trainer Todd Pletcher's preferred 5 weeks between starts, the Holy Bull and Florida Derby winning son of Into Mischief rates as the top contender for team TAP.
(6) – Good Magic – Juvenile champion's two wins came against a 12 horse field in the Breeders' Cup Juvenile and a 14 horse field in the Bluegrass Stakes.  He is training like he'll run the race of his life.  Look out.
(7) – Justify – Most talent, least experience.
(8) – Lone Sailor – Late runner can pick up the pieces down the lane and potentially jump into the exotics.  Will no doubt be favored amongst several ex-UK Wildcats currently attempting a major upset of their own.
(9) – Hofburg – Has the necessary stamina in spades.  Bill Mott would not be running this horse if he didn't feel he had a legitimate shot of sharing the spoils.
(10) – My Boy Jack – The Lexington Stakes winner will be passing horses late.
(11) – Bolt D'Oro – Dual Grade 1 winning 2yo has yet to cross the wire first at 3.  Should be ready to fire his best shot 3rd time back since the Breeders' Cup Juvenile and may be the forgotten horse in the wagering.
(12) – Enticed – Winner of the Grade 2 Jockey Club at Churchill last fall needs to improve to hit the board.
(13) – Bravazo – You can't spell Derby without D. – Wayne Lukas.
(14) – Mendelssohn – Breeders' Cup Juvenile Turf and UAE Derby winner represents the best chance legendary European trainer Aidan O'Brien has ever had to capture the roses.
(15) – Instilled Regard – Won't threaten your superfecta ticket.
(16) – Magnum Moon – Rebel and Arkansas Derby winner has a perfect record in 4 starts.  Trainer Todd Pletcher's record bringing horses back on just 3 weeks rest is . . . less than perfect.
(17) – Solomini – Son of Curlin is a grinder that has never finished worse than 3rd in 6 lifetime starts.  He can definitely find his way on the board at a big price again Saturday.
(18) – Vino Rosso – Closing winner of the Wood Memorial will drop near the rear of the field to save some ground from this post position.
(19) – Noble Indy – Louisiana Derby winner may not possess the speed and talent necessary to win from this far outside.
(20) – Combatant – This horse has had a multitude of excuses for why he can't seem to find the winners' circle.  Connections need to go no farther than the post draw for this one.
Prepare to place some bets.
The post positions have been drawn and the morning lines have been set for Kentucky Derby 144.  The favorite is starting from a solid spot.  Justify is in gate No. 7, sitting cozy outside a pair of fast pace-setters, Audible and Good Magic, with a pair of closing long shots, Lone Sailor and My Boy Jack, to his outside.
Justify isn't the only elite horse with a favorable draw.  None of the "good" horses in the field are doomed by a bad draw, and many are clumped together.  Mendelssohn and Magnum Moon, the second and third-highest odds in the field, are separated by one gate.  Santa Anita runner-up Bolt d'Oro and Florida Derby winner Audible round out the top five at 8-to-1.
Two horses that will bring plenty of value to the table at 12-to-1 are Good Magic and Vino Rosso.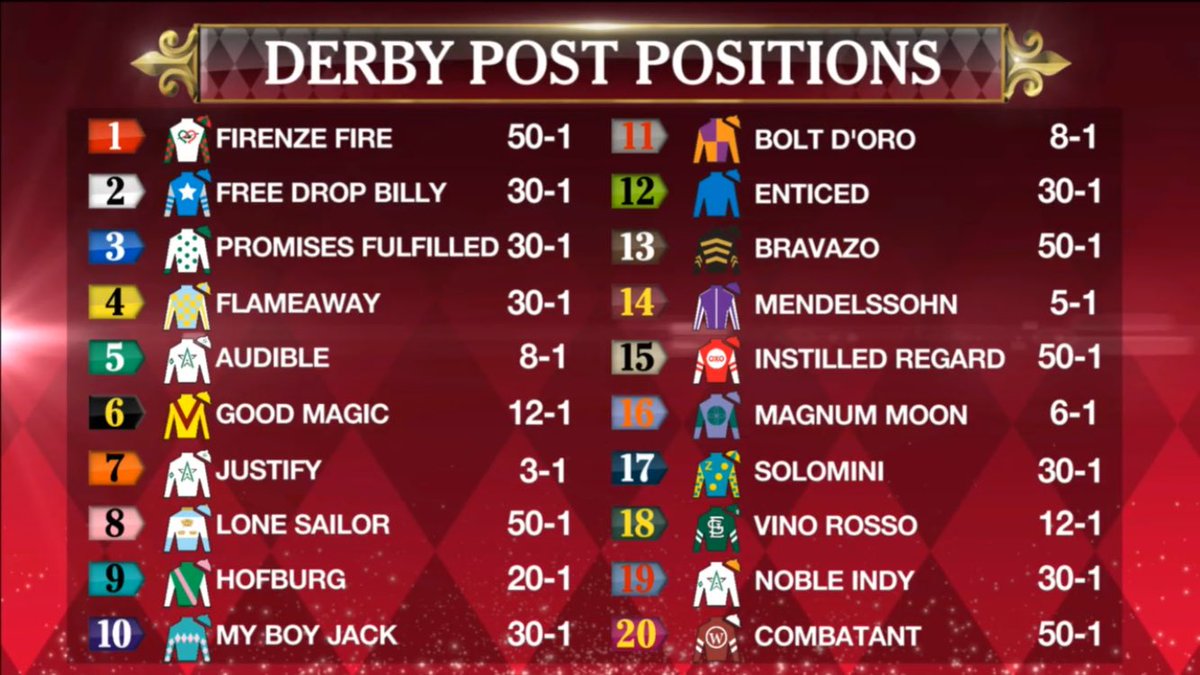 Two tips from a backside insider: bet early and bet often.