Whether you're headed to Churchill Downs today for the Kentucky Derby or just watching with friends, odds are you'll be offered a mint julep. I'm here to tell you it's okay to turn that drink down because mint juleps are actually gross.
120,000 mint juleps are expected to be consumed this weekend at Churchill Downs and probably thousands more across the nation. That many people choke down this watered down, disgusting sugar bomb for the sake of tradition when they could save themselves the trouble and just drink bourbon.
Mint julep, how do I loathe you? Let me count the ways.
It's a pain to make
Unless you have a crop of mint in your backyard (it is surprisingly easy to grow), you've gotta go to the store to get some. Then you get to "muddle" it with sugar water, crushing the leaves to release flavor, which people rarely do correctly. Unless the mint is really fresh, the muddling usually results in a bunch of bitter green crap floating around in your drink. From there, you add the bourbon, which you should just pour over ice on its own and enjoy.
It's always too sugary
Sugary drinks lead to headaches and since sugar is one of the four ingredients in this drink, there's no escaping it, especially since there's no citrus/acidity to balance it. A well-made mint julep goes easy on the sugar, but if you're relying on the store-made mixes, prepare yourself for a sugar high and hangover.
If you want a good bourbon drink that's sweet, just order an old fashioned.
It becomes a disgusting watered down mess
Nothing is worse than a watered down drink. The copious amount of ice in mint juleps turns them to mint-scented, bourbon water that you don't really want to drink, but you paid a lot for, so you suffer through it anyways.
No one really likes them
I'll never forget driving around Nashville to find the specific type of ice (Sonic ice is perfect) required to make mint juleps for my first Derby party. I'll also never forget how that ice was left to melt as my friends took one sip of the juleps and discreetly abandoned them. Mint juleps suck in large part because no one likes them, meaning the effort you put into serving them is wasted.
You know what people do like? Bourbonade. Here's my recipe, which has been a crowd favorite for years and could be coming soon to KSBar and Grille:
2 cups unsweetened ice tea
1/2 cup sugar or Splenda
1 12 oz. can of frozen lemonade
1 12 oz. can frozen limeade
1 750 ml bottle of bourbon
7 cups water
Makes one gallon. Nick Roush shared some more Derby cocktail ideas earlier this week:
In closing, if you like mint juleps, have at it, but if you don't, don't feel obligated to drink one just because it's Derby. There are plenty of better options out there.
From the wise words of Doron Lamb, "who up Churchill Downs?" The sports stars have arrived at the Kentucky Derby.
Kevin Knox talks playing at Kentucky and the NBA:
On the red carpet here at the #KentuckyDerby and talking with Kentucky's Kevin Knox about the #BBN, the #NBADraft and what he will miss about his time at UK. @KevKnox @RowlandRIVALS pic.twitter.com/bNXuAKmAd7

— Dirtfork (@dirtfork) May 5, 2018
Bam Adebayo talks about what it's like coming back to Kentucky:
Speaking to Miami Heat forward Bam Adebayo about the #BBN, #Kentucky basketball, the #KentuckyDerby and more. @Bam1of1 @DrewFranklinKSR @AceWeekly pic.twitter.com/lXzgpWwTkM

— Joshua Caudill (@JoshuaCaudill85) May 5, 2018
Terrence Jones tells the Herald-Leader where he is currently playing:
Former UK player Terrence Jones is at the #KyDerby pic.twitter.com/PIcMRdBjZZ

— Morgan Eads (@MorganEads1) May 5, 2018
Randall Cobb and some guy named Aaron:
Boston sports are well represented:
Von Miller looking for dapper:
This guy's amazing hair: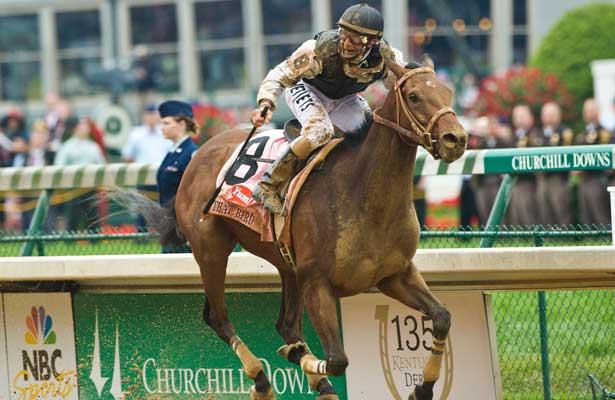 1933: The Fighting Finish
You know the picture, but do you know the story?  The 1933 Kentucky Derby ended in a brawl between Don Meade, aboard Brokers Tip, and Herb Fisher who rode Head Play.  Brokers Tip made a late dash to the front of the pack down the stretch.  As Meade approached Fisher, the two began using their whips on each other.
The race ended as a photo finish with the two jockeys still swinging on each other.  The problem is there was no photo finish in 1933.  Race stewards declared Brokers Tip the winner by a nose.
It was the only race Brokers Tip ever won.  The jockeys were suspended for rough riding, and Fisher received an additional five days for starting a fistfight with Meade in the jockeys' room, insistent that his horse won the race.
1957: Shoemaker's Folly
Legendary jockey Bill Shoemaker won four Kentucky Derby's during his lengthy, illustrious career.  If not for a late mistake in 1957, he'd have five.  Aboard Gallant Man, Shoemaker misjudged the finish line.  He pulled up just shy of the finish line, threw off his horse's rhythm and was caught by Iron Leige, losing by a nose.
Enjoy the Happy Chandler cameo. 
1996: Grindstone Denies Baffert
Searching for his first Kentucky Derby victory, Baffert's Cavonnier took the lead with a quarter-mile to go.  D. Wayne Lukas' Grindstone made a late charge on the outside from 15th place to make a photo finish with Unbridled's Song and Cavonnier.  After several minutes, Grindstone was declared the winner by a nose.
1997: Silver Charm by a Neck
To win his first Kentucky Derby, Bob Baffert's horse had to hang on down the long final stretch at Churchill Downs.  With Gary Stevens aboard Silver Charm, he made a nice subtle move to the outside hold off Captain Bodgit.  "HERE COMES THE CAPTAIN" is one of the great lines in Derby history.
The horse that made me love the sport, Silver Charm won the Preakness but was caught in the Belmont and beaten by a half-length.  The following year Baffert's Real Quiet won the first two legs, until Victory Gallop caught him with a photo finish in the Belmont.  The 1998 Triple Crown loss is still painfully exhilarating.
2009: "An Impossible Result"
Mine that Bird went form last to first in one of the most incredible upsets in the 144-year history of the Kentucky Derby.  The race filled with speed fell apart on the final turn and Calvin Borel earned his nickname "Bo-rail" by guiding his 50-to-1 long shot to a seven-length victory.
Justin Thomas won his first major in August and currently ranks as the No. 2 golfer in the world.
The Louisville native sits down to discuss his Kentucky roots, a visit to Woodford Reserve and what it's like to attend to the Kentucky Derby
"I'm very, very proud to be from where I'm from. And the overwhelming support I have from the entire state when I go to different tournaments.  I'll have people come up and say, you know, I am from Kentucky. I truly feel that I don't deserve as much as I get, but it's really, really humbling."
Who will you make your Kentucky Derby wager?  You can look at the horse race from a variety of angles.  Here are a few things you should consider…
Post Position
Some people bet on horses because they like the name or the silks.  It works more than a handicapper would like to admit (it worked well enough when I'll Have Another became my first Derby winner).  Many will also base their picks simply off numbers.  Your lucky number might be luckier than you'd think.
Here's the record of each number dating back to 1930; ITM stands for "in the money" meaning they placed in the top three.
Hofburg is running from the most successful gate, No. 9, and is a 20-1 long shot with plenty of buzz.
Chalk
Since the Kentucky Derby developed a points system for entrants, it's been a chalky race.  In fact, the last five winners were the favorite.  Always Dreaming had the most value at 5-to-1. Before that trend began, the race was dominated by long shots.  One might say it's time for the long shot to reign supreme once again.
| | | |
| --- | --- | --- |
| 2017 | Always Dreaming | 5-1 |
| 2016 | Nyquist | 3-1 |
| 2015 | American Pharoah | 5-2 |
| 2014 | California Chrome | 5-2 |
| 2013 | Orb | 7-2 |
| 2012 | I'll Have Another | 12-1 |
| 2011 | Animal Kingdom | 30-1 |
| 2010 | Super Saver | 10-1 |
| 2009 | Mine That Bird | 50-1 |
| 2008 | Big Brown | 2-1 |
A few prep races can also help you win or lose big on Derby day.
The Blue Grass Stakes
I was not alive the last time a Blue Grass Stakes Winner celebrated in the Winner's Circle at Churchill Downs.  Nick Zito's Strike for Gold won both of the state's premier stakes races back in 1991.
Some of the blame can be put on Keeneland's shoulders.  The decision to change the track from dirt to synthetic in 2007 was at best a dumb move.  In 2015 Keeneland returned to dirt, moved the race to opening weekend and increased the purse.  Those moves attracted a larger, more competitive field that could produce a Kentucky Derby winner this year.
Good Magic defeated 14 other horses in the largest field of any prep race, giving the horse a look few others have seen.  Trained by Chad Brown, as soon as the rising star wins one Kentucky Derby, many more will follow.
Breeders' Cup Juvenile
Good Magic has 26 years of Blue Grass Stakes history against him.  Until recently, another trend was not in his favor.  In 2007 Street Sense became the first horse to win the Kentucky Derby as three-year old after winning the Breeders' Cup Juvenile, the biggest race in the world for two-year olds.  Two years ago Nyquist became the second to accomplish that feat.  Good Magic will try to be the third after defeating Solomini and Bolt d'Oro by five lengths at Del Mar, the horse's first ever victory.
UAE Derby
Unlike the previous two races, a UAE Derby winner has never won a Kentucky Derby.  Unlike previous winners of the UAE Derby, Mendelssohn has a lengthy resume filled with impressive wins.
Before winning his first race on dirt in the desert, he was the Breeders' Cup Juvenile Turf champion.  The $3 million horse's first race on dirt was incredible, dusting the competition by 18 lengths.  He was a late arrival to Churchill Downs this week, but he has enough pedigree to become the first UAE Derby winner to wear the garland of roses.
Final Fractions Theory
The best horses win the biggest races because they close fast.  If you prefer to pick a closer over a speed horse, there's an easy way to see if a horse is a closer.  The "Final Fractions Theory" as explained by Jennie Rees sounds complicated but it's rather simple — in a horse's final race at a mile and 1/8, if they finish their final 3/8 in under 38 seconds and their final 1/16 in less than 13 seconds, the horse has enough speed at the end to go the distance at the Derby.
That might be a few too many numbers for you to comprehend, but it will help you throw out some Derby horses.  The FFT does not like the horses from the Blue Grass, but it loves the Arkansas Derby runners.  Justify, Bolt d'Oro, My Boy Jack, Audible and Vino Rosso make the cut.
Jockey
Sometimes you gotta pick the person, not the horse.  That's why I bet on Calvin Borel in the Oaks.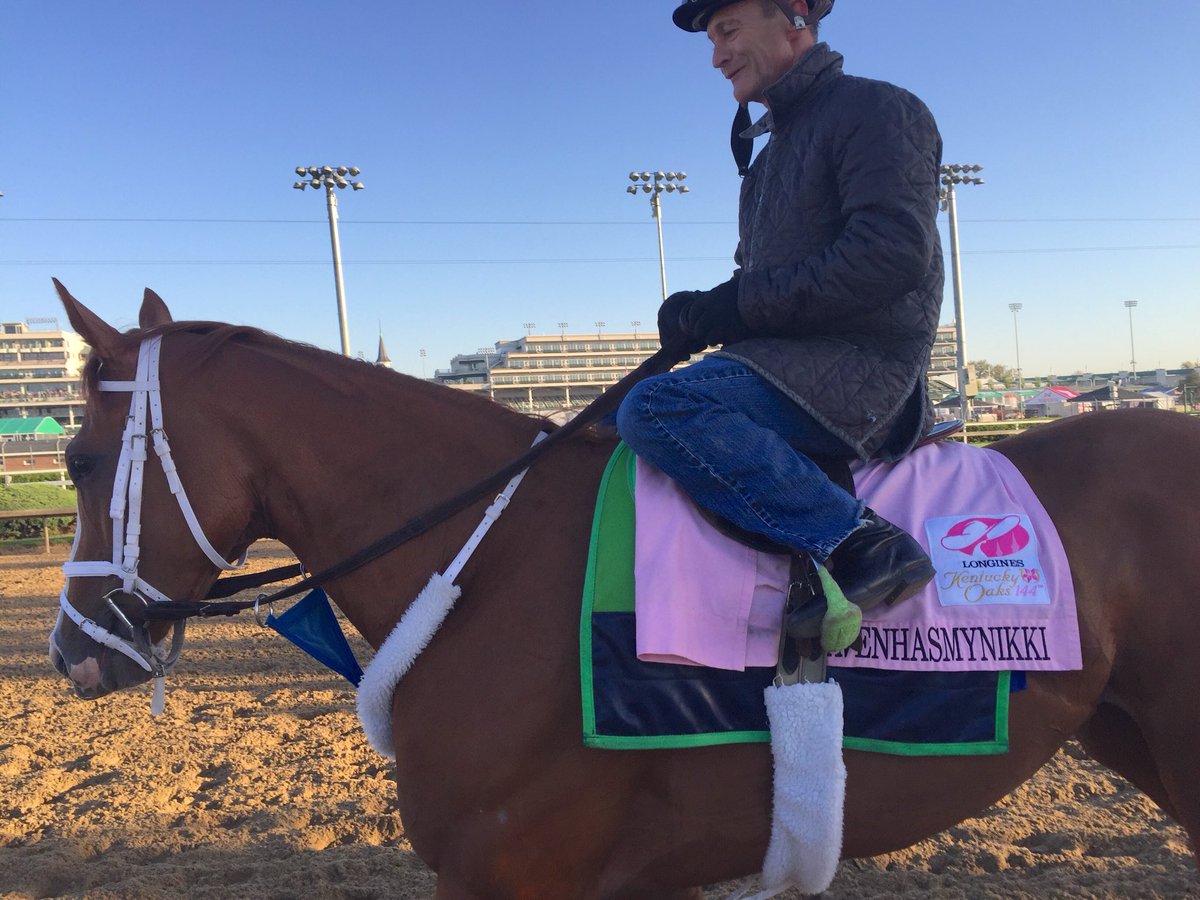 There are many different ways to pick a horse, and that's what makes the sport of kings beautiful (but only if you win).
I attended my first Kentucky Derby in 1998.  Real Quiet won that day and 5 weeks later was just a bad Kent Desormeaux ride (the first of 2 Triple Crowns he blew in the saddle) away from winning the first Triple Crown in (at that time) 2 decades.  I was hooked on horse racing for life.  In the 20 years that I've been following the sport closely, I cannot remember a Derby field with this much depth.  You can make a valid case for nearly half the field ending up in the winners' circle.  The quality at the top of the field is unmatched by any other I can remember – and that includes a stellar 2007 class – two of which (Curlin and Scat Daddy) have multiple sons representing them in this renewal.  In addition to the 144th Run for the Roses, the Saturday card at Churchill Downs includes a plethora of great wagering opportunities, including 6 supporting stakes races.  Here is a brief look at each of them:
Race 6 – Grade 1 Humana Distaff
Finley'sluckycharm has never lost in 6 prior attempts at Churchill Downs.  She enters here fresh off her first Grade 1 win in which she withstood a wicked pace duel and fought gamely to the wire to prevail by a nose in the grade 1 Madison at Keeneland.  Ivy Bell took the grade 2 Inside Information in her first start for Todd Pletcher and can certainly be a factor in here as well.  Lewis Bay missed by just a head in the aforementioned Madison and will again be aided by a hotly contested pace between Finley'sluckycharm and American Gal.  American Gal battled bravely on the front end of that heat in Lexington and fell short by just a neck.  She could turn the tables on her foes with the screws now fully tightened following that prep.
Race 7 – Grade 2 Churchill Distaff Turf Mile
Dream Awhile shortens up to the one mile distance for the first time in her career in this wide open contest for distaff turf milers.  Irad Ortiz Jr. chose her over On Leave, who is 4 for 7 at the eight panel distance and is the most consistent of this group at finding the winners' enclosure.  La Coronel won her only other start at Churchill Downs in last year's grade 3 Edgewood.  Expect her to get an excellent stalking trip from her outside draw sitting just off the flank of Psycho Sister.
Race 8 – Grade 2 Churchill Downs Stakes
Chief Cicatriz and Imperial Hint are likely to set off on a suicidal pace duel.  If either survives it would most certainly be Imperial Hint, as he was able to stay up comfortably for the runner-up spot in the Breeders' Cup Sprint after a half mile in 44 and 3.  The extra furlong today could be his undoing.  Whitmore and Limousine Liberal are the likely beneficiaries of the throw down up front.  Whitmore is in good form coming in off victories in the Hot Springs and Count Fleet at Oaklawn.  Limousine Liberal is 5 for 7 lifetime at Churchill and should be ready to fire his best effort after a close runner-up finish in the grade 3 Commonwealth at Keeneland.
Race 9 – Grade 2 American Turf
Threeandfourpence invades for the Aidan O'Brien barn and gets first time Lasix to add to his solid European form.  He will be a formidable favorite under Ryan Moore.  Captivating Moon rates as the slight upset choice based on his second place efforts behind Analyze It and Gidu in his last two.  Any of these could find the wire first and it seems like a necessary spot to cast a very wide net in this sequence.
Race 10 – Grade 3 Pat Day Mile
National Flag, Madison's Luna, Mask, and Restoring Hope look like the most probable winners in this spot.  Restoring Hope is the only one of that group without a stakes win, but he cuts back in distance after a decent run in the Wood Memorial and adds blinkers for Bob Baffert.  National Flag has been very impressive in his two starts this term, particularly so in the Bay Shore where he was squeezed at the start, losing his normal stalking position.  He handled the adversity with aplomb and won easily going away.  This does look like a tougher group, but he may well be the best of these.
Race 11 – Grade 1 Turf Classic
Beach Patrol will likely go favored in a race that could be won from anywhere.  He is only 1 for his last 5 as the favorite and has finished second in both his attempts over the Churchill lawn.  This is his first start of the year and seems like a logical spot to try and beat him.  Synchrony is a perfect 2 for 2 at the 9 furlong distance with both wins coming this year as he seems to have moved forward as a 5yo.  Yoshida makes his first start since October and offers some intrigue as a very athletic, versatile horse at double digit odds.
Race 12 – Grade 1 Kentucky Derby
Justify, Magnum Moon, and Mendelssohn are all immensely talented horses and it would be absolutely no surprise if any of them were to win.  They will all be very short prices as far as the Derby goes and they are all trying to do something that has never been done or has never been done in anyone's lifetime that is still amongst the living.  Justify and Magnum Moon are up against the curse of Apollo, having not started as 2yos.  Mendelssohn is trying to become the first UAE Derby winner to even hit the board at Churchill Downs.  While it is very likely that Justify and Mendelssohn are the best 2 horses in this crop, they do not offer great betting value in this particular 20 horse field.  Good Magic and Bolt D'Oro are the two horses with very good chances of winning that will likely offer decent betting value as well.  Good Magic's wins over full fields in the Breeders' Cup Juvenile and Bluegrass Stakes prove that he has what it takes against larger fields with top notch competition.  He is training beautifully and will almost certainly run the race of his life.  Bolt D'Oro has become a bit of a forgotten horse.  He won 2 grade 1 races last year, but things have not quite gone his way since (with the exception of a DQ that granted him victory in the San Felipe).  He will get a more suitable pace scenario today than what he got in his California preps and seems as well suited as any to get the 10 furlongs.  Audible, Hofburg, and Vino Rosso are all worth consideration for the top spot as well and should each offer fair value.  Lone Sailor, Solomini, and Combatant are all late runners that will be passing tired horses in the stretch and could add some significant juice to the vertical exotic wagers.
Enjoy watching one of the most accomplished Kentucky Derby fields of all time, and best of luck at the windows.  You can follow me on Twitter @chadlashbrook for Derby day updates, particularly as it relates to the weather and how to alter strategy in the unfortunate circumstance of an off-track.
Monomoy Girl is the winner of the 144th Longines Kentucky Oaks. Trained by Louisville native Brad Cox, the filly held off Wonder Gadot with a time of 1:49.13 seconds. Favorite Midnight Bisou came in third.
Thriller! All heart – Monomoy Girl wins the $1m Kentucky Oaks! @ChurchillDowns #KyOaks pic.twitter.com/SB9coR2n6P

— At The Races (@AtTheRaces) May 4, 2018
Today's attendance was 113,510, the tenth largest crowd in Oaks history. Among them was our own Nick Roush, spotted in the infield by Tony Vanetti:
My boy @RoushKSR today pic.twitter.com/VzW0yq4f5T

— Tony Vanetti (@tonyvanetti) May 4, 2018
And you thought Matt's outfit would get people talking.
Each year the winner of the Kentucky Derby is showered in a garland of roses.  The beautiful tradition is a masterpiece with a storied background.
The first roses ever given to a winner actually were not red.  Ben Brush — the name of a horse, not a jockey, owner or trainer — received a bouquet of pink and white roses in 1896 after he won the first Derby ever ran from a mile and a quarter, the race's current distance.
A few years later in 1904, the red rose became the Kentucky Derby's official flower.  It was dubbed "The Running for the Roses" by a New York sports columnist in the 20s before Burgoo King wore the first ever modern garland of roses following a victory in the 1932 Kentucky Derby.
The rose garland is 122 inches long, 22 inches wide, weighs about 40 pounds and holds 400 roses that are sewn into a green stain background.  One side is stamped with the seal of the Commonwealth; the other with the Twin Spires.
Kroger crafts the Kentucky Derby rose garland each year. The public can see it created at the Middletown location from 4:00-11:00 Derby Eve.  It will be on display until 8:45 a.m. Derby morning.  The garland is such a big deal, it gets its own police escort to Churchill Downs.
Now the greater question is, who will wear the garland of roses following the 144th Kentucky Derby?
Read more in the Derby 101 Series: Cocktails, New Gates and Traffic Patterns, William Faulkner's Timeless Kentucky Derby Account, The Apollo Curse, Celebrity Sightings
Ready for the biggest BS you'll hear today? The Wall Street Journal published an article yesterday entitled, "New York Bourbons Are Nipping at Kentucky's Heels."
Oh yes, the article claims that New York bourbon — specifically from Brooklyn — has overtaken Kentucky bourbon thanks to distilleries like Kings County, which is co-founded by Kentucky native Colin Spoelman; Black Dirt; and Hudson Whiskey.
"I think New York distilleries are leaders," Spoelman said.
But wait, if bourbon isn't made in Kentucky, it isn't bourbon at all, right? Depends on who you ask. Federal regulations don't actually require bourbon to be distilled in Kentucky; they only mandate a specific recipe and process, which has led to a influx of out of state craft bourbons on the market in recent years. That being said, Kentucky's limestone gives its bourbon an unique taste, which is why I have a hard time believing New York's can beat it.
Stick to beard oil and beet toast, Brooklyn. Leave the bourbon to the experts.
[WSJ]
Tonight, many of your favorite former Wildcats will make the rounds at various Derby parties across Louisville. While we wait for the pictures to pop up on Instagram and Twitter, let's look back at Kentucky Wildcat Derby fashion over the years, starting with last year's attendees.
Use the arrows to scroll through each player's slideshow.
Bam Adebayo
---
Skal Labissiere
---
Isaiah Briscoe
---
Derek Willis
---
Tyler Ulis
With Avery Williamson, Terrence Jones, and Trey Lewis at the 2016 Fillies & Stallions party:
---
Devin Booker
2017:
---
Nerlens Noel