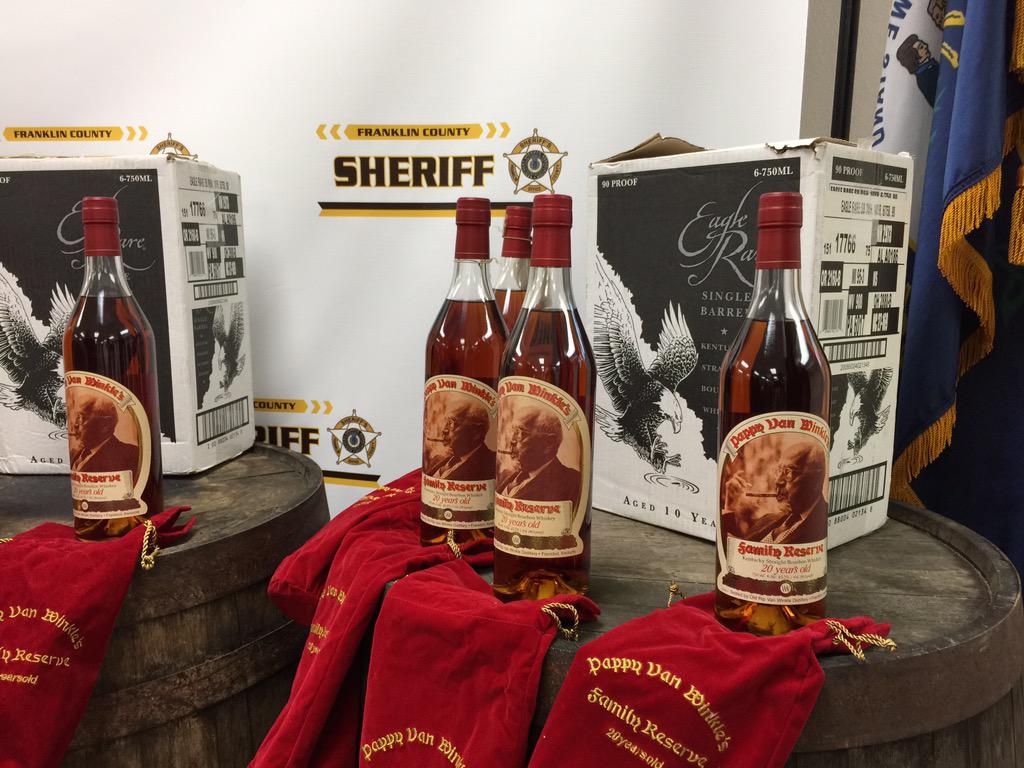 Remember the great Pappy Van Winkle heist? Today, the man at the center of it all, Gilbert "Toby" Curtsinger, was sentenced to 15 years in prison.
From 2008-15, Curtsinger and eight associates stole over $100,000 worth of bourbon, selling the bottles of Pappy to outside buyers for $800/bottle. Police were able to recover 17 barrels of bourbon, 20 cases of Pappy, and one stainless steel barrel of Eagle Rare worth $12,000. Officials said it was more whisky than one person could drink in a lifetime. Sadly, the barrels had to be destroyed because could have been tampered with, a crime in itself.
Is 15 years in prison a fair sentence for stealing one of the Bluegrass' finest exports? You decide.
[LEX18]
An 18-year-old Kentuckian made national news over the weekend when he refused to be silenced. Christian Bales, the valedictorian at Holy Cross High School in Covington, Kentucky, was denied the right to speak at his commencement because his speech was deemed "political and inconsistent with the teachings of the Catholic church." So, he grabbed a bullhorn and delivered it outside instead. 
Bales said the diocese banned his speech and the speech of student council president Katherine Frantz the morning of the ceremony.
"The diocese took ours and said they were too confrontational, too angry, too personal, and that they weren't appropriate for the setting," Bales said.
Bales' speech praised the fight for stronger gun laws in light of the recent school shootings and his classmates for their participation in an anti-abortion rally. He echoed a line coined by Parkland, Florida students who survived a mass shooting earlier this year.
"The young people will win because we're finished being complacent," Bales said. "There's a misguided notion that wisdom is directly proportional to age, but we're disproving that daily. Sometimes the wisest are the youngest in our lives, the ones who haven't yet been desensitized to the atrocities of our world."
In a statement, the diocese said the school reserves the right to review and approve all speeches prior to the ceremony; however, Bales's mother told reporters that a week earlier, she received a call from the school's principal asking for her help to ensure her son, who is openly gay, wouldn't wear makeup or bobby pins in his hair at the ceremony.
"That was disturbing because in four years, I had never received a phone call from the principal," Marksberry said. "No one ever reached out to me to help learn about my child."
"Rather than allowing opposition to silence us, we must utilize it as empowerment," Bales said. "As long as we nurture our minds as youth, we'll be able to be equally impactful as we encounter the world."
For more on this story, visit ABCNews.com. To read his complete speech, click here.
Folks, Topgolf in Louisville is an absolute must and we shouldn't let a few neighbors in Hurstbourne stop progress.
Some Hurstbourne residents are making a big stink about Topgolf possibly interrupting their quiet neighborhood. They don't want Topgolf near them. Maybe they don't want Topgolf entirely.
They clearly don't want fun or more money for Louisville. These people would rather support tumbleweeds and an apocalyptic Sears building.
And if there's one thing that Topgolf is it's fun. It's a mix of a bar with a driving range. A place to watch important games while also being able to enjoy quality food and have servers wait on you while you hit golf balls. Maybe someday you will be able to legally bet on UK games while at Topgolf?
Not if some in Hurstbourne have it their way. They will want you to travel to Cincy, Indy or Nashville to have your fun.
Tonight at 5:45 p.m. a group of Hurstbourne haters are meeting at the corner of Lyndon Lane and Oxmoor Woods Parkway to protest the proposed Topgolf entertainment center that is set to open at the Oxmoor Center in the coming years.
If you're unfamiliar with the Oxmoor Center (mall) in Louisville it's on the other side of the Watterson Expressway from Mall St. Matthews. The proposed Topgolf  facility would be built where the vacant Sears building is currently located. It would also take up some of an abandoned parking lot. You would have to walk a few hundred yards before getting to a road. You would then cross said road and walk another hundred yards or so before getting to a tree line. Once you walked through the tree line you would eventually stumble upon a neighborhood, assuming you can make it there without being too fatigued from such a long journey.
The Topgolf isn't being built in a residential area. It's somewhat near a residential area. It's a quarter-mile to the closest house but 90 percent of homes are a half-mile or farther away.
I'm sure the majority of Hurstbourne residents have never been to a Topgolf but gossip around the neighborhood has spiraled out of control. I spoke with a buddy who lives in Hurstbourne who said a neighbor approached his house to discuss Topgolf.
"Yeah, she basically came over and told me that Topgolf would ruin the neighborhood," he said. "She said there would be rock concerts every night, our neighborhood would be blocked off because of traffic and the lights they use will be seen for miles."
Sadly I can't say I'm surprised.
Let's clear the air here:
Some Topgolf locations may have live bands (it's a rarity), but the ones that do almost always play their music inside.
Topgolf will play stereo music outside but it's never too loud. Remember, people are there to talk, hangout and hit golf balls. They're not at a Mason Ramsey rager.
The best comparison for Topgolf is bowling. Bowling on Barry Bond's steroids. It's a somewhat athletic social event. Bowling alleys maybe aren't the best place to practice Sunday School, but it's far from the infield at the Derby.
Anyone in Louisville knows that traffic in that area absolutely sucks. Topgolf won't help the traffic in that area but it really will only have an impact during evening rush hour, probably just on Thursdays and Fridays. It's a bummer but you don't turn down a guarantee moneymaker because your evening commute becomes 10 minutes longer.
I'm not an electrician, but it seems like those concerned about the lights from Topgolf are once again misguided. Here's what Topgolf had to say on its website: In response to concerns from neighbors, our engineers developed a completely new lighting scheme for Topgolf Oxmoor Center. Instead of outward-facing, halogen-powered, "stadium-style" lighting that people may be familiar with from other facilities, Topgolf Oxmoor Center will utilize downward-facing LED installations built inside, instead of on top of the facility.
Topgolf isn't just for golfers. A recent Topgolf study indicated that 51 percent of players aren't golfers in the slightest. 27 percent of customers play just 1-7 rounds of golf per year.
69 percent of Topgolf players are aged 18-44. That shows that Topgolf likely will be around for a longtime, but you don't have to be a college student to enjoy it. Let's not have Louisville miss out on something that could be a staple in the city for decades.
The Oxmoor Center is dying. Shops are closing and fewer people actually go to malls. This will bring life back into a hurting part of town and will allow those near Lyndon and Hurstbourne to punch back at nearby St. Matthews and the Highlands.
Topgolf is expected to bring in nearly $300 million to Louisville over the next 10 years while adding a proposed 500 jobs. Do you hate money? Do you hate jobs?
Listen, I understand people may not want this close to their homes. You may be thinking it's easy for me to write this article when it won't be near my front porch. I won't live far from the Topgolf, but I understand some of these concerns. Hell, I once suffered a broken foot playing Topgolf. Ignore the fact it was my bachelor party and the injury was suffered because I tried to do a Happy Gilmore swing, but I understand there are concerns about this money and memory making machine.
The good news is that Topgolf executives have already heard dozens of complaints and has already made changes with more to come in the future. There willing to do what they have to do to make this happen at the Oxmoor Center.
I would suggest reading all those changes here, but here are some highlights:
Further away: The actual Topgolf building has been moved to the north and west—toward the highway—increasing the distance between the facility and nearby homeowners.

Redesigned lighting: Topgolf at Oxmoor Center will now have LED lights on the third level of the hitting bay, below the roof line, facing down, instead of the large, outward-facing halogen installations common at other Topgolf facilities.

Traffic Control: Proposed plan changes would further discourage Oxmoor Center guests from taking the slower and less-efficient route through the Hurstbourne neighborhood.
No word on preventing foot injuries from inebriated bachelors.
Don't allow Nancy from down the street tell you how bad Topgolf will be for your neighborhood. Nancy is out of touch, hasn't done her research and hates fun.
Topgolf will be great for Louisville and its success could lead to other cities in Kentucky to follow its lead.
One neighbor tells me she's worried the lights at Topgolf will shine into her home. The GM at Oxmoor Center says Topgolf plans to install an upgraded lighting system at the location. The downward-facing LED lights are designed to limit light into neighborhood. pic.twitter.com/sAcloC4oyQ

— Emily Maher (@WLKYEmily) May 22, 2018
They installed these 'down lights' at our football stadium – pretty amazing and even from the stadium they're not in your eyes.

— C Miller (@camillerjr66) May 23, 2018
Fixed pic.twitter.com/8h4pmczJtx

— Zach Fuller (@Raptorky) May 23, 2018
I hope Louisville gets 7 Topgolf sites now https://t.co/5VMBD45i29

— JP (@JPaulYall) May 22, 2018
The plan still needs to get approval from the city so hopefully you will reach out to your City Council member that represents you and advocate for Topgolf at the Oxmoor Center that stuff actually helps. You can do that here.
Or maybe show up tonight at the corner of Lyndon Lane and Oxmoor Woods Parkway at 5:45 p.m. and show that the majority of people do support revitalizing the Oxmoor Center and helping Louisville continue to grow. Maybe bring this article and some Denny's coupons to persuade the opposition?
I'll be the LouCity match supporting other cool stuff in Louisville, but if you go send me pictures because I would love to see the crowd at this rally. Maybe in five years I'll miss an anti-NBA to Louisville movement because I'll be getting down at Topgolf. Support your cities. Support your Commonwealth. Oppose Nancy.

Last week, Forbes named Lexington one of its top cheap summer destinations. This week, the city earned another honor, making Southern Living's list of the 10 Best Cities in the South:
1. Charleston, South Carolina
2. Savannah, Georgia
3. Asheville, North Carolina
4. Nashville, Tennessee
5. Greenville, South Carolina
6. Austin, Texas
7. San Antonio, Texas
8. Chattanooga, Tennessee
9. Sarasota, Florida
10. Lexington, Kentucky
Southern Living based the rankings on regional cuisine, culture, music, design, and traditions. Given the number of new restaurants, breweries, and bike trails popping up around Lexington and, of course, Keeneland, I'm happy to see the city get the recognition it deserves for the recent boom. That being said, there are some pretty amazing cities on this list; after visiting Charleston and Asheville in the past week, I can safely say I'd be happy living in almost any of them.
Feel free to do your own rankings in the comments.
This evening Justify's quest for a Triple Crown continues at the 143rd running of the Preakness Stakes.  Before you place a bet on Pimlico's premier race, set for a 6:43 post-time, consider this:
1. Justify's Hurt (Not Injured)
Justify's dominant win at the Kentucky Derby came at a cost.  The following day the horse was limping.  His team insisted nothing was wrong, but the hind leg limp was enough to prompt PETA to call for an investigation.  The horse has been cleared to run on what they're calling a bruised heel.  Bob Baffert believes his horse is ready to go, but another muddy day could complicate things.
2. Lucky No. 7
Justify will return to the same post position where he won the Kentucky Derby.  The only horse outside of Justify is Bravazzo, who finished sixth at the Derby .
As usual, there will not be a lot of money to win on the race.  Justify is a 1-to-2 morning line favorite, and will probably get bet down even more before post time.
1. Quip (12–1)
2. Lone Sailor (15–1)
3. Sporting Chance (30–1)
4. Diamond King (30–1)
5. Good Magic (3–1)
6. Tenfold (20-1)
7. Justify (1–2)?
8. Bravazo (20-1)
3. Another Mudder
A live look at the Pimlico forecast:
This year's Kentucky Derby was the wettest on record.  It's going to be even wetter at Pimlico.  Four inches of rain have been dumped on the city this week, and the downpours are not done.
It has officially begun. Please help me. #preakness . #wbal pic.twitter.com/HXJ7igjomm

— Lowell Melser (@MelserWBAL) May 19, 2018
Obviously, all of the Derby horses have some experience in the mud.  Justify's last two wins have actually came on a wet course.  Lone Sailor also has a victory in the mud, but the most experienced horse is Sporting Chance, who has three career starts in the mud.
4. Believe in Baltimore
There's only a two-week break between the Derby and Preakness.  The quick turn-around usually prevents the Derby's best losers from contending for the Black-Eyed Susans.  While Derby horses run on fumes, others setup shop near Pimlico to prepare for an upset bid.  One Maryland-based horse from Laurel Park could be the next Cherry Wine or Cloud Computing.  At 30-1, Diamond King could do just enough to make your day.
It has rained all week in Baltimore, Maryland where the second leg of thoroughbred racing's Triple Crown will be run at Pimlico Racecourse at 6:48 tonight.  More rain and thunderstorms are in the forecast tomorrow, and the one safe bet is that the races will be run in a sea of slop.
The next safest bet is that there will be a Triple Crown on the line when this elite crop of 3yos tackles 12 furlongs in Elmont, NY three weeks from today.  Justify dominated the opposition over a sloppy surface at Churchill Downs, making him 2 for 2 over wet tracks.  He faces just 7 opponents in the Preakness, and the overall quality of the field pales in comparison to the 19 he faced in Louisville.
Horseplayers will be faced with a challenging set of circumstances – figuring out which horses are likely to excel over the poor track conditions and trying to create value around a very heavy favorite in the feature race.  Here are a few, hopefully helpful, suggestions in navigating your way through the races that make up the pick 6.
Race 8 – Chick Lang
Look no further than Mitole here.  He is miles better than the rest of these.  He can adapt to any pace scenario and should dominate this field – a solid single to kick off the pick 6 sequence.
Race 9 – Galorette
Pimlico has protected the inner portion of the turf course all week, so the expectation here is that the turf stakes will indeed be run on the lawn.  Blessed Silence makes her second stateside start for Christophe Clement and should improve with the recent outing.  She has the most experience on soft tracks due to her 14 race career in France where she performed honestly enough on softer going.  Cambodia won this race last year over a course labeled "good", but she was a well beaten 6th in her 6yo debut and may not offer much value as the 8/5 morning line favorite.  Ultra Brat and Elysea's World are both logical fillies to use here as well.
Race 10 – Maryland Sprint
Heartwood won over a sloppy track at Keeneland two races back and certainly deserves a solid look against this group at likely double digit odds.  Switzerland needed 8 tries to break his maiden, but has been impressive since doing so.  The worst race of his life came over a sloppy track, but he slipped at the break and lost all chance.  Long Haul Bay took the Bay Shore at Aqueduct last year in impressive fashion, and his pedigree suggests he will relish the off going.  With only 4 lifetime starts to his credit, he easily has the most upside in the field.
Race 11 – The Very One
Girls Know Best ran a monster race over a yielding course at Keeneland when defeating allowance foes by 6 lengths.  She is certainly the one to beat.  Smiling Causeway and Just Talkin are both plenty capable in this spot as well.
Race 12 – Sir Barton
Ax Man will dictate the pace from the outset, and if he can handle the sloppy going, should never look back.
Race 13 – Preakness
None of the new shooters in here appear capable of beating the Derby winner, or runner-up for that matter.  As a general rule of thumb, the best 3yos run in the Derby.  Horses running in the Preakness that did not participate in the Derby, for the most part, simply were not good enough to qualify.  That certainly seems to be the case with this group.  The two horses most likely to appreciate the track conditions – outside of Justify and Good Magic – are Quip and Diamond King.  Neither has raced on anything other than a fast track, but their pedigrees suggest the slop may be to their liking.  Bravazo actually ran a decent race with a troubled trip in Louisville and could be a contender in the exotics with a better trip this time around.  That said, don't spend too much money trying to beat the Derby winner here.  Sit back and enjoy another Bob Baffert Triple Crown bid.
Following a court appearance, Katina Powell was arrested today while wearing a Louisville football t-shirt.
The infamous Breaking Cardinal Rules author was booked at Louisville Metro Corrections just before 2:00 p.m. on a pair of forgery charges.  She will be arraigned tomorrow for criminal possession of a forged instrument and theft by deception.
The arrest reportedly happened while Powell appeared in court for an eviction hearing, after her daughter allegedly pulled a handgun on man in the front-yard of the home.  Powell initially missed the scheduled Thursday morning hearing for an alleged panic attack.  She eventually got to the courthouse at 1:00, was evicted, then arrested.
It's not the first time Powell's had a run-in with the law since her book blew the whistle on the Louisville basketball team.  In January she was arrested, accused of stealing toothbrushes from a local Wal-Mart.
UPDATE
We now know the reason why Powell was arrested.  According to the Courier-Journal, Powell is accused of stealing three checks and cashing them for $2,900.  The person she allegedly stole them from is an ex-boyfriend who wants her back.
"I want her in my life," Thomas Tyre, an area dentist, told the CJ. "I'm sad about what happened."
It is no secret that bourbon dominates this state, but the craft beer industry is growing in Kentucky. There are locally owned breweries and microbreweries scattered all around the state and it is my mission to travel to each and every one and tell their story.
---
Only two items flowed through the building on the corner of 4th Street and Monroe Street in Paducah before 2015, buses and movies.
Greyhound occupied the building from 1966 until 2010. But not only was it a bus stop, but also a dinner with a short order cook and a mailing services called Package Express.
"The entire bus station was being used," owner and head brewer of Paducah Beer Werks Todd Blume said. "They also had a thing called Package Express and every movie up until, I believe, 1988 came through this building. So that's how they would deliver them."
When UPS and FedEx came around, it ended Package Express and Greyhound had to relocate because of people started to travel by bus less often.
So the bus station sat vacant for four years until Todd Blume, a native of Graves County, moved back home to Western Kentucky.
Blume graduated from Murray State University with a degree in computer science and the only jobs available in his field were in data entry.
"I really wasn't interested in data entry, I wanted to do more on the creating side," Blume said. "So my dad was like "what are you doing to do?" So we started looking around and he said, "what is one thing Paducah doesn't have?" 
A brewery.
But where this idea come from?
Blume previously lived in Franklin, North Carolina and loved going to a nearby brewery in Sylva.
"The one I went to was called Heinzelmannchen, which was well-known and had some of the best beer," Blume said. "The guy was just doing it in a basement and he was winning medals. He also made sodas. And that kind of got me really interested in doing something."
Blume started homebrewing and then began traveling back and forth from Colorado to take an immersion course with Tom Hennesey, a brewery owner who teaches people how to build breweries.
When Blume decided to bring a craft brewery to Paducah in 2015, he saw the bus station and knew it was the place.
"But at that point and time, I didn't know how fast I could grow or how the community would take it," Blume said. 
Even though the closest brewery at that time was in Clarksville, Ten. (almost 100 miles away) the people of Paducah took to it very quickly.
His worries were officially put to bed that summer in Denver at the Great American Beer Festival. Beer Werk's PBW Pale Ale won a bronze medal in the Classic English-Style Pale Ale category.
Blume had attended the festival while living in Colorado but had never seen an awards ceremony, so he figured he'd check it out. 
"We were all in the way in the back and we were all split, there were three of us," Blume said. "And we were sitting there listening and were like "I remember trying that one, yeah that one was good."  And then they call our name, and I said "Huh? What's going on?" So we all had to kind of find each other cause we were all dispersed in the crowd. Everybody was just kind of blown away."
Before worrying about accepting the medal, Blume was focused on making it to the stage.
"So I had to go all the way down these steps, and I'm like "please don't fall, please don't fall, please don't fall." And I'm just sitting there shaking like I'm really getting up there and I go up these steps trying not to fall, shake Charlie Papazian's hand. Like what just happened."
To win a medal at the GABF is incredible. In 2015, there were 1,552 breweries in competition and 275 were winners, including Paducah Beer Werks.
"So that was really big deal. It helped us, you know, prove to the community that we're making a solid good beer."
And that, they are.
My beer picks at Paducah Beer Werks:
PBW Pale Ale: It's a GABF award winning beer, so you know it's good.
The Dude: The Dude is a delicious Pilsner. You can't go wrong with a delicious pilsner.
Golden Ale: A very solid, light beer that anyone can drink. It's very easy to drink and not as hoppy as a pale ale.
---
301 North 4th Street
Paducah, Kentucky 42001
Churchill Downs is not going to sit around and wait for Kentucky to legalize sports gambling. It is already getting in on the action by setting up online wagering on sports in the great state of New Jersey.
According to BusinessInsider.com, Churchill Downs Inc. signed a deal with the Golden Nugget Hotel to enter the market in the Garden State. It also signed a partnership with sports betting platform SBTech to allow online gambling in both Mississippi and Pennsylvania.
It's a smart move by Churchill to get in front of the issue, and it explains why its stock saw a significant rise once the Supreme Court announced its ruling on Monday.
Maybe one day we'll be able to access it here in Kentucky.
Kentucky House Speaker David Osborne made a special guest appearance on Tuesday's Hey Kentucky! in a 15-minute interview with Matt Jones. Osborne joined the show to discuss several hot topics in Frankfort, and among those was his stance on sports betting in the Bluegrass.
Osbourne said he has always been in favor of sports betting, but he doesn't believe it will have the enormous economical impact that many are projecting. He also said he filed a sports betting bill back in 2012 when New Jersey starting making its push to challenge the federal law, and it had quite a bit of support at the time.
Listen to his full comments below.