Kentucky's game vs. Murray State yielded a few changes on this week's depth chart.
AJ Rose is now No. 2 at running back behind Benny Snell, shedding the "or" between his name and Sihiem King's. Freshman Allen Dailey passed sophomore Isaiah Epps to become the No. 2 option at the "Z" wide receiver spot behind senior Dorian Baker. Dailey was one of the highlights of Kentucky's win over Murray State, catching two passes for 38 yards and a touchdown. 
One Kentucky high school football team shined under the brightest national spotlight last night.
If you tuned into SportsCenter Friday night or Saturday morning, you saw Lexington Catholic High School.  A tipped Lexington Christian pass was dug like a volleyball before John Martin Simms picked off the pass.  It's easy to understand why it was the No. 2 play in America.
Lexington Catholic quarterback and UK legacy recruit Beau Allen threw for 362 yards and five touchdowns to lead the Knights to a 54-13 victory over LCA.
A player at Union College has the most incredible mullet you'll ever lay eyes on.
Check out the 'do on Bradley Elkins, a former Pike Central star who is now a senior wide receiver at Union. Holy cow that's a look.
Elkins also punts for the Bulldogs and he recently broke a 27-year school record by booming the ball 78 yards.
But who cares about numbers? Take a long minute to admire that hair. It should in a museum.
Now where can I get a Bradley Elkins jersey?
Tomorrow's KSR will be live from the Manchester Music Festival in Clay County, where a welcome sign got everyone a little riled up today.
Organizers for the festival put up a sign welcoming "MMF'ers," aka "Manchester Music Festivalers" to the event; however, the wordplay rubbed many the wrong way, so the sign was taken down. Boooooo.
Personally, I think it's hilarious. Why so serious, MMF'ers? Come on out to Morgan's Professional Pharmacy from 10-noon and have a MMF'n good time.
UPDATE: According to WYMT, there was such an outpouring of support for the sign after the initial backlash that organizers decided not to take it down after all; in fact, they're making t-shirts because it received so much attention. (If they're reading, I'll take one.)
Grab your crazy uncles and your cranky in-laws and get to Louisville later this month for "Family Feud" auditions. The popular game show that is on television at all hours of the day is coming to the Bluegrass to find new participants. It will host tryouts in Louisville the weekend of September 22-23.
Click here to apply, and if you're selected, you'll be given more details about the tryout.
In the meantime, enjoy one of my all-time favorite clips in TV history.
I will never not laugh at that.
On Friday, Mason Tackett became an internet sensation following his interview with WYMT about his cousin's attempt to steal his soap, cheese grater, and empty bottle of Lysol. This morning, Tackett called into Kentucky Sports Radio to talk about his newfound fame, and, let me tell you, it was a call for the ages.
"I woke up this morning and walked by the mirror and I was starstruck for 15 minutes," Tackett said. "I'm telling you, there's people messaging me on Facebook saying, 'Oh my god, I can't believe you added me on Facebook.' I'm like, 'Buddy, I'm standing in line at the Speedway just like everybody else does.'"
The more you get to know about Tackett, the more fascinating he becomes. He described his decision to run for Floyd County Judge Executive ("The way I figure, 2018 was crazy as hell anyway"), his cousin, aka the "Turkey Creek Terrorist," and how he's dealing with the haters. The latter resulted in this epic line.
"You know how when somebody blows up or goes viral, you're always going to have haters?" Tackett said. "I've got people on my Facebook saying, 'You've got your 15 minutes of fame, you need to quit.' I'm like, 'You know what, you all are just a bunch of jelly monsters on Jelly Mountain.'"
You can meet Tackett Thursday night at the Paddy Wagon in Richmond, where he plans to tell the uncensored version of the attempted robbery. The party is BYOCG — Bring your own cheese grater.
"Who Steals Soap?" Eastern Kentucky man wonders after cousin robs him
The horse racing community has lost its greatest ambassador.  John Asher died of an apparent heart attack this morning while traveling with his family in Orlando.  He was 62.
He officially held the title vice president of racing communications at Churchill Downs, but Asher was much more than that.  He was the face of the Kentucky Derby.  Asher could handicap with the hardcore horse racing fan and make the event appeal to even the most casual viewer.
Asher's booming voice and friendly face became a staple in the city of Louisville since he assumed his role with Churchill Downs in 1999.  You'd be hard-pressed to find one person who can say a bad thing about the Leitchfield native who won five Eclipse Awards as a journalist before he officially called Churchill Downs home.
In the sport of kings, he was a giant in the community.  The Kentucky Derby will not be the same without John Asher.
For more, read Eric Crawford's poignant salute to the life of John Asher.  
I've seen a lot of local news videos in my life, but this one from Eastern Kentucky may take the cake. A man in Floyd County was robbed this week by his cousin, who he suspected was high on meth. What did he steal? That's where this gets interesting.
"It's the most random assortment of things. It looked like he was getting ready to go to a pallet sale," the victim, Mason Tackett, told WYMT. "Who steals a cheese grater? He's got the works. Lysol! He stole an empty bottle of spray! What got me the most was my soap. He stole my soap! Who steals soap?!"
Honestly! Tackett confronted his cousin, Philip Hagans, before he took off with the items, which is when things got a little scary.
"I went around the back of that house he was at and seen my stuff. And then I come back out and he pulled a gun on me when I got back around the house. I guess he thought I was upset with him."
Hagans was charged with receiving stolen property and being a convicted felon with a firearm.
"Must have been been a bad batch around here because Floyd County's gone crazy the past four days," Tackett said.
Meth's a helluva drug, kids. Stay away.
[WYMT]
It's happening! Well, at least for a handful of days. Top Golf is setting up a remote location at UofL's Cardinal Stadium (remember, it's no longer Papa John's Cardinal Stadium). The cool kids (and the company) are calling it Top Golf Crush and the setup will look similar to what you see above. That was at Heinz Field in Pittsburgh, but Top Golf Crush has also made stops in Austin, Nashville, Kansas City and Seattle.
You can checkout Top Golf Crush in the Commonwealth from October 31st to November 10th. Smart move by Top Golf to be in town when the Breeder's Cup is happening right across the street, and assuming the weather cooperates this will be a major hit. Fore! (probably time for me to log off).
Basically it's Top Golf Lite. It's the same concept and a similar setup that you would see at a real Top Golf, but there are fewer targets and bays. The goal is to hit in those targets and you get points. I even think they may put your name on the jumbo-tron. Top Golf is already putting tickets on sale and they start at $25 for students and $35 for non-students. You can buy those tickets HERE.
As for the battle for an actual Top Golf in Louisville. It's still heated. After their 4:30 p.m. dinners Hurstbourne residents are still trying to block Top Golf from calling the Oxmoor Center home. There is a meeting with the Louisville Planning Commission on October 1st. After that meeting we'll have a better idea if Top Golf has a permanent home in Louisville. I'm still surprised it's even a debate.
I hope UofL has insurance on the Johnny U statue (although I think that will be behind where folks are hitting, the Cards moved it to the Party Deck, aka the end zone where Austin MacGinnis banged home the game winner in 2016).
---
It is no secret that bourbon dominates this state, but the craft beer industry is growing in Kentucky. I want to shed light on this amazing industry and what it means for Kentucky. 
The taste for craft beer is growing every day in this state.
Breweries are being opened in cities and areas that aren't named Louisville, Lexington or Northern Kentucky.
This is evident in Hopkinsville, Paducah, Henderson and Richmond, all "smaller" Kentucky cities with successful craft breweries.
And the taste for craft beer has found its way to Marshall County.
Jeff Swatzell opened The Dam Brewhaus, a tap house in the heart of Benton, Ky. in what he says was a "moment of insanity."
"Actually we started out the conversation about going to Graves County and of course, Graves County is still dry," Swatzell said. "But me and the other guy talking about going to Graves County said why don't you go to Marshall County. I never really thought of it."
So he went to Marshall County and opened The Dam Brewhaus. But, why a tap house and not a brewery? Like everything, it was cheaper.
"It started out as a microbrewery, the conversation, and then I went to Big Muddy in Murphysboro [Illinois] and he said don't brew it, just sell it."
"It's much cheaper to sell beer. Plus there's so much beer out there now. And we probably will start brewing in the future."
The Dam Brewhaus opened on April 28th, 2017 and Swatzell knew the people in the area only drank domestic beer, but he wanted to introduce people to the beer he loved.
What he didn't expect was how well people would take to craft beer.
"Actually shocked," Swatzell said. "Of course this is Bud Light, Busch Light country, but I think we've made good progress. Actually kind of caught me off guard. I didn't know what to expect either. And a lot of people don't know what to expect still about it. It's been an overwhelming response."
Swatzell said he's converted several customers from domestic beer to craft beer.
"There is a lot of people now who want to branch out. This is good, what's next? They want to take the next step from a light(er) beer on the craft side all the way up to the stouts, and the porters and bourbon barrel stuff. It's really quite shocking."
The success of The Dam Brewhaus has to do with more than just introducing people to craft beer. The people of Benton and Marshall County are proud to have a place like this in their city and county.
"It's such a unique atmosphere," Swatzell said. "It's not the bar scene, plus the craft beer is not really a bar scene anyway, per say. It's the atmosphere mostly. A place to socialize and drink a good beer."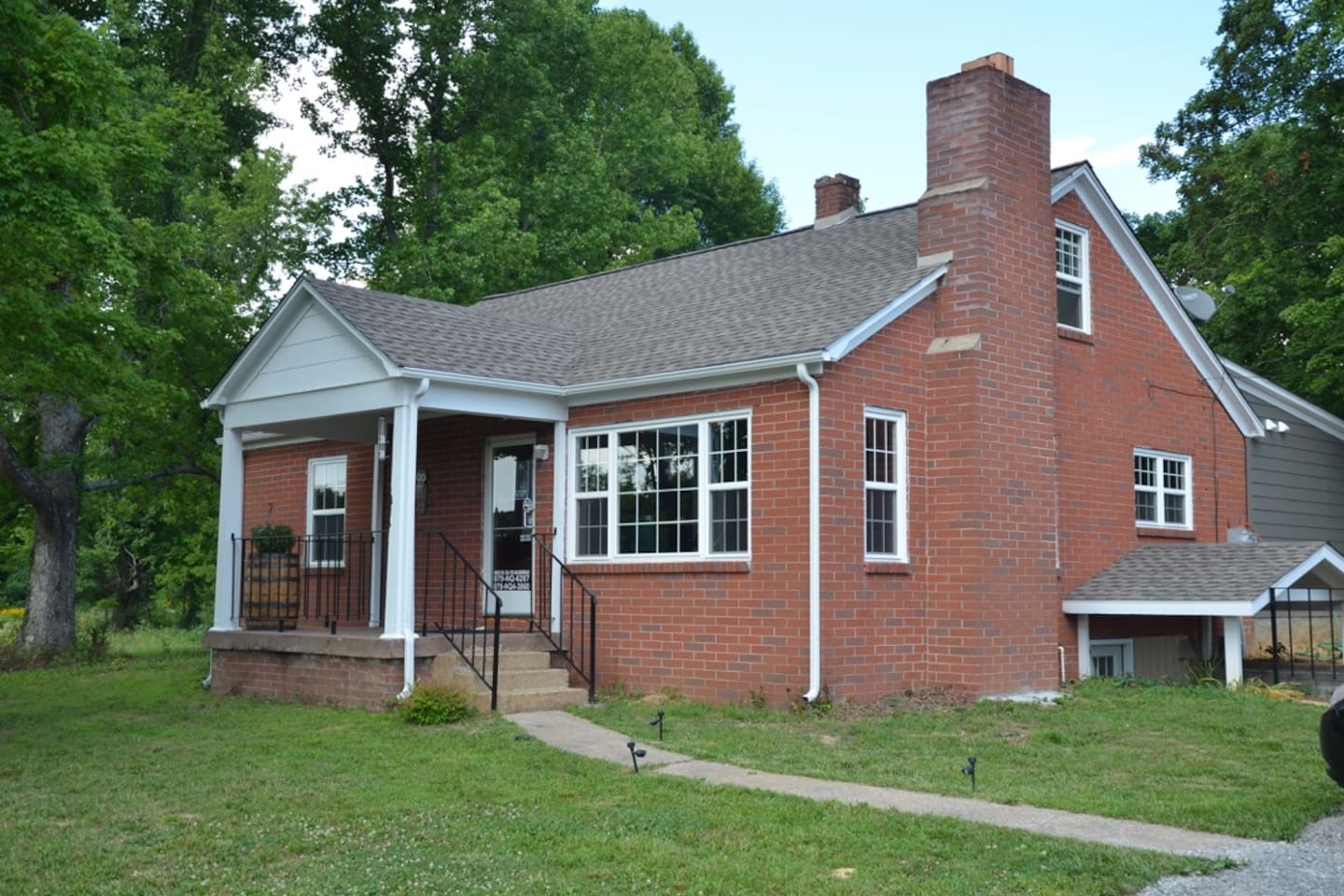 When you drive up to The Dam Brewhaus, you might think you've made a wrong turn. You haven't. From the outside, it looks like a regular house. But on the inside, it looks like a place you can spend a whole afternoon or evening drinking craft beer with friends and family.
Instead of tearing the building down, which was the original plan, Swatzell decided to completely demo the inside. He succeeded because the inside is awesome and a place you'd want to have a beer or try a new one. 
Whether you're a craft beer veteran or a newbie, you need to visit The Dam Brewhaus. With 22 beers on tap, you are guaranteed to find one you'll like.
"People walk in and see 22 taps and ask, "What's good?" Well, they're all good," Swatzell answers each time.
---
1894 US-641
Benton, KY 42025