You know what's a bad idea? Feeding bears. A Harlan County man learned that lesson the hard way earlier this week.
Jonathan Shelton decided to test his luck on Black Mountain recently, opening his car door as a bear walked by and asking if it wanted food. Not surprisingly, the bear did, lunging at Shelton as he extended his hand. Luckily, he was able to get the car door shut just in time:
Shelton told WYMT he filmed the incident to bring awareness to how comfortable bears have become around people and didn't actually have any food with him. Except, you know, his flesh.
However dumb this attempted PSA was, it is a good reminder NOT TO FEED BEARS. Not only is it dangerous, it's actually against the law in Kentucky, with fines up to $1,000.
[WYMT]
The Barbasol Championship is underway at Champions at Keene Trace. You should make the trip out there to see the action, but before you do, let's get you some names to watch.
The casual fan will recognize some of the bigger names from the golf world — Davis Love III, Stuart Appleby, Billy Horschel, to name a few — but these are some of the competitors many of you may not know. We will be keeping an eye on this group all weekend and we hope to see all of them toward the top of the leaderboard.
---
J.T. Poston
Poston's caddie, Aaron Flener, is a former KSR writer and a very good friend of ours. We always root for Flener, so Poston has become one of our favorite golfers since Flener got on his bag back in May.
Tee Times: 8:42 am, Thurs. / 1:42 pm*, Fri.
Stephen Jaeger
Before Flener was with Poston, he caddied for Stephen Jaeger on the Web.com Tour and then the PGA TOUR. The two went separate directions earlier this year, but Jaeger remains one of our favorites. We had some fun on a bachelor party last year.
Last weekend he was hitting off the hardwood in our beach house; this weekend he has the lead going into Sunday. Let's go @SJ_sedl_Golf! pic.twitter.com/qDbksEpAiP

— Drew Franklin. (@DrewFranklinKSR) May 20, 2017
Tee Times: 3:10 pm, Thurs. / 10:10 am*, Fri.
Josh Teater
Also a friend of the KSR program, Josh Teater is the player most Kentuckians should follow. He's currently competing to regain his PGA Tour card on the Web.com Tour, but he's no newcomer to the PGA. The Danville native has made millions in over 150 PGA events over his career since turning pro after a great career at Morehead State.
Fun Fact: He and former UK football coach Rich Brooks are great friends.
Tee Times: 2:26 pm*, Thurs. / 9:26 am, Fri.
Chip McDaniel and Cooper Musselman
Two former Kentucky Wildcats will be making their professional debuts this weekend after leading UK to an NCAA Championship appearance for only the 10th time in program history. McDaniel holed out from the fairway on the 18th hole to punch the Cats' ticket.
Tee Times: 9:59 am, Thurs. / 2:59 pm*, Fri.
Tee Times: 10:10 am*, Thurs. / 3:10 pm, Fri.
Brittany Lincicome
LPGA professional Brittany Lincicome accepted a Sponsor Exemption to compete in the 2018 Barbasol Championship. In doing so, Lincicome is only the fifth female in history to compete in a PGA event.
Tee Times: 9:59 am*, Thurs. / 2:59 pm, Fri.
Tom Lovelady
Lovelady is the longest hitter in the tournament. He roomed with Justin Thomas at Alabama in college, and then again in Thomas' home after he turned pro.
Tee Times: 2:37 pm, Thurs. / 9:37 am*, Fri.
Billy Hurley III
Hurley's caddie, Clay Duerson, is a Lexingtonian and was once the Wildcat mascot for UK. So that's neat.
Tee Times: 1:53 pm, Thurs. / 8:53* am, Fri.
Grover Justice
A Pikeville native, Justice is a former UK golfer with five wins on his college resume. He is now a golf instructor in Lexington and earned his entry as the Kentucky PGA Section's Player of the Year.
Tee Times: 2:48 pm*, Thurs. / 9:48 am, Fri.
Earlier this year, Philadelphia Eagles quarterback Carson Wentz proposed to his girlfriend on top of the Kentucky Castle in Versailles.
Super Bowl champ Carson Wentz got engaged at the Kentucky Castle
They're now married.
Wentz and Maddie Oberg, a Lexington native, tied the knot in a lakeside ceremony along Lake Nockamixon in Pennsylvania. Wentz took to Twitter afterward to share a few photos and to say, "Such a blessing to finally get to marry my best friend! It was an incredible day and God has his fingerprints all over our story! I'm a lucky man with one amazing wife #WentzUponATime."
Such a blessing to finally get to marry my best friend! It was an incredible day and God has his fingerprints all over our story! I'm a lucky man with one amazing wife ?? #WentzUponATime pic.twitter.com/6N99DgQ3NV

— Carson Wentz (@cj_wentz) July 16, 2018
2018 is a big ring year for Wentz's hand. First the Super Bowl, then this.
Build-A-Bear held a "Pay Your Age" promotion in its stores in the United States, Canada, and the United Kingdom today in which customers only had to pay the cost of the age of their child for the popular stuffed bears, which normally start at $30. Not surprisingly, it did not go well.
Lines were so long that the company was forced to cancel the promotion, forcing employees to turn away hundreds of customers, some who had been waiting for hours. Some customers in line did receive a $15 coupon, but most went home empty handed. Build-A-Bear posted this message on their website:
Per local authorities, we cannot accept additional Guests at our U.S. Build-A-Bear Workshop locations due to crowd and safety concerns. We have closed lines in our U.S. stores. We understand some of our Guests are disappointed and we will reach out directly as soon as possible.
Here's footage of the crowd at Fayette Mall this morning from our friends at LEX18:
Hello everyone! It's Claire Kopsky – LEX 18. I'm here at Fayette Mall where hundreds are lined up for Pay Your Age Day at Build-A-Bear! Some have been camped out and waiting since 7:00 this morning!

Posted by LEX 18 on Thursday, July 12, 2018
And the line in Louisville:
Hundreds line up at Paddock Shops Build A Bear

Take a look at that line! Thousands of people are in line at Louisville's Build A Bear at the Paddock Shops for the "pay your age" promotion http://www.wlky.com/article/build-a-bear-lets-customers-pay-your-age-for-just-one-day/22096528

Posted by WLKY News on Thursday, July 12, 2018
Build-A-Bear pay your age promo backfiring at Paddock Shops. Louisville authorities now requiring the store to limit the line because of safety concerns. One viewer says at least 1,000 are already waiting. pic.twitter.com/QayNrVasO7

— Jen Keeney (@jenkeeney) July 12, 2018
This promo is problematic for many reasons. First, Build-A-Bear should have known this would happen. People will do ANYTHING to save a buck, including standing in line for hours on end. There's no way supply could ever meet demand, resulting in an inevitable PR nightmare.
Secondly, unless you were one of the first 50 or so people in line, you probably should have known this would happen too. The offer said children must be present to get the special discount, so, you have to stand in line with your kid for hours knowing you might not get a $20 or so discount on a stuffed animal. I'm not a parent, but that doesn't sound worth it. I'd fork over the extra money and spend my Thursday morning at the pool.
One of the most famous Kentuckians was in a very scary scooter accident and he is lucky to be alive.
George Clooney was riding along a road on the Italian island of Sardinia when he collided head-on with a blue Mercedes. The car veered into oncoming traffic, which resulted in Clooney crashing into the front of the car at a high speed and then flying into the air and onto the asphalt.
The actor could not move his head or legs as his bodyguards rushed to his side, according to reports. He was hospitalized but then discharged two hours later with injuries to his pelvis, leg and arm.
Surveillance video was released today:
As you can see, that could've been much, much worse for the Oscar-winning Kentuckian.
With the Barbasol Championship less than two weeks away, caddies from the PGA Tour have come together for a very cool gesture in the Bluegrass.
It began when Steve Catlin, caddie for Robert Streb, came across a tweet from the tournament asking for junior volunteers.
??? We need junior volunteers to serve as standard bearers!

Inside the ropes access for any high school age kids (13-17)

$35 fee includes Nike Dri-Fit shirt, Nike hat, credential, parking pass, food and drinks and discounts at our merchandise tent. https://t.co/jvfBkOytAk pic.twitter.com/PFi2kNEMKL

— Barbasol Championship (@BarbasolChampKY) July 2, 2018
Once Catlin saw the junior volunteers would need to pay a $35 fee, he offered to cover the cost for five kids in Lexington.
I will happily pay the fee for 5 young volunteers in Lexington who would love to help but can't afford it. Please let me know if you find some. Let's get some youths out to see how cool this all is. https://t.co/OaVATUJLJc

— Catman (@OzCatman) July 2, 2018
Catlin's generosity caught the attention of several other Tour caddies, and within two days enough money had been donated to cover the fees for 80 junior volunteers. That number continues to grow today, but now the tournament needs more kids to fill the spots.
So if your youngster has any interest in volunteering at the Barbasol Championship, visit the volunteer website here to get registered.
And a big thanks to Steve Catlin, his fellow caddies, and everyone else who put up the money so more kids are able to participate in what is going to be a fun week across the Lexington area.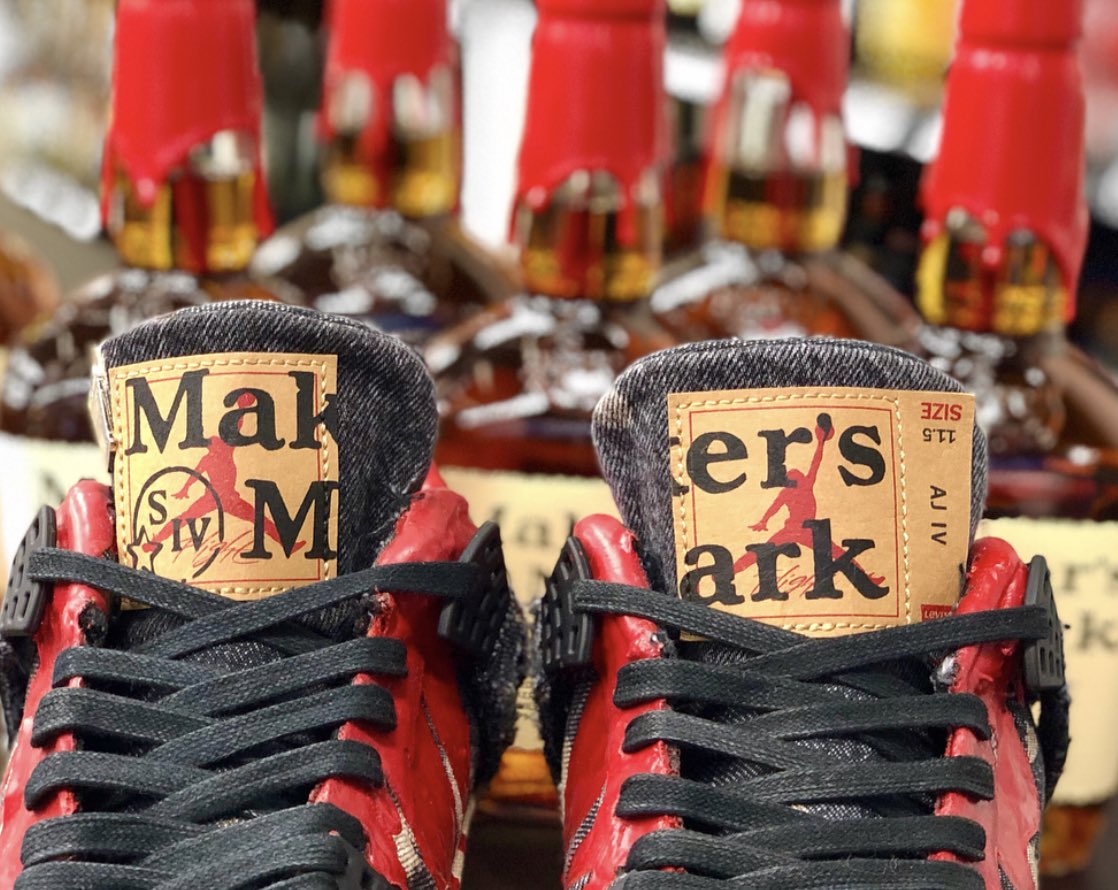 The super-talented Billy Hobbs of True Blue Customs fame is getting some attention online (both good and bad) for his customization of the Levi's Denim Jordan 4 shoe. It's common practice among sneakerheads to paint up and customize the retro shoe, and Hobbs stuck to his Kentucky roots with a Maker's Mark-inspired look that earned a tweet from ESPN's Darren Rovell.
The 1 of 1 custom Air Jordan Bourbons from @truebluecustoms pic.twitter.com/lNzLIGaN6D

— Darren Rovell (@darrenrovell) July 8, 2018
Responses to Rovell's tweet show mixed reviews, but anyone familiar with bourbon and the Bluegrass know and appreciate the artwork.
I love it, although I don't know if I could find an outfit in my closet to wear with them. The shoes are probably more of a collector's item for the office than something I would wear on my daily Kroger run.
Today's NBA Summer League schedule:
Tuesday, July 10
4:00

San Antonio

Portland (Archie Goodwin, Kyle Wiltjer)

NBATV

4:30

Utah

Miami (Bam Adebayo)

ESPNU

6:30

Sacramento (Wenyen Gabriel)

Memphis

ESPN2

8:30

LA Lakers

NY Knicks (Kevin Knox)

ESPN2
The tournament will begin tomorrow and run through Sunday.
Monday's Summer League recap:
Derek Willis (New Orleans) — Played only three minutes; did not attempt a shot
Dakari Johnson (Oklahoma City) — 10 pts, 2 reb, 1 tech in 22 minutes as starter
Hamidou Diallo (Oklahoma City) — Played in the game but NBA.com left him off the box score completely
Marquis Teague (Toronto) — DNP
Alex Poythress (Indiana) — 7 pts, 4 rebs in 18 minutes as starter
Marcus Lee (Cleveland) — 6 pts, 6 rebs in 21 minutes as starter
Aaron Harrison (Washington) — 4 pts, 3 reb, 10 min
Malik Monk (Charlotte) — DNP, injured
Shai Gilgeous-Alexander (Los Angeles) — 25 pts, 5 reb, 4 ast in 28 minutes as starter
Isaiah Briscoe (Orlando) — 2 reb in 3 minutes as a starter; left with shin injury
The World Cup picks back up this afternoon.
France and Belgium will meet in the first of two World Cup semifinal games later today. It will air on Fox (the regular one) at 2 p.m. and the winner will likely be the favorite in Sunday's final. It's going to be a good one.
If it seems like I'm in a bad mood today, forgive me — I'm missing Jimmy Buffett at Riverbend.
Today is one of my favorite days of the year and it's killing me to not be there. If anyone sends me a picture via any form of social media, you will be blocked.
GOAT Debate Update:
LeBron James wore a Kobe Bryant shirt to sign his contract with the Lakers.
I'm not a LeBron hater by any means, but I can't imagine M.J. doing this.
I saw American Animals over the weekend and it's awesome.
I need you to trust me on this: Stop whatever you're doing and find a way to see American Animals as soon as possible. You won't be disappointed. The film about the 2004 Transylvania book heist jumps between interviews with the real culprits and the actors portraying them in a very unique perspective of one of Kentucky's most famous crimes. I was excited to see it only for the Lexington connection, but walked away very impressed by how well it was done. 10/10 recommend. Go see it if it's in your area. If you don't like it, I'll reimburse you for the ticket.
Send me your "Ask Anything Mailbox" questions.
Please keep sending your questions by e-mail to askanythingksr@gmail.com or on Twitter to @DrewFranklinKSR. I'll run another edition of the mailbox later this week.
Have a blessed day, friends.
Fourth of July fireworks shows aside, Lexington is a pretty nice city and it's growing by the minute. The big hole is filled in downtown; City Center construction is underway and moving quickly; there are plans for a new Central Park development; Rupp Arena is getting a makeover; UK's campus is gobbling up everything in its path; the canned beer is still dirt cheap at CCI; and there is a new bar/restaurant set to open next month that will be the centerpiece for social gatherings and economic development. What a time to be alive, the kids say.
With all the aforementioned things considered, plus a deeper look into the city's operating efficiency, the website WalletHub named Lexington the fourth best-run city in America. A study of 150 American cities determined the best- and worst-run cities, and Lexington came in at No. 4 behind only Nampa, Idaho; Provo, Utah; and Boise, Idaho. (I see you, Idaho.)
To read the complete findings, click here. There is a lot more to it than what I have explained. Once you do that, go out and celebrate the fourth-place finish by eating one of the many $5 burgers across Lexington, all part of Lexington Burger Week, which began today.
Oh yeah… Louisville finished 30th.
If you happened to be standing on the streets of Madisonville, Kentucky at 4 a.m. this morning, you caught one of the best Fourth of July fireworks shows ever. A fireworks tent in downtown Madisonville was set on fire, causing all the fireworks to go off at once. Randy Bolliger captured the footage and posted it on Facebook:
Firework Tent catches fire in front of HUCKS South Side, don't know how just wanted to show everyone the video

Posted by Randy Bolliger on Thursday, July 5, 2018
Madisonville police told 14 News this was one of three fires last night, two at fireworks stands. Thankfully, no one was hurt.
[14 News]
Last night, the Downtown Lexington Partnership held its annual fireworks show and, well, the reviews are not kind. The fireworks were shot off the top of the 31-story Lexington Financial Center for the first time, but according to social media, it wasn't any better than your average neighborhood fireworks show.
Video, from @AlexSlitzPhoto:
The grand finale from Wednesday's display shot off of the 31-story, 410-foot Lexington Financial Center. @heraldleader pic.twitter.com/CjBAwpn0Wi

— Alex Slitz (@AlexSlitzPhoto) July 5, 2018
As you can see, people were underwhelmed:
Lexington should stop fireworks show if they can't do any better. Three straight years of pitiful presentations-and no excuses this year. The city hyped it and it sucked badly. Homeowners had better shows…. https://t.co/BLtN5fusxY

— Matt Goins Photography (@MattGoinsPhotos) July 5, 2018
Me after that firework mess in downtown Lexington tonight…#bebettertomorrow #LexingtonKY #stopgettingyourfireworksfromwalmart #imwearingthatonelebrongifout pic.twitter.com/2Ls6C2BRN4

— KenIsJustKen (@kenisjustken) July 5, 2018
Things more impressive than Lexington fireworks:

1.) Kentucky football
2.) Applebee's appetizers
3.) me in bed

— Hunter Stewart (@hunterstewart) July 5, 2018
Congratulations to the city of Lexington for providing the most dog meat fireworks show of all time

— Aaron Clark (@ClarkTheShark35) July 5, 2018
It's clear this year's Lexington fireworks budget was cut.

— Mike Tabor (@Tabor_Mike) July 5, 2018
Lexington city fireworks ? were def. bought at Walmart #FourthofJuly2018 #Embarrassed

— Billy Yarosh (@keaplogik) July 5, 2018
I am embarrassed to live in Lexington… that was the softest firework show I have EVER seen. I've seen sparklers more exciting than that crap

— Riley Calhoon (@Riley_Calhoon6) July 5, 2018
Lexington, Ky fireworks starter kit.?? Smh!!! That was absolutely HORRIBLE!! ??? pic.twitter.com/B0MLQxHV2u

— DJ GQ (@DJGQ_JusFamEnt) July 5, 2018
Lexington Kentucky had the worst fireworks show in all of America tonight

— Sauce (@RossLarkins) July 5, 2018
Lexington fireworks, lol. My 25$ pack was more impressive. We kept looking at each other at end thinking "Are they taking a break?" #lexington #July4th

— UG DoC V (@UGDoC074) July 5, 2018
the #lexington fireworks show left… much to be desired. just as the finale ended, my group joked "wouldn't it be lame if this turned out to be the finale?"

— Taylor Kessinger (@sceathanglaed) July 5, 2018
There are multiple threads about it on Reddit:
My Wife's Feelings about Lexington's Fireworks as depicted by the Fireworks from lexington
Were these the worst fireworks in the history of Lexington? from lexington
Ooof.
UPDATE: Mayor Jim Gray says the city will now review the fireworks show to see what went wrong.
Like a lot of people, I was disappointed in the fireworks on the Fourth. Lexington takes a lot of pride in its Fourth of July Festival. 1/2

— Mayor Jim Gray (@JimGrayLexKY) July 5, 2018
The Downtown Lexington Partnership has been in charge of the Festival for the last several years, and I will be asking for a thorough review to get to the bottom of what went wrong. The Festival and its management need to be examined. 2/2

— Mayor Jim Gray (@JimGrayLexKY) July 5, 2018