Going Hunting
Life experiences that are innocuous to most, just as that word is; but entertaining to the masses.
Friends, loyal KSR readers and those of you trolling us from other fan bases, we need to talk about a little place called About Thyme Cafe. Tucked away in the mean and sunny streets of North Augusta, just a mile or two from the Peach Jam, About Thyme Cafe is the best restaurant you've probably never heard of. We had never heard of it until Thursday afternoon when it jumped out at us on our way back to the hotel from the gym. A sign out front saying, 'Welcome Peach Jam' caught our attention, and we're damn sure glad it did.
We were a little weary entering the building — we've only been eating at wing and burrito joints and the exterior didn't fit that mold — but one quick look at the menu and we knew it was the right call. My appetite hit its Dougie as I frantically perused the options: Pot roast sandwich. Kentucky Hot Brown. Pork tenderloin. Shrimp and grits. Chicken enchilada casserole. Lasagna. A Grown Up Grilled Cheese? I don't know what that is but it sounds awesome.
After devouring our food — the pot roast won out for me — Matt noticed a KSR commenter told us About Thyme Cafe is owned by a Kentucky alum. We had to ask for confirmation before leaving, and it turns out, KSR commenter was right. The owner, Liz Victor, was behind the counter when Matt asked, and she told us her husband is a UK grad, born and raised in the bluegrass before moving to Aiken, South Carolina. And as if that discovery and the incredible food weren't enough to win our undying love, she told us her husband reads KSR and listens to the radio show and they'd love to have us back again for another meal.
Done. We hope to see you there.
Now let's get to a Peach Jam edition of the Friday News and Views…
Some say KSR had an exhausting Thursday in North Augusta, but we're not half as tired as John Calipari and Kenny Payne. The two Kentucky coaches were in attendance for all six rounds of games to watch a number of up-and-coming talents in high school basketball. Malik Newman is one of the prospects the UK staff had eyes on and he did not disappoint in the morning game. Newman scored 40 points, an AAU high for him this season, in front of Cal and representatives from several other elite programs.
After the game, Newman admitted to reporters that he doesn't watch very much basketball. He said he saw about two college games last season, but he does know who John Wall, Derrick Rose and Tyreke Evans are.
I don't understand how the Mac Irvin Fire can lose a game with Jahlil Okafor and Cliff Alexander in the frontcourt. But it happened.
UK target Stanley Johnson got to show what he's made of in front of Coach Cal Thursday afternoon and it wasn't his best outing. I didn't stick around to see the entire game, but I was there long enough to see his defending champ Oakland Soldiers go down by 30 points. The box score tells me he finished with 14 on 3-of-10 shooting and seven turnovers. His athleticism is as good as any, though.
Kelly Oubre told Adam Zagoria he has an offer following his team's win against Newman's 40-point performance. Oubre is a 6'7″, 200 lbs. shooting guard from Richmond, Texas, ranked 19th overall by Rivals.com. He said he got his first phone call from UK about a week or two ago.
 Trey Lyles: "Kentucky gets players to the league faster, but Louisville might develop them just a little bit better." (via Jeff Borzell0)
Interesting quote. Anyone agree?
I'm still confused by this photo of Coach Cal hanging out with Doug Shows: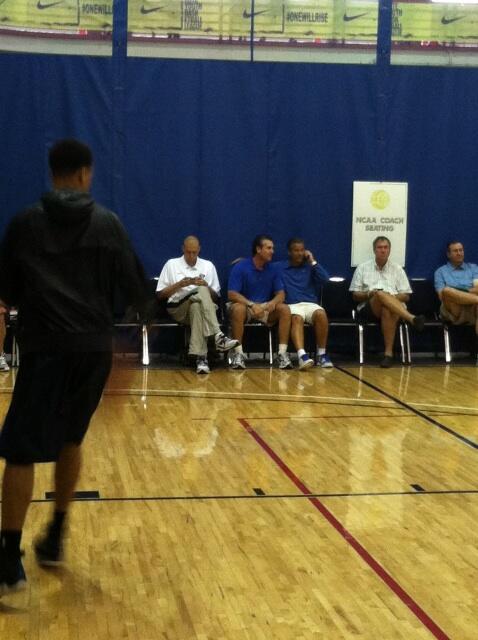 And did Shows eject him from Gym 4 before the game ended?
No one is having more fun at the Nike Peach Jam than our own Chris Tomlin. The man was put on Earth to cover AAU events, it just took him too long to find out. He and Frank Haith were also meant to be best friends.
 Matt looks really excited to be sitting next to Lorenzo Romar. I bet they had a lot to talk about, like all the times Romar thought he had a player at Washington until that player committed to Kentucky.
That's Rodney Billups in the Colorado t-shirt. He's Chauncey's baby brother.
 The media workroom is occasionally used as an AAU locker room, unexpectedly, and as Tomlin mentioned in his post earlier today, things got a little intense following a loss. The coach was very furious with his players' lack of effort and voiced his frustration with words you wouldn't use around your mother. He emphasized how this weekend determines what college scholarships they'll receive and that the high school season "ain't gon do sh-t" for them. "This is your time and you're too busy worrying about free gear and going to the mall to chase girls," he emphatically said. Tomlin and I feel for the players, though, because we too are in Augusta for the free gear and chasing girls at the mall.
 I can't put into words my disappointment when I ran into the gym to watch Team Penny, coached by Penny Hardaway, only to see Penny wasn't in the building. This was my opportunity to meet the man who inspired Lil' Penny and the shoes I wore for at least three consecutive basketball seasons in the 90s. Where are you, Anfernee? Don't tease us like this.
Side note: Team Penny's fans wear t-shirts saying, "Team Penny, No Loafers."  I want one.
We owe a big thank you to KSR commenter Ridge Runner, who hooked us up with a $50 Hooters gift card. We're putting it to good use tonight. It was great meeting you.
 One final non-Peach Jam note: Steve Delabar earned the last spot in the MLB All-Star game. Mrs. Tyler asked you to help the Kentucky native out Thursday morning and it worked. Good for Steve and great job by you.
Go Cats. Past, present and future.
To the thousands of BBN making their inaugural trip to Papa John's Stadium this Sunday, please allow me to share some knowledge as to what expect from a UK/UL game presented by the palace that pizza built. I've traversed this enemy territory several times before and have some tips for a better experience at our host's home turf. Before you head out to the game, you are going to need to make sure you dress appropriately.
UK coeds, I love the way you rock it at Commonwealth. Little blue skirts paired with cowboy boots or high heels are awesome. Jeans, snug blue t-shirts, and face stickers- even better. However, on this day, you will need to leave the heels at home. You don't want to arrive at your stadium seat with your stilettos looking like Foge de Chao skewers of discarded menthol filters. The path leading to the stadium is littered with empties, rolling papers, and "5 core values" but those aren't nearly as damaging to your shoes. I don't know if anyone makes a blue and white rape whistle, but if you are parking in the neighborhoods surrounding the stadium, I'd do a quick Google search and get one overnighted.
Guys, pick something beer resistant as Cards fans love to throw their beverage with all the accuracy of a Will Stein slant pattern. In a tight spot with unfriendlies, have some scratch off lottery tickets handy to throw down and distract them.
As you make your way to the game on Sunday, you may be tempted to listen to the home team's pre-game radio show to get acclimated to the unfamiliar players' names that will be featured during the upcoming matchup and late night police taserings. During portions of these radio broadcasts, you may hear what sounds to be an individual trying to read something from a teleprompter typed in Wingdings with a mouth full of peanut butter. Welcome to a press conference by Cardinal's head coach Charlie Strong. Strong is by all accounts a good man and good coach. But, if the last obstacle on Ninja Warrior was clearly pronouncing his own name, Chuck would never reach the finish line. Even Representative Todd Akin would consider what Strong does to the English language as "legitimate rape". Better to just tune over to Matt.
Upon arriving to the venue, the University of Louisville would like for you to bask in the awe of Papa John's Stadium, turning a blind eye to the hot mess that is everything else surrounding it. Papa John's Stadium is beautiful. Papa John's Stadium is modern. Papa John's Stadium is the $10,000 tit job on the Janet Reno of college campuses. I'm sure you are used to tailgating in the shade of UK's arboretum while soaking in the last warm days of summer with a cold cocktail in hand. Leave that mental picture at home. The only people who find the atmosphere surrounding Papa John's Stadium pleasant worked on the set design of the movie Unstoppable. If red and black adorned trains are your type of thing (I'm looking at you Becca Manns), you will love it. However, if you expect the same type of tailgating experience you're accustomed to in Lexington, as Al Pacino would say and Pat Summitt would do, "fughetaboutit".
After you park your vehicle in whatever yard is not yet roped off by crime scene tape, remember to put all valuables in your trunk should you have forgotten to leave them at home. Nothing is sadder than having your GPS stolen by someone who will never, ever leave Jefferson County. If you go ahead and program a "favorite" spot on your system such as a "library", "graduate school", or "dentist", it will make the device easier to track down at pawn shops during the recovery search.
Once inside the stadium, the accommodations are much better. The beer will be flowing, the music will be pumping, and you'll be so excited about the pending upset you'll soon forget about the concrete slab you just spent 5 hours sitting on. You will notice the "brass section" of the stadium is no longer reserved for the band but rather the recycling of bullet casings, but other than that, it is not that bad. While the bleachers strongly resemble Arkham Asylum, the occupants of those seats are more "Idiocracy" and less "Fight Club". With the liberal alcohol policy of the Big East, the only thing you'll need to flask inside the stadium is Febreze.
With these ideas in mind, you'll at least have an idea on what to expect on Sunday other than a UK win.
Wear your blue, make a ruckus, and remember, as ALWAYS….I really hate Louisville.
– TH
In honor of Andy Griffith, a post from KSR's (simpler) past. From July, 2006, Turkey Hunter's rankings of the women of Mayberry, complete with the original comment section. Notice that back in those days, the only commenters were KSRers and their friends, Mosley, T Walters, Turkey Hunter, Intern, Mike Jones, etc….long time ago, but back during the KSR roots
Okay, the Barney post has stirred up some interest among our readers and I think this debate deserves its own forum. Time to rank the Hotties of Mayberry. The rules are simple: rank the women who appeared on the show in the order of your preference and explain why they deserve their position. I will get the ball rolling and submit my list for debate. Just as in my private life, I am willing to trade looks for, as they say in Animal House, "a certain morally casual attitude".
Turkey Hunter Top 10
1. Manicurist– I forget her character's name but she was played by Barbara Eden and brought a whole new level of culture to Mayberry-
Pros: smoking hot, blonde, employed
Cons: no health insurance, fixated on ex, talked nonstop
2. Skippy and Daphne-Fun girls
Pros: always up for good time, most likely to give "E" Entourage moment, Paris and Nicky of their generation
Cons: tendency to want to dance, old one sounded like James Earl Jones
3. Ellie May Walker, pharmacist
Pros: Tall, thin, milkshakes brought boyz 2 tha yard
Cons: Femnazi, wouldn't give Emma her pills
4. Thelma Lou, Barney's squeeze
Pros: attractive, had equity/homeowner, red head
Cons: was willing to hook up with Barn, bi-polar
5. Irene Fairchild, county nurse
Pros: hot, blonde, nurse (tough to gross out/access to antibiotics)
Cons: conservative-may refuse to wear nurse outfit at all times
6. Helen Crump, teacher/gf to Andy
Pros: strict disciplinarian/probably into kinky stuff
Cons: bitchy
7. Charlene Darling– member of Darling Clan
Pros: freak, family owned private distillery
Cons: many protective brothers, pretty sure we dated once already
8. Aunt Bee–
Pros: Paula Dean in the kitchen
Cons: Paula Poundstone in the boudoir
9. Emma Brand-hypochondriac-
Pros: virtually impossible for unplanned pregnancy,
Cons: old, possibly contagious, drug dependent
10. Malcolm Merriweather, Englishman
Pros: soft presence, delicate features, made sweet newspaper tree
Cons: British, no motorized transportation, Ernest T owned him
Former UNLV standout and CBS Sports college basketball analyst, Greg Anthony, thinks that the SEC could be the country's best conference.

Anthony, who also contributes to NBA TV and Yahoo! Sports, says that the Big East conference might have the best conference depth, but that SEC could be the better conference in terms of top tier teams.
"The SEC is much improved from last season. Listen, we obviously all know about Kentucky, and (former VCU coach) Anthony Grant is doing a solid job at Alabama.

Mississippi State has also improved, and Billy Donovan has Florida guard-oriented, perimeter-oriented, and overall is a very solid basketball team. They also have a couple of other teams that can compete."
As of right now the SEC has five teams ranked in the AP top 25 poll (Kentucky, Florida, Alabama, Vanderbilt, and Mississippi State) and seven teams with one loss or less. Anthony didn't specifically mention the 20th ranked Vanderbilt Commodores, who have lost two home games so far this season. Despite the two losses (Cleveland St. and No. 11 Xavier) the Commodores have the guards and post players to compete in the SEC and challenge for a conference title.
We will know a little bit more about the conference after some tough match-ups this week as No. 10 Florida takes on No. 4 Syracuse and Kentucky takes on No. 5 North Carolina. The Wildcats will definitely benefit from the improved conference talent, consistently playing some of the best talent in the country will help get them ready for the NCAA tournament.

In two days, the fair city of Lexington will once again be forced to tolerate the influx of Louisville's elite as they blow into town, pockets flush thanks to the cornucopia of next day check cashing services Jefferson County has to offer. As is custom, 64 East will be littered with shell casings and roach clips as the Cards fans show up in a wagon train of I-Rocs with a sense of self worth so overinflated Ice-T will be taking it to the 2011 BET Awards. For 24 hours, UK will have to play host to its very own Cousin Eddie, hoping against hope that come Sunday morning there will still be some copper left in the dormitory air conditioners. That I can take; every family has a black sheep. What I can't take is the misplaced confidence UL fans will once again drag into Commonwealth Stadium like Linus Van Pelt's blanket.
Cards fans, what makes you think this year will be any different than the previous four? Is it because when your coach speaks he sounds like he is auditioning for the lead in "Miracle Worker"? With his charisma, Charles Strong makes Stephen Hawking sound like Tony Robbins. Whether it is interviews or press conferences, Chuck stumbles over his words like it's a course on Wipeout. Even if he were the greatest tactician alive, he wouldn't be able to communicate it to his players. I can just see a director of a Rally's commercial pounding his head against a boom mic as Strong butchers his lines like a Boone's 'Pick 5'. A new hire that can diagram a play is of little use if he can't diagram a sentence.
Beyond the coach, do you "Da Ville" fans realize you are starting a 5-foot-5, ginger walk-on at quarterback? If your quarterback had less stars, he would be heading the fall lineup on the CW. I challenge anyone to differentiate Opie's rock skip in the opening credits of the Andy Griffith Show from Will Stein's game film. Usually when something that little, red, and annoying pops up, the UofL cheerleaders have to refill their Valtrex scripts. I do like that the kid has heart. But so did Custer.
Last Friday, I reluctantly watched you all take on FIU in the showcase that was the Sunbelt Conference. The Bay of Pigs didn't feature as many South Floridians running rampant as what I saw in your backfield that evening. Your offensive line has more gaping holes than Samantha Ryan. Nothing you've done in the last half decade leads me to think you have anything more to look forward to Saturday night other than getting tasered. The good news is that you won't be holding the Governor's Cup as that has metal and is a good conductor of electricity. (Calm down Cards fans, I know I just used the word "conductor" in a sentence in a way unrelated to a train. I know you're fascinated with trains and love to sit in their shadows while you drink Canadian whiskey waiting for non-conference losses. Just unfurrow your brow and know that the word has multiple meanings.)
UK fans, I can't wait to see you guys this weekend and "RISE", or whatever the hell that means. UL fans, Catalina Inn doesn't have a late checkout so you'll need to be westbound no later than 11:00 am Sunday.
I hate Louisville. Go Cats.
Rutger's Head Football Coach Greg Schiano got a few headlines with his proposed idea to eliminate kickoffs from the college football game.  One of our SEC foes and UGA coach Mark Richt presented a similar idea, as well.  Sounds like crazy business to me.
Former UK WR Derek Abney agrees that it's a bad idea – and he is slamming his foot down against this nonesense and bellowing out a big, "Hell No!"  Actually, here is what Abney truly said:
"To eliminate that would be pretty disappointing for me."

"A lot of the kids that play ball, especially the younger ones, that's their opportunity to get on the field. So it would be a shame to take that away from them."

"Not having the kicking game is a travesty if you took that from the football game."
Obviously, Abney's words carry weight and will quickly quell the plans of Schiano and Richt.  Just kidding.  But, really, Derek Abney was a successful Wildcat when it came to kickoffs – he returned 2 for touchdowns en route to becoming and All-American Special Teams player, so his voice does carry a little weight in that area of the game.  Abney also spent two years in the NFL after being drafted in the 7th round of the 2004 NFL Draft, spending one season with each of Baltimore Ravens and the Chicago Bears (sadly, never say any game action)
Sorry….terribly slow news day.
Story HERE
Lately, there's been a lot of talk about the characteristics of a good walk-on player. At Kentucky, we've seen the spectrum: cocky chest puffers (Steve Masiello), hard-nosed hustlers (Mark "Clappin'" Krebs), and baby-faced Backstreet lookalikes (Jarrod Polson). While we love to scream "SHOOOOOOOOT" at each of them equally, some stand out a little more for their passion and pride in the Blue and White.
Since the first walk-on I can remember in earnest is Masiello (no wonder I hate hair gel on men), I had to dip into the dusty history books to attempt a fair assessment of Kentucky's unsung heroes. And man, what a delightful research topic (thank you bigbluehistory.net, for your wonderful resources, by the way).
Here's where I would rank the walk-ons, in terms of a) Big Blue pride b) on-court performance and c) legacy:
FIRST TEAM

Cameron Mills
Years: 1994-1998
Career Points: 365
Mills is one of the most memorable walk-ons in Kentucky history due to his super sweet three-point shot and tendency to step up in big games. Case and point: the three to give the Cats the lead against Duke in the 1998 Elite Eight. That clip still gives me chills. Fewer players have had more passion for the blue and white than Mills, who turned down a scholarship at Georgia to play for the Cats. Mills is now an evangelist who travels the state, speaking to churches, youth groups, and schools.

Ravi Moss
Years: 2002-2006
Career points: 376
Many people forget that Moss was a walk-on, which is understandable considering he was a starter for a while. Ravi was one of Tubby Smith's best athletes and quickly became a fan favorite because of his unselfish, gutsy play. Unfortunately, Ravi ran into some trouble with the law after college, but his hustle and flat out effort should endear him to Cat fans for life.

Nehemiah "Junior" Braddy
Years: 1989-1993
Career Points: 327
I'll admit, I'm too young to remember Junior Braddy, but the more I read about him, the more I like him. Braddy, also a member of the baseball team, brought a spark off the bench and helped the program emerge from its darkest hours. What did being a walk-on mean to Braddy? In his own words, from the 1991-1992 season:
Chance of a Lifetime by Junior Braddy
Every child in America dreams of becoming someone famous or just doing something special that sets you apart from the rest of the world. It is impossible not to dream. Every time we go to sleep at night or just daydream in class, we enter another world where no goal or achievement is impossible. Most of us wake up, but a select few dream on, until one day they realize that their dream has come true.

Fifteen people share the same dream, with each person striving to make that dream come true, but knowing that with one mishap or twist of fate you can be rudely awakened never to dream that dream again. But with determination and hard work we can dream on, until truly we become one of the select few on this earth. We have the chance of a lifetime, and I believe that we can do it. Not by might or by power, but by faith. And I do believe.

Preston LeMaster
Years: 2002-2006
Career Points: 30
Why include LeMaster? Sure, his stats aren't as flashy as some on the list, but Preston LeMaster was the quintessential Kentucky boy that fans could connect with through shared childhood dreams of playing for the Cats. That's why we all went wild when LeMaster, son of former Cat Jim LeMaster, scored a career-high 12 points on 4-5 shooing from behind the arc in an 80-40 victory over Ole Miss.

Todd Svoboda
Years: 1992-1993
Career points: 24
"But, Tyler," you say, "This guy only played ONE YEAR. Why does he deserve a place amongst the fan favorites?" His three-pointer to send Kentucky to the Final Four over Florida State, that's why. Svbododa took a big risk by transferring to UK from Northern Kentucky his senior season, especially considering Rick Pitino told him he wouldn't get a single minute of playing time. That's not that unusual for a walk-on to hear from his coach, but Svoboda took the chance anyways, and it paid off. Svoboda reignited the hopes of a team and fan base recovering from probation and the dreams of young Cat fans across the Bluegrass.
SECOND TEAM

Chris Gettelfinger
Years: 1977-1981
Career Points: 28
Perhaps more infamous for his bright red curly hair and last name than the points he scored, Gettelfinger will always be a fan favorite. Unselfish and almost proud of the role he played for the team, he chose to play for Kentucky over his hometown Tennessee Volunteers, which should make you love him no matter what.

Mark Krebs
Years: 2007-2010
Career Points: 12
Future walk-ons could learn a thing or two from Mr. Krebs (and I'm not just saying that because he's part of the KSR family). Like Gettelfinger and others before him, Krebs embraced the role of walk-on, working hard to help the team in practice and supporting from the sidelines (although Stacey Poole is giving him a run for his money for best cheerleader).

Mark Coury
Years: 2006-2008
Career Points: 65
Ah, the Coury Flurry. Exactly as awkward as he looks, Mark Coury is lovable for many reasons. First and most obvious, his freakin' sweet good looks. Who can forget the rec specs picture (obviously not me, since it's the one I chose to use)? Even more bizarre was his brief stint as a starter under Billy Gillispie and his career at Cornell after he transferred. Godspeed, Mark Coury.

Matt Heissenbuttel
Years: 2000-2004
Career Points: 21
Another homegrown Kentucky boy, Heissenbuttel naturally grew up loving the Cats. He was even a ball boy for Rick Pitino back in the day. He may not hold any scoring records at Kentucky, but he does hold a record for the longest last name of any current or former player. Take that, Matt Scherbenske!

Steve Masiello
Years: 1996-2000
Career Points: 42
I really didn't want to put Masiello on this list because he's such a you-know-what, but like it or not, he's one of Kentucky's more memorable walk-ons. After doing a little bit of reading about Mr. Masiello, it turns out that my alma mater, Davidson, rejected him (see, we ARE smart), which led Rick Pitino, a close family friend, to give him the chance to be a walk-on at Kentucky. So there you go. The admissions office at Davidson was the catalyst for Steve Masiello's journey from Knicks ballboy to Kentucky walk-on/victory cigar to assistant coach/Molly's regular to Manhattan College head basketball coach. You're welcome?
I know I've left several favorites off the list, but it's a start. Who did I miss? SHOOOOT!
Hello Tennessee fans! It's that time of year again where you get to redeem the remainder of your gift card to the Alimony salon for the second of two ass waxings at no cost to you. Just sit back, bite down on something leathery (Pat Summit keep your shirt on), and know that it will all be over in forty minutes. Do not fear, as the pain of Sundays treatment will be quickly forgotten when the NCAA borrows Jimmy Dykes' "nail" in a few weeks and shoves it directly up your "Cumberland Cavern". Bruce, you must know by now that governing bodies do not take kindly to mistakes of veracity and candor towards their investigations. That really should have been a lesson you learned when the ex, Kim Shrigley, wouldn't accept "individual workouts" as the stated reason for your fingers smelling like cat food after attending 2007 fall student orientation.
What? You thought that an eight game suspension for conference games would appease the Gods of Indianapolis for lying directly to their face when they had photo evidence to the contrary? Yeah, that is about as likely as finding a leprechaun, a unicorn, and a hymen all in Charlie Sheen's boudoir. The faith that self-imposed punishments will satisfy the NCAA is as misplaced as a Randolph Morris fax or Billy G's Titleist.
UT fans, it is time to wake up and see your coach for what he's worth. Pearl has been turned away at more sweet sixteens than Roman Polanski. Last season's Elite 8 was much like when Cinderella finally made it to the ball – yeah, I know, she coughed – before anything terribly good happened, her dress went to hell, the horses turned into mice, and the carriage turned back into a bright orange Pearl. See UT fans, Cindy tried to hide her flaws behind a well padded bra, a bump-it, and spanx, but in the end, the wheels came off at midnight. UT, when the NCAA tags your school, you'll definitely know what time it is. Except, in your case, there will be no happy ending, save what Natural Light fueled tug Brucie can coax in a cove at Norris Lake. UT bball fans already know this, but the only 'glass slippers' to be found in Knoxville are size 12 Timberlands and they belong to your women's coach.
If you're lucky, UT, Sunday will be the last time this calendar year UK will have to hear you scream out your safe word. But then again…. there is always Atlanta. Just grunt or stomp or whatever it is you people in TN do whenever you fake like you 'read' something.
Peace and chicken grease,
TH
CC: Hubert B. Going to Atlanta

Hey Coach Mitchell, can you teach me how to Dougie?
While the rest of you were dallying outside and going about your Sundays, the UK Women's basketball team beat Vandy, 80-71, marking the first time the program has won in Nashville in 25 years.
Keyla Snowden, who has been slumping as of late, was the high scorer with 22 points, 12 of those coming from behind the arc. Other high scorers include freshwoman Bernisha Pinkett with 14; A'dia Mathies with 13; and All-American Victoria Dunlap with 10 points and 8 rebounds. This win was huge for the Kentucky women, as it keeps them in the hunt for the #2 seed in the SEC Tournament.
You go, girls.
Call me crazy, but there's more than just one whole hog in there…
– Are the rumors of the Kanter family suing the NCAA picking up steam once again? (big article, hit ctrl+f and search Kanter)
– The Magic beat the Wizards, as John Wall gets ejected due to two technical fouls.
– CBSsports.com previews tonight's UK-UF battle in Gainesville.
– Florida fans ask, "What's wrong with Tyus?" Clearly they do not read the Bible, or they would know about Kelvin Sampson getting his phone hair cut off.
– 4-Star (but soon to be 5-star) recruit Chris Walker will attend today. He lists UK as No.1 on his list, with UF right behind. UPDATE: Chris Walker will not be attending because of his ankle injury last night via twitter.
"Can't make it to the florida kentucky game gotta #treat my ankle."
– Everyone wants to talk about Brandon Knight and Kenny Boynton being friends and former rivals. Also, I hate Kenny Boynton.
Bonus video for joining us this morning: (watching Anthony Davis play basketball never gets old)