When the Kentucky football team receives early commitments from quarterbacks, fans don't know how to react.  The last two times it did not take long for excitement to turn into disappointment.  This time, it should be different.
Mac Jones was the first quarterback Kentucky fans fell for.  Unheralded as an uncommitted recruit, he climbed the rankings shortly after his commitment to Kentucky in July of 2015.  The following spring he reaffirmed his commitment with an infamous hard-hat Tweet from UK's campus.  Just a few months later, he flipped to Alabama on an official visit.
The decision soured many fans to football recruiting, but it was easy to rationalize.  "After all, it is Alabama."  Stephen Johnson's success and another highly-touted quarterback helped erase that bad memory, momentarily.
The day after Jones de-committed, Jarren Williams camped at Kentucky.  Not seen by power programs as a quarterback at the college level, when the Cats fell in love with his arm, he fell in love with Kentucky.  Williams committed two weeks later.
Williams' initial decision sparked interest from the programs that once spurned him.  Like Jones, he grabbed scouts' attention on the camp circuit and sky-rocketed to a four-star ranking.  He remained faithful through the spring, until about every SEC school extended a scholarship offer.  Williams de-commited from Kentucky in April of 2017, then recommitted six weeks later on Kentucky Sports Radio.
"I prayed about it and my heart has always been with Kentucky, so I'm making that move," Williams told Matt Jones.  "I'm shutting it down. This is it now. I know where my heart belongs. I'm committed 100%. I'm shutting it all down."
Two weeks before he was set to sign with UK, Williams flipped to Miami.
Those are just two reasons why Kentucky football fans are jaded with recruiting.  When news broke last night that Nik Scalzo committed to UK, instead of being overwhelmed with optimism, the decision was met with skepticism.  However, Scalzo is different from Jones or Williams.
Scalzo is like the previous two quarterbacks in some ways.  He plays in a high-level high school football league and has had plenty of success on the camp circuits.  Scalzo was spotted early by UK's coaching staff as an unheralded recruit.  What happens next is what separates Scalzo from Williams and Jones.
Unlike his 6'3″ predecessors, Nik Scalzo is only 5'11."  He may have the athleticism and arm talent of a four-star prospect, but he does not have the size.  Nick Saban, Dabo Swinney and Kirby Smart are incredible coaches, but they can't coach size.  That's exactly why Scalzo's offer sheet is only 15 schools long and is filled with Ivy League and Florida directional schools.
Scalzo is not alone.  Johnny Manzeil was infamously recruited by Mack Brown to play safety, before the Texas high school football star caught Kevin Sumlin's eye at Texas A&M.  Sumlin's risk turned into a Heisman Trophy.  Texas Tech didn't even risk a scholarship on Baker Mayfield.  He started as a true freshman walk-on before transferring to Oklahoma to win a Heisman and play in the College Football Playoff.
Mark Stoops, Eddie Gran and Darin Hinshaw were willing to risk a scholarship shortly after watching Scalzo throw for the first time, despite his lack of size and notoriety.  "Coach Gran believed in me before just about any other coaches did," Scalzo told Justin Rowland after he received his UK offer.
Even if that risk does not pay Heisman-winning dividends, Gran's early evaluation and Scalzo's size all but ensure the power programs will not cherry-pick him from Kentucky before the early December signing period.  A lot can happen over the next seven months, but this time the quarterback commit should stick.
Kentucky's 2019 class now has a quarterback.  Nik Scalzo is an atypical recruit that could be the perfect fit for Kentucky.
The right-hander from Ft. Lauderdale first entered Kentucky's radar last summer when Scalzo made the trip to Lexington for a camp at Kroger Field.  Undersized with little hype, the 5'11" athlete did just enough to catch Darin Hinshaw's eye.
Between last summer's camp and today's commitment, Scalzo threw for more than 2,000 yards and 23 touchdowns, earned 15 scholarship offers and is now considered the No. 16 dual-threat quarterback in America.
Evaluated Early
Eddie Gran has developed a knack for finding talent early in South Florida.  It's what make Kentucky such a coveted destination.
"He was one of my first believers," Scalzo told Justin Rowland after he received an offer at Kentucky's Junior Day in February.  At the time, only a handful of small schools and Ivy Leaguers were interested.  Once Gran and Hinshaw got involved, it completely changed Scalzo's recruiting outlook.  The offer from Kentucky all but sealed the deal, until Hinshaw visited Scalzo's home four days ago.
A Winner
Scalzo has succeeded against some of the best competition the country has to offer.
A starter for Cardinal Gibbons since he was a sophomore, the only team Scalzo has not beat is American Heritage, the Power-Five talent producing perennial powerhouse that finished the season ranked in the top five nationally.  Scalzo led a tremendous comeback in the final quarter of the Regional Final, but fell to American Heritage in triple overtime to end his junior season.
Once the offseason hit, the Kentucky commit found more success on the camp circuit.  Last month Scalzo quarterbacked the South Florida Express in the Adidas 7-on-7 Championship in Torrance, California.  Dubbed by 247's Steve Wiltfong as "one of the most talented 7-on-7 fields of all-time," Scalzo threw a 40-yard touchdown in the championship game to bring home a title.
He LOVES the Baker Mayfield Comparison
It's not just because he likes to plant flags at midfield after big wins, like he did following the Adidas National Championship.
Baker 2.0 pic.twitter.com/g7uIbXjhgk

— Nik Scalzo (@NikScalzo) April 16, 2018
Or because he shares an affinity for headbands.
Like Mayfield, Scalzo is an under-sized quarterback that plays with a chip on his shoulder.  Teams were hesitant to recruit Scalzo, so he had to work hard to prove to Kentucky that he was worth the scholarship.  He did that by using a skill-set that's similar to the Heisman Trophy winner's.  He runs plenty of RPOs, but is most explosive when he's moving around in the backfield, slinging the ball to all corners of the football field.
Is it fair to compare Scalzo to the Heisman Trophy winner?  Probably not, but he embraces and welcomes the comparison (one UK's coaches use) with open arms.
Talented Teammates
When point guards or quarterbacks commit early, they often pledge to recruit others to join their class.  Scalzo does not have to look far to find talented UK recruits.
Cardinal Gibbons' offense features three players who hold UK offers: three-star tight end Nikolas Ognenovic, three-star running back Vincent Davis and three-star offensive lineman Jamari Williams.  Ognenovic and Williams are in the middle of a Louisville-Kentucky recruiting battle.  Playing with their high school QB at the next level might be just the advantage Kentucky needs.
A Wise Guy
Harvard, Cornell and Dartmouth weren't recruiting Scalzo because he's an idiot.  Last fall he posted a report card with a 4.92 GPA, a grade-point average that should be impossible.
There will be Speculation
Kentucky fans have been here before.  They remember what happened after Mac Jones Tweeted, "We're building something great."  They also remember when Jarren Williams committed, de-committed, re-committed, then de-committed again.  Those were the last two quarterbacks to commit this early in the process.
While many will wait to share their excitement until later, Stoops will continue to target quarterbacks early in the recruiting process.  Why?  Because they kind of have to.
"A lot of times you develop that relationship early and you get honed in with a certain guy," Stoops said last fall shortly after Jarren Williams de-committed. "And the quarterbacks are always looking for that perfect fit and you as a program are looking for the perfect fit."
Will this be the perfect fit for Scalzo and UK?  Only time will tell.  If the commit sticks, the Cats have a gunslinger who plays with a chip on his shoulder; the perfect person to lead the SEC's perennial underdog.
Kentucky has found its quarterback for the class of 2019.
This afternoon, Florida three-star dual-threat quarterback Nik Scalzo made the decision to become a Wildcat.
He committed to Kentucky over the likes of Georgia State, Tulane, Kent State, Louisiana-Lafayette, and Akron, among others.
Here was the announcement: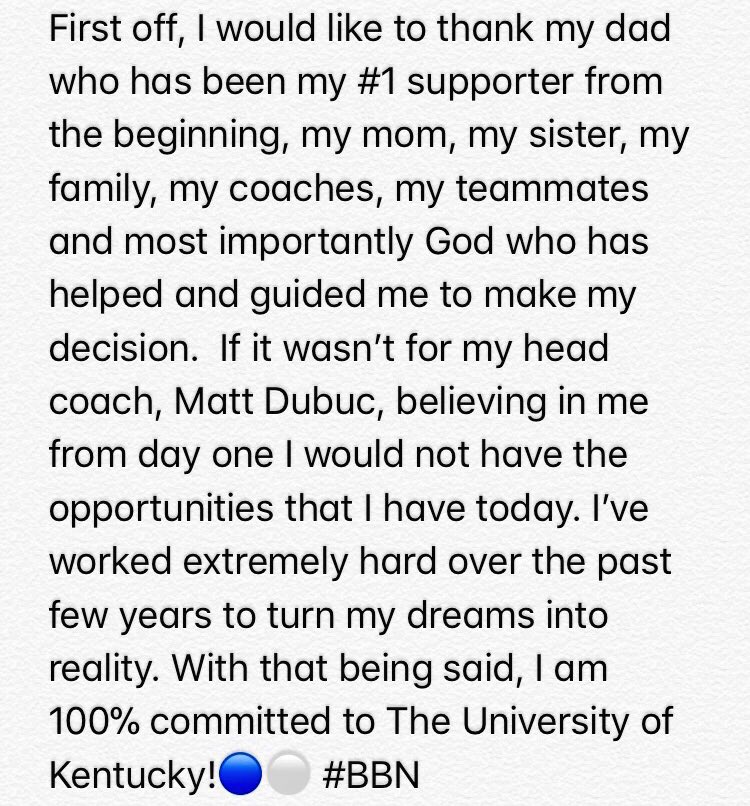 Kentucky's newest commitment visited Lexington back in April, and co-offensive coordinator Darin Hinshaw followed it up by visiting him in Florida last week to seal the deal.
Scalzo has earned Sun Sentinel first-team All-County honors each of the past two seasons. He threw for 2,065 yards and 23 touchdowns last season on 175-307 passing. His sophomore year, Scalzo managed 2,221 yards and 27 touchdowns, leading his team to the regional semifinals.
In an interview with the Sun-Sentinel, Scalzo said it's a dream come true to play for the Cats in the SEC.
"They believed in me 100 percent, and they overlook my size and just see that I'm a playmaker," he said. "It was always my dream to play Power-Five conference college football, and my dreams are coming true."
According to Jon Hale of the Courier-Journal, the Kentucky coaching staff feels Scalzo may be a "Baker Mayfield twin."
Know there has been a lot of talk about UK possibly signing two QBs in 2019, but I'm told staff likes Scalzo enough to ride with him. One source: "Baker Mayfield twin" https://t.co/78qjz0rB74

— Jon Hale (@JonHale_CJ) May 15, 2018
See for yourself with his highlights below:
Welcome home!
It was a busy weekend for Mark Stoops' staff.  The Kentucky football team hosted elite in-state visitors, lost a commitment and picked one up all over a 48-hour period.
It all began on Friday when Wandale Robinson made a trip to Lexington.  The nation's No. 9 all-purpose back from Frankfort has visited campus many times, but he told KSR this one was different, now that Vince Marrow is taking the lead in his recruitment.  "It changed things a lot because he recruits hard.  The stuff he tells me, it's true whenever you sit down and look at it."
The following day, Kentucky hosted another top in-state talent, J.J. Weaver.  The 6'6″ athlete from Louisville Moore is one of the top 25 defensive ends in the country.  Entering the weekend, Kentucky was behind in both recruitments.  Now sources tell KSR the Cats are frontrunners for both.
It wasn't all roses for the Cats on Mother's Day.  The day began with a de-commitment from Keontra Smith.  Kentucky made an early connection with the four-star safety, one few expected to last.  Considered a top 250 prospect, Smith played with five Kentucky Wildcats at Chaminade-Madonna in Hollywood, Florida, but that connection quickly eroded after Miami offered Smith.
Once the Cats lost the safety to the Hurricanes, it took about six hours to find another defensive back.  Jalen Geiger of Columbia, South Carolina committed to Kentucky only a month after receiving a scholarship offer.  The three-star cornerback also held offers from Cincinnati, Boston College, Rutgers and many others.
Football recruiting is more fluid than almost any other thing we cover at KSR.  This weekend showed the many ups and downs, a preview of what's to come this summer.
Bat Cats Shut Down in The Cliff's Finale
Cliff Hagan Stadium did not get a perfect farewell.
The Bat Cats accomplished their overall goal this weekend — they won an SEC series in front of one big crowd after another.  However, injuries prevented UK from finishing the series with a win.  A pair of starting pitchers, Justin Lewis and Zach Haake, were sidelined with soreness in their pitching arms, forcing Nick Mingione into his bullpen early and often.  It resulted in an offensive onslaught.  Miss. State scored three runs in the first inning and never looked back, beating UK 18-8 in The Cliff's regular season finale.
It did not have a pretty ending, but the game got off to an excellent start.  Fifty years of Kentucky baseball coaches were represented on the mound with the first pitch of The Cliff's final game.
50 years of Kentucky coaching on the mound prior to today's game. pic.twitter.com/OdMQUOeqf7

— Trey Huntsman (@TreyHuntsmanKSR) May 13, 2018
Shoutout to Coach Keith Madison. The KSR Baseball Podcaster was the only who got to throw out multiple first pitches this weekend at The Cliff.
Speaking of Cliff, the real Cliff Hagan was also on hand for his stadium's final weekend.  He was a part of that first pitch and he removed the sign for the final time.
The countdown is complete here at #TheCliff. A special thanks to Cliff Hagan himself, for bidding the final farewell to 50 years at Cliff Hagan Stadium. #WeAreUK pic.twitter.com/pfIfVNUH1x

— Kentucky Athletics (@UKAthletics) May 13, 2018
Go Syd Go!
Kentucky's freshman track phenom has done it again.  Sydney McLaughlin broke another record yesterday, recording the fastest 400M hurdle time in collegiate history with 52.75.  What can't she do?
UK Softball to Host Regional Tournament
The Kentucky softball team will begin their march to the Women's College World Series at home.  Beginning this Friday, UK will host three others in a double-elimination tournament.  The winner advances to a three-game Super Regional series before marching to the WCWS.
The action at John Cropp Stadium begins Friday at noon when Notre Dame takes on Michigan.  UK's opener against UIC will begin at approximately 2:30.  Tickets just went on sale.  You can find tickets for every session at UKathletics.com/NCAATickets.
JT is No. 1
A Kentucky native is the No. 1 golfer in the world.  After finishing 11-under at The Players' Championship, Louisville's Justin Thomas is now the world's top-ranked golfer.  Not too shabby.
The Western Conference Finals Begin
It was a boring weekend without basketball.  Sure, the Celtics got the chance to crush the Cavs in the first game of the Eastern Conference Finals, but nobody will remember that once LeBron starts trying again.  We'll see if the Warriors actually have some competition when they travel to Houston tonight at 9:00 on TNT.
This morning, Kentucky four-star commitment Keontra Smith flipped his commitment to Miami (FL), and Vince Marrow wasn't too happy about it.
"We only want guys that want to be here. Trust me BBN we are going to get it done," he tweeted.
Just a few hours later, the Cats found their replacement.
Three-star cornerback Jalen Geiger has committed to KENTUCKY!
This has been an amazing experience for me and my family. I've met people and seen things I've never imagined. Recruiting has definitely been a challenge but God showed me the way… I'm committed. #BBN pic.twitter.com/9742g94L0D

— Jalen Geiger (@jalengeiger) May 13, 2018
Geiger, a 6-foot-1 corner out of Columbia, SC, chose Kentucky over Cincinnati, Rutgers, and Boston College, among others.
The newest Wildcat visited Lexington back in April, and earned a scholarship from Kentucky soon thereafter.
Watch his highlights below:
Welcome home!
This morning, four-star Kentucky DB pledge Keontra Smith announced he would be flipping his commitment to the Miami Hurricanes.
Out of Hollywood, Florida, Smith had been flirting with the Hurricanes for months, visiting Miami back in January, Junior Day in March, and then again for an unofficial visit in early April.
Now, he's officially headed to The U.
Listed as a top-250 recruit in the nation, it's a tough pill to swallow for Kentucky fans, though it comes at no surprise. As a native of South Florida, Smith has been a Miami fan his entire life, and it was the one school the Cats had to worry about in his recruitment. After an offer came, Smith's flip was inevitable.
Nonetheless, at least one person on staff isn't worried about the news in the slightest.
This afternoon, Kentucky recruiting coordinator Vince Marrow had some not-so-subtle words for Smith, announcing on Twitter he only wants guys in Lexington that want to be here.
We only want guys that want to be here. Trust me BBN we are going to get it done. I believe in @UKCoachStoops and our team. let's go.

— CoachMarrowUK (@vincemarrow) May 13, 2018
With Marrow's ridiculous success on the recruiting trail in his time in Lexington, I'm going to trust him on his promise.
It was an expected move. What's also expected, however, is Marrow bringing in another talented prospect to replace Smith in the very near future.
Go get 'em, Big Dawg.
The highest-ranked player in Kentucky's 2019 recruiting class is heading elsewhere.  Four-star defensive back Keontra Smith announced this morning he will play for the Miami Hurricanes.
The news is unfortunate, but no surprise.
Arguably the most-talented player from the Chaminade-Madonna pipeline that has brought five players to Lexington in the past two years, Smith committed to Kentucky early in the process.  Once Miami got involved, it was only a matter of time before the South Florida kid decided to play for The U.
Wandale Robinson has visited the University of Kentucky's campus countless times.  As the nation's ninth-ranked all-purpose back nears a decision, the Frankfort native described to KSR a much different atmosphere during last night's unofficial visit to UK.
Robinson spent most of his time with Vince Marrow, Michael Smith and Mark Stoops.  They toured the facilities, took photographs and went to The Cliff to watch the UK baseball game.
"Coach Marrow's now the one taking over my recruiting," Robinson told KSR.  "Coach Marrow and (wide receivers) Coach (Michael) Smith, they've been coming hard at me a lot.  I really got to spend a lot of time with them."
Over the last month, Marrow has spent more and more time talking to Robinson.  Now his lead recruiter, Robinson likes the pitch he's hearing.  "It changed things a lot because he recruits hard.  The stuff he tells me, it's true whenever you sit down and look at it."
Last night he also got to spend time with a new member of Mark Stoops' staff that might be a game-changer, Freddie Maggard.
"I never really got to talk to Freddie once he got there about the Player Development stuff.  That aspect of what they provide whenever you get on campus and once you get done with football, how he helps you and stuff like that.  It was very helpful."
In his capacity as Director of UK Player Development, Freddie cannot recruit.  However, once players are on campus he's free to meet with them, describe his role and explain to them what UK's program has to offer.  It's not the first time the two have talked.
"Personally, Freddie saw me whenever I was a freshman. He came and spoke to my team during camp week, and he told me I was going to go play SEC football.  So I just know how he is and the things he would provide.  He's a Kentucky kid and he told me, 'Kentucky people want Kentucky kids to play at Kentucky.'  He was able to explain to me how all of that works."
One of the best recruits from the state of Kentucky, last year Wandale led the state in rushing (2,330 yards) and scoring (260 points) to earn First Team All-State honors.  Robinson carried Western Hills to an 8-4 record behind 13.3 yards per carry, 13.7 yards per catch for a total of 3,276 all-purpose yards and 43 touchdowns.  Most of the points came on the ground (33 to be exact), but he scored in a variety of ways with six through the air, three off kick returns and one score from a punt return.
Robinson does it all, and that's exactly what Kentucky's coaches want him to do in Lexington.
"If you were to come here, the punt return job, you can win that as long as you can catch punts and do what you do," Robinson recalled the UK coaches' pitch.  "You'll be replacing Lynn (Bowden) your sophomore year, but you'll still play about 30-40 snaps your freshman year.  They said (I'd play) the Wildcat, slot, running back, so I'll be moved around a lot."
UK is not the only program pursuing "Kentucky's Lynn Bowden."  Duke, Indiana, Northwestern and Nebraska have also put on the full-court press.  "Ohio State's been on me really hard, but still has not offered me.  It's kind of weird."  He's visited all of his potential suitors, except for Nebraska.
Robinson does not have a firm decision date, although he wants to make a choice before the start of his senior football season at Western Hills.  He plans on creating a video to make his decision, one that's prepared to begin production whenever he's ready.
"Whenever my time-table is right, whenever I feel right, that's when we'll start," he said. "I just have to sit down and talk with my family; just really look at everything that each team provides for me and make the best decision for me."
Until then, the University of Kentucky coaching staff is going to do everything they can to convince Wandale that staying home will be his best possible decision.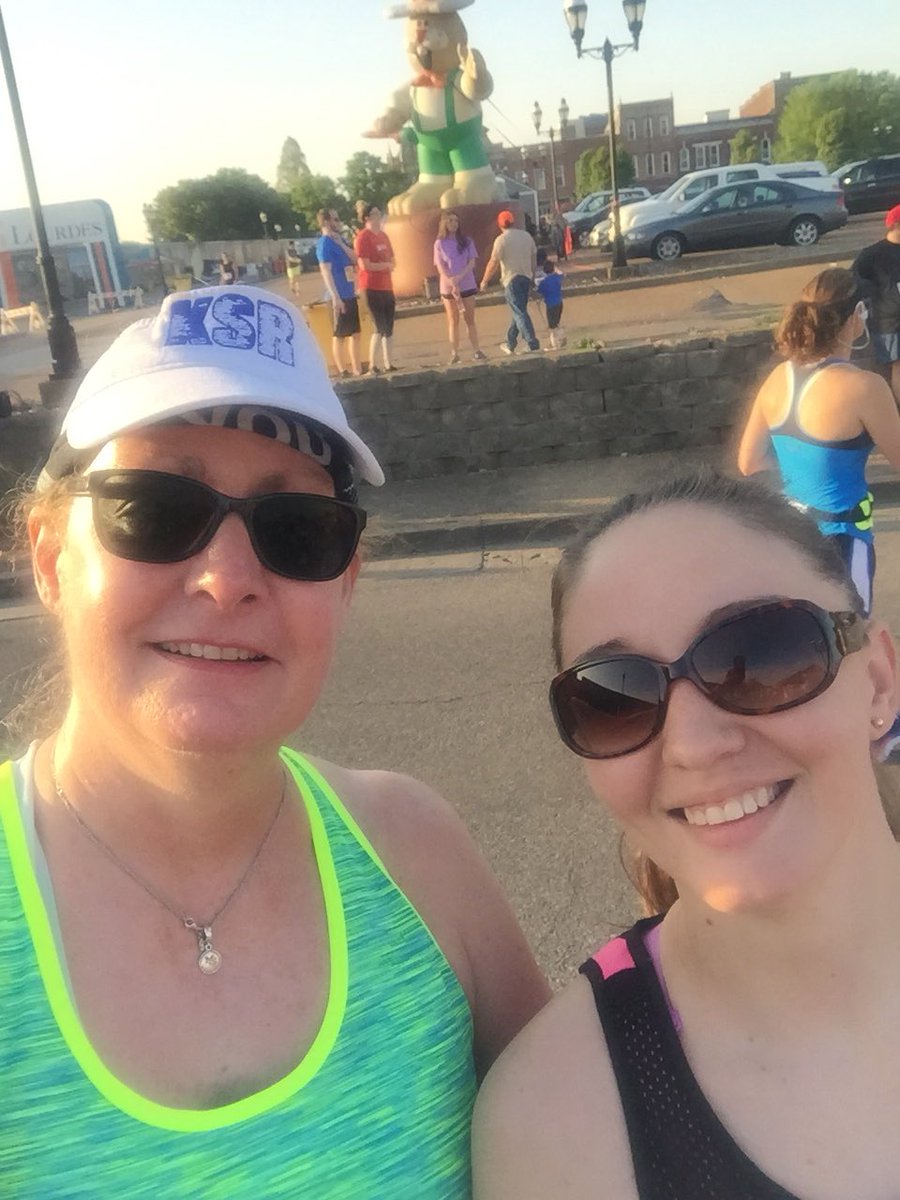 One of the KSR Football Podcast's biggest fans, Amy Harwood-Jackson, rocked a KSR hat during today's half marathon in Paducah.  I'll provide some football notes, you teach me how to run more than ten miles. Thanks.
Future Cat Trains with Todd Gurley
Before he gets to Lexington, one Florida receiver is preparing for his Kentucky career with an NFL star.  Yesterday Akeem Hayes — a slot receiver from UK's Chaminade-Madonna pipeline in Hollywood, Florida — worked out with the L.A. Rams' Todd Gurley.
Gurley Tweeted after their workout, "#BBN got them one keep grinding youngin 

."  That's quite the praise from a two-time Pro Bowling, NFL Offensive Rookie of the Year.
Beau Allen Picks up Michigan Offer
Junior-to-be Beau Allen now holds an offer from the University of Michigan, just his fourth scholarship offer.  Jim Harbaugh's move comes just a few days removed from an excellent performance at Rivals' Columbus camp.  The pocket passer from Lexington Catholic is a UK legacy recruit with a Kentucky scholarship offer.
Lonnie Johnson doesn't Hate the Checkerboard
It was a long, tiresome week of debate.  Are the checkerboard uniforms good?  The popular opinion is a flat, "no."  However, it's hatred primarily rests on the sides of UK's basketball uniforms where the art of subtlety is gone.  The football uniforms are a different story.
The checkerboards on shoulders are actually a nice accent piece for an otherwise boring uniform.  I'm not the only person who is a fan.  Senior cornerback Lonnie Johnson likes them so much, he threw them on some custom cleats.
Feel that In-State Recruiting Momentum?
After speaking with Wandale Robinson this morning, I thought, "Man, this kid sounds like he's on the verge of committing to Kentucky."  I'm not alone.
Sources within the program like where they stand with Robinson after yesterday's visit.  The same could be said for J.J. Weaver, although there's not quite as much confidence surrounding the defensive end.  Louisville and Purdue have dug their claws in deep, but today's visit pushed the Cats back near the top.
The negative narrative regarding Kentucky's in-state recruiting is slowly deteriorating as Vince Marrow has put in extra effort within the state over the last three weeks.  After picking up a commitment from Eli Cox, a few more dominoes could fall in the foreseeable future.
A day after one of the state's top skill players visited UK's campus, Kentucky is hosting one of the state's best defensive lineman for an unofficial visit.
In the middle of a Kentucky recruiting blitz, Louisville Moore's J.J. Weaver is receiving the blue carpet treatment from the UK coaching staff.  The No. 6 player in the state, the 6'6″ 230-pounder is considered one of the 25 best defensive ends in the country.
Had a great unofficial visit today @vincemarrow @UKCoachStoops #BBN ??? pic.twitter.com/u5kO1ijuci

— JJ Weaver (@jjtimeee) May 12, 2018
It's not Weaver's first drive down I-64.  A guest for Kentucky's Junior Day, he left the January visit with a scholarship offer.  Within two weeks Weaver picked up offers from Miami and Georgia.
As of today, Louisville is considered the favorite for Weaver's services, with Purdue not far behind.  There's plenty of time for Kentucky to make up for lost time, and that's exactly what they plan on doing today with the physical pass rusher.