It's no secret we're big Benny Snell fans here in the state of Kentucky, and that love is starting to spread nationwide. After coming out of high school as just a three-star running back prospect, Snell has dominated SEC football over the last two years, breaking several school records along the way.
After an incredibly impressive sophomore season, especially during the Music City Bowl fiasco, whispers of a Heisman campaign begun. He hadn't reached the historic numbers necessary for consideration quite yet, but the potential was obviously there.
Some are already penciling him in as a darkhorse candidate.
SEC Heisman Rankings post-spring:
1. Jarrett Stidham, Auburn
2. Jake Fromm, UGA
3. Tua Tagovailoa, Bama
4. Drew Lock, Mizzou
5. Nick Fitzgerald, MSU
6. Deebo Samuel, South Carolina
7. D'Andre Swift, UGA
8. Damien Harris, Bama
9. Jake Bentley, South Carolina
10. Benny Snell, UK

— Andrew Miller (@AndrewMillerSSC) May 28, 2018
Others realize Snell is a stud back, but aren't ready to pull the trigger on the #Benny4Heisman campaign.
AUDIO MAILBAG: Benny Snell as a Heisman dark-horse? He's a great RB, but I don't see it happening

Clip https://t.co/KwF2cavZTW
Full show https://t.co/xcyK7N3tU9 pic.twitter.com/ryYptmhBwY

— Barrett Sallee (@BarrettSallee) April 19, 2018
So what would it take for Kentucky's superstar back to actually take home the most prestigious individual award in all of college football?
When you go down the list of past Heisman winners and candidates, it's no surprise it would take a legendary performance to even come close.
Reggie Bush took home the Heisman trophy in 2005, just one of three running backs to win the award in the last two decades. He finished with 1740 yards (8.7 yards per carry) and 16 touchdowns on the ground, to go with 478 receiving yards and two touchdown receptions. His trophy was later vacated for violation of NCAA rules, but there's no denying Bush was one of the most electric college football players we had seen in quite some time.
Back in 2009, Mark Ingram won the Heisman in the closest margin of victory of all time, finishing the year with 1658 yards (6.1 yards per carry) and 17 touchdowns to go with 30 receptions for 322 yards. He beat out Stanford's Toby Gerhard, who finished with 1871 rushing yards (5.5 yards per carry) and 28 touchdowns.
Wisconsin's Melvin Gordon finished second in voting in 2014, despite a dominant 2587-yard, 29-touchdown junior season. Oregon quarterback Marcus Mariota came out on top following his ridiculous 42-4 touchdown-to-interception ratio as a junior.
Alabama running back Derrick Henry won the award in 2015 after setting the SEC single-season rushing record with 1,986 rushing yards and tied the record for rushing touchdowns with 23. According to the official Heisman website, Henry was just the third running back in SEC history (Herschel Walker and Bo Jackson being the others) to have four 200-yard games in a single season.
Stanford's Christian McCaffrey, during the same season, finished with 2019 rushing yards and eight touchdowns along with 645 receiving yards and five touchdowns. He also finished with a combined 1,200 yards off kickoff and punt returns.
As I mentioned in a post yesterday, Snell has an opportunity to shatter records next season such as most career touchdowns in SEC history by a running back, most career touchdowns and yards in school history, and the single-season UK rushing record. There's a chance that by the time his junior year is over there may be no more records to break as a Wildcat.
Five records Benny Snell Jr. can (and will) break this season
But could it be enough to take the next step up from local star to national superstar?
Career-wise, absolutely. Snell became just the third player in SEC history to have at least 2,424 yards and 31 career rushing touchdowns before his junior season, joining only Georgia's Herschel Walker and LSU's Leonard Fournette. He had 1,333 yards and 19 touchdowns, both totals that led the SEC last season. On-par with Ingram's touchdown total in 2009, but still 300 yards fewer than the former Heisman winner.
But Snell isn't at Alabama, and it's a near-certainty (begging I'm wrong here) the Cats won't be competing for a national championship this season. Though it's entirely possible he could put up comparable numbers as a junior, Snell won't have the same stage and national attention from the get-go we saw with Ingram. Playing under the bright lights on the big stage sways Heisman voters (see Lamar Jackson losing out to Baker Mayfield this past season).
What Snell does have, however, are marquee SEC games and elite defenses to make an impact in. Kentucky is chosen to play in the 3:30 p.m. primetime games on CBS usually once or twice a year, usually against stud opponents. If Snell can put up monstrous numbers in those with the national analysts and commentators calling the games, it certainly can't hurt. Help lead Kentucky to victories in those games? Even better.
His ejection in the Music City Bowl turned heads nationally, with Snell actually going viral that night and going into the following day. National analysts realized the significance of Snell's absence for the Cats and showered him with praise, and it kickstarted a mini Heisman campaign at the time for Kentucky fans. It was lighthearted in nature at the time, but the more praise he received, the more it got people thinking "what if." It certainly didn't hurt his status as a darkhorse candidate going into 2018.
As far as numbers go, one thing that can pay off in a major way would be Eddie Gran putting the ball in Snell's hands both on the ground and through the air. By upping his YPC average ever-so-slightly, Snell's rushing numbers can spike in a significant way as a junior. Moe Williams' school-record 1,600 yards was done by averaging 5.4 yards per carry, just 0.3 yards more than Snell's sophomore campaign. If he can reach 5.6-5.8 YPC with increased touches, he'll easily reach those record-shattering numbers and gather a surplus of national attention. Surpass that 6.0 average (we saw that from Snell during the Tennessee, Ole Miss, and Vanderbilt games last season), and those Heisman whispers will grow even louder.
He only caught ten balls for 72 yards last season, but we could see from the Blue-White scrimmage and spring practice Eddie Gran is pushing for Snell to catch more balls out of the backfield, and that's absolutely necessary if he wants a shot at the national awards. He's mostly known as a grind-it-out back to keep the clock moving forward and inch the offense down the field. With some dump passes out of the backfield, Snell will have some open field to work with for home run opportunities. He'll need several hundred receiving yards and a few scores through the air.
He can't afford dud games like we saw during Mississippi State and Northwestern, or even mediocre games like his outings against Southern Miss, Florida, and Eastern Michigan. He'll have to have a near-perfect season with a major step up from year two to three to have a legitimate shot.
Likely? When you look at the numbers historically, probably not. Possible? Never say never.
Kentucky running back Benny Snell Jr. is no stranger to shattering records. He's the first back in UK football history with consecutive 1,000-yard seasons, holds the school record for most career rushing touchdowns with 32, most rushing touchdowns in a season with 19 in 2017, and most points in a season with 116.
To finish his 2017 campaign, Snell became just the third player in SEC history to have at least 2,424 yards and 31 career rushing touchdowns before his junior season, joining Herschel Walker and Leonard Fournette.
But he's not done yet.
He's gotten most of the single-season records down, especially in the scoring column. Now, it's time to finish the job on some of the other big career milestones.
Here are five records Benny Snell can, and will, break by the end of next season.
Total career touchdowns
Snell is already tied for second with Craig Yeast on the all-time touchdown list at Kentucky, and will need just six scores as a junior to break Randall Cobb's record of 37.
We could see that broken in the first few weeks of the season.
The Kentucky running back had six games of two-plus touchdowns last year, and his workload will only continue to grow throughout his junior (and likely final) season as a Wildcat.
Passing up two of the most dynamic football players in Kentucky football history? Count on it.
Most career touchdowns in SEC history by a RB
Snell rushed for 19 touchdowns last season, pushing his career total to 32 scores.
If he manages 18 touchdowns as a junior this year, Snell will hold the record for most career rushing touchdowns in SEC history by a running back.
Coming in at No. 1, Georgia's Herschel Walker rushed for 49 touchdowns from 1980-1982, with LSU's Kevin Faulk not too far behind with 46 scores from 1995-1998. With another ridiculous season out of Snell, as expected, he very well may take over the top spot in conference history in just three years of action.
Wishful thinking, but if Snell stayed at Kentucky for four years, that record would almost certainly be shattered by the time his career ended.
Career rushing record
Sonny Collins holds the record for most career rushing yards at Kentucky with 3,835, with Moe Williams coming in at No. 2 with nearly 500 fewer yards at 3,333.
Snell is already No. 8 on the list with 2,424 career rushing yards, just behind Boom Williams at 2,511 in three years of action.
If Snell can manage 1,412 yards as a junior, he will take over the top spot as the leading rusher in school history, accomplishing the feat in one less year.
If he stays on his 2017 pace of 102.5 yards per game, the junior back can surpass (No.3) Rafael Little's four-year total of 2,996 yards by Week Six.
Single-season rushing record
Snell is already on the single-season rushing record list twice, including third overall with 1,333 rushing yards during his sophomore campaign.
Moe Williams holds the No. 1 spot with 1,600 yards in his 1995 campaign, with the next-closest being Artose Pinner at 1,414 yards in 2002.
Williams's record will be incredibly difficult to top, but it's a feat Snell could top this season. Williams averaged 5.4 yards per carry during his record-breaking season, with Snell coming in at 5.1 YPC last year. That jump is absolutely doable, especially when you consider the few outliers Snell had as a sophomore. The Kentucky back only had seven attempts for 18 yards against Mississippi State and six attempts for 15 yards against Northwestern (ugh) this past year, bringing his average and overall total down a bit. He also struggled to start the season against Southern Miss with just 67 yards and then a two-game skid of under 100 yards against Florida and Eastern Michigan in games four and five.
If he can avoid any complete no-shows and continue to take a step up from last season, Snell will grab the record, likely shattering all other scoring and yardage records in the process.
Single-game touchdown record
Snell is already tied for first with four touchdowns in a game, a feat he accomplished during his freshman season against New Mexico State. It was the game his legacy as one of the greatest, if not the greatest, running back in UK history began.
Like the single-season rushing record, this will be a tough record to top due to such variety of overall workload per game and a little bit of luck. If the Cats can drive down the field and allow Snell to punch it in from just a few yards out with ease like this past year, it's certainly doable.
He had three games of three touchdowns this past year, with three more games of two scores. He obviously knows how to get in the end zone, but the balls will have to bounce the perfect way – or a superhuman performance, which is certainly possible out of Snell – to break the tie.
By the time his Kentucky career is over, there is a chance Benny Snell will hold every single rushing record UK has to offer, becoming one of the most dominant athletes this campus has ever seen.
Last October, when the NCAA announced that the University of North Carolina would receive no penalties for an academic scandal that modeled the most morally offensive institutional misconduct in the history of college sports, I penned a tongue-in-cheek obituary for the idea of the "student-athlete."  I simply couldn't imagine that the college athletics could sink any lower when it came to protecting student-athletes.
I was wrong.
This week, Auburn University football team cut a recruit for using a substance banned by the NCAA.  C.J. Harris, a promising high school strong safety, had been taking hemp-derived cannabidiol (CBD) that he had found effective for treating and preventing debilitating seizures caused by epilepsy.
I wrote about CBD a few months ago at this site.  Obviously, NCAA and Auburn officials count themselves among the vast majority of KSR readers who skip over my policy columns to get the scoop on basketball recruiting.  But had they read it, they would have learned some critical points:
Hemp is NOT marijuana.  Contrary to most popular coverage of the Harris incident, hemp-derived CBD is NOT medical marijuana.
Hemp-derived CBD cannot get you high.  By legal and scientific definition, hemp-derived CBD contains less than 0.3% tetrahydrocannabinol (THC), the intoxicating chemical compound found in much, much more concentrated dosages in your typical joint or bong.
Hemp-derived CBD is safe.  So says an October report issued by the World Health Organization's Expert Committee on Drug Dependence which opined that CBD is safe, well-tolerated, not addictive and not linked with any negative public health concerns.
Hemp-derived CBD is federally legal, as long as it is produced under a congressionally-authorized state pilot program, such as the product used by C.J. Harris.
According to press reports, the NCAA has banned CBD because they argue any amount of THC is too much. That's absurd.  That's like banning cough syrup because there may be a trace amount of alcohol.  Or banning poppy seed bagels because of the remote connection to heroin.
There's much anecdotal evidence that many patients suffering from debilitating diseases such as intractable epilepsy have found relief taking CBD.  Until CBD medicines secure the appropriate federal approvals, marketing them for disease remediation is inappropriate. But these products which are sold in health food stores across the country — experts predict a multi-billion dollar industry within a few years — must be made available for families like the Harrises.  And no athlete should be punished for taking a natural food supplement that does not intoxicate nor provide any performance-enhancing advantage. (Note that the World Anti-Doping Agency recently dropped CBD from its list of prohibited substances.)
Unfortunately, CBD has been caught up unfairly in the high-profile debate over legalizing medical marijuana.  Confusion between the two has led to misguided law enforcement actions and public statements.  But just in the past few months, thanks to hemp industry education efforts, officials in Tennessee, Indiana and Wisconsin have overturned prohibitory actions and declared hemp-derived CBD legal for retail sale.  (Kentucky's law is clear — hemp-derived CBD is legal — thanks to a 2017 statute championed by Agriculture Commissioner Ryan Quarles.)
Best yet, there's a very promising effort in Washington, D.C. to resolve the confusion once and for all.  The Hemp Farming Act of 2018 would permanently remove hemp and hemp-derived products such as CBD from the purview of the Controlled Substances Act — moving beyond the current pilot program regime.  The effort's top champion is Congress' most influential and effective legislative strategist: Kentucky's own Senate Majority Leader Mitch McConnell.  McConnell is seeking to attach the Hemp Farming Act to the 2018 Farm Bill, a critical agriculture act which must pass before the previous version expires on September 30.  (Not coincidentally — given the Commonwealth's enduring hemp history — the companion bill in the U.S. House is sponsored by another Kentuckian, Congressman James Comer, who led the state's efforts to legalize hemp when he served as our Agriculture Commissioner.)
Too often, when we read news of NCAA fails like this, the most we can do is fire off an angry tweet.
Not this time.  If you care about athletes like C.J. Harris — or are among the millions of Americans who value access to hemp-derived CBD for its various health and wellness benefits — you too can help secure passage of the Hemp Farming Act.
The hemp industry's trade association — the U.S. Hemp Roundtable — has developed an online portal to empower citizens to lobby their Members of Congress.  It really just takes a few minutes — click here — and even if you don't know who represents you in Washington, the portal will help you prepare a personalized message and send it directly to your U.S. Senators and Representative.
We might never be able to convince the NCAA to act in the best interests of student-athletes.  But by permanently legalizing hemp, we can take this arrow out of their quiver, and allow the C.J. Harrises of the world to live healthy lives…and not be punished for it.
When 2018 three-star running back Kavosiey Smoke committed and signed with Kentucky, he became a fan favorite almost immediately based on name alone.
At 5-foot-11, 225-pounds, the Wetumpka HS (AL) product had a unique combination of size and speed to attack opposing defenders in the trenches and in the open field. It allowed him to rush for 1,287 yards and 24 touchdowns en route to the Class 6A state championship game as a senior.
In an interview with the Montgomery Advertiser, Smoke said he actually models his game after current Jacksonville Jaguar and LSU great Leonard Fournette, a player who certainly packs a punch with the ball in his hands.
"He just fits me," he said. "How his body is built up is just like mine is. How he runs, I run like that. He's the same speed. I run the same speed."
And he plans to bring those qualities to Lexington in the form of touchdowns and victories.
"I've (already) been working out," Smoke said when asked about how he's preparing for life as a Kentucky Wildcat. "Mostly just running and conditioning. I run like two miles in the daytime, and I run two miles at night."
He arrives in Lexington on June 3rd, where he hopes his work in the offseason will lead to making an impact on the field right away, regardless of where.
"I would like to play, but if things don't work out, then I just got to play my role," he said. "I'd like to win academic achievements and stuff like that. I'd like to do that. I'd like to play special teams."
Smoke held offers from Florida, South Carolina, Virginia Tech, and Mississippi State, among others, out of high school. On National Signing Day, Mark Stoops talked about how much competition there was for Smoke late in the process and how relieved he was the talented back decided to suit up in blue and white.
"Kavosiey was a big get for us," Stoops said. "There was a lot of competition for him late as well."
Matt Jones caught up with him after he committed to talk about his recruitment, the Wildcat backfield, his relationship with Benny Snell, and how he got his incredible name.
Watch him dominate the competition below:
If Smoke can bring anything near what Fournette brought to LSU, I think the Big Blue Nation will be pretty darn happy.
Is it football season yet?
Back in November, the University of Kentucky announced junior tight end CJ Conrad would miss the rest of the 2017 season with a foot injury. The 6-foot-5 pass-catcher out of Lagrange, OH had solid NFL Draft stock at the time, and many thought there was a chance it would be the last we'd see Conrad suit up in a Kentucky jersey.
Almost immediately after Kentucky's loss to Northwestern in the Music City Bowl, though, Conrad released the following message for the Big Blue Nation, saying he would be returning for a senior campaign: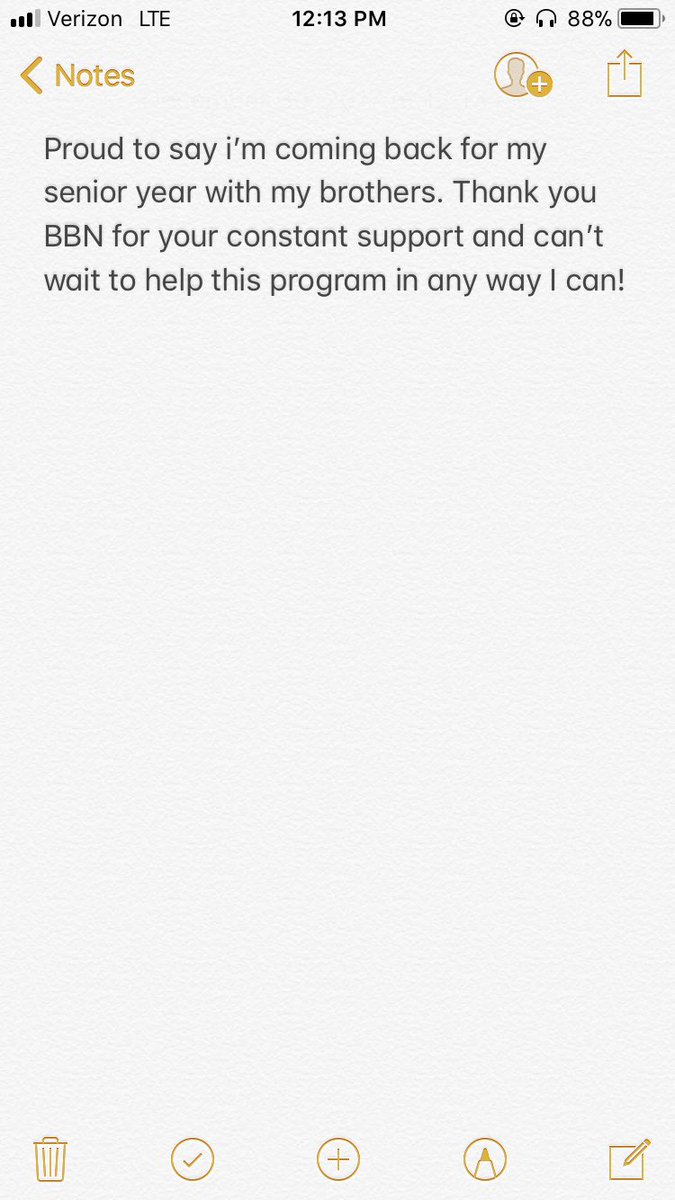 Six months later, the elite tight end's father, Mike, tells Shawn Smith of Go Big Blue Country his son is "doing great" and he is on track for a "100-percent recovery."
"Of course, he hasn't gone through a practice or anything, but he's working out full go, he's running routes, and doing everything business as usual at this point. I don't know if you would call him 100 percent, probably not, but he certainly is in a great spot right now. He's on track easily for one hundred percent recovery," he said.
Mike Conrad told GBBC that the team understands how special this team can be, and they are all focused on converting that to victories.
"We're loaded with juniors and seniors rather than freshmen and sophomores," he said. "Guys have collectively all came back this year for a special year. Those guys are really focused on having this be a great year and inside that room they just kind of use that as a little fuel."
Conrad has 50 receptions, 697 yards, and nine touchdowns through three seasons with the Cats, and is expected to be the perfect one-two punch with running back Benny Snell on offense. In fact, NFL Draft expert Mel Kiper Jr. listed Conrad as the No. 1 overall tight end prospect for the 2019 draft next spring.
Mel Kiper lists two Wildcats as No. 1 overall prospects at their position for 2019 NFL Draft
You can read the entire Go Big Blue Country article and interview below:
Here are some of his impressive highlights from the Ole Miss game last year:
Gronk 2.0 coming at you live this fall.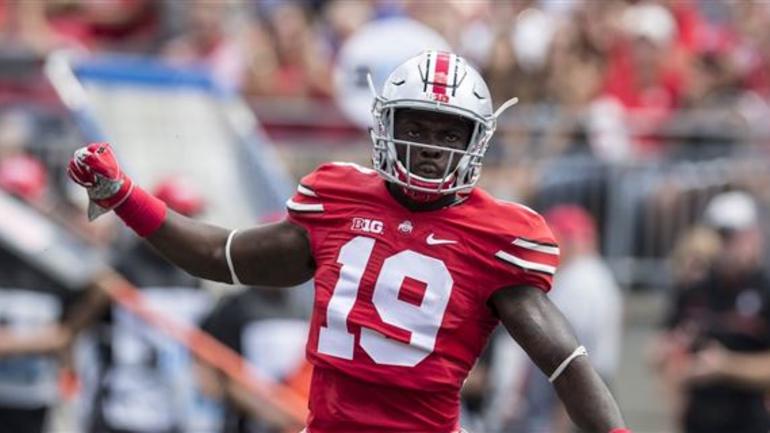 Back in November, it looked like Kentucky was a lock to receive a commitment from former UA All-American four-star defensive back and Ohio State Buckeye Eric Glover-Williams.
247 Sports' Bill Green's sources told him Glover-Williams and his family had "been in contact with the Kentucky admissions department," and following a visit back in November for the UK vs. UofL game, he was likely to make it official.
After speaking to a source close to the Kentucky program, and also to the father of former four-star recruit Eric Glover-Williams, it appears the former Ohio State player could be on his way to Lexington, Kentucky.

Glover-Williams, now at Mississippi Gulf Coast Community College, has been in contact with the Kentucky admissions department per his father, Jerry Williams, and he was assured he will meet their academic standards by obtaining his associates degree and securing a 2.5 GPA.
And then things went silent.
Now, six months later, Glover-Williams has reportedly committed to… Slippery Rock?
Former Canton McKinley and Ohio State athlete Eric Glover-Williams is headed to Slippery Rock to continue his career. Former 4-star that can play either side of the football. #THEROCK pic.twitter.com/BiWVdp86qB

— Bill Greene (@BillBankGreene) May 27, 2018
Vince Marrow and the Kentucky Wildcats were the first to offer Glover-Williams out of high school, but he opted for Ohio State over the Cats, Michigan State, and Tennessee, among others.
After playing 20 games with the Buckeyes, he was dismissed from the program and enrolled at Mississippi Gulf Coast Community College. When he was looking to get back into D1 football, Marrow reached out to Glover-Williams about playing SEC football for the Cats, and there was heavy mutual interest. There were even rumors that the star defensive-back had already begun taking classes at the University of Kentucky.
Now, he'll be playing for Slippery Rock University of Pennsylvania, a Division II school with an enrollment of just over 7,000 students.
Odd.
The Packers began their first phase of organized team activities this past week as former Kentucky Wildcat Randall Cobb prepares for his 8th NFL season.
Cobb has a little bit of an adjustment to make with the off-season release of veteran receiver Jordy Nelson. Cobb is now the oldest receiver on the Packers roster at 27 years old.
The former Kentucky star will not change his approach much, telling reporters "I'm going to continue doing the things that I was doing when Jordy was here – it's leading by example. It's doing what you know you're supposed to be doing, being the teammate that you know you can be, and just being able to fill in and answer questions whenever guys have them and being able to show them techniques and how we do things to help get you open on the field."
With the departure of Nelson comes the arrival of former Saints and Seahawks tight end Jimmy Graham, at 6'7 265 pounds the former Miami product gives Aaron Rodgers a big target to rely on.
Rodgers will have a variety of players to throw to in Cobb, Graham, Geronimo Allison and 5th year receiver Davante Adams who is coming off his first pro bowl season.
Adams remembers his first encounter with Cobb in 2014 falsely believing that the receiver was a 10 year veteran by how he acted when in reality Cobb was just 24 years old.
Adams offered high praise of Cobb as a player and teammate, "He's a young 27, definitely is. He's an incredible athlete. He's still got the burners and he has a lot to offer for the young guys, as well. You go out there and you watch how he gets down on the field, he's consistent and he's one of the best, one of the hardest-working guys in the game and in practice and things like that. It makes it easy for the young guys to pick up on that."
The Packers and Cobb are expecting bounce back years as the injury to Rodgers was too much for both to overcome in 2017.
For more on the progression of Cobb and Adams, click here.
@EMitchKSR
Easily the most significant story we're going to follow from the football team this summer is the quarterback battle between Terry Wilson and Gunnar Hoak. Going into the spring game, I think there was a notion that Terry would have the upper hand and for a good reason. Terry was a highly touted transfer who was initially committed to Oregon, then later went to JUCO. With the skill set described to resemble Stephen Johnson, fans and coaches were excited to see him commit to the Cats. But, as it's been discussed before, don't be surprised if Gunnar takes the job.
Both quarterbacks are very talented and are very capable of winning games for UK, so Stoops and his staff really can't go wrong with either, but there's no denying that their playstyles are very different. Oddly enough they both display traits of Stephen Johnson. Gunnar has his mind right like Stephen's, in the sense of being cool calm and collected in the pocket. Nothing too special but he won't cost your team the game. Terry, on the other hand, has accuracy issues, but he has skills Gunnar doesn't posses like moving out of the pocket and extending a play. Also reminiscent of Stephen Johnson.
While Terry might be the better-skilled quarterback, Gunnar might fit this offense better. This is an offense that's going to rely on Benny Snell, so this offense will need a game manager that won't turn over the ball and that's what Gunnar can bring to this offense. Gunnar won't be the flashy quarterback who can run around like Terry or make the flashy plays, but he won't need to do that this year.
When you look at Kentucky's offense they're supposed to have a great offensive line, a Heisman caliber running back, a top prospect at tight end, and a decent receiving core. This offense won't need a flashy run-around quarterback. Gunnar is a safe, accurate quarterback who won't do too much and that's really all this offense needs.
Now, this isn't a post to discredit Terry or to show favoritism for Gunnar. Terry is still a great dual-threat quarterback who can bring a lot to this offense especially if he can make the reads like Stephen Johnson then I think he could elevate this offense to another level. This post is to show this quarterback battle won't have a clear-cut favorite until maybe June or July.
If Gunnar does so happen to win the job, I still think Terry will be the starter at some point. Gunnar could do the simple things early, like handing the ball off or getting the ball to CJ. Then with this offense is ready to add another dimension I think Terry could step in then.
Whoever wins the job, or if they both do, and whatever identity this offense takes, I believe both quarterbacks are capable of producing wins for the Wildcats this fall.
Kentucky finished third in the SEC East last year, but in the eyes of the oddsmakers, they have the worst chance of winning the conference next season.
Online sportsbook BetOnline.ag released their odds to win the SEC and Kentucky is tied with Vandy at 100/1:
| | |
| --- | --- |
| Alabama | +150 |
| Georgia | 3/1 |
| Auburn | 7/1 |
| Mississippi State | 10/1 |
| Florida | 14/1 |
| Texas A&M | 16/1 |
| LSU | 16/1 |
| South Carolina | 20/1 |
| Missouri | 20/1 |
| Tennessee | 50/1 |
| Ole Miss | 50/1 |
| Arkansas | 50/1 |
| Vanderbilt | 100/1 |
| Kentucky | 100/1 |
Ouch. As always, Kentucky's schedule isn't easy, but they do have one of the conference's best running backs in Benny Snell, a weapon in CJ Conrad, an experienced offensive line, and some legit NFL prospects. Yet, Tennessee, Ole Miss, Arkansas, and Missouri all have better chances to win the conference? It's pretty telling when Barry Odom is the only coach out of those four programs I can remember off the top of my head.
Can someone please show this to Benny?
Ready for some good news and bad news? Let's start with the good- Kentucky has opened as a one-point favorite in its November 10th game at Tennessee according to Covers.com.
UK defeated Tennessee last season but it wasn't an upset. The Cats opened as a four-point favorite over the Vols last year before defeating Tennessee in dramatic fashion. Obviously much will change between now and kickoff between the Cats and Vols, which is just within six months, but it's not a bad thing to be favored against your rival.
Which brings me to the bad news.
Covers.com says Louisville is a nine-point favorite over Kentucky. The Cats and Cards will end the 2018 regular season on November 24th, but hey, maybe it's not all bad news. The last time UK went to Papa John's Cardinal Stadium the Cats were a 27.5 point underdog. Then Lamar fumbled and then Kentucky pulled off an amazing upset.
I wouldn't get too worked up over football lines. Spring football just ended and it's technically not even summer, but that's also why it's a perfect time to make a post about spreads six month out. Hurry up football. We miss you. We need you.
Mark Stoops joined Matt Jones, who's hosting The Paul Finebaum Show, on Thursday to talk a variety of topics.
With an SEC audience and not the usual UK specific crowd Matt didn't get into the weeds of UK football position-by-position, but instead gave Stoops an opportunity to give a broad outlook of the program and the upcoming season. Matt also asked the UK head coach about the Supreme Court's decision to overturn PASPA, which will allow states to legalize sports gambling.
Stoops said he hadn't thought much about it.
"That's a difficult question," Stoops said. "I haven't really put much thought into that. I haven't prepared myself for an answer here. I don't want to be a target on that. Generally speaking I control the things I can control. I go try to play the very best we can. There's no way if gambling is legal or illegal can I worry about covering, not covering… you know what I mean?
"We go out there to play the very best we can each and every week. I'm not stupid. I know that factors into people's reactions to wins and losses because they may be betting on it illegally or legally in certain places. I don't know. I can't control that. That's something I have to put some thought into and see, but that's above my pay grade."
Stoops seemed somewhat unprepared to answer that question, but that wasn't the case when talking about the support he's received from UK fans over the years.
Stoops wasn't shy to say the success of the program is dependent upon fans, but it was his job to make sure fans were watching winning football. He said if he does his job fans should show up to Kroger Field.
"Without a doubt (UK fans) stack up (to other programs)," Stoops said. "Our fans are passionate, loyal, hungry fans. Just like any other place I've been, and like you said, I've been at the top of the food chain. Our fans stack up with the very, very best. They're very passionate. They care.
"It's our job. I've never shied away from that. I've said that from day one. I understood the job I took. I understood the history. I understood where we've been. We have to overcome a lot, but that's my job, that's our job to put a product on the field, to build an exciting team, to win football games so they come and support. But, like I've also said Matt, both here at home and I'll say it nationally- it takes that. The SEC, those schools have been good because they've been supporting them for 100 years through thick and thin. We need the same kind of support and we've gotten that. So, it's mutual. Myself, the staff and the players, we need to play very good football, exciting brand of football where people come to support us and the fans need to be there because without that it's very hard to build an SEC team. Everywhere we go those stadiums are loud and they're rocking and certainly our place is as well."
Stoops also talked about UK's roster. He admitted that UK's defense hasn't been up to his standards but there have been flashes and he hopes this season is more consistent.
Matt asked Stoops about the QB and kicker positions and while Stoops didn't go into great detail he did say he felt good about his options.
You can listen to the interview here. It was the start of Hour Four on The Paul Finebaum Show.