Let this be a warning: If you come at Bud Dupree on Twitter, he might clap back in your DMs.
One Pittsburgh Steelers fan, Russ Dickson, found that out firsthand when he tweeted to Dupree, "Where the f— were you all game?" following the Steelers' loss to the Kansas City Chiefs, a game Dupree would probably like to forget. The former Wildcat was called for multiple penalties and recorded only two tackles as his defense gave up six touchdowns in the game.
Once Dupree got home to check his mentions, he found Dickson's tweet and then responded with a direct message, saying, "I was at your girl house laid up, wat u gone do."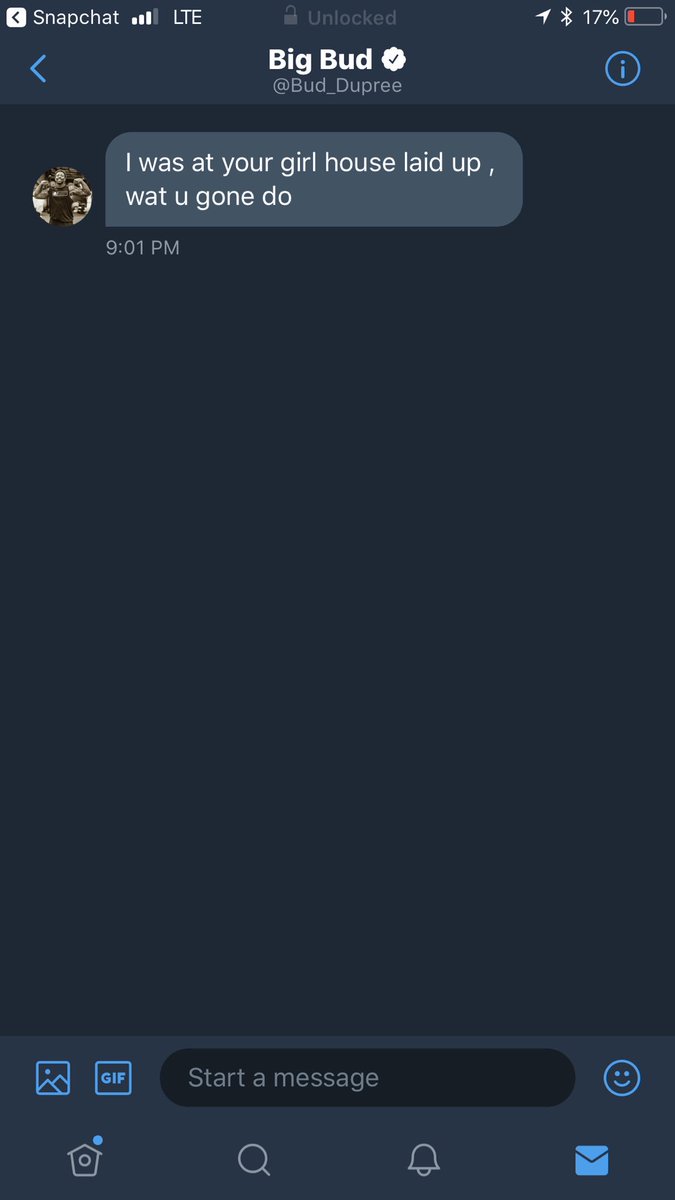 Dickson had nothing else to say in the matter, as you can imagine.
It's been a busy season with the Pittsburgh Steelers' Twitter accounts.
Alright, enough of the games. It's time.
If you watched the NFL this past Sunday, you saw just how disgustingly putrid the kicking performances were around the league.
In week two, nine games saw either a missed field goal or a failed PAT, with 19 total missed kicks in total throughout the day. And they weren't all missed by a hair, several were just absolutely shanked, leaving fans scratching their heads and begging for new options.
The biggest loser came in the form of Cleveland's Zane Gonzalez, who missed four total kicks against the New Orleans Saints, including one PAT to take the lead in the game's final minutes and a missed 52-yarder to tie the game with just eight seconds remaining.
Here was his final gem:
The #Browns = Cursed ????

They lose another one after Zane Gonzalez missed his fourth kick of the game from 52 yards. ? pic.twitter.com/NoQWWkNEBy

— Bovada Official (@BovadaOfficial) September 16, 2018
Minnesota Vikings kicker Daniel Carlson also missed three kicks on Sunday, including a chip shot 35-yarder with four seconds remaining in overtime to beat the Green Bay Packers:
Vikings kicker missed his 3rd straight kick wide right. The last one was with 4 seconds left in OT from 35 yards out ?

Carlson will be lucky if they let him on the plane. #NFL pic.twitter.com/8zzgEwXNy4

— ??Butch DFS? (@DFSBBallGuy) September 16, 2018
Both players were (rightfully) cut by their respective teams and were replaced almost instantly by free agents. Still, though, there are numerous incompetent kickers around the league that still have jobs, while former Kentucky superstar Austin MacGinnis is sitting at home waiting for that lucky phone call. He received a training camp invite from the Chicago Bears, but didn't make it through the final cuts for whatever reason. Since then, it's been quiet.
I'm usually the first to give kickers the benefit of the doubt, but my patience has run out. We love him as our co-host on the KSR Football Podcast, but MacGinnis is too talented to be unemployed in the NFL.
And the former Kentucky star realizes that, too.
Following all of the missed kicks on Sunday, fans reached out to the free agent kicker wishing he got the opportunity to make a name for himself in the league. MacGinnis took advantage of the attention, tweeting out his film, statistics, and letters of recommendation for potential job offers:
https://t.co/sChARXW2kp Posting all up-to-date film on here! Everything in one place!!

— Austin MacGinnis (@AMacGinnis8) September 16, 2018
He also retweeted and commented on just about every comment he received about how he just needs one chance to shine.
Just need a chance https://t.co/oN8H0h0xSr

— Austin MacGinnis (@AMacGinnis8) September 16, 2018
Some of those highlights shown on the former Kentucky kicker's website? His two ridiculous game-winners against Mississippi State and Louisville:
He also added his UK Pro Day footage and a preseason combine he participated in back in August:
There are zero excuses for so many professional kickers to be so horrible, just like there aren't any excuses Austin MacGinnis isn't on an NFL roster.
Make it happen. Please. Somebody. Anybody.
How did Randall Cobb celebrate Green Bay's thrilling come-from-behind win over the Chicago Bears? By giving the game ball to his newborn son.
Cobb's 75-yard touchdown put the Packers up 24-23 with two minutes left and earned him Player of the Game honors from the NBC broadcast crew. Once home, Cobb put the game ball in the crib next to his son, Caspian Cyrus, and posted a picture on Instagram with the caption, "Baby boy, I brought you a present home! #MyWhy".
Adorable. In case you missed it, Cobb's touchdown was truly spectacular:
He finished with nine catches for a career-high 142 yards. And to think, a few weeks ago, there were rumors the Packers were going to trade him.
Randall Cobb's eighth season in the NFL kicks off on Sunday and, in turn, ole Goldeneyes made an appearance on "The Dan Le Batard Show with Stugotz" today, where, predictably, the conversation veered from football to his gorgeous eyes.
"Randall, that game against Georgia," Stugotz started. "I'll get to your eyes in just a second here, but that game against Georgia–"
"He does have beautiful eyes," Le Batard interrupted. "He does have beautiful eyes."
"They're the best, aren't they?"
"I could gaze into them — they're like lagoons. I could gaze into them for an entire press conference."
Same. Why were they talking about that game vs. Georgia? Cobb said that was the first time he realized he might be talented enough to play football for a living.
"I would say my freshman year against Georgia was the first time I thought, wow, maybe I can do this professionally. Playing against a lot of guys who get drafted from Georgia — they had a great defense that year — being able to make some plays against them, I thought, wow, maybe I really can do this."
What about those rumors that popped up a week or so ago that the Packers were looking into trading Cobb? He admitted he was pretty nervous when he heard them — on his 28th birthday, nonetheless — but was assured they were false.
"There were definitely reports I was on the trading block, but [Wide Receivers Coach Luke Getsy] came to talk to me and shut those down immediately, to tell me those were false. That was definitely a great conversation and I heard those reports on my birthday, so that was a great 28th birthday, but it was all good. It's all good."
It better be. For the complete interview, watch below starting around the 18-minute mark:
Yesterday afternoon, six former Kentucky players were waived by their respective NFL teams.
Today, three of them have been added back to various practice squads, keeping their professional dreams alive.
Former center Jon Toth has been signed back to Philadelphia's practice squad:
#Eagles have signed the following players to the practice squad: RB Josh Adams, CB Chandon Sullivan, CB De'Vante Bausby, DT Winston Craig, LB Asantay Brown, DE Joe Ostman, C Jon Toth, WR Greg Ward Jr., WR Rashard Davis, TE Billy Brown. pic.twitter.com/xoibamPQBf

— Philadelphia Eagles (@Eagles) September 2, 2018
Former Kentucky and Oklahoma receiver Jeff Badet has been added to the Vikings practice squad:
Jeff Badet is signing to the #Vikings practice squad. So there's one spot.

— Chris Tomasson (@christomasson) September 2, 2018
And finally, former Wildcat defensive end Farrington Huguenin has been added to Pittsburgh's practice squad:
The @steelers Practice Squad

RB: Jarvion Franklin
WR: Tevin Jones, Trey Griffey
TE: Bucky Hodges, Christian Scotland-Williamson*
OL: Patrick Morris, R.J. Prince
CB: Brian Allen
LB: Keion Adams, Farrington Huguenin
DL: Lavon Hooks

*International player pathway program

— Chase Williams WPXI (@chasepwilliams) September 2, 2018
As for the other former Cats waived on Saturday, these are the three still searching for homes:
Kayaune Ross, Cincinnati Bengals
Garrett Johnson, Chicago Bears
Josh Forrest, Seattle Seahawks
Now, eight former Cats are currently on NFL rosters to go with the three on practice squads:
Randall Cobb, Green Bay Packers
Bud Dupree, Pittsburgh Steelers
Za'Darius Smith, Baltimore Ravens
Corey Peters, Arizona Cardinals
Danny Trevathan, Chicago Bears
Wesley Woodward, Tennessee Titans
Avery Williamson, New York Jets
Larry Warford, New Orleans Saints
We're still waiting for Austin MacGinnis to get the call for a starting kicker job, which may come sometime this season. And the Patriots need to sign Charles Walker, because of course.
NFL teams announced their final 53-man rosters on Saturday. Former Kentucky Wildcats were among many of those waived.
Six former Cats were waived on Saturday:
Jon Toth, Philadelphia Eagles
Kayaune Ross, Cincinnati Bengals
Jeff Badet, Minnesota Vikings
Garrett Johnson, Chicago Bears
Josh Forrest, Seattle Seahawks
Farrington Huguenin, Pittsburgh Steelers
After Saturday's cut, currently eight former Cats on NFL rosters:
Randall Cobb, Green Bay Packers
Bud Dupree, Pittsburgh Steelers
Za'Darius Smith, Baltimore Ravens
Corey Peters, Arizona Cardinals
Danny Trevathan, Chicago Bears
Wesley Woodward, Tennessee Titans
Avery Williamson, New York Jets
Larry Warford, New Orleans Saints
Waived players still have opportunities to sign with NFL teams either by being claimed off waivers or by signing onto the practice squad.
Best of luck to all former Cats in finding a home.
A few weeks ago, Bud Dupree became a father, and even though the Cats were in the middle of training camp, Mark Stoops made sure to send a gift on behalf of the Kentucky Football program. Enclosed in the care package of baby rattles and onesies was this note.
"Congrats on the new addition to your family. We are working very hard here to put a team together you can be proud of. Go Cats!"
Adorable. Here's Breitlen Jett Dupree, who arrived just in time for football season:
Bud is about to begin his fourth year with the Pittsburgh Steelers. He had to miss the preseason opener with a concussion, but started vs. Green Bay last week, registering one sack. The Steelers take on the Tennessee Titans tomorrow night.
Congrats to Bud and his family on the new addition!
This week former Kentucky Wildcat Danny Trevathan had a reunion of sorts in Denver.  The Bears traveled west to camp with the Broncos, and the NFL films crew was there to capture the moments' Travathan shared with his former team.
It does not take long to realize that Trevathan enjoys singing, preferably Nelly or DMX.  There are a couple of great lines like, "He was dead. Oh, he was dead."  But the best moment came when Trevathan and Von Miller realized they were both mic'd up at the same time.
.@Grindin_59 is back in Denver and ?? up for the reunion.

Mic'd Up is brought to you by @PNCBank. #MakeTodayTheDay pic.twitter.com/BAZHxxcESF

— Chicago Bears (@ChicagoBears) August 17, 2018
The Cincinnati Bengals announced the free agent signing of Kayaune Ross on Saturday.
NEWS: #Bengals sign three free agents — CB C.J. Goodwin, G-C Cory Helms and WR Kayaune Ross.

— Cincinnati Bengals (@Bengals) August 4, 2018
Ross went undrafted but signed with the Indianapolis Colts. Ross was waived was in June and then signed with the Seattle Seahawks. The Seahawks waived Ross on July 29.
Ross is from West Chester, Ohio, located about 25 miles north of Cincinnati.
Fingers crossed that Ross makes the final 53-man roster.