BB Recruiting
Basketball Recruiting News

John Calipari lost half of his 2019 recruiting class this afternoon when four-star small forward DJ Jeffries decommitted from Kentucky.
"After careful consideration prayer and countless hours of consulting with my family, I decided to reopen recruitment," Jeffries said in a tweet. "It was a hard decision but I am confident that taking my time to choose the right school for me to better myself educationally and athletically is the right choice."
With Jeffries now a free agent, what does this news mean for Kentucky next season and going forward?
Calipari's first decommitment
Kentucky has had players transfer out of the program and enter the NBA too early. We've also seen recruits deemed locks to end up in Lexington head elsewhere for various reasons.
But never has a player back out from his Kentucky pledge until today.
Calipari is very stingy with his offers and who he accepts commitments from, usually waiting until he's absolutely certain of a prospect's potential interest before pulling the trigger. With Jeffries, he saw a bully-ball small forward with great potential as a two-way star. He's versatile and could fit in with anybody, anywhere. The staff saw him as the perfect plug-and-play guy.
Even when his high school coach, Penny Hardaway, signed on the dotted line with Memphis, Jeffries doubled-down on his commitment.
"It's not going to sway me," he said at the time. "I'm going to stay at Kentucky."
He was sold on the Cats.
Now that Hardaway has gained some steam on the recruiting trail, however, Jeffries is having second thoughts and Memphis is now seen as the runaway favorite.
Penny Hardaway is a threat
When former NBA superstar Penny Hardaway jumped from the AAU coaching ranks to the Division-One level, many questioned whether his coaching style would translate.
Now, the Memphis head coach helped reel in the No. 28 recruiting class in the class of 2018 and already has a four-star recruit committed for 2019. He still hasn't coached a game, but he absolutely has some momentum right now.
Always working! Never stop GRINDING?? Strive for GREATNESS?? @KingJames @MikeMiller_13 pic.twitter.com/g6MQj3fwAo

— Penny Hardaway (@Iam1Cent) July 22, 2018
After watching him on the recruiting trail at various events, KSR's Aaron Torres said he wouldn't be surprised in the slightest if Hardaway becomes a major recruiting competitor in the very near future.
I was blown away by Hardaway's presence on the recruiting trail these past few weeks. And I truly believe that he could end up as a thorn in the side of the Calipari's and Coach K's of the world, if not an outright, equal competitor.
Read Torres' entire post below:
Like It Or Not, Penny Hardaway Is Establishing Himself As A Real Threat in Recruiting
On that note…
James Wiseman may be favoring Memphis
Kentucky's biggest recruiting target in the class of 2019 may be trending a different direction.
With Jeffries likely headed to Memphis, it wouldn't be a shock to see his former teammate James Wiseman join him.
"It would be really tough (for him to turn down Memphis) because him and Penny are so close," Jeffries said of Wiseman back in the spring. "It probably would be tough, but in life you got to make hard decisions sometimes."
Wiseman trimmed his list to eight last week, where both Memphis and Kentucky made the final cut. Most believe others trying their shot at the No. 1 prospect in the class of 2019 are just wasting their time.
I am truly blessed to finally announce my final top 8 schools…@hoopmajorhm???? pic.twitter.com/TYXwkmPXEE

— James Wiseman (@BigTicket_JW) July 28, 2018
KSR's TJ Walker said this morning that Wiseman goes back-and-forth with the Cats and Tigers, but Kentucky still feels good about their chances.
The consensus seems to be that Wiseman himself goes back-and-forth between UK and Memphis, but is genuinely trying to keep an open mind about the other schools, too. Everyone I've spoken with has said that it's going to be between Memphis and UK and that UK is still is a comfortable spot.
Now that his friend and former teammate is likely headed for Memphis, does that push him the wrong direction?
Kahlil Whitney and Dontaie Allen are near-locks
Arguably the biggest news that came from this has to do with two other Wildcat prospects.
Kahlil Whitney and Dontaie Allen, the former being a five-star, top-25 small forward and the latter being a four-star forward out of Pendleton County, are rumored to be favoring Kentucky.
They are both visiting Lexington next week, and there are whispers Calipari could seal the deal with them both before it's all said and done. Now there is nothing holding them back from joining the recruiting class. Jeffries' decommitment stings, but if the Cats can replace him with two elite prospects at the same position in less than a week? I think the BBN would be more than happy.
Could Calipari favor these two over Jeffries, and knowing commitments are on the way, talked about a mutual breakup with the (now former) Wildcat commit? Or did Coach Cal see this news coming and pushed for commitments as damage control? Who knows.
For more on Whitney, Allen, their upcoming decisions, and their potential roles at Kentucky, check out my post from yesterday below:
For Kentucky, it's not Kahlil Whitney OR Dontaie Allen. It's both.
Kentucky will be fine.
Jeffries was a solid prospect, but if we know anything about John Calipari, he knows how to roll with the punches. He has a loaded roster this year with several players expected to return next year. The coaching staff is in solid position with elite prospects, and as mentioned above, we could be nearing commitments from two of them.
Kentucky always eats first.
It's not often that John Calipari ends up on the wrong side of a player's recruitment, but that's exactly what happened on Monday. That's because at about 4:00 p.m. ET, D.J. Jeffries, one of two players who was committed to the Wildcats 2019 recruiting class, decided to decommit from the Wildcats, re-open his recruitment. It is the first time since John Calipari arrived at Kentucky that he has had a player decommit after initially committing to the Wildcats.
As soon as the news became official, it immediately set off an avalanche of speculation. Some wondered whether Jeffries was concerned that the Wildcats recently started recruiting a handful of guys at his same position (most notably Dontaie Allen and Kahlil Whitney). Some also wondered whether the possibility exists that Jeffries is interested in reclassifying into the class of 2018, and playing college basketball this season. If that's the case it wouldn't be realistic at Kentucky.
But more than anything else, one narrative, and one name, is most closely associated with Jeffries' decision to decommit from Kentucky. That name is "Penny Hardaway," a man who served as Jeffries long-time AAU coach and is the new head coach at Memphis. Connect a few dots, and it seems pretty clear that based on the timing of Jeffries' decision (remember, Hardaway wasn't the Memphis head coach when he committed to Kentucky) that this move could ultimately open the door for him to wind up playing for the Tigers. Nothing is certain, but the fact that a handful of recruiting gurus including 247 Sports Evan Daniels have already made a "crystal ball" pick for Jeffries to Memphis, makes it seem pretty likely that this is how this story likely ends.
After careful consideration prayer and countless hours of consulting with my family I decided to reopen recruitment it was a hard decision but I am confident that taking my time to choose the right school for me to better myself educationally and athletically is the right choice pic.twitter.com/Pqc4QlVqfd

— Djjeffries™ (@lildjj0) July 30, 2018
Ultimately, only Jeffries knows the reason behind his decision on Monday, and only time will tell if Memphis is his college basketball landing spot or not. But this news does reiterate one thing that I've both written and discussed on my podcast throughout the last few weeks: After watching Penny Hardaway on the recruiting circuit the last few weeks, I truly believe that he is going to be a real force going forward on the recruiting trail. Not just with kids from Memphis or his former AAU program, but with many of the best players from all over the country.
Now before we go too far here, it's important to note a few things. One, I'm not saying that Penny has all of a sudden become college basketball's best recruiter overnight, and that John Calipari, Coach K and Bill Self need to give up on ever trying to get a five-star kid again. That is definitely not what I'm saying, and those coaches, as well as the Sean Miller's, Roy Williams's and Tom Izzo's of the world will still get their fair share of big-time recruits. I'm also not saying that this recruiting surge will go on forever, especially if Hardaway doesn't start showing results once the games tip-off this winter.
But in the short-term? I was blown away by Hardaway's presence on the recruiting trail these past few weeks. And I truly believe that he could end up as a thorn in the side of the Calipari's and Coach K's of the world, if not an outright, equal competitor.
To fully explain what I mean, let's go back to two weeks ago at the Adidas Summer Championships near my home in Los Angeles. When I got there, I fully expected to see Hardaway in the building and milling around – and I expected him to mostly follow around the guys he knew from his time as an AAU coach the last few years. And when he got to the gym, he did just that. James Wiseman, playing for Hoop City Elite, took the court first. And in the least surprising news ever, Hardaway (along with Kentucky assistant Joel Justus and a handful of others) was courtside, along with his lead assistant Mike Miller. It only made sense. Hardaway has known Wiseman for years and coached him at the high school and AAU levels.
So again, that wasn't surprising.
What was surprising though, was what happened next. Hardaway stayed at the same court to watch Matthew Hurt, a consensus Top 10 prospect, who – prior to this summer – had no previous ties to Memphis or Hardaway. He has since added the Tigers to his short list however, a group that includes the bluest of blue bloods like Kentucky, Kansas, Duke and North Carolina.
Then, after Penny was done watching Matthew Hurt play, you know he did next? Went across the gym to watch Jalen Green, the top player in the high school class of 2020 take the court. Like Hurt, Green – who is from Fresno, California – has no ties to Memphis or Penny. But that clearly hasn't stopped Hardaway from making him a priority going forward.
Always working! Never stop GRINDING?? Strive for GREATNESS?? @KingJames @MikeMiller_13 pic.twitter.com/g6MQj3fwAo

— Penny Hardaway (@Iam1Cent) July 22, 2018
That's also what made things so interesting to me. Maybe I'm completely over-analyzing everything, but it looked to me like this was Penny giving his manifesto for the "Hardaway era" in Memphis. While he can't say anything to recruits, it was clear that his unofficial message was that his plan is to go big-game hunting, that to steal a term John Calipari used when he arrived at Kentucky in 2009, that he is looking to bring "the best of the best" to campus.
And to be blunt, that's not really normal in recruiting circles, especially for a first-year head coach. I found it interesting that other first-year head coach (like Louisville's Chris Mack and UConn's Danny Hurley) are largely recruiting guys that they had previous relationships with dating back to their previous. Heck, even a guy like Coach K wasn't as aggressive as Penny. As I wrote a few weeks ago, he actually got up and left the court when Wiseman arrived, a clear sign that he was unofficially waving the white flag in Wiseman's recruitment.
But Penny, he's going after everyone. Guys he knows. Guys he doesn't. He doesn't care. And I for one love that aggressiveness. I have no idea if it'll work, but give the man credit for trying. He knows he's only going to get one shot at a big-time head coaching job, and it's clear that if he's going to go down, he's going to go down his way, going after the best high school players in America.
Again, only time will tell if this works. Heck, only time will tell if he can convince even one really big-time recruit to come to Memphis. Remember, just because Jeffries decommited on Monday doesn't make him a lock for Memphis, and it's the same with Wiseman or any other prospect with ties to Penny or not. It also doesn't guarantee that Penny will win actual games on the court if he gets these guys, or that he'll develop them into future NBA prospects as well as Calipari, Coach K, Bill Self or any others will. That will also be the ultimate litmus test for Hardaway. It's not what he does in April-July on the recruiting trail. It's what he does from November-March when it matters most.
But college basketball – like all sports – is better when there's competition at the top, when there's new blood battling the old-guard. And that's who Penny Hardaway is right now. The new guard.
Yes, he's a long, long, LONG way from competing John Calipari and Coach K for one or two kids at the top of the recruiting rankings, let alone all of them.
But it's clear that he's willing to try.
And D.J. Jeffries' de-commitment may be the first indication.
Four-star power forward D.J. Jeffries has decommitted from Kentucky. The Olive Branch, Miss., committed to Kentucky on March 12th over offers from Memphis, Kansas, Florida and Alabama. Jeffries played on the AAU circuit for Memphis head coach Penny Hardaway before Penny took the Tigers' job, and he committed to UK with Penny still coaching high school basketball.
Jeffries is good friends with James Wiseman and this obviously isn't great news for UK's chances with Wiseman.
The last I had spoken with someone close to UK about Jeffries was just weeks ago when the 6-foot-7, 200-pound forward had just finished playing at Peach Jam. At that time people close to UK were impressed with Jeffries' skill and improvements over the summer and were excited about his potential as a college player. I can't say for certain that UK's staff is shocked by today's news, but I know a few weeks ago they weren't anticipating Jeffries backing off his pledge.
Also, it's interesting that the Cats have locked in on a new wing, Kahlil Whitney since Peach Jam. Things have moved quickly in that recruitment and the Cats will likely offer Dontaie Allen this week. Both wings are more offensively gifted and that's become a priority for Calipari.
Here's what Jeffries told me in March:
T.J. Walker: "You have a great relationship with Penny Hardaway and he's been rumored to be a candidate at Memphis. Did you consider waiting to see how that plays out in the coming weeks?"
D.J. Jeffries: "It didn't cross my mind. You never know what Penny might do. Right now he's in the middle of trying to win a state championship. I really didn't want to try and bother what he's trying to focus on right now. I wanted to do what was best for me and Kentucky is best for me.
Penny called my dad yesterday to congratulate me. He said he was proud of me. I don't think he was too hurt about it."
Remember, there were also reclassification rumors surrounding Jeffries before he committed to UK.
"It's just a rumor. I'm gonna stay in 2019. I have an academic goal I'm trying to reach and until I reach that I won't be reclassifying and for now I'm staying 2019."
There's no indication as of today that Jeffries is looking to play college basketball this year, but if it's something he's looking into it wouldn't happen at Kentucky.
Maybe Jeffries knew UK wanted other wings and felt threatened or disrespected? Maybe over the last 14 days UK realized Jeffries may go elsewhere so they went after other targets. We'll try to get to the bottom of this but at the surface this isn't great news for UK's chances with Wiseman. The Cats can easily replace Jeffries, although he did play well this summer, but Jeffries and Wiseman are boys. Pesky Memphis.
This is Calipari's first decommitment at Kentucky.
https://twitter.com/lildjj0/status/1024021894461358082
I hope everyone had a great weekend. I went to a bachelor party at Land Between the Lakes and really enjoyed myself. I hadn't been to Lake Barkley/Kentucky Lake for about 15-20 years and it's beautiful down there. The lake seemed a little cleaner than some other lakes I usually frequent, which was nice. It was a hoot of a weekend, but it sounds like there was a plethora of news on the recruiting front. I spent my recovery Sunday texting and chatting to see what I missed over the weekend. I'm still playing catch-up, but here's what I've learned.
My Podcast: First, let me self-promote. Along with the help of KSR I started a podcast called Hardly Committed, which is produced by Nick Roush. It's a 30-40 minute weekly podcast where I talk UK basketball recruiting, UK basketball and The Office (for about five minutes at the end). I was blown away by the downloads for our first episode and I look forward to doing this for the foreseeable future. It can be some nerdy basketball recruiting chat, but big-time recruiting fans should love it and we provide enough background on each target where casual fans can follow along, too.
Please do me a favor and download the podcast and leave a nice comment. The more it grows the better it will be, so help me out! Download the podcast HERE.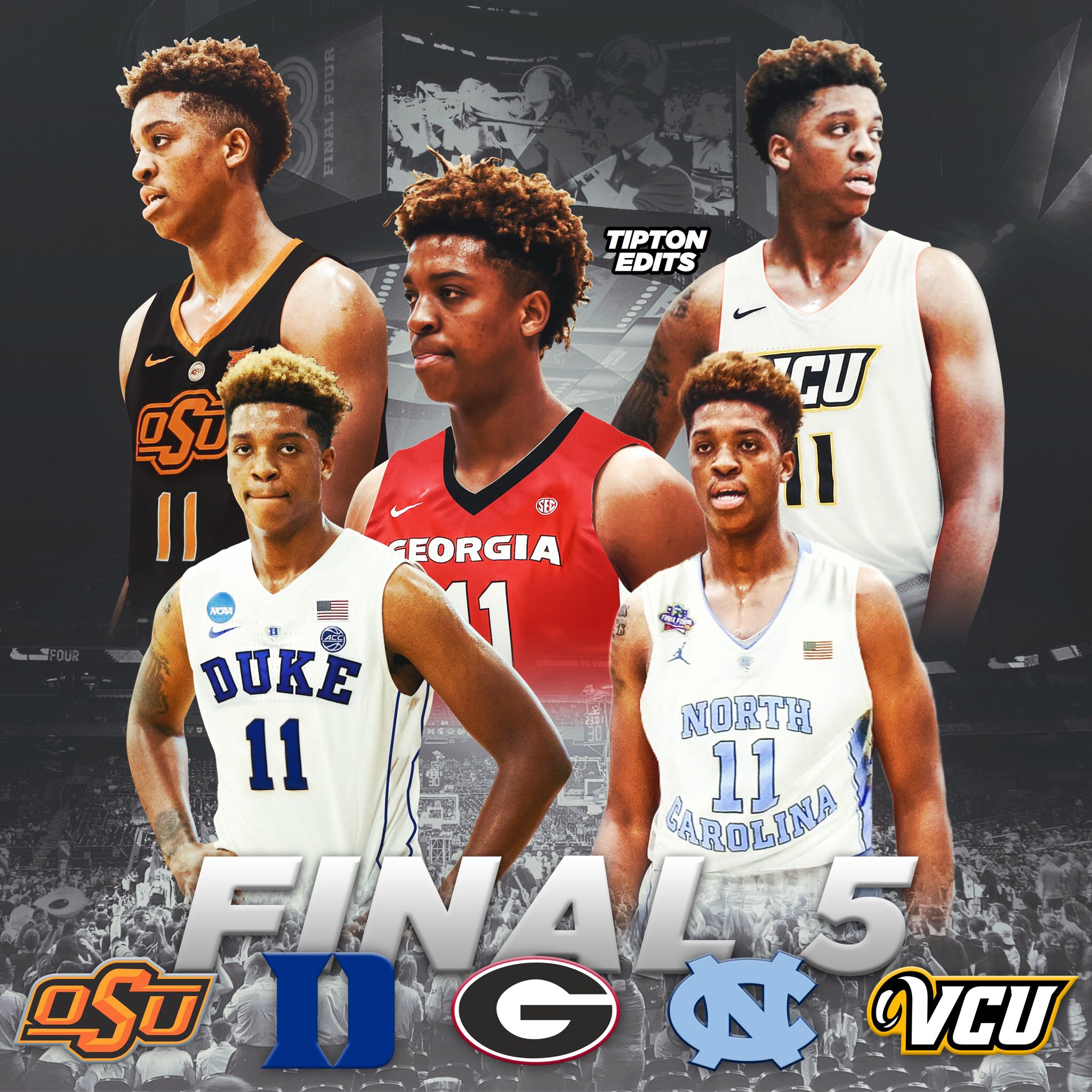 Bacot: UK reached out but it didn't amount to anything as you can see above. Armando Bacot narrowed his list to five and the Cats weren't included. Bacot had already cut his list to 10 and Kentucky didn't make that cut earlier this year, but the Cats started to watch Bacot a few times this summer. I'm told UK reached out, Bacot was interested but the Cats realized that they were too far behind. Bacot did Kentucky a favor by eliminating the Cats because had UK made this cut then he would have officially visited Lexington and it would have turned into a much bigger time commitment for a guy that will seemingly end up at UNC. Bacot is a really intriguing player but this is an example of UK being a little too far behind and being unable to make up the ground. Sometimes UK can, sometimes they can't. Oh well.
I am truly blessed to finally announce my final top 8 schools…@hoopmajorhm???? pic.twitter.com/TYXwkmPXEE

— James Wiseman (@BigTicket_JW) July 28, 2018
Wiseman: UK target James Wiseman cut his list to eight over the weekend and shockingly UK and Memphis made the cut (sarcasm font). Also making the cut along with UK and Memphis- Arizona, UNC, Vanderbilt, Kansas, Texas and Florida State. I often get asked if it's not Memphis or UK then where will Wiseman end up? First, I'd be shocked if he doesn't end up in Lexington or Memphis for college, but I do think Vanderbilt is running third. If absolutely nothing happens with Kansas and the FBI then I think the Jayhawks will get an official visit and may be a team to keep an eye on, but I think it'll be Kentucky or Memphis.
Last week I said that for the first time I was starting to get a little nervous about UK's chances. The good news is after I published those Monday Insider Notes I had several phone conversations with people that know more about Wiseman's recruitment than I do. The consensus seems to be that Wiseman himself goes back-and-forth between UK and Memphis, but is genuinely trying to keep an open mind about the other schools, too. Everyone I've spoken with has said that it's going to be between Memphis and UK and that UK is still is a comfortable spot.
Wiseman is unsure when he is going to make a final decision. UK would love to get this wrapped up in the fall, but many around Wiseman believe he will end up waiting until the spring. The official visits will happen during the fall, but remember that Wiseman is unofficially visiting UK this month. That's the plan at least. So, over the next two/three months Wiseman will likely be on UK's campus twice. That's good news.
I still think the night before Wiseman's decision we're talking about Memphis and UK. It's been that way for months and that's not going to change in my opinion.
Speaking of visits: Dontaie Allen and Kahlil Whitney will visit UK over the next week and should we put this thing on commitment watch? I don't think we hear of a commitment before the Bahamas, but I don't think it's out of the question UK lands a commitment from one of these two targets before September. I would be surprised if the Cats land both before September, but I'm told that's not out of the question.
My guess on what happens is that one commits (my guess as of today would be Whitney) and then Allen takes all his visits and takes his time. Maybe it's the opposite and Allen pulls the trigger early and Whitney waits. I'm not too sure, but just my guess. UK will continue to recruit the other player and there's a decent chance both end up in Lexington. It will likely depend if the two want to play together.
I am told UK would be happy landing both and would be OK with both committing ASAP. Remember, sometimes John Calipari will ask a player to wait or take their time. They do that when they're worried about scaring away another prospect, but that won't be the case here. UK would be fine with having three wing players in Allen, Whitney and D.J. Jeffries because both Allen and Whitney can shoot from deep. Calipari wants his teams to be great offensive and be consistent of versatile scorers across the board. Whitney and Allen are versatile and would be able to play with one another.
By the way, I'm told UK absolutely loves Whitney and "UK fans will, too". UK loves Allen, too, but they've known about him longer. Things moved quickly with UK and Whitney and they make take this relationship to the commitment level in the next few weeks.
Cole Anthony: We knew that Anthony would be heading to a prep-school for his senior season but over the weekend he announced he will join the ranks at Oak Hill. UK has landed nine players from Oak Hill with the most recent being Keldon Johnson. Other UK greats include- Doron Lamb, Rajon Rondo, Cliff Hawkins, Ron Mercer and Billy Gillispie's ex-girlfriend's ex-boyfriend, Alex Legion.
People talk about the sliminess of prep schools but Oak Hill doesn't fit the mold. They seemingly do things the right way and I'm asked if him going to Oak Hill helps or hurts UK's chances. It won't change anything. Oak Hill doesn't push their players in one direction and they will only help Anthony make a more informed decision, but ultimately it will be Anthony and his dad's decision. UK still remains in a good position.
As I've said several times- Anthony is going to wait until late in the spring and he will be monitoring UK's roster situation. If it's a crowded backcourt he won't end up in Lexington. If it's him and Maxey running the show I think they end up in Lexington together.
No need to overthink 2019: Things will continue to change for UK in 2019. Things change weekly and we haven't even started looking ahead to 2020. However, it's pretty easy to see UK's plan.
UK wants more scoring options at the wing or in the backcourt. UK is recruiting Allen, Whitney, Anthony Scottie Lewis, Bryan Antoine and Keion Brooks. It seems highly likely the Cats land two of those players.
UK wants two more bigs with at least one being a bruiser. UK is recruiting Matthew Hurt, Vernon Carey and James Wiseman. Kentucky needs at least two. This one seems a little trickier but the Cats still haven't panicked. They have reached out to a few other bigs, but no offers. It likely means UK knows they're probably going to land one of those targets and probably that they feel good in two or all three recruitments.
My guess is UK's class involves Tyrese Maxey, D.J. Jeffries, and at least three players listed above, maybe four depending on how many players leave after this season. The bigs as of today seem slightly more important, but that's my opinion.
Remember, there will eventually be some new names. Maybe we don't learn them until February or March, maybe it's another grad-transfer like Reid Travis, but it won't just be those players listed above.
We often get so caught up in who exactly UK will land, but more-so than previous years UK's staff is hoping to just land positions/style of play. This year they have done a great job of having so many players fit what they're trying to do. There have been previous years where UK landed a guy they wanted, but maybe he was defensive oriented and the Cats still needed shooting. Or maybe UK landed a great shooting guard but the player wasn't versatile enough to play point and not good enough defensively to guard the three. UK feels confident with all their targets. Obviously some fit better than others, but it could end up just being a numbers game. Get two from the first bullet point, get two from the second group and the Cats will be just fine for 2019-2020.
Class of 2019 Kentucky commit DJ Jeffries announced on Twitter earlier this evening that he received an invite to the Nike Basketball Academy in Los Angeles.
Blessed to say I got invited to the Nike basketball academy ???

— Djjeffries™ (@lildjj0) July 29, 2018
The Nike Basketball Academy gives high level high school and college players to learn from of the NBA's brightest superstars, as well as play against high level competition from all over the country.
Position Sports is the company that handles the Nike Basketball Academy's media, public relations, as well as operations. Here's what their website has to say about the opportunity for these kids.
The Academy will be a tailor-made experience for guards, wings and bigs all under one roof. By creating a seamless experience, the Nike Basketball Academy will allow the best players in the country (both high school and college) to compete against the best competition while receiving guidance from Nike Basketball's biggest stars; LeBron James, Kevin Durant, Kyrie Irving and Anthony Davis to name a few.
Several other players have announced their invites via Twitter, but no word yet on the exact list or the other UK targets that will take part. Current Cat Tyler Herro, as well as huge target James Wiseman, among others, attended last year's Academy. Also, various former Cats have helped on the NBA side, with Anthony Davis this year and DeMarcus Cousins doing the same in the past.
One in-state recruit believes Dontaie Allen will eventually be a Kentucky Wildcat.
In the final weekend of the summer evaluation period, John Calipari traveled west 80 miles on I-64 to watch Allen play Friday night in the Louisville Jam Fest.  The sharpshooter from Pendleton County created quite a few highlights in front of Coach Cal.
Once the highlights hit Twitter, former UK target KyKy Tandy weighed in on Allen's recruitment.  Does the Hopkinsville native know something we don't?
My boy is U.K. Bound !

— Dekeyvan Tandy (@TandyDekeyvan) July 28, 2018
Before you speculate too much about Tandy's Tweet, enjoy Allen's full highlights from Friday night.
If you're in Louisville and would like to see Allen go to work, M.A.T.T.S. Mustangs play again this evening at 6:20 on Court 12 at the Kentucky Fair and Exposition Center.
Coach Cal will see Allen again this Wednesday when the rising star in the 2019 recruiting class takes an unofficial visit to Lexington.  The visit will likely conclude with a scholarship offer from Kentucky.  Stay tuned.
James Wiseman announced he has narrowed his list of potential schools to eight.
For months the race in Wiseman's recruitment has essentially been between two suitors, Kentucky and Memphis.  As expected, the Wildcats and the Tigers are finalists for the nation's top-ranked player.  The Memphis native is also considering Arizona, Vanderbilt, Kansas, Texas, Florida State and North Carolina.
Kentucky is the first school mentioned in Wiseman's announcement, set to the stylings of Drake.
I am truly blessed to finally announce my final top 8 schools…@hoopmajorhm???? pic.twitter.com/TYXwkmPXEE

— James Wiseman (@BigTicket_JW) July 28, 2018
In an interview with Prep Circuit, Wiseman had this to say about John Calipari's Kentucky Wildcats:
"Coach Calipari helps a lot of NBA players that have went through their program. Anthony Davis is my favorite NBA player and he went there. Then you have DeMarcus Cousins and a lot more great players who play in the league today. I think Coach Calipari has great connections such as getting his players to the NBA. I have a very strong relationship with Coach Calipari."
I think the Big Blue Nation could get used to seeing Wiseman in that uniform.
Kentucky is not in contention for one of the best post players in the 2019 recruiting class.
During an ESPNU broadcast of the Las Vegas Classic Finals, Armando Bacot Jr. released his top five schools: Duke, North Carolina, Georgia, Oklahoma State and VCU.  A five-star power forward who plays for IMG Academy in Florida, Bacot Jr. was named MVP of the Peach Jam finals and is considered the No. 7 center in America by the 247 Sports Composite Rankings.
The move to cut Kentucky might be somewhat of a surprise, until you consider the comment Bacot Jr. made earlier this week.  He said Joel Justus was his primary recruiter, but Bacot Jr. was still waiting to hear from John Calipari.  Coach Cal's absence may have been enough to dissuade him away from UK.
Without Bacot Jr. in play, Kentucky will focus their full attention on Vernon Carey Jr. and James Wiseman.
In other news from the ESPNU broadcast, Cole Anthony, the nation's top-ranked point guard and Calipari's No. 1 target at the position, revealed he will complete his high school career at Oak Hill Academy.
Kentucky head coach John Calipari is taking yet another look at Pendleton County product and major UK target, Dontaie Allen, tonight.
Coach Cal is courtside at the Kentucky Expo Center to watch the 6-foot-6 small forward participate in the Louisville Jam Fest, where his M.A.T.T.S. Mustangs will take on the Louisville Magic.
#UK coach John Calipari is courtside at the Louisville Jam Fest to watch target Dontaie Allen, a Pendleton County prospect who already has an offer from #UofL. Allen is taking unofficial visits to both schools in August. pic.twitter.com/78vykbPA7m

— Danielle Lerner (@danielle_lerner) July 28, 2018
Allen, listed as a four-star prospect, saw a major jump in the rankings this month, going from unranked to No. 46 overall in Rivals' player rankings.
Considered one of the fastest-rising prospects in the nation, the Pendleton native now holds offers from Florida, Louisville, Auburn, Oklahoma, and Xavier, among others. Several of the blue-blood programs are also showing interest as of late.
He is set to visit Lexington next week, where a scholarship offer is expected to come.
Check out his highlight reel from last season:
Keep him home, Coach Cal.
If I've said it once, I've said it a million times: At Kentucky, recruiting never stops. The simple fact of the matter is that when you can lose anywhere from "a handful of guys" to "your entire roster" every single year at draft time, you have to cast a wide net in recruiting season. Just as soon as you think you've got a guy who will be at UK two or three years, he ends up as a one-and-done, signing a $150 million deal at 21-years-old.
Yes, I'm talking to you, Devin Booker. And yes, I'd be glad to get you my Venmo user name if you have a couple thousand to spare (winky face emoji).
Therefore, it's no surprise that new names are always popping up in recruiting for Kentucky, and the latest is Arizona high school guard Nico Mannion. The five-star point guard recently reclassified to the class of 2019, and just as he got set to announce his final handful of schools, Kentucky and North Carolina got into the mix. Neither school has offered yet, but there is seemingly enough interest where Mannion is going to wait a bit to put out that final five.
So who is Mannion exactly? Well, it just so happens that today is your lucky day. In addition to the resident college basketball insider around these parts, I am also pretty plugged into the West Coast AAU scene, and have known about Mannion for years and interviewed him several times (including once just a few weeks ago). Few people are more qualified to tell you a little bit about him, the kind of player he is and can be, and what schools fit in where in his recruitment than I am.
Here are a few things you need to know about the 6'3 guard:
He's a recent addition to the class of 2019
As mentioned off the top, Mannion was long considered one of the top players in the class of 2020 – until just a week ago when he announced his plans to reclassify. It was no secret this was coming, with his father going so far as to say that this was his final summer on the AAU circuit weeks ago. Mannion has already won a high school state championship and was the state's Gatorade Player of the Year, so at this point there isn't much to prove at the high school level. Add in the fact that he was born in 2001 – making him an original member of the class of 2019 – and it only made sense to move things up a year.
And that is exactly what he did last week. After quietly working behind the scenes to get his schoolwork in order, Mannion made the announcement on July 20th, and is now listed as the No. 17 player in the class of 2019 according to 247 Sports.
He is also the No. 1 rated point guard in his new class, although that is a tiny bit misleading, since others ahead of him like Cole Anthony and Tyrese Maxey are listed as combo guards. Both are obviously primary ball-handlers who can play the point.
He has good bloodlines
Just watch Mannion it becomes pretty clear that he's got good genes – the kid is crazy athletic and can jump out of the gym. And the facts back that up. His father Pace played in the NBA for six seasons and his mother was a pro volleyball player in Italy. His parents actually met when Pace was playing overseas in Italy after his NBA career concluded.
Therefore, it makes sense that Mannion got his basketball acumen from his dad and his crazy hops (seriously, he jumps out of the gym) from his mom. But the cool thing is, his parents – who both achieved a great deal of athletic success on their own – never pushed him into hoops. He gravitated towards it naturally.
Sports Illustrated actually did an extensive profile of him a few years ago that got into that dynamic.
Mannion has international experience
Mannion actually took the Karl-Anthony Towns route through international basketball. In the same way that Towns was eligible for the Dominican national team because of his mother's roots, Mannion was eligible to play for Team Italy. And he actually spent part of the summer playing for their Senior National Team in June.
I actually spoke with Mannion shortly after the trip a few weeks ago, and he raved about what the experience had brought to him. From playing with pros, to learning how to eat, train and take care of his body, it was an experience that he seemed to enjoy.
It's also one that will only help him as he enters his final season of high school basketball.
His AAU program has ties to Kentucky
Mannion plays for West Coast Elite, one of the most prominent programs in all of AAU basketball, and one of the dominant teams on the Under Armour circuit. It's a program which has put a number of players into major colleges including Ira Lee (Arizona) and Miles Norris (Oregon) amongst many others.
It's probably worth mentioning – at least for this particular audience – that they have a guy at Kentucky too. Some guy named Jemarl Baker, who, after sitting out this past season is expected to play a big role with the Wildcats this coming year.
West Coast Elite is also home to Top 10 2019 prospect Josh Green, who Kentucky previously showed interest in. However, after offering Kahlil Whitney last week, it appears as though they've cooled on Green.
What is Mannion's game like?
I watch a lot of AAU basketball, and I'll say this: There aren't many kids on the AAU scene who are tougher and more competitive than this kid is. What I love about Mannion is that he plays hard every game – regardless of crowd, opponent or what coaches are watching. What I especially love about him is that when he goes up for a dunk, he doesn't try to just flush it – but instead, literally tries to end someone's life.
No, seriously. Watch the Twitter video I linked below. I think he really did end that dude's life.
In terms of his actual game, I had trouble coming up with a comparison. The easy one would be Donte DiVencenzio, for well, obvious reasons. Still, that seems to easy, and so therefore, let me give you another one. How about Eric Bledsoe? He has that crazy athleticism, has a frame with room to add muscle and plays with that chip on his shoulder every single day.
Mannion is a few inches taller, but I like that comp a lot.
Nico Mannion scores 35 of teams 52pts in tough loss to Clark, NV last night. This also happened… Keep working, kid! pic.twitter.com/aQtefzg9Kv

— Justin Downer (@CoachJDowner) December 10, 2017
What is he like off the court
Let me just put it to you this way: I've interviewed a lot of guys in the NBA who aren't as poised and put together as Mannion is at 17-years-old. He's mature beyond his years, and when I interviewed him, frankly, I thought I was talking to someone twice his age.
Whatever school gets him is going to have a great player on the court, and seemingly an even better person off of it.
So where does his recruitment stand?
Based on numerous conversations I've had with people all over the college basketball world (AAU people, coaches recruiting him, etc.) here's what I can tell you: As of about two weeks ago, he was set to cut his initial list of 10 to five. Then Kentucky and North Carolina got in the mix, and all bets were off.
Still, at this point, it still does feel like Arizona is the team to beat. They are the home-state school and have essentially been recruiting him the longest. His dad has publicly said that he wants Nico to visit both Duke and Villanova, who have each offered. Duke seems to be mentioned more regularly, but with the way Villanova can use multiple point guards on the court at once (like Jalen Brunson and DiVencenzio last season), it leads me to believe they're in better shape than most realize.
And don't sleep on USC. They already have a pair of five-star big guys (Isaiah Mobley and Onyeka Okongwu) committed, and they are going to sell Mannion on playing alongside them.
With the additions of North Carolina and Kentucky however, it feels like its as wide open as its ever been.
So will the new schools be real players?
It's tough to say. On the one hand, it wouldn't surprise me if Mannion waited until the spring to make a decision – just so he knows exactly what the coaching staff and roster will look like when he gets to campus. Still, even if he waits until the spring to commit, he seems intent on cutting his list to five soon. Will either Kentucky or North Carolina come in with an offer before he cuts his list? Or will they wait too long? It's tough to say, especially at Kentucky, where they already have three point guards on the roster this year and another combo guard headed in, in 2019 (Maxey).
My hunch is that if both don't come in with an offer soon, it simply might be too late.
https://www.youtube.com/watch?v=7jEbMAiefiI