Basketball
Basketball Season Coverage
The Kentucky basketball team will leave the Bahamas unblemished.
John Calipari's squad rolled Team Toronto 93-60 for the Wildcats' fourth win in five days.  The Canadians once cut it to five in the first half, but the game was never in doubt.
Reid Travis scored 19-points, six of which came from behind the three-point line, and grabbed 15 rebounds for his first double-double as a Wildcat.   P.J. Washington could not be contained (13 points), Quade Green was money (14 points on 6-of-9 shooting) and even Jonny David got in the box score with an And One in the final minute of the 33-point win.
The 2018-19 team was perfect for one week in the Bahamas. That's not something the 2014-15 can say.  This is going to be an awfully fun season (and that's a understatement).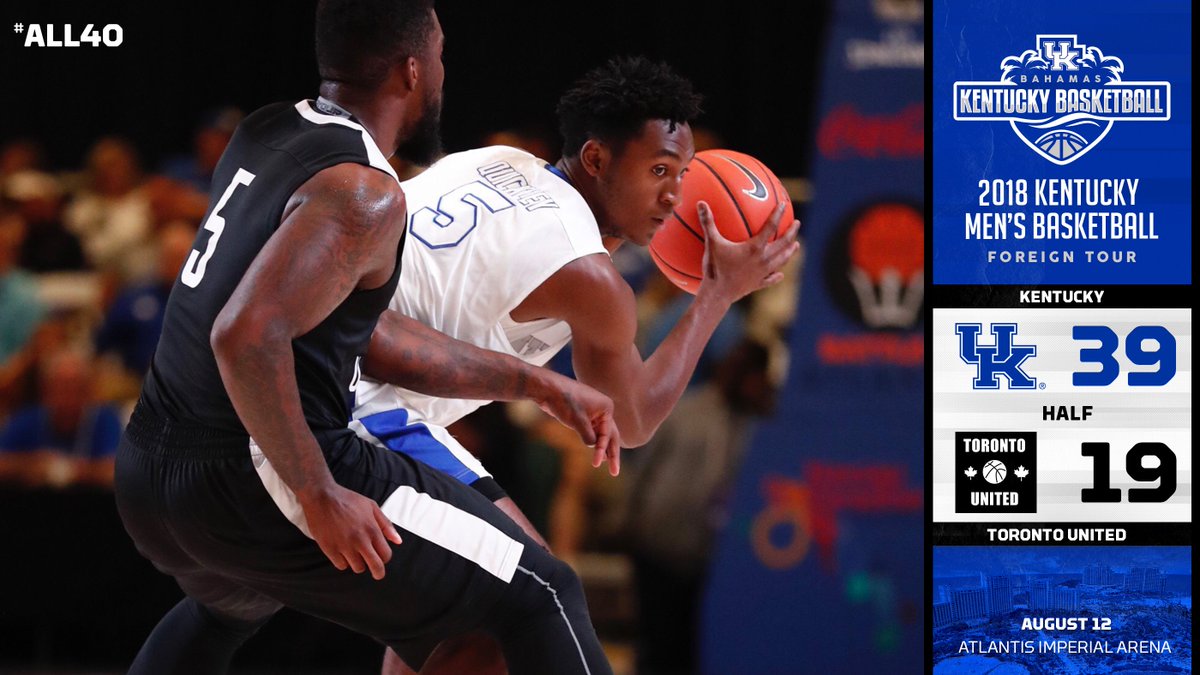 The Cats started slow, but they finished the first half with a bang, going up 39-19 against Team Toronto.
Tyler Herro and Quade Green led Kentucky with 10 points each on a combined 8-15 shooting and 3-7 from three.
Reid Travis added nine points on 3-6 shooting to go with 10 first-half rebounds for the near double-double.
PJ Washington also managed seven points, six rebounds, and two assists.
Here's the (unofficial) boxscore:
Finish them.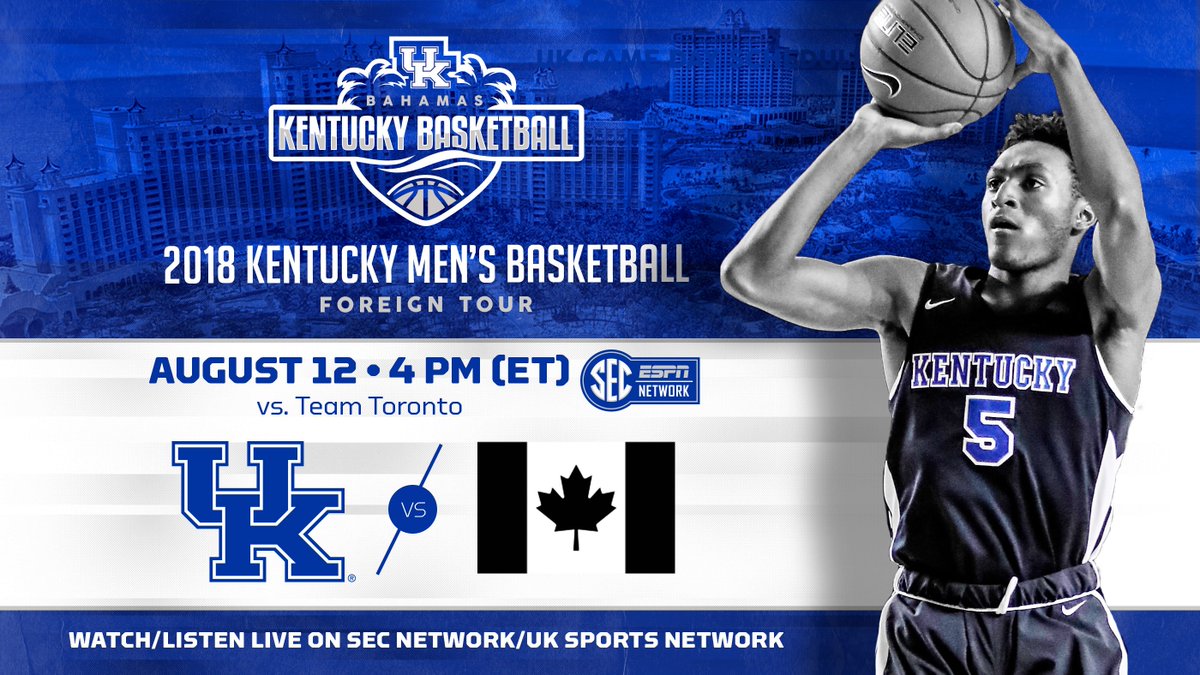 After hours of research with little-to-no reward, we finally have a roster for Team Toronto!
They just handed out the 11-man roster sheet on press row at the Atlantis:
Duane Notice, Jevohn Shepherd, and Andrew Nicholson were known in advance, but just about everyone else was a surprise.
Tanner Graham is a 6-foot-7 guard/forward out of Queen's University. He averaged 13.2 points and 9.5 rebounds per contest as a senior.
Myles Charvis, a 6-foot point guard, averaged 12 points, 3.5 rebounds, and four assists per game with Ryerson University last year. JV Mukama also played for Ryerson, where he averaged 11.2 points and 7.9 rebounds per contest. Filip Vujadinovic, a 6-foot-7 forward, averaged 8.2 points and 5.2 rebounds for the Rams in 2017-18. Toronto head coach Roy Rana is currently the coach at Ryerson, as well.
Guard David McCulloch averaged 19 points per game on 41-percent shooting and 35-percent from three at Ontario University last season.
Emanuel Miller is a four-star prospect from the class of 2019 with offers from Oklahoma, Pittsburgh, Illinois, and SMU, among others. The 6-foot-6 small forward out of La Lumiere School also has heavy interest in Ohio State.
Dyshawn Pierre played college ball at Dayton and has played professionally overseas since 2016. The 6-foot-6 forward is currently with Dinamo Sassari of the Italian Lega Basket Serie A.
Ryan Wright, a 31-year-old forward for Toronto, played at Oklahoma and UCLA from 2005 to 2010. He has played for 10 professional teams over seven years.
You can learn more about the three previously known Canadians below:
State Farm Agent Tiffany Thacker wants you to learn about Team Toronto
Other notes:
Kenny Payne will coach Kentucky this afternoon, giving Tony Barbee and Joel Justus a break for the day.
EJ Montgomery (back) and Jemarl Baker (knee) will NOT participate.
Quade Green is ready:
.@Q_Green1 getting some work in before the game with Team Toronto. pic.twitter.com/E1thuAd70I

— CoachCal.com (@CoachCalDotCom) August 12, 2018
Let's get this money.
A Message from Today's Sponsor:
On the court, all-stars make assists look easy. Behind-the-back, no-look, or off-the-backboard, they're dropping dimes non-stop. That's how we feel about coverage and savings. Combine your home and auto with State Farm and start your own assist highlight reel. After all, even all-stars need an assist.
Everyone from Pikeville to Paducah call State Farm Agent Tiffany Thacker for help combining their home and auto, and enjoy the savings. Call 859-971-0266 or visit www.tiffanythacker.com.
---
If we've learned anything about this team during their exhibition tour in the Bahamas, it's that they love to talk trash. Keldon Johnson confirmed that he's the biggest trash talker of the group, and after dunks like he had last night, it's easy to see why.
"I'm number one. PJ [Washington]'s number two. Then, I'll say Quade [Green]," Johnson said. "EJ [Montgomery] don't talk. You've got to get EJ really fired up."
PJ Washington agreed with Keldon's rankings, and said the fact that this group talks as much trash as they do is a very good sign.
"Keldon, Ashton [Hagans], probably me, Quade, I'll say Tyler [Herro], Immanuel [Quickley]. I think Nick [Richards] does a little bit too," Washington said. "I feel like trash talking is about being confident. I feel like if I'm trash talking, I'm confident in myself and I feel like the other guys are too. That comes with getting your work done in the gym, which boosts your confidence. Like I said, that makes teams special."
Johnson attributed his trash talking nature to growing up with two younger brothers.
"I had two little brothers so we were always brawling in the backyard. We always talk trash. I think it really started my ninth grade year and it just became more progressive."
Dunks! All the Keldon Johnson dunks! vs Mega BeMax ??#BigBlueBahamas pic.twitter.com/qZBfSEBLIt

— Kentucky Basketball (@KentuckyMBB) August 12, 2018
After two games of missed dunks, Johnson finally connected on one last night, showing everyone what Immanuel Quickley has known for weeks: slowing down Johnson is a chore.
"In practice, it's hell. Especially guarding him because he's a force, on offense and on defense. But just to have him on my team, it's special — like with all these guys, it's special. We pretty much go ten deep and can do a lot of combinations."
How far is too far with trash talking? According to Keldon, bringing up somebody's mom.
"No, that's personal," Keldon said when Jerry Tipton asked him if he talks about people's moms. "That's personal. I try to stay away from that."
Oh, Jerry.
Kentucky players after the win over Mega Bemax

Posted by Kentucky Sports Radio on Saturday, August 11, 2018
A Message from Today's Sponsor:
On the court, all-stars make assists look easy. Behind-the-back, no-look, or off-the-backboard, they're dropping dimes non-stop. That's how we feel about coverage and savings. Combine your home and auto with State Farm and start your own assist highlight reel. After all, even all-stars need an assist.
Everyone from Pikeville to Paducah, call State Farm Agent Tiffany Thacker for help combining their home and auto, and enjoy the savings. Call 859-971-0266 or visit www.tiffanythacker.com.
---
After three dominant performances to open the Big Blue Bahamas tour, Kentucky will close out the week with a game against our friends from the north.
Team Toronto, a roster that usually boasts the likes of Anthony Bennett, Cory Joseph, Kelly Olynyk, and Dillon Brooks during FIBA events, will be significantly shorthanded in their matchup against Kentucky today. In fact, there's not even an official roster released to the public to know who will actually show up.
We do know, however, a few talented players expected to participate.
Top Players
Andrew Nicholson, a former first-round draft selection to the Orlando Magic (No. 19 overall) in 2012, will be the star big man for Toronto this afternoon. With the Guangdong Southern Tigers of the Chinese Basketball Association, Nicholson averaged 22.2 points and 8.3 rebounds per game last season. Just yesterday, the Fujian Sturgeons of the CBA signed the 28-year-old, so who knows if he'll actually suit up today or if he is even in the Bahamas anymore. With legitimate NBA talent, the former St. Bonaventure forward will give Kentucky some problems in the frontcourt… if he takes the floor, of course.
Here are his rookie highlights with the Magic in 2012-13:
One Canadian we are certain will play is former South Carolina guard Duane Notice. The former SEC Sixth Man of the Year, who averaged 10.2 points per game as a senior and helped lead the Gamecocks to the Final Four in 2017, is the No. 16 all-time scorer at South Carolina with 1,409 total points.
With BM Slam Stal Ostrow, a Polish professional team, Notice averaged 9.29 points, 2.43 rebounds, and 2.57 assists per contest last season.
Here are some of his most recent highlights:
Former Michigan guard Jevohn Shepherd, who currently plays professionally overseas, averaged 12.6 points, 3.4 rebounds, and 2.2 assists per contest for Elan Chalon last season. Shepherd has played professionally since 2009, and has signed a deal with SLUC Nancy Basket, a French basketball club, for 2018.
He'll be a go-to offensive weapon for Toronto this afternoon.
There were also reports that former Kentucky forward Kyle Wiltjer would suit up for Toronto, though his newest professional basketball contract agreement limits that reunion from happening. This offseason, the 6-foot-10 sharpshooter signed a one-year deal with Spanish team Unicaja Malaga, and he is currently overseas preparing for the upcoming season. Wiltjer averaged 4.5 points on 42% three-point shooting with Olympiacos, a Greek professional basketball club, last season. He also had stints with the Houston Rockets and several G-League teams after turning pro in 2016.
Other Players
Beyond the main four players of concern, the rest is a crapshoot. I found this Team Toronto roster on the official EuroBasket website, featuring a few former Division-One players.
None of the players are very recognizable, and just one stands over 6-foot-6…
Ronnie Johnson – 6'0"(Point Guard), played at Auburn
Jonathan Milligan –  6'2"(Guard), played at Pittsburgh
Rozelle Nix – 6'11"(Forward), played at South Alabama
D'Ante Russell-Hall –  6'6" (Forward)
Anthony Duckett –  6'6" (Forward)
Bryce Lienhoop – 6'6" (Forward)
George Diekelman – 6'4" (Guard)
(Warning: the above list could be completely wrong, and there's a chance none of those players play today. There's just little-to-nothing on the internet about this team, so I'm working with what I've got)
Coaching
Beyond the players, head coach Roy Rana will be arguably the most important piece for Team Toronto. Rana, who hand-picked this roster, led the 2018-19 U19 Canadian team to the gold medal at the FIBA World Championships. He has also served as head coach of the World Select Team at the Nike Hoop Summit every year since 2011, meaning he has coached the likes of Shai Gilgeous-Alexander, Nick Richards, RJ Barrett, DeAndre Ayton, Ben Simmons, Jamal Murray, Skal Labissiere, and countless others.
He has also been the head coach of the Ryerson University men's basketball team since 2009.
We don't know as much about the roster, but we do know they have a guy on the sidelines that can coach at an elite level.
---
John Calipari said he wouldn't be surprised to see Kentucky finish 1-3 this week, and though he didn't admit the one predicted victory, he almost certainly had Team Toronto in mind. Toronto is arguably the weakest opponent Kentucky will face all week, and they've played together significantly less than the other three opponents.
Make no mistake about it, the Cats will roll in a big way.
Reid Travis is Kentucky's top rebounder on the Bahamas trip, but on offense, he's yet to find his footing. The fifth-year senior is averaging eight points per game off 27 percent shooting, which assistant coach Joel Justus says is proof he's still adjusting to Kentucky's system.
"I think he's learning a new system. He's a new guy for us too. He's playing with new guys. He's going to be fine. He's getting shots in areas he's never taken them for and playing in places he's never played. That's why he wanted to come here. He wanted to be pushed, he wanted to come here to be challenged and that's what he's doing right now. What he is doing is, he's in the gym, he's watching film, what he needs to do to be a better version of himself. It's August 11. We've got a ways to go. He's excited. Once again, this group is very, very excited for what they can do collectively and individually."
Travis may not be contributing a lot of points yet, but Justus said his impact on this group is immeasurable.
"I think you can see flashes. There are times when he's struggling — you're seeing that now — but he's playing hard. He's a great leader for us on defense. These young guys are so blessed to have him. They love playing with him. He's giving these young players confidence. So he's missing a couple of shots? He's doing outstanding things for our basketball team that aren't showing up on the box score."
Sure, last night's UK game was an exciting win for the Cats. There were clean passes, epic dunks, a few great blocks and an altogether FUN night of basketball. Kentucky fans, more than anything, want to win games. But, if you were watching the game from the comfort of your home, you know there were a few great moments from last night's performance that stood out… other than the basketball itself.
#5 Behind-the-Scenes in the Bahamas
Before and after a few commercial breaks, viewers caught a glimpse of how the players spent their day without basketball on the island. We've all seen the awesome boating pictures, but the SEC Network also captured the team splashing around in the water. The Kentucky Basketball twitter account posted their version of the footage:
Back to the games today, but first you HAVE to see how much fun we had yesterday on the CATamaran. It's impossible not to love this group. #BigBlueBahamas pic.twitter.com/kVwlIwhMwC

— Kentucky Basketball (@KentuckyMBB) August 11, 2018
Plus, let's never, ever, forget these photos of Coach Cal going full Dad-mode with the sunscreen.
#4 The Chemistry
We've said it once and we'll say it a million times: this team is fun. But a major part of that "fun factor" comes from the fact that these guys appear to already really like each other. Sure, it's still early. But nothing builds chemistry like weeks of early-morning workouts, late nights in the gym and a few shenanigans in the Bahamas, right?
The chemistry on this team is palpable, and that will be a key factor going forward this season. The connection was on full display last night. You could see it in the ease of an assist; you could see it in the way Keldon Johnson's teammates have his back when he starts trash-talking an opponent. But you could really see it in how the players celebrate one another.
While this may be one of Calipari's most competitive teams, each and every player is supporting his fellow Wildcats, and it is so refreshing to see. Last night's victory featured a handful of impressive plays, and each one was followed by an on-court celebration and some serious "hype" from the bench.
Quade Green ?? Keldon Johnson

That was NASTY ? pic.twitter.com/G0NXWHGMIu

— SEC Network (@SECNetwork) August 12, 2018
That chest bump? Amazing.
#3 The announcers praising the BBN
Obviously, Kentucky fans know the BBN is the best fan base in the nation. But for some reason, members of the national media don't always tend to agree. I know plenty of fans who tune into the radio broadcast while watching the game on television, simply so they can hear "pro-Kentucky" commentators rather than a national announcer. Not tonight.
.@dandakich and @SethOnHoops were pure comedy tonight. Had my dad and I laughing all night

— Kindsey Gilgeous-Bernhard (@kindseybernhard) August 12, 2018
(Shoutout to KSR's own Kindsey Bernhard for getting retweeted by both commentators).
While UK fans may be split on Dan Dakich, you have to admit it was great listening to Dakich and Seth Greenberg praising UK fans for their kindness, enthusiasm and overall love of basketball. Throughout the broadcast, Greenberg repeatedly mentioned how pleased he was with the UK fans he interacted with in the Bahamas, while continuously stating "they just love basketball." He's got that right.
Plus, how cool was it for John Calipari Fantasy Camp participants to all get a shoutout on the SEC Network? As someone who has covered that camp for the past few seasons, I can attest to the passion with which those men play – and watch – basketball. With Dakich and Greenberg serving as competing coaches, I'm sure this year's Fantasy Camp was one to remember.
#2 John Calipari commentating from the bleachers
We all remember Cameraman John from four years ago – watching Coach Cal monitor one of the TV cameras in his cargo shorts and polo was definitely one of my favorite moments from the team's last trip to the Bahamas. But last night, he did something maybe even better. Somehow, someway, Calipari was given a microphone and did a live, in-game interview with the commentators. Throughout their lengthy conversation, Coach Cal pretty much just spoke his mind.
From discussing (sophomore) Nick Richard's improvements to Brad Calipari's apparent missed shot opportunity, Cal had plenty to say about this year's team. He was charming and swaggy and all of the other things the BBN loves about him, but Cal was also brutally honest to Greenberg & Co., but in the best way. At one point, Calipari admitted he had no idea what he was supposed to be talking about – he was too focused on the game to actually listen to the question. It happens.
#1 – Seth Greenberg's interview with the freshmen
This was, by far, my favorite (non-basketball) part of the evening. For those of you who may have missed it, the SEC Network aired Seth Greenberg's interview with this year's freshmen during halftime, and it did not disappoint. Greenberg sat down with Keldon Johnson, Ashton Hagans, Immanuel Quickley, Tyler Herro and EJ Montgomery to talk expectations, reality-checks and yes, who does the best Coach Cal impression (Immanuel Quickley, if you were wondering).
The interview was semi-informative, but the best part was simply watching the new guys interact, loosen up, have some fun and showcase their individual personalities. Even though it's still August and "official" basketball is still a few months away, the BBN has had more opportunities this summer to get to know the team than ever before. From behind-the-scenes Instagram videos to prank calling Coach Cal, the Kentucky fan base is already getting to know the people in the blue-and-white – not just their jersey numbers.
Oh, and by the way, Keldon Johnson does a mean Kenny Payne impression.
(If and when this interview makes it onto the SEC Network's website or YouTube, this post will be updated to include the link).
---
There's just one game left in the Bahamas. Will the power go out? Will Coach Cal finally get back to working TV equipment? Can we (please) see another epic chest bump? Can 4 o'clock get here any faster?
Mega Bemax was thought to be the toughest team Kentucky would face in the Bahamas. In turn, the Cats rose to the challenge and blew them out 100-64. Keldon Johnson said the group knew of the Serbian's team reputation and came in to their third exhibition game with a purpose.
"I would say, yeah, you take it personally," Johnson said of Mega Bemax's reputation. "As a team, we all stood up to the task. We knew it was going to be a better team tonight so we just had to show them that we're not going to back down. We knew that if we came out lackadaisical, we would get punched in the mouth first. So we came out locked in and got the W."
"Loved our effort," Assistant coach Joel Justus raved. "Our energy was tremendous. It was an elite performance by our guys. We talked about it, our guys are young, but they know basketball and they know that that team was a good team, a proud team that plays hard that's had tremendous success and our young guys respect that. They came out today and gave an extreme effort. Togetherness was at an all-time high since we've been down here and obviously, we're extremely happy."
Exhibitions are exhibitions, but what does it say about this group that they dominated one of the most renowned European professional teams after two games of playing together — in August?
"They love basketball," Justus said. "This group really does love basketball. They love to be in the gym, by themselves, with a couple of guys. They love to compete and this was another opportunity for them to go and do it against somebody else. This is something we're finding out about them and we're obviously very excited about that."
Justus, Kentucky's primary recruiter, said this group's competitive nature is a testament to the type of players who come to Lexington.
"I think it says that that's who we are: a team that's going to come in waves. We've got to keep guys healthy, we've got to keep pushing them. In practice, guys have to keep making each other better, but I'll tell you, that's what they came here. Each one of these guys knew they were going to come to a place where there was going to be daily competition, they were going to be pushed by Coach Cal, the rest of us as a staff and pushed by each other. That's why guys come here."
Up comfortably the entire game, this team could have relaxed and let Mega Bemax back in it, but according to Immanuel Quickley, that's not their style.
"It says a lot about this team and the coaching staff. Throughout the whole game, the coaches were telling us to keep the foot on the gas, keep going, keep pressing, and that's what we did."
Justus said that the fact that this team rose to the challenge in August bodes well for their first big game (cough, Duke, cough).
"I think you're going to have a season of firsts when you're this young and to get that out of the way and to know that this group is capable of it, I think that's a good thing for us as a staff and it's a great thing for those guys in that locker room to know that they're capable of bringing that type of effort collectively."
It's August, but Quickley already feels that this group could be special.
"Feeling really good," Quickley said. "We're playing really well together and it's actually early so we're only going to get better. We work really hard in practice, so I think this will be a special team."
Justus agrees, telling reporters that the players were already looking forward to getting back on the court tomorrow afternoon.
"This has been great. We're three fourths the way done here and I think we're excited once again to be out there tomorrow afternoon and playing for another chance to compete. They're already saying that right now. 'We're excited to play tomorrow.' When I say that, I'll say it again, this group loves to play basketball. They're excited because they get to play somebody else. You can take a look at our bench, you can show them clips of that. They're excited. The great teams at Kentucky over the years, it's been collective guys cheering for each other, whether it's on the floor or off the floor, there's energy every second of the game."
WOW! There are plenty of highlights from tonight's exciting 36-point blowout in the Bahamas, so I decided to round up a few of my favorites that made their way to Twitter. Re-watching the Cats' best plays of the game? It's a tough job, but someone has to do it.
Here's Kentucky Basketball's official highlight reel of the night:
Mega highlights!
Max coverage of dunks!!!#BigBlueBahamas pic.twitter.com/SYsGNRngAA

— Kentucky Basketball (@KentuckyMBB) August 12, 2018
Here's a closer look at a few key plays, courtesy of @SECNetwork and @dimedrophoops.
Quade Green ?? Keldon Johnson

That was NASTY ? pic.twitter.com/G0NXWHGMIu

— SEC Network (@SECNetwork) August 12, 2018
Great find by @H23Ash in the corner for a @PJWashington trey pic.twitter.com/SBlq9BQiCw

— The Dime Drop (@dimedrophoops) August 12, 2018
don't hurt 'em, @PJWashington!! ? pic.twitter.com/5dcSAvUnsp

— SEC Network (@SECNetwork) August 12, 2018
Herro sticks another one off a DHO pic.twitter.com/b1vPw0U31M

— The Dime Drop (@dimedrophoops) August 12, 2018
Another big finish from Keldon pic.twitter.com/DXW3NoECTn

— The Dime Drop (@dimedrophoops) August 11, 2018
Quade with a tough fallaway. Kid came to play today. pic.twitter.com/lpxjIHnIWH

— The Dime Drop (@dimedrophoops) August 11, 2018
How many days until basketball season officially begins?
---