Basketball
Basketball Season Coverage
There's still time to register for Sunday's John Calipari Coaches Clinic, but if you're unable to make it to Lexington that day, UK is offering another option.
For $24.99, you can live stream the clinic on CoachCal.com and submit your questions to Calipari. The stream will air live from 11 a.m. to 2:30 p.m. and be available for up to 72 hours afterwards. Once it's over, participants can submit their own drills and practice points, which will be emailed out to all other participants in the livestream clinic.
"We are trying to create the biggest and the best worldwide clinic in the history of basketball. Be a part of it," Calipari said in a release from UK. "I could not be more excited about the opportunity to open up a practice to coaches across the globe."
"I'm always looking for ways to reach out and connect with as many coaches and basketball fans as I can, from podcasts to social media to speaking engagements across the country. This is the next step. I think this is going to be a home run for everybody."
If you'd still like to attend the clinic in person, the cost is $110. Registration closes on October 20, so hurry on over to ukathletics.com/camps to secure your spot.
Big Blue Nation, meet Elaijah Mayhorn, a fifth-grader at Julius Marks Elementary School in Lexington. Remember that name, because there's a solid chance you'll be hearing from her at Kentucky press conferences and media opportunities in about a decade.
Or a year or two. Maybe a couple weeks, who knows. All I know is she's coming for my job.
Mayhorn made a grand entrance at UK Media Day on Thursday afternoon, when she skipped her way into John Calipari's press conference garnering Kentucky-blue ribbons in her hair and the most contagious smile you've ever seen. There was a sea of media members packed in the room like a can of sardines with lights and cameras, but the intimidating scene didn't phase her in the slightest.
She took a seat at the KSR table off to the right side of Calipari's podium, and we instantly had to know her story. But before we could even get a real question out, she turned around and introduced herself.
"Hi, I'm Elaijah," she said.
I'm sitting by Elaijah from Julius Marks Elementary. She is very excited for her first media day as a kid reporter. pic.twitter.com/G5rGWhAfd7

— Drew Franklin (@DrewFranklinKSR) October 11, 2018
There was my story. Forget any of the other madness we were likely to see throughout the day, I knew this girl was going to steal the show.
And she absolutely did.
Calipari got going, bantering back and forth with several reporters in the audience. He took a jab at Jerry Tipton by asking if it was Media Day or Coach Day, compared Rick Pitino showing up to practice to North Korea, and talked about being loopy due to his sleep deprivation, among other things. You know, the usual.
Like a seasoned veteran, however, Mayhorn waited for the first pause in the action to pounce. She raised her hand for the microphone and belted out a hard-hitting question, zero hesitation.
"What do you do when you're given sass by the players?" she said.
"Sass? What is sass?" Calipari responded.
"Like, attitude."
"Oh, very good question. What's your name?"
"Elaijah."
"Okay, Elaijah, let me say what we do now because I have a team that talks — I want a team to talk. Like the biggest issue we have, they don't talk enough. The problem is when they talk at the other team, that's a problem. That's an attitude.
"So we have a couple guys that start competing, and then they start jawing at each other. They start sassing, as you would say. So now we have attitude points. So if they're competing and the score is 12-9 and Keldon scores and then starts to chest bump, boop, attitude point, the other team. Now it's 13-10, and we keep playing.
"My job is every year to try — what is this team, what do they need from me. So to get them — I want them to talk to each other. I just don't want them to talk to the opponent. Leave them alone. Very good question."
Attitude points, eh? We haven't ever heard of anything like that since Calipari arrived back in 2009. But a fifth-grader can walk in and dig up new information from the Kentucky head coach without thinking twice? Interesting.
After the press conference concluded, Calipari shuffled over to Mayhorn, knelt down, took a picture with her, and again told her how great her question was. He then talked to her parents in attendance, telling them she has talent and they should be proud of her.
"Yep, I have to follow this girl around when she talks to the players," I said to myself.
And you better believe it exceeded expectations.
In the hour we had to talk to players, Mayhorn arm-wrestled Nick Richards, asked Quade Green what his hidden talent is, and talked to Ashton Hagans about his birthday gift for Keldon Johnson, among other gems. She was easily the most valuable reporter of the day:
Luckily, I got all of it on tape for your viewing pleasure.
Take a look at Elaijah Mayhorn's reporting debut at UK Media Day:
And just like that, I need to pack my things and log-out for good. How can I compete with that?
This kid is a superstar.
Do you remember back in September when the Kentucky basketball team was treated to an early look at the latest installment of the Call of Duty series: Call of Duty Black-Ops 4?
Tonight, the team was rewarded with a night off of practice to play their distributed copies of the popular first-person shooter game.
The official Kentucky men's basketball Twitter account released the following video of the team receiving their shipment of the game on both PS4 and Xbox One.
Needless to say, they were pretty excited for a night of doing nothing but having fun:
The guys worked hard this week so they're getting the night off to enjoy some games. pic.twitter.com/CKvzc3eU2U

— Kentucky Basketball (@KentuckyMBB) October 14, 2018
"As soon as it comes out, I'm playing it all night, every night," sophomore forward PJ Washington  said about the new game at UK Media Day last week.
And he wasn't the only Wildcat looking forward to it.
"We all get the new Call of Duty, I'm probably going to be on there a lot," said Quade Green.
Kentucky center Nick Richards, on the other hand, said he's not a fan.
"Nah, I don't play Call of Duty," he said.
Hmm… Footage doesn't lie, Nick.
Neither do photos:
After a good week of practice and a heck of a show put on at Big Blue Madness, the kids absolutely deserve a night off.
While we're at it, take a look at the Big Blue Madness recap video the fine folks at UK Athletics put together:
Others have different names for it and try to replicate it, but there truly is nothing like Big Blue Madness because there is nothing like the #BBN. #BBM18 #DreamBIG pic.twitter.com/d6Uh9NkbSC

— Kentucky Basketball (@KentuckyMBB) October 14, 2018
It's going to be a fun season.
Believe it or not, basketball season is already upon us. And, believe it or not, the Kentucky Wildcats have a battle for starting point guard on their hands. Throughout most of the pre-season and even leading into the Bahamas, Ashton Hagans was the man most thought would be best-suited for the job. But while both Hagans and Quickley had solid performances down in the sun, it was Quickley who shone the brightest.
Over the course of four games, Quickley averaged 24 minutes of playing time per game. He went 7-23 for 30.4 percent from the field and 4-10 (40 percent) from behind-the-arc. Quickley grabbed 18 rebounds, 16 of which were defensive boards, while dishing out 18 assists and committing just two turnovers. He was also credited with five steals and averaged 7.3 points per game. He showcased his defensive intensity, his competitive nature and his determination to get his teammates the ball and make a play while still acting as a calming presence.
While some of Hagans numbers (21.5 mpg, 17 rebounds and five ppg) are very comparable to those of Immanuel Quickley, there are other areas with large discrepancies. Hagans shot the ball more efficiently from the floor (8-15 for just over 53 percent), but he didn't have the same long-range as Quickley (0-2 from the three-point line). Most notably, Hagans had 10 assists (eight less than Quickley) and seven turnovers (five more than Quickley). Both point guards had excellent stat lines, but it's hard to ignore Quickley's abilities and demeanor on the court.
Quickley showed his dominance in the opening game of the trip, and he ended up starting in three of the four August games. But, the Cats' time in the Bahamas wasn't the first time Immanuel Quickley showcased his talents. A 5-star recruit and a McDonalds All-American (and the winner of the McDonald's game three-point contest), the point guard was the first recruit who committed to John Calipari from the 2018 class.
But then other big names started signing. Fans got excited about players like Keldon Johnson and EJ Montgomery; fans got excited about the return of PJ Washington, Quade Green and Nick Richards; fans got excited when Ashton Hagans not only de-committed from Georgia but then reclassified to begin playing with the Cats immediately. And, somewhere in all of that excitement, Immanuel Quickley got lost.
The hype surrounding Quickley briefly re-appeared during the Bahamas trip, but following the conclusion of the final game, the BBN's attention turned to football, returning Quickley to the background. But that's alright with him – it just meant he had to get back to work.
"Individually I'm just looking forward to getting better everyday," Quickley told KSR during media day. "I enjoy that part of the process of just getting better [and] working on my game."
And he's been putting plenty of time into that process, according to John Calipari. The head coach compared Quickley to Brandon Knight and Shai Gilgeous-Alexander, two players notorious for their time spent in the weight room and the gym after-hours.
Quickley stole the show at Big Blue Madness, starting with a spectacular dance and ending with him winning the three-point contest. With a combination of grit on the court and personality off of it, he has once again been thrust into the spotlight and is poised to become a fan favorite. But will it last? Or will he have to once again prove himself once games officially begin? Either way seems fine by him.
---
Today in James Wiseman news: the No. 1 player in America is spending the weekend in Nashville. The Music City native is staying close to home for his official visit to Vanderbilt.
Now, does anyone really believe Wiseman will end up anywhere other than Kentucky or with Penny Hardaway in Memphis? Probably not. Nevertheless, the 6-foot-11 power forward is making sure to take full advantage of all of his options – he's already taken a visit to Kansas and has a trip to Florida State scheduled for the end of the month.
Wiseman was not in the audience for last night's Big Blue Madness, but don't worry – he attended the event last year as a junior, alongside future commit Tyrese Maxey and eventual de-commit DJ Jeffries.
Even though he missed this year's BBM, he saw quite the show during today's Vandy-Florida football game altercation… Dan Mullen vs. Derek Mason – who ya got?
---
@MaggieDavisKSR
No rest for the weary…
While fans may still be reeling from last night's spectacle also known as Big Blue Madness, the UK men's basketball team wasted no time getting back to business.
@KentuckyMBB posted a photo to Instagram this morning showing the team already back in the gym preparing for the season. Talk about #NoDaysOff.
Coach Cal elaborated on the post by taking to social media himself, clarifying not only did his team practice once today, but they're actually practicing twice.
The always-honest Cal did come out a bit in the Tweet, saying "the anxiety and excitement from last night drained my team so they started slow but ended up having a great practice."
This is why I like this team. We practiced this morning, the first of two practices. The anxiety and excitement from last night drained my team so they started slow but ended up having a great practice. … (1/2)

— John Calipari (@UKCoachCalipari) October 13, 2018
… They now know it doesn't matter how they feel coming into a game or practice; they control their effort and intensity. I love it. Second practice starts at 4. (2/2)

— John Calipari (@UKCoachCalipari) October 13, 2018
I like my team.
---
Big Blue Madness is an event unlike any other.  The official start to the Kentucky basketball season, the fans are formally introduced to this year's team in a spectacle that wows visiting recruits.  While most focus on the present and future of the program, nothing warms the heart more than seeing how UK honors its past.
Last night was a Big Blue Family Reunion.  Rupp Arena opened its doors to familiar faces like Isaac Humphries, Tod Lanter and Twany Beckham, as well as players from decades ago that helped UK basketball come what it is today.
It would not be a Big Blue Madness without Joe B. Hall.  Kenny "Sky" Walker was on the blue carpet with his old head coach.  There was no shortage of National Champions in the building.  Jack "Goose" Givens led the Cats to a title in 1978.  Members of the 48, 49 and 51 National Title teams were in attendance — Cliff Hagan (who looks like he could still play), Guy Strong, Billy Evans and Dale Barnstable.
Uniting the past and the present is what Kentucky basketball is all about.
"It makes you feel that you are a part of something bigger than life.  We might be gone, but the program's not going anywhere," Lukasz Obrzut told me before yesterday's festivities.  "It's just great to shake hands and appreciate all the work that everybody has put in over 100 years.  This country is not that old and we've already been playing basketball for 115 years."
The moment between the past and current players at mid-court warmed the hearts of the Big Blue Nation.  It's one of the many reasons why nobody does college basketball better than the University of Kentucky.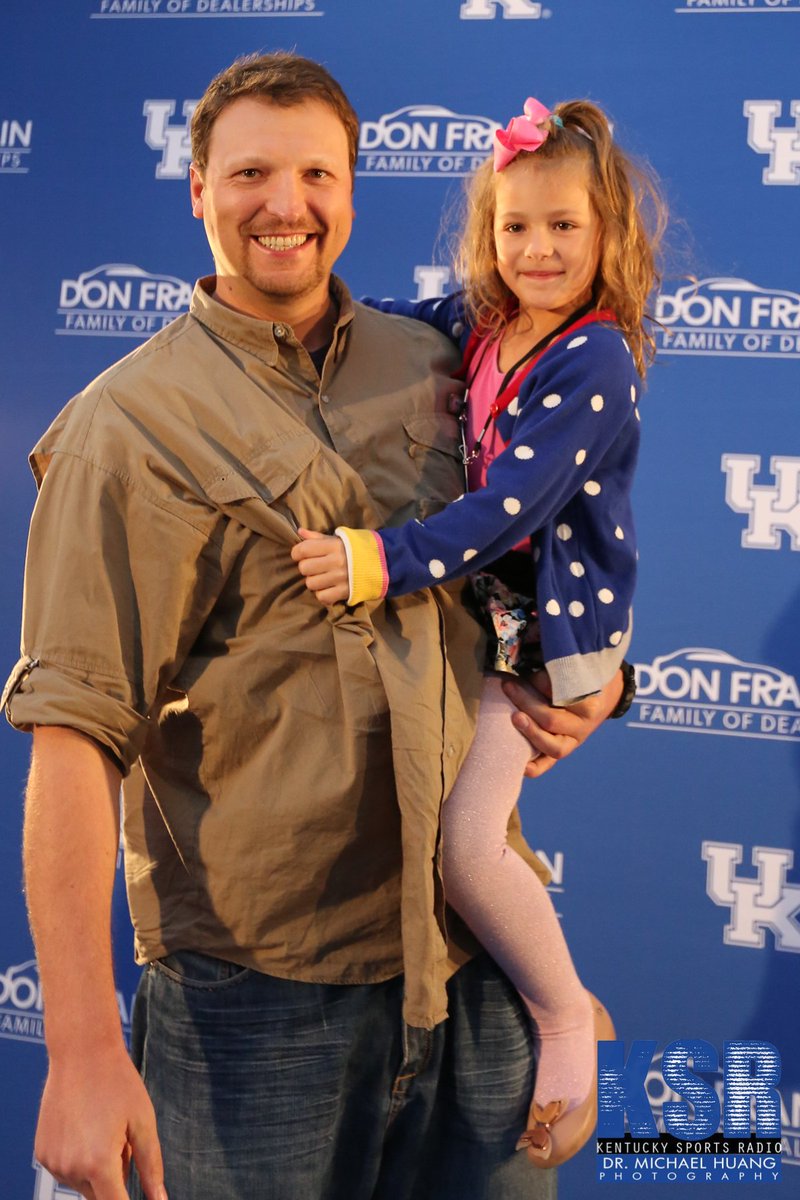 Before Tyler Herro stepped on campus, Kentucky fans compared him to Rex Chapman.
Comparing white athletes to other white athletes is what people do.  Why that is the case is a question for another day, but it's reality.  The natural reaction from the KSR crew and Rex was, "pump the brakes."  Tyler Herro will not let us pump the brakes.
The Wisconsin wing lit up the Bahamas.  He led the Cats in scoring and didn't do it by living behind the three-point line.  He got buckets off the dribble and was not afraid to dunk on faces.  He's added to his arsenal since the summer trip.  Thursday Calipari said Herro might be a better defender than Keldon Johnson.
Just when you thought Herro couldn't do more to impress the Big Blue Nation, he put the hype train in fifth gear at Big Blue Madness.
After losing to Immanuel Quickley but just one in the three-point contest, Herro prepared for the dunk contest with a wardrobe change.  Instead of No. 14, Herro wore a Rex Chapman jersey.  The hysterical crowd was not disappointed.
Tyler Herro dunking in a Rex Chapman jersey is too much for the #BBN to handle pic.twitter.com/8SaIp6L0rj

— Nick Roush (@RoushKSR) October 13, 2018
Rex initially encouraged people to slow their roll on the Herro comparison.  "Comparing white players to only other white players is silly," Chapman told the Courier-Journal after the Bahamas trip. Last night Chapman was honored to see Herro embrace the King Rex hype.
Beyond flattered, y'all…@KentuckyMBB @UKSportsNetwork #BBN pic.twitter.com/UGmXDH1Dbe

— Rex Chapman?? (@rex_rexchapman) October 13, 2018
Herro's Rex Chapman impersonation was excellent on opening night.  If he can match Chapman's freshman year production — 16 points per game on 44 percent shooting — it's going to be a special season in the Bluegrass.
Kentucky's season-opening spectacle at Rupp Arena looks better through the lens of Dr. Michael Huang.  Keep scrolling to see the best of the best from Big Blue Madness.
What a night.
Big Blue Madness 2018 has officially come to a close, and once again, Kentucky basketball put on quite the show. We got a bit of entertainment, competition, Kentucky pride, and everything in-between. With plenty of five-star recruits in attendance, they certainly gave their best pitch. Those who may have been leaning toward other schools were absolutely given something to think about.
Here are the top-ten things we learned from yet another impressive Big Blue Madness:
This group knows how to have a good time
From the second they walked off the bus at the Blue Carpet, you knew they were ready to put on a show. Say what you want about their outfits, but (minus Jonny David) the entire came out in their favorite look top-to-bottom. They had quite a bit of swagger.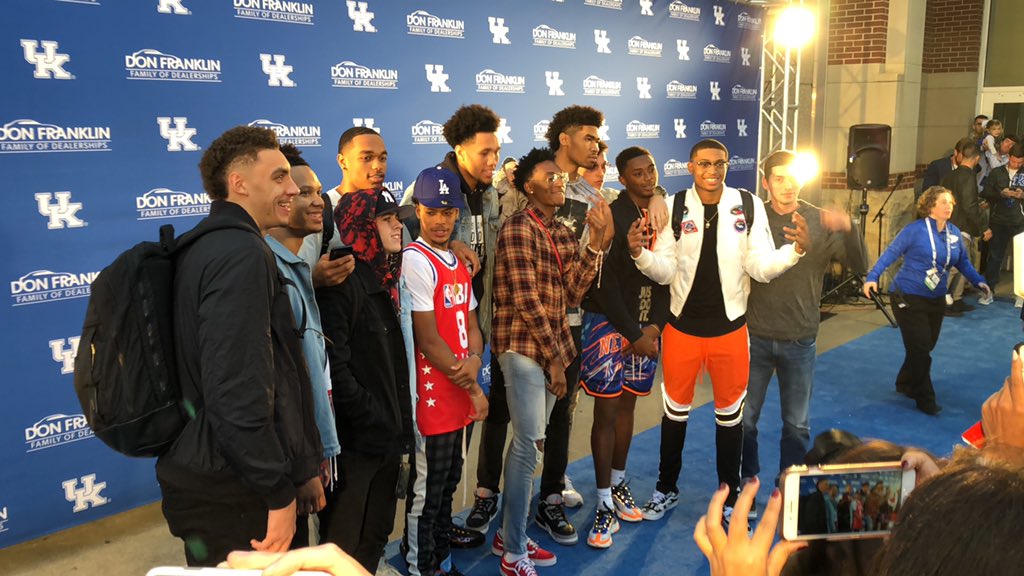 Grinning ear-to-ear, they stood their posing for pictures and participating in interviews. They carried that same happiness into Rupp Arena for the main event.
During player intros, just about every player on the team danced and had fun. Nick Richards shot a t-shirt out of a cannon. Keldon Johnson came out in a Purge mask and custom-made shoes from the havoc-ridden blockbuster movie series. Immanuel Quickley gave us our best dance since Archie Goodwin in 2012.
When the actual basketball events started, they continued their dancing and smiling. They were interactive and filled with joy. It was just fun to see.
For how much we craved personality from last year's group, we got more than enough to make up for it tonight alone.
John Calipari is still the King of the Bluegrass
It's no secret Coach Cal is a fan of the spotlight. Every opportunity he can get in front of a camera or microphone, he takes advantage. And once again, he dominated when the lights were at their brightest.
Calipari walked onto the Rupp Arena floor and gave it his all in yet another State of the Program address. He discussed his former draft picks, what it takes to play at Kentucky, and just how proud he is to coach this basketball team. When Coach Cal speaks, people listen, and tonight was yet another perfect of it. He had the entire crowd at the edge of their seats.
I looked over to Drew Franklin on press row immediately afterward and said I would commit on the spot if I were a five-star recruit visiting. Take away the bias, there's zero doubt in my mind I wouldn't be a Wildcat before the night was over. He's given some impressive speeches in the past, but this was one of his best.
You can listen to it in its entirety below:
UK Athletics has adjusted to build excitement
Last year, they split the time right down the middle between the men and women, with each team getting introductions, warmups, drills, and a scrimmage. After the initial hype videos and introductions, it was pretty cut and dry, and it made for a slightly boring overall product.
They added the Blue Carpet experience last year, and it was a success. They continued it this year, and it was even bigger and better.
Instead of watching a bunch of warmups and drills from both teams, they jumped right into the action. In its place, we got to see the debut of three-point and dunk contests, both major successes. We saw the introductions, a few lay-up lines, and then action. Much more efficient and entertaining for the fans.
The three-point contest was fun, but the dunk contest was next-level entertainment. We saw players throw down windmills, jump over teammates, and off-backboard alley-oops, among other dunks. PJ Washington and Keldon Johnson stole the show, but all participants added their own bit of fun to the event.
We have plenty of shooters. Good shooters.
Last year, there were times absolutely no one could get shots to fall from the perimeter. That lack of consistency resulted in Kentucky's long-standing record of most consecutive games with a made three-pointer come to an end. It also resulted in some tough losses along the way.
This year, we won't have any of those problems, and we should be prepared for some wild shooting nights.
Tyler Herro is a lights-out shooter, as is Immanuel Quickley. They battled in a three-point contest, with Quickley edging Herro for the victory. They'll both be knockdown shooters this season.
Beyond those two, we have Jemarl Baker, Quade Green, and Keldon Johnson, who Calipari said earlier this offseason was Kentucky's most consistent shooter. PJ Washington also looked good in the contest, significant progress from last season. If need be, Brad Calipari can knock down shots, as well.
Hell, even Nick Richards reached double-digit makes from deep in the three-point contest.
This team will score a ton of points this year, and plenty of them will come from beyond the arc.
It's #NewYearNewMe for PJ Washington
We saw a new and improved PJ Washington in the Bahamas back in August, and that took another step forward tonight. The sophomore forward worked on his body this summer, slimming down and adding muscle.
During the dunk contest, Washington was extremely athletic and bouncy, a major change from last season. In the three-point contest, he was knocking down shots and his form looked fluid and comfortable. He was running the floor better, his lateral movement was much-improved, etc. He didn't have to rely on bully-ball to get buckets and make an impact.
Sources told KSR this offseason the coaching staff feels Washington has SEC Player of the Year written all over him, and we saw some of that tonight.
Keldon Johnson's ankle is perfectly fine
We were worried about Keldon Johnson's ankle following Kentucky's Pro Day last week, and he quickly showed us he's just fine.
Goodness gracious, is he an athlete. He had a bit of a rough start to his dunk contest, but finished with a bang. Several, actually.
Keldon Johnson takes flight. #BBM18 pic.twitter.com/4SMRMZCVI5

— Kentucky Basketball (@KentuckyMBB) October 13, 2018
He jumped over teammates, tossed alley-oops to himself, went between the legs, and everything in-between. He came in second in the contest, but that's mainly because Washington just dominated the event from start to finish. Johnson still had some huge moments.
In the scrimmage, however, he went out of his way to tear the rim off. He caught crazy alley-oops and threw down dunks in transition. He's going to dunk on some fools this season, and I'm all for it.
The scrimmage was pointless
Speaking of the scrimmage…
From the tip, it was absolutely pointless. There was no competitiveness whatsoever, as the players dedicated all of their time to entertaining the fans. It resulted in horrible shot selection and sloppiness, and Calipari eventually called it quits over a minute early.
Usually we all wait for those final few minutes of Big Blue Madness for the scrimmage for our source of entertainment, but tonight, all of that came prior.
We got to see this team play in real games in the Bahamas, so them taking this scrimmage lightly is not a big deal at all. I'm sure we'll see some real competitiveness at the Blue-White game.
Matthew Mitchell's dancing has run its course
When the Kentucky women's coach first came out dancing in 2010, it instantly became one of the most popular aspects of Big Blue Madness. Since then, we've seen The Dougie, Michael Jackson, James Brown, and MC Hammer impersonations, among other dances.
This year, however, it just felt… different. It truly feels like Mitchell is inching toward calling it quits in the dancing department. He still danced, and it looked good, but his time on the floor was much shorter than past years. He checked a box before turning his focus on the team and getting them on the floor, not entertaining the fans.
Don't be surprised if this is one of the last few times we see Matthew Mitchell dance at BBM.
The former Cats came out in full force
John Calipari brought out the living members of Adolph Rupp's championship teams, and then followed it up by bringing all of the other former Wildcats on the floor.
Everyone from Kenny "Sky" Walker to Rex Chapman to Nazr Mohammed to Tod Lanter was in attendance and found their way to the floor. Richie Farmer even made his first appearance back to Rupp Arena, which saw a slightly awkward and uncomfortable response. Calipari also mentioned Rick Pitino, drawing boos from the BBN.
They each made their way through the Blue Carpet, a big opportunity for fans to interact with them and give thanks for their time in blue and white. It was fun for both sides.
As a side note, the current Wildcats shook every hand of the former Rupp players, which was extremely impressive. Incredible character.
It's going to be a fun year
They're talented, entertaining, and have incredible personalities. They work hard and fight tooth-and-nail. They're going to go right at the throats of opponents this year.
I like my team.