Basketball
Basketball Season Coverage
A few weeks ago, PJ Washington had surgery to repair the pinky he broke back in January. According to John Calipari, he'll be able to get back to playing in about three or four more weeks.
"PJ's not playing yet because of his hand," Cal said on today's teleconference. "He'll probably be, my guess is, two and a half more weeks in the cast and another week, ten days, two weeks of rehab and he'll be ready to go."
Last week, Washington told reporters that he hurt the finger diving for a loose ball and a tendon tore when a trainer popped it back into place. He played through the pain but admitted it affected his game.
"It started hurting and I'd have to shake it off and keep playing. It was kinda hard at first but I got used to it."
Great news. Putting a trash bag around a cast to get in the water in the Bahamas would suck.
John Calipari hosted a teleconference today to discuss Kentucky's five NBA Draft prospects, but his most interesting comments came when he was asked about his current squad. Calipari said he hopes to have all of his players in Lexington "by next week," which could be a reference to Reid Travis, the Stanford grad transfer set to visit Kentucky tomorrow.
"I think we're going to be a much different team than we were a year ago, which is why, as we finish this out and we get all these guys in here, probably by next week, we'll do some team stuff on the court."
Even without Travis, Calipari likes his team; you could practically hear him drooling while he described how he plans to use all those guards.
"Last year we were short on guards, you guys all know it. Our skill set, we had more turnovers than assists most of the year and that's just unusual for one of our teams based on the fact that most years, I'm playing three point guards, or three guys you can consider point guards. Last year, a lot of times, we had one on the court. We were a better built team when we had two, but we weren't as dominating when we had two.
"This year, you've got with Quade [Green], with Immanuel [Quickley], with Ashton [Hagans], you have three legitimate point guards but being able to handle the ball, Keldon Johnson, he can be a point [guard]. He can be that big guard who starts your offense because of how he plays. You're also skilled with Jemarl [Baker], you're also skilled with Tyler [Herro].
"And the other thing, I'm hoping we'll be more of a three-point shooting team than we have in the past. where it's a true weapon, we can shoot it in transition, we can shoot it off ball screens. We just weren't able to [last year]. Someone said we should have shot more threes, we probably would have missed more threes then. It just wasn't what our strength was. I think we're also going to have some up front guys who can play like guards."
Let's go.
Here's a headline that would surprise most people: Kentucky Basketball player wins prestigious academic fellowship. Former Cat Dillon Pulliam was just awarded the 2018 Phi Kappa Phi National Fellowship, which he will use as he pursues a master's degree program in electrical and computer engineering at Carnegie Mellon.
Phi Kappa Phi (PKP) is the nation's oldest and most selective all discipline honor society, having over 300 chapters across the nation and more overseas. Every year, they present 50 fellowships of $5,000 each to award winners entering the first year of graduate or professional study.
"This $5,000 fellowship will go a long way as I pursue my master's at Carnegie Mellon," Pulliam said in a release from UK. "I am extremely honored to receive this award as it will be a tremendous benefit in helping me grow as an engineer, and prepare for a future in the field. I have always been fascinated with technology and how it works. From a young age I have dreamed of having a hand in one day developing the innovations that will shape tomorrow."
Last month, Pulliam graduated Summa Cum Laude. During his three years at Kentucky ,he served as a research assistant for NASA KY at UK, built an electronic pitch detection device capable of recognizing which string had been played on a guitar, and developed a mobile application for both iOS and Android devices. In short, he is incredibly smart and a wonderful ambassador for UK, Kentucky Basketball, and his hometown of Cynthiana. Congrats to him on the fellowship and making us all look good.
Kentucky basketball's annual pilgrimage to the NBA Draft is upon us.  Thursday night John Calipari will be with Kevin Knox and Shai Gilgeous-Alexander in the green room at the Barclays Center to see the two Wildcats selected in the lottery.  Yesterday Knox worked out with Charlotte Hornets, but his stock might be rising too high to fall to No. 11 overall.  If SGA remains in the lottery, the L.A. Clippers are the most likely destination.
Three other Wildcats could be drafted.  It's unlikely that we'll hear Wenyen Gabriel's name called.  Nobody knows who might take Jarred Vanderbilt in the second round.  A year after Hamidou Diallo was a fringe first round pick, ESPN believes he's a rising second round sleeper.
Today at noon Coach Cal will hop on a teleconference to talk about all of his players in the NBA Draft.  Stay tuned for updates today and throughout the week on Kentucky Sports Radio dot com.
Ashton Hagans is Officially a Wildcat
The top-ranked junior point guard in America is now a Kentucky Wildcat.  Hagans finished high school on Friday and moved to Lexington yesterday.  He unpacked and setup his dorm in the Wildcat Coal Lodge in time to attend yesterday's Kentucky basketball camp.
Following Hagans' reclassification, 247 Sports updated their rankings to make him the No. 2 point guard in the 2018 class and the No. 12 player overall.  Kentucky's 2018-19 roster is now (almost) complete.
Reid Travis Visits
The Stanford grad transfer power forward will be taking his first college visit this week.  He's expected to be in Lexington tomorrow.  His other suitor, Villanova, has yet to have a reported date scheduled for a visit.  Kentucky is considered the favorite.  It would not be a surprise if Travis pulled the trigger and completed UK's roster before the end of the week.
GOOOOOOOOOOOOOAL
Mexico handed Germany the greatest early upset of the 2018 World Cup and created a legendary call.
#MundialTelemundo En voz de ? @AndresCantorGOL así vivimos el gol de @HirvingLozano70 para el 1-0 de #MEX sobre #GER pic.twitter.com/lEFVHW9SEu

— Telemundo Deportes (@TelemundoSports) June 17, 2018
All credit for the upset should go to the Ruddy's.  Celebrating their honeymoon in Cancun, the Kentucky fans traded in their UK gear for Mexican national jerseys just in time to see the monumental upset.
Today's Schedule on FS1:
8:00 a.m.m: Sweden vs. South Korea
11:00 a.m.: Belgium vs. Panama
2:00 p.m.: Tunisia vs. England
#KSR120 is Happening
KSR's summer project is officially underway.  By its end, KSR will physically touch every corner of the Commonwealth in all 120 counties.  Allow Matt Jones to explain:
Tony Vanetti takes over KSR
Hold onto your butts.
Ashton Hagans just got to Lexington today, but the recruiting services have already begun readjusting the official class of 2018 rankings.
247 Sports released their final list, and Hagans came in as the No. 2 point guard in the nation and No. 12 overall. The only point guard ahead? Vanderbilt's Darius Garland.
EJ Montgomery leads the Cats at No. 6 overall, followed by Hagans at No. 12, Keldon Johnson at No. 18, Immanuel Quickley at No. 19, and Tyler Herro at No. 38.
Unfortunately for Kentucky, they sit just shy of Duke for the No. 1 spot in the team rankings, with the Blue Devils leading the Cats 71.06 to 70.29. The average player rating for each team comes in at 99.63 for Duke and 99.37 for Kentucky.
If star transfer Reid Travis joins, however, he wouldn't count toward the final team rankings, but there's no doubt Kentucky would surpass Duke in overall talent.
On that note, we got to see the newest Wildcat show off his new haircut next to his father this afternoon at the Joe Craft Center.
And soon thereafter, Hagans was introduced as a Wildcat for the first time at camp this afternoon:
Introducing as a Wildcat for the first time … @H23Ash! ? pic.twitter.com/RShfPxvu0K

— Kentucky Basketball (@KentuckyMBB) June 18, 2018
Check out his summer AAU highlight reel:
Stanford transfer Reid Travis will be visiting Kentucky on Tuesday, and it's major news for the Wildcats. The 6-foot-8 forward averaged 20 points and nine rebounds per contest last season, earning first-team All-Pac-12 honors in the process.
With PJ Washington back, we've already discussed just how deadly the Kentucky frontcourt would be with Travis in the fold. There would be ridiculous versatility, with Washington, Travis, Nick Richards, and EJ Montgomery all having different skillsets to bring to the table.
You can find out more about specific lineups and statistics on the Washington/Travis pairing below:
What would a frontcourt of PJ Washington and Reid Travis look like?
And if you ask the other Pac-12 coaches that had to come up with gameplans to slow down Travis, they're thanking their lucky stars he will be out of the conference this season. KSR's Aaron Torres talked to two of them, with each giving hilarious quotes about how happy they are he's gone.
"They [Kentucky] have a bunch of young kids, but you throw Reid Travis in that group?" one Pac-12 assistant coach told KSR. "Oh my gosh. I just hope we don't meet them until the Final Four."
What Kind of Impact Can Reid Travis Have Next Season? We Asked Pac-12 Coaches
In the past, though, only single-game highlights and draft workout videos have been available. We heard from others and saw the numbers, but we only got to see bits and pieces of Travis's workload. Nothing in-depth.
Now, you have the opportunity to see for yourself just how good this kid is.
Someone has compiled a full 14-minute highlight reel from Travis's 2017-18 season, and it's absolutely ridiculous.
Reid Travis '17 – '18 Stanford Highlights from Bballfan24 on Vimeo.
Bully. Bulldozer. Monster.
On that note, Travis graduated today, meaning the recruiting process has officially begun. And it shouldn't take long.
Today is the day I've been grinding for.. I get to walk across that stage and call myself a Stanford grad!

— Reid Travis (@2ReidTravis2) June 17, 2018
Travis has yet to even schedule a trip to Villanova, meaning there's a solid chance John Calipari can lock him up when he's in Lexington on Tuesday.
Ashton Hagans officially joined the club this afternoon. Now, it's Reid Travis's turn.
Come on down, big fella.
Hamidou Diallo had a rollercoaster-ride of a one (and a half?) and done season at Kentucky. We saw flashes of brilliance, specifically in the Monmouth, Virginia Tech, UCLA, and Buffalo games. At other times such as the three Tennessee games, Vanderbilt at home, and Kansas State, Diallo disappeared.
We saw extreme athleticism, but streaky shooting. Above-average defense, but too many turnovers. Very rarely did we see Diallo have a complete game, and as a result, his NBA stock dropped.
He was seen as a first-round lock going into the year, and came out as a solid second-rounder.
Like John Calipari, though, NBA scouts and analysts aren't giving up on Hami quite yet. In fact, ESPN listed Diallo as a "second-round sleeper and steal to watch" in a column posted this morning by draft experts Jonathan Givony and Mike Schmitz.
They start by listing Diallo as a potential 3-and-D wing player, a role almost every championship-contending team has in their arsenal.
In their description of why he fits the "sleeper" mold, ESPN says Diallo was "one of the best wing defenders in the college game" late in the year. When engaged, they believe he can be special.
On offense, they point out his "thermonuclear athleticism," highlighting the 44.5-inch vertical he posted at the NBA Combine last year. If he can continue to fine-tune his shooting mechanics and improve like he has over the last two years, he has second-round steal written all over him.
Check out their full description, including player comparisons such as Tony Snell and Jason Richardson:
Why he fits: Diallo is the prototype for what NBA teams are looking for at the wing position, standing 6-6, with a near 7-foot wingspan, a frame that will fill out in time and thermonuclear athleticism. His shooting mechanics are far from broken, and he showed marked improvement with his jumper over the past two years, completely revamping his mechanics. He has always been described by those around him as an incredibly hard worker who has little interests outside of basketball. Diallo's defense was inconsistent, but he improved as the year moved on; late in the season, Diallo had some remarkable stretches where he looked like one of the best wing defenders in the college game. When Diallo is fully engaged and operating at full intensity, he flies all over the court, covering ground exceptionally, getting in the passing lanes, chasing down blocks and showing multi-positional versatility. Players with comparable length are frequently asked to defend power forwards at times in today's NBA, and while his frame looks to be a long ways away from doing so, it is not out of the question considering his youth.

Despite spending a year and a half in Lexington, Diallo still hasn't turned 20 and is the same age or younger than many of the freshmen projected to be picked. Considering his offensive limitations, there's a case to be made that he was in one of the worst situations of any prospect in this draft in terms of highlighting his deficiencies, playing the shooting guard position while being surrounded by non-shooters.

Key stat: 7-foot wingspan, 44½ inch vertical leap, 19.8 years old, 34 3-point percentage as a redshirt freshman
As far as weaknesses go, ESPN pointed out Diallo's tough situation in college of being a poor shooter, surrounded by non-shooters throughout the year on offense. They said he wasn't able to magnify his strengths and hide his weaknesses like some players his age get to do, giving him the benefit of the doubt.
ESPN's latest mock draft has Diallo going No. 40 overall to the Brooklyn Nets, a team that was heavily interested in the Kentucky guard last offseason during the pre-draft process. Diallo, a Queens, NY native, would also have the chance to play in front of a hometown crowd every night.
Not too shabby.
Here are what I believe are the best and worst fits for the seven SEC prospects slated to be selected on Thursday night. (Note: This post is looking at teams who may realistically draft these players, otherwise everyone's best fit would be with great franchises like the Spurs or Warriors).
1. Michael Porter Jr., Missouri
Best Fit: Dallas Mavericks at Pick No. 5
Worst Fit: Cleveland Cavaliers at Pick No. 8
Porter Jr. is possibly the most interesting prospect in this draft. He barely played at Missouri last season due to a terrible back injury which will scare off some teams, but he has incredible talent.
? Michael Porter Jr's offensive package and potential is crazy!! ?? @MPJr pic.twitter.com/JBs3p3FjqZ

— Ballislife.com (@Ballislife) June 14, 2018
Unless teams are secretly terrified of his injury past, there is no way Porter Jr. falls out of the top 10 picks. Ideally, he should be hoping that he gets selected by the Mavericks.
Dallas still has a solid infrastructure with Rick Carlisle as the head coach, an NBA legend in Dirk to help bring along Porter Jr., and a budding young star in Dennis Smith Jr.
Cleveland would be the worst spot as Porter Jr. would be asked way too soon after returning from such a serious injury to try and replace LeBron James (yes, he is going to leave). That won't be an easy task alongside such a bad roster.
2. Kevin Knox, Kentucky
Best Fit: Charlotte Hornets at Pick No. 11
Worst Fit: Orlando Magic at Pick No. 6
Charlotte seems like a great fit for Knox's talent. The Hornets have a nice inside-outside game with Kemba Walker and Dwight Howard, and they are just missing an offensive threat from the forward position.
Nicholas Batum and Marvin Williams took huge steps back last season, and Michael Kidd-Gilchrist just isn't good offensively. Slide Knox into the rotation and the Hornets will be in business.
The Magic are one of the worst franchises in the entire league. Combine that with the fact that their roster is full of athletic forwards fighting for playing time, and I'm afraid Knox will get lost in the stupid chaos. In a weird way, I hope he does not get drafted this high.
3. Collin Sexton, Alabama
Best Fit: New York Knicks at Pick No. 9
Worst Fit: Philadelphia 76ers at Pick No. 10
Yes, I know saying that the Knicks are an ideal destination for someone sounds stupid, but hear me out on this one. I'm still high on Sexton's talent. His flashy style of play will work perfectly with the Knicks who are badly missing an exciting point guard.
Pick and rolls with him and Porzingis would be deadly. Guard Frank Ntilikina is going to be a great defensive guard. Pairing him with Sexton will prevent the Alabama star from spending a lot of energy on defense.
The 76ers drafting Sexton makes literally no sense at all, which is why it won't happen. They have ball dominant players already in Simmons and potentially Fultz. Landing in Philly means Sexton will struggle to fully translate his talent onto the court.
4. Shai Gilgeous-Alexander, Kentucky
Best Fit: L.A. Clippers at Pick No. 12 or No. 13
Worst Fit: Milwaukee Bucks at Pick No. 17
"It is what it is, trust me you get what you give" ? pic.twitter.com/xmxudccCW5

— Shai Gilgeous-Alexander (@shaiglalex) June 16, 2018
Personally, I think the Clippers taking Shai would be one of the best fits in the entire draft. They are incredibly weak at the point guard position considering that Austin Rivers and Milos Teodosic couldn't guard a trash can.
He would give them an immediate upgrade defensively from those players and become an active player in their rotation. At the end of a lottery, a player like that isn't always a guarantee.
I don't think Shai will fall all the way down to 17, but if he did I have a feeling the Bucks would take him to backup Eric Bledsoe. That franchise has a thing for players with huge wingspans, but I feel like he could get lost in this rotation alongside Bledsoe, Brandon Jennings, and Matthew Dellavedova.
5. Robert Williams, Texas A&M
Best Fit: L.A. Clippers at Pick No. 12 or No. 13
Worst Fit: Washington Wizards at Pick No. 15
I really think it would be in the Clippers best interest to pick Shai and Williams back-to-back on Thursday night. Both players would provide immediate defensive help while also providing potential sparks on offense.
I know that the Clippers still have DeAndre Jordan, but he only has one year left on his contract, and I'm willing to bet he will be getting out of town. Who better to mentor Williams his first year in the league than a fellow Aggie who has a very similar playing style?
The Wizards could potentially select him as they need some rim protection as well. However, they seem like a team with too much drama. Williams doesn't always play his hardest on the floor, and he certainly doesn't need to go to a team that will not push him to always play hard.
6. Hamidou Diallo, Kentucky
Best Fit: Atlanta Hawks at Pick No. 30
Worst Fit: Orlando Magic at Pick No. 35
Sneaking into the first round would be huge for Diallo. This draft is supposedly weak at this point which could cause a team like Atlanta to prevent a talented prospect like Diallo from being a second-round pick.
The Hawks are such a young and bad team, and they could really use an athletic defender like Diallo at the two-guard spot. Their current shooting guards are Tyler Dorsey and Antonius Cleveland. Diallo should be an upgrade from those guys.
Can you tell I don't like the Magic? Similar with Knox above, the Magic are pretty set at Diallo's position and he could get lost in their terrible infrastructure. However, I wouldn't be surprised if they selected him because they need the defensive help.
7. Jarred Vanderbilt, Kentucky
Best Fit: L.A. Lakers at Pick No. 47
Worst Fit: Houston Rockets at Pick No. 46
In case you haven't heard, the Lakers are about to completely change up their entire roster. They are a prime team in the LeBron sweepstakes, plus Kawhi Leonard supposedly wants to play there as well.
If they do transform into a super team, Vanderbilt would be a great selection near the end of the draft. A high-energy rebounder that also provides toughness is an ideal skill set for a bench player trying to earn playing time. Plus, he could be learning from Leonard and James which is perfect.
The Rockets were the best team in the regular season last year, but wow does Vanderbilt not need to go there. All they do is shoot three-pointers, and he pretty much has no outside jump shot right now. It wouldn't make sense for Houston to draft him, but good teams like selecting good defensive players.
Ashton Hagans is officially a Kentucky Wildcat, signed, sealed, and delivered. He made it on campus today, and the school announced his signing almost immediately.
Last week at this time he was finishing up his last high school class and studying for a make-or-break final exam. Tonight, he'll take the court with his teammates in a blue and white practice jersey at the Joe Craft Center.
Life sure comes at you quickly.
Before he got to Kentucky, however, Hagans participated in one final interview with the local media in Georgia to talk about his final moments in high school and his plans for the upcoming season as a college basketball player.
He told Gabriel Stovall of the Covington News that the reclassification process has been stressful, but playing with his new teammates at Kentucky will make it all worthwhile.
"Now that I'll be playing with guys like Immanuel (Quickley), Tyler (Herro) and Keldon (Johnson), it was a big reason why I wanted to do this. We're all gonna come in and kind of know each other. The biggest thing will just be finding out where everybody likes to get the ball, and what spots guys want to be in and stuff like that," he said.
Though he was committed to Mark Fox and the Georgia Bulldogs three months, Hagans admitted Kentucky was "the one (offer he had) been waiting for."
When he committed in April, he told Evan Daniels of 247Sports, "It's my dream school, and I feel like I can get the job done."
Now that he's officially a Wildcat, Hagans' sights are set on possibly majoring in sports management, winning a national championship, and then hopefully entering the NBA Draft after one season. If it doesn't work out that way, he's comfortable with sticking around for another season.
"Going (one-and-done) to the NBA is the plan," he said. "But if it doesn't work out, I'll go for year two. We'll just see how the first year goes."
No more school work for the summer. No more deadlines. Just business-as-usual on the basketball court.
"I know that from here on out it's just about business," he told the Covington News. "Actually, it's already been about business. But now it's like I'm stepping onto the next stage and the next step. I know it's gonna be hard, but I'm ready for it."
Ready for what he has already decided as one of the top moments in his life thus far.
"It's probably one of the best times in my life," he said.
For Hagans' entire interview with Stovall of the Covington News, take a look here.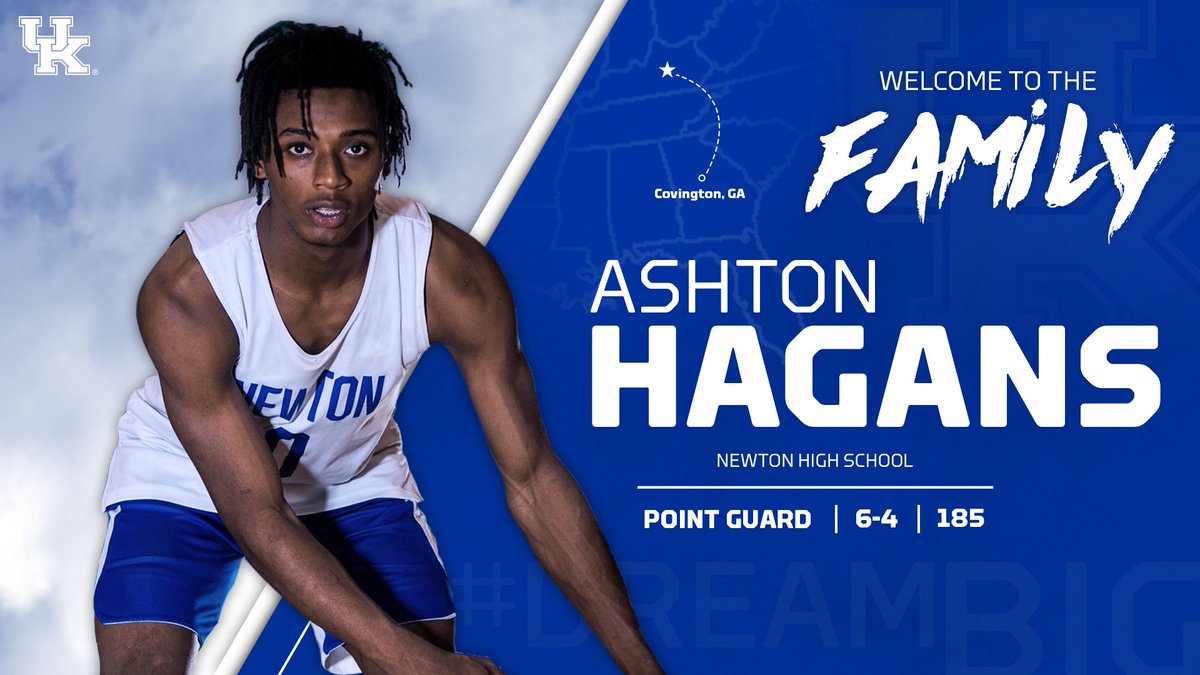 Kentucky's newest point guard Ashton Hagans announced he was in Lexington, KY earlier this afternoon.
Just now, the University of Kentucky officially announced the newest Wildcat had signed his financial aid agreement with the school and will be joining the class of 2018.
Hagans verbally committed to us in April as a member of the 2019 class. He worked his tail off these last couple of months to move to the 2018 class and just graduated this past week. He just arrived on campus today and will start summer school this week.

— Kentucky Basketball (@KentuckyMBB) June 17, 2018
"So happy to see my dream of playing for Coach Cal and the Big Blue Nation come true," Hagans said this afternoon, via press release. "To follow the footsteps of all the great point guards that came before me is truly a blessing."
Kentucky head coach John Calipari said he's excited to see the 6-foot-4 point guard get to work, specifically praising his playmaking ability and leadership.
"Ashton wanted to be at Kentucky all along," Kentucky head coach John Calipari said. "When I found out how badly he wanted this and had a chance to see him play, I told our staff what a great fit he would be whether he chose to come to school this season or next. Ashton wanted this so much that he worked extremely hard in the classroom these last few months to finish up his high school requirements and graduate this past week.
"Now he comes here just a couple of weeks after the rest of our guys and is ready to join this group. He can do a little bit of everything, but what separates him from his peers is his playmaking ability and leadership. You're talking about someone who other people want to play with. I'm looking forward to seeing him get to work with the rest of our guys."
The Gatorade Georgia Player of the Year and Mr. Georgia Basketball averaged 20.2 points, 10.7 assists, 7.6 rebounds and 3.6 steals as a junior, leading his high school to the 7A state semifinals.
Kentucky's newest point guard is officially on campus.
This afternoon, Ashton Hagans tweeted that he has landed in Lexington, KY, where he will now start preparing for the 2018-19 college basketball season.
Lexington, Kentucky ?

— ashton hagans (@H23Ash) June 17, 2018
So what is Kentucky getting in the 6-foot-4, 185-pound point guard?
A defensive freak-of-nature athlete with a vicious dog-like personality, at least if you ask his (now) current teammates.
In an interview with KSR back in April, Wildcat shooting guard Tyler Herro said Hagans fits the exact alpha-male personality he and his teammates possess, if not to a greater extent.
"You know everyone knows Keldon is a dog, and I'd like to say I'm a dog. Immanuel (Quickley) is a dog. Ashton is just as much a dog as us, if not more. The way he picks up 94 feet, full-court defense. He gets downhill a lot, as a point guard, he gets downhill. Comes off in transition, makes the right play. To have him as a point guard, we're lucky," said Herro.
Kentucky small forward Keldon Johnson agrees.
"I'd say he's definitely a dog, picks up 94 feet, steps up on defense," he said.
Corey Evans of Rivals.com called Hagans a "defensive master" back in April, going as far as to say the newest Cat was the best in all of high school basketball.
"Hagans again put his Game Elite squad on his back…" he said. "While he does have to cut down on his turnovers, Hagans' defensive mastery remains the best in high school basketball."
Rivals' Dan McDonald says Hagans has "star" written all over him.
"I've been watching 5-star PG Ashton Hagans play for so long now that it's hard for him to impress me," he said. "But man, he makes life so easy for his teammates. He's going to be a star for Kentucky."
His former coach at Newton High School, Rick Rasmussen, said he has Jason Kidd-like court-vision.
"He's like Jason Kidd as far as his vision. If you don't stop him, he's going with reckless abandon to the basket," he said.
His father said he models his game after John Wall, another 6'4" point guard with ridiculous speed both with and without the ball in his hands. Some say he compares to former Kentucky guard De'Aaron Fox and Louisville guard Terry Rozier.
He's a pass-first player with incredible court vision, finding his teammates in even the smallest windows of opportunity. He's intense, methodical, and gifted when it comes to getting to the rim and finishing. Most importantly, he puts his team in position to win.
And we'll get to see him this season.
Welcome home, Mr. Hagans!