Basketball
Basketball Season Coverage
The time has come, my friends. The NCAA March Madness Twitter account just posted the poll to determine who wins its All-Time Starting Five Tournament, Kentucky or Florida. How Florida got to the finals is beyond me, but here are the starting fives for each squad:
Kentucky
John Wall
Tony Delk
Tayshaun Prince
Anthony Davis
DeMarcus Cousins
Florida
Erving Walker
Bradley Beal
Chandler Parsons
Al Horford
Joakim Noah
And the poll for you to dominate:
NATIONAL CHAMPIONSHIP:

(2) – @KentuckyMBB
(4) – @GatorsMBK#MMBest5

— NCAA March Madness (@marchmadness) August 17, 2018
Kentucky has an early lead, 62% to 38%, but the poll will be up for two days, so tell your friends.
Here's how the Cats got to the finals: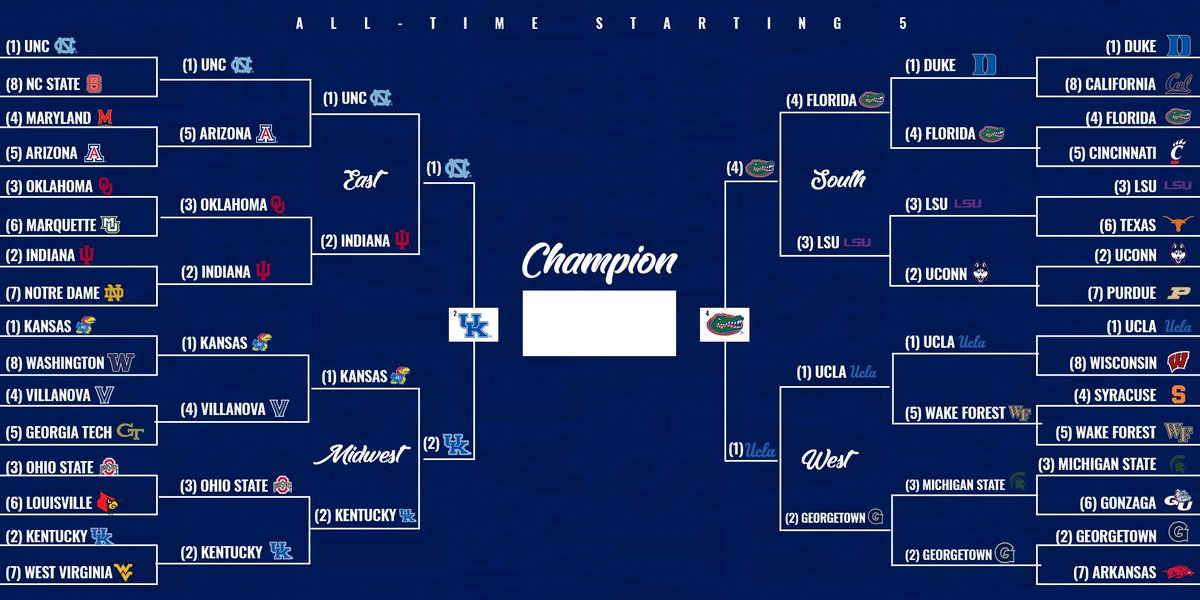 ICYMI last night, TJ Walker broke down how the bracket really should have gone:
Vote, vote, vote.
The Rupp Arena surplus auction is happening right now under the Jefferson Street Bridge, and photos are trickling out via Twitter. Check out these pictures from LEX18's Claire Crouch of pieces of the original Rupp Arena floor and signage featuring past UK greats:
The auction is about to get underway! Pretty good crowd of people hoping to snag some pieces of Rupp's history (including original floor panels) to make room for the renovations at the convention center. @LEX18News pic.twitter.com/tPmpRC5lY1

— Claire Crouch (@clairecrouch) August 17, 2018
And a toilet:
Among other things on the auction block today – this toilet. Could be a good conversation piece! pic.twitter.com/6O2ICcXVH3

— Claire Crouch (@clairecrouch) August 17, 2018
Kyle Macy is there. Think he gets a discount?
Former Cat Kyle Macy is here checking it out! Fans are bidding on pieces of the floor he PLAYED on ?? @LEX18News pic.twitter.com/PRLGvEeeZ5

— Claire Crouch (@clairecrouch) August 17, 2018
The first person to buy a piece of the floor? KSR's favorite live blog sponsor, State Farm Agent Tiffany Thacker:
The first 4'x8' piece of the original Rupp Arena floor sold at auction this morning for $1500.00 to Tiffany Thacker who said she literally wasn't planning on buying anything. @heraldleader pic.twitter.com/CFBAtk0yJn

— Charles Bertram (@cbertramHL) August 17, 2018
Tiffany, don't go too crazy. We've got a whole season of live blogs ahead.
Bill Keightley is one of the most beloved figures in Kentucky Basketball history and now, you can own his favorite chair.
Keightley's daughter Karen donated Mr. Wildcat's Kentucky-themed recliner to A Taste of Grace's annual fundraiser in Lexington. This year's auction takes place tomorrow, August 17, at 7 p.m. at Cathedral of Christ the King in Lexington and benefits Baby's Health Services.
The opening bid at the live auction will start at the highest online bid (minimum $500). If no one bids higher at the live auction, the highest online bid will win. Tickets are available for $50 each through A Taste of Grace's Facebook page, Cork and Barrel on Nicholasville Road, and the office at Faith Lutheran Church at 1000 Tates Creek Road.
The recliner is made by Niagara and features massage, heat, and a vintage Wildcat logo. I hear it even whispers Mr. Keightley's thoughts on the current Cats in your ear while you watch the game. Come with your wallet open, because Drew Franklin's already got his eye on it for our new offices above KSBar and Grille.
These are the supposed "slowest days" on the college hoops calendar – but man, we fans must have done something right, because the college hoops Gods are smiling upon us! That's right, less than 72 hours after Kentucky wrapped up their four-game tour of the Bahamas, Duke opened up a three-game trip in Canada on Wednesday night.
And seriously, whether you love Kentucky and hate Duke or the exact opposite (I'm guessing I know where most people reading this stand) admit it, it's good to have college basketball back on our TV's, isn't it?
It sure is, and after Kentucky laid down the gauntlet with a four-game bludgeoning in the Bahamas last week, Duke returned volley with a solid 86-67 win Wednesday night in their opener in Canada. The victory wasn't as impressive on paper as the wins that Kentucky picked up last week, but credit should be given to the Blue Devils who got a solid win, against a good team (more on that coming) without two of their best players. Both Cam Reddish and Tre Jones sat out the game with minor injuries, meaning that Duke was down two starters in the victory.
So what did we learn in Wednesday's game? Thankfully, I'm here to tell you. As one of 11 people in America with an ESPN+ account (shout out to the 7-day free trial) I figured I'd share a couple thoughts.
Here are five takeaways from Duke's opening night win, and what you need to know about the Blue Devils going forward.
The team they played was legit:
Of all the questions that I got while discussing the game on Twitter (follow me on @Aaron_Torres if you're somehow not already), the most prevalent one was "How was the competition?" After watching Kentucky dominate grown men last week I'd say that it wasn't quite as good as most of the teams the Wildcats played last week – but make no mistake Ryerson is a solid squad.
For those who aren't familiar with Canadian college basketball (and if you're not, shame on you!!) they are considered the second best college program in Canada, and while that doesn't sound like much, it's actually more impressive than you'd think. The No. 1 team in Canada is a school named Carelton, which has actually played and beaten both Ole Miss and Cincinnati in the last few weeks. And get this: Each win was by more than 20 points. These Canadian schools can play, even if you've never heard of them.
If anything, I would compare the skill level of Ryerson to that of a really good Atlantic 10 or Mountain West type team. No, they probably couldn't compete night-in and night-out in the ACC or SEC, but they would still probably be a fringe bubble team, capable of winning a game or two if they got to the NCAA Tournament. They had real players, a couple of which were definitely good enough to play at the high-major level (that included one kid who apparently committed to Ryerson over UConn – a fact that made me want to vomit).
Therefore, while this was a game that Duke should have won, it was still a solid victory none the less.
Zion Williamson is the real deal:
If you just look at a box score you'd see that R.J. Barrett was the leading scorer for the Blue Devils on Wednesday night. But if you watched the game, you know that Zion Williamson was the star. He finished with 29 points and 13 rebounds, with two MONSTER dunks thrown in for good measure.
And we officially have Zion Williamson's first MONSTER dunk as a member of the Duke Blue Devils pic.twitter.com/V2SdgZz2yC

— Aaron Torres (@Aaron_Torres) August 15, 2018
What was maybe most impressive is that Williamson performed well, even despite Ryerson implementing a game-plan that virtually everyone in college basketball will use this season. Not wanting to get embarrassed, Ryerson played off Williamson, trying to force him to beat them with the three-point shot. Well he did that by hitting three three-pointers in the first half. Even more impressive was the fact that at a certain point he just decided to go down low and fight for rebounds – and he grabbed a couple simply by jumping right over dudes. It really was a sight to see.
I know Williamson is a lightning rod player, one that plenty of people have doubts about beyond his dunks. But on Wednesday he lived up to the hype.
Duke is once again going to really struggle with depth issues:
Listen, as good as Williamson and Barrett were, it wasn't all rainbows, sunshine and bad dye jobs for the Blue Devils on Wednesday night. And to me, the biggest problem with the Blue Devils will once again be depth.
Look, I get that Reddish and Jones were out, and Alex O'Connell (who is sporting a heck of a new haircut) was limited after the first few minutes, but it really does look like once again this team will still be limited by depth. Outside of the four freshmen, only O'Connell, Marques Bolden and Javin Delaurier look like they're ready to play against the better teams on Duke's schedule.
And while some would say "seven guys are more than enough in college basketball" I do believe it's something to keep an eye on.
For one, the Blue Devils don't have a steady point guard behind Tre Jones (although sophomore Jordan Goldwire looked solid in limited minutes) and the offense struggled to run without him at times. Two, it really is dangerous to play with so few dependable players in college basketball. It only takes one injury or a night full of foul trouble for your whole season to go up in smoke.
Duke's starting five is as talented as anyone in the country. What worries me is what happens when a couple of those guys aren't on the floor.
Poor Marques Bolden hasn't changed
This was unquestionably the most disappointing part of the whole game: Now in year three, Marques Bolden looks… well, exactly like Marques Bolden has for the last two seasons. He still has little feel for the game and looks completely lost every time he steps on the court.
I know that at a certain point we've got to stop feeling bad for him and let him own up to his lack of development as a player. But at the same time, it should be a warning to every other big-time high school recruit: Make sure the "fit" is right before you commit to a school.
November 6th can't get here soon enough
Look, it's only August. We're still a long way from the start of formal practice, from the first poll being released, and – yes – the first game of the season. But one thing is abundantly clear: Kentucky vs. Duke will be THE game of the first few weeks of the college basketball season. Whether these two teams are ranked No.'s 1 and 2 or not isn't what's important. What is important is that these are the two most high-profile teams in college basketball and both are absolutely loaded going into the season.
We have plenty of time over the next four months to break down every aspect of this game.
But just know one thing: November 6th can't get here fast enough.
Team Toronto guard Duane Notice knows great Kentucky teams. The former SEC Sixth Man of the Year played for South Carolina from 2013-17, during which he faced the Cats five times. After his team lost to Kentucky 93-60 in the Bahamas on Sunday, Notice told his teammates that these Cats have what it takes to go far.
"The key is they know how to play the game and play the game right," Notice told reporters. "I told my teammates they'll be very good in the SEC. I think they'll go far because of how hard they play. They gave effort. We're not playing for anything here, except for your pride, so the fact that they played hard, not even having Coach Cal on the bench, means a lot to me as a young player. As a player that obviously played college basketball, looking back on it, it means a lot."
Notice faced the 38-1 Kentucky team twice during his time at South Carolina, and said this team's length is reminiscent of that great squad.
"I think they've very long. Obviously, I played against Karl-Anthony Towns and Willie Cauley-Stein, those guys. These guys are long, from one to five. That's the difference. Even their wing players are very aggressive and they're very long. They can get on the offensive glass and they really know how to move the ball."
Notice scored a team-high 20 points for Team Toronto on Sunday, but said Kentucky's young guards put him to the test, particularly Immanuel Quickley.
"They all played solid. They all played well and made good plays, especially on defense. I was impressed with No. 5 [Immanuel Quickley], he was picking me up full court. I feel like that's very good, especially as a guy like myself who likes defense, just to live up to the challenge. No. 14, [Tyler] Herro, I heard his name throughout the summer, just to see that he lived up to the hype is a pretty good thing."
It's easy to discount Kentucky's competition in the Bahamas, but that's high praise from someone who helped lead South Carolina to the Final Four in 2017 and ranks 16th on their all-time scoring list (1,409 points).
With Kentucky's blowout victory over Team Toronto on Sunday afternoon, the Wildcats headed back to Lexington from the Big Blue Bahamas trip with a perfect 4-0 record.
They pulled off victories in the first two games by a final score of 85-61 in game one against the Bahamas National Team and 91-68 against San Lorenzo de Almagro in game two.
On Saturday, the Wildcats took it a step further by dominating Mega Bemax, Kentucky's toughest opponent of the trip, by a score of 100-64. They followed it up with their second-largest blowout of the event, defeating Team Toronto by a final score of 93-60.
It's a trip that absolutely followed in the footsteps of Kentucky's 2014 adventure to the Bahamas, where they played a total of six games, coming away with victories in five. Their lone loss came against the Dominican Republic National Team, a unit comprised of grown men and numerous professional basketball players. Even in defeat, the Cats looked like juggernauts at the college level.
It was step one of what developed into one of the most historic seasons in college basketball history.
And by the looks of things, at least as shown in the 2018 edition of the Big Blue Bahamas trip, we could be in for yet another special season.
On Friday night, I compared the first two Bahamas games of 2018 to the first three of 2014, where we found out the average margins of victory were just 4.5 points apart, with the current group facing tougher competition. The 2014 team finished the first part of the trip with more highlight-worthy plays, while the 2018 unit dominated, but without much of the flashiness.
If you missed part one, check it out below:
In the latter half of the trip, however, the 2018 Kentucky Wildcats actually pulled away from the 2014 group by a significant margin.
Let's look at the numbers.
2014
Competition:
Dominican Republic national team (participated prior to 2014 FIBA Basketball World Cup. Ranked No. 26 in the FIBA World Rankings at the time)
Champagne Chalons-Reims Basket, a French first-division professional club team
Results:
Game Four: 83-71 victory over the Dominican Republic National Team
After starting the event 3-0, winning each game in dominating fashion, the Cats were delivered their first punch in the mouth. Kentucky held a solid lead for the majority of the first half, but the Dominican team stormed back to make it a game in the second half.
Unfortunately for them, Kentucky's depth was just too much to overcome, and the Cats rolled by double-digits.
Alex Poythress led UK with 20 points on 8-9 shooting, followed by 12 points from Karl-Anthony Towns and a 10-point, 12-rebound outing from Dakari Johnson.
Highlights:
Game Five: 77-72 victory over Champagne Chalons-Reims Basket
Kentucky's five-point victory over the French professional squad was easily their most challenging up to this point. Chalons-Reims' Darryl Watkins pulled off 20 points on 9-10 shooting against a stout Wildcat defense, followed by 11 points on 4-7 shooting from former LSU forward Tasmin Mitchell.
It was yet another taste of just how well-balanced the scoring effort would be for the Cats all season long, with four players finishing in double figures, led by Aaron Harrison's 15 points and three made three-pointers. Tyler Ulis was second on the team with 12 points on 5-8 shooting.
Chalons-Reims actually led at halftime by a score of 44-43, before Kentucky stormed back in the second half to pull off their fifth consecutive victory of the trip.
Highlights:
Game Six: 63-62 loss to Dominican Republic National Team
Already missing Willie Cauley-Stein and Trey Lyles, Alex Poythress sat out in the final game of the week, Kentucky's lone loss of the week.
They had already beaten the Dominican Republic 83-71 earlier in the week, with former Kentucky assistant Orlando Antigua, who coached the opposition that week, saying his team was "swimming upstream" against a team with so much depth. Comeback efforts were nearly impossible against that group until a Jack Michael Martinez fadeaway jumper with 2.5 seconds left topped the Wildcats by a final score of 63-62.
They actually held an eight-point lead with 4:30 remaining, but hit a wall immediately afterward, failing to score the rest of the game.
It would be the team's final defeat for roughly eight months.
Ulis led the Cats with 12 points and five assists, followed by Derek Willis and Karl-Anthony Towns with ten points a piece.
Highlights:
Average margin of victory: 5.3 points
Analysis:
As the games grew more difficult, and the fatigue started to kick in, the margins of victory became smaller and smaller. In the final game, the Cats took home their only loss of the trip.
The team's defense looked stellar, but the offense seemed to sputter a bit, especially with Alex Poythress out of the game against the DR. It was similar to when Poythress tore his ACL midway through the year, as the defense took just a minor step back, while the offense seemed to stall at times.
And then Sam Dekker existed, and it showed just how valuable Poythress was on the team.
Still, though, the Cats competed against elite competition just a few weeks after coming together as a team. At the time we could sense it would be a special group, but no one had any idea just how special it would be.
2018
Competition:
Mega Bemax, Kentucky's toughest opponent of the trip, is considered an NBA factory in Serbia. They've put several NBA draft picks over the past few years, including Denver star Nikola Jokic. They're nicknamed "Kentucky of Europe" for good reason.
Team Toronto was seen as Kentucky's weakest competition of the trip, though they still had several former Division-One players and one NBA player in Andrew Nicholson. They were hand-selected by Canadian guru head coach Roy Rana.
Results:
Game Three: 100-64 victory over Mega Bemax
The Cats had this game circled on their calendar the second it was announced. Arguably the most talented opponent they have faced in both Bahamas trips, Kentucky dominated from start to finish.
PJ Washington led the way with 20 points, followed by Tyler Herro and Keldon Johnson with 16 points each. All five starters (six players total) finished with at least ten points.
On defense, the Cats forced 14 turnovers and nine steals as a team. They also added six blocks. For a team as talented all-around as Mega Bemax, Kentucky's overall defensive effort was outstanding.
They came in with a purpose and finished the job, all 40 minutes. If there was a game that terrified the college basketball world, it was game three for the Cats.
Highlights:
Game Four: 93-60 victory over Team Toronto
As mentioned earlier, Toronto was Kentucky's weakest opponent of the week, and it looks like the Cats knew that was the case going in. They looked extremely sluggish to start with, but eventually got rolling, winning by their second-largest margin of the tour. Five Kentucky players finished in double figures, led by Reid Travis with 19 points and 15 rebounds.
The most impressive aspect of the game, however, was UK's defensive performance against former first-round NBA pick Andrew Nicholson. The Cats held the big man to just three points on 1-13 shooting, forcing him to ugly and uncomfortable shots.
It also solidified Kentucky's undefeated Big Blue Bahamas trip, something the 2014 Cats could not  accomplish.
Highlights:
Average margin of victory: 34.5 points
Analysis:
The most impressive performances for Kentucky came against San Lorenzo and Mega Bemax, the two middle games. Both were against legitimate professional teams, similar to the 2014 team's games against Chalons-Reims and the Dominican Republic, though the Cats did it in more dominant fashion this time around.
The 2014 Cats were elite defensively, and it was evident early on. 2018 is likely better on the offensive end of the floor, though it's difficult to gauge any real comparisons between the two with Cauley-Stein and Lyles out in 2014 and Montgomery and Baker out this summer.
Regardless, it's not a stretch to say this team is going to be one of the best of the Calipari era, just like we knew with the 2014 group.
It's going to be a fun, fun year.
Down goes North Carolina.
Doing the unimaginable, your two-seed Kentucky Wildcats have knocked off the one-seed North Carolina Tar Heels to secure a spot in the National Championship!
……..in a Twitter poll.
#BBN does it again ?

(2) Kentucky takes down (1) UNC to secure a spot in the National Championship! #MMBest5 pic.twitter.com/UiX87n9N6j

— NCAA March Madness (@marchmadness) August 15, 2018
Kentucky's five-man lineup of John Wall, Tony Delk, Tayshaun Prince, Anthony Davis, and DeMarcus Cousins took down UNC's bunch of Kenny Smith, Michael Jordan, Vince Carter, Tyler Hansbrough, and James Worthy. The Cats received 55 percent of a total 40,168 votes, compared to North Carolina's 45 percent.
They will take on either (1) UCLA or (4) Florida in the national championship, which will be officially announced tomorrow.
UCLA's all-time team consists of Russell Westbrook, Gail Goodrich, Reggie Miller, Bill Walton, and Kareem Abdul-Jabbar, while the Gators have Erving Walker, Bradley Beal, Chandler Parsons, Al Horford, and Joakim Noah.
If you're really dying to, you can vote for that below:
FINAL FOUR:

(1) – @UCLAMBB
(4) – @GatorsMBK#MMBest5

— NCAA March Madness (@marchmadness) August 13, 2018
No matter what the haters say, the Big Blue Nation doesn't lose in meaningless Twitter polls.
We may be just a few months away from our first official game of the 2018-19 Kentucky basketball season, but one prospect in particular is gaining NBA Draft hype for 2020.
Kahlil Whitney, UK's most recent commitment for the class of 2019, is listed as the No. 3 overall prospect in one 2020 NBA mock draft.
Whitney joins three other Wildcats in the first round, and six total selections. There are also several major Kentucky targets on the list.
Kentucky's top-ranked recruit, Tyrese Maxey, comes in at No. 7 overall to the Sacramento Kings, where he'd join De'Aaron Fox, Skal Labissiere, Willie Cauley-Stein, and Wenyen Gabriel. Having five Wildcats on a single roster would be pretty darn fun, if I must say so myself.
Wildcat target James Wiseman is listed just above Whitney at No. 2, while Vernon Carey Jr. and Cole Anthony are expected to go No. 5 and No. 6, respectively.
Oscar Tshiebwe, a consensus four-star center and rumored Kentucky favorite, also lands (surprisingly) in the top-20. He would join Hamidou Diallo in Oklahoma City.
Beyond that point, things get a little funky.
No offense to NBADraft.net, but the odds of Keldon Johnson sticking around for two seasons, let alone falling to No. 27, are extremely slim. There's a solid chance he finds himself in the top-ten in the 2019 NBA Draft as Kentucky's top prospect.
Beyond Johnson, Ashton Hagans likely projects better in the league than Immanuel Quickley, and I'd be surprised if they both play for two years at Kentucky. One, maybe.
If this turned out true, that means Sophomore Nick Richards would turn into Junior Nick Richards, which just wouldn't be fair for college basketball. If you ask John Calipari, scouts are already in love with the seven-footer's ability to run the floor, block shots, and convert on easy buckets around the rim. If he can put it together this season, I'm not so sure we see an extra season out of Richards.
Looking at their 2019 mock draft, PJ Washington is the only Kentucky player taken, joining Bam Adebayo in Miami at No. 46 overall. Reid Travis went undrafted.
EJ Montgomery, Tyler Herro, Quade Green, and Jemarl Baker weren't listed on either mock.
If it works out to where we get two seasons of Johnson, Hagans, and Quickley, three years of Richards, Montgomery, and Herro, and four with Baker and Green, I think the Big Blue Nation would be perfectly happy with that.
Will it happen? Absolutely not.
Last week, a horse Rick Pitino is part-owner of named "Party Dancer" came away with a victory in the fifth race at Del Mar Thoroughbred Club. The final purse was $33,380, and a $2 win bet came out to $10.80.
After receiving obvious backlash about the horse's hilarious and completely unsurprising name, Pitino came out today and played the dumb card. Again.
"It was unbeknownst to me," Pitino told the Courier-Journal. "I have absolutely no clue about the name of this horse. (Co-owner Larry Spitcaufsky) doesn't even know I'm a basketball coach. … It never dawned on me that Party Dancer is a striptease act."
You couldn't connect the dots that strippers DANCING at a PARTY for recruits isn't a striptease act? Shocker.
The self-pity continued, with the former Louisville head coach saying he can't even savor the victory without people raining on his parade.
"The shame of it (is I) can't even enjoy a win," Pitino said. "The piling on is incredible."
Jockey Club spokeswoman Shannon Luce confirmed the name was not submitted by Pitino himself back in 2017.
Reportedly owning "just" a 50 percent stake in Party Dancer, Pitino said he will name another horse when he can afford it again.
"When I'm a majority owner, I will name a horse," he said. "When I left coaching, I can't afford to be a majority owner."
Pitino is also the sole owner of "Miss Loyalty" (another gem of a name for the scandal-filled former coach), a three-year-old filly that raced earlier this year.
For more of Pitino's pity party, head to the Courier-Journal here.
Big Blue Nation has spoken.
Tyler Herro is the fan favorite following the team's four games in the Bahamas.
Herro won our fan poll by an overwhelming margin, taking over half of the votes from the response. The freshman scoring machine received 4,077 of the 7,398 votes placed, almost 3,000 more than the next closest vote getter.
Here are the full results from the poll:
Tyler Herro 55% (4,077)
Keldon Johnson 16% (1,180)
P.J. Washington 10% (739)
Nick Richards 5% (404)
Ashton Hagans 3% (217)
Reid Travis 3% (217)
Quade Green 2% (160)
Immanuel Quickley 2% (115)
Jonny David 1% (102)
Jemarl Baker 1% (94)
Brad Calipari 1% (61)
EJ Montgomery 0% (32)
I can't say I'm surprised Herro took the top spot, but to receive 55 percent of the votes? That's impressive given the amount of talent on the roster.