Basketball
Basketball Season Coverage
Kentucky's ranked No. 1 in preseason polls by Blue Ribbon, The Sporting News, ESPN, CBS Sports, and The Stadium, but NBC Sports' Rob Dauster has the Cats No. 2 in his Top 25, which came out this morning.
Dauster believes Kansas is the best team in the land heading into the season, citing the Jayhawks' experience and talent. As for the Cats, he says they'll be plenty of fun to watch, but raises questions about defense.
"As always, there is quite a bit of turnover on the Kentucky roster. Six key pieces from last year are gone, while the Wildcats bring in yet another loaded recruiting class. I think the combination of incoming backcourt talent and the remaining front court veterans is going to be a fun combination for Kentucky fans to watch, especially when Stanford grad transfer Travis is factored into the mix. The big question for Kentucky is going to be how they can put a team on the floor that can both shoot and play the kind of elite-level defense we all are expecting. Cal has plenty of weapons, and it will be fascinating to see how he decides to deploy them."
It's worth noting that John Calipari didn't even install his defense for the Bahamas games. Considering that and how tenacious Ashton Hagans and Immanuel Quickley already look on the defensive end and I think the Cats will be just fine.
It's a Kentucky football game day and an early morning for the Kentucky basketball team.  John Calipari's morning practice session at the Joe Craft Center featured a few famous faces.
Former Secretary of State John Kerry was the most notable dignitary in attendance.  The democratic nominee in the 2004 presidential election spoke to the team after practice.  As expected, Kerry's presence drew criticism on social media.
"Anyone who has given to this country his entire life — from the Navy to our government — to make our country better, I respect," Calipari responded on Twitter. "Party is irrelevant to me and I'm glad my team got to meet John Kerry today."
The sidelines also featured a few talented basketball stars.  Tyrese Maxey is in town for his official visit. He got the chance to hang with a few former Wildcats who are making money in the NBA, Bam Adebayo and De'Aaron Fox, another talented Texas point guard.
Those in attendance were treated to quite a few highlights, like this back-door finish by Jemarl Baker.
Great cut by @jemarlbakerjr. Even better find by @IQ_GodSon. Both having a solid practice. pic.twitter.com/oq36Ywdlpy

— Kentucky Basketball (@KentuckyMBB) September 22, 2018
The first of three straight turnovers @H23Ash just forced at practice. ? ? pic.twitter.com/oGbcWHHtYk

— Kentucky Basketball (@KentuckyMBB) September 22, 2018
Former Kentucky stars Anthony Davis and Jacob Tamme were inducted into the UK Hall of Fame tonight, among several others.
Davis and Tamme are joined by Russ Cochran (men's golf), Victoria Dunlap (women's basketball), Dennis Emery (men's tennis coach), and Eric Quigley (men's tennis) to finish out the 2018 class.
Here was Davis' acceptance speech tonight, followed by a brief segment of Tamme's:
Thank YOU, @AntDavis23, for all the memories you've made for us. We're glad they're forever a part of our history. pic.twitter.com/cmCcyGNftX

— Kentucky Basketball (@KentuckyMBB) September 22, 2018
#BBN, you'll wanna hear this from our newest Hall of Famer, @jacobtamme. ??? pic.twitter.com/l8bYufU4uA

— Kentucky Football (@UKFootball) September 22, 2018
John Calipari also had the honor of introducing Davis, where he talked about his former star's character both on and off the floor.
Here's Coach Cal's full speech:
"It's about putting your teammates first and winning. We all know he's a terrific basketball player, but let me present to you a good man, who cares deeply about his family."

Check out @UKCoachCalipari's introduction of the newly minted UK Athletics Hall of Famer @AntDavis23. pic.twitter.com/vQn64nXlQL

— Kentucky Basketball (@KentuckyMBB) September 22, 2018
In a pre-ceremony interview, Davis discussed his shock of being inducted into the Hall of Fame, saying it's the first time in his life he has received an honor of this magnitude
"It's such an honor," Davis said. "Being here for a short period of time and being able to be inducted off the time I was here is great for me and my family. It's something I never thought would be possible. I kinda had a slight idea when John (Wall) got it last year, I was like 'well, maybe it is possible.' It's huge for me. This is the first I've been inducted in any hall of fame. Hopefully it's not the last."
Davis also discussed his one (and only) season in Lexington, saying the minor adversities experienced throughout the year allowed for their historic national title run in 2012.
"The ups-and-downs we had, of course, you always go back to the Indiana game and Christian Watford," Davis said. "And then even Vanderbilt, but I think both of those games helped us get to where we were, which is winning the national championship. For me, it was a fun time. It was time for us to grow up, time for us to play the game we love with no business side of it and just have fun with each other and enjoy college. We were able to do something special that year and everybody went on with their respective careers."
You can see the whole interview below:
UK Athletics Hall of Fame inductee Anthony Davis: "I'm always excited to come back here … This is where it all started for me." #BBN #WeAreUK pic.twitter.com/kjDdq6dJU5

— Herald-Leader Sports (@KentuckySports) September 22, 2018
Tamme also discussed his massive honor, saying that as a Kentucky boy, this is the best honor he could ever receive. He also talked about the current team and just how special he believes they can be.
Take a look:
UK Athletics Hall of Fame inductee Jacob Tamme on Saturday's UK-Mississippi State game: "I like the Cats. … We've been playing so good, man." #BBN #WeAreUK pic.twitter.com/OovURkC1pU

— Herald-Leader Sports (@KentuckySports) September 22, 2018
Congratulations to all six inductees on their special night!
Tomorrow's game vs. Mississippi State has dominated the headlines this week, but tonight, six former UK student athletes will be inducted into the UK Athletics Hall of Fame, including Anthony Davis and Jacob Tamme.
Davis and Tamme will be joined by Russ Cochran (men's golf), Victoria Dunlap (women's basketball), Dennis Emery (men's tennis coach), and Eric Quigley (men's tennis). The dinner and ceremony will be held at the Woodford Reserve Club at Kroger Field starting at 5:30 p.m. The group will also be recognized during tomorrow night's game, which kicks off at 7 p.m.
To get the festivities rolling, let's relive some of Davis and Tamme's best moments, starting with Tamme's famous pep talk prior to the Georgia game in 2006:
There are countless Anthony Davis highlights, but I'll start with his famous block vs. North Carolina:
A more comprehensive look at his career as a Cat:
For bios of tonight's inductees, click through the jump.
It's been a busy week for the Aaron Torres Sports Podcast. In case you missed it, two-time national champion and the only coach to ever lead three separate programs to the Final Four (yes, I'm being sarcastic) Rick Pitino joined the show on Monday.
And earlier today, I followed it up with an interview with future Kentucky point guard Tyrese Maxey.
Unless you've been sleeping under a rock the last six months, you know that Maxey was the first player in the class of 2019 to commit to Kentucky and will be taking an official visit to the school this weekend, along with local product Dontaie Allen. And oh boy was it a fun interview, where Maxey lived up to his reputation as one of the biggest personalities in all of high school basketball.  I have little doubt he will grow into a fan favorite once he arrives in Lexington.
Speaking of "arriving in Lexington," Maxey will be there Friday (even if it's only for a few days). As he gets set for his visit, here are some highlights of his interview with the Aaron Torres Sports Podcast (you can download the whole show for free, right here).
The reason he is visiting Kentucky this weekend is because he wanted to experience a football game
One of the biggest things I wanted to ask Maxey was why he is visiting Kentucky this weekend. Especially considering that he is coming back in a few weeks for Big Blue Madness. After all, it's not often that a player who is already committed to a school takes an official visit, then pays for his own trip a few weeks later.
His answer was surprising. He wanted to experience a Kentucky football game in person.
Maxey added that he actually played football when he was a kid (then again, doesn't everyone in Texas?), saying that his primary position was quarterback. According to Maxey, the position was perfect for him because he is a natural born leader.
He chose Kentucky because of John Calipari's honesty
When I asked Maxey why he chose Kentucky, his answer was similar to a number of players who I've spoken with through the years. He loved Calipari's honesty.
"I feel like he never lies to me," Maxey said, describing John Calipari. "He always tells me the truth. He spit straight facts to me, he never spit any fluff. He came in, he told me I need to get better, he told me I'm not where I need to be right now to be an NBA player and that's my end goal."
Maxey also added that another thing that drew him to Kentucky was that he would be surrounded by other good players. He admitted to being a competitive kid, and looks forward to competing with great players every day in practice.
Maxey is already tight with Kentucky basketball royalty
It's no secret that one of the big draws for any high school player to Kentucky is the number of future NBA stars who've come through the school under John Calipari's watch. It stood out to Maxey, who admitted that he knows quite a few of them. He said that De'Aaron Fox texted him the day he committed, and he's spoken to Jamal Murray, Devin Booker, DeMarcus Cousins and John Wall among others.
Not bad. Not bad at all.
As I told Maxey during the interview: He better not lose his phone. That is a heck of a rolodex for an 18-year-old to have.
Fun fact: Maxey loves Spiderman
When I asked Maxey to share something that not many folks knew about him, he said that he was a big Spiderman fan. He said that he likes Spiderman's super-powers, his speed, agility and ability to get from Point A to Point B quickly.
Ironically (or maybe not), that also very accurately describes Maxey's game on the court.
Not to mention that it seems like one fan is especially fired up about this development.
I've drawn @PJWashington as Hulk and @JustMarcusLee as Superman. After listening to the @Aaron_Torres podcast, sounds like @TyreseMaxey as Spiderman should be next on the list! #BBN pic.twitter.com/XTEg2xMZ9O

— Danny Palmer (@palmer102) September 20, 2018
He has never played against fellow Kentucky commit Dontaie Allen, but knows Kahlil Whitney well
This one was shocker to me, but Maxey said that – as best as he knows – he's never played against fellow Kentucky commit Dontaie Allen, who will also be on campus this weekend. I know that Allen came onto the scene as a big-time recruit a bit later in the process than most kids, but considering that most of the top players know each other from an early age, that was stunning.
On the other hand, Maxey also said that he's known the third member of this recruiting class, Kahlil Whitney for years. Maxey described his future teammate's game similar to his. "He's a dog," Maxey said. "That's one of the reasons Coach Cal likes him. He competes defensively. He competes offensively."
He is actively recruiting other players
Maxey was surprisingly open while discussing the other players he's recruiting to Kentucky.
It sounds like he has the closest relationship with Scottie Lewis, and admitted that he talks to him "almost every day." Considering that Lewis is down to just Florida and Kentucky that has to be a great sign for the Wildcats.
Maxey also said that he speaks with James Wiseman, Vernon Carey and Matthew Hurt regularly. He said that Wiseman is "hard to get a feel" for but that Carey has opened up to him more recently.
Maxey was also in the dark about Jaden McDaniels, who John Calipari recently had an in-home visit with.
Other odds and ends:
There are other odds and ends, but the most important one is this: He has Kentucky beating Mississippi State 31-28 on Saturday night at Kroger Field.
To listen to the full interview with Maxey, subscribe to the Aaron Torres Sports Podcast feed on iTunes or via Android's Podcast Addict app.  You can easily listen on the KSR App, available on iTunes and Google Play. Streaming online is simple through Pod Paradise.  Don't forget to follow the show Instagram too.
Football may be in full swing, but basketball is just around the corner, and today, UK released a slew of images of this year's squad. If the Bahamas trip wasn't indication enough, the personality that pops through the images by the talented Chet White is another sign this is going to be a very fun season.
You can view the entire gallery at UKAthletics.com, but here are a few of my favorites.
Ashton Hagans
Immanuel Quickley
Keldon Johnson
Quade Green
PJ Washington
What do you think PJ's thinking here?
Earlier this week, Kentucky was unveiled as the No. 1 team in Blue Ribbon College Basketball Yearbook's preseason Top 25. Mike DeCourcy at The Sporting News agrees, putting the Cats atop his preseason poll that was released this afternoon. Kentucky is first, followed by Kansas, Gonzaga, Duke, and Virginia.
"In a season that will not rank among the most talent-rich in modern college basketball history, UK certainly qualifies as loaded," DeCourcy writes. "The decision of former Pac-10 star Travis to join the Wildcats as a graduate transfer has given the team nine starting-quality players, which will cause some challenges for coach John Calipari in terms of building a style and rotation that works to maximize their abilities. One thing that was noticeable in the team's playing trip to the Bahamas was how effective both Washington and Travis played in the high post. As the five talented freshmen develop, there is a chance for UK to be oppressive on defense."
Other SEC teams in the Top 25:
7. Tennessee
11. Auburn
18. Mississippi State
20. LSU
Five teams in the preseason Top 25? The SEC really does mean more. Check out the poll for yourself at SportingNews.com.
John Calipari was busy recruiting Wednesday afternoon, but when Justin Timberlake is performing in your team's arena, you drop everything to get there.
Coach Cal flew back to Lexington to attend the Timberlake concert with his wife, Ellen, and I'm sure he had a wonderful time. (I know I did.) After the show, Cal gave Timberlake a tour of his Rupp Arena office and took advantage of the photo-op.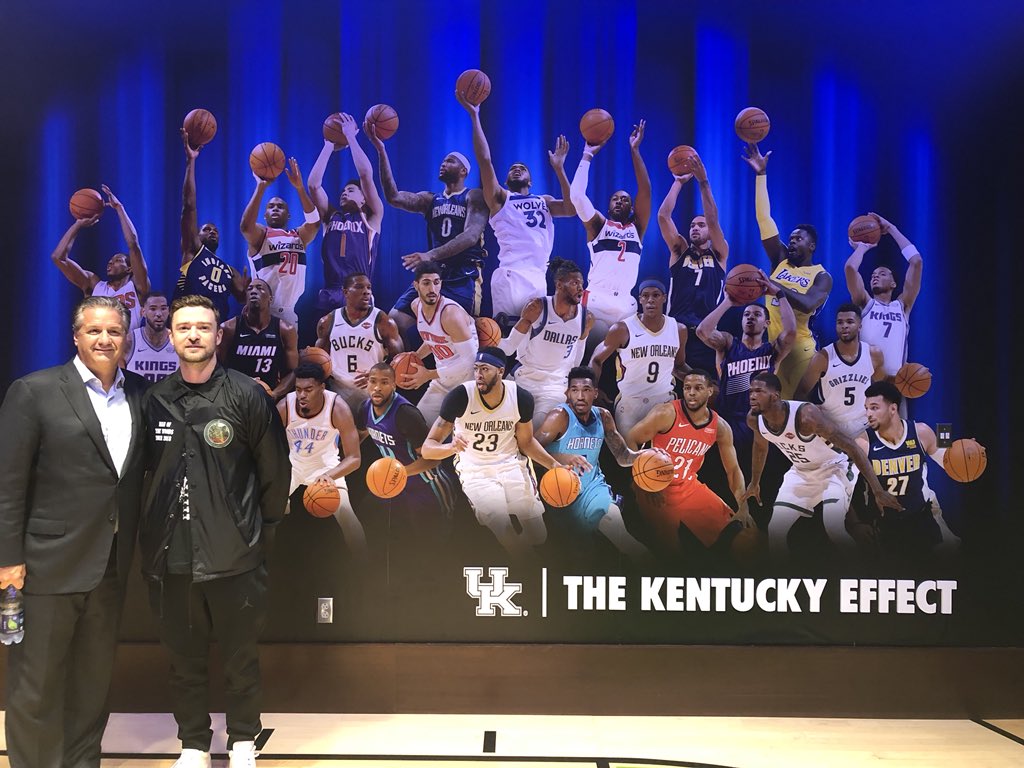 Okay let's talk about this Justin Timberlake concert. It was insane. Rupp Arena was sold out to the top bleachers, all the way around the building, even behind the stage. I've never seen that for a Rupp concert before. Usually they cover up sections with black curtains, but nope, not for JT. Fans were packed in there like sardines from the general admission floor to the very top.
It was an amazing show too. That guy can do it all and the production that goes into his concert is even more impressive. Revoke my man card if you'd like but I had a blast… until I got home and looked in the mirror and realized how inferior I am as a man. It's not fair that he gets to be JT and all of us have to be us.
Oh, and I want to go on record as saying he's the second coming of Michael Jackson and probably better. Don't @ me.
PJ Washington and Josh Allen are two of the biggest stars on campus. They're also really good friends, and they recently got together for a fun video that was shared on the Kentucky football Twitter account Thursday morning, in which the two star athletes trade in-game celebrations.
Washington showed Allen how to do his snarl, then Allen taught Washington how to flex and taunt after a big sack.
See how it turned out:
https://twitter.com/UKFootball/status/1042767159917768705
Over the course of the last couple weeks, the guys over at CBSSports.com have been doing a series on "Who will be the next coach" at all the major schools that currently have Hall of Fame coaches. For anyone who is a college hoops junkie, it's a series of fun reads and fascinating "what if's" on how the future of the sport could unfold.
And after hitting a few other big-time schools recently (Duke, Michigan State, Syracuse) writer Gary Parrish took a look at Kentucky today, discussing what life after John Calipari could look like.
It's an interesting read and I encourage everyone to check it out, as it has a whole assortment of names. Some are obvious (Billy Donovan), some not so much so (Ohio State coach Chris Holtmann) and some have next to no chance of happening (even if its years before John Calipari retires, I can't see any scenario where a school the stature of Kentucky would hire Sean Miller after all the FBI stuff of the last year).
Regardless, it also got the wheels turning in my head.
As the national college basketball insider here at KSR, I thought it might be fun to share some names that I've heard as potential candidates at Kentucky as well. Understand, this is in no way knocking the CBS article – it's a really well-done piece – but more of an extension of it, and again, a place to share some thoughts on what I've heard as well.
Before we get started, I'd like to add one thing: As the CBS article mentions, John Calipari is only 59-years-old and it appears like it will be a long time before he goes anywhere. At this point, it feels like the NBA ship has sailed and he isn't go back to the pros (with the money he makes, and recruiting mojo he has, why would he?). Therefore, while it seems unlikely he'll be at UK another 15 or 20 years I do think it's probably at least 5-7 years before he seriously contemplates hanging it up. And even that might be a bit on the light side.
So again, that's the important thing to remember here. A lot of these guys wouldn't be candidates if the job opened today. But they might be if it opened up down the road.
Here are a few I've heard, in addition to a few additional thoughts on some of the names CBS threw out there.
Mike White, Florida head coach
Because it'll still likely be several years before Calipari steps away, it probably means some of the more obvious names right now might not be so obvious when the job opens up (I'm looking at you, Billy Donovan). It also pushes someone like White to the front of the pack.
No, White probably doesn't have the resume today to get the job (or at least be the favorite to get it) but he is still only 41-years-old, and to his credit has done a fantastic job keeping Florida basketball relevant in the national conversation after taking over for Donovan. He has also found his niche in recruiting. Not only has White consistently brought talent to Gainesville and developed it once its there, this cycle he has gotten in with some of the best players in high school basketball. You don't need me to tell you that five-star prospect Scottie Lewis is down to Kentucky and Florida. Plus, at 41-years-old he's still relatively young, and would have plenty of good years left when the Wildcats job (in theory) opens up.
Just about the only thing White is lacking at this point is major NCAA Tournament chops. In seven years as a head coach he has only made the tournament twice – but those two tourney bids have been in the last two seasons when he's gotten comfortable at Florida.
Therefore it seems safe to assume that the best is yet to come for White in Gainesville. Which will make him an even more likely candidate down the road.
(more…)