The Golden Spikes Award honors the top amateur baseball player in the country and today is the last day you can vote for the finalists.
The versatile senior was named the Most Outstanding Player in the Shriners Hospitals for Children Classic. He was also named National and SEC Player of the Week twice this season.
The Lithia, Florida native has shown his versatility in starting 39 games at third base, 10 in right field and four in left field this season. He led the SEC in home runs, RBI and total bases, while ranking in the top five in doubles, runs scored and slugging percentage. OPS for the season was a ridiculous 1.123, he had 21 multi-hit games and 15 multi-RBI games. Had a game-tying, two-run home run in the ninth inning against Auburn in a game the Cats went on to win.
Last day to "Vote Nuke"… click it 25 times today for our man @lukeheyer2! #BBN #WeAreUK https://t.co/U5Pa6efrtv

— Kentucky Baseball (@UKBaseball) June 3, 2018
Today is the last day you can help select who will be a GSA finalists! Click the link and cast your 25 votes ?.

?: https://t.co/7gIqO2PCD0 pic.twitter.com/MzRoT2ZgWX

— Golden Spikes Award (@USAGoldenSpikes) June 3, 2018
Vote HERE.
We are less than a week away from the start of the marathon that is the MLB draft. Kentucky could have as many as ten players selected in this year's draft, including ace pitcher Sean Hjelle. The 6'11" starter gave UK several gutsy performances over the course of his three-year career in Lexington. Hjelle's impressive career at UK has put him in a position to go in the first two rounds of Monday night's draft. Scouts have had their eyes on Hjelle for the past two seasons, and for good reason.
This is the first profile in the KSR MLB draft Profile Series. We will break down the pros and cons of each draft-eligible player over the next five days. 
Pros
Teams will cherish the fact that Hjelle can consistently throw strikes. Hjelle throws every one of his pitches for strikes and has a repeatable delivery.
Hjelle has a solid mix of pitches. One thing that helped his draft stock was the development of his slider in 2018. Hjelle's slider was superb at times this season, including in a dominant outing against South Carolina. He gets great movement on his curveball and can locate the pitch well. One thing I really like about Hjelle is that he consistently has swing and miss stuff. His curveball keeps hitters off balance when he keeps it down. His fastball isn't high 90s, but he locates it well and gets hitters to miss it.
I have to mention the size. As a hitter, do you want to step into the box against a 6'11" dude who throws fairly hard with good breaking stuff? His size works to his advantage on the mound.
There are few pitchers in this year's MLB Draft that are as competitive as Hjelle. The junior pitches with a high level of competitive fire each time he takes the mound. Hjelle is also the kind of guy that will pitch until his arm falls off to help his team win. UK fans saw this firsthand in the 2017 Regional Championship and in the 2018 SEC Tournament when Hjelle came out of the bullpen for lengthy outings. He is a hard worker and an alpha on the mound.
Hjelle is going to move quickly through the minors. He is fairly advanced and has the stuff to help him reach the show quickly.
I love this video of Hjelle. It shows his movement on all his pitches, but it also shows how he comes back from an earlier mistake in an at-bat and gets a strikeout.
Cons (Hint: There aren't many)
The results weren't there for Hjelle in his junior season. In SEC play, Hjelle allowed four or more runs in eight starts.
One big question around Hjelle is his frame. At 6'11", 225 lbs, Hjelle is the lankiest pitcher in this year's class. Hjelle has the frame to add weight in the future, though.
It remains to be seen how a strong class of pitchers will affect Hjelle's stock. The 2018 class has names like Casey Mize, Brady Singer, Ethan Hankins, Matthew Liberatore, and many others that will be picked ahead of Hjelle. But baseball is unlike any other sport. If a team takes a pitcher with their top pick, they could come back in the second round and select another pitcher. I don't think this is a large concern, but it is something to keep in mind.
One weakness that Perfect Game laid out is Hjelle's fastball.

"While his height and length make it pretty easy to want to project Hjelle physically, he is narrower through the shoulders and hips and may not hold all that much more weight/strength. The fastball is average right now but how will it play when he's pitching every fifth day as compared to every seventh, especially if he's unable to add much more in the way of weight/strength?"
Draft Prediction
Hjelle's stock dropped a little bit during the season, but he should still hear his name called on the first night of the draft. Many websites have Hjelle in the 40-60 range in their pre-draft rankings. I think the big righty will go a lot earlier than 50th overall. There are several teams at the back end of the first round that are looking to rebuild their farm systems with high-floor guys like Hjelle. The Cubs and Red Sox are both teams that could give Hjelle a look at the end of the first round. If Hjelle is still available at the end of the first round, the Tigers could take him early in the second as well.
Yesterday was a dark day for Kentucky Baseball. The Cats did not get a bid for the NCAA Tournament thanks to their 13-18 conference record. The end of the 2018 season also brought the end to five seniors' careers. Troy Squires, Luke Heyer, Luke Becker, Brad Schaenzer, and Alec Maley saw their UK careers come to a close yesterday. 
Thank you to our seniors and the entire Becker, Heyer, Maley, Schaenzer and Squires families for everything you've given our program. You will always have an Old Kentucky Home. #FAMILY #WeAreUK #ThankfulTuesday pic.twitter.com/q9elm6WO0E

— Kentucky Baseball (@UKBaseball) May 29, 2018
The three guys that UK will miss the most will be their three senior position players. Squires, Heyer, and Becker were three of the anchors for the loaded 2018 lineup. Heyer was second in the SEC in home runs and RBIs in his senior season and finished six home runs away from tying the single-season UK record for home runs. Heyer is a semifinalist for the Golden Spikes Award, which will be announced next month. The breakout season for Heyer helped him to rise up draft boards this spring. The third baseman can hit for power, play good defense at different positions, and will be easy to sign.
Replacing Squires and Becker will not be easy. Both players were excellent hitters and their senior leadership was unmatched. Squires, the senior catcher, helped with UK's young pitchers throughout the course of the season. At the plate, the Elizabethtown-native drove in a career-high 51 runs in 2018 and won SEC Player of the Week once. Much like Squires, Becker worked as a mentor to many around the team. He was also one of the most consistent players on the team. Becker finished with a career .390 OBP at UK and hit 15 career home runs. Both Squires and Becker will hear their names called at some point in next week's MLB Draft.
Schaenzer and Maley did well in 2018 considering the circumstances. Both of UK's senior pitchers were forced into new roles this season thanks to injuries to UK's top arms. Schaenzer started five games (Including three in a week's span) and worked as the primary left-handed bullpen arm for the pitching staff. Maley made 19 appearances out of the bullpen. The sidearmer struck out 24 batters in 28 career innings.
The Cats will say goodbye to their five seniors this week, but there will be more departures in the next month. UK has a bevy of players that will most likely sign pro contracts after they are drafted next week. We will have full predictions for the MLB Draft and updates on where former Cats are selected.
If there were any concerns Nick Mingione might leave for Mississippi State or any other job opening across college baseball, he put those to bed Tuesday afternoon.
Mingione held his final press conference of the season to discuss the Cats' disappointing finish and what's ahead for the program, in which he addressed any and all speculation that he may leave Lexington this summer.
When asked about his future at Kentucky, he replied, "I'll be right here… I will be. I will be the head coach… I'll be the coach at Kentucky, yes."
He then joked, "You better talk to Mitch Barnhart. Does he still want me?"
Mingione also called in to KSR today. You can listen to it here.
By KSR on ©May 29th, 2018 @ 1:15pm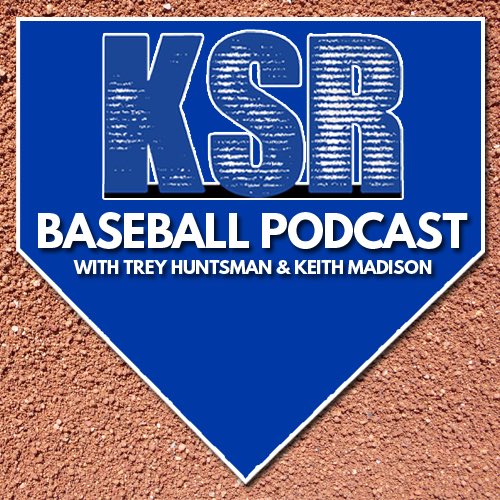 And just like that, the 2018 Kentucky baseball season is over.  In shocking fashion, the Bat Cats bubble burst, shattering dreams of a postseason run.  Trey Huntsman and Coach Keith Madison talk about why the NCAA Selection Committee chose to leave out UK, where they went wrong, and…
—  The moment each one knew UK wasn't going to make it.
—  Why the selection committee took the easy way out by eliminating UK.
—  Coach Madison relives a similar moment from his time at Kentucky.
—  Why the committee needs to develop consistent criteria.
—  If not for bad luck, the Bat Cats would have none.
—  Trey explains gender reveal parties to Coach Madison.
You can easily listen on the KSR App, available on iTunes and Google Play. Streaming online is simple through Pod Paradise. You can also get it directly to your phone by subscribing to Kentucky Sports Radio on iTunes or via Android's Podcast Addict app.
It has been 24 hours since the NCAA released its baseball tournament bracket without Kentucky in it, and Nick Mingione is still upset. UK's head baseball coach called in to Kentucky Sports Radio this morning to check in after his team's surprising snub from the postseason, and it's very clear he is heartbroken over the committee's decision to leave the Wildcats out.
"I'm hurting today," Mingione told KSR. "I'm really hurt. I'm disappointed; every emotion and everything you can think of. That was really, really difficult to watch and be a part of."
Mingione acknowledged the committee has a difficult decision in picking the field each year, but he believed his team's three series wins against top-15 teams and six series wins over top-50 teams were enough to earn the Cats a bid.
"The one hiccup on our resume is we went 13-17 in the best league in America," he said, while noting the committee's points of emphasis are impossible to predict.
"They put the first 29 teams, RPI-wise, in. We were 30th. They skipped us and put the next 13 in after us. That's a fact."
So what went wrong that led to the disappointing close to the regular season, which ultimately cost Kentucky a spot in the tournament?
Mingione doesn't want to make excuses, but he pointed directly toward his injured pitching rotation.
"I don't want to be deemed as ' hey this guy's making excuses,' but facts are we had five pitchers out," he said. "Zack Thompson and Justin Lewis, two of our three weekend starters, missed nine SEC starts. It's my understanding that if we had two more SEC wins and we were 15-15, we would be in the tournament.
"Those guys missed nine SEC starts and I gotta believe we'd win two of those nine. But unfortunately, we had five guys out at the end of the year. They're all back healthy, ready for the postseason, but obviously there isn't one for us."
Listen to the entire interview:
Kentucky was not selected for the 2018 NCAA Tournament. The BatCats were listed as one of the last four teams out after the show. UK was punished for their 13-18 conference record and an early exit in last week's SEC Tournament. 
THE BRACKET.#RoadToOmahahttps://t.co/0cOYRh9my0 pic.twitter.com/aUciCCPXyQ

— NCAA Baseball (@NCAACWS) May 28, 2018
Perhaps the most frustrating part of this is that Northeastern was the final team in the field over the Cats. The Huskies went 1-7 against the RPI top 25 and did not win a series against a regional team. Northeastern finished well above .500 in conference play and had a decent RPI, which put them ahead of UK in the committee's eyes. UK's RPI of 30 and their poor conference record was enough for the selection committee to put them below Northeastern.
The Cats had a chance to control their own destiny at the end of the season but faltered against SEC competition. UK lost their final four games of the season, including a sweep at the hands of Vanderbilt. But even with the bad end of the season, many national projections had UK in the field of 64 last night. D1 Baseball and Baseball America thought that the Cats' entire body of work would get them into the NCAA Tournament, but the selection committee thought that the conference record was enough to keep them out.
The KSR Baseball guys will have a new podcast this evening breaking down why the Cats were left out and what this means moving forward.
Kentucky Baseball did not hear its name called during Monday's NCAA Selection Show, thus ending its season in disappointing fashion.
The argument can be made that UK should be in with 16 wins against top-50 RPI teams, but the Cats' 13-18 record in SEC play was ultimately the deciding factor in their postseason fate.
Injuries played a major role in UK's losing record in league play. Coach Mingione made the case for his team following the first-round loss in the SEC Tournament last week; however, the selection committee saw things differently and put UK in its "Last Four Out."
We'll see UK again in its new stadium next fall.
A trip to the Palmetto State might in Kentucky's future. D1 Baseball and Baseball America are both projecting that the Cats will head to Clemson as a three seed in the NCAA Tournament. The Tigers were named a host team tonight after finishing with an overall record of 45-14 and a 22-8 record in the ACC.
I am all in for both of those projected regionals. With a healthy rotation, UK could stop Baylor or Tennessee Tech in their tracks. Clemson has been strong at times, but a 5-9 record against the top 25 is not fantastic. The BatCats could be a sleeper pick if they do land in the Clemson Regional.
D1 Baseball also named UK as their third to last team in the field. Illinois, Arizona, UCF, Sam Houston State, and Northeastern were listed as the final five teams out of the tournament. In a surprise, Baseball America did not have UK as one of their final teams in the field. BA's Ted Cahill and Michael Lananna believe that UK is safely in the field regardless of their conference record.
If the Cats do get in, they will most likely end up in North or South Carolina. Clemson, Coastal Carolina, North Carolina, East Carolina, and NC State are all hosting regionals this season. With a lack of hosting sites in the Midwest region, the Cats will likely have to head east if they make the field of 64.
The NCAA Selection Show will be on ESPNU tomorrow at noon ET. 
As is the custom in college baseball, the 16 host sites are announced the night before the full field of 64 is unveiled. Before the full field will be announced tomorrow on ESPNU, take a look at the 16 sites that will host a regional starting this Thursday.
The Road To Omaha starts here in 2018…

The Regional Sites!
? https://t.co/ONHOZfCVGD pic.twitter.com/KPFbXm1YfU

— NCAA Baseball (@NCAACWS) May 28, 2018
The SEC and ACC tied for the most hosting sites with four. This was also the first year since 2012 that there will not be a team hosting a regional in the state of Kentucky. Louisville was competing for one of the final hosting spots but fell short of hosting their sixth consecutive regional. The Cards had to win the ACC Tournament Championship today to host a regional but fell short in an 11-8 loss to Florida State.
There was not a real surprise in the list of hosting sites. There were only two or three spots that were not locked up prior to conference tournaments. Coastal Carolina, Texas, NC State took the final three hosting spots.
Kentucky will know their fate tomorrow at noon ET. The Cats are projected as a three seed if they reach the field of 64. Of the sites announced this evening, UK could land potentially in Chapel Hill, Raleigh, Tallahassee, Minneapolis, Deland, or Clemson.