Nick Richards broke out in a big way in Kentucky's first game in the Bahamas, scoring a team-high 19 points to go along with three rebounds, two blocks, and a steal. What helped Richards transform from an insecure freshman to the sophomore sensation we saw tonight? Some simple advice from his family: go out and have fun. 
"My family members told me it didn't look like I was having fun out there. It looked like I wasn't really into the game as much as I was and I just went back and watched old clips of myself when I was younger and playing freely, and I just got back to that and hopefully I continue to play with that idea."
"Oh wow," John Calipari said of Richards after the game. "He's not the same player. Like I told him, if you make your free throws like that, get fouled. Ball fake, don't fade away. Go to the rim and shoot through people. He played well. Blocked some shots."
Calipari said Richards has also been working with renowned sports psychologist Bob Rotella, although Richards declined to get into specifics about their conversations.
"I can't really talk about what me and Bob talk about on the phone, but I try to call him once a week and we talk like 30, 40 minutes at a time. We talk about anything and he gives really good advice. He just tells you what he's done for past players, All-Stars in the NBA. He's a really good dude. He's been helping me a lot."
Calipari has noted Richards' improved confidence throughout the summer, but reiterated that the big man had to demonstrate it in games to take the next step in his development; Richards certainly did that tonight, and gave all the credit to his teammates.
"I didn't expect to play like that. I was just trying to let the game come to me. I wasn't expecting to score 14 points in the first half, but I'll give it to my teammates. They did a really good job of getting the ball in the right spots and finding me for open jump shots, open buckets."
It's best not to read too much into an exhibition, but Nick Richards' performance was the story of the night. At 6-11, he's Kentucky's only real rim protector and tonight's performance bodes well for the Cats if his confidence continues to grow. As for the answer to the million dollar question?
"Yes, I'm having fun out there," Richards said, smiling.
It shows.
By KSR on ©July 09th, 2018 @ 7:30pm
It's time for another exciting edition of the KSR Baseball Podcast!
In episode 39, coach Keith Madison and KSR baseball aficionado Trey Huntsman discuss the following:
-Update on former UK players in the pros
-Early preview of next year's UK roster
-Coach Madison's thoughts on the championship changing play in the College World Series
-Coach Madison talks Mississippi State coaching change and how they feel for Coach Henderson after leading the team to CWS.
Then, former Major League Baseball infielder and Lexington native Doug Flynn joins the show to talk about:
-Update on the Reds, what's standing out
-Thoughts on their draft picks
-Does he think they'll make any moves at the All Star break?
-Likes way Reds are playing but making crucial mistakes costing them games
-Change in players in current era of baseball
-Players he likes around the league
-3rd annual Bluegrass World Series coming up in early August in Louisville — big-time former MLB stars playing in the event
-Coach Madison plays his lightning round game with Doug Flynn
And to close, the trio gives a special tribute to Kentucky legend Frank Ramsey — did you know he was also an All-SEC baseball player at UK for two years?
You can easily listen on the KSR App, available on iTunes and Google Play. Streaming online is simple through Pod Paradise. You can also get it directly to your phone by subscribing to Kentucky Sports Radio on iTunes or via Android's Podcast Addict app.
Kentucky pitchers Chris Machamer and Andrew Miller have agreed to professional contracts according to Jim Callis of MLB.com. With the signings of Machamer and Miller, all 13 UK draft picks have inked professional contracts.
UK had to feel confident about Machamer returning in 2019. The former UK closer was drafted in the 16th round after leading the Cats in saves as a draft-eligible sophomore. Machamer had reported to the Cape Cod League and pitched in two games before signing with the Boston Red Sox this week. By pitching in the Cape, it appeared that Machamer had made the decision not to sign with Boston. But nearly a month after the draft, Machamer put pen to paper and signed with the Red Sox for $213,000.
16th-rder Chris Machamer signs w/@RedSox for $213k ($88k counts vs bonus pool). Kentucky RHP, sophomore eligible, relies on 88-92 mph sinker, reports he touched 96 mph w/four-seamer. @MLBDraft

— Jim Callis (@jimcallisMLB) July 6, 2018
There was no bigger surprise than Andrew Miller signing with the Miami Marlins. Miller sat out the 2018 season due to NCAA transfer rules and Tommy John surgery, but the Marlins must have seen something they liked in Miller in his time at Maryland. Miami selected Miller in the 40th round and gave him a $150,000 signing bonus.
40th-rder Andrew Miller signs w/@Marlins for $150k ($25k counts vs bonus pool). Kentucky LHP, sat out 2018 after having Tommy John surgery & transferring from Maryland, had shown low-90s fastball from low slot that creates problems for lefty hitters. @MLBDraft

— Jim Callis (@jimcallisMLB) July 4, 2018
Next season might be tough on the starting rotation. Miller and Machamer were expected to compete for starting spots in a rotation that does not return a pitcher who threw 50 or more innings last season. Nick Mingione and Jimmy Belanger will have their work cut out for them as they look to replace six pitchers from last year's team.
Zack Thompson announced his presence with authority against Chinese Taipei on Saturday. The lefty struck out four and did not allow a hit in his first appearance for the USA Collegiate National Team. Chinese Taipei's offense was silent when Thompson was on the mound. Thompson walked two but did not allow a runner to reach scoring position in his three innings of work.
.@UKBaseball LHP Zack Thompson has shredded this Taiwanese lineup through three. He's got four strikeouts and scattered two walks. No hits. Sitting 90-91 mph, t94

— Teddy Cahill (@tedcahill) June 30, 2018
Playing for Team USA is one of the highest honors a collegiate player can receive. The 2018 team includes Golden Spikes winner Andrew Vaughn (Cal) and College World Series MVP Adley Rutschman (Oregon State). Thompson proved he deserved to represent his country when he tied team highs in strikeouts and innings pitched in his summer debut.
It is good to see Thompson returning to his true form. The Indiana native missed a large part of his sophomore season thanks to a nagging flexor injury. In 31 innings in 2018, Thompson struck out 42 and allowed 17 runs. The junior lefty is expected to be the top arm for the Cats in 2019.
Thompson will most likely start for Team USA next week against Japan and against Cuba the following week. 
Former UK outfielder Tristan Pompey inked his deal with the Miami Marlins on Tuesday.
The third-round selection signed a contract for $645,000, slightly above the allotted value of the 89th pick in the draft.
Pompey leaves UK ranked 18th on the school's all-time hits list after 193 hits in his three seasons in Lexington. He hit a combined .321 in 165 games over the course of his career, with 136 runs, 46 doubles, one triple, 24 home runs, 113 RBI, 99 walks, 21 stolen bases and an OPS of .947. The 46 doubles and 99 walks each rank 11th in school history.
By KSR on ©June 25th, 2018 @ 6:30pm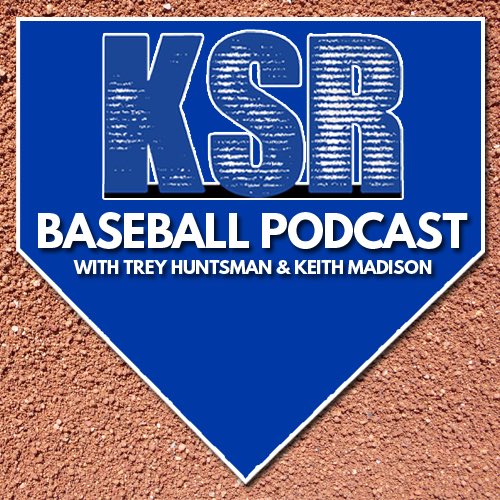 Before the college baseball seasons reaches a conclusion in Omaha at the College World Series, listen to the latest edition of the KSR Baseball Podcast.  Coach Madison is joined by ESPN baseball analyst Mike Rooney to talk about a variety of topics, like…
—  What's a StitchHead? Baseball Lingo Explained.
—  The Best Nicknames in Baseball.
—  Thoughts on Miss. State's new head coach and what's next for Gary Henderson.
—  Breaking Down and Predicting the College World Series Final.
—  The Reds are actually winning baseball games?  What's going on?!?!?!
You can easily listen on the KSR App, available on iTunes and Google Play. Streaming online is simple through Pod Paradise. You can also get it directly to your phone by subscribing to Kentucky Sports Radio on iTunes or via Android's Podcast Addict app.
Our MLB Draft Cats are getting their professional careers officially started, and according to several reports, they're off to a hot start.
It took just five games for former Kentucky baseball star Luke Heyer to get called up to the Los Angeles Dodgers' Single-A affiliate Great Lakes.
He hit .286 with a double and a homer in his brief stint with the Ogden Raptors.
TRANSACTIONS

3B Luke Heyer called up to Great Lakes. He hit .286 with a double and a homer in five games with the Ogden Raptors

— StandardEx Raptors (@RaptorsSE) June 24, 2018
Former Wildcat Kole Cottam, who was drafted in the fourth round by the Red Sox, is currently making plays for the short-season Class-A Boston affiliate Lowell Spinners.
The @ValleyCats rally in the fourth ended when Juan Pineda tried to score on a pitch to the backstop. Not happening: pic.twitter.com/0TTcxyoa5N

— Mark Singelais (@MarkSingelais) June 23, 2018
He has been racking of Player of the Game honors in the process:
Spinners fall to @SIYanks to close out the home stand but your Right Key Mortgage Key Player of the Game tonight for the second night in a row is @kole_cotton13

Cottam ripped a pair of doubles (the first two of his career) and added an RBI

FULL RECAP: https://t.co/8GEmHBlAo0 pic.twitter.com/u37HxYqwQO

— Lowell Spinners (@LowellSpinners) June 21, 2018
As for former Kentucky star pitcher Sean Hjelle, his professional debut will be coming sometime this week.
We should be seeing a bunch more pro debuts from #SFGiants 2018 draftees in the AZL this coming week:
Joey Bart (as soon as today?);
Sean Hjelle (RHP);
Jake Wong (RHP);
Blake Rivera (RHP);
Ben Madison (RHP);
Sean Roby (3B)(in lineup today);
Jett Manning (SS);
…..

— Darryl Zero (@Darryl_Zero) June 24, 2018
San Diego's ninth-round draft selection Luke Becker is currently with the Tri-City Dust Devils, the short-season Class A affiliate of the Padres. He is playing right field with the organization.
@Luke_Becker9 went 2-4 with a Double vs. Everett(Mariners) pic.twitter.com/WiEVafzC0K

— Lonny Becker (@VikingsRule10) June 24, 2018
Chris Machamer, drafted in the 16th round by the Boston Red Sox, is looking good with the Brewster Whitecaps.
In his first game action since a freak injury sidelined him the final week of the season, @machamer_chris looked really good in start for @WhitecapsCCBL tonight: 4 IP, 2 H, 2 R (0 ER), BB, 3 K. #WeAreUK #SummerCats18 pic.twitter.com/GaMdg0AOnl

— Kentucky Baseball (@UKBaseball) June 20, 2018
Others are just now getting signed with their respective organizations, such as Trey Dawson and Ben Aklinski, but they are expected to begin summer ball in the very near future.
Trey Dawson signed with the Astros for $125,000 and Ben Aklinski signed with the Phillies for $100,000 according to the MLB Draft site.

— Trey Huntsman (@TreyHuntsmanKSR) June 22, 2018
Congratulations to all of our former Wildcats, and best of luck to them going forward.
Kentucky Baseball will have lots of new faces across the diamond in 2019 thanks to the MLB draft. Eleven players from the Cats' 2018 team have signed pro contracts after being selected in this month's draft. Take a look at which players have agreed to terms with big league franchises and how much money they received for signing.
Draft Signings
Sean Hjelle- San Francisco Giants: 1.5 million
Kole Cottam- Boston Red Sox: $375,000
Zach Haake- Kansas City Royals: $300,000
Luke Becker- San Diego Padres: $5,000
Luke Heyer- Los Angeles Dodgers: $47,500
Justin Lewis- Arizona Diamondbacks: $125,000
Trey Dawson- Houston Astros: $125,000
Troy Squires- Toronto Blue Jays: $1,000
Ben Aklinski- Philadelphia Phillies: $100,000
Alec Maley- Washington Nationals: Unknown
Tristan Pompey- Miami Marlins: Finalizing Contract
Unsigned Draft Picks
Chris Machamer- Boston Red Sox
Andrew Miller- Miami Marlins
It will be difficult to bounce back after losing so many guys that saw playing time in 2018.  The good news for the Cats is that all of their commitments for 2018 will be headed to campus. Will Gambino, Cole Ayers, and Braxton Cottongame were selected in the later rounds of this month's draft and all three will attend UK. Jaren Shelby, the prized JUCO signee and younger brother of John and JaVon, was not selected and will attend UK as well. Mingione signed one of the top classes in the country and (as of now) the whole group will be on campus this fall.
Their will a lot of new faces for UK when the team takes the field this fall. Mingione and his crew will have their work cut out for them as they look to rebuild after losing a large portion of their team to the draft in 2018.
Before he was escorted from the field, San Diego Padres manager Andy Green left with the last word.
A star at Kentucky from 1997-2000, Green was inducted into the UK Athletics Hall of Fame in 2015.  In the same year he was promoted from Padres' third-base coach to manager, instantly becoming one of the youngest in Major League Baseball at just 38.  A fiery coach, he went off the top rope during last night's game against Atlanta.
Infamous umpire Joe West was behind the plate for the game.  West enjoys being the center of attention and is notorious for making questionable calls.  After West made another bad one, Green threw his hat, gave him a piece of his mind, was escorted off the field, then dished out the ultimate burn.
"Don't worry, Joe, I'm leaving so you can go and get another call wrong!"
I AM DEAD pic.twitter.com/3ZUJkp4PhI

— Not THAT Corey Stewart (@CoreyAStewart) June 16, 2018
Green did not wish to elaborate on the specifics of the incident after the game, but he did thank West for picking up his hat.
"I just probably appreciate him picking up my hat." ?? – Andy Green on his ejection tonight #PadresLive pic.twitter.com/OVmX3FBstm

— FOX Sports San Diego (@FOXSportsSD) June 16, 2018
Kentucky pitcher Sean Hjelle has officially signed with the San Francisco Giants, ending his career as a Wildcat.
According to MLB analyst Jim Callis, Hjelle's deal will be worth $1,587,600.
#WeAreUK #MLBTrainingGround https://t.co/tGXisb0hcV

— Kentucky Baseball (@UKBaseball) June 15, 2018
Hjelle joins Kole Cottam, Zack Haake, Luke Heyer, Justin Lewis, Troy Squires, Trey Dawson, and Ben Aklinski as Wildcats to officially sign with MLB clubs.
Cottam reportedly signed with the Red Sox for $375,000.
Source: Red Sox are signing 4th-rounder Kole Cottam for $375k, slightly under slot value of $417,800. Will be official early this week.

— Chris Cotillo (@ChrisCotillo) June 10, 2018
Haake signed with the Royals above pick value at $300,000.
6th-rder Zack Haake's bonus from @Royals is $300k (pick 182 value = $258k). Rough spring for Kentucky RHP, but he still can hit 97 mph with his fastball & flash a plus slider. @MLBDraft

— Jim Callis (@jimcallisMLB) June 11, 2018
Heyer signed with the Dodgers for $47,500, well under his expected pick value of $155,300.
8th-rder Luke Heyer signs w/@Dodgers for $47,500 (pick 254 = $155,300). Kentucky OF/3B, senior sign exploded for 18 HR and 1.131 OPS this spring, strength is his best asset, solid arm too. @MLBDraft

— Jim Callis (@jimcallisMLB) June 15, 2018
Lewis has reportedly signed with the Diamondbacks, though no numbers have been announced yet.
Will have a full story in the morning, but UK RHP Justin Lewis plans to sign with the Diamondbacks this weekend. He was selected in the 12th round after going 7-3 with a 4.33 ERA as a junior.

— Derek Terry (@DerekSTerry) June 9, 2018
Same goes with Squires, Dawson, and Aklinski.
TRANSACTION: #BlueJays signed C Troy Squires.

— Blue Jays PBP (@BlueJaysPBP) June 12, 2018
UK SS Trey Dawson has signed with the Astros, according to transactions. pic.twitter.com/LjbZVbS1aD

— Derek Terry (@DerekSTerry) June 15, 2018
New story: UK center fielder Ben Aklinski tells me he'll sign with the Philadelphia Phillies (32nd round pick) this weekend. Aklinski hit .304 for the Wildcats this season. https://t.co/npXbFWlUlt

— Derek Terry (@DerekSTerry) June 9, 2018
Best of luck to the former Wildcats in their professional baseball journeys.