It's that time again, Cats fans. Tent City is days away from its 2014 edition, and this year, basketball excitement is at an all-time high. We're expecting record numbers in Lexington and some fans are already lined up across the street from Memorial Coliseum, waiting to pounce on a nice piece of land when UK blows the whistle for the campout to officially begin early Wednesday morning. But for those of you still shopping and packing up supplies to join the crowd, I put together a list of items you will not want to forget. Check it out, check 'em off, and I'll see you Wednesday.
*****

Tent
If you're planning to camp out, a tent is a pretty good idea. I mean, you could sleep on the ground, I guess, but you're probably going to want a tent so you're covered. Plus it add privacy from other campers in case you want to do some things people do when they're alone. Maybe you find love at Tent City; anything is possible.
Get a tent.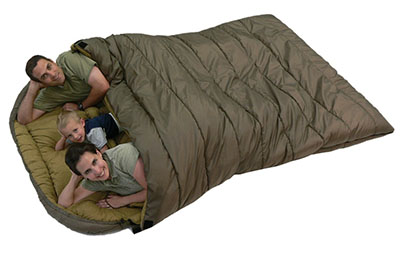 Sleeping Bag
I prefer the air mattress/UK quilt combo, but a sleeping bag is easy and affordable for catching sleep. I don't know about the one in the photo, though. It seems a little weird.
Sharpie
One of the best things about the Big Blue Madness campout is the access to the players everyday. At any moment you could see Willie Cauley-Stein walking to class or Karl Towns pushing his GMC Envoy up Euclid. When that happens, you're going to want to swoop in and ask for an autograph. And what does one need to get a signature? Something for the players to write with. Out comes the handy dandy Sharpie you're packing around in your pocket all week.
Something To Get Signed
Just as important as the Sharpie in the autograph process is an object to get signed. Sure, Sam Malone could sign your face, but most people prefer basketballs, t-shirts, hats, shoes or empty pizza boxes.
Deodorant
Your neighbor will appreciate it. I also recommend shower wipes. Your neighbor's neighbor will appreciate it, too.
Cornhole Boards
When you're not sleeping or chasing Aaron Harrison through the parking lot, you'll need something to do to pass the time. You're going to have a lot of it. Most of the kids these days like playing cornhole, a very simple game of throwing a bag into a hole. The group with the cornhole boards usually makes the most friends and players will often come out and play along.
If you don't have cornhole boards, befriend whoever does.
Radio
So you can listen to KSR every morning, of course. KSR will be live from the Big Blue Madness campout on Friday. You won't need your radio then.
Snacks
For those of you who don't want to eat Qdoba for every meal — so, not Matt — you'll want to pack some treats to fight hunger. There are several restaurant options within walking distance but that can get expensive for campers on a budget. I recommend Lunchables, but do you.
Toilet Paper
DO NOT FORGET TOILET PAPER. This is especially important for ladies and the people who eat Qdoba for every meal. Campers will have to use porta-potties when it comes time to do their business and we all know TP isn't always available in those plastic chambers of filth. Pack your own toilet paper so you're safe, and offer a sheet or two to any Louisville fans you may come across. They'll be crying about something.