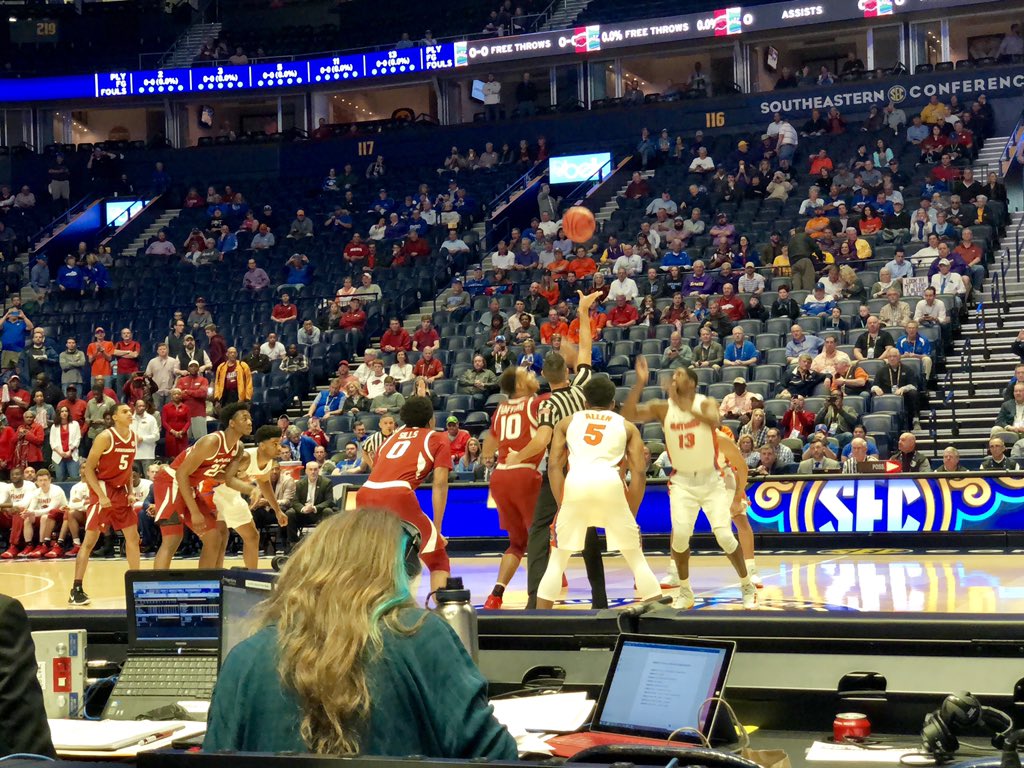 Greetings from the early Thursday session, where Florida just knocked off Arkansas to advance to play LSU tomorrow afternoon. We've got a few minutes before Missouri takes on Auburn, so how about a few random thoughts?
There are already a ton of Kentucky fans here
The trendy narrative among the Nashville media is that Tennessee could have just as many fans as Kentucky this weekend, if not more, but so far, that is false. Per usual, Kentucky blue is dominating the arena, with a smattering of orange here and there, and even that is partly Auburn and Florida fans. Of course, Tennessee doesn't play until tomorrow, but I'd be shocked if there are more Volunteer fans than Kentucky fans in the house for the Friday night session. If I had to guess, I'd predict a 65/35 split in the BBN's favor.
The KSR Top Shelf Lounge is great
During the second half of the Florida/Arkansas game, I checked out the KSR Top Shelf Lounge and was happy to see Kentucky fans already enjoying the space. As the week goes on, I'm sure the lounge will get busier and busier, but I believe there are still spots available if you're at the games and want to make the most of your experience. Drinking beer at basketball games is fun!
Shoutout to the Auburn band
The Tiger pep band is by far the best I've heard so far, playing an eclectic mix that's helping me stay awake during boring basketball. If you're curious, the pep band version of "Smells Like Teen Spirit" is awesome.
SEC Tiger Mascot Rankings
1. LSU's Mike the Tiger (live version)
2. Auburn's Aubie the Tiger
3. LSU's Mike the Tiger (costumed version)
4. Missouri's Truman the Tiger
I've dissed Missouri's mascot plenty in the past, but seeing him today just reminds me how awful that costume is. His facial expression just screams sadness, which I guess is pretty appropriate given the state of Missouri athletics.
Who did this to you, son?
Is Indiana finally off the bubble?
The Hoosiers lost to Ohio State 79-75 today, so can people finally stop pretending they deserve to be in the tournament?
This little girl is being raised right
My little niece is ready for the SEC tournament this weekend! #BBN @KySportsRadio @ryanlemond @DrewFranklinKSR pic.twitter.com/E8IY0NX7es

— 3/30/19 (@McElroy1114) March 13, 2019
She's even got the "Ohhhhh" part down. Well done, little girl and little girl's family.