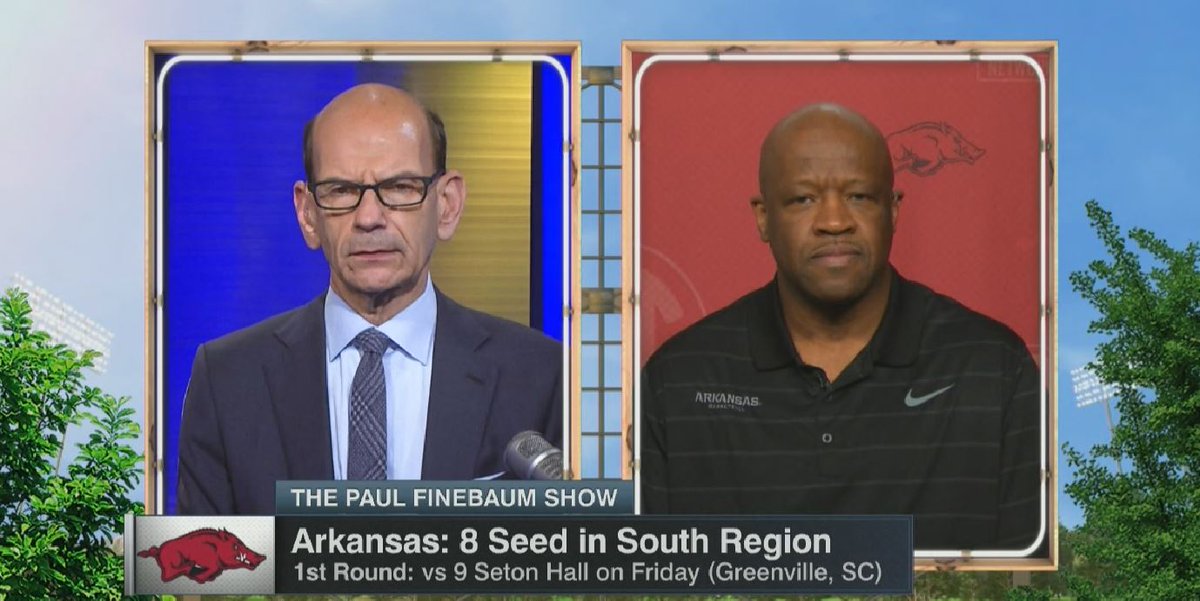 After yesterday's chippy finish to the SEC Championship, Arkansas head coach Mike Anderson defended his players. He told the media in the opening statement of his press conference: "It was unfortunate, but at the same time, I don't think anybody was intent on trying to hurt anybody."
Anderson felt a little froggier on today's edition of The Paul Finebaum Show.
Using stronger language, Anderson used a similar defense, starting with Dusty Hannahs' back-screen that sealed Arkansas' fate.   "Obviously, he was protecting himself…..I don't anything was of intent."
"Protecting himself;" is that what you call this?
Dusty Hannahs with the cheapest of cheap shots. #BBN #KSR pic.twitter.com/ygNL5alDIT

— David Scott (@Finna_Go_HAM) March 12, 2017
On Moses Kingsley's call, this is how Anderson described it: "He made a hard foul. I don't think there was any intent of maliciousness."
That's fair.  If Kingsley's hands were three inches higher it's no big deal.  Anderson also added this reasonable assessment: "The officials did what they were supposed to do.  They got him out of the game.  They did the right thing."
Stay classy Arkansas. #BBN #KSR pic.twitter.com/OWgktlqbux

— David Scott (@Finna_Go_HAM) March 12, 2017
During the defense, Anderson made time to throw plenty of shade Dick Vitale's way for his response to the call on Kingsley.  Watch it all unfold:
Mike Anderson had words for Dickie V after yesterday's game. pic.twitter.com/jGLRNOaVgA

– Razorbackers (@RazorbackersFS) March 13, 2017