Butter up your popcorn and grab a seat in the KSR Film Room for a review of a key sequence in Kentucky's win against Vanderbilt on ESPN Super Tuesday.
We are highlighting Riley LaChance's clutch three-pointer that sent Vandy fans into a frenzy and the ensuing response by Kentucky — the play of the game in my opinion — that silenced them.
It's the breakdown you didn't know you needed.
---
INSIDE THE PLAY
---
With Vanderbilt down four with the ball and under two minutes to play, Riley LaChance had the rock up top and looked to attack:
He drove right at the Kentucky defense but then backed it back out because he is not about that life:
After taking a breath and resetting the play, LaChance called for a screen from Luke Kornet, whose mother, Tracy, was a news anchor at Channel 18 in Lexington from 1994-2000. Tracy Kornet's broadcasting career has nothing to do with this particular play, but some of you in the Lexington area may like to know that fact.
Kornet came up to set a screen on De'Aaron Fox and then rolled toward the paint, creating mismatches with Bam Adebayo on LaChance miles from the basket and Fox on Kornet down low because KENTUCKY ALWAYS SWITCHES.
Big Blue Nation was like…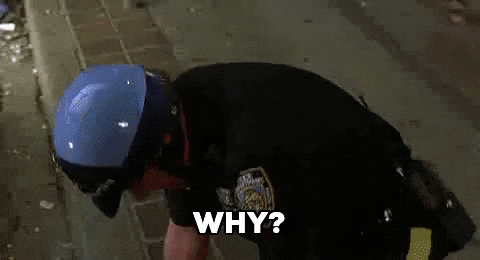 With Adebayo's inability to keep up with the speedier LaChance, the Kentucky big man played back on his heels, which gave LaChance, a 55 percent shooter, the space he needed to launch from outside and cut the Cats' lead to one:
White people went crazy:
Now in desperate need of a bucket, Kentucky's half-court offense had to come through in the clutch against Vanderbilt's zone defense.
Fox gave up the ball after crossing mid-court and moved into the short right corner to play zone-buster:
Look at all that room to operate!
Fox went baseline as Kentucky reversed the ball around the perimeter; then Adebayo sealed off Kornet inside to clear the easy path for Fox to the rim:
The pass came in from Briscoe on the wing and Fox went up and finished the uncontested lay-in to extend the lead back out to three:
All made possible by Adebayo:
And that, my friends, is how Vanderbilt threatened but Kentucky responded in the final moments of a tight game.
Kentucky went on to win, 87-81.