Tomorrow night, the ball will tip on another season of Kentucky basketball. With a historically young squad, what we can expect from the team remains to be seen, but what about the schedule? Here's the best and worst of this year's slate.
Best road trip: at West Virginia, January 27
This year's SEC/Big 12 Challenge will take Kentucky to Morgantown, West Virginia for the first time since 1970. If I had to pick one road trip to take this season, this would be it. Not only are the 11th ranked Mountaineers really good, they're already hyped about hosting the Cats, with Bob Huggins inviting John Calipari to his annual fish fry the night before and couches being put aside in anticipation of postgame celebrations. If you want to see what Kentucky can do against a quality opponent in a rowdy road atmosphere, this is it.
---
Best road trip with the worst timing: UCLA in New Orleans, December 23
I made a pact with myself several years ago to never fly or go to Wal-Mart on Christmas Eve, but I'm breaking it this year because I also made a pact after the 2012 National Championship to never pass on the opportunity to see Kentucky play in New Orleans again (biggest regret of my life). Sure, the timing of this trip sucks, but New Orleans is worth it for the food alone. This game doesn't have quite the drama as last year's now that Lonzo is in the NBA, but the other Balls will still be there (well, maybe not LiAngelo), and I can't wait to see what Frenchman Street looks like in Christmas lights. Plus, being at the airport on Christmas Eve won't be so bad if you're surrounded by Kentucky fans, right?
---
Sneakiest non-conference game: Vermont, November 12
Kentucky's biggest test early in the schedule is clearly Kansas in the Champions Classic Tuesday night, but don't sleep on Vermont. The Catamounts are a dangerous mid-major squad with two players that can ball in Trae Bell-Haynes and Anthony Lamb, and could catch this young group of Cats off guard, especially if they're looking ahead to Kansas.
---
Inevitable "WTF" SEC road loss: at Arkansas, February 20
There are obviously bigger SEC road games this season (Missouri, Florida, Vandy, Texas A&M), but Kentucky always loses one road game they're not supposed to, and this year, I think that happens in Fayetteville on February 20. This game is at 9 p.m. on a Tuesday night, sandwiched between home games vs. Alabama and Missouri, making it prime for a clunker. Add in the fact that Mike Anderson loathes John Calipari and the Razorbacks want to beat Kentucky so badly they're already marketing it as a "Payback" game, and well, I hope I'm wrong.
---
Best SEC road trip: at Missouri, February 3
Missouri has the best freshman in the country in Michael Porter and will pull out all the stops when they host Kentucky on Saturday, February 3. The game has already drawn the CBS slot and "College Gameday" will probably come to Columbia as well. If you're looking for a fun SEC road trip to take with your friends, Columbia, Missouri is my pick.
---
Worst SEC road trip: at Tennessee, January 6
Kentucky has lost every game I've covered in Knoxville, so I'm hoping I can stay on my side of I-40 this year. Knoxville has some okay areas (Market Square/Gay Street), but I've generally had terrible experiences there, and so have the Cats. It's a close drive for a lot of Kentucky fans, so if you do go, maybe you can change the luck.
---
Best chance for a loss at home: Florida, January 20
Florida's ranked 8th going into the season and many believe they'll win the SEC over Kentucky this year. With KeVaughn Allen, Chris Chiozza, and John Egbunu all back, if there's an SEC squad to beat Kentucky at home this season, it'll likely be the Gators, especially that early in the SEC slate.
---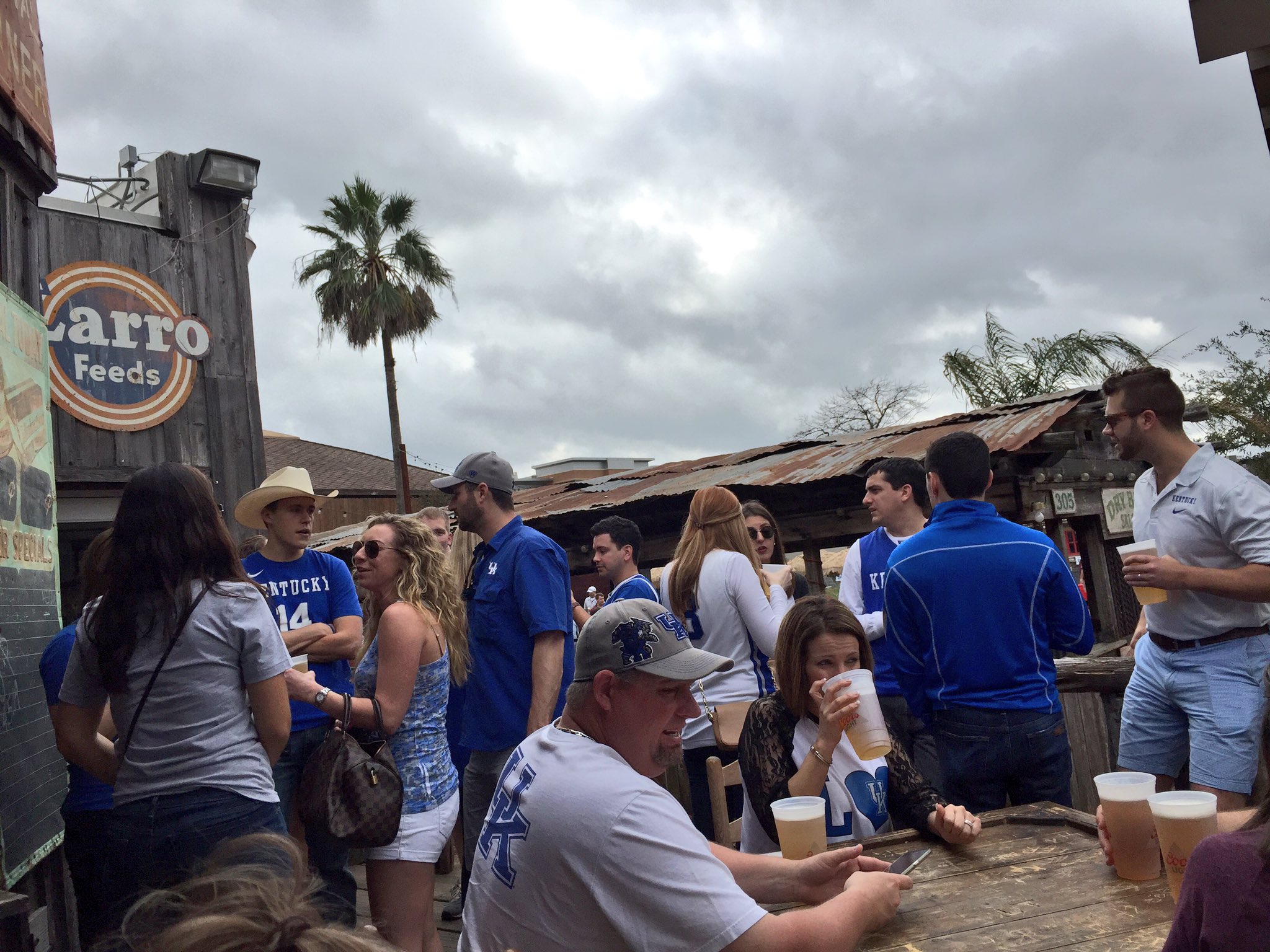 Best SEC road bar: Dixie Chicken, College Station, Texas
College Station is quite the haul from the Bluegrass, but the Dixie Chicken may be reason alone to go. Kentucky plays Texas A&M on Saturday, February 10, making this a perfect midwinter road trip. The Aggies are legit, with two of the best big men in the country in Robert Williams and Tyler Davis, and there's no better place to pregame than "The Chicken," a classic Texas dive that will be packed with fans from the Houston and Austin UK Alumni Clubs. Just brace yourself for the bathrooms.