Over the past few seasons, I've been fortunate enough to cover some of UK's SEC road games for KSR. Along the way, I've also been reviewing the venues across the SEC, and on Saturday, I visited Texas A&M's Reed Arena for the first time. Before I give you my thoughts, here are my past reviews:
Vanderbilt's Memorial Gymnasium
Auburn Arena
Alabama's Coleman Coliseum
Ole Miss' Tad Smith Coliseum
South Carolina's Colonial Life Arena
Florida's O'Connell Center
Mississippi State's Humphrey Coliseum
Georgia's Stegeman Coliseum
Arkansas' Bud Walton Arena
Tennessee's Thompson-Boling Arena
---
Reed Arena
Opened: November 22, 1998
Capacity: 12,989
Exterior: 2.5
Much like a lot of Texas A&M's campus, Reed Arena doesn't have a ton of character. It was built in 1998 for $36 million and named after its primary donor, Chester Reed, class of 1947. The outside is relatively bland, especially when compared to shiny new Kyle Field. The facade features the Aggie ring crest, which, as I learned during this visit, is a big, big thing at Texas A&M.
Interior: 3
There's nothing particularly beautiful about the inside of Reed Arena — in fact, the beige siding reminds me a lot of the outside of Rupp — but it's a cozy, LOUD environment. In 2014, the concourses and entryways were renovated with new design schemes, TVs and artwork, giving some character to an otherwise boring cinderblock space. It's hard to capture in a picture, but I particularly liked the video displays of big moments in Aggie basketball history:
Something like that would be really cool at Rupp.
Flow: 4
Given that the arena only holds about 13,000 people, the flow in the concourses was just fine. I did think it was odd that the entries to each section had doors instead of being open like at most arenas, but apparently Reed Arena is used for a variety of purposes, so maybe it has something to do with that.
Concessions: 3
Standard fare of hot dogs, popcorn, nachos, etc. Outside of the Rowdy Dog, nothing spectacular.
Standard hot dog price: $4
Popcorn: 3
Sadly, I didn't get a chance to sample the popcorn, which is really a shame because I missed out on the media meal and was starving; however, the line at the concessions was pretty bad. Until next time, I'll give it the industry standard 3.
Signature food: 4
Texas A&M offered three different "Rowdy Dogs": The Slovacek Jalapeno Cheddar Sausage Dog for $8, the Slovacek Foot Long Aggie Dog for $9 (chili and shredded cheddar), and the Slovacek Standard Aggie Dog for $7. While I did not sample them, my husband did and said they were terrific.
Bathrooms: 3
Clean, which is sometimes all you can ask for.

Scoreboard: 3.5
Reed Arena got a new center-hung scoreboard in 2006, along with new ribbon boards throughout the arena. While a little dated, the scoreboard is light years beyond what UK currently has in Rupp. Four large video boards show replays and there's still room for the player-by-player stat boards that make life as a sports blogger much easier.
PA System/announcer/music: 5
I can't say enough about the environment at Reed Arena. The building itself may not be flashy, but damn, do they put on a good show. Even though it wasn't totally full (despite being billed as a sell-out — more on that later), that place was rocking from start to finish. There was a DJ in the student section, the pep band was loud, and the Yell Leaders, well, they were weird, but effective (more on that later too).
Fun stuff: 5
Texas A&M is a school of traditions, and at the beginning of each half, fans link arms and legs and sway back and forth to the Aggie War Hymn. The motion is supposed to mimic a sawing blade, a reference to Texas and "sawing Varity's horns off."
They're swaying here at A&M pic.twitter.com/VUQn1D8T3o

– Tyler Thompson (@MrsTylerKSR) February 20, 2016
It's kind of awesome. Apparently, when fans sway at Kyle Field, it moves the entire upper deck. I was also a fan of the giant inflatable hot sauce bottle that flew around the arena before the game.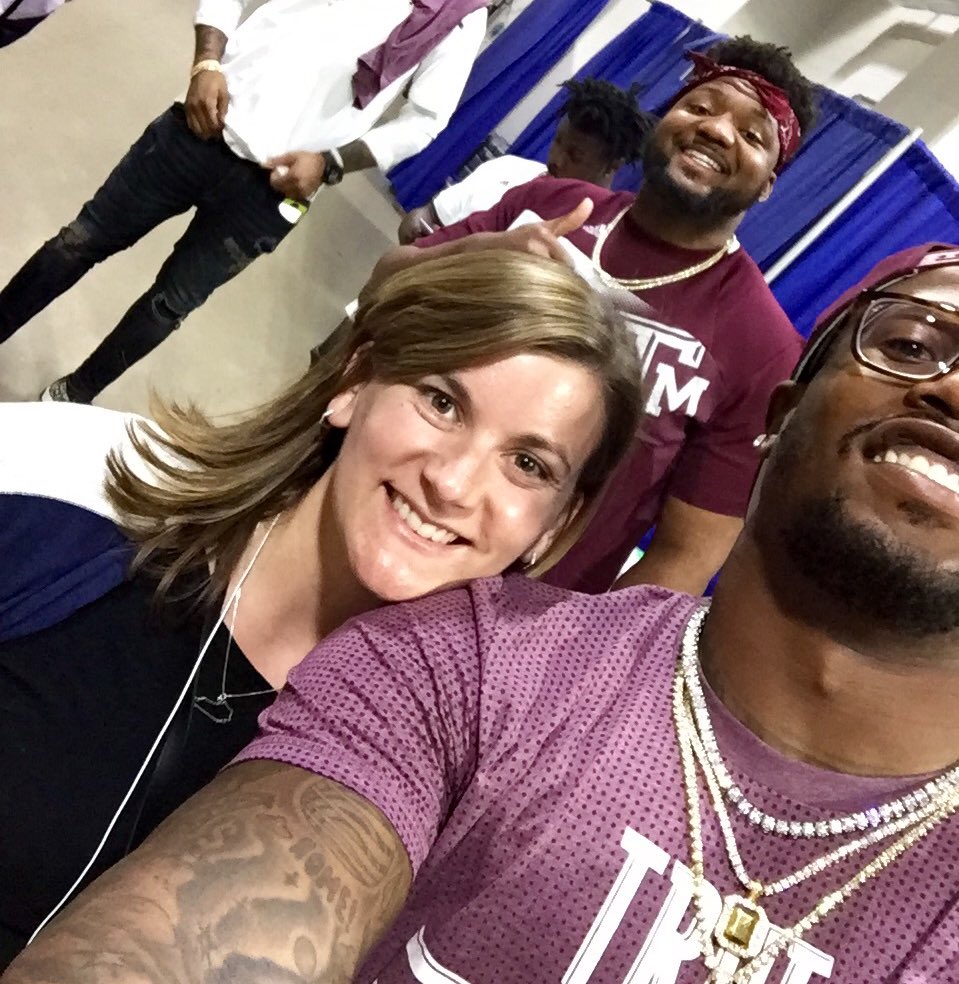 Former Aggie and Super Bowl MVP Von Miller was at the game, and honestly, I think fans were more excited to see him sitting court side than the game itself. Props to Miller, who was very nice when I shamelessly asked him for a selfie at halftime. He must have taken a million selfies that night and never complained. This picture of him dancing with the dance team is kind of great:
Pep band: 5
Granted, I was sitting right next to them, but they were great. Nicknamed the "Hullabaloo Band," they kept the crowd active and involved, even though they were splitting time with the student section DJ.
Halftime show: 4.5
I was backstage trying to find food and get a selfie with Von Miller, so I missed most of the halftime show, but I did catch a few minutes. Gizmo the border collie and another dog did frisbee tricks for the crowd, and, since I'd rather hang out with dogs than people, I was a huge fan.
Here's Gizmo performing his tricks at Liberty University:
Souvenirs: 5 
Kentucky and ESPN's "College GameDay" were in town, so it was a white-out, each fan getting a free white commemorative t-shirt.
Ticket price: 4
Tickets range from $10-$25, so it's very affordable to go see a game; however, even though Texas A&M billed Saturday's game vs. Kentucky as a sell out, there were several empty sections in the upper corners. Making the whole thing even stranger is there were very few scalpers outside. The game had been sold out for months, so it's almost like a booster bought up a bunch of tickets to ensure Kentucky fans couldn't get in. The BBN proved him wrong.
Ushers: 5
Incredibly nice and helpful.
Press area/meal: 2.5 (Incomplete)
The press area was fine, albeit cramped. I can't comment on the press meal because I didn't get to eat it. I spent the early part of the afternoon at the Dixie Chicken with my husband and friends, so by the time I got to the arena (about 45 minutes before the game), all the food had been cleared. Apparently it was just a box lunch, so I didn't miss much, but I'd only eaten breakfast that day, so at halftime, I gave in and settled for the squished granola bar that's been in my computer bag for months.

Student Section: 5
I'll give it to the "Reed Rowdies": they were loud. The student section takes up the entire baseline section near the visitor's bench and the upper arena above it. They had plenty of signs, some of which were creative, and plenty of energy, even though most of them had been going since GameDay at 10 a.m. During Kentucky's intros, each section behind the basket held up "BTHO Kentucky" (Beat the Hell Out of Kentucky) newspapers, an old school move which I actually really liked. When the lights dimmed for A&M's intros, they balled up the newspapers and threw them at the court.
Then there are the Yell Leaders:
Look, I love tradition. It's one of the things I liked most about Texas A&M's campus and frankly, it made me a little jealous. Kentucky doesn't have a ton of in-game traditions outside of the Cat pyramid, the Go Big Blue and C-A-T-S chants, and well, I guess Dancing Guy, so, I really do admire the pomp and circumstance surrounding the Aggies' athletic program. But man, the Yell Leaders are strange. In a tradition that dates back to 1907, a group of five men is selected by the student body to lead students in a series of "yells" during games. (Fortunately, it sounds like they are about to accept their first female Yell Leader.)
This being my first time seeing the Yell Leaders in person (outside of maybe SEC Tournament), it was…odd. First off, the kids look straight out of the movie "Pleasantville," all clean cut hairdos and pressed white outfits. If a mom could draw up the perfect person for her daughter to marry, it's a Texas A&M Yell Leader. I doubt they even curse, or if so, they go back to their rooms and wash their mouths out with soap. Given that A&M is a military school and wasn't even coed until the 60's, the Yell Leaders are their version of cheerleaders (they also have a female dance team now). It's hard to explain how bizarre it is to see them in action, so here's a video:
I can hate all I want, but they were effective. Reed Arena was nuts the entire game.
BBN Effect: 3.5
Given the difficult ticket situation, it wasn't easy for Kentucky fans to get into Reed Arena, but they did. There was a decent smattering of blue, especially considering Texas A&M is so far away. There were even more Kentucky fans at the Dixie Chicken, a popular bar near campus. The Houston and Austin UK Alumni Clubs chartered buses to come to the game, and "The Chicken" was hopping with fans all afternoon: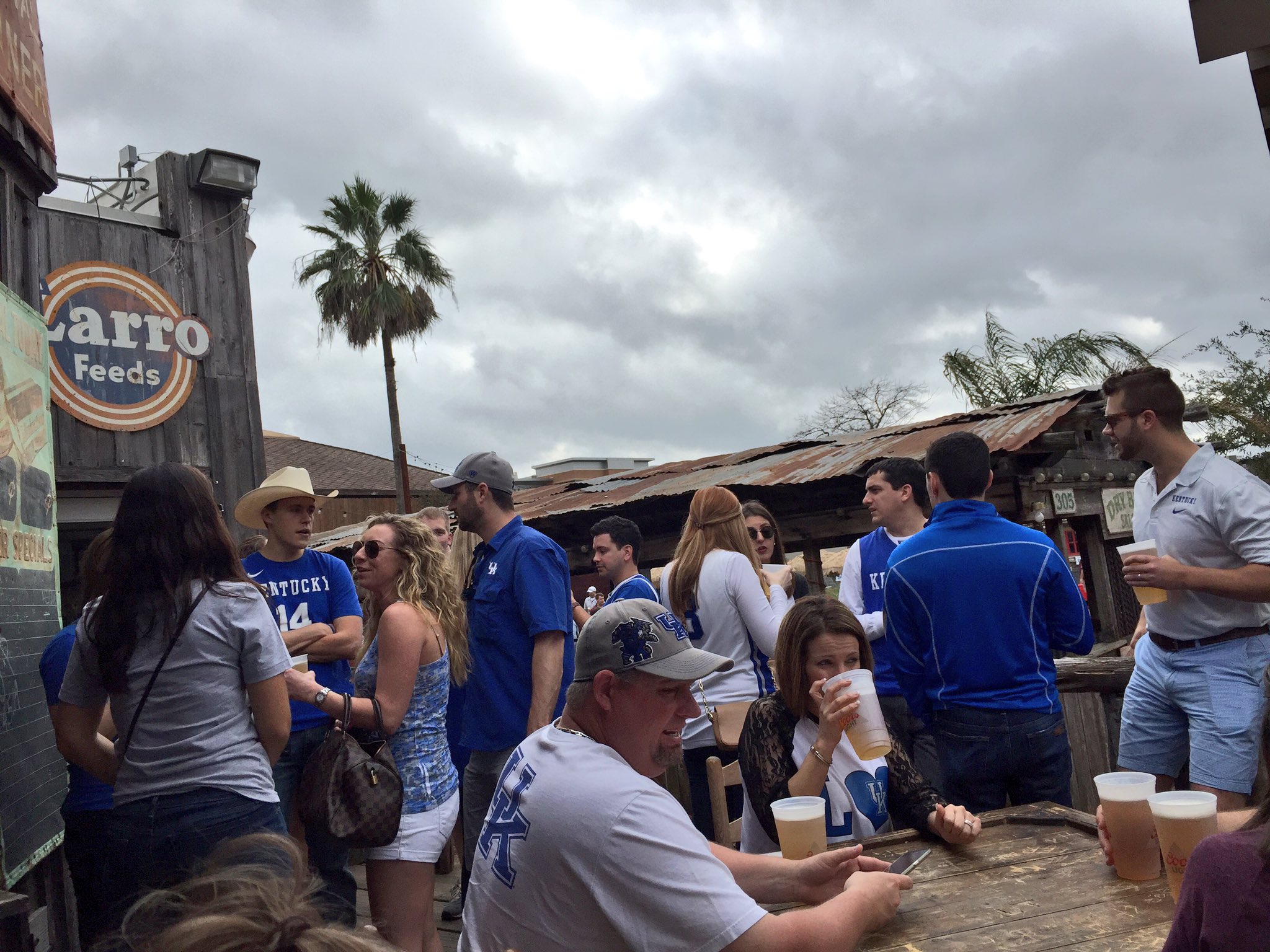 These were two of my favorite shirts:
GBB chant count: At the Dixie Chicken — 3; at the game — 6
Campus/town: 4
My husband came with me on this trip because two of our great friends now live in Houston, so this was a good chance to stay with them, especially since one of them is a huge Texas A&M fan. So, when we rolled into College Station on Saturday, we had an excellent tour guide who showed us around the campus and town. I learned there are a few things you must do while at A&M, and one of them is visiting the Bonfire Memorial:
Without going too in-depth on this, the Bonfire Memorial honors the collapse of the ritual bonfire structure in November 1999. Building a bonfire prior to the Texas game was an Aggie tradition going back to 1909, and it was a huge part of student life, with students designing, building, and lighting the fires each year…until 1999, when the structure collapsed during construction, killing 12 people (given the "12th man" motto, a cruelly ironic number) and injuring 27 more.
The rest of A&M's campus is alright. It's an agricultural and mechanical college after all, but there are some really pretty parts, such as the Bonfire Memorial, the George Bush Presidential Library, and the ridiculous Kyle Field:
Words cannot do justice to how stunning the newly renovated Kyle Field is. I've been to plenty of stadiums in my day, and it is by far the most impressive, as it should be at a price tag of $485 million. It now seats 102,512, making it the largest football stadium in the SEC. That SEC and football money is clearly treating A&M well; several other parts of campus are also getting major upgrades, and as my friend put it, the Aggies have to be kicking themselves for not joining the SEC earlier.
The town of College Station is pretty much as advertised: all about the college. There's a cool strip of bars and restaurants called Northgate, the centerpiece of which is the Dixie Chicken. "The Chicken" is part roadhouse, part pool hall and claims to serve the most beer per square foot of any bar in the United States. It was covered in Cats fans on Saturday.
Overall atmosphere: 4.5
The Aggies have taken Kentucky to three overtimes in the past two seasons in Reed Arena, which lived up to its billing as one of the loudest venues in the SEC. The building may not win any design awards, but the crowd more than made up for it, giving the Cats all they could handle and then some as the game went on. Despite the hostile atmosphere, every A&M fan I met was courteous and polite. I'm not sure I'd put Reed Arena on my bucket list or anything, but it's definitely a fun trip I'd make again…but only if Pat Adams stays at home.
Total score: 79/100
Previous scores:
Auburn Arena: 84/100
Arkansas' Bud Walton Arena: 79/100
South Carolina's Colonial Life Arena: 77.5/100
Alabama's Coleman Coliseum: 76.75/100
Georgia's Stegeman Coliseum: 75.5/100
Florida's O'Connell Center: 74/100
Vanderbilt's Memorial Gymnasium: 71.5/100
Tennessee's Thompson-Boling Arena: 69/100
Mississippi State's Humphrey Coliseum: 69/100
Ole Miss' Tad Smith Coliseum: 68.5/100