What a night.
Big Blue Madness 2018 has officially come to a close, and once again, Kentucky basketball put on quite the show. We got a bit of entertainment, competition, Kentucky pride, and everything in-between. With plenty of five-star recruits in attendance, they certainly gave their best pitch. Those who may have been leaning toward other schools were absolutely given something to think about.
Here are the top-ten things we learned from yet another impressive Big Blue Madness:
This group knows how to have a good time
From the second they walked off the bus at the Blue Carpet, you knew they were ready to put on a show. Say what you want about their outfits, but (minus Jonny David) the entire came out in their favorite look top-to-bottom. They had quite a bit of swagger.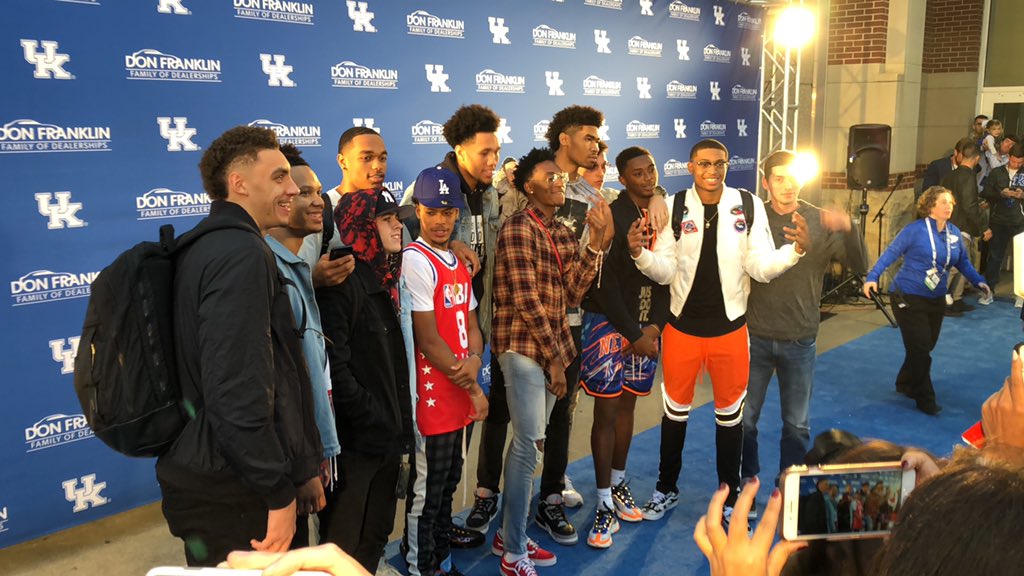 Grinning ear-to-ear, they stood their posing for pictures and participating in interviews. They carried that same happiness into Rupp Arena for the main event.
During player intros, just about every player on the team danced and had fun. Nick Richards shot a t-shirt out of a cannon. Keldon Johnson came out in a Purge mask and custom-made shoes from the havoc-ridden blockbuster movie series. Immanuel Quickley gave us our best dance since Archie Goodwin in 2012.
When the actual basketball events started, they continued their dancing and smiling. They were interactive and filled with joy. It was just fun to see.
For how much we craved personality from last year's group, we got more than enough to make up for it tonight alone.
John Calipari is still the King of the Bluegrass
It's no secret Coach Cal is a fan of the spotlight. Every opportunity he can get in front of a camera or microphone, he takes advantage. And once again, he dominated when the lights were at their brightest.
Calipari walked onto the Rupp Arena floor and gave it his all in yet another State of the Program address. He discussed his former draft picks, what it takes to play at Kentucky, and just how proud he is to coach this basketball team. When Coach Cal speaks, people listen, and tonight was yet another perfect of it. He had the entire crowd at the edge of their seats.
I looked over to Drew Franklin on press row immediately afterward and said I would commit on the spot if I were a five-star recruit visiting. Take away the bias, there's zero doubt in my mind I wouldn't be a Wildcat before the night was over. He's given some impressive speeches in the past, but this was one of his best.
You can listen to it in its entirety below:
UK Athletics has adjusted to build excitement
Last year, they split the time right down the middle between the men and women, with each team getting introductions, warmups, drills, and a scrimmage. After the initial hype videos and introductions, it was pretty cut and dry, and it made for a slightly boring overall product.
They added the Blue Carpet experience last year, and it was a success. They continued it this year, and it was even bigger and better.
Instead of watching a bunch of warmups and drills from both teams, they jumped right into the action. In its place, we got to see the debut of three-point and dunk contests, both major successes. We saw the introductions, a few lay-up lines, and then action. Much more efficient and entertaining for the fans.
The three-point contest was fun, but the dunk contest was next-level entertainment. We saw players throw down windmills, jump over teammates, and off-backboard alley-oops, among other dunks. PJ Washington and Keldon Johnson stole the show, but all participants added their own bit of fun to the event.
We have plenty of shooters. Good shooters.
Last year, there were times absolutely no one could get shots to fall from the perimeter. That lack of consistency resulted in Kentucky's long-standing record of most consecutive games with a made three-pointer come to an end. It also resulted in some tough losses along the way.
This year, we won't have any of those problems, and we should be prepared for some wild shooting nights.
Tyler Herro is a lights-out shooter, as is Immanuel Quickley. They battled in a three-point contest, with Quickley edging Herro for the victory. They'll both be knockdown shooters this season.
Beyond those two, we have Jemarl Baker, Quade Green, and Keldon Johnson, who Calipari said earlier this offseason was Kentucky's most consistent shooter. PJ Washington also looked good in the contest, significant progress from last season. If need be, Brad Calipari can knock down shots, as well.
Hell, even Nick Richards reached double-digit makes from deep in the three-point contest.
This team will score a ton of points this year, and plenty of them will come from beyond the arc.
It's #NewYearNewMe for PJ Washington
We saw a new and improved PJ Washington in the Bahamas back in August, and that took another step forward tonight. The sophomore forward worked on his body this summer, slimming down and adding muscle.
During the dunk contest, Washington was extremely athletic and bouncy, a major change from last season. In the three-point contest, he was knocking down shots and his form looked fluid and comfortable. He was running the floor better, his lateral movement was much-improved, etc. He didn't have to rely on bully-ball to get buckets and make an impact.
Sources told KSR this offseason the coaching staff feels Washington has SEC Player of the Year written all over him, and we saw some of that tonight.
Keldon Johnson's ankle is perfectly fine
We were worried about Keldon Johnson's ankle following Kentucky's Pro Day last week, and he quickly showed us he's just fine.
Goodness gracious, is he an athlete. He had a bit of a rough start to his dunk contest, but finished with a bang. Several, actually.
Keldon Johnson takes flight. #BBM18 pic.twitter.com/4SMRMZCVI5

— Kentucky Basketball (@KentuckyMBB) October 13, 2018
He jumped over teammates, tossed alley-oops to himself, went between the legs, and everything in-between. He came in second in the contest, but that's mainly because Washington just dominated the event from start to finish. Johnson still had some huge moments.
In the scrimmage, however, he went out of his way to tear the rim off. He caught crazy alley-oops and threw down dunks in transition. He's going to dunk on some fools this season, and I'm all for it.
The scrimmage was pointless
Speaking of the scrimmage…
From the tip, it was absolutely pointless. There was no competitiveness whatsoever, as the players dedicated all of their time to entertaining the fans. It resulted in horrible shot selection and sloppiness, and Calipari eventually called it quits over a minute early.
Usually we all wait for those final few minutes of Big Blue Madness for the scrimmage for our source of entertainment, but tonight, all of that came prior.
We got to see this team play in real games in the Bahamas, so them taking this scrimmage lightly is not a big deal at all. I'm sure we'll see some real competitiveness at the Blue-White game.
Matthew Mitchell's dancing has run its course
When the Kentucky women's coach first came out dancing in 2010, it instantly became one of the most popular aspects of Big Blue Madness. Since then, we've seen The Dougie, Michael Jackson, James Brown, and MC Hammer impersonations, among other dances.
This year, however, it just felt… different. It truly feels like Mitchell is inching toward calling it quits in the dancing department. He still danced, and it looked good, but his time on the floor was much shorter than past years. He checked a box before turning his focus on the team and getting them on the floor, not entertaining the fans.
Don't be surprised if this is one of the last few times we see Matthew Mitchell dance at BBM.
The former Cats came out in full force
John Calipari brought out the living members of Adolph Rupp's championship teams, and then followed it up by bringing all of the other former Wildcats on the floor.
Everyone from Kenny "Sky" Walker to Rex Chapman to Nazr Mohammed to Tod Lanter was in attendance and found their way to the floor. Richie Farmer even made his first appearance back to Rupp Arena, which saw a slightly awkward and uncomfortable response. Calipari also mentioned Rick Pitino, drawing boos from the BBN.
They each made their way through the Blue Carpet, a big opportunity for fans to interact with them and give thanks for their time in blue and white. It was fun for both sides.
As a side note, the current Wildcats shook every hand of the former Rupp players, which was extremely impressive. Incredible character.
It's going to be a fun year
They're talented, entertaining, and have incredible personalities. They work hard and fight tooth-and-nail. They're going to go right at the throats of opponents this year.
I like my team.