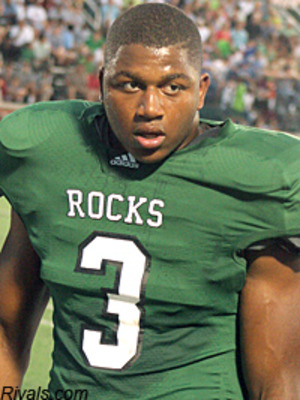 In the least surprising news of the day, James Quick has decided to take his talents about 10 minutes down the Watterson Expressway to the University of Louisville. Kentucky's staff tried to make headway with Quick since coming to Lexington, but Louisville's hometown pull was too much to overcome.
Interestingly enough, the website Cardinal Dominance also reported a few hours before Quick's decision that Trinity High teammate Jason Hatcher will be joining Quick at Louisville next season as well, although no official word has come from Hatcher himself. Hatcher, a USC commitment, also holds offers from Florida and Alabama and will be visiting Kentucky next weekend to take a tour of campus and facilities. Defensive Coordinator D.J. Eliot and Mark Stoops have tried their hardest to land one of the state's best prospects to shore up the defensive line and seemed to be making headway, but if this story turns out to be true then the 'Cats may have lost another one to that school down I-64. It should be noted though that Hatcher still has official visits planned to Kentucky (January 12th) and Florida (January 25th) before Signing Day so until the word is spoken from the man himself, the race for his services isn't over.
Who knows, this football recruiting stuff is confusing.