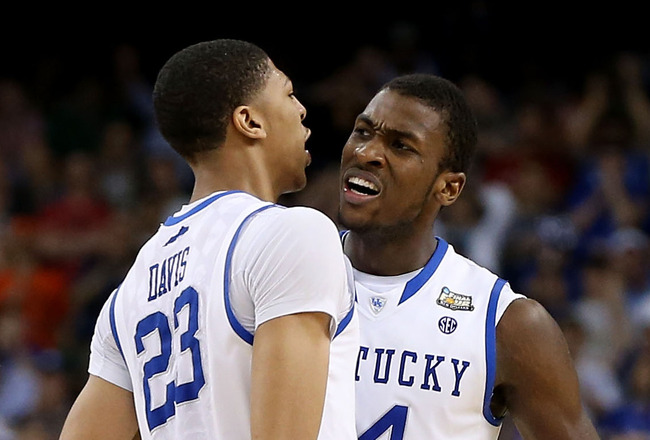 Larry Vaught of Vaught's Views and Verizon Droid fame dug up some interesting quotes from one NBA scout who is very critical of Michael Kidd-Gilchrist and John Calipari's system. The scout asked to remain anonymous, in case his team takes a Wildcat, which was probably a good idea considering the things he said about UK.
"The interesting thing, and it's not a knock, but there is this Kentucky mystique that Calipari has done a great job creating and perpetuating," the scout told Vaught. "The best part about Kentucky's system is that it can hide so many flaws at first glance."
OK. We can tolerate that. He is entitled to his opinion. But he talked about MKG????
"MKG is a good defensive player, but he isn't as good as people believe. Having Davis camped around the rim allowed players to play defense in a way which minimized their weaknesses," he said.
And then Marquis.
"The threat of the lob made Teague out to be a better point guard than he really is."
And then how unprepared Kentucky players are for the league.
"In reality, the Kentucky system is smoke and mirrors. I remember being out in Vegas for a Summer League and I was sitting and watching games with a long-time Director of Scouting in the league. He said he was stunned at how unprepared Kentucky players were for the NBA, and he had drafted one of them."
You mad, bro?
[Vaught: NBA scout says Kentucky system hides flaws in players]