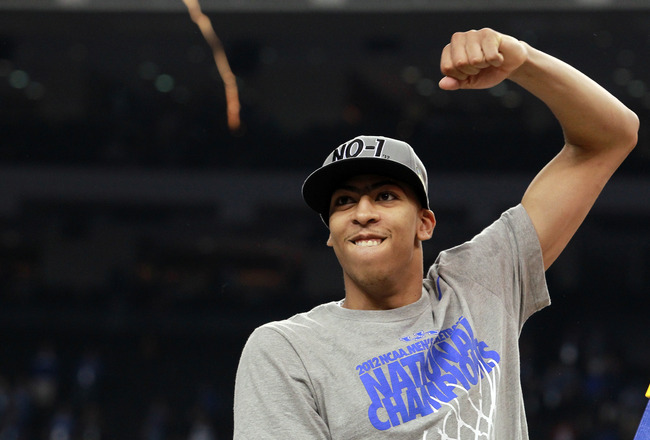 (Ronald Martinez/Getty Images)
Mock drafts of the NBA surely are fun to look at, especially when you have so many former Kentucky players entering the league. Projecting where the Cats and others may land is an art, but sometimes pure conjecture on the part of the experts.
Obviously Anthony Davis is by far the best player in the class, and whether it's Charlotte that lands the first pick or not, Davis is going No. 1 overall. But which team would be best suited for his services? Are the Bobcats the best place for him to land? Kyle Boggs of the Bleacher Report gives the power rankings for the best fit for Anthony Davis, and the future for Davis in Charlotte doesn't look pretty.
10. Charlotte Bobcats

Coming off one of the worst seasons in professional sports history, the Charlotte Bobcats have nowhere to go but up.

Anthony Davis' shot-blocking prowess would immediately help a defense that ranked 27th in the NBA in points allowed per game.

He would also be able to develop chemistry with a young, potential backcourt star in Kemba Walker.

If Charlotte gets the No. 1 pick, Bobcat fans will hang the hopes of a franchise on Davis' narrow shoulders. Davis is a phenomenal basketball player, but being counted on to resurrect a franchise that did so poorly is too tough a task for a 19-year-old.
It is understandable how unfortunate the situation would be if Davis were drafted into in Charlotte. But I'm sure the millions of dollars he'll be showered in will make things all better. So which team would be the best fit, you ask? With less than a 1% chance to earn the pick, Boggs says the Bucks.
1. Milwaukee Bucks

The Milwaukee Bucks have an electrifying backcourt with scoring sensations Monta Ellis and Brandon Jennings.

What they lack is a big man.

Enter Anthony Davis.

Milwaukee is the perfect landing spot for Davis. He can mop up missed shots from Ellis and Jennings. He can help erase their defensive lapses by putting shots into the front row. And the trio can grow together, as Ellis is 26 and Jennings is 22.

That makes Milwaukee a scary team in the East.
Other than your favorite team, where would you like to see Davis go? Give him the best situation to grow as a player and make an even bigger name for himself than he already has.
Click here to see the top 12 teams Boggs ranked for the best suitors for Davis. He actually has Sacramento as the second-best fit. Imagine DeMarcus Cousins and Anthony Davis down low for the Kings. Now that would be fun.