Archives by date
You are browsing the site archives by date.
Well, it's official.  The Men's basketball regular season is over.  It's tourney time!  March Madness is upon us!  Earlier tonight, the full SEC bracket was released.  The first round of the tournament begins Wednesday, and will conclude with the Championship game on Sunday at 3:15 PM.  Despite a disappointing loss today, the Cats will cling to a #2 seed heading into Atlanta.  This year will mark the 56th SEC tournament for Men's basketball, as Kentucky looks to win their 28th conference championship.  Kentucky begins tournament play on Friday, March 14th, at 7:00 PM.  The Cats will play the winner of LSU and Alabama.
Without further delay, let's have a look at the full SEC bracket.
Now on to today's news:
– Matthew Mitchell and the UK Hoops team defeated South Carolina in the semi-finals of the Women's SEC Tournament.  It was a huge victory for our women's team, as they upset 5th ranked South Carolina with a of score 68-58.  Kentucky will play in the championship game tomorrow afternoon against Tennessee.  Today's win could also be a huge improvement for their seeding in the NCAA tournament.  A championship tomorrow may very well solidify a #3 seed for UK Hoops.
–  Calipari is going back to Dakari Johnson.  After today's 84-65 loss to the Gators, Calipari was quick to make some changes in the lineup.  During his post-game interview with Tom Leach, Calipari acknowledged the strong play from Johnson as of late.  "Dakari needs to be starting, and that's what we'll do," Calipari said. "He's the one kid who has fun with it."
-In a post-game meeting with members of the press, Julius Randle gave his opinion on what needed to be done to correct the mess in which Kentucky currently finds themselves. "We've got to get this thing going," said Randle. "We don't know what we've got to do, but we've got to get it going."
-Former Kentucky sharpshooter, Doron Lamb, finally figured out what time Kentucky played and witnessed what happened to the team that he used to play for. He took to Twitter after the game to let his concerns be heard by the world.
-John Calipari wasn't timid in stating what he thought might have cost Kentucky a chance at a comeback today. During his post-game presser, Cal let it fly.  "We did fight and gave ourselves a chance to win on the road. I thought we fought and did good stuff, but when it came down to a 6-8 point game, we took two God awful shots. Not just bad shots, but throws. They were throws. Those two shots were taken with 30 seconds on the clock. Throws. Absolute, no chance… nothing! You can't win playing that way." Coach Cal said he told the team during a timeout that they needed to be more patient and take better shots. Obviously, that message fell upon deaf ears.
The remainder of his press conference can be found below and is courtesy of KYWildcatsTV.
-During his post game press conference, Billy Donovan was asked about Kentucky and their season-long struggles. His answers were surprisingly positive (polite) regarding a team that just lost by double digits.  "I think Kentucky's as talented as anybody in the country," said Donovan. "They've got all the pieces, but there's always a process." The Gator head man further elaborated. "When a group of really talented players come into college, sometimes the expectations placed on them are unfair."
-While the basketball result wasn't what any of us wanted today, the baseball squad dispatched Ball State this afternoon by a final score of 24-1. "We did a great job at the plate," Kentucky head coach Gary Henderson said. "We scored a bunch of runs without an error. We had good concentration and didn't try to do too much. We also did a great job of swinging at strikes and looking at balls. We took advantage when we were in advantage counts." KYWildcatsTV has your highlights.
It is hard to pinpoint a collective emotion of the Big Blue Nation right now. When a sport fan's team is struggling, they commonly claim to be numb to the pain–they feel apathetic.  Maybe that is true for some, in fact, it is probably true to some extent for most.  Unfortunately for the health of the average Kentucky basketball fan, the words, "I don't even care anymore", are more of a coping mechanism than a truism.  
If we're to be honest, Kentucky basketball fans aren't capable of not feeling some type of strong emotion in regards to their team.  This year, "I don't even care anymore", reads to me, "Wow, this is so shocking and I truly have no idea how to feel." After each loss, Kentucky fans seem to be punching in the dark, trying to decide exactly how to handle this surprisingly disappointing season.  They don't know how to feel. Here are the most common emotions I've encountered while drudging through the muck of various UK messaging board communities and during conversations with fans. There is probably some logic in nearly all of the garbled emotions felt by Kentucky fans. I don't intend to disparage how anyone feels–that's the point I guess–confusion without uniformity is the common-thread.
1. The person who claims to be apathetic. I have been this person. Really (I say to myself)? You care so little, that in the middle of a beautiful Saturday, you are alone at your computer, pouting and scouring the internet. If you didn't care, A. you wouldn't be on an internet message board attempting to cope with the loss and B. you definitely wouldn't take minutes of your valuable time to actually post how little you care before divulging all of the things that have upset you about this team. The guy who truly doesn't care is the one you won't hear from.  He is also the one not reading this post.  You are not him or her.
Accept it: You, like the rest of us, care very much.
2. The person who is still holding out hope.  This person is still lucky enough to be living in a much happier time.  He still believes that the Cats will turn the corner. Anyone who doesn't think this is a bad fan.  He has many good qualities and it is sometimes very tempting to agree with him. However, it is usually more tempting to believe this person is delirious, depending on the extent of his ramblings.  He is usually found putting the loss in "perspective" for everyone, usually by pointing to similar losses by other teams (usually Kansas) and by drawing awkward comparisons between this Kentucky team and successful teams from the past. No one is exactly sure what this person's expectations are.  Does he still think we can win a national championship? Or is his hope more attainable–say, he believes that Kentucky will make it to the second weekend of the tournament.
3. The person who thinks this is the worst team he has ever watched play and he can't wait for all of the players to leave. He is the only person of this bunch that I truly can't relate to at all.  You know this guy.  He blathers on and on about how we will be much better next year when James Young, Julius Randle, and hopefully (in his delusional mind), the Harrison twins leave.  He claims that the twins are cancers to team chemistry and that James Young has no basketball skills.  In his mind, the team would be better off without them all.  
The Harrison twins catch the brunt of this guy's anger.  I understand that times have changed and that the freshmen excuse is old to most–but sorry, it is fact. THEY ARE FRESHMEN. And for freshmen, each of them have had good years.  The Harrison twins would go a long way to making next year's team very good. I for one, really, really hope and think that they will stay. 
4. The level-headed guy.  This is where most Kentucky fans fall, despite what rivals may say and despite this person's relative rarity in the online community following a loss.  They discuss this teams woes in a matter-of-fact and intelligent way.  They are rightfully disappointed and surprised by this season. They are frustrated by the past two teams but believe the necessary program adjustments will be made in the future and that Calipari has learned from the experience.  They also understand the difficulties faced by this young team. Their expectations have evolved with the season. They are hopeful that the Cats can make a positive showing in the SEC tournament followed with a respectable performance in the NCAA tournament.
The level-headed guy has some concerns for the program but still wholeheartedly believes that John Calipari is far and away the best coach for the University of Kentucky and would be very hard to replace. They remember the outstanding 22-year-career John Calipari has had and his unbelievable run thus far at Kentucky.  These more expansive factors, not this season, are better indicators of what is to come at Kentucky.
The spectrum of emotions and beliefs obviously don't end with this list.  It seems that no two people feel the same way.  The wild expectations that didn't seem so far-fetched at the beginning of this year have led to an unprecedented situation for Kentucky fans.
With 17:30 left in the game Florida had just scored to retake a 21 point lead. From that point the Cats exploded on a 15-0 run to cut the lead to six point with 12:25 to go. The Cats showed a flash of the team we all expected them to be and perhaps offered one final hope for some post-season success. Here's what I saw the Cats get right during that explosive 5 minutes:
Forcing Turnovers
For a bit Kentucky looked like the poised team ready to roll while Florida started to play tight. One thing that was present out of the second half gates was improved defensive intensity. The Cats were all over Florida as they blocked shots and forced the Gators into bad plays. Twice down the floor UF walked as they fell into a UK trap. Another possession James Young came up with a steal that lead to a transition bucket. For a team that has struggled all season long on the defensive end it was a nice sequence that displayed just how effective the team can be when the defense is working.
Finishing In Transition
Not only were the Cats finding success on the defensive end during that five minute span but they also were clicking offensively for the first time in what seems like weeks. During that stretch they scored on 7 of their 8 possessions and grabbed three offensive rebounds. The team has struggled to move the ball in transition all season long while also having issues finishing at the rim. Today they showcased an ability to move the ball to the rim for an easy score and almost made it look easy. For five minutes they looked like the team we all expected them to be before Donovan could adjust and the Cats ran out of steam.
Earlier this week Calipari talked about his teams finally clicking at all different times during the season. During that five minute stretch when the Cats had nothing else to lose thy finally looked like the light had come on. Now we are on to the SEC tournament and the rest of the postseason. If UK can somehow stretch that five minutes into 40 then maybe they can find the magic to make a run. As Dakari said after the game they still believe they can do it so we need to as well. That five minute run was the one glimmer of hope the Cats have left to salvage a season.
It's been a full slate of SEC action on this fine Saturday and the dust is finally about to settle on what has been a jumbled picture for the SEC tournament. Here are your current SEC standings:
1. Florida 18-0
2. Kentucky 12-6
3. Georgia 12-6
4. Tennessee 11-7
5. Arkansas 10-8
6. LSU 9-9
7. Ole Miss 9-9
8. Missouri 9-9
9. Texas A&M 8-10
10. Alabama 7-11
11. Vanderbilt 7-11
12. Auburn 6-12
13.  South Carolina 5-13
14. Mississippi State 3-15
Despite the late slide UK has the 2 seed locked up which means their next game will be Friday night but let's see a show of hands of who picked us to finish with the same SEC record as Georgia? Anywho, the Cats are on to the postseason and will play the winner of  10 seed Alabama and 7 seed LSU. Both are teams the Cats managed to take care of late in the year but LSU is not a team you'd want to play for a third time. Johnny O'Bryant is licking his chops for one more chance at the Cats.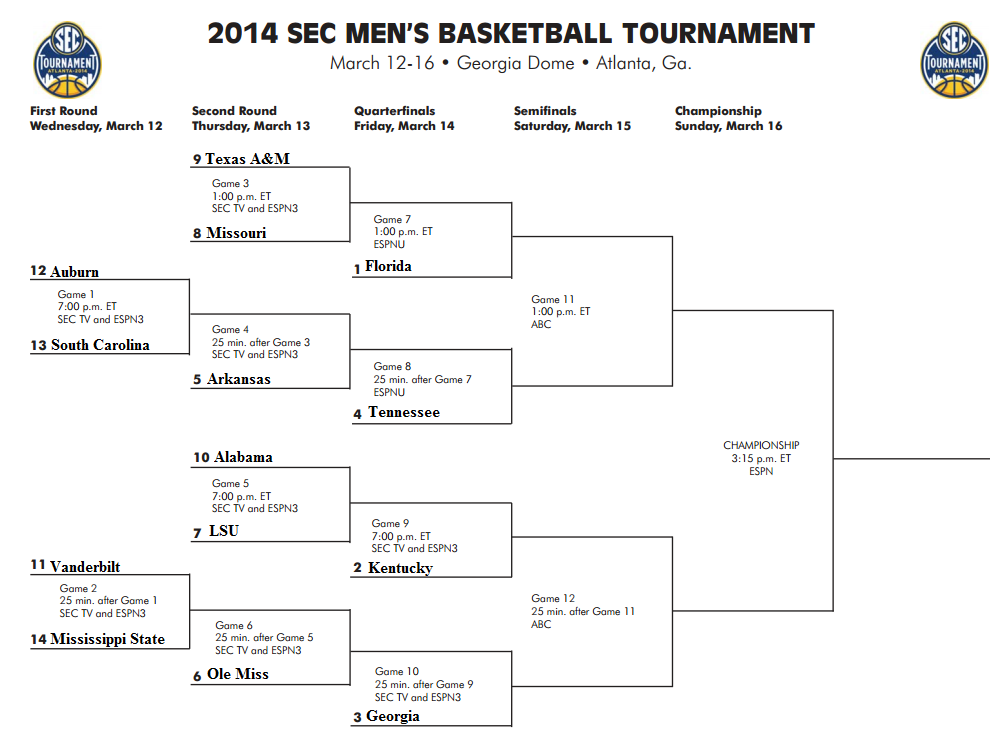 What do you think of how the SEC wrapped up and our road for the SEC tournament?
We may be all down on the Cats right now following the disappointing loss but there is still one person heaping some praise on Kentucky. That person is Florida coach Billy Donovan. Following the game Donovan had this to say, "I think Kentucky's as talented as anybody in the country. They've got all the pieces …but there's always a process." while going on to say they could "beat anybody in the country on a given night".
Donovan then went on to speak about UK's struggles following the preseason hype, "When a group of really talented players come into college, sometimes the expectations placed on them are unfair.". With hindsight being 20/20 we now know all the expectations were blown out of proportion but so is everything in the internet era.
What do you think of Donovan's comments on the Cats?
With a win over the South Carolina Gamecocks (YES), Kentucky has catapulted over the number one seeded team to the SEC Tournament Championship game, which will be played tomorrow at 3:30, versus either Texas A&M or Tennessee.  If we are being honest right now, I was really not thinking that the Cats were going to be able to pull out a victory this afternoon, but I love that they proved me wrong.  In true KSR fashion, today has once again, been filled with awkward encounters, ridiculous people, and #NaeNae 's.  So far, here's the Top Four encounters of the weird kind that we've had.
4. "GO CRY YA LITTLE CRY BABY!!!"
Wilder and I struggled early in our careers with press row etiquette (squealing pigs?) but until today, we had been pretty much subdued in our handling of the games.  Even today, us getting 'out of hand' was just a few side comments to each other about the fans sitting behind us.  One man in particular, who must have been friends with the Florida fans from yesterday, was convinced that he was officiating the game.  Every time the Cats had the ball, there was supposed to be a foul, a travel, or a charge.  This guy had been on our very last nerve all game, so when the final buzzer sounded and the Cats were the victors, I had a very smug "I hate you" smile to shoot to him.  After pictures and the Kentucky fight song, Mitchell was heading back to the locker room when this guy screamed at him, "PUT YOUR FACE IN THAT TOWEL AND CRY YOU CRY BABY, JUST LIKE YOU CRIED THE ENTIRE GAME!"  It was ironic because at the time, Coach Mitchell had the biggest smile on his face.  Bye Cocks, go home.
3. Eager?  More like #Turnt.
After our victory, Wilder and I headed to the press conference, which is customary.  We sat in the same seats we had been sitting in, and were so excited to hear what Coach Mitchell and gang had to say about the win.  While we were gearing up for note taking and social media overload, a beautiful melody began playing in the close by arena.  Something with such a riveting and incandescent cadence that one could not help but pause and take in all that is the NaeNae.  Something over came my body, and suddenly my right arm shot into the air, and I hit the NaeNae a few times.  The lady sitting behind me mistook this out of body experience for excitement over the press conference, and said to us, "Oh… eager are you?"  Rather than correct her and spend time explaining something that one does not simply explain, I let her believe that press conferences were my one true passion in life… cause why not?
2.  The Blizzard Question Incident.
For those that read yesterday, you'll remember that my silly locker room question was about mascots.  Well, if you follow the Hoops team closely, you'll recall that large victories are celebrated with a trip to DQ for some Blizzards.  When we were waiting on the green light to head into the locker room, Coach Mitchell and his daughter Sailor headed in, with Sailor repeating, "Ice cream party!" on the way.  Thinking that this could only mean one thing, I decided to ask the team about their favorite Blizzards.  The answers I got were priceless.  Bria Goss, in a very serious and deep voice, answered "My go to Blizzard… would have to be… the Reese's Pieces."  Bernisha Pinkett answered, "I don't eat Blizzards… I get a banana split with no chocolate, extra strawberries on the side," to which Wilder responded, "Ok so she's a diva.." and the two shared a moment.  The best answer came from DeNesha Stallworth, who let us know that "chocolate chip cookie dough" was her favorite, and acted like we should have already known that.  Cause, Duh.  Fun Fact: the guards seem to favor banana splits, while Walker and Stallworth, our post players, both like Chocolate Chip Cookie Dough.
1.  Another Whispering Accident
Yesterday, we had a problem with Wilder whispering when he should have been a little louder.  Today, we had a problem with me whispering a bit too loud.  One of our favorite coaches has always been Texas A&M's Gary Blair, who memorably called Wilder "rookie" last season.  When we were leaving the locker room and headed out of the arena, he and his coaching staff were headed out to the court to tip off against the Lady Vols.  I ever so sweetly whispered, "Come back here Gary Blair!!!" but it wasn't a whisper.  One of the members of his staff whipped around and looked at me with a face that said, "Wait wut?" and I can only imagine the petrified face that I made.  Please oh please Coach Blair, don't hold my excitement against me.  I just wanna be best friends and swap college stories and basketball tips.  Can we be best friends now?
In case you missed my Notes and Quotes from yesterday, you can check it out here. Make sure to join us tomorrow for our Live Blog of the SEC Finals!!
PS: Our hotel room is haunted.  The alarm clock went to white noise last night at 1AM, the shower randomly turned on for three minutes a little after that, then the ice machine produced a brick that thundered through the freezer.  Wilder is convinced it is the Rapture.