Archives by date
You are browsing the site archives by date.
Earlier today we were reminded by Drew Franklin that regardless of last night's very late and insane circumstance in Fayetteville, Julius Randle was was in his desk for class at 8:00 AM this morning.  I am here to remind you that he wasn't the only one in class this morning; today the college careers of seven members of the class of 2014 began.  The unofficial future of Kentucky football is finally in the building to begin learning immediately.  Here are some insufficient summaries from the two JUCO transfers and five early high school graduates.
Drew Barker–  The Future, Golden Boy, All-American, Big Blue Drew, etc. etc.  The 6'4 phenom showed in just two drives during the U.S. Army All-American Bowl that he is equipped with the tools to lead a Neal Brown offense; this semester he'll have the time to prove it to his coaches.
Mikel Horton– Neal Brown had nothing but good things to say about this powerful Ohio Running Back last week on KSR, "I think he's as good of a big running back as any other in the country." Horton will join forces with a swarm of fellow young'uns at RB.
Thaddeus 'Bluegrass' Snodgrass–  A joy to watch, this 4.4 40-yard dash WR committed to the Cats Live with Matt Jones on KSR.  The 4-Star prospect will get plenty of reps this Spring as the Cats try to add depth at the most inexperienced position, wide receiver.
Dorian Hendrix–  Avery Williamson leaves a HUGE void at MLB this year, a void that can hopefully be filled by the big fella, Dorian Hendrix.  The first commit of the 2014 class enters a linebacking core that returns only two players (Khalid Henderson, TreVaughn Paschal) with significant playing time.
T.V. Williams–  Every uptempo offense needs a 'Speedy Gonzalez' in the slot to stretch the field to create space for big plays.  TV can fill that role for the Cats, allowing the staff more room to do creative things with Ryan Timmons.
Cory Johnson (JUCO)-  While fans sweat out Matt Elam's decision for another few weeks, another gigantic defensive tackle is putting in work on campus.  Johnson was listed as 300 pounds, but when Mark Stoops announced the signing of Johnson in early December, he laughed it off saying that he was currently "at least 330."
A.J. Stamps (JUCO)- Not many people knew Stamps his freshman year as a wide receiver with Za'Darius Smith's East Mississippi Community College, but after switching to the defensive side of the ball it took Stoops' staff til the 11th hour to beat out Ohio State for the 6'0 cornerback's services.
It's easy to anticipate what they'll look like on the field, but it's even easier to forget the transition for high school kids to college.  It can be a little overwhelming to live on your own for the first time, and the schedule for D-I athletes can be brutal; Dorian Hendrix is starting to figure that out.
My schedule with School and football is gonne be tough

— Dorian Hendrix (@D_Hendrix14) January 14, 2014
How tough is it? Drew Barker's pic says it all:
😂😂😂 @D_Hendrix14 & @mikelhorton1 are a little tired from all of these academic meetings pic.twitter.com/xqEwUNqzxc

— -Drew Barker- (@D_Barker7) January 13, 2014
KSR is hearing Mark Stoops is scheduled to travel to western Kentucky, the best part of the state, to meet with class of 2015 super-recruit Elijah Sindelar on Thursday. Sindelar is a pro-style quarterback at Caldwell County, ranked 18th at his position by 247Sports in the class. The pride of Princeton currently holds offers from UK, Western Kentucky, and Toledo, but more are on the way because everyone we know who has seen him say he is the real deal.
He's already attended camp at Alabama, if that tells you anything.
Come on down.
Kentucky Wildcats TV has the video of John Calipari's press conference in Arkansas last night. Watch as Cal commends his opponent for playing a great game in the "tough loss" for his Wildcats.
Two quotes that stood out:
Kentucky didn't quit…
"I'm proud of my team that they didn't quit, they kept playing. We executed — that gives us a chance when it was, when we went down three. You know stuff that we've worked on, we did, and we got the shot we wanted. We're just — the last shot, the kid watched. My guy watched and the guy ran by him and dunked it. You know what? He's a freshman and that's what freshmen do."
Julius Randle would be a gold medalist in sumo wrestling running…
"(Randle) gets cramps because he gets whacked so much. It's hard. He's playing sumo wrestling and running. It's hard. That's a new sport. He'd be a gold medalist in that sport.
Also from Kentucky Wildcats TV, Julius Randle intervened to say the team shares the blame when James Young was asked about not boxing out on the game's final play. The video starts right as Randle chimed in:
Lost in all the pre-Arkansas excitement yesterday was the release of 247Sports' final Top247 for the 2014 football recruiting class. The last edition of the recruiting rankings came out Tuesday afternoon and only one Wildcat, Drew Barker, made the list.
Barker, the ninth-ranked pro style quarterback, moved up four spots to No. 109, while UK target Matt Elam saw a drop in his ranking. The John Hardin defensive tackle fell 12 spots from No. 9 overall to No. 21, and down one spot in the position rankings to the third best defensive tackle in the class.
Elam is scheduled to take his official visit to Alabama this weekend. Barker is already on campus.
Cats.
How, I don't know, but Julius Randle was up and at 'em early this morning, hours after arriving back in Lexington after the tough loss. Randle was in his 8:00 a.m. class, on time, and ready to learn whatever the professor was dishing out during Wednesday's lecture.
Keep in mind, eight hours earlier, Randle was sitting at a podium in Fayetteville, Arkansas answering questions as to why his team couldn't get it done in the closing minutes of a tough SEC road game. He then had to shower, board a plane with his teammates, and get back to Lexington. That puts him back in the bluegrass somewhere in the 3:00 to 4:00 a.m. range.
A student-athlete attending class should never be news, but sometimes we forget what these kids go through while working their tails off to keep us, the fans, entertained. Several of us struggled to make that 8:00 a.m. class in college when we were up late watching TV, three blocks from campus. And by several of us, maybe it was just me. I doubt that, though.
Someone get that man a nap.
We have a friendly competition this morning between two Louisville fans who have no respect for their bodies. We'll put their unique looks to vote in the comments section and whoever emerges victorious will receive a lifetime of failed job interviews and never-ending laughter wherever they are.
Happy voting. Good luck to both. Let's get to it…
Up first we have "502 Head," an oversized mural of blood red filth on the side of the skull. It looks like he went to the airbrushed t-shirt stand in Panama City and laid his head on the counter.
"I'll take the letter L in Old English, my area code, the fluers-de-lis symbol, and the Louisville Cardinal, please. Extra red if you can."
Next we have "Cardinal-Bird-Firing-An-AK-47-While-Standing-On-Rick-Pitino's-Head Leg Tattoo Guy." We've seen his haunting Rick Pitino tattoo before, but I believe it's the first time we've seen his AK-47-toting Cardinal and Denny Crum on the other leg.
So who will it be, folks?
Last night's loss to Arkansas marked Kentucky's fourth consecutive loss when referee Roger Ayers is patrolling the court with his exhausted whistle. Think about that for one second. Kentucky, a team that hasn't lost many games under John Calipari, lost its last four that Roger Ayers officiated.
In those four games, John Calipari received three technical fouls (his streak ended last night) and the opposing teams shot a combined 142 free throws. Better yet, Kentucky attempted fewer free throws than its opponent in all four games. May I remind you, Kentucky is ranked eighth in the nation in free throw attempts per game. Kentucky rarely makes fewer trips to the stripe than the other team.
Let's continue, shall we? John Calipari's record is 135-30 at UK over the last four and a half years. He is 2-5 when Roger Ayers is involved.
So we can all agree we've seen enough Rogers Ayers for awhile. He needs to stay away from Kentucky and stick to letting 11 players on the court in Sun Belt games.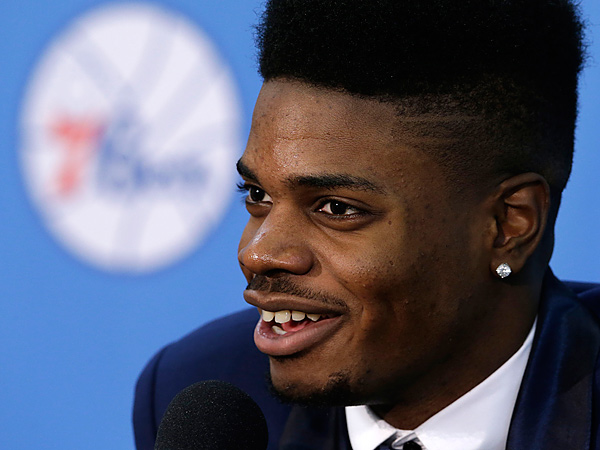 More from the Nerlens-Noel-Is-A-Good-Person Department, the former Kentucky big man surprised a Lexington high school student with the trip of a lifetime last night. Braxton Upthegrove, a basketball manger at Henry Clay who is awaiting a kidney transplant, received a video message from Nerlens during halftime of a game at the high school Tuesday evening. Nerlens told him he is flying Braxton and his mother to Thursday's game against the Miami Heat and then they'll spend the weekend together playing video games.
Can you think of a former UK player, or a player from anywhere for that matter, who does so much good off the court? It seems Nerlens Noel has a story similar to this one for every blocked shot he had at Kentucky. He's a great young man who understands the importance of giving back, with a bigger heart than you'll find on most 19-year-olds.
It feels like the game only ended a few hours ago, but let's talk about it some more on the morning after edition of Kentucky Sports Radio.  Matt and Ryan will do their best to recap Kentucky's painful 87-85 loss in Fayetteville last night, so get some more coffee and settle in for the next two hours.  ESPN's Jimmy Dykes called the game and will call in to discuss his thoughts as well.
Join in on the fun by calling (502) 571-1080.
Listen to Kentucky Sports Radio
KSR Affiliate List
WAIN (93.9 fm) Columbia
WHIR (1230 am) Danville
WCLU (1490 am) Glasgow
WHOP (1230am/95.3 fm) Hopkinsville
WJKY (1060 am) Jamestown
WLAP (630 am) Lexington
WFTG (1400 am) London
WKJK (1080 am) Louisville
WFMW (730 am/94.9 fm) Madisonville
WFTM (1240 am) Maysville
WKYM (101.7 fm) Monticello
WMSK (1550 am) Morganfield
WLME (102.7 fm) Owensboro
WKYH (600 am) Paintsville
WLSI (900 am) Pikeville
WPRT (960 am) Prestonsburg
WSFC (1240 am) Somerset
WTCW (920 am) Whitesburg
WBTH (1400 am) Williamson, WV
On Delay (ALL TIMES LISTED EASTERN)…
WBGN (1340 am) Bowling Green 11am-1 pm
WMTL (870 am) Leitchfield 11am-1pm
WLBQ (1570 am) Morgantown 3-5 pm
WRIL (106.3 fm) Middlesboro Thur 8-10 pm
WPAD (99.5 fm/1560 am) Paducah 5-7 pm