Archives by date
You are browsing the site archives by date.
Congratulations to Greg Oden, the former Ohio State star and 2007 #1 NBA Draft pick, who scored his first points in a regular season NBA game in four years tonight, coming off the bench for the Miami Heat.
It's been a long, hard road for Oden, who broke the patella in his left knee in 2009 and after rehabbing, suffered a series of additional knee injuries that led to the Blazers releasing him in 2012.  With Chris Andersen sidelined by sore knee, the Heat activated Oden Wednesday night, marking his first regular season NBA game in 1,502 days.  His first basket?  A dunk:
Oden finished with six points in eight minutes, which isn't bad for a 124-year-old man. (Remember the 'Greg Oden looks old' jokes?)
Now, onto the news and views.
The difference a dunk makes
I hate the term "moral victory," and I feel like after last season, we got really good at highlighting the good things in Kentucky's losses in order to keep this place from having the atmosphere of a funeral parlor.  Last night, as Michael Qualls threw down the dunk at the buzzer and closed the door on the Cats, oddly enough, I wasn't really that upset.  Arkansas won on a dunk at the buzzer. How angry can you get at that? Like Cal said, "I hate losing, but I'm fine. Those kids did not quit."
Now, some serious flaws were exposed last night.  I'm sorry, Cal, but I'm going to worry about free throw shooting.  I can't help it, they're free, and sometimes our best shooters seem to be missing more than our big guys.  Cal said that his players are hitting them in practice just fine, so if they need a crowd in the Joe Craft Center to simulate game situations, I know a few people around here that would be more than willing to help out.
Also, at times, this team still looks a little lost on offense, more often than not relying on second chance points.  On his radio show Wednesday night, Cal said that the team is still holding on to the ball too long and there are too many "ball-stoppers."  Translation: score and pass quicker.
However…
…a lot of good things happened last night.  The Cats didn't fold in a hostile environment, whereas last year they would have slunked out the door after the first half.  In fact, they fought back and took Arkansas to overtime.  It would have gone to double overtime if not for a freak dunk with 0.2 left.  Had the Cats won in double OT, the mood around here would be very different, as Cal pointed out on his radio show: "It's the first step that I've seen us fight, and it's funny because if we had won in double OT, any issues we had, you wouldn't think about."  Oh, logic…
The teamwork in the last ten minutes of regulation and overtime was excellent, showcasing the bonds the players formed over Camp Cal and the first weeks of SEC play.  For one of the first times this season, the team actually looked like they were having fun out there, and seeing them celebrate Andrew's three to take the game to overtime was awesome.  I also liked how Julius Randle wouldn't let James Young accept blame for the loss afterwards, telling reporters if "one person messes up, we've got to have each other's back. That's what we've got to get to."
Another positive: no fear in clutch situations.  It wasn't Willie or Alex that hit the two biggest shots in the game; it was freshmen Andrew Harrison and James Young.  Even though they're young, this group is tough, and they'll need that come March.  Cal said that the only disappointing thing that happened in the game was the last play: "We fought and we didn't stop playing, and we played with courage down the stretch and made plays to give us a chance to win."
Should Alex Poythress start?
Alex's progress has been so great that Calipari dropped another hint Wednesday night that he may find his way in the starting lineup, an interesting topic of debate.  On one hand, there's no denying Poythress has been playing great, but who do you start him over?  Randle?  Think of the points and rebounds you'd lose. Willie?  Where do you get your interior defense?  James Young?  Young showed us how much we need his offense Tuesday night.  Also, Alex has finally settled in to his sixth man role.  Is it wise to shake that up so soon?
Where do we go from here?
Looking ahead, the Cats don't have much room for error if they want a good seed in the tournament.  I don't see them losing at home, except to maybe Florida, who will likely beat them in Gainesville.  Missouri and LSU on the road are tricky games as well.  For the Cats to get a three seed, they can't lose any games outside those.  Once again, Cal likened this team to his 2011 squad, which lost several close games in the SEC but made it to the Final Four.  Losing sucks, but if it teaches this team some adversity that will help them in the postseason, that's fine by me.
Karl Towns is no longer a child
Towns posted this on Instagram last night, proof that he is no longer just a manchild.  He's a man.
On that note, it's not hard to let your mind drift to next year's team already.  While there are some players that will certainly go pro (Julius, Willie, James Young), there are more that we've heard may return, like Alex, Dakari, and Marcus Lee.  With the Harrison twins' draft stock dropping (Draft Express doesn't even list them in the 2014 draft), they're still a toss-up, and on Wednesday, ESPN Insider Chad Ford encouraged them to return to school for a second season.  Add in Dominique Hawkins and Derek Willis with a year under their belts and the incoming freshmen and that's a team with a true mix of experience and talent.
Random link of the night
If you haven't seen them yet, go check out these NFL team's logos reimagined as hipsters.  As someone whose neighborhood is overrun with hipsters, I say it's funny because it's true.
See you in the morning.
If you listened to Rod Winkler on this morning's radio show, you know that Rod Winkler is a man like he a man and you a man like I'm a man and men are men like they are men, man. Or something like that. Winkler, who Mark Cornelison caught flexing up on Aaron Harrison after last night's game, got defensive because Aaron got defensive first, he claimed. Winkler is from Little Rock and that's what the people of Little Rock do, apparently.
When asked if he really wanted a piece of the much bigger Harrison, Winkler told KSR, "I don't never look at nobody and say I don't want a part of anything."
So I made him a part of everything in tonight's "Rod Winklers vs. The World"…
It is no secret the officiating during last night's was absolutely atrocious. While I don't think it caused UK the loss, the inconsistency and bizarre whistle led both teams to never find a rhythm and made the game at times unwatchable. One of those officials, Roger Ayers, is a clear Calipari foe, with the Cats going 2-5 in games where he is on the call, and many of those including technicals given Calipari's way (he has given Calipari the second most of the coach's career). But now we learn today that there is another oddity from the crew in Fayetteville.
Another member of the threesome was James Breeding of Louisville. Until this season, Breeding had never officiated a UK game. We now many know the answer as to why: From a 2009 profile of him we learn,
After a decade of officiating at the college level, Breeding already is established in his profession. He worked three consecutive years in the National Invitation Tournament before last year's debut at the Big East and NCAA tournaments. He'll work all three again this year.
This season, Breeding has worked 52 regular-season games – an average of three per week. Many were nationally televised, although none involved U of L or the University of Kentucky. Breeding earned a bachelor's degree in sport administration from U of L in 1998, and the Big East, where the Cardinals play, doesn't allow him to work any U of L games.
Similarly, the SEC, where UK plays, doesn't schedule Breeding to officiate Wildcat games because of his in-state ties.
So as a UL graduate, Breeding has been unable to work UL games for his career (which makes sense) and was never assigned to UK games either because of his "in-state ties." But that changed this year? He was on the Cleveland State game (which the Cats nearly lost) and this game against Arkansas. However at some point, the SEC had decided that the conference didn't believe Breeding should be working UK games due to these "in-state ties." And now apparently the conference believes these "in-state ties" don't affect his judgment anymore. The SEC should probably explain why.
Note: There are a LOT of .gifs in this post, so I advise letting them load while you go treat yourself to a beverage, snack, or dessert.  I recommend a pale ale, popcorn, or mini ice cream sandwich.  Even better, all three. 
I think Jimmy Dykes put it best last night when he said "There's a lot of stuff going on in this game."  In the span of three hours (!), 60 fouls were called, 81 free throws attempted, and approximately 482 liters of bourbon consumed in the Bluegrass.  But the stats don't tell the whole story.  Some truly bizarre things happened last night, and I spent my day narrowing them down to the 8 most absurd moments.
1. This woman's mask was terrifying
Straight up something out of a horror movie. Even that weird bunny from Donny Darko is creeped out
2. James Young got uppercut by the ball
But because it was just the ball and not Quall's elbow or hand, they ruled there was no illegal contact.  Ouch.
3.  Jimmy Dykes took us for a run
Jimmy Dykes said he wanted to take viewers on a tour of Arkansas' campus, but what he really wanted was a chance to work on his Blair Witch Project sequel: When the Nail Drives You.
4. Then Jimmy showed off his food
It's all fried, but it's okay, you know, because he did all that running.
5.  Marcus Lee got a flagrant foul
Knowing Marcus, he probably got confused and thought this was the line for tickets to "Spongebob on Ice."
6.  Cal got photobombed
"HAAAAAAY! You remembered to record 'Real Housewives of Atlanta,' right?  Okay!"
7.  Both Willie Cauley-Stein and James Young fell over the first row of Arkansas fans
Gotta love that hustle, though.
8.  The ball got stuck in the scoreboard
Save the best for last, right?
Seriously, that happened.
I can't decide if I find this video hilarious because I'm running on about three hours of sleep or if it's really that funny, but I do know I got a couple good laughs out of it today. There is something about the way these two co-workers react when one of them falls through the ceiling and onto the ground that really cracked me up.
"Hey, Ron."
"Hey, Billy! That hurt."
Then Billy proceeds to go get his camera to take pictures. I love it.
It looks bad from any angle, but this was the farthest away.
Don't let last night's botched box-out fool you–this is Calipari's best rebounding Kentucky team.  And apart from his first season in the Bluegrass, it's not all that close.
This Kentucky team is currently 4th nationally in rebounding, behing Julius Randle's monstrous 11.1 per game.  The team as a whole averages 44.3, putting them behind only UAB, Quinnipiac, and Iowa.  That 44.3 figure is better than the last three years by an average margin of 6 rebounds per game.  Even Anthony Davis' squad only pulled in 39 a night.  DeMarcus Cousins and Patrick Patterson, two of the best front-court players in recent school history, led the 2010 squad to a 42/game average, two fewer than this year.
Obviously, the rebounding so far has been anchored by Randle, Cal's best rebounder at UK and 7th nationally this year.  But WCS and Alex Poythress have hard noses as well.  Those three have led the Cats to average a +13 rebounding margin over 16 games.  Trust me, I just did all the math and it wasn't fun clicking between tabs.  Only one time (Baylor) has an opponent out-rebounded Kentucky.
How does this help?  Obviously, there are massive quantities of second-chance points.  Just look at Poythress' save of the final offensive possession in OT last night, leading to James Young's remarkable (but ultimately futile) 3-pointer.  We've gotten used to those sorts of plays.  Put-backs and tip-ins are common, and lead to a ton of points inside the paint.  But it's not all good news.
What are the downsides?  As you might have noticed, this squad doesn't really have an offensive identity yet.  It's not just that they don't have the half-court offense smoothed out, it's that they don't know whether they want to be in the half-court at all.  Where the 2010 squad struggled in that set offense, they at least knew that they could run transition better than almost anyone in the country.  Meanwhile, this year, there's just not a prevailing notion that any particular system is what they want to play.  The excellent rebounding might actually encourage that.  Knowing that Randle will be there to clean up the mess often leads to short possessions and quick, lazy shot selection.  It's hard to establish an offensive pattern when players are taking the first shot, rather than the best shot.  The rebounding has become a safety net that diminishes the negative repercussions of a stagnant offense.
That's all to say this: The mistake on the last defensive possession was bad.  Those wings aren't used to boxing out, and nobody bothered to check Qualls.  It was a mistake, and surely they're kicking themselves today.  But let's be real–this team can get after the ball, and rebounding is not the issue.  Let's not knee-jerk and say that lack of rebounding fundamentals lost the game; it was the straw that broke the Wildcat's back, so to speak, but the evidence supporting this team's rebounding prowess is there.  In abundance.
Go rebounding Cats.
The basketball season is heating up and there are several new items in the KSR Shop to get you ready for Kentucky's pursuit of a ninth banner in March. Head on over to the KSR Shop to check out a brand new selection hats, apparel and other UK merchandise, including the new "Big Blue Mist" and "Dunk Dynasty" t-shirts.
Stay ahead of the trends and shop today for the latest gear and styles at TheKSRShop.com.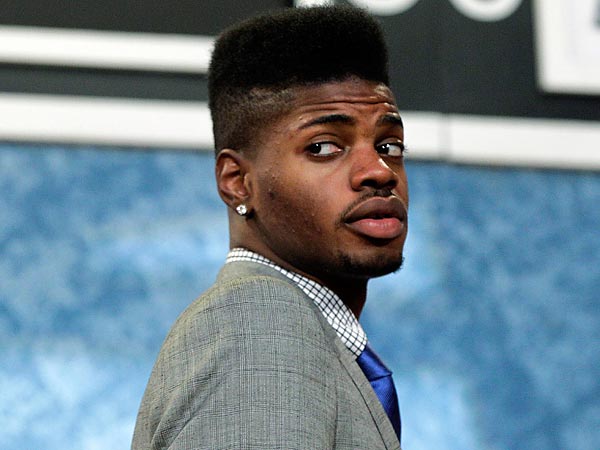 Dr. James Andrew has cleared Nerlens Noel to return to basketball activities, reports Jeff Goodman of ESPN. He could be suiting up for the Philadelphia 76ers as early as February when the players return from the All-Star break.
"He is doing excellent, and the team is taking good care of him," Andrews told Goodman on Wednesday.
Privacy laws kept Andrews from talking specifics but the Doc said Nerlens looks great and he can start doing on-court drills with his teammates. The Sixers will still need to clear him, too, but things are looking positive for the former Cat.
I'm sure Coach K (still not comfortable spelling his name in full) has said plenty of things during his life that I would agree with, but in principle I'm not very willing to agree with much that the face and nose of Duke basketball has to say. After last night's near debacle in Fayetteville though, I'm changing my ways and starting to come around on a genuine concern Coach K brought to light last year. Following an upset loss at Virginia, Duke was once again on the receiving end of a court storming by an opponents' fan base. Not to say that Duke is the only team to have such things happen to them, but the more prominent the program and the higher the program is ranked– the more likely teams are to take that route when celebrating. Let's be honest, Duke is one of "the names" in college basketball. There is no denying that. Coach K had finally seen enough though with the court storming, and raised genuine red flags and concerns over player safety in such situations. At the time, I remember thinking, "I hate storming the court as much as the next person (especially after the Indiana experience), but loosen up, Coach K. It's college kids having fun. It's not a huge deal."
"Whatever you're doing, you need to get the team off first," Coach K told reporters. "Look, celebrate, have fun, obviously you won, that's cool. Just get our team off the court and our coaching staff before the students come on.

I'm always concerned about stuff like that, especially at this time of  year. What if that happened and we got a kid suspended? That becomes the national story. It's not all fun and games when people are rushing the court, especially for the team that lost. Again, congratulations to them, and they should have fun and burn benches and do all that stuff… But get us off the court."
After a year of thinking that the comments from Coach K were more reflective of being a bit sour over an unexpected loss, last night's near-situation between Aaron Harrison and a fan brought the whole argument and concern back into play. It's the age old saying of, "It never matters until it happens to you…" The debate has heated up, cooled off and heated up again multiple times, and will likely continue to do so before dying down again in a few days. But for now, let's re-visit the concerns.
Storming of the court following an upset victory for the home team against a power has become a fairly common occurrence. Where as it seemed like the moment used to be saved for THE BIGGEST of upsets, it now feels like anytime an unranked opponent beats a top 5 team, the students are likely to pour onto the court. It's hard to blame the students and fans for being excited, and celebrating such victories shouldn't necessarily be downplayed. But at what cost?
To this point, nothing TERRIBLE has happened in the court storming era (what I refer to the last 5 years as now…). Sure, there have been close calls. Kentucky has been privy to a few of those close calls. DeMarcus Cousins had a bit of a confrontation with a South Carolina fan when the Gamecocks beat a then undefeated, #1 ranked and President-chatting Kentucky team. Darius Miller was nearly trampled when Indiana hit the shot heard round the world  most depressing state ever. And the latest? Aaron Harrison appears to have nearly been baited into what could have ended in a number of pretty ugly ways.
Until something truly bad happens, the "close calls" will likely continue to pile up. Little stories such as Cousins, Miller and Harrison's are the kind that stir up emotion and an occasional article or Twitter rant here or there for a few days, but usually beyond the scope of that particular teams' fan base, the incidents mostly go unnoticed and are quickly replaced with whatever the next juicy story in college basketball might be. At some point though, it seems inevitable that the line will be crossed. The line might be crossed in a variety of potential ways, some more detrimental than others– but none that end positively for anyone involved.
Just take a moment to think of the set up that could lead to a dangerous or inappropriate confrontation. On the one hand you have basketball players who are angry about what was most likely a major upset and unexpected loss– exhausted and mentally done after losing a game. On the other hand, you have hyped up fans– many college aged– potentially with alcohol in their system (though not necessarily). With the heightened emotional state on both sides, it's a recipe for disaster that could blow up at any moment into something serious or dangerous for both parties. What exactly could happen? Though not necessarily a complete list, the following situations could all easily occur with that type of scene:
1) Players getting hurt by a fan (accidental OR intentional)
2) Fans getting hurt by a player (accidental OR intentional)
3) Fans getting hurt by other fans (accidental or intentional)
4) Coaches getting hurt by fans (accidental or unintentional)
5) Players being baited into an action that could end in suspension, loss of scholarship, a tainted image or negative publicity for the school/player
Call me a prude if you want for imagining the worst possible scenario. And I'm not arguing that fans shouldn't be able to celebrate and enjoy the moments following such exciting victories. But at what cost? Last night could have escalated and could have been much worse than it was. What happens if the fan throws a punch? What happens if the athlete punches back? What happens if teammates get involved? How would it all end and play out? What would the fallout be? Although I could be wrong, it feels like it's only a matter of time before something really bad happens that is drastic enough to finally lead to some changes in the court storming process. Maybe it would take away from a few moments and memories of jubilation for a fan base, but it could keep something much worse from happening.
ESPN's Chad Ford, the man who knows as much about the NBA and its prospects as anyone, said in his weekly chat this afternoon that he believes the Harrison twins should return to Kentucky for another year. The topic came up when Matt from New York asked where Ford sees the twins landing in the draft. Excellent question, Matt from New York.
Matt (New York): Where do you see the Harrison twins going?

Chad Ford (1:44 PM): Hopefully back to Kentucky for their sophomore seasons. Neither looks ready to play in the NBA right now. If they declared for the draft? Probably late first round to early second.
Ford projects Andrew and Aaron, once believed to be lottery picks (at least Andrew), to fall to the late first round, maybe even the second. Andrew currently ranks 25th overall, behind four other points guards, in DraftExpress.com's prospect rankings. Aaron is No. 30.
Lot of college basketball left.