Archives by date
You are browsing the site archives by date.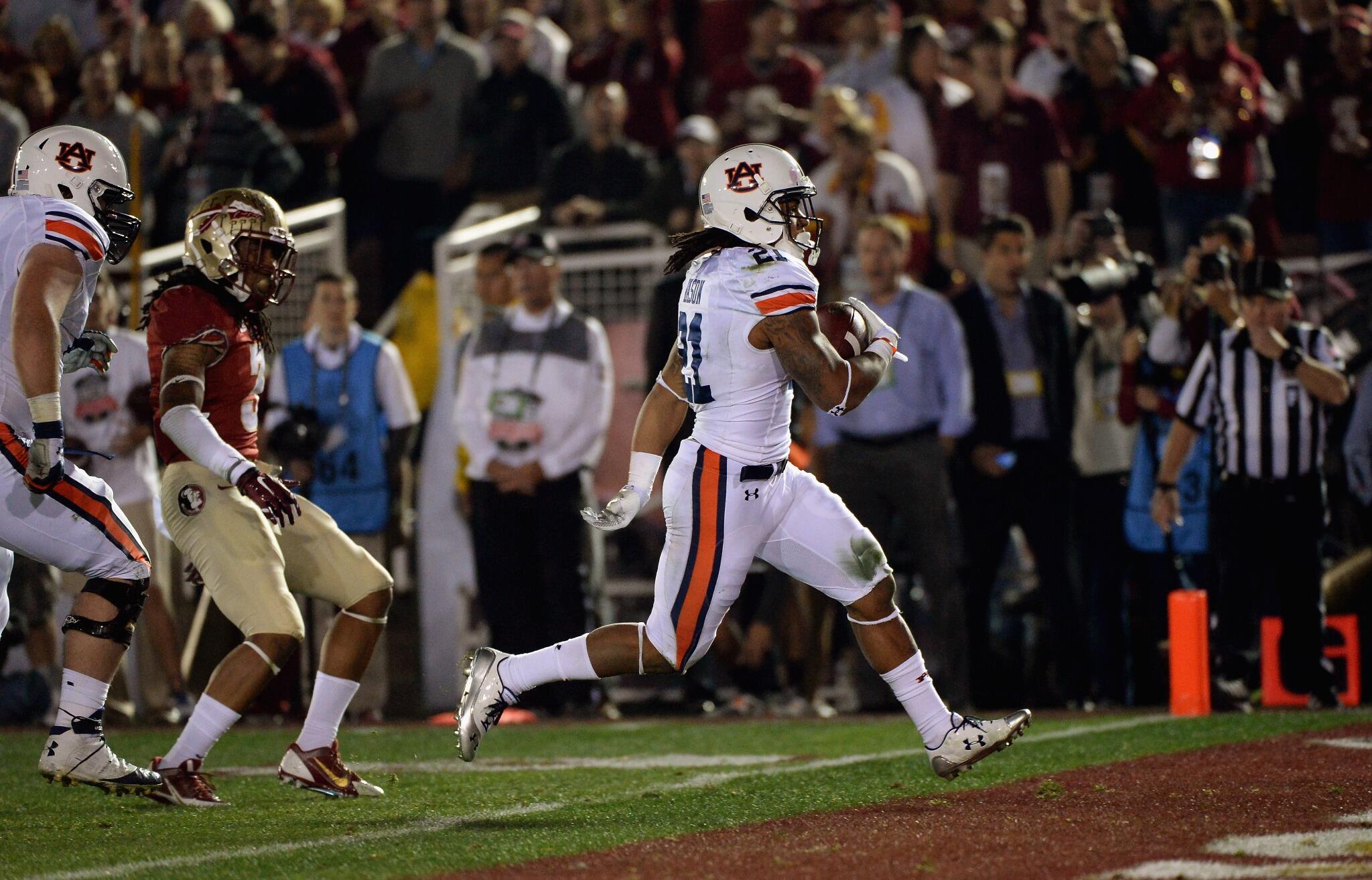 It's halftime of the BCS National Championship and Auburn leads Florida State through the first two quarters, 21-10. It took a fake punt on the last possession of the half for Florida State to get a touchdown on the board several plays later, or we'd be talking SEC blowout for the eighth year in a row. It still has the potential to finish that way, although the Seminoles will get the ball when the action returns. But it's important to note the leading team at the half is 15-0 in BCS championship history. Uh oh, Flawda State.
To the surprise of nearly everyone, Auburn is playing a complete game, not just running the ball. Quarterback Nick Marshall is 7-for-13 for 113 yards and two touchdowns. His counterpart, Jameis Winston, is 6-for-15 for 62 touchdowns and one coughed up fumble going the other way.
Off the field, ESPN 2's "Title Talk" is the worst production in the history of television. The "talking heads" broadcast without play-by-play is getting destroyed on Twitter for how atrocious it has been thus far. You know it's not good when the ESPN ticker promotes upcoming commentary from country music singer Taylor Hicks; however, it did make a small recovery before the break with Tebow and Manziel sharing the stage. Keep it in your pants, ESPN.
I'm ready to shut the computer down for the evening and enjoy the second half so here's your Tuesday News and View. Enjoy, and Go Auburn…
UK moved up to No. 14 in the AP poll, still No. 16 in the coaches poll.
The Cats jumped one spot in the Associated Press college basketball poll without playing a single game, but the real star of the updated rankings was Duke's plunge from the top 10. The Blue Devils fell to No. 16, marking the first time Duke hasn't been ranked in the AP top 10 since December of 2007. That's an impressive run, one I'm glad is over.
Ron Morris voted Louisville No. 3 again.
Ron Morris is back with another WTF AP ballot this week. In case you missed it, we tried to call Morris on the air last Tuesday to ask him what he was thinking with his absurd AP ballot — he ranked Louisville third after the loss to UK. Morris stood his ground again this week, ranking Louisville third again, ahead of one-loss Michigan State, undefeated Syracuse, undefeated Wisconsin, undefeated Wichita State, and undefeated Iowa State.
Check out his poll here. (That's what she… Never mind.)
Coach Cal said this team's basketball habits were the worst he's had.
On the Monday morning SEC coaches teleconference, Coach Cal said this team's basketball habits were the worst he's ever had in his coaching career:
"This team's habits, basketball-wise, were far worse than the other teams that I've had. They're great kids, now; they just have bad basketball habits. And trying to understand and get them to define how we have to play together, and how individuals have to be responsible for each other and to each other, has been the challenge." — Calipari
He said the winter break has been good because the extra practice time has allowed them to zero in on the areas that needed improvement. There were four areas on offense and four on defense and they scrimmaged every day for almost to hours work it all out. Now he's ready to see if it translates into games.
Alex Poythress is smiling.
It shouldn't be news, but after watching Poythress for a year and a half now, it is news. BIG news.
Calipari said Alex Poythress is smiling in practice, something he hasn't done a lot of in the past. He praised Alex for how great he has been lately, saying he has finally "broken through mentally."
"Alex, WOW," Cal said on his call-in show Monday night.
The next step: "Go get more baskets."
Basketball is back, finally.
The 11 days off has been brutal for fans of Kentucky basketball, but we only have to suffer one more day before the Cats return to action. Camp Cal is officially over, too, as the team scaled back to one two-hour practice on Monday. Calipari said he doesn't want to wear them out with three games in seven days ahead.
"But they're good. They're in good shape."
eRupption Zone tickets are available to the public for Wednesday.
With the students still away, the regular folk can take advantage of winter break by purchasing eRupption Zone tickets to Wednesday night's game against Mississippi State. Fans can start lining up for eRUPPtion Zone tickets sales Wednesday at 9:00 am. Tickets will be $5.00 each (cash only) and are limited to one per person. Tickets will go on sale 90 minutes prior to tip-off at the Rupp Arena Box Office and are available on a first-come/first-serve basis.
Upper level reserved tickets are also still available for the game, as well as the Texas A&M game on January 21. Visit www.UKAthletics.com/tickets for more information.
This guy is awesome.
Shakey is our UK Fan of the Week.
Wildcats were shut out of the SEC weekly awards.
Awards aren't given for practicing and watching The Wolf of Wall Street, I suppose.
Tennessee's Jordan McRae and Arkansas' Bobby Portis took advantage of UK's week without games, winning SEC Freshman of the Week and SEC Player of the Week respectively.
Enjoy it while you can, boys.
Keep voting for Jack Demsey's in the ESPN Bar Bracket.
Our good friends at Jack Demsey's, the official bar for Cats fans in New York City, are in ESPN.com's NYC Bar Bracket. Take a second to vote (it literally takes one second) and hopefully Demsey's will win the whole thing so we can brag about Kentucky having the best sports bar in New York City.
JD's is currently losing in the first round (but has the second most votes in the whole contest) so help out by voting here. You can vote multiple time if you clear your cookies or browser history or however that works.
There's a song called "Archie Goodwin."
"Catch me ballin' out, Archie Goodwin; my team just got the dub, that's a good win."
Meh.
That'll do it for tonight. BTI will be by at 9:00 a.m. with a post I guarantee you're going to love.
Coach Cal is trying to instill a new mentality in his players on the offensive end of the floor. He discussed it twice on Monday, first in his SEC teleconference and then again on his weekly call-in show. The new message…
"Think 'pass' when you have the ball; think 'shoot' when you don't."
It's a pretty simple concept, really, but easier said than done.
"When you have the ball, you're a passer. When you don't have the ball, think score," he explained. "In other words, don't pass it the minute you know 'I absolutely can't get a shot, so I'll pass.' No. When you have the ball, you're thinking pass. When you don't have it, you're down, you're loaded up and you're ready to attack. You know what's open when you catch that ball to score or make a scoring play."
He called it the total difference in how they have been playing recently.
"But it has been a challenge," he said.
So when the Cats take the floor in 48 hours, watch to see if the ball handler is looking for the open man if the scoring opportunity isn't there, or if he's trying to create on his own. Look for unselfish basketball.
It's finally here, sports fans. We're about 30 minutes from Auburn vs. Florida State in the BCS National Championship, the final game of its kind. A new playoff system will debut next season after 16 years of the Bowl Championship Series. Farewell, you flawed system. Farewell.
Undefeated Florida State enters the game as a 10-point favorite, with Heisman Trophy winner Jameis Winston at quarterback. No defense has been able to slow down the Seminole offense this season. Can they be contained tonight?
The underdog, Auburn, needed a little magic, twice, to get here. The Tigers are looking to stretch the SEC's national title streak to eight consecutive years, and the fifth in a row for the state of Alabama. Do they have any magic left in the tank?
Kirk Herbstreit and Brent Musburger are ready to go. ESPN has coverage on like seven different channels. The only thing left to do is make our predictions and discuss the game. We'll use the comments section below as a game thread.
Go Auburn?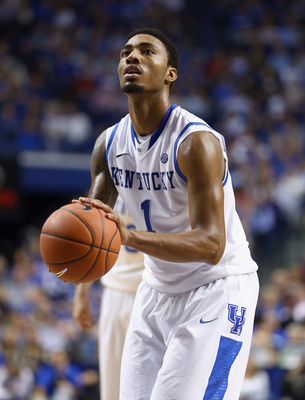 Coach Cal wants everyone to relax and stop worrying about free throw shooting.
"It will be fine," he said on his Monday night call-in show. "I'm not worried about it and I coach the team."
Cal was quick to brush off the Cats' shooting struggles on the air, when the majority of the fan base sees it as a serious problem. He may not want fans to worry, but shooting 66 percent from the line through 13 games is concerning to most folks, considering 255 other Division 1 teams have a better free throw percentage this season.
But don't worry, he says.
OK?
Matt Elam and Bowling Green wide receiver Nacarius Fant are exchanging pleasantries on Twitter for all to see, and it's getting pretty ugly. I can't find the root of the Twitter beef — and I really don't care — but from what I can gather, Elam is taunting Fant, a WKU commit, for not getting an offer from Kentucky or Louisville while Fant retweets everyone he knows.
It's all a confusing mess but here are some of the shots fired…
@FballIsLife69 (Elam): I Aint Never Been That Type How Does Our Mr Football From Ky Not Have A UofL Or UK Scholarship Well Just Look At Him Or His Film

@FballIsLife69 (Elam): Me And Drew Represented Ky Proud While You Was At Home Watching Us.. Real D1 Talent From KY Put In Work

@FballIsLife69 (Elam): Shouldnt Have Started Talking That Cash You Will Never Know What It Feels Like To Play Against Great Competition And Still Ball

@FballIsLife69 (Elam): All American Ha Bro Please Dont Do It To Yourself @D_Barker7 Said Your Weak And You Begged Him For A UK Offer 😰..😂😂😩😩😂 Your Weak

@FballIsLife69 (Elam): Talk And Back It Up Im Proven Thats Why I Have What I Have You On The Other Hand Just Need To Work Harder And Talk Less !!
@RegimeFant (Fant): Hahahaha what ?

@RegimeFant (Fant): he doesn't pass out offers lol why beg him to offer me

@RegimeFant (Fant): so did you make that up or..still trying to figure out
I couldn't be more lost if you dropped me in a Rick Pitino press conference and asked me to find some truth, but the point is Elam and Fant are causing quite the scene on social media this evening. Fant won Mr. Football in Kentucky last week, so there's that.
Follow along if you want: @FballIsLife69 and @RegimeFANT
I think I hate Twitter.
I always imagined the stock market would be so blue and computery.
College basketball ranking can be a weird thing.  Losses drop you, wins raise you up, and the transitive property is never applicable.  But if you don't play, you should stay pretty consistent right?  Not necessarily, according to Sports Illustrated's Seth Davis, who dropped the Wildcats from #12 to #15 after what was essentially a bye week.  Should he have done it?  Who cares.  Mid-season rankings matter almost nothing in basketball.  I'm less upset by that arbitrary drop than if we'd actually lost a game, so no worries.
But while he's dropping us in the rankings, he does recommend buying Kentucky stock in his latest Stock Report:
Kentucky Wildcats (10-3, No. 14): BUY

What the heck, you only live once, right? Even after their win over Louisville, the Wildcats have their share of doubters, so the stock is moderately priced at the moment. The biggest question about Kentucky during the first two months was whether it would get enough backcourt leadership from the Harrison twins, and those two have been much better recently. The free throw shooting is going to be a lingering problem, but the SEC looks sufficiently weak that the Cats should be able to pile up the wins and continue to rise in the rankings.
Piling up the wins is probably about right, at least until the Cats play Florida in February.  Until that point, it's moderately-talented SEC foes for the foreseeable future, and that's a good thing for the learning Wildcats.  We've got by far the hardest part of the schedule out of the way already, and while we made it through with a couple of bruises, we're alive, ranked, and ready to dominate the SEC.
And after the weekend that ranked teams just had, maybe it's best we didn't have a game.  North Carolina, Duke, Kansas, and Oregon all lost, so it looks like we avoided some bad mojo there.
It's no secret to SNL followers that a clandestine audition process was allegedly held recently to address the dearth of minority women players on Saturday Night Live after Keenan Thompson famously called attention to the situation during a TV Guide interview by stating that they rarely seem to find black comediennes "who are ready." After all, the last African-American female to take the stage for Lorne Michaels was Maya Rudolph, and before that — if I'm not mistaken — don't you have to go back about fifteen years to featured player Ellen Cleghorne?
It's neither here nor there, however, because according to sources (and Seth Meyers' Twitter feed, which you might guess is fairly reliable), Lorne has hired ex-Upright Citizens Brigader Sasheer Zamata (pronounced "Za-may-ta") to start immediately, beginning with the Drake episode on January 18th. Below you can find a character reel from her official YouTube page which I'm iffy on — the writing's not great but some of the impressions (especially her Michelle Obama, which could have big legs on the show) seem alright. Regardless, I can't wait to see what she's got. Welcome to the bigs, Sasheer. As Keenan Thompson might say: hope you're ready.
What do you guys think?
Following the advice of former Phoenix Sun and current Sacramento mayor Kevin Johnson, DeMarcus Cousins hit the town to win over fans for the Sacramento Kings, one at a time.
Watch as DeMarcus serves lattes, teaches yoga, drives a cab and karaokes "Purple Rain" to earn more fan support.
It's videos like these that make DeMarcus a fan favorite in Lexington and Sacramento, the cities that actually know him. It's a damn shame he's so far back in the All-Star voting when he is eighth in the league in points per game and fifth in rebounds. Shaq and LeBron recently said DeMarcus should be an All-Star, but he was 12th in the West frontcourt voting when the latest returns were released after Christmas.
Tomorrow, the SEC finally kicks off conference play with Tennessee squaring off with LSU and Vandy taking to the road to face Alabama. But before we all get too exited about the upcoming conference play, let's take a look at who fills out the "All-SEC" team up to this point.
Point Guard
Jordan Clarkson-Missouri
Minutes per game-33.1
Points per game-19.3
Rebounds per game-3.5
Assists per game-4.1
Jordan Clarkson shot out of the gates this season with solid assist numbers to compliment his dominant scoring efforts. His confidence is clear with Clarkson now being the go-to-guy, which is evident through his 19.3 points per game. If Clarkson can keep up this fiery scoring streak along with his 4.1 assists per game, you could very easily hear his name called in the upcoming NBA Draft Lottery.
Backup PG-Trevor Releford-Alabama
Shooting Guard
Jordan McRae-Tennessee
Minutes per game-29.8
Points per game-18.9
Rebounds per game-3.2
Assists per game-2.6
Jordan McRae is another one of those guys that always finds a way to put up lots of points. He has scored double digits in all but one showing against Morehead State and has been doing it in multiple ways. Despite the Vols already having four losses, this team could be very dangerous during conference and tourney play on the shoulder's of McRae.
Backup SG-Chris Denson-Auburn
Small Forward
Casey Prather-Florida
Minutes per game-29.5
Points per game-17.3
Rebounds per game-5.8
Assists per game-2.1
Casey Prather has been the do-it-all guy for the Gators thus far this season. He leads the team significantly in points and field goal percentage and .610 along with hitting free throws and three pointers. Of course conference play will pose another challenge for Prather, but up to this point he has imposed his will on the offensive side of the ball for Florida.
Backup SF-KT Harrell-Auburn
Power Forward
Julius Randle-Kentucky
Minutes per game-29.6
Points per game-18.1
Rebounds per game-10.6
Is there any question as to why Julius Randle made the cut? His dominance has been displayed against every opponent this season including Baylor and Michigan State with the way he imposes his will around the rim. What makes Randle even more special is the attention he draws from every player on the court which helps the other stars surrounding him produce at a higher level. With some experience and maturity under his belt, Julius escalating his game even further is a sure thing.
Backup-Jarnell Stokes-Tennessee
Center
Johnny O'Bryant III-LSU
Minutes per game-29.8
Points per game-14.6
Rebounds per game-7.5
Johnny O'Bryant III has become an absolute beast in the paint. After racking up double digit scoring numbers in 10 of LSU's 12 games, he has become LSU's leading scorer to compliment his 7.5 rebounds per game. He has struggled with turnovers at times but his ability to score and rebound dominantly make up for that quite well. The combination of Johnny O'Bryant III and Jordan Mickey in the post for LSU is sure to make some noise come conference play.
Backup-Willie Cauley-Stein-Kentucky
@CodyDanielKSR
One lucky Kentucky basketball fan will win two tickets to Wednesday's game against Mississippi State in Rupp Arena, courtesy of Lexington mayor Jim Gray. The winner will be selected by a random drawing from all the people who take the time to fill out the Rupp Arena survey. Your survey must be in by 8:00 a.m. Wednesday morning to be eligible.
So if you would like a shot at winning two seats for Kentucky's first SEC contest of 2014, head over to RuppDistrict.com to complete the survey. If not for the tickets, do it to have your voice heard in the Rupp Arena renovation process.
And don't forget, there will be a public meeting with architects and city officials at the Hyatt Regency Ballroom at 6:00 p.m. prior to the game. The meeting will be streamed online for those who would like to follow along but can't make it.
Cats.