Over the years there have been several guys that you can simply refer to as Cat killers. The guys who play mediocre all year long but when Kentucky is on the other sideline they turn it up and double their season averages. Usually that happens when the Cats are on the road and guys like Devan Downey can feed off the home crowd to have a monster game. It's another matter entirely to do so in Rupp Arena which can be one of the toughest arena's in all the land. Turner now joins a handful of guys to have a huge game in Lexington but where does that performance rank among these other guys:
Tre' Kelley 36/89 points: 40.44% of scoring

The last guy to get close to breaking the 40 point barrier was Tre Kelley of South Carolina in 2007. Kelley was the typical player who would save up his best games for when he played Kentucky and he truly saved his best for last. In addition to 36 points Kelley also dished out six assists to further influence the Gamecock's score. The Cats were ranked 20th at the time and got big games from juniors like Ramel Bradley to over come Tre's treys. Kelley is the placeholder for all those SEC guys who seem to transform into MJ when they visit the Cats. Who would you have chosen?
Chris Jackson 41/95 points: 43%
Before yesterday's game Chris Jackson was the only player to cross the 40 point line in  the past 23 years when LSU came to town in 1990. A forty point game is easier to come by when you have a little fella like Shaquille O'Neal down in the paint but Jackson's game is impressive none the less. The Cats were in the middle of probation but still picked up the W thanks to Feldhaus and Derrick Miller  going for 20+ as well. Jackson's big game wasn't a one time event as he always had a big game against Kentucky, in four games he averaged 32.5 ppg.
Elston Turner 40/83 points: 48%
When you look at this list of guys who had unbelievable games against the Cats Turner's game will always have an extra bit of credibility as he is the only guy to lead his squad to a win. In yesterdays game it was basically all Elston all day. Two other guys broke into double figures but that was more a result of the attention turning to Turner than the outcome of their strong play. Elston's big game is also a product of the competition. This year's Kentucky team lacks a lock down defender while Mays and Wiltjer struggle to guard anyone with great athleticism. If this team had a guy like Liggins or MKG to stick on Turner then there is no doubt he wouldn't have had this kind of game. But the fact is that we don't and now we will need to find a solution before he tries to outdo 40 points when we head to College Station in three weeks.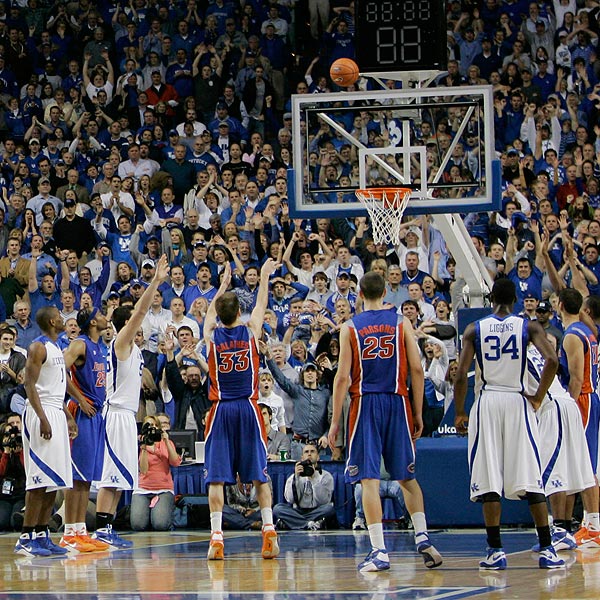 Nick Calathes 33/65 points: 50.77%
Calathes may not have the highest point output but in this game he was the only guy doing anything for the Gators. He accounted for over half of the Gators points and the total could have been even higher. The Cats were up three when Kevin Galloway fouled to give Calathes a chance to send the game to overtime with 0.6 left on the board. His 36 point game was stopped by the loudest crowd I have ever heard in Rupp Arena. Still the points came against a UK team that was bound for the NIT. Hopefully yesterday's game won't send us to the same destination.
David Robinson 45/69 points 65%
The Admiral has held the Rupp scoring record since 1987 when 20th ranked Navy came to take on the unranked Cats. This game was way before my time but scoring 45 of a teams 65 is impressive no matter the era. Lucky for us we had King Rex to help lead the Cats to an 11 point win. I hope Robinson's record will forever stand because if I have to watch another guy closing in on 45 points on our home floor I don't know if I'd survive.
Where do you think Turner's game ranks among these other great scoring days? Since he lead his team to a win should it be considered the best? What other great performances in Rupp did I forget? Let me know in the comments.
Or on twitter @ACassady_KSR