I couldn't find a screenshot of that irritating UK vs UNC scoreboard that ESPN kept showing last night, so we'll just have to look at this picture again.
For just a minute, let's set aside the fact that UK beat UNC in what was possibly the best college basketball game of last season. Forget that UK ended up winning the national title, while UNC bowed out in the Elite Eight. Try not to compare UK's incoming top-ranked recruiting class to UNC's eighth ranked. Instead, let's look at last night as the singular focus of competition: which school had a better showing at the NBA draft last night? 
The Case for UNC
UNC's claim to this made-up competition is simple: four players in the top seventeen picks, three of which were lottery picks. Harrison Barnes at 7, Kendall Marshall at 13, John Henson at 14, and Tyler Zeller at 17. That's a high concentration of UNC players within ten picks, and Roy Williams looked pretty smug holding four flat bills in his hands. All four started for UNC this season. Without a freshman representative, the argument can be made that Barnes and Marshall made the right call to return for their sophomore seasons and increase their draft stock, while Tyler Zeller stayed all four years and as a reward gets to go to… Cleveland (couldn't resist). And let's be honest- for a second, when that stupid scoreboard said "UK 2, UNC 4," BBN's hearts sunk a little bit under our unfulfilled expectations that Jones or Teague would have gone already.
The Case for UK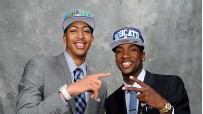 The first one-two punch in NBA draft history. Not much more needs to be said than that, but let's go on just for fun. So UNC had four picks of the top seventeen? That's nice. UK had three of the top eighteen, which isn't much different at all (and let's not forget the 2010 NBA draft when UK had four players in the top eighteen). UK had two of the lottery picks and four total in the first round to match UNC. Our total of six players drafter was the highest in the history of the two-round NBA draft format. 6 > 4. 
But most importantly, Coach Cal saw all of his "guys" get drafted. This time last year, you probably could have guessed that those four UNC players would go in the draft. You wouldn't have said the same about Darius Miller and Marquis Teague. Under Cal, Kentucky has proven just how far a player with potential can come with the right guidance, the right supporting cast, and the right mindset when approaching a professional career. From a freak-of-nature who came out of nowhere to dominate college basketball to a homegrown Kentucky boy who weathered the program through the best and worst of times, there's no top-six rotation player Cal isn't capable of sending to the NBA. 
It's not even close. Kentucky beat UNC in this ESPN-created "competition" by a landslide.  But let's not forget who the real losers are- Louisville and Indiana, where were y'all on my Twitter feed last night?
Anyone want to come visit for the Bulls-Hornets game? @KristenGeilKSR.