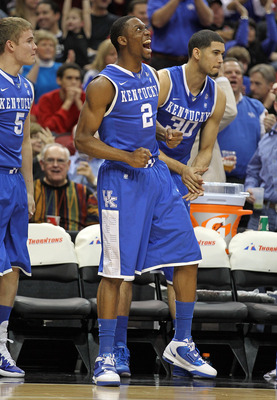 In a season where everything seems perfect so far (at least after the Morehouse game), a car accident at 2:30 AM the night before the first real game of the season is THE LAST thing Kentucky needs right now. Negative publicity is never good – and when you're John Calipari, it always gets magnified. So be ready for the Calipari-hating media to have a field day with this one.
Will it be fair to shine a negative light on Kentucky over this? Debatable. The fact is, at this point, we don't know what Terrence Jones and Stacey Poole were doing out at 2:30 AM. It's not illegal to be out that late at night — Taco Bell is delicious — and there were no drugs or alcohol in the vehicle. They say nothing good happens after 2 AM, but that doesn't mean those boys were up to no good.
And as far as Terrence leaving the scene goes, I'm not aware of any laws that say it's a crime for a passenger to leave the scene. (I Google'd it and didn't come up with anything.) Larry Warren, a high school friend from Portland, was the one behind the wheel. Jones is 100% guilty of pulling a dumb move but let's not act like he's a fugitive for walking away — and I'm sure someone out there will say that. If he was fired up and left to avoid an altercation like Calipari suggests, then maybe leaving the scene was the right thing to do.
My point is, let's brace ourselves for all the haters: Louisville fans, negative columnists. They're coming.
Just be thankful the guys are okay and put it behind us. Unless something comes out that gives us a reason to be concerned, this was nothing more than an unfortunate accident late at night.
And I like the idea of a curfew.
Bring on Marist.