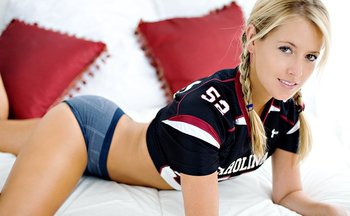 I like those pillows. Are they from Kohl's?
I have 10 keys to victory. I assume that girl's phone number has 10 digits. I'm willing to trade straight up.
———————-
1.) Catch the damn football. It's not funny anymore.
2.) Win the turnover battle. South Carolina averages three turnovers per game and leads the SEC in completions to the other team. Kentucky's defense needs to capitalize on opportunities and the offense needs to avoid turnovers at all costs. If the Cats don't win the turnover battle, they don't win the game. Plain and simple.
3.) Grind it out. Yesterday, Joker said his team needs to take it one play at a time and just grind it out and grind it out against South Carolina. "When you play a 60-minute game, something bad is going to happen," he said. "If a bad thing happens, let's shake it off and let's go. We have to continue to play." Remember, Kentucky was down 18 to South Carolina at halftime last year. Also, remember Randall Cobb.
4.) Get pressure on Connor Shaw. Sophomore quarterback Connor Shaw will start in place of 11-year veteran Stephen Garcia. Shaw struggled in the season opener against a pretty bad East Carolina team. The Kentucky front seven need to get to Shaw and force him into mistakes. Blitz him. Hit him. Insult his brother, Jaybo. Just get to him.
5.) Politely ask Marcus Lattimore to play with his shoe strings tied together. Otherwise, he'll rush for 200 yards. Lattimore seems like a pretty nice guy, what would it hurt to ask him? The worst he can do is say no. Don't be so shy.
6.) Don't smell Stephen Garcia's breath. The South Carolina quarterback's breath has the potency of Appalachian moonshine infused with diesel fuel and Billy Gillispie's urine. One quick whiff will disrupt all coordination and motor skills. History says Garcia's breath is strongest when he is getting into his vehicle.
7.) Get really, really high at a South Carolina frat party. Michael Phelps did it and he's one of the most successful athletes ever. Maybe there is something in the ganja down there in Columbia. If Phelps is smoking there, it must be that diggity dank. Just don't pass it to Matt Roark because he'll drop it, and burn marks are impossible to cover up on nice carpet.
8.) Find a magic lamp. This magic lamp will need to contain a genie that will grant Kentucky one wish. Kentucky's wish should be to win the football game. It'll take a pretty powerful genie to grant this wish, but it's not out of the realm of possibility. If the genie says no, Kentucky should ask for a win against Jacksonville State. If the genie can't do that, Kentucky should ask for a time warp or one of those fancy memory-erasing devices from Men In Black.
9.) Catch the damn football. I'm serious. There is absolutely no excuse for an entire receiving core being so bad at doing the main thing they're called on to do. Catch the football or find a hobby.
10.) Listen to Hootie & The Blowfish. Who doesn't like Hootie & The Blowfish? The greatest band ever was founded at the University of South Carolina. Just pop in Cracked Rear View and you've already won, regardless of the actual outcome of the game.
I'm such a baby 'cause the Wildcats make me cry.