Reid Travis is officially a Kentucky Wildcat, meaning the 2018-19 roster is complete. Let's break down that roster, and why the addition of Travis makes Kentucky a legitimate national title contender.
Guards

Quade Green
We saw how much it hurt Kentucky not to have a returning guard last season. This year, Calipari will have one in Quade Green, who averaged 9.3 points and 2.7 assists his freshman year. Quade missed some games due to eye and back injuries and lost his starting spot to Shai Gilgeous-Alexander, but will provide crucial leadership and experience in a young and loaded backcourt; in fact, we're hearing he's already doing that in summer workouts.
Immanuel Quickley
Quickley is sometimes an afterthought in next year's backcourt, but shouldn't be. Despite being hampered by injuries at the end of his senior year, Quickley is a reliable floor general with a relentless work ethic that can get to the basket, create for others and knock down an open shot.
Ashton Hagans
Hagans gives Kentucky what they lost in Shai Gilgeous-Alexander, i.e., a guard who can get to the basket. He's a dynamic playmaker who can burn defenders off the dribble and distribute; he led the Adidas Gauntlet in assists by a wide margin. He's also a tenacious defender. Simply put, you want the ball in Hagans' hands, which is why he will eventually be the starting point guard alongside Quade Green.
Jemarl Baker
Baker will return this fall after missing last year with a knee injury and, according to his teammates, is the best shooter on the squad. Everyone's been raving about Baker so far this summer, so I can't wait to see what he does on the floor.
Tyler Herro
Herro is much more than the three-point specialist he's billed as. At 6'5″, 200 lbs., Herro can score from anywhere and is also comfortable bringing the ball up the floor if needed. Once a Wisconsin commit, Herro developed a thick skin and chip on his shoulder after being booed routinely by Badger fans his senior year. A tough competitor, he will only elevate his game going against elite talent in practice.
Brad Calipari
With a plethora of guards on the roster, Brad probably won't be called into action as often as he was last year, but should exhibit more confidence to fire away when he gets an open shot — even with the crowd demanding it.
Jonny David
David will be tasked with keeping the sideline loose and ready for dunk and lob celebrations. If history is any indication, he will also steal the spotlight in postseason locker room interviews.
---
Forwards

Keldon Johnson
Johnson can play small forward, shooting guard, or, if you listen to John Calipari, even point guard if needed. Described as a "dog" by his future teammates, Johnson is a fierce competitor that won't back down from anyone. He will be a highlight maker on this squad and is a notorious trash talker. Between him, Hagans, Herro, and Quickley, Kentucky's about to get a much-needed dose of nasty.
PJ Washington
PJ is this team's anchor, and, based off his appearances since deciding to return to Kentucky, is ready to lead. PJ can bully his way to the basket and finish with the best of them, and with an offseason to work on his jumper, can take his game to another level. PJ's best work will be on the inside, but with Reid Travis joining the roster, I expect him to heed the NBA's advice and expand his game outside.
Reid Travis
With over three years of playing experience and a degree from Stanford, Travis will provide invaluable experience to a team that needs it. A double-double machine, Travis is a force in the paint, which will allow PJ Washington to flex his versatility. The frontcourt of PJ Washington and Reid Travis is physical and formidable, something UK's lacked in recent years.
EJ Montgomery
A 6'10" lefty that can stretch the floor? Sounds like Calipari's dream big. Montgomery's got length, athleticism, ball-handling skills, and can score from almost anywhere. He needs to add strength, but will see plenty of time as a stretch four next year.
Zan Payne
Kenny Payne's son is still recovering from a knee injury, but once healthy, can play either guard or forward. A standout player at Lexington Catholic, he averaged 19.3 points and 8.7 rebounds in his senior season.
---
Center
Nick Richards
Richards struggled his freshman year, but we saw glimpses of his potential throughout the season. During interviews last week, he said he's moved past the self-doubt that plagued him his freshman year and his confidence is at an all-time high. That's great news for Kentucky, who will rotate him in and out when height and length are needed.
---
Starting Five
The combinations are endless, but the lineup I like best right now is Ashton Hagans, Quade Green, Keldon Johnson, PJ Washington, and Reid Travis. That's a solid, powerful group with three veterans and two playmakers, from which you can rotate in three-point shooting and size. Immanuel Quickley may eventually take Quade's spot, but for now, I like Green's experience in the backcourt. Besides, if Calipari decides to platoon again, it won't really matter, will it?
For the past few years, Kentucky's roster has been missing key ingredients in March. With the additions of Reid Travis and Ashton Hagans and a head start in the Bahamas, they finally have everything they need to make a run at Number Nine.
The PGA TOUR is coming to Central Kentucky for the 2018 Barbasol Championship July 16-22nd. Some of the best talent in all of golf will make their way to Champions at Keene Trace Golf Club seeking a piece of the championship's $3.5 million purse. 
Last year's tournament featured seven major winners including Davis Love III, Jim Furyk, Retief Goosen, Lee Janzen and Angel Cabrera. This year's field will have some players will special interest to Kentuckians. The tournament is providing sponsor exemptions to pro and Kentucky native Josh Teater as well as University of Kentucky stand-outs Cooper Musselman and Chip McDaniel who will begin their pro careers at the tournament.
Numerous volunteers are needed to put on this PGA TOUR event. Get signed up here- https://barbasolchampionshipky.com/volunteer/
Don't miss any of the fun in Central Kentucky this summer. You can purchase daily grounds passes, week-long grounds passes, and upgraded Man O' War Paddock tickets on https://www.ticketmaster.com/artist/2425864.
---
You can be a part of KSR's Top 10 Tweets by using hashtags like #KSR #BBN or #KSRtop10. You can also nominate tweets by mentioning them with the hashtag. If we like what we see, it could be posted the next day.
#10 Bill Phillips
40-0 baby

— Bill Phillips (@whphillips963) June 20, 2018

Woah woah woah….
#9 Jon
Today is one of those days that makes me really love basketball!

— Jon (@ThatPaleoDude) June 20, 2018

Same here!
#8 Chris Watson
@KySportsRadio you need to listen to the "slow burn" podcast about Watergate. You would love it. Surreal listening to this compared to today's presidential actions. Trump=Nixon on steroids.

— Chris Watson (@bubbajames33) June 20, 2018

This is actualy one of my favorite podcasts!
#7 TheSkinny1981
@KySportsRadio @MrsTylerKSR I don't how you contribute pictures to "fan of the day" but this made my day. pic.twitter.com/89ir9dVkrf

— TheSkinny1981 (@theSkinny81) June 20, 2018

This is awesome!
#6 Brooke Powers
@ryanlemond @KySportsRadio I'm in Mexico but just heard about Reid Travis…trying to decide where to get my 2019 National Champs tattoo as we speak! #ksr #bbn #gocats #gameover

— Brooke Powers (@LBrookePowers) June 20, 2018

Probably NOT in Mexico.
#5 meryum siddiqi
yelling "go cats" when i see people wearing UK apparel out of state and seeing them light up with joy is 10/10 the greatest camaraderie ever

— meryum siddiqi (@sassysiddiqi) June 18, 2018

It's my favorite thing to do!
#4 Marie Tackett
Yep! #BBN! I'm seeing number 9 in our future!

— Marie Tackett (@marieatackett) June 20, 2018

LET'S GOOOOOOOO
#3 Walker
49 days until the first Bahamas game. Let's get it #BBN

— Walker (@walk_35) June 20, 2018

I'm counting down.
#2 Nick Willis
Duke fans waking up this mourning hearing that Reid Travis is coming to #BBN pic.twitter.com/LM3T74DVwV

— Nick Willis (@assassinisaiah1) June 20, 2018

Mourning, hahah I get it!
#1 Braden Hart
Watching last year's UK/West Virginia game. Can't wait till this season starts! ? #BBN

— Branden Hart (@BrandenHart1) June 20, 2018

A favorite game for sure!
Shai Gilgeous-Alexander has had an extremely quiet pre-draft process, with the former Kentucky guard not working out with many teams and keeping visits to an absolute minimum.
But his stock is spiking.
Shai Gilgeous-Alexander shed zero light on what he's been up to since declaring for the NBA draft. Said he has worked out for teams, but when asked who, he said, "I can't say that." Asked how many teams he worked out for, he said he couldn't tell that either.

— Sean Deveney (@SeanDeveney) June 20, 2018
He started the process as a late-lottery/mid-first round selection. Now, however, it would be an absolute shock if he fell out of the top-11.
Charlotte has all but said they would take him at 11 if he dropped that far, but most believe he'll go well before that.
I will label this a typical buzz before the draft – but don't be shocked is Shai Gilgeous-Alexander and Wendell Carter Jr go higher than most expect.

— Steve Kyler (@stevekylerNBA) June 20, 2018
According to NBA insider Marc Stein, the Toronto Raptors are prepared to make a move into the top-10 to select the silky-smooth point guard.
Draft scuttle: Hearing Toronto is exploring all of its trade options in hopes of assembling a deal to acquire a draft pick high enough to select Kentucky's Shai Gilgeous-Alexander

— Marc Stein (@TheSteinLine) June 18, 2018
Gilgeous-Alexander, a Hamilton, Canada native, told reporters at NBA Draft Media Day this afternoon that he would love to play in his hometown at the next level.
"I heard it," the former UK player said. "A couple of guys mentioned it to me. That would be cool. Playing in Toronto would be fun. It's my hometown."
But the Raptors may not even get the opportunity, as another team is enamored with the former Wildcat.
According to several reports, the Cleveland Cavaliers are torn between Gilgeous-Alexander and Oklahoma's Trae Young at No. 8, but they may be leaning toward the Kentucky guard.
Source: Trae Young conducted a secret workout with the Cavs on Saturday. If Michael Porter is gone, it seems to be a toss-up at the moment between Young and Shai Gilgeous-Alexander for Cleveland at #8. We've given Shai the nod in our latest mock today: https://t.co/hpiDE2e70Y

— Jonathan Givony (@DraftExpress) June 19, 2018
He credits the hype surrounding his draft stock and his overall NBA preparedness to his time at the University of Kentucky, and more specifically, John Calipari.
"It prepared me a lot," Gilgeous-Alexander said Wednesday of how UK impacted his NBA aspirations. "From Day One, Coach (John) Calipari has prepared us to be pros. That's one of his main things. That's what he does better than any coach in the country."
As for Gilgeous-Alexander's teammate, Kevin Knox, his stock is rising, as well. In fact, there's a chance the Wildcats are taken back-to-back near the end of the top-10.
The New York Knicks are reportedly interested in the Kentucky forward with the ninth pick, and the Philadelphia 76ers are extremely interested with the tenth pick. He has worked out for both teams, including several others in the top-10. He has also worked out with Orlando at No. 6, Chicago at No. 7, Charlotte at No. 11, and the Clippers at No. 12. There's a very slim chance he falls past there.
Knox said he has learned a lot through the pre-draft process, including the fact that he "can do so much more than (he) showed at Kentucky."
"In college you kind of have a role on your team," he said. "My role was a little bit different. It was to play off the ball but I think this summer I showed a lot of teams, a lot of coaches I can play on the ball, I really can do so much more than I showed at Kentucky. That's kind of the mindset coming into this summer this year. I'm gonna keep proving people wrong."
But the bright lights at Kentucky have prepared him for even the biggest of stages in the NBA. Even when it comes to New York's Madison Square Garden.
"Kentucky is basically the New York Knicks of college basketball," he said.
As for John Calipari's role in tomorrow night's NBA Draft, Knox says the Kentucky coach will be bouncing back and forth between his table and SGA's.
Kevin Knox says John Calipari is going to bounce back and forth between his and Shai Gilgeous-Alexander's green room tables, especially once Cal hears which team will select them. "He likes to be on camera. He likes media attention."

— Jake Fischer (@JakeLFischer) June 20, 2018
Shai Gilgeous-Alexander: "From Day One, Coach Calipari has prepared us to be pros. That's one of his main things. That's what he does better than any coach in the country." #BBN #NBADrafthttps://t.co/bOwP1Ze4uA

— ExCats (@ExCats) June 20, 2018
To steal a line from Hank Williams Jr., are you ready for some football?
Tomorrow morning the Kentucky Sports Radio airwaves will be filled with the voices of the Kentucky football coaching staff.  In the first hour of the show, Ryan Lemond will be joined by Youngstown's finest, Mark Stoops and Vince Marrow.  In hour No. 2, they'll be tagged out by offensive coordinator Eddie Gran and Freddie Maggard, the director of UK Player Development who will make his triumphant return to KSR.
In the middle of the summer recruiting season, the Cats are hard at work at the Joe Craft Football Training Facility.  Listen in to hear how the team is progressing, what Iowa basketball transfer Ahmad Wagner will bring to the team, how Freddie's new program is changing the game and more.  If you want to ask the coaches a question, don't hesitate to call (502) 571-1080.
Here's the rest of the guest host schedule:
June 22: Nick Mingione
June 25: Jay Bilas
June 26: Pardon My Take
June 27: Jared Lorenzen
June 28: Kyle Tucker
June 29: Aaron Torres
Kentucky is still in the hunt for one of the top remaining in-state recruits.
One month ago, the Cats landed a commitment from three-star defensive end/outside linebacker Shawnkel Knight-Goff.  Two weeks later, the athlete from Louisville Doss backtracked and reopened his recruitment.  After the decision, most people chalked it up as a loss to UofL.  Most people were wrong.
Three weeks later, Knight-Goff is on Kentucky's campus for an official visit.  The ninth-ranked player in the state of Kentucky might not be a lost cause after all.
We learned long ago to never count out Vince Marrow.  The Big Dog still has plenty of new tricks left for Kentucky's 2019 recruiting class.
Former KSR employee Freddie Maggard got started with the "Behind the Facemask" series when he was with us, where he was able to give fans a behind-the-scenes look at their favorite football Cats.
When Mark Stoops hired him away from us as Kentucky Director of Player Development, he made a point to continue the series with his beloved team.
He got started with Kash Daniel, and then followed it up with segments with Mike Edwards and Bunchy Stallings.  Now, he wanted to give fans an inside look at senior lineman George Asafo-Adjei.
Maggard talked to Big George about his passion for urban farming, giving back to the community, his trip to Ethiopia, his recruitment out of West Chester, OH, and his future not only on the football field, but life after football.
Take a look at the fourth episode of the series below:
Behind The Facemask: Episode 4 with @UKPlayerDevelop – Get to know senior OL @gasafoadjei74 #GetUp ???? pic.twitter.com/8m3CVCNg39

— Kentucky Football (@UKFootball) June 20, 2018
If you missed the first three episodes with Kash, the Honey Badger, and Bunchy, you can find those here:
Behind The Facemask: Episode 1- Get to know linebacker Kash Daniel
????#4For40 pic.twitter.com/srz7qrDFbF

— Kentucky Football (@UKFootball) May 30, 2018
Behind The Facemask: Episode 2 with @UKPlayerDevelop – Get to know senior safety @M__Edwards7
???? pic.twitter.com/UIOud9FGe8

— Kentucky Football (@UKFootball) June 6, 2018
Behind The Facemask: Episode 3 with @UKPlayerDevelop – Get to know senior OL @Stallingsboi70 #BBN ??? pic.twitter.com/XCp7runOFT

— Kentucky Football (@UKFootball) June 13, 2018
As a side note, the football team had a blast this afternoon with Kona Ice and sinking their coaches in the dunk tank:
Dunk Tank for the win ???? pic.twitter.com/YnnNtXURFJ

— Kentucky Football (@UKFootball) June 21, 2018
Go Cats.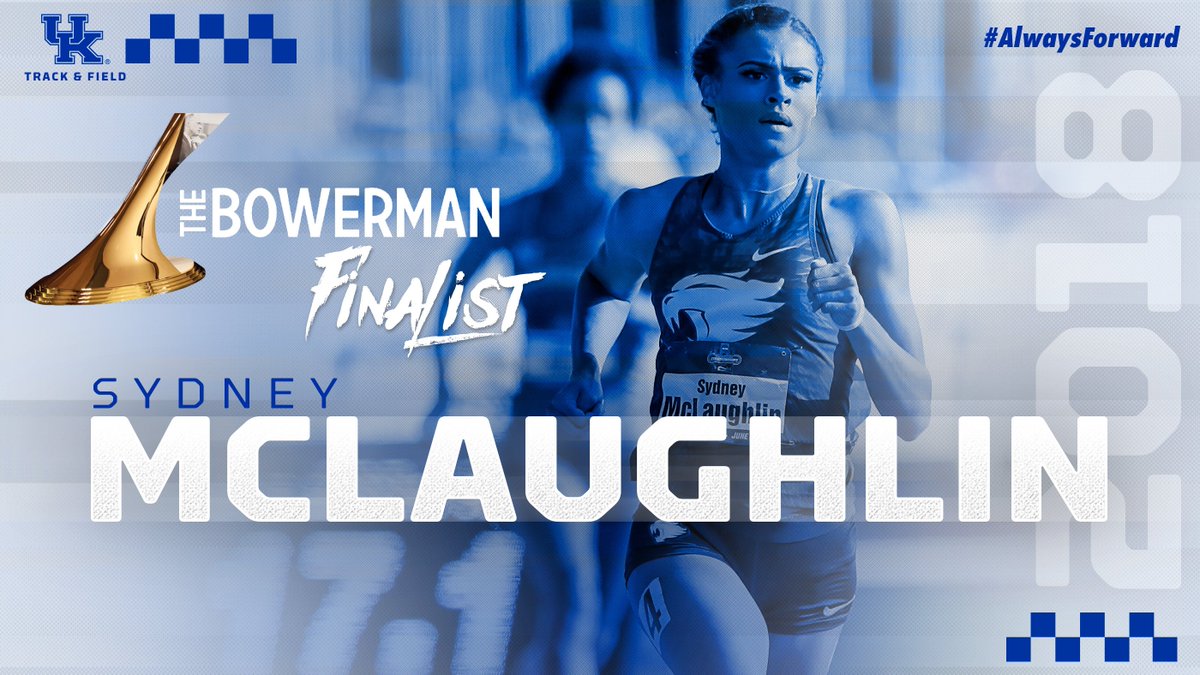 Kentucky freshman track and field phenom Sydney McLaughlin is a finalist for the most prestigious honor in the sport.
McLaughlin is one of three finalists for The Bowerman, an award given to the most outstanding collegiate track athlete in the nation each season.
1? #NCAATF ?
1? Collegiate Record
2? ? Junior Records

Sydney McLaughlin was a Tour de Force, posting seasonal top-4 marks in each of the 6? individual events she contested.

That's why McLaughlin is a finalist for #TheBowerman18.

READ MORE – https://t.co/LmOUE6UywJ pic.twitter.com/ng2zubykZJ

— The Bowerman (@thebowerman) June 20, 2018
Arizona State's Maggie Ewen and Georgia's Keturah Orji join McLaughlin as finalists chosen by The Bowerman Advisory Board, with McLaughlin being the first female freshman finalist in the ten-year history of The Bowerman.
McLaughlin won gold earlier this month at the NCAA Championships in the 400m hurdles and broke the collegiate record by nearly a second running 52.75 seconds to take home the SEC championship title back in May. She also recorded the 13th-fastest 400m hurdles of all time, and her time of 52.75 makes her just 0.41 seconds away from becoming the fastest woman hurdler in the world.
The winner will be announced on December 20 at the annual USTFCCCA Convention in San Antonio.
The NBA draft is now only one day away and five former Kentucky players hope to have their names called in one of the deepest drafts in recent memory.
Kentucky will have its fingers all over this draft as there are players that could go as high as number eight and as low as the very last pick in the draft. Either way, it should be an exciting night and we hope that all five players will hear their name being called and begin their NBA career as a draft selectee.
With this article, I'm going to be giving my personal opinion on where I think our five former Wildcats can (and should) end up by the time Thursday night's draft concludes. So let's get right into it starting with Shai Gilgeous-Alexander.
*I have also previously written draft projection pieces for all players except Jarred Vanderbilt (due to a lack of available film) that will be hyperlinked in blue on each individual player's name.*
Shai Gilgeous-Alexander has gone from a backup point guard to an all-but-guaranteed lottery pick in less than nine months. His transformation as a player has been fascinating and exhilarating to watch. His improvement was apparent with every game he played and by the end of the season, he was Kentucky's best player by a considerably wide margin.
At 6-foot-6 with a seven-foot wingspan, SGA plays a slow-paced style of basketball and beats his defenders with well-timed attacks and ferocious dribble moves. He has NBA potential as an elite floor general and should make an immediate impact for whatever team drafts him. With that being said, the Cleveland Cavaliers may take a chance on him with the eighth overall pick (the pick they acquired from Boston – via Brooklyn – in the Isaiah Thomas deal last summer). If Michael Porter Jr. and Trae Young are both off the board for the Cavs (the two players I believe to be atop their draft board), SGA could find himself in Cleveland next season, with or without LeBron James.
What the Cavs lacked last season – among a multitude of things – was a reliable floor general. They attempted to amend that by trading for George Hill, but saw mixed results. While I'm not entirely sure that SGA and James would be an ideal match, he would at least be a solid piece to move forward with if James does, in fact, leave for greener pastures. SGA's confidence grows the more he plays and being the centerpiece of a rebuild will allow him free reign to develop and prosper.
If the Cavs do decide to take a Young or Porter Jr., the next most realistic option for SGA would be the Charlotte Hornets, who have the number 11 overall pick. SGA would then join Michael Kidd-Gilchrist and Malik Monk, but likely as a backup to Kemba Walker, unless they decide to trade him and go all in on a rebuild. Which, in that case, SGA would be their best asset moving forward.
There is a strong chance that Porter Jr. could be gone by the number eight pick, although it's more likely that Young is still available and, if he is, Cleveland might elect to go with the Oklahoma guard and one-time Kentucky recruit, especially since he's been given the seal of approval by LeBron James. If they do, I would expect SGA to slip to Charlotte at 11 and it would be a huge surprise if he's still available after the Los Angeles Clippers pick both 12 and 13.
There is also the possibility that the Toronto Raptors trade up in the draft to select SGA, a Candian native, something that has recently surfaced in the draft newswire. It's not something I would actually expect to happen, especially with how open the Raptors were about releasing that kind of sensitive information, essentially giving away all trade leverage, but stranger things have happened.
Kevin Knox

– No. 17 to the Milwaukee Bucks
In the days leading up to the draft, the noise surrounding Kevin Knox has been relatively quiet. It's not necessarily a bad thing, though. He hasn't had any bad workouts or interviews, but he hasn't done anything to "wow" front offices as of late and his draft stock is taking a hit because of it. It's not even that Knox is losing his status as a top-tier prospect, because he still is, it has more to do with the fact that this draft is so deep that other prospects are simply overtaking him.
Players such as Lonnie Walker IV (Miami) and Zhaire Smith (Texas Tech) have stood out as unique personalities with playing styles that separate themselves from the rest. With that said, I believe Knox is going to slip to the Milwaukee Bucks at number 17, a few spots outside the lottery. Most mock drafts have Knox going somewhere in the 12-15 range, but the Clippers (who own picks 12 and 13) seem sold on Texas A&M's Robert Williams and they need a guard who can run the offense more than anything else (hello, SGA). I don't see him finding his way into the top 10 and the Denver Nuggets (pick 14) already have Gary Harris, the Washington Wizards (pick 15) already have Bradley Beal, and the Phoenix Suns (pick 16) already have Devin Booker.
There is the possibility that the Nuggets make a move on Knox at 14 and try to slide him to a small-forward position, but I believe Knox's calling in the NBA is as a two-guard. If he's still available for Milwaukee at 17, odds are he'll be the best overall prospect remaining and at that point, the Bucks should take a chance on him. They already have shooting guard Khris Middleton, but also a new head coach in Mike Budenholzer, who is a great X's and O's coach and can put Knox in situations that benefit him the most.
The Bucks have had a curious string of shooting for the rafters on their mid-first round draft picks in recent years (drafting Giannis Anteotkounmpo at 15, Rashad Vaughn at 17, Thon Maker at 10, and most recently D.J. Wilson at 17) with only one of those picks actually landing so far (Antetokounmpo). Knox would be a safer pick and one with much fewer question marks around his head. It may take a year or two for Knox to truly develop, but he's a player the Bucks can still work with for the immediate future. Knox can shoot the hell out of the ball and it's the best time in NBA history to specialize in that area.
Hamidou Diallo

– No. 40 to the Brooklyn Nets
The Brooklyn Nets have long been fascinated by Hamidou Diallo and his potential as a threat on both sides of the ball. They were prepared to select him in last year's draft and will likely have the opportunity to do so again.
Diallo isn't going in the first round, that much is almost certain, as his range is anywhere from 31 to the mid-40s. Falling outside of the top 45 would be surprising for Diallo, who wasn't as impressive in workouts as he was last season, but still has scouts buzzing about his potential and undeniable athleticism.
Brooklyn would be a great fit for him, especially with where the franchise currently stands. They are still acquiring young talent and have yet to make the transition from "rebuilding" to "built and ready to go", so the players within the system have plenty of time to learn and make mistakes. The Nets have molded players such as Spencer Dinwiddie, Joe Harris, Caris LeVert, and a few others from players with potential to players with more than capable NBA ready skills. Their development staff has been outstanding the last few years and Diallo could benefit the most from them.
Other teams of note that might take a chance on Diallo are the Orlando Magic, who have the number 35 overall pick. The Magic have a new, defensive-minded head coach with Steve Clifford and are still in the early stages of their rebuild (although the Magic have been in rebuild mode ever since the departure of Dwight Howard back in 2012). Orlando already has a couple players that somewhat mimic Diallo (Mario Hezonja, Terrence Ross, Jonathan Simmons), but none of them have really panned out yet as key pieces for their future. I'd also keep an eye on the Detroit Pistons at number 42 if Diallo does happen to fall that far.
Jarred Vanderbilt – No. 49 to the San Antonio Spurs
Jarred Vanderbilt is one of the most intriguing prospects in this years draft, right up there with Mo Bamba from Texas and Zhaire Smith. Vanderbilt has an incredibly unique skill set that can best be described as somewhere between a mix of Ben Simmons and Lamar Odom. Vanderbilt isn't a shooter by any means, but an already elite-level rebounder with advanced passing instincts to rival it at 6-foot-9.
The San Antonio Spurs make sense for Vanderbilt (although you can say that about literally any draft prospect) and he could benefit greatly from their player development team. The Spurs have a knack of taking players with clear weaknesses (like Vanderbilt with his jump shot) and plugging them into a system that diminishes those weaknesses and highlights their strengths. Also, learning under head coach Gregg Popovich is always a blessing, despite the fact that superstar Kawhi Leonard may not be around by the time next season begins.
Vanderbilt is an interesting prospect because of how much we don't know about him. He played only 14 games at Kentucky on limited minutes and has been dealing with a nagging foot injury, but had he played all season healthy, there's a chance he could also be in the lottery discussion. It's somewhat similar to Michael Porter Jr.'s situation, who clearly has All-Star potential when healthy, but injury concerns weigh heavy over his head. Now, Vanderbilt is nowhere near the prospect Porter Jr. was and still is, but, nonetheless, there will be a team that takes a chance on Vanderbilt and will do everything they can to maximize his potential, because there is a ton there.
I believe Vanderbilt could go as high as 32 to the Memphis Grizzlies and as low as 58 to the Denver Nuggets. He has no true stock in my opinion and it's going to come down to which team thinks they can look past the multiple foot injuries and try to build the next Lamar Odom. The Spurs would be a great situation for him if he falls that far, but something tells me we shouldn't be surprised if he gets drafted before Diallo.
While Wenyen Gabriel has performed well in workouts and interviews, it's still unlikely that any NBA team drafts him. There may be a small possibility that the Phoenix Suns (No. 59) or even the Oklahoma City Thunder (No. 57) pick him up right at the end of the second-round, but the odds are not in his favor.
Gabriel doesn't have a definitive NBA ready skill right now. What he does have is a collection of skills that can one day develop into an NBA skill set, but at this moment, he's still a few years away. Another year at Kentucky would have probably done him more good than bad, but I can't blame him for taking the leap and going for the paycheck. I've long believed that Gabriel can be a rotational player in the NBA and I still stand by that, but no team is going to be willing to take the risk on him with where he's at as a player, especially if he can be picked up post-draft and work his way up through the G League.
Follow me on Twitter: @ZackGeoghegan, where I'll be providing live draft coverage and giving my analysis on draft selections. 
Chaotic summer schedules have finally criss-crossed to create another episode of The Funkhouser Situation.  Chris Tomlin and Lee Cruse catch you up on all the most popular topics in the world of pop culture, while also discussing general nonsense, like…
— An odd interaction with blue jays.
—  Were you scared of Alfred Hitchcock's The Birds?
—  Did Homer Simpson transform the TV Dad?
— The Truth Examiner's 25 best movies of all-time.
—  Billboard's Top Five Country Music Songs; do any make Lee's hot rotation?
You can easily listen on the KSR App, available on iTunes and Google Play. Streaming online is simple through Pod Paradise. You can also get it directly to your phone by subscribing to The Funkhouser Situation podcast feed on iTunes or via Android's Podcast Addict app.
This week's episode is brought to you by:
A day after we discovered Anthony Davis will be inducted into the UK Athletics Hall of Fame, the Unibrow is up for another honor.
Davis is one of four nominated for Best NBA Player in this summer's ESPY Awards.  Davis is up against James Harden, LeBron James and The Greek Freak, Giannis Antetokounmpo.
With your help, Davis could win his fourth award at ESPN's annual summer red carpet gala.  In 2012 he took home a pair of awards, Best Male College Athlete and Best Breakthrough Athlete, and in 2015 he was named Best NBA Player.  To help Anthony Davis pull off the upset, click here to cast your vote.
The ESPY Awards will air on ESPN July 18 live from the Microsoft Theater in Los Angeles.
With Reid Travis now in the fold, Kentucky's season opener vs. Duke just got even more enticing, so much so that the head oddsmaker at the Westgate Sportsbook in Las Vegas is already being asked for an early line. "For now," the oddsmaker believes Duke is still the better team and would be favored by 2.5 points.
Head Westgate oddsmaker said Duke would be favored by 2.5 points over Kentucky on a neutral court. He considers Duke the top team and Kentucky second-best, "for now". https://t.co/OnpAILiOu3

— Doug Kezirian (@DougESPN) June 20, 2018
Agree? Disagree? Can they make that official so I can get in on the action, please?