Saturday is going to be a great day in Lexington. There is a football game with enormous implications and momentum at stake, plus a brand new sports bar about a mile away that is eager to house Kentucky fans before, during, and after the game.
Many of you have hit us up with questions so you can plan your game day festivities, and I will now answer some of those questions because I am a nice person with your best interests in mind.
When will it open?
KSBar and Grille will open at 11 a.m. Saturday morning.
Will the Lextran shuttle be transporting fans to the game?
As a matter of fact, it will. The shuttle will begin transporting passengers two hours before kickoff (in this case, 5 p.m.) and it will take a break 30 minutes after kickoff. However, one bus will continue to operate the Virginia and Downtown Shuttles on a loop during the game.
The shuttle will begin again at the beginning of the fourth quarter and will run until one hour after the game.
How much does the bus cost?
The bus costs $1 per passenger each way and LexTran asks that everyone have exact change.
Will there be any drink specials at the bar?
Why yes, there will. Beginning at 2 p.m., pints of Budweiser, Bud Light, Miller Lite and Yuengling will cost only $3 each. That special will run for three hours until 5 p.m.
But if you're interested in trying Ryan Lemond's new "Elemondater" beer from Lemons Mill Brewery, those will be for sale all day for only $5 a pint.
What time should I get there if I want a table for the game?
That one is luck of the draw, my friend. Some people eat and leave, others stay through the whole game. I encourage you to show up early and we'll do the best we can from there. If you do get a table, though, remember to take care of your server if you're going to sit there for several hours. Your table is their office for the day and there will be plenty of people wanting it.
Is Kentucky going to win?
Of course. You kidding me?
Houston Rockets guard Brandon Knight is expected to miss "some time" following a left knee surgery that took place earlier in the offseason, according to Shams Charania of The Athletic.
On @theathleticnba @watchstadium: Houston's Brandon Knight underwent surgery on his left knee, considered a "clean up," and will miss some time, per league sources.

— Shams Charania (@ShamsCharania) September 20, 2018
The surgery happened before Knight was traded to Houston and it will cause him to miss time as training camp inches closer.
This is the same left knee that Knight had surgery on to repair a torn ACL in August of 2017. That he had another surgery on the same knee possibly within the last 30 days might raise a cause for concern, but the Rockets still felt confident enough to trade for him anyways.
Knight was recently traded to the Houston Rockets from the Phoenix Suns in what was essentially a salary dump for the Rockets so they could remove Ryan Anderson's contract from their books.
.@ShamsCharania with some further detail regarding Brandon Knight's left knee surgery, which will sideline him for "some time." #Rockets pic.twitter.com/2irbgkzPN9

— Stadium (@WatchStadium) September 20, 2018
Knight is expected to be one of the first guards off the bench for the Rockets and will likely find himself alongside either James Harden or Chris Paul for the majority of his playing time. While Knight has made little contributions to his team in previous years due to an unfortunate string of injuries, there is hope he can bring a sense of continuity to the Rockets offense when one – or both – of the team's All-Star guards take a break.
Keep in mind, Knight was a serious up-and-comer before the injury bug plagued him for roughly the previous three seasons. Before he was sidelined due to a sports hernia that required surgery in the 2015-16 season, Knight averaged 19.6 points and 5.1 assists in 52 games.
My dear good friend Rick Pitino is now on Twitter at @RealPitino and he already sucks at it. Take a look at the header graphic on the page. It's the logo for his The Pitino Press podcast (coming soon!) and his last name is misspelled.
I can't imagine that is Rick's doing, so some poor graphics kid is probably getting yelled at right now.
As for Pitino's actual tweeting, he has not put out his first thought just yet, but he told Terry Meiners his first couple of tweets will go out tomorrow. So get excited.
Me, I'm just shocked I'm not already blocked.
It's unclear how UK's 2019 class will all shake out but it's never too early to look ahead. Here's a brief look at Kentucky's 2020 targets and where things stand.
Top Targets:
Jalen Green: 6-foot-5, 170-pound guard from Fresno, Calif. Location won't be UK's friend for Green, but he's their dream guard target in 2020. He's an elite scorer and ranked No. 1 in the Rivals 2020 rankings. UK watched him this summer when he represented team USA in Argentina.
Scottie Barnes (offered): The 6-foot-8, 200-pound wing has one of the most impressive bodies I've seen from a high school player. I'm guessing he weighs more than 200 pounds, but he's as long as a Michael Kidd-Gilchrist and is more attracted to contact in the paint. He's ranked No. 4 in the Rivals150 and he's one of two players to receive an offer from the Cats. Interestingly enough, he really wants to play with UK target Jeremy Roach.
R.J. Hampton: The No. 5 player in the Rivals150 will visit Kentucky for Big Blue Madness. He made news earlier this month by announcing he won't reclassify to 2019. Memphis and Duke are the perceived leaders but don't count out UK for the 6-foot-4, 180-pound point guard from Little Elm, Texas.
Jalen Johnson: Johnson actually visited UK for Big Blue Madness last season and the Cats would love to have him back on campus soon. UK appears to have struck gold with Wisconsin native Tyler Herro and they hope to do the same with Johnson. The 6-foot-7, 210-pound wing is ranked No. 6 in the Rivals150 and will almost certainly land an offer from the Cats.
N'Faly Dante (offered): If I had to guess a player that would reclassify to 2019 Dante would be my guess, although that seems far from the lock. The Mali native, now living in Kansas, is the second player in the class of 2020 that has an offer from Kentucky. The 6-foot-10, 225-pound center already has an NBA ready body and he will only become stronger and bigger. The Cats really like his game.
Jeremy Roach: Roach has already been on UK's campus and will be back soon, but the Cats love Roach's game. The 6-foot, 170-pound guard from Virginia is ranked No. 17 in the class of 2020 is a little smaller than normal Calipari guards, but he can score and dish.
Jalen Suggs: Kentucky is going to have to beat out all your typical college basketball bluebloods for the 6-foot-3, 180-pound guard from Minnesota, but also traditional football powers, too. He's one of the best quarterbacks in the class of 2020. Will he play football? Basketball? Calipari hopes the latter. He's ranked No. 18 in the class.
Isaiah Todd: The No. 16 ranked big from North Carolina doesn't hold an offer from the Cats, but UK did visit the 6-foot-9, 190-pound power forward earlier this week. Kentucky hopes to have him on campus soon but no visit has officially been planned.
Keep an eye on:
Josh Christopher: I don't know too much about the 6-foot-4, 200-pound shooting guard but it's another west coast player that may be hard to bring across the country. He's ranked No. 13 in the class of 2020 and has a body type that Calipari generally likes from his guards.
Hunter Dickinson: I believe UK visited Dickinson earlier this week (although I can't confirm) and the Cats watched a lot of Dickinson this summer. A 7-foot-1 and 220-pounds Dickinson did more than hold his own against Vernon Carey and James Wiseman and played on the best AAU team on the Nike EYBL circuit. He was a big reason why. He reminds me a little of Stephen Zimmerman.
Cade Cunningham: UK has watched plenty of Cunningham and that won't change over the next year. Cunningham is from Texas but plays for Montverde in Florida. The 6-foot-7, 215-pound wing will likely become a major UK target at some point.
Jaden Springer: The 6-foot-4, 184-pound shooting guard is from North Carolina but plays for IMG Academy in Florida. Springer has spoken highly about the Cats in the past but we'll see if he ever becomes a top target for the Cats. He's ranked No. 11 in the class of 2020.
Seems Unlikely:
Ace Baldwin: Baldwin is a really fun player and the Cats like his game, but he's a little undersized and his competition is only gaining on him. He's dropped in the rankings but it's not impossible the Cats keep tabs on him. The 6-foot-1, 155-pound Baltimore native is currently ranked outside the top 100.
Jaemyn Brakefield: Brakefield has checked out UK's campus several times and I think the Cats could land the 6-foot-8, 205-pound wing that plays for Huntington Prep but it appears UK prefers other wings in 2020. It's strange how picky UK can be but right now Brakefield seems like a backup option.
Walker Kessler: Is Georgia the team to beat for Kessler? Tom Crean has already gone all out for the 7-foot, 220-pound center and he's a legacy. Three members of his family played for the Bulldogs and it will be hard to get him out of the Peach State. He's a top 10 player in 2020.
Xavier Foster: I don't know too much and haven't seen much of Foster, but I know nearly every Big Ten school is making the 6-foot-10, 210-pound forward a priority. The four-star target lives in Iowa and it seems unlikely he ends up in the SEC, although the Cats are interested.
My outlandish, almost certain to be wrong prediction:
Jalen Johnson
Jeremy Roach
Scottie Barnes
Isaiah Todd
Hutner Dickinson
The most explosive football playmaker in the state of Kentucky is nearing a decision.  Before Wandale Robinson commits, he's completing his official visits.
This weekend Robinson will be in Tuscaloosa to see the SEC on CBS matchup between the Crimson Tide Texas A&M.  He's already taken official visits to Purdue, Michigan and Nebraska.  Robinson told the Herald-Leader's Ben Roberts that as of today Nebraska is the leader in his recruitment, although it's still completely up in the air.  He has one more official visit and will take it to either Ohio State or Kentucky, a place he's visited quite often.
Robinson was in Lexington last weekend to watch the Cats take on Murray State.  Since Vince Marrow took over his recruitment in the spring, he's developed a close bond with the Big Dog.
"He's really kind of become like a father to me," Robinson said he talks to Marrow daily. "He's really just been that guy that, during the recruiting process, he hasn't really been harping on me or anything. I mean, obviously, he really wants me to come there. But he hasn't been like really hard on me."
Marrow was on the sideline next to Mark Stoops Friday night when Robinson recorded 365 all-purpose yards and four touchdowns for Western Hills.  A do-it-all athlete that plays running back and receiver, he'd like to play both at the next level.  It's part of Kentucky's recruiting pitch to the in-state star. UK's coaches are telling Robinson he will be the marquee signee of the class if he decides to stay home.
"Obviously me being from Kentucky, I would be a homegrown guy, and obviously after football, I'll have a life that most people don't with everybody knowing who you are and stuff like that," he told Roberts.
"Knowing that everybody will know who I am and know that I played at Kentucky and I'll be able to go just about anywhere and somebody will know who I am, that obviously is something that's really, really good to me."
Robinson does not know exactly when he will commit, but he plans on making a decision in October.
After reaching No. 1 on the iTunes charts earlier this week (thanks to an appearance from Rick Pitino) the Aaron Torres Sports Podcast is back with special guest Tyrese Maxey, who joins the show just days before the point guard officially visits Kentucky. But first, Aaron welcomes his buddy Nick Coffey to discuss:
Who Should Be the Next Coach at Kentucky and Duke? 
On Wednesday, 
CBS Sports
 put out a list on who should be the next coach at Kentucky, and Aaron disagreed, 
so he put out his own list on KSR
. Nick and Aaron go through the candidates – why Will Wade could be shaping up as a great hire down the road, and is Fred Hoiberg a better option in the NBA than Billy Donovan or Brad Stevens? Also Duke can't possibly "keep it in the family" when Coach K retires, can they?
A Week 4 College Football Preview: Next, the guys review the biggest games of the college football weekend – Can Texas A&M keep things close against Alabama and can Mississippi State pull the upset against Kentucky? Also, Aaron and Nick give out their surprise picks of the weekend.
Next up, Aaron welcomes on Kentucky commit Tyrese Maxey to the show. Maxey is headed on his official visit to Kentucky this weekend and discusses the following with Aaron.
What He Is Expecting on His Visit to Lexington: Maxey discusses his plans for the trip down to Lexington this weekend. What does he hope to see, what is his relationship with fellow commits Kahlil Whitney and Dontaie Allen and what is his prediction for the Kentucky-Mississippi State football game?
Who is He Recruiting with Him To Kentucky: Maxey discusses the players he hopes will join him in Lexington. How would he fit in with Scottie Lewis in the backcourt? How he got Vernon Carey to open up recently? And what is his relationship with James Wiseman?
Finally, Maxey discusses his relationship with Kentucky's NBA players like John Wall and DeMarcus Cousins, and how Celtics guard Marcus Smart has helped him train this summer.
Get the podcast delivered directly to your phone by subscribing to the Aaron Torres Sports Podcast feed on iTunes or via Android's Podcast Addict app.  You can easily listen on the KSR App, available on iTunes and Google Play. Streaming online is simple through Pod Paradise.  Don't forget to follow the show Instagram too.
John Calipari was busy recruiting Wednesday afternoon, but when Justin Timberlake is performing in your team's arena, you drop everything to get there.
Coach Cal flew back to Lexington to attend the Timberlake concert with his wife, Ellen, and I'm sure he had a wonderful time. (I know I did.) After the show, Cal gave Timberlake a tour of his Rupp Arena office and took advantage of the photo-op.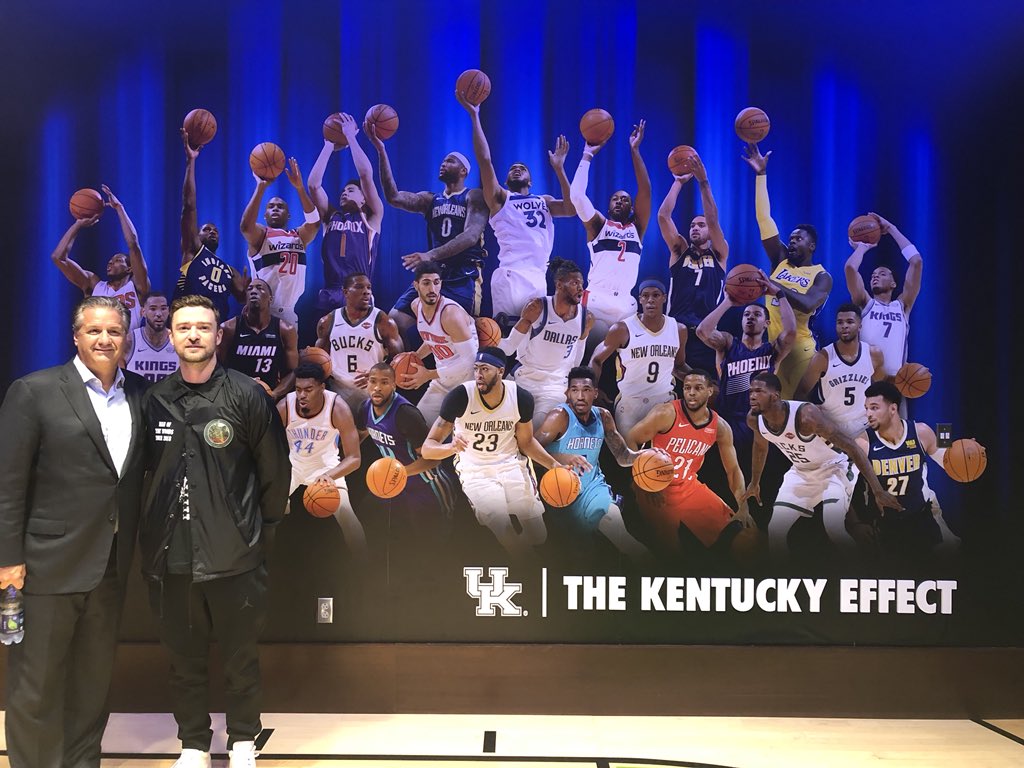 Okay let's talk about this Justin Timberlake concert. It was insane. Rupp Arena was sold out to the top bleachers, all the way around the building, even behind the stage. I've never seen that for a Rupp concert before. Usually they cover up sections with black curtains, but nope, not for JT. Fans were packed in there like sardines from the general admission floor to the very top.
It was an amazing show too. That guy can do it all and the production that goes into his concert is even more impressive. Revoke my man card if you'd like but I had a blast… until I got home and looked in the mirror and realized how inferior I am as a man. It's not fair that he gets to be JT and all of us have to be us.
Oh, and I want to go on record as saying he's the second coming of Michael Jackson and probably better. Don't @ me.
PJ Washington and Josh Allen are two of the biggest stars on campus. They're also really good friends, and they recently got together for a fun video that was shared on the Kentucky football Twitter account Thursday morning, in which the two star athletes trade in-game celebrations.
Washington showed Allen how to do his snarl, then Allen taught Washington how to flex and taunt after a big sack.
See how it turned out:
We heard @PJWashington used to play a little football back in the day, so @JoshAllen41_ wanted to show him some moves. Also, he had to learn how to mean mug. @KentuckyMBB #GetUp #WeAreUK pic.twitter.com/YWQ142Xglz

— Kentucky Football (@UKFootball) September 20, 2018
Good morning and welcome to another edition of the KSR Show Thread, where you and your peers can discuss the day's KSR show. Today, Matt Jones and Ryan Lemond will keep looking ahead to Saturday's big game against Mississippi State and we find out if Shannon The Dude did anything nice yesterday.
Join in on the fun by calling (502) 571-1080 or send a text to the KSR Texting Machine at (859) 300-3264.
MARKET
CALL LETTERS
DIAL
TIME
Ashland
WCMI
93.3 FM T
LIVE
Ashland
WCMI
1340 AM
LIVE
Benton
WCBL
1290 AM
LIVE
Bowling Green
WBGN
1340 AM
LIVE
Bowling Green
WBGN
107.9 FM T
LIVE
Campbellsville
WTCO
1450 AM
LIVE
Columbia
WAIN
1270 AM
LIVE
Cynthiana
WCYN
102.3 FM
LIVE
Danville
WHIR
1230 AM
LIVE
Elizabethtown
WIEL
1400 AM
LIVE
Elizabethtown
WIEL
106.1 FM T
LIVE
Henderson/Evansville
WREF
97.7 FM
LIVE
Glasgow
WCLU
1490 AM
LIVE
Grayson
WGOH
1340 AM
LIVE
Grayson
WGOH
100.9 FM T
LIVE
Greenup/Ashland
WLGC
105.7 FM
LIVE
Harlan
WTUK
105.1 FM
LIVE
Hopkinsville
WHOP
1230 AM
LIVE
Hopkinsville
WHOP
95.3 FM T
LIVE
Irvine
WIRV
1550 AM
LIVE
Jamestown
WJKY
1060 AM
LIVE
Lancaster
WZXI
1280 AM
5-7 PM
Lancaster/Stanford
WZXI
95.5 FM T
5-7 PM
Leitchfield
WMTL
870 AM
10A-12N CST
Lexington
WLAP
630 AM
LIVE
London
WFTG
1400 AM
LIVE
London
WFTG
106.9 FM T
LIVE
Louisville
WKJK
1080 AM
LIVE
Madisonville
WFMW
730 AM
LIVE
Madisonville
WFMW
94.9 FM T
LIVE
Manchester
WXXL
1450 AM
LIVE
Maysville
WFTM
1240 AM
LIVE
McKee-Booneville
Peoples Rural Telephone
Cable TV Channel 209
LIVE
Monticello
WKYM
101.7 FM
LIVE
Morganfield
WUCO
1550 AM
LIVE
Morganfield
WUCO
98.5 FM T
LIVE
Murray
WNBS
1340 AM
LIVE
Owensboro
WLME
102.7 FM
LIVE
Paducah
WPAD
1560 AM
LIVE
Paducah
WPAD
99.5 FM T
LIVE
Paintsville
WKYH
600 AM
LIVE
Pikeville
WLSI
900 AM
LIVE
Pikeville
WLSI
95.9 FM T
LIVE
Prestonsburg
WPRT
960 AM
LIVE
Prestonsburg
WPRT
104.5 FM T
LIVE
Somerset
WSFC
1240 AM
LIVE
Whitesburg
WTCW
920 AM
LIVE
Whitesburg
WTCW
95.1 FM T
LIVE
Whitley City
WHAY
98.3 FM
LIVE
Williamson, WV
WBTH
1400 AM
LIVE
Williamson, WV
WBTH
102.5 FM T
LIVE
50 Radio Affiliates
37 Markets
1 TV/Cable Affiliate
*Affiliates subject to change without notice
The KSR Shop and Kentucky Branded are here to help you get ready for game day against Mississippi State. Head to ShopKSR.com to receive up to 30% off anything blue or white. Now is the perfect time to stock up on KSR gear, UK tees, and more.
Let's stripe the stadium! Go Cats.
[KSR Shop: 30% off blue/white sale]